Escaping Winter to Europe With a Quick Stopover in Hong Kong
The last six months have been quite a busy time for us, so this holiday couldn't have come sooner! But we are off, in fact, I am writing this at 38,000 feet somewhere near Manila on the first of five flights in this holiday.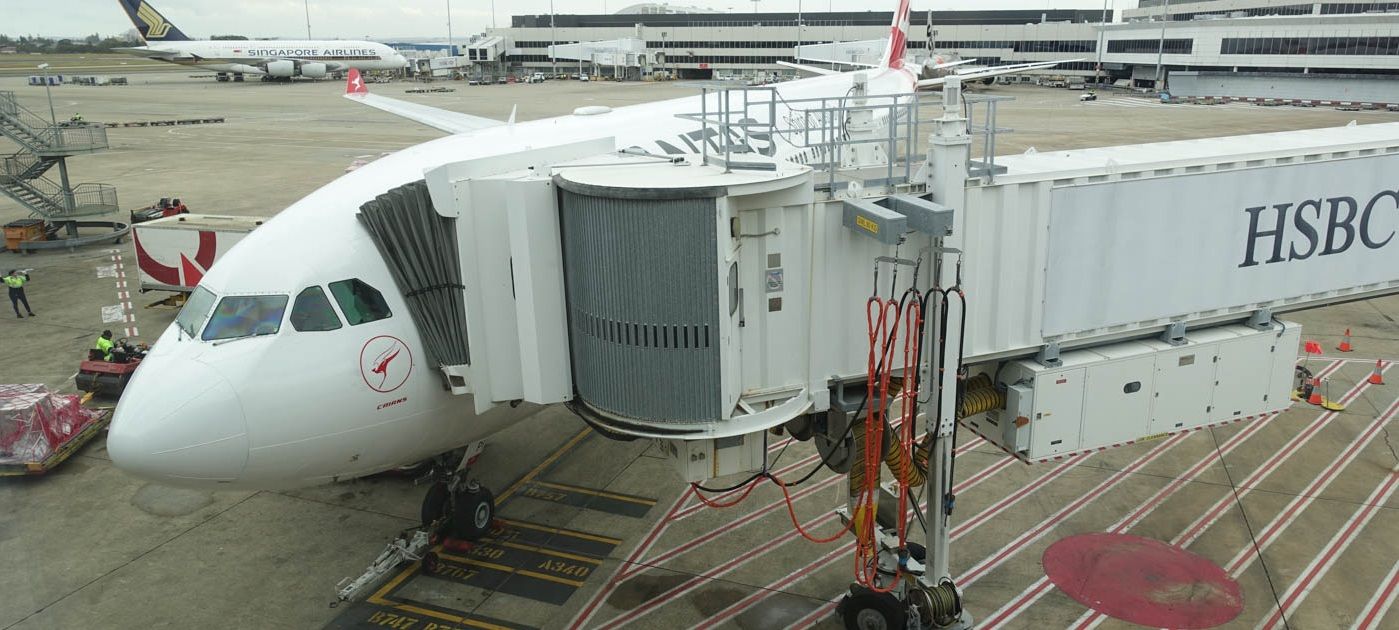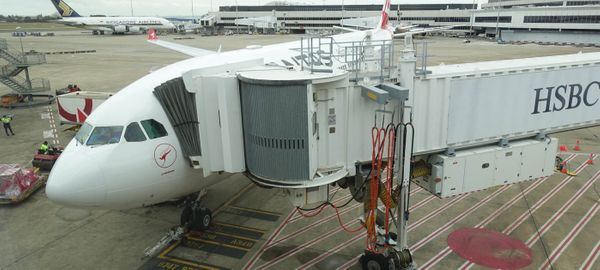 Table of Contents
Escaping Winter to Europe With a Quick Stopover in Hong Kong
Review: Qantas International Business Lounge Sydney
Review: Qantas A330 Business Suites Sydney to Hong Kong
Review: Conrad Hong Kong Junior Suite
Review: Emirates Business / First Lounge Hong Kong
Review: Emirates 777 First Class Hong Kong to Dubai
Review: Emirates Concourse B First Class Lounge Dubai
Review: Emirates A380 First Class Dubai to Amsterdam
Travel: Exploring Amsterdam
Review: Hilton Amsterdam
Travel: Exploring Paris
Review: Drawing Hotel Paris
Review: Etihad First/Business Lounge Paris Airport
Review: Etihad EY32 A380 Apartments Paris to Abu Dhabi
Review: Etihad EY454 A380 Apartments Abu Dhabi to Sydney

The last six months have been quite a busy time for us, so this holiday couldn't have come sooner! But we are off, in fact, I am writing this at 38,000 feet somewhere near Manila on the first of five flights in this holiday.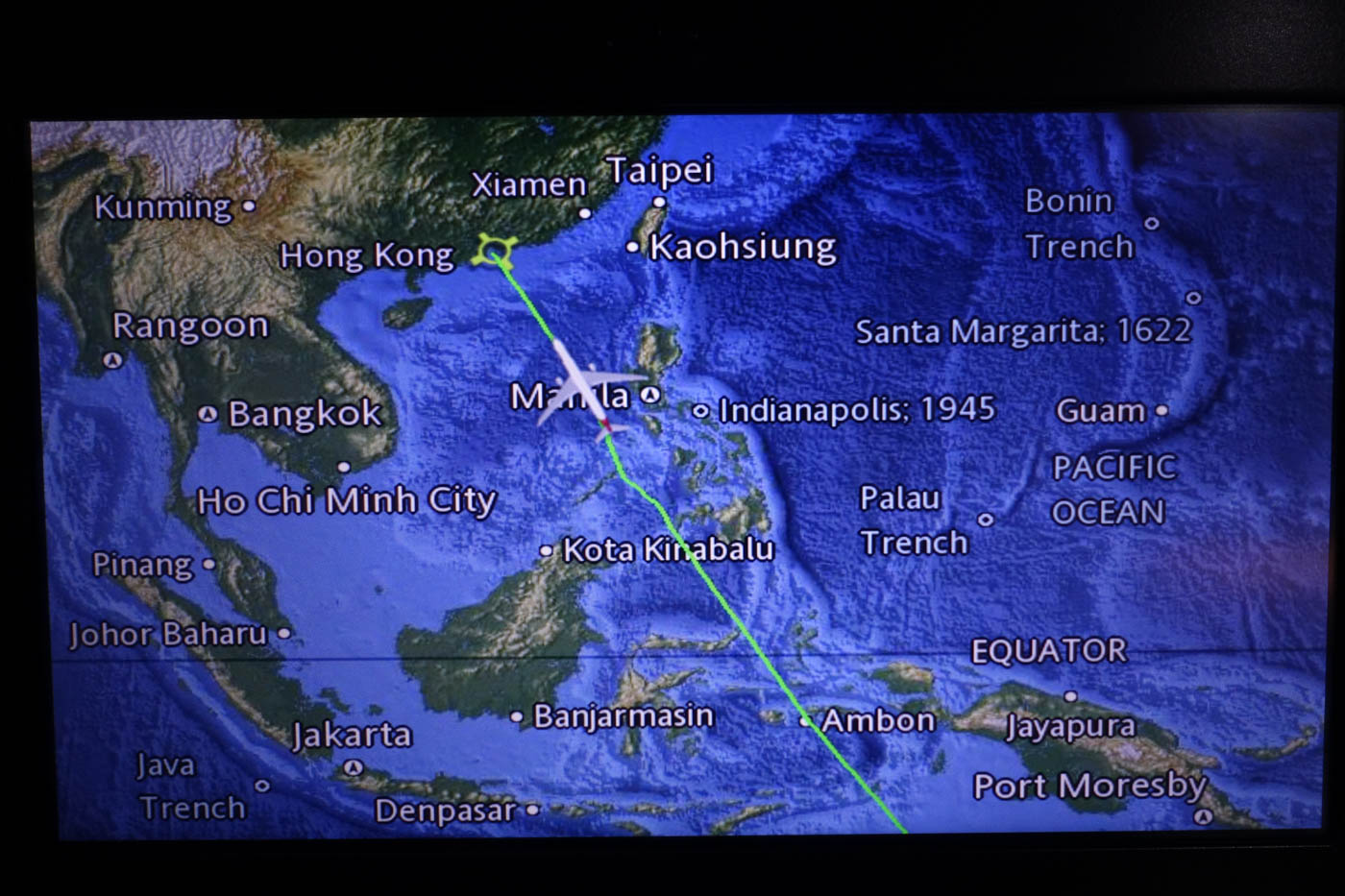 I had previously written a little about the planning for this trip when I booked the individual segments, it all started with a vague idea of wanted to go to Europe and a desire to use some Qantas points that I had hanging around. This holiday was in the making for some time, and I had several goals in mind, including finally trying out Emirates First class on their fantastic A380. Hence I was quite excited when I was finally able to book it, in saying that I expect I will be underwhelmed with the older product once we fly it. But essentially the overall plan was to head to Europe and more specifically Paris, I had a mix of both Velocity and Qantas points and had set earn targets over 12 months ago which included cycling through a few credit cards to get 220,000 bonus points.
The Original Flights
So the flights for this holiday look like this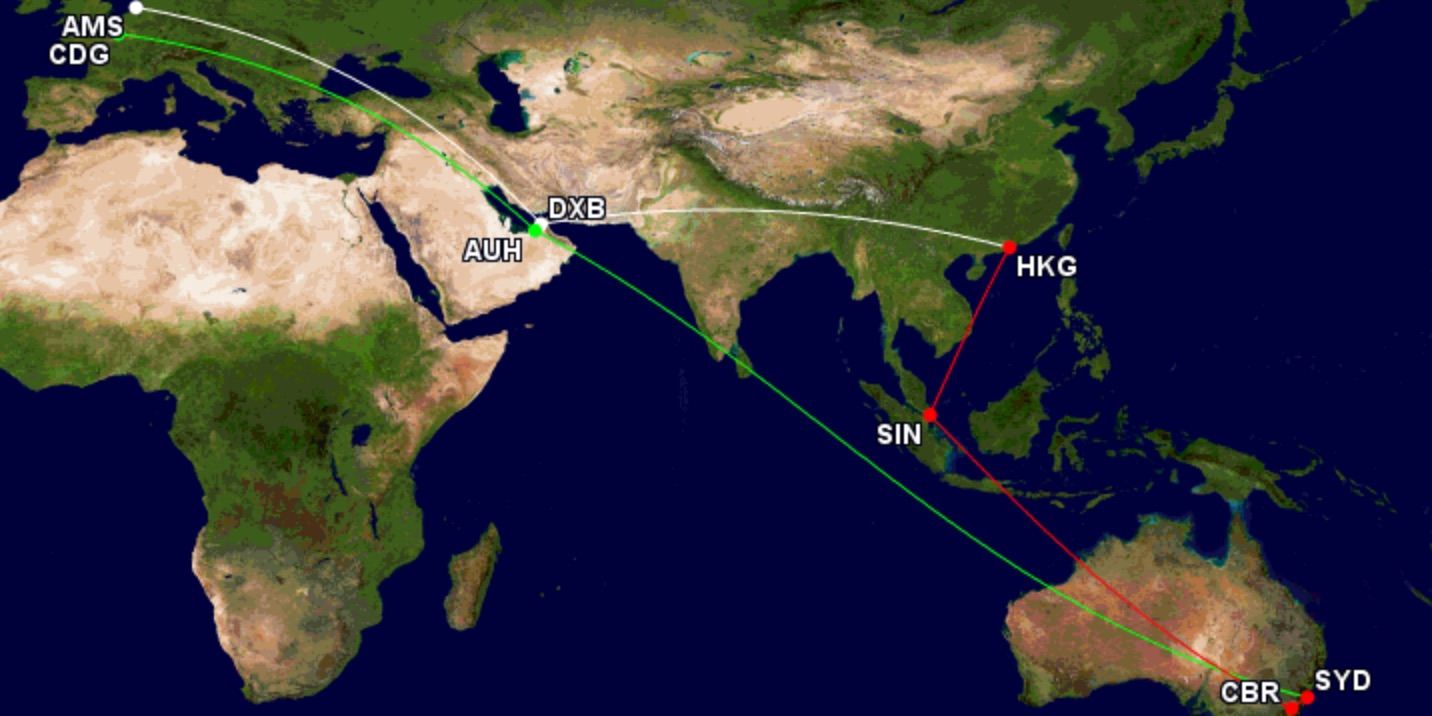 Segment 1: Sydney - Singapore - Hong Kong
Airline: Singapore Airlines
Class: Business Class
Cost: 50,000 Lifemiles per person
Taxes: $86 per person
Method of booking: Lifemiles purchase miles promotion
This is really a positioning flight as Availability on Emirates was much better ex-Hong Kong and I was able to save significantly on taxes flying ex-Hong Kong vs. ex-Sydney, which covered the cost of this segment. This segment was booked using Lifemiles purchased outright during a promotion, I will not be covering this Segment in this article as I have already written about the cost of booking this flight here.
Segment 2: Hong Kong - Dubai - Amsterdam
Airline: Emirates
Class: First Class A380
Miles Used: 126,000 Qantas Frequent Flyer points per person
Taxes: $70 per person
Method of booking: Qantas parnter booking
While my original plan was to fly Emirates from Sydney to Europe, availability on Qantas was very poor, and I couldn't make any of the dates that were available work. So I started looking at alternate options and found heaps of availability ex-Hong Kong which had the added bonus of reducing the taxes from ~$800 to $70. We were more than happy to spend a few days in Hong Kong so all in all, it was a good option.
Looking forward to trying out the Emirates shower spa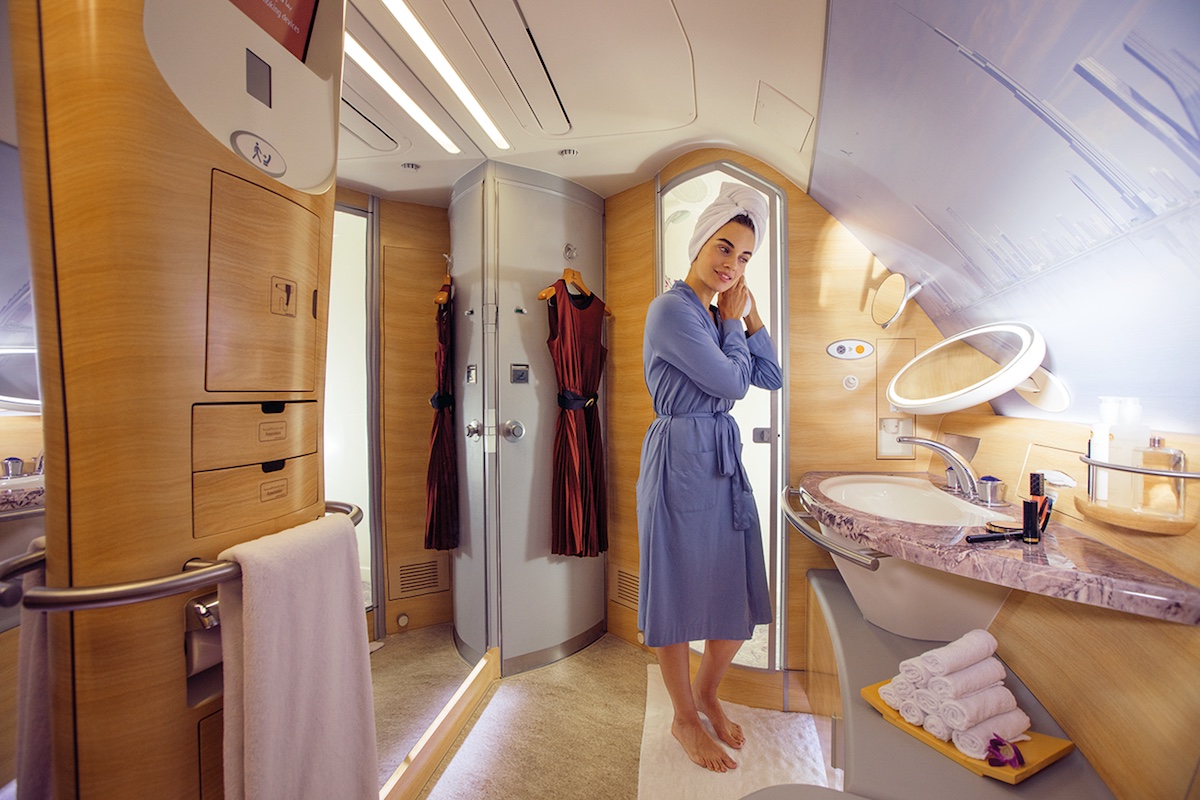 Segment 3: Paris - Abu Dhabi - Sydney
Airline: Etihad
Class: Apartments - First Class A380
Cost: 203,000 Velocity points per person
Taxes: $981 per person (most of this is the $600usd Etihad booking fee)
Method of booking: Velocity partner booking
This was by far the most expensive segment! We had plenty of Velocity points available, so our options were Etihad or Singapore Airlines. I choose Etihad because we simply loved our last trip on Etihad Apartments and in general much prefer it over our Singapore Suites experience. It was also much easier to find availability on Etihad compared to Singapore Airlines. But, thanks to the Etihad booking fee, we did pay an absolute premium for this segment.
Can't wait to fly this again!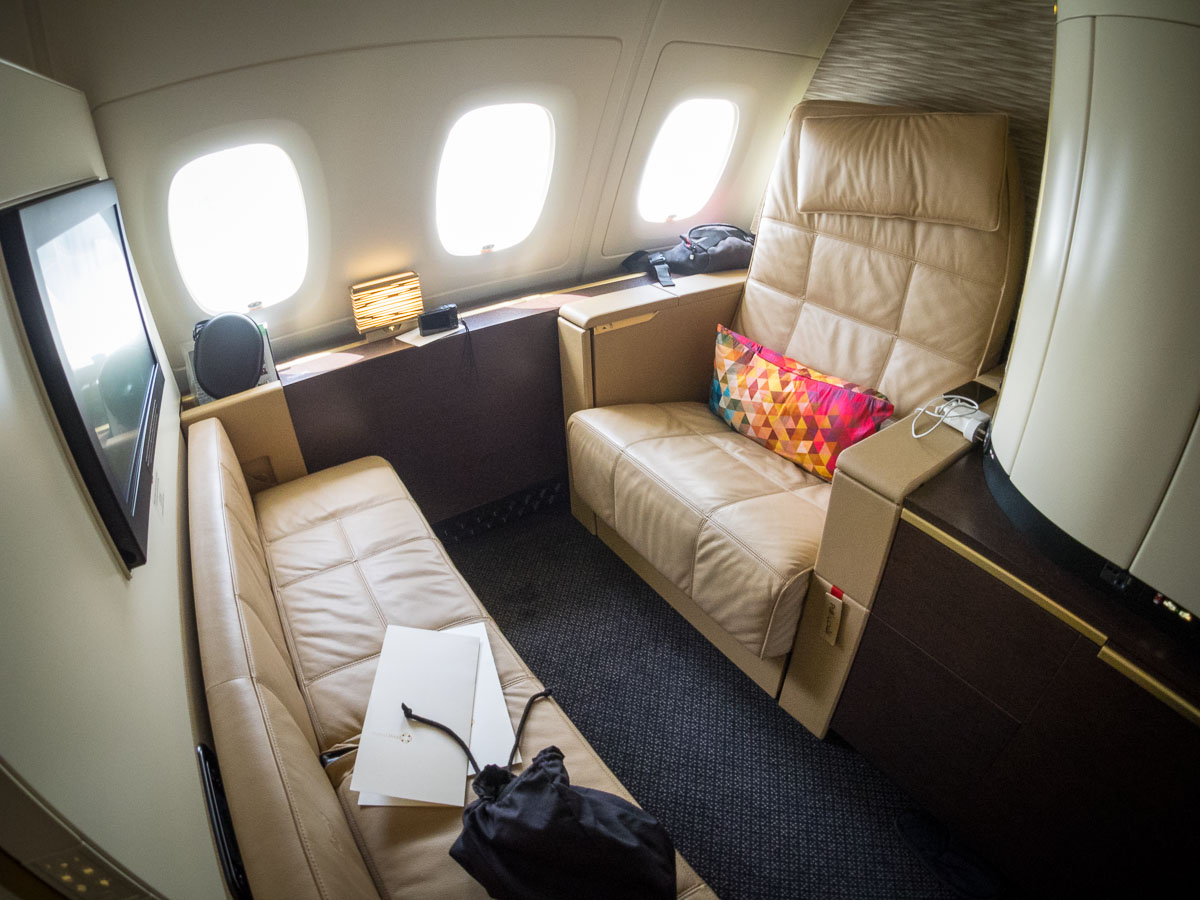 Change of Plans
Our initial itinerary had us flying out of Sydney Thursday night on the red eye, which although not the best flight, would have given us the full day in Hong Kong. However, due to some last minute things that happened in Sydney we had to delay our trip a little as we needed to still be in Sydney on Friday.
Now as I had written about previously, I had booked the Sydney to Hong Kong flights using Lifemiles and had managed to secure Singapore Airlines Business tickets, which is rare on Lifemiles. Now I love Lifemiles and have used the program extensively in the past to book cheap business class flights, but I was dreading having to try and change them and knew it wouldn't be easy. After a bunch of searching, I found some availability on Thai Airways via Bangkok. However, it was in mixed class with the first flight in First Class and the second flight in Business Class, and I pretty much knew this wasn't going to work but thought I would give it a go. Sure enough, after 45mins going around in circles with the Columbian call centre, I resigned to the fate that I would have to cancel the tickets and use the miles at a later date.
I was about to purchase some Economy tickets on Virgin Australia (with the hope of upgrading them with points at the last minute), when I did one last check. To my surprise I found two award seats available on a direct Qantas flight from Syndey to Hong Kong for 60,000 Qantas points each, whats more they were on an A330, not the 747 so it was Qantas' new Business Class product. I jumped on the tickets and booked the flights.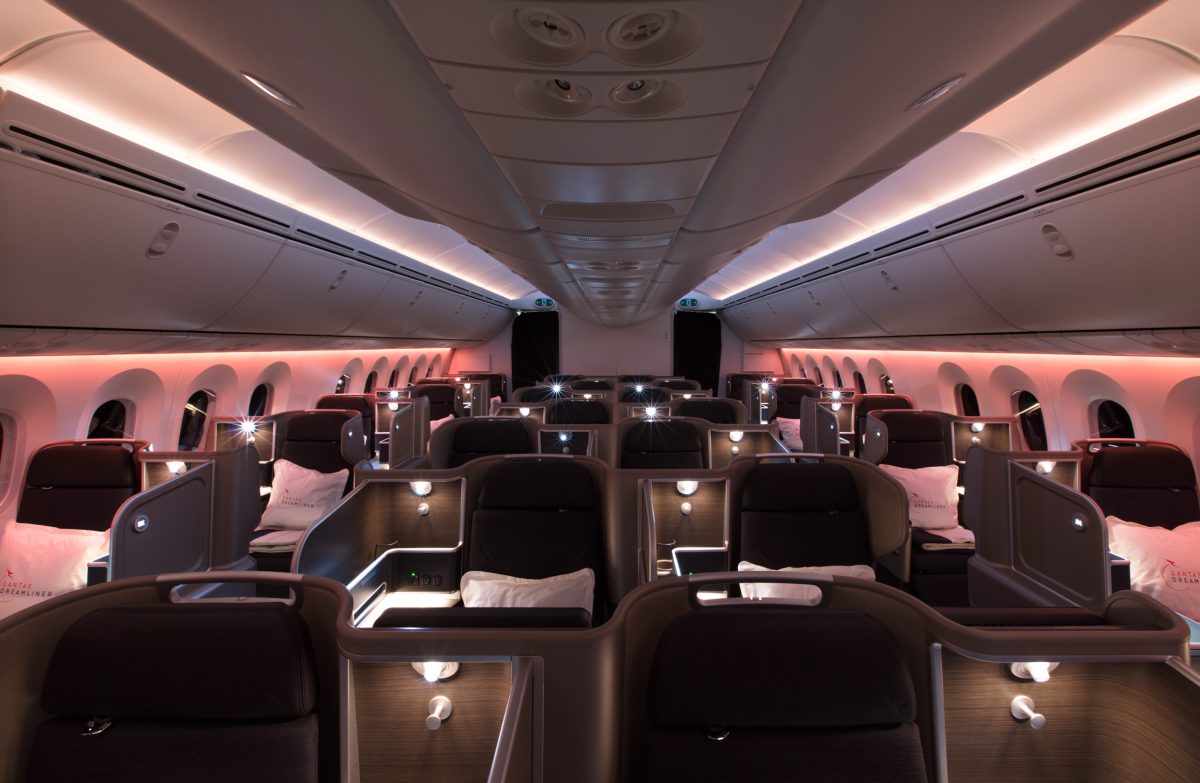 With the Qantas flight locked in our new route looks like this.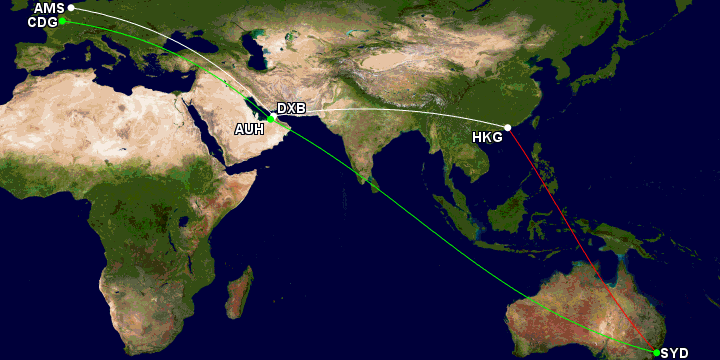 Other than a slightly shorter stay in Hong Kong, the rest of our holiday remains the same. I am really looking forward to finally trying Emirates First Class as well as returning to our favourite product in the sky Etihad Apartments.
Don't forget to like the PointyEndOfThePlane facebook page to get updates on this trip as we go.