Review: Qantas A330 Business Suites Sydney to Hong Kong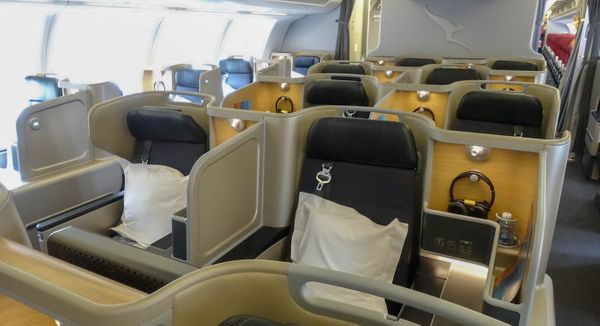 Table of Contents
Escaping Winter to Europe With a Quick Stopover in Hong Kong
Review: Qantas International Business Lounge Sydney
Review: Qantas A330 Business Suites Sydney to Hong Kong
Review: Conrad Hong Kong Junior Suite
Review: Emirates Business / First Lounge Hong Kong
Review: Emirates 777 First Class Hong Kong to Dubai
Review: Emirates Concourse B First Class Lounge Dubai
Review: Emirates A380 First Class Dubai to Amsterdam
Travel: Exploring Amsterdam
Review: Hilton Amsterdam
Travel: Exploring Paris
Review: Drawing Hotel Paris
Review: Etihad First/Business Lounge Paris Airport
Review: Etihad EY32 A380 Apartments Paris to Abu Dhabi
Review: Etihad EY454 A380 Apartments Abu Dhabi to Sydney

We arrived at Gate 30 five minutes before boarding was due to start and were second in the priority boarding queue. I always like to try and board early as it makes taking photos much easier. Shortly after we arrived, they announced a 15-20min delay in boarding as, thanks to tailwinds, they needed to slow the aircraft down to meet the allocated landing slot in Hong Kong.
Boarding was finally called, and we made our way down the aero-bridge and boarded via door 1L, surprisingly there was only a single aerobridge, and they boarded all passengers via 1L which made it harder for the staff trying to serve guests in Business class their pre-departure drink (yes first world problems). I settled into 3E and began exploring the seat.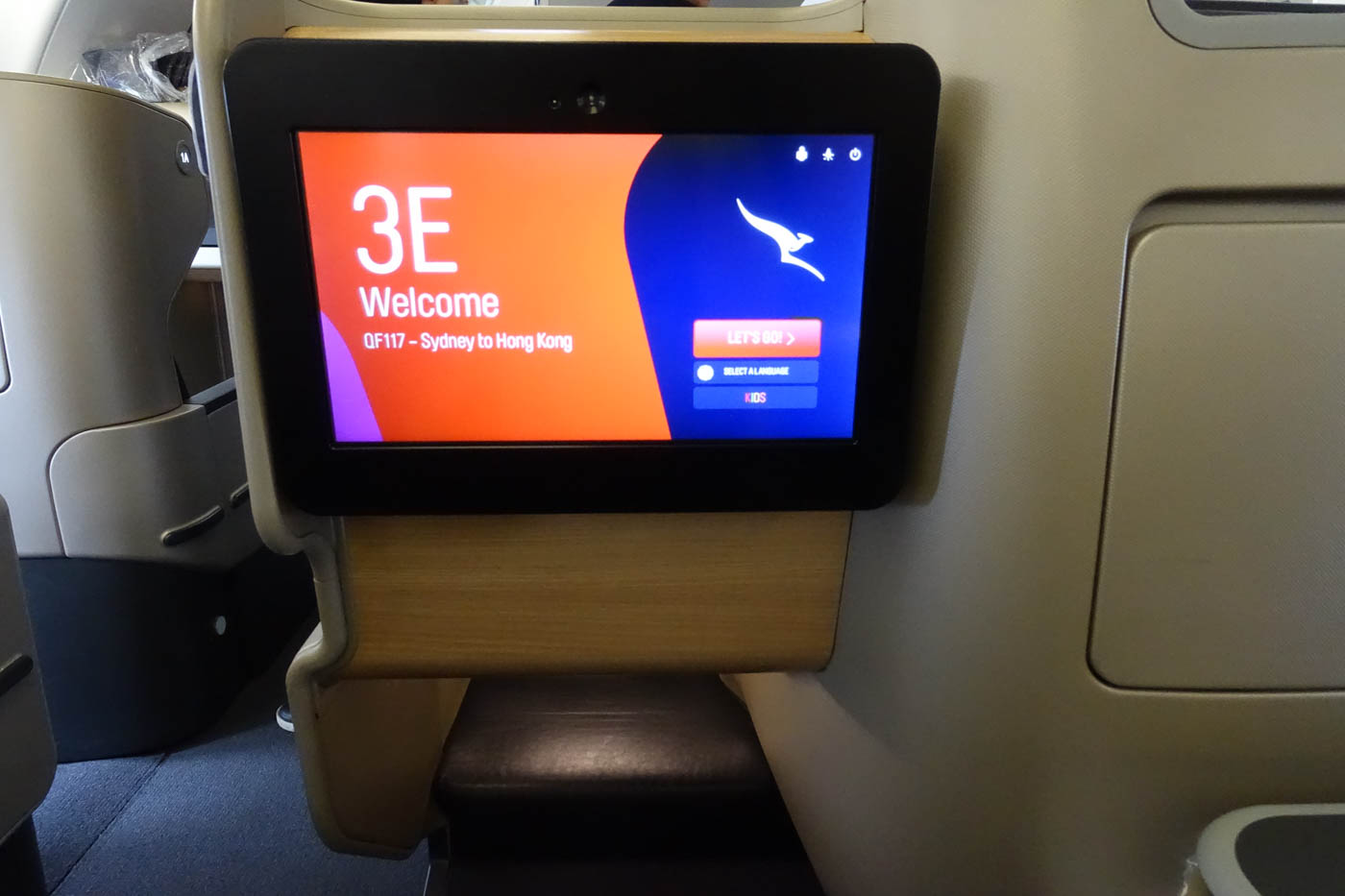 In saying that, within moments of getting to my seat I was greeted by one of the crew and asked if I wanted a drink. As a side note, I noticed that throughout the flight none of the crew introduced themselves to me, so I didn't capture any of their names. I decided to have a glass of champagne and settled into my seat. Boarding was quite slow, and we ended up with a full cabin in Business class and what looked like about a 3/4 load in Economy.
I hadn't flown the newish Business Studios that Qantas have installed on the A330 and 787's yet so I began to explore the seat. The cabin is spacious and feels very open. The seats are laid out in a staggered configuration, and the seats closest to the window and closest to the centre of the plane do offer more privacy, especially when in bed mode.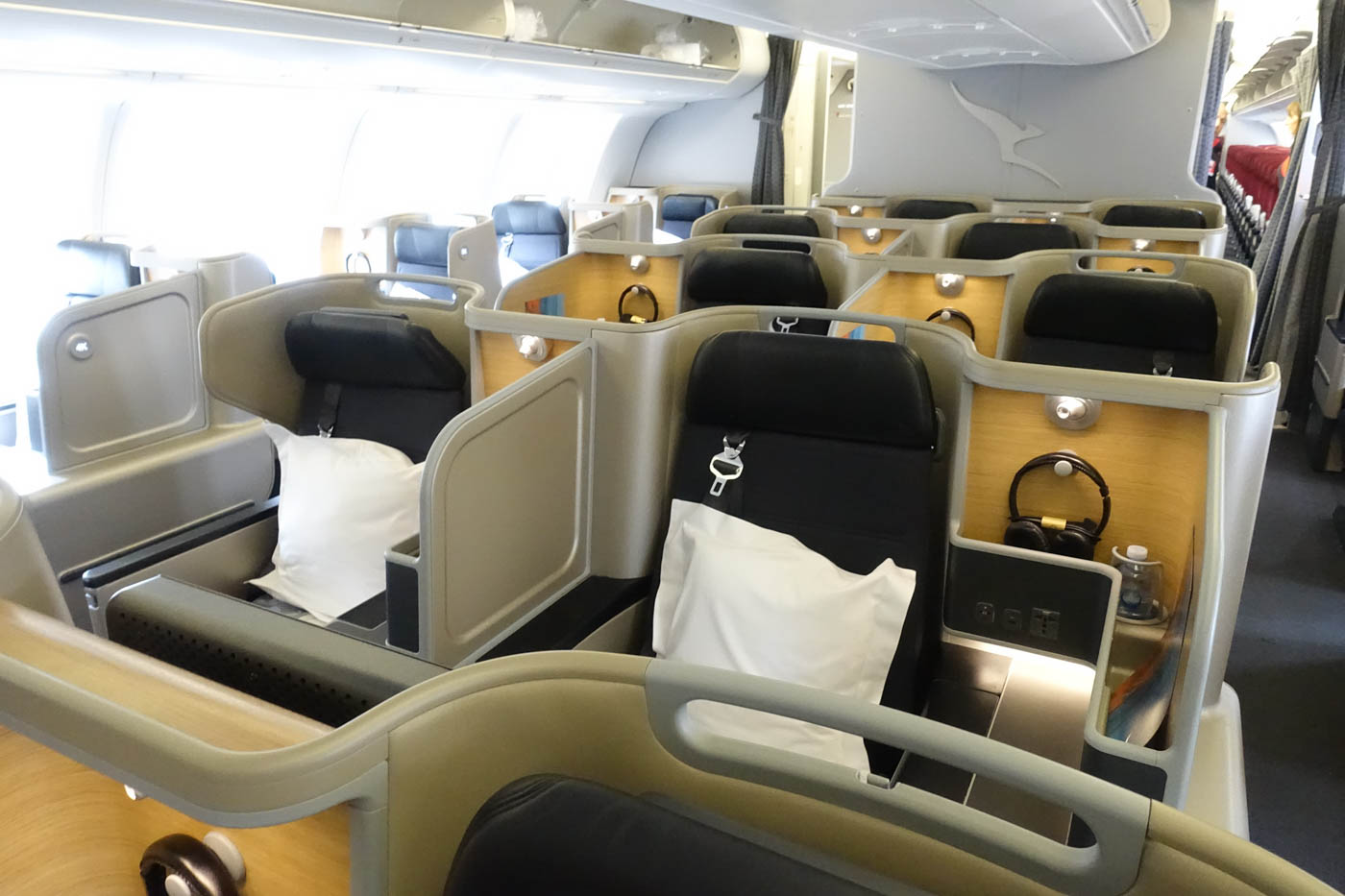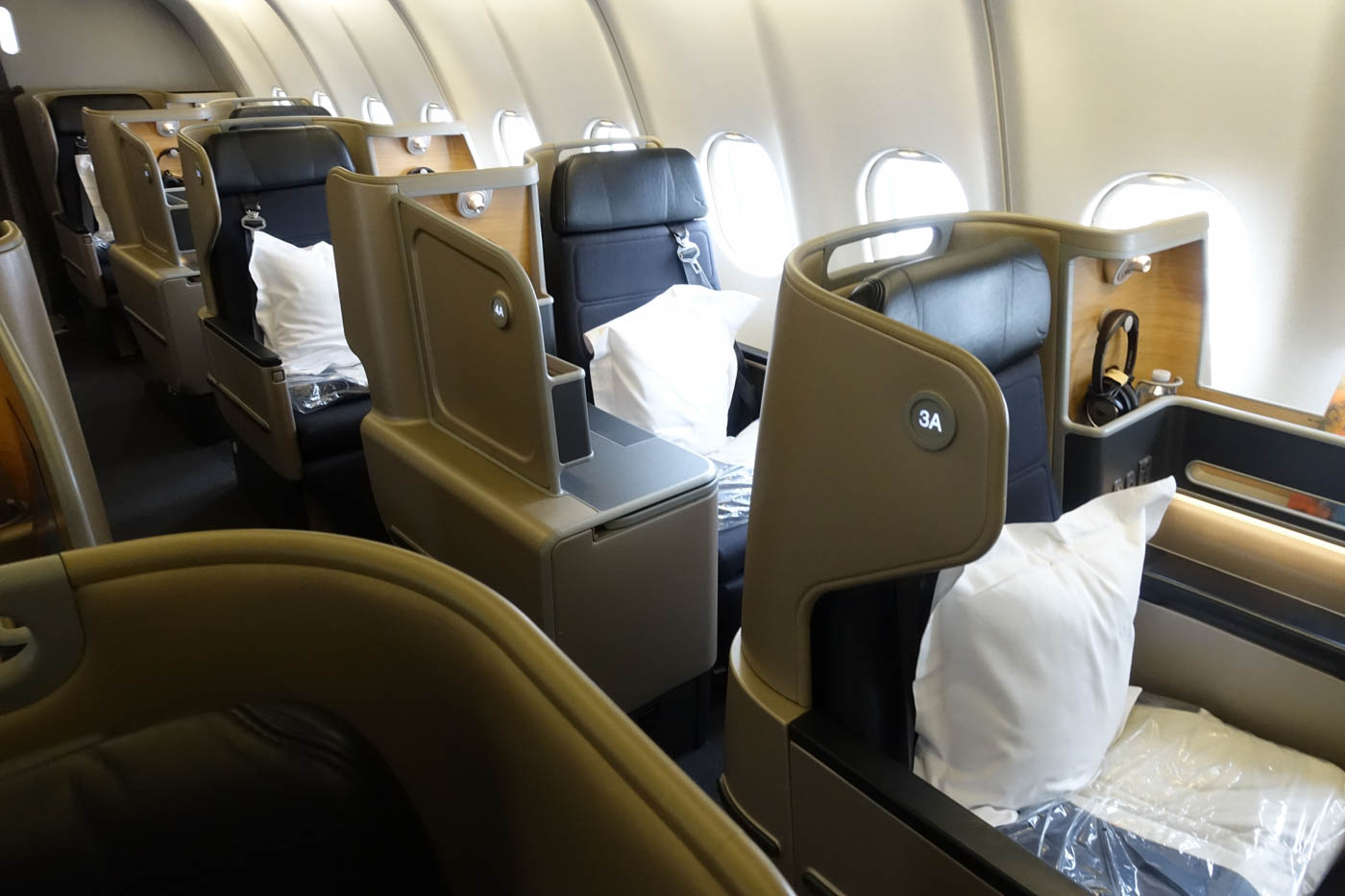 The seat itself was roomy and finished in nice black cloth with wood grain trim. Seat controls were on the side along with lighting control and the entertainment system control. The seat also contained two USB power ports and a 220v charging port for laptops.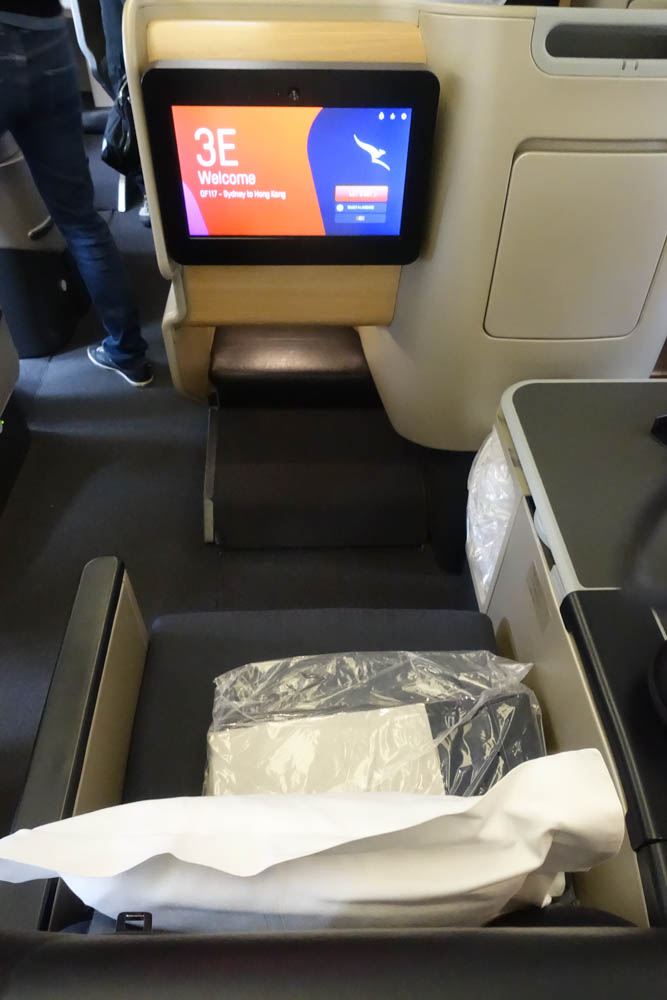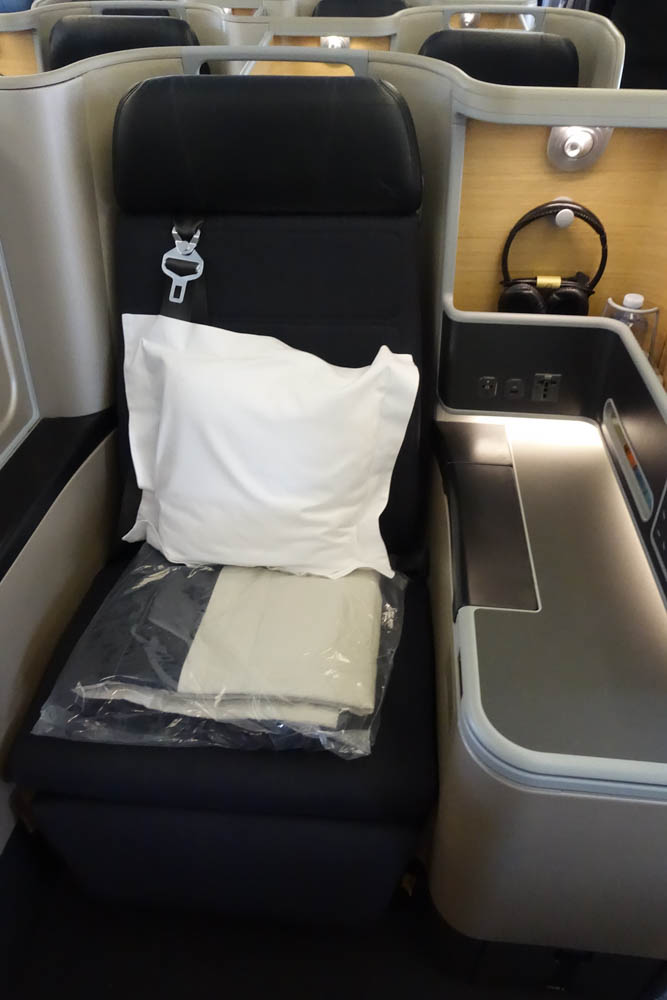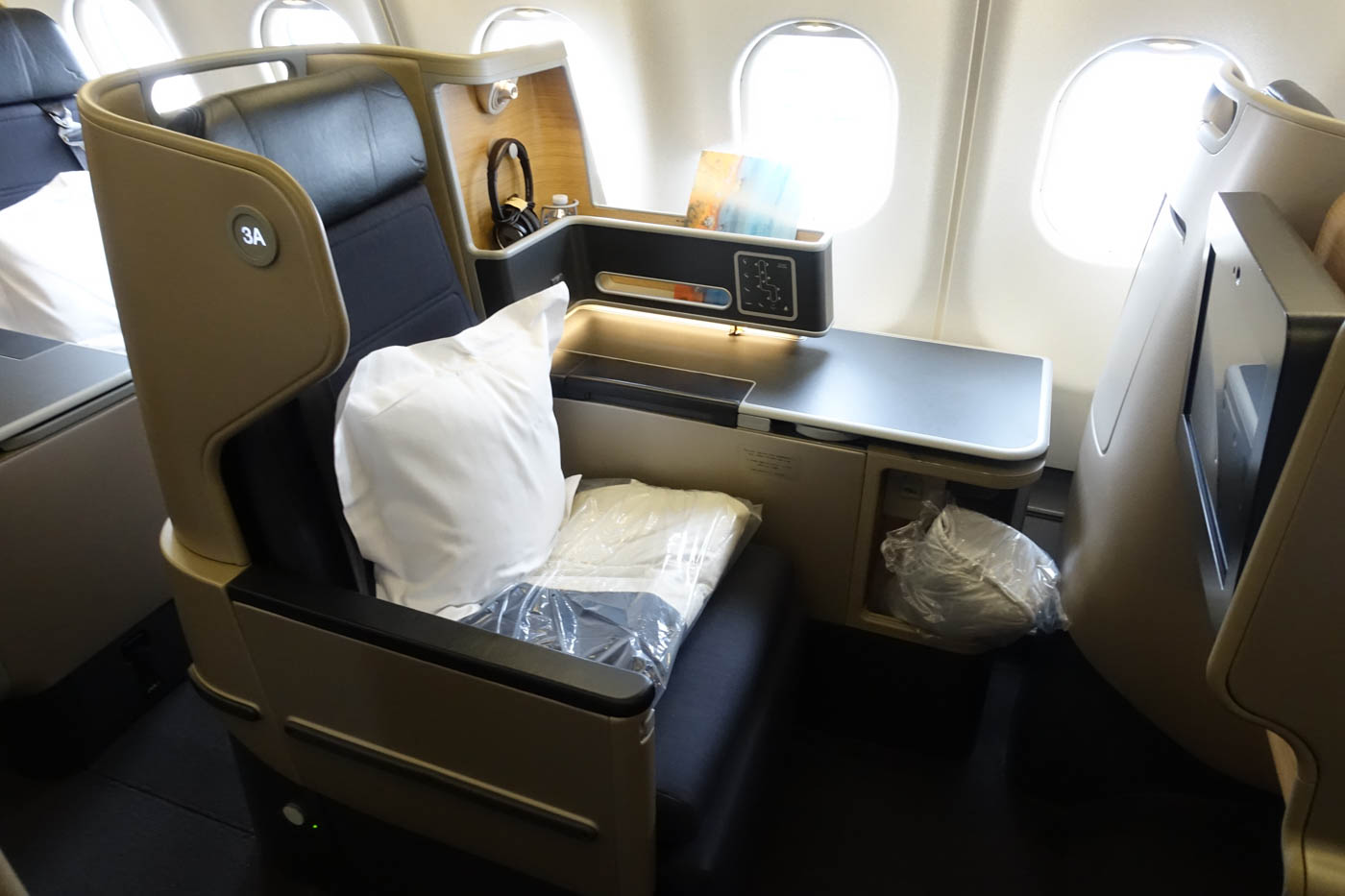 Overall the seat layout was good, with plenty of storage compartments which I always like.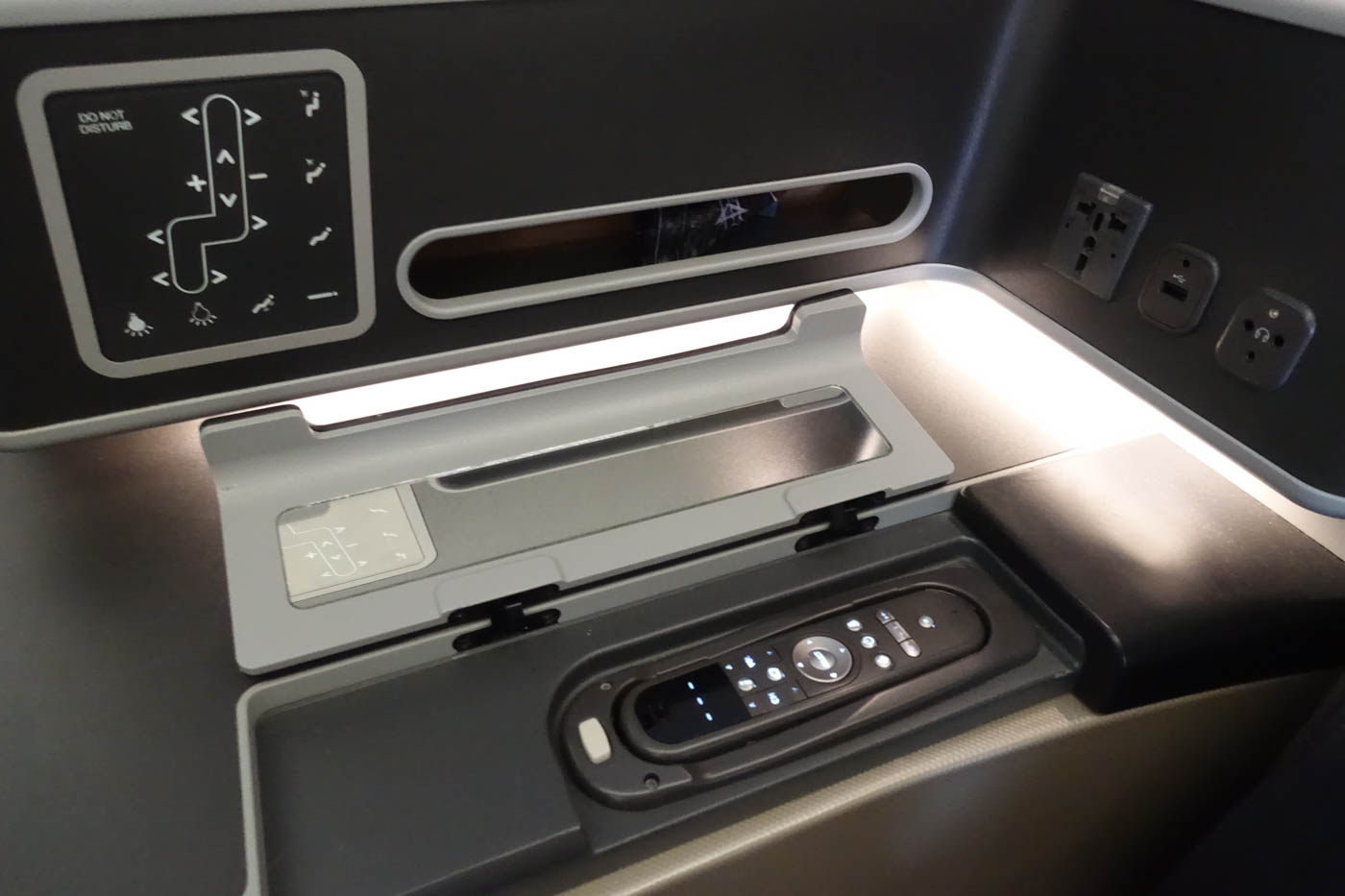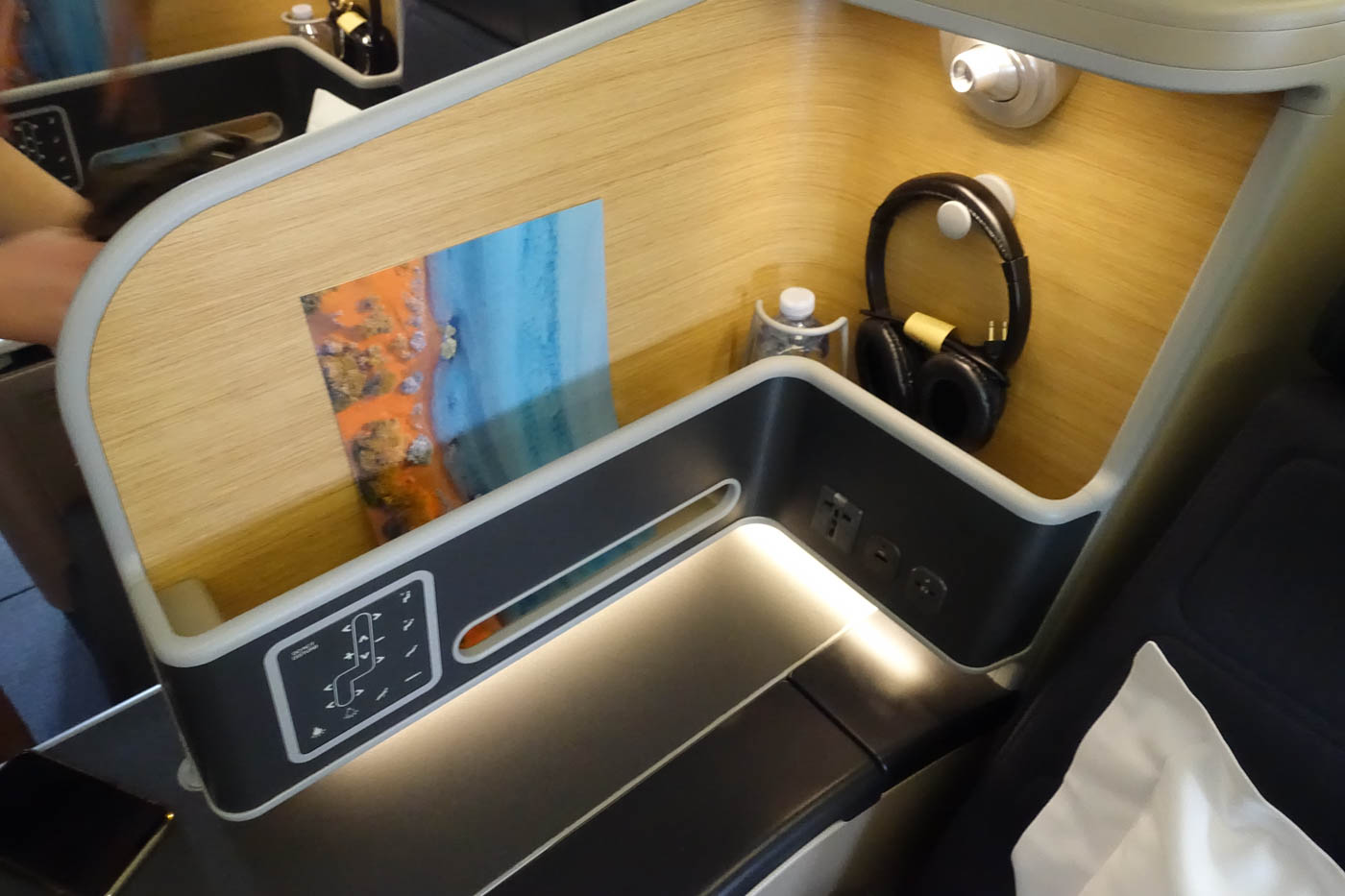 Once the cabin doors closed, we started our long taxi to the runway and were away. Shortly after the seatbelt sign was switched off someone came around to take meal orders. They seemed to do it in a very odd pattern. I can only assume they were taking orders in order of passenger status, but it seemed quite weird, and from a customer, perspective didn't look great when the person in front of you orders, then the person beside you orders then they skip you and head to the other side of the plane. What was weird is that my meal order was taken about half way through and I hold zero status with Qantas.
On today's flight, they were serving lunch shortly after takeoff followed by a snack on the way into Hong Kong.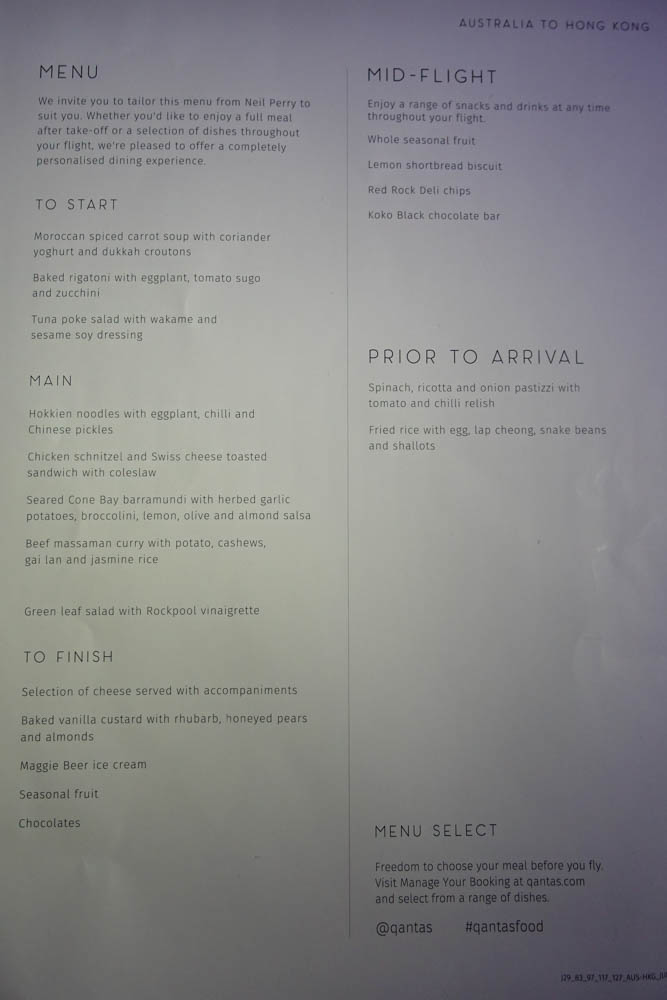 And the drinks menu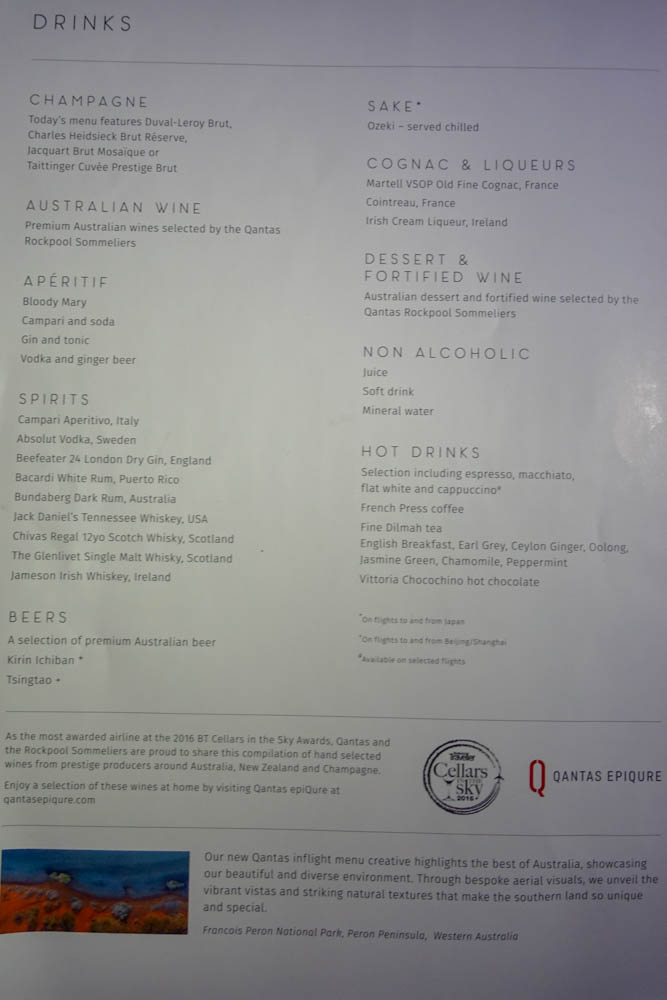 Soon after our meal orders had been taken the drink cart came around the cabin, I had a beer that was served with some pretzels and almonds.
About 20mins later meal service began, our tables were set, and we were offered bread as well as a starter salad. I was excited to see that Qantas serves Pepe Saya Butter, which is delicious! I ordered the carrot soup for starters, and the chicken schnitzel sandwich and Mrs B skipped the starter (I think she had too much lasagne in the lounge…) and ordered the beef curry for mains.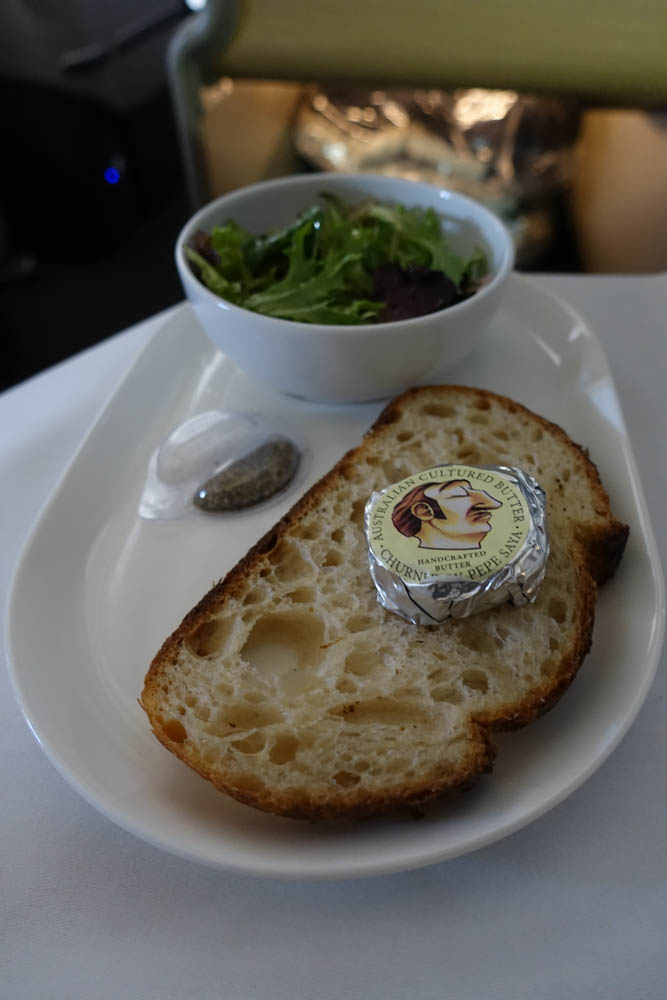 The carrot soup was tasty and the chicken sandwich was ok but a little dry.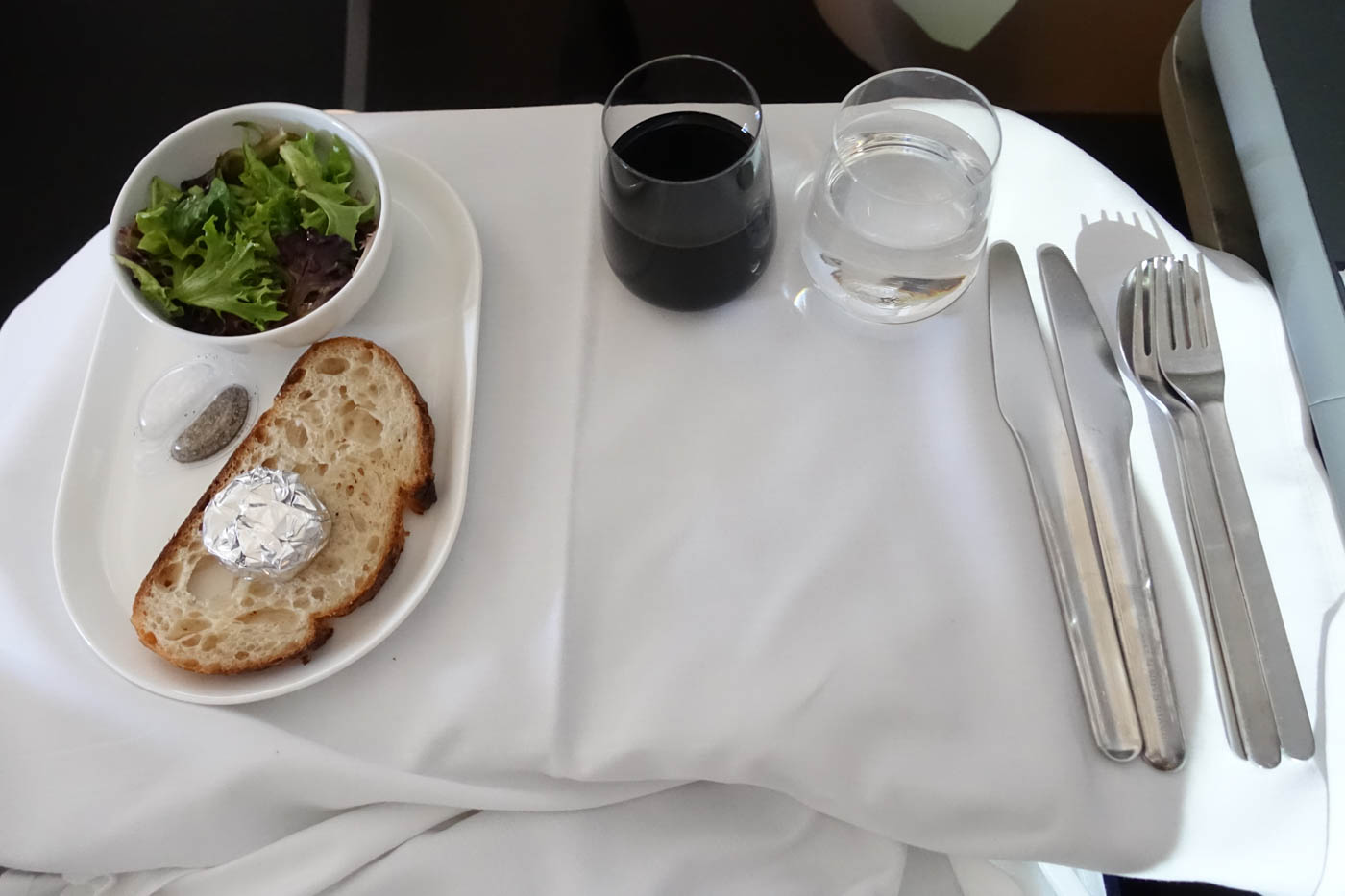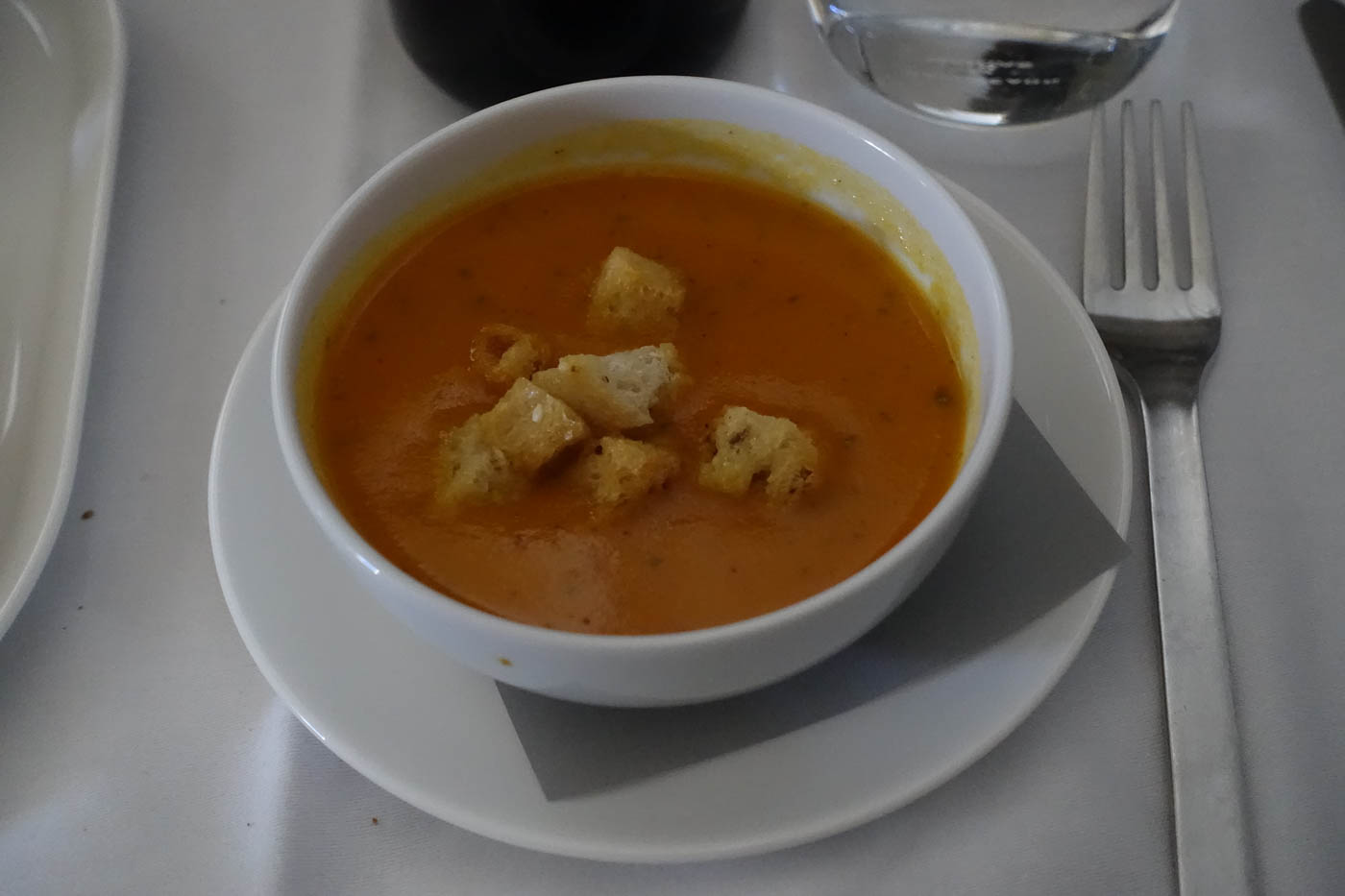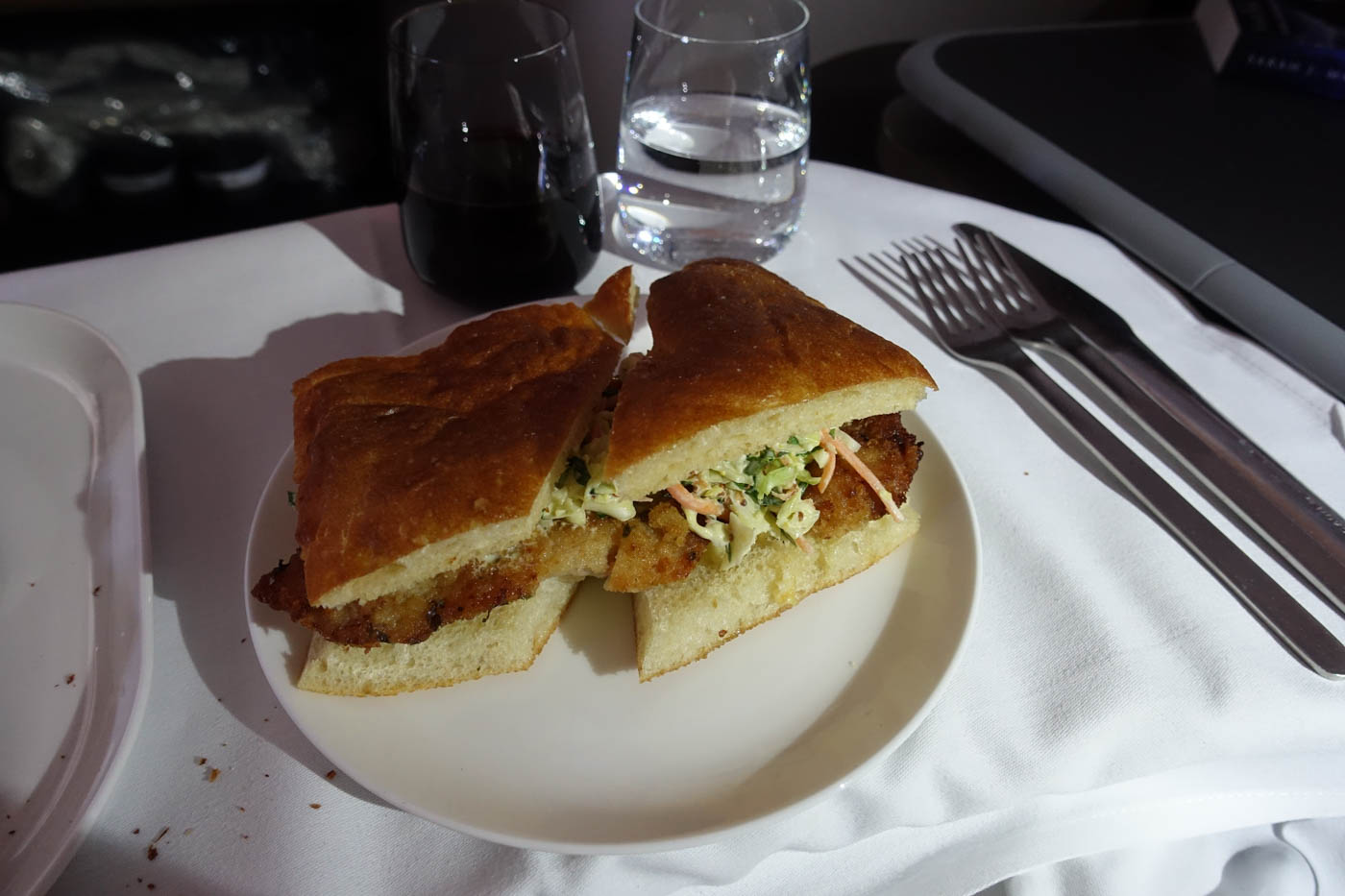 Mrs B said the curry wasn't fantastic and also a little dry.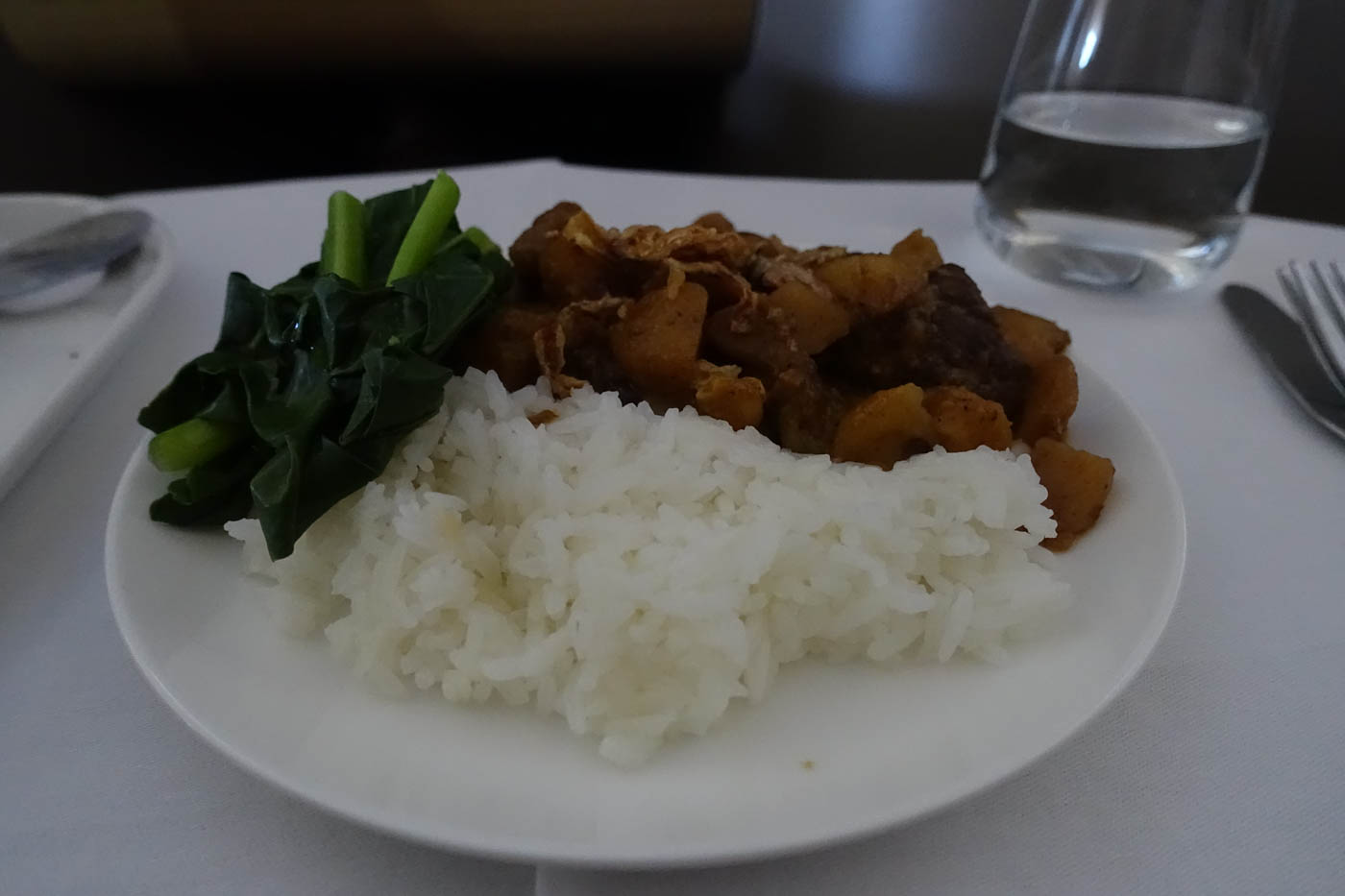 After dinner I settled in to get some work done and ordered another drink, I went with one of the cocktail options which was a vodka and ginger beer. Despite my best efforts, I struggled to get comfortable in the seat while in a sitting position, after a few hours I gave up on the work, reclines my chair and watched a movie. I may have also enjoyed a few more vodka and gingerbeers :)
While I wasn't planning on trying to sleep on this flight, I did try the seat in bed mode, and it seemed quite comfortable. It goes entirely flat and extends for 2m. Qantas also provide a mattress topper for extra comfort. The lack of cabin light made it very hard to get a decent photo in bed mode. It should also be noted that Qantas (like many airlines now) do not provide pyjamas to Business class guests.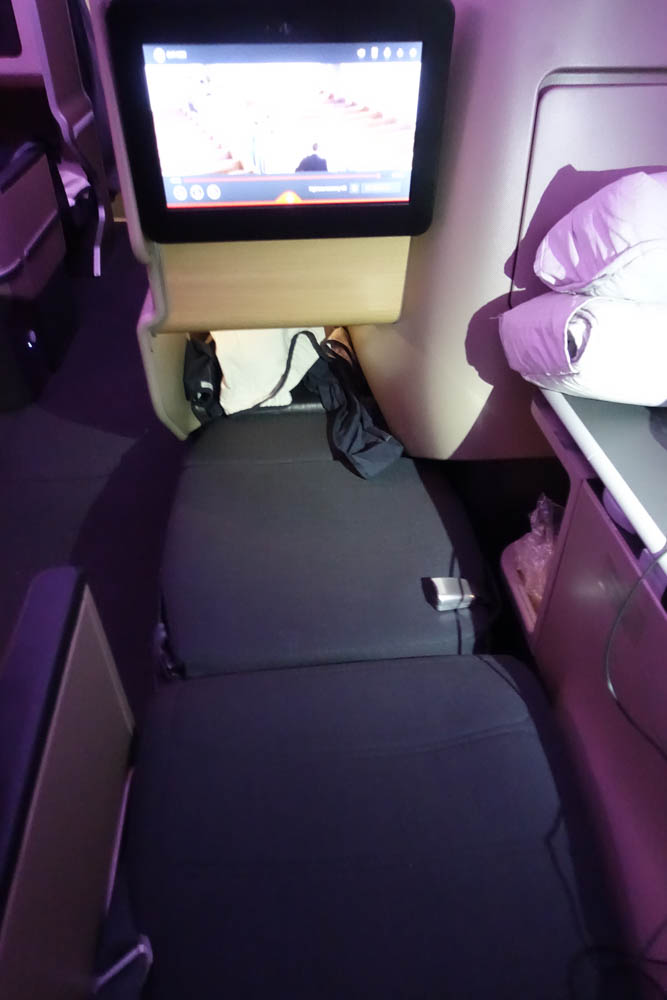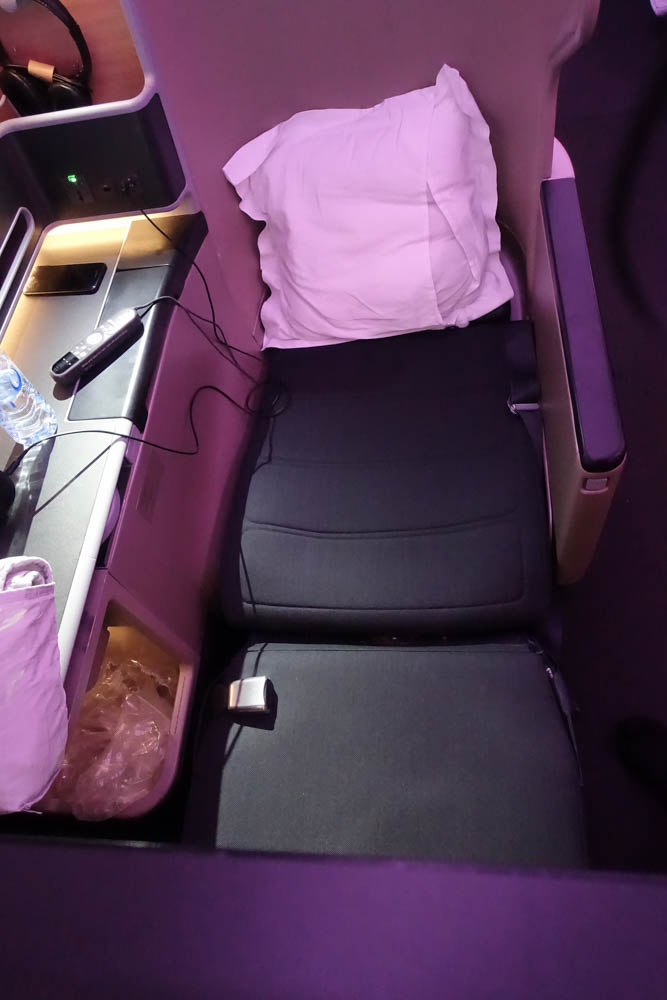 We were given individual amenity kits when boarding, the bag itself was a fairly basic but did include eye mask, socks, toothbrush, earplugs and a trio of Aspar creams (Hand Cream, Face moisturiser and lip balm).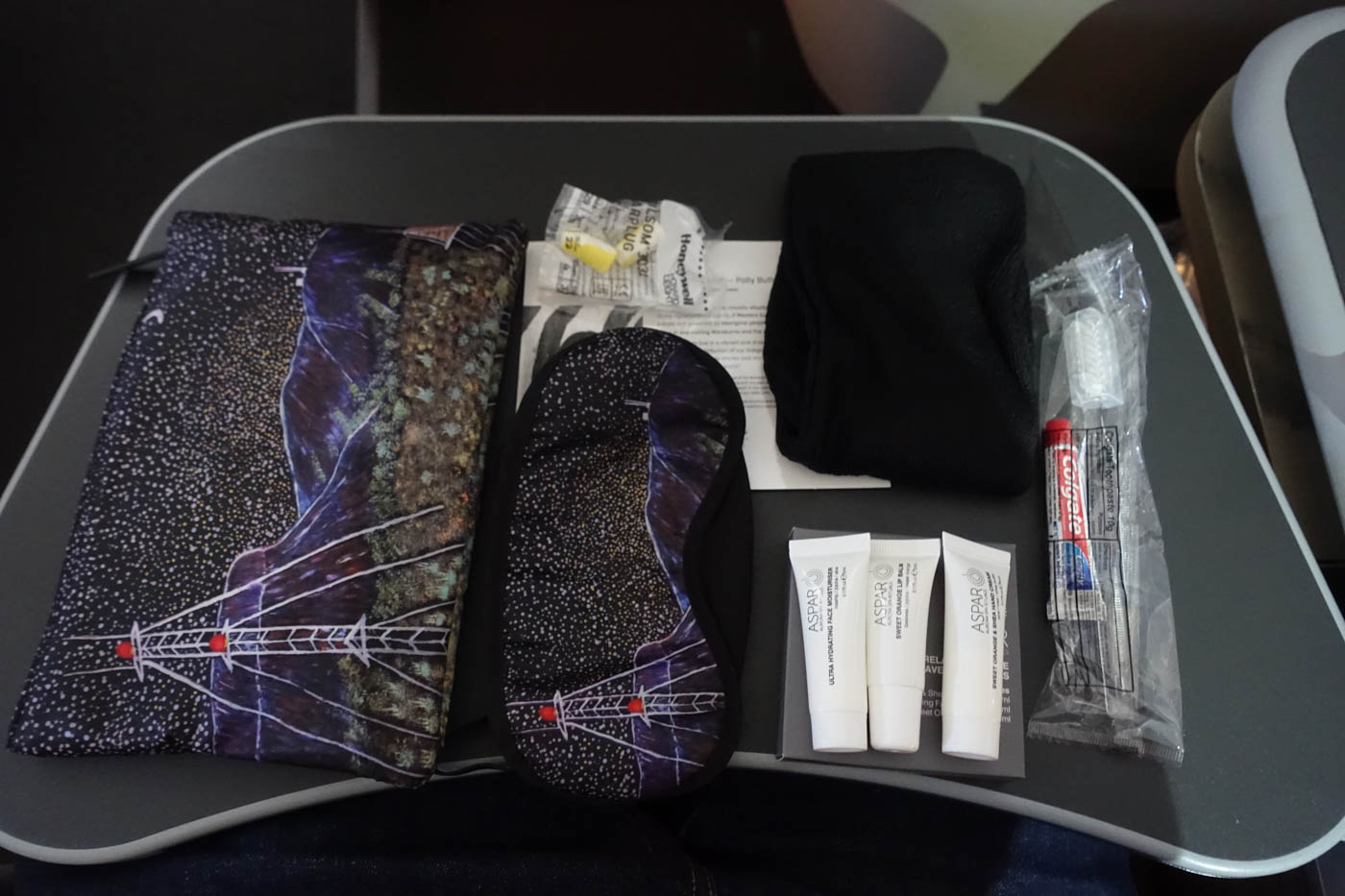 With about 1.5 hours to Hong Kong, the crew came back through the cabin to offer the choice of a light snack. I chose the fried rice, which I quite enjoyed, however, Mrs B found it way too salty (and apparently many other passengers did as well).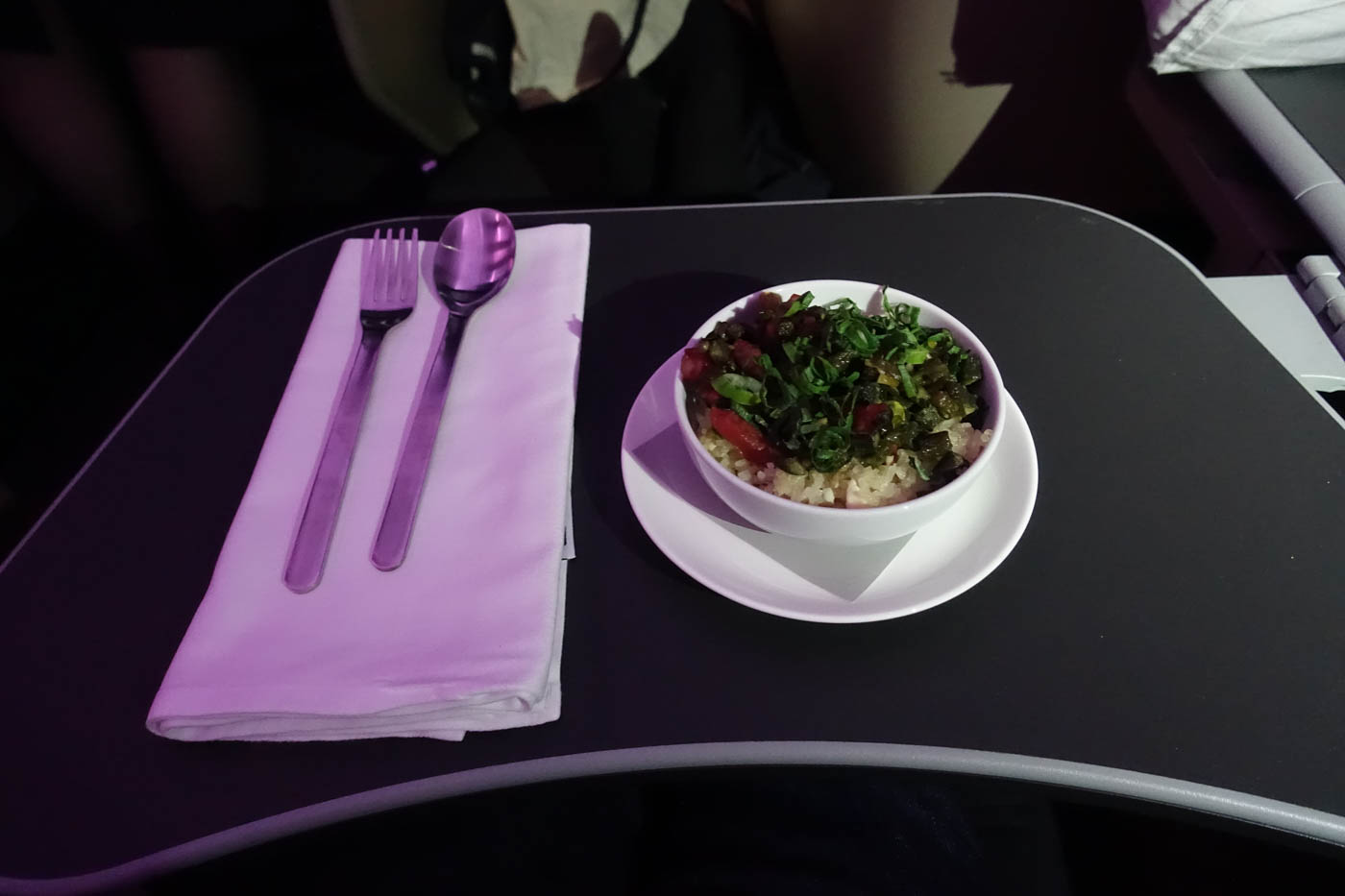 Just after the service, we hit a large pocket of turbulence; it wasn't really bad turbulence but lasted for a long time with about 20mins of solid bumpy air. I haven't had a flight that had that much-sustained turbulence in quite a while, and several people seemed to be struggling with it.
Overall Impression
I didn't go into this flight with high hopes; when I think of Qantas, in general, I think of pretty poor service and old hard products. But I was pleasantly surprised, for the most part, I liked the seat, and while I wouldn't say the service was amazing, it certainly wasn't bad either. It is a pity Qantas don't fly this hard product to more locations as it is significantly better than the Sky Bed II product on most of their long-haul fleet.