Review: Emirates 777 First Class Hong Kong to Dubai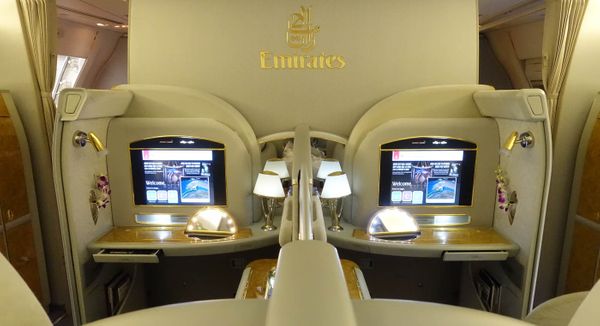 Table of Contents
Escaping Winter to Europe With a Quick Stopover in Hong Kong
Review: Qantas International Business Lounge Sydney
Review: Qantas A330 Business Suites Sydney to Hong Kong
Review: Conrad Hong Kong Junior Suite
Review: Emirates Business / First Lounge Hong Kong
Review: Emirates 777 First Class Hong Kong to Dubai
Review: Emirates Concourse B First Class Lounge Dubai
Review: Emirates A380 First Class Dubai to Amsterdam
Travel: Exploring Amsterdam
Review: Hilton Amsterdam
Travel: Exploring Paris
Review: Drawing Hotel Paris
Review: Etihad First/Business Lounge Paris Airport
Review: Etihad EY32 A380 Apartments Paris to Abu Dhabi
Review: Etihad EY454 A380 Apartments Abu Dhabi to Sydney

This was a flight of many firsts, my first time trying Emirates First Class, my first time flying a three class 777 and my first time being the only passengers in the First Class cabin.
I think I have mentioned a few times now, but I had high hopes for this (and the next) flight. In fact, part of our holiday was built around the desire to use some leftover Qantas points to fly Emirates First Class. My original plan was to take both flights (HKG-DXB and DXB-AMS) on the Emirates A380. However, at the last minute, we made a change to go with daytime flights rather than the red eye which meant we were now on a 777 for the first flight and an A380 for the next. I wasn't to fussed as the suite is basically identical on both planes.
Our plane waiting to take us to Dubai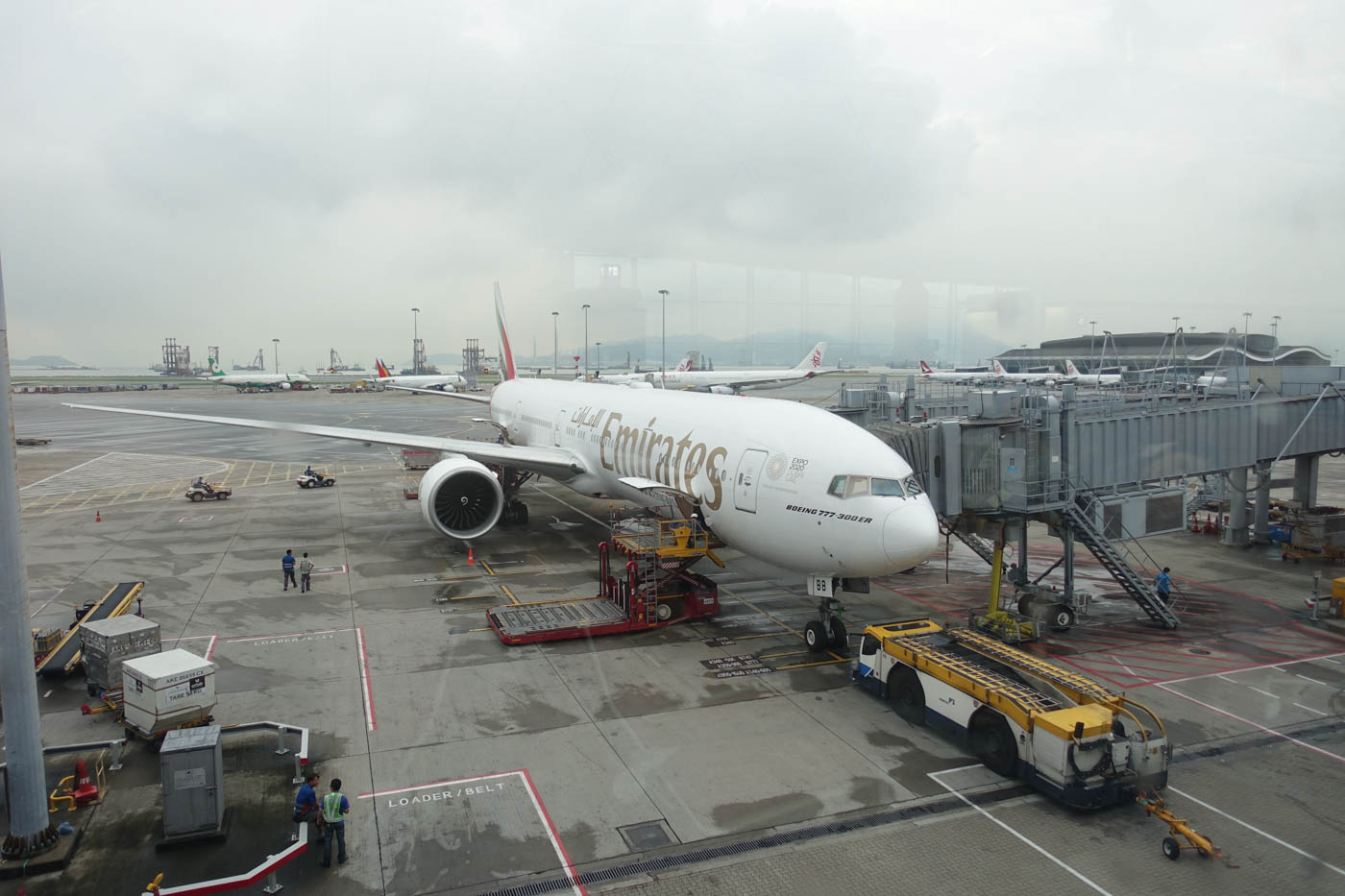 Once again we got to the gate before boarding started, boarding was slightly delayed but was underway shortly, and we made our way down the jet bridge to our awaiting 777, both Business Class and First Class were boarding through door 1L. We were greeted at the door and shown to our seats.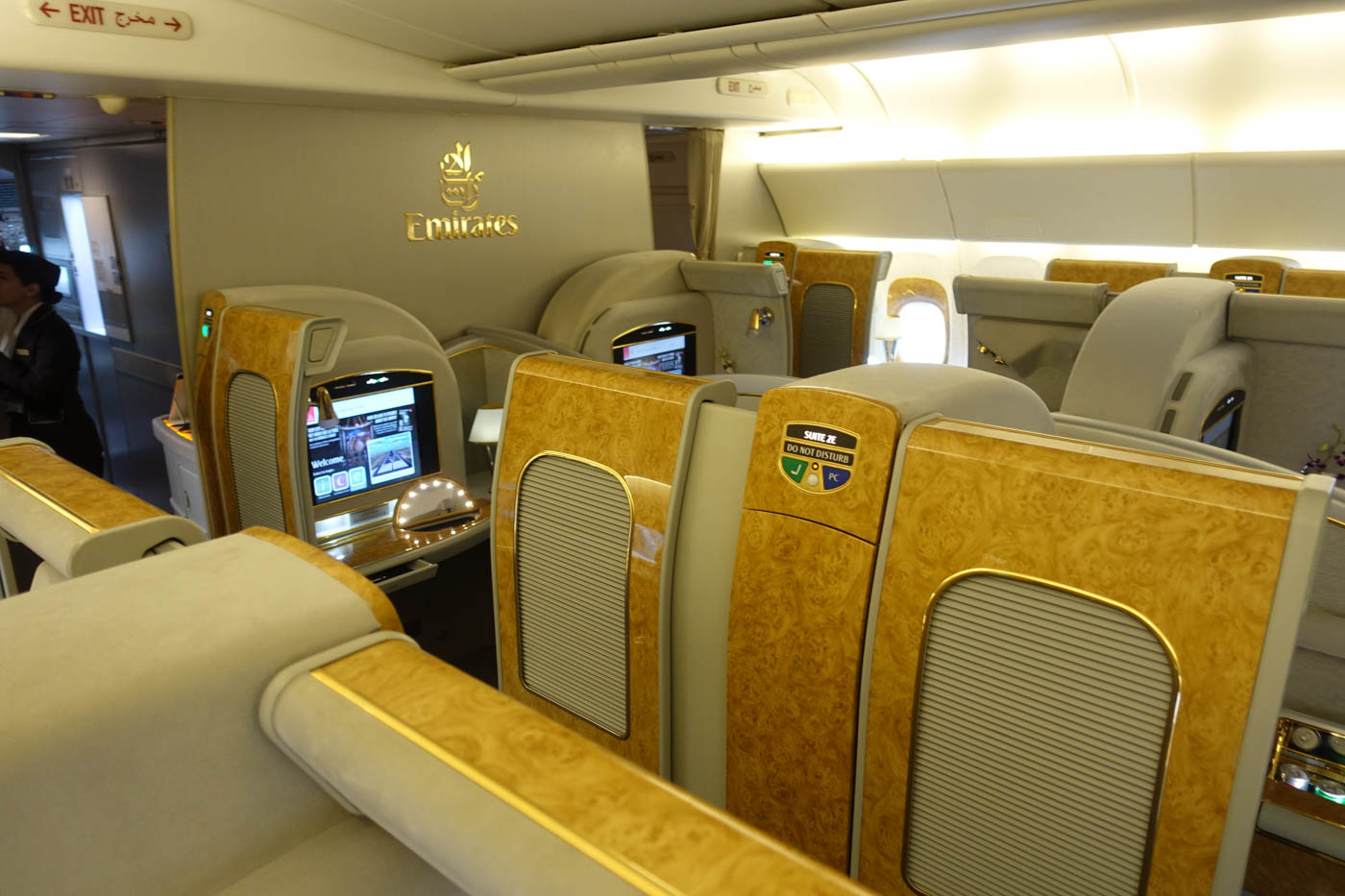 I have to say my initial reaction was one of surprise, the suites were far more spacious than I was expecting and the cabin felt huge thanks to the lack of overhead bins. Shortly after the crew came to introduce themselves and informed us of the flight time to Dubai and that we were the only passengers in the cabin and could sit anywhere we liked. We were also offered a drink, so I obliged and ordered a glass of champagne.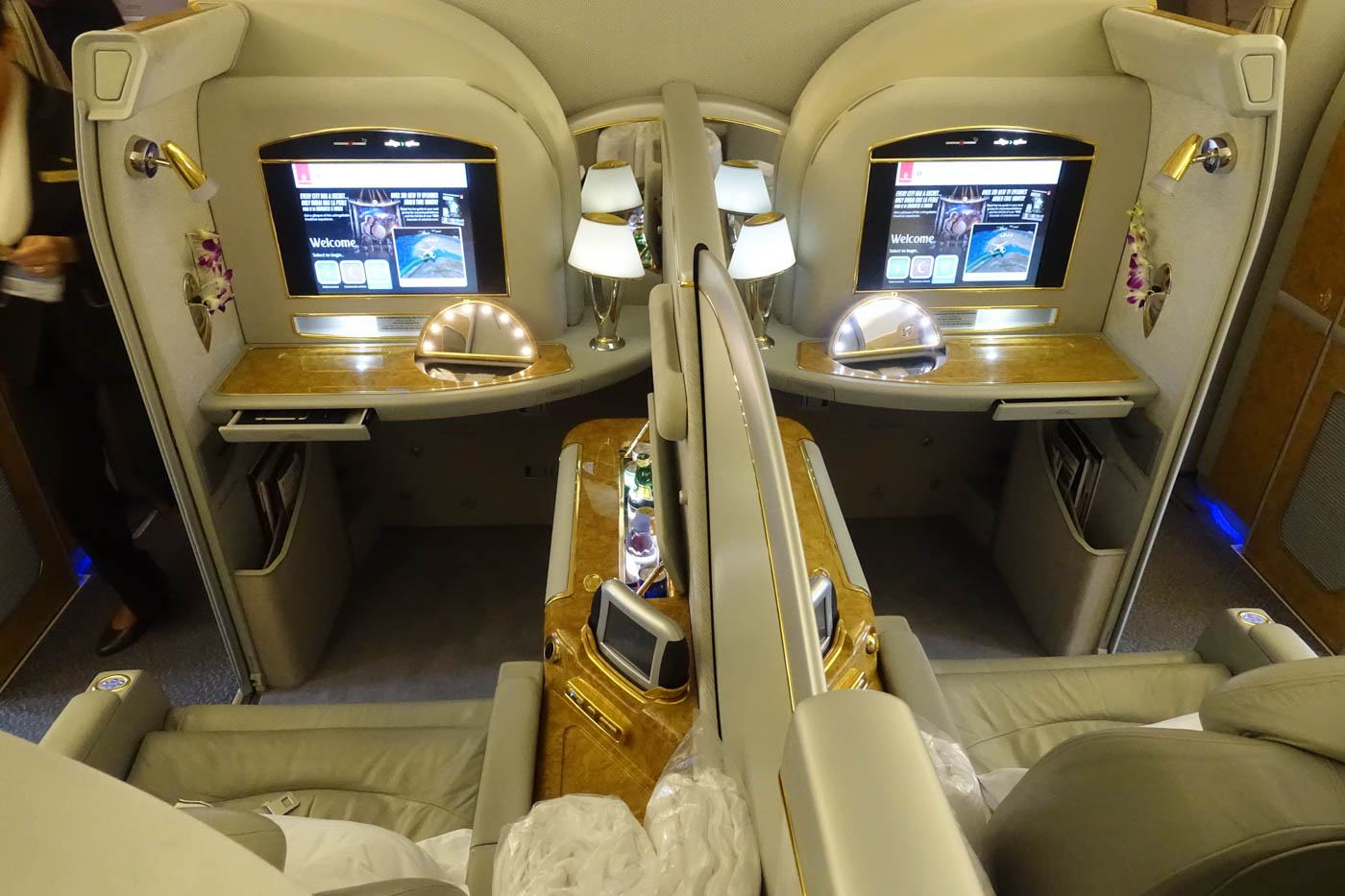 I started to explore the seat and cabin. Emirates has a total of 8 suites in First Class on the 777 compared to the 12 suites on the A380. Each suite consists of a large reclining chair that converts to a fully flat bed and is surrounded by walls that are ~1.5m high with two motorised sliding doors that you can close once airborne.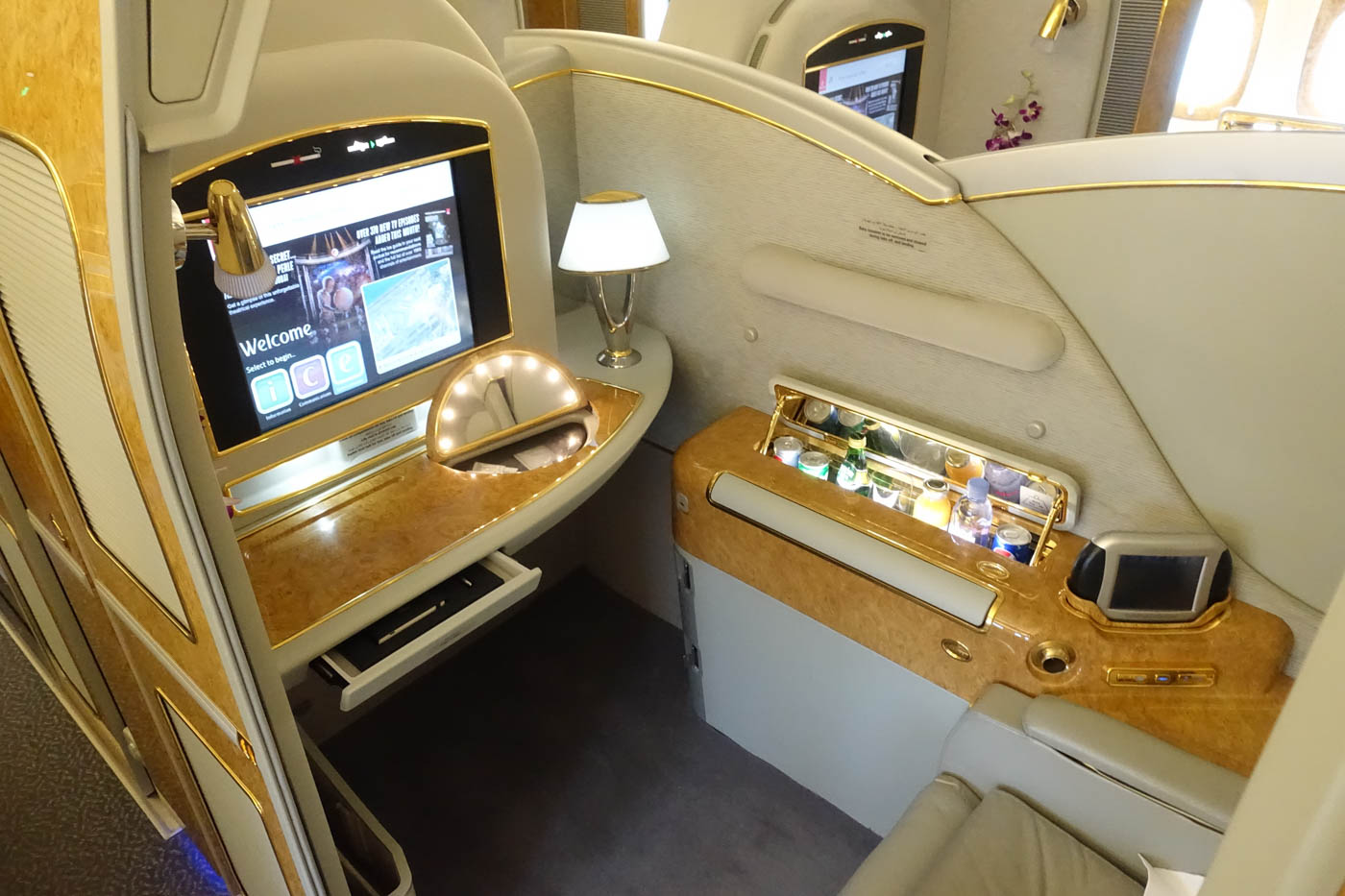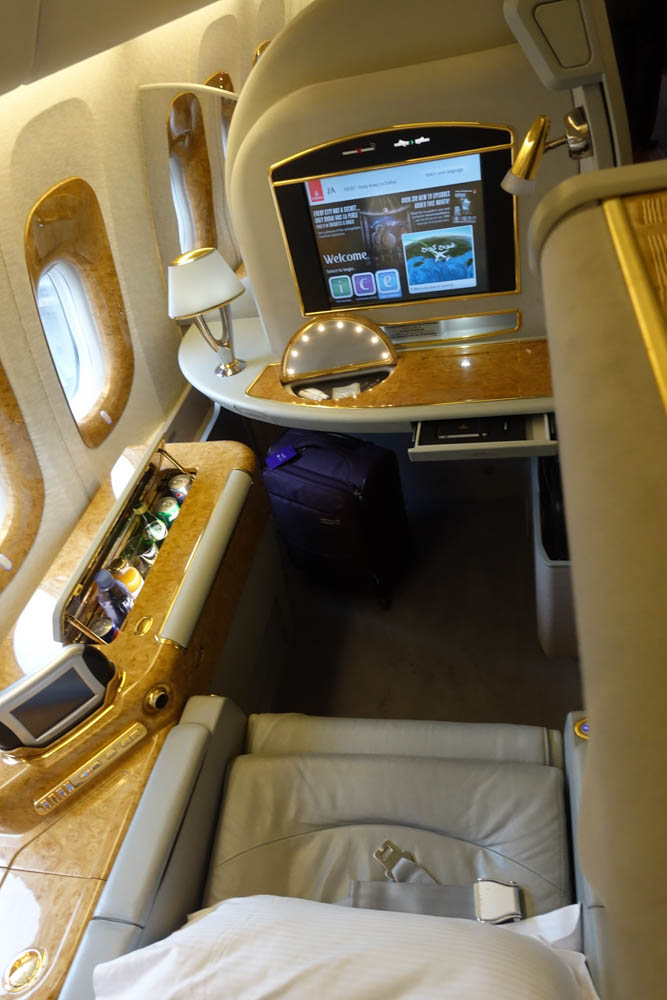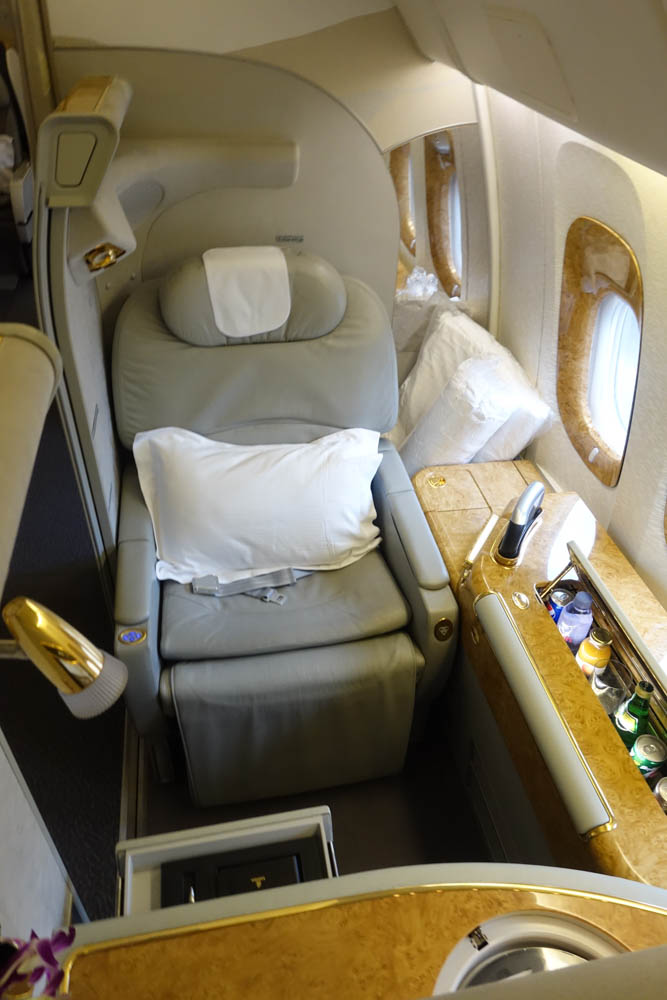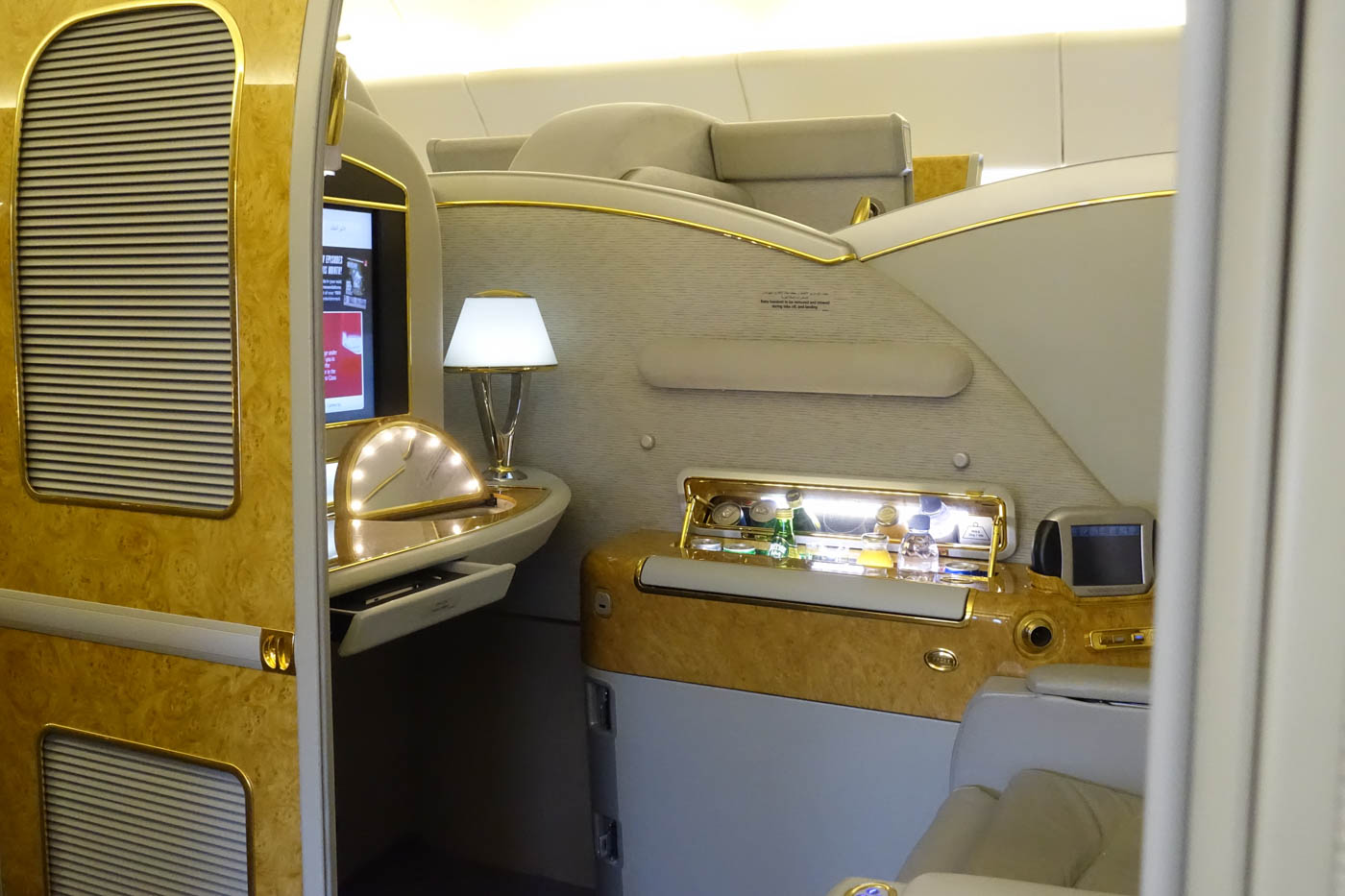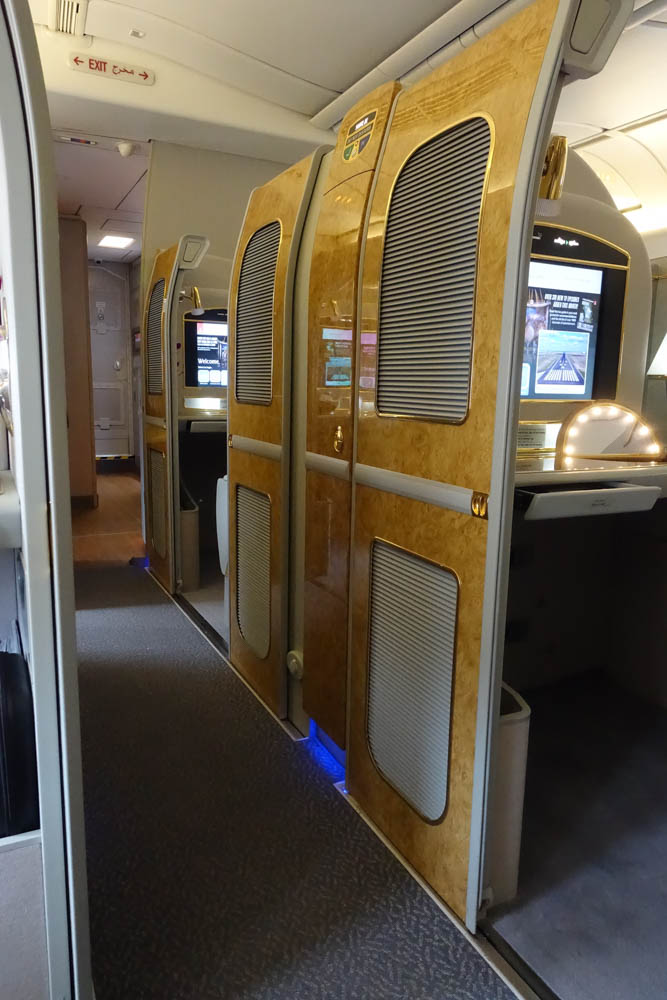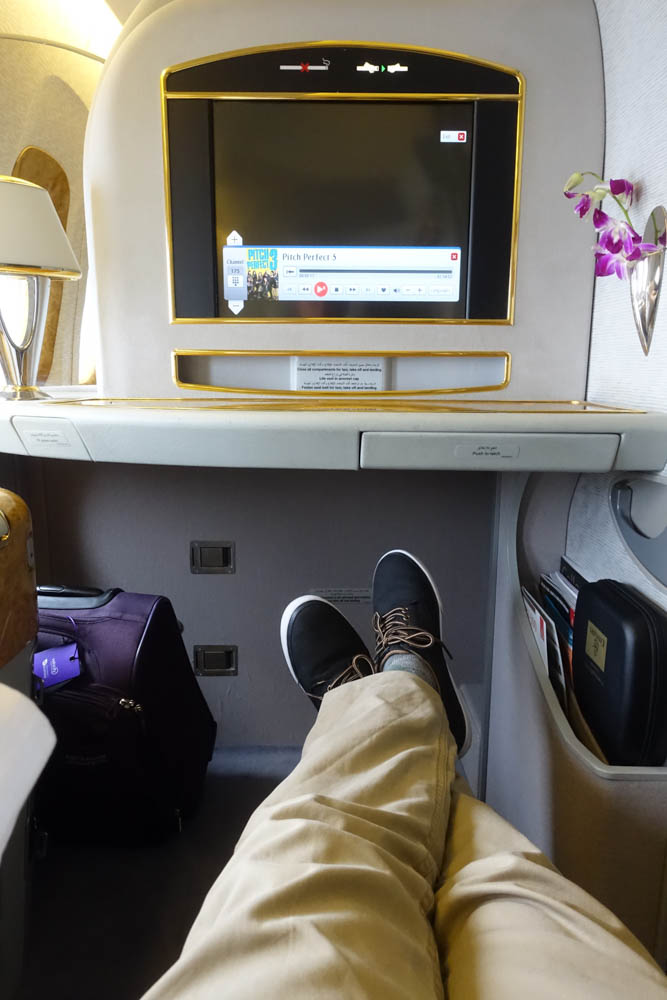 The faux woodgrain and gold is possibly too much for some people and could be considered tacky, but somehow Emirates manage to pull it off quite well. Once in your seat you have a large ~19" tv screen in front of you with a small fixed bench below it, this bench contains your vanity mirror and associated amenities as well as a slide out drawer for your writing kit (yes you get a writing kit with a nice Emirates notebook and pen). The bench is also where your snack basket is stored.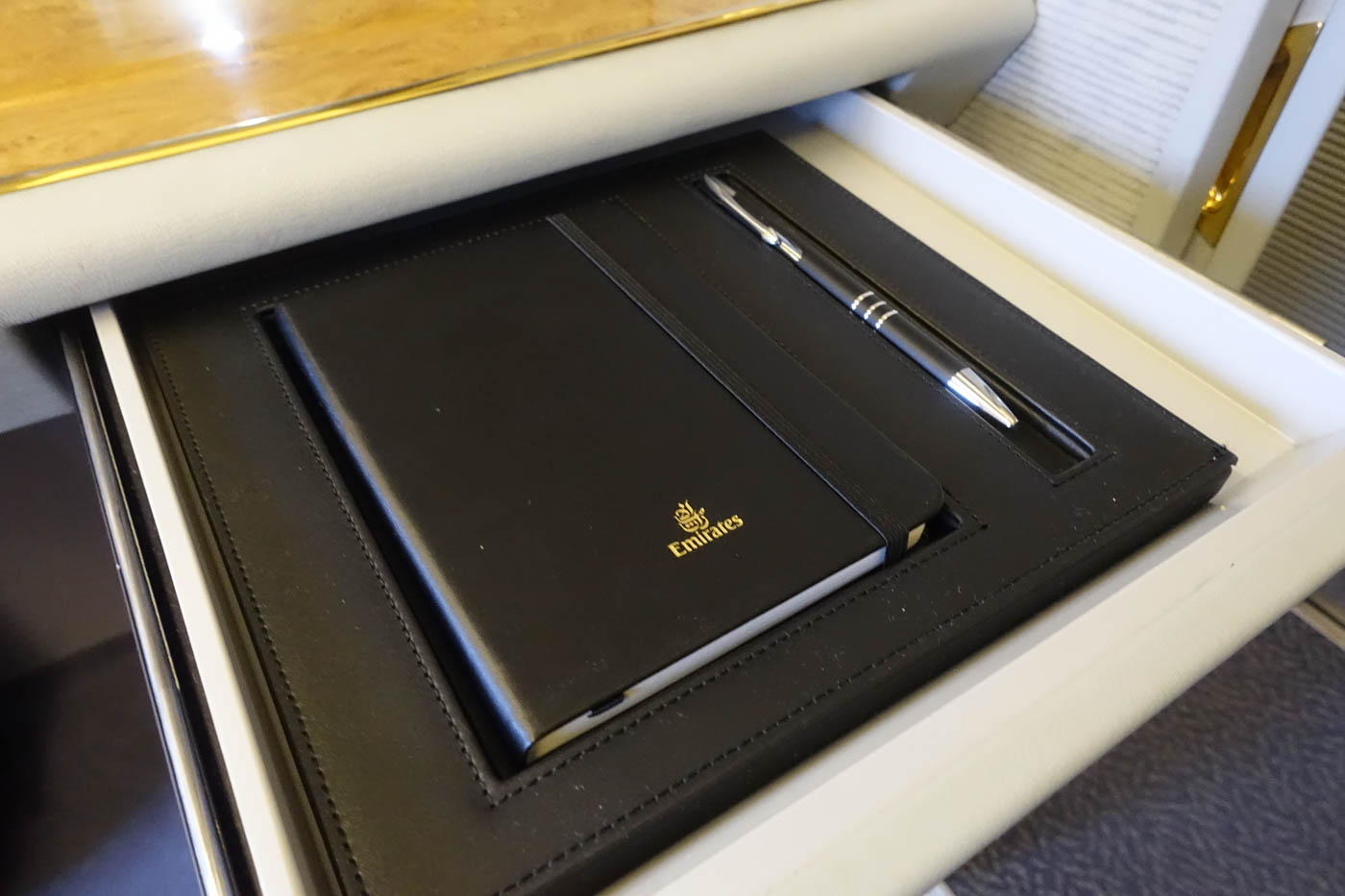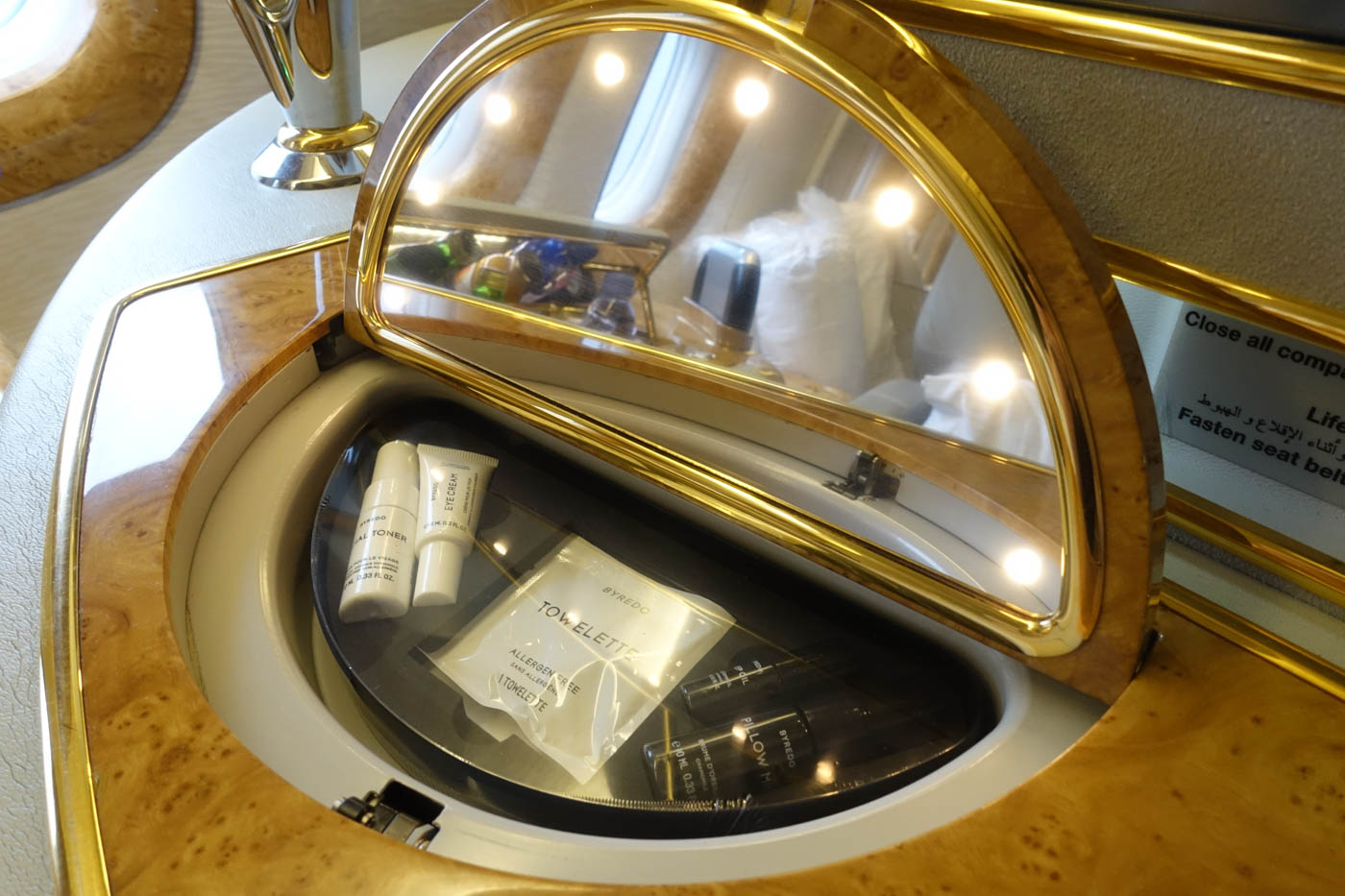 I really loved the concept of the snack basket, it is a nice little touch and contains practical things above simply snacks such as mints and Phizz re-hydration tablets.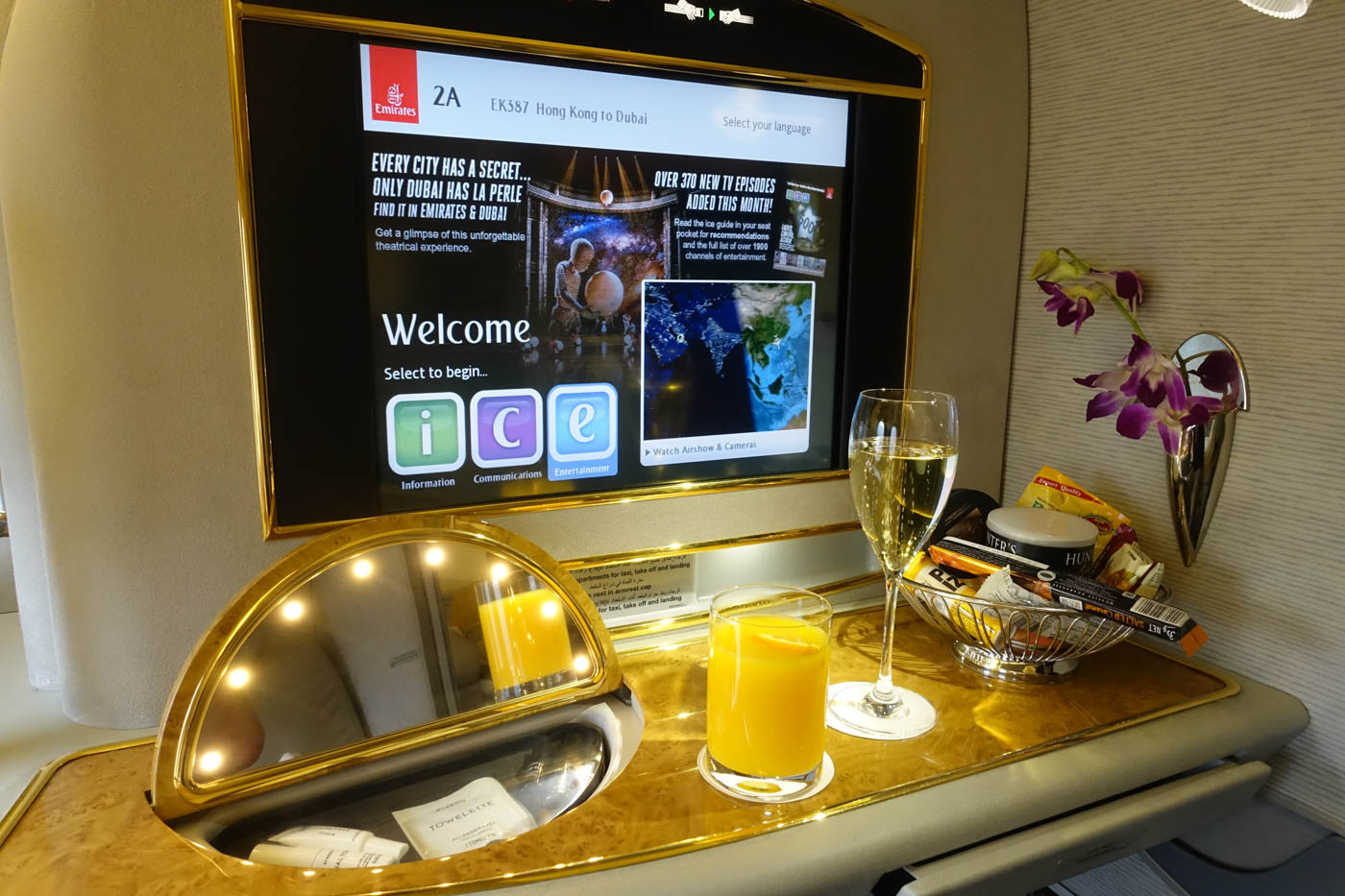 Then off to the side of the suite is the completely unnecessary motorised mini-bar. Whilst it is very cool, it isn't actually chilled so not all that functional. But I still felt the need to Boomerang it for Instagram :)
Behind the mini-bar are the seat controls and a storage bin. Emirates has an interesting system for seat controls; you essentially have two ways to control the seat. You can either use the quick pre-set buttons on the seat armrest to quickly get you to dinner, sleeping and take-off/landing modes or you can use the touchscreen remote/tablet to control the seat along with all the other functions of the suite like the media system and lighting.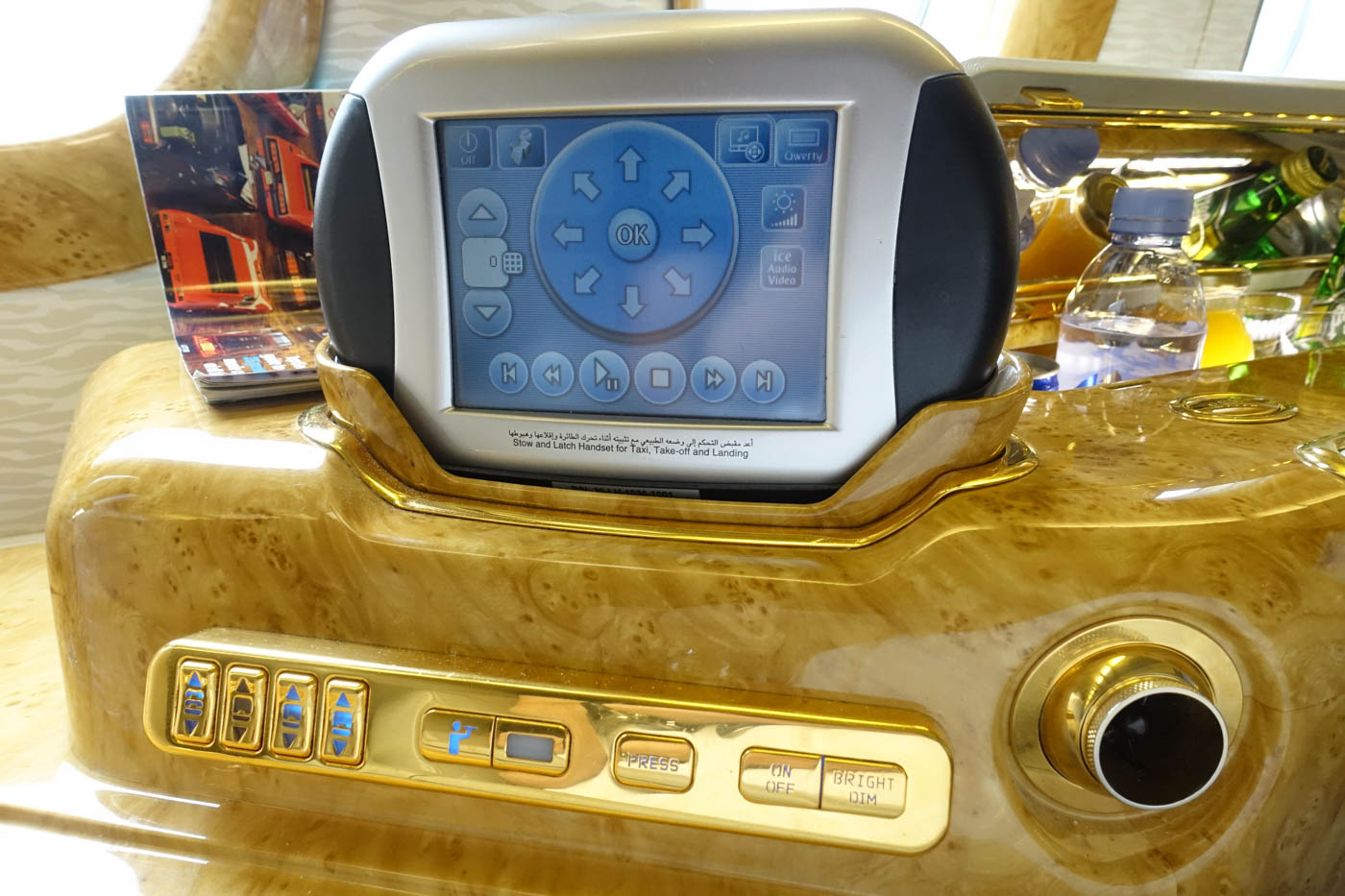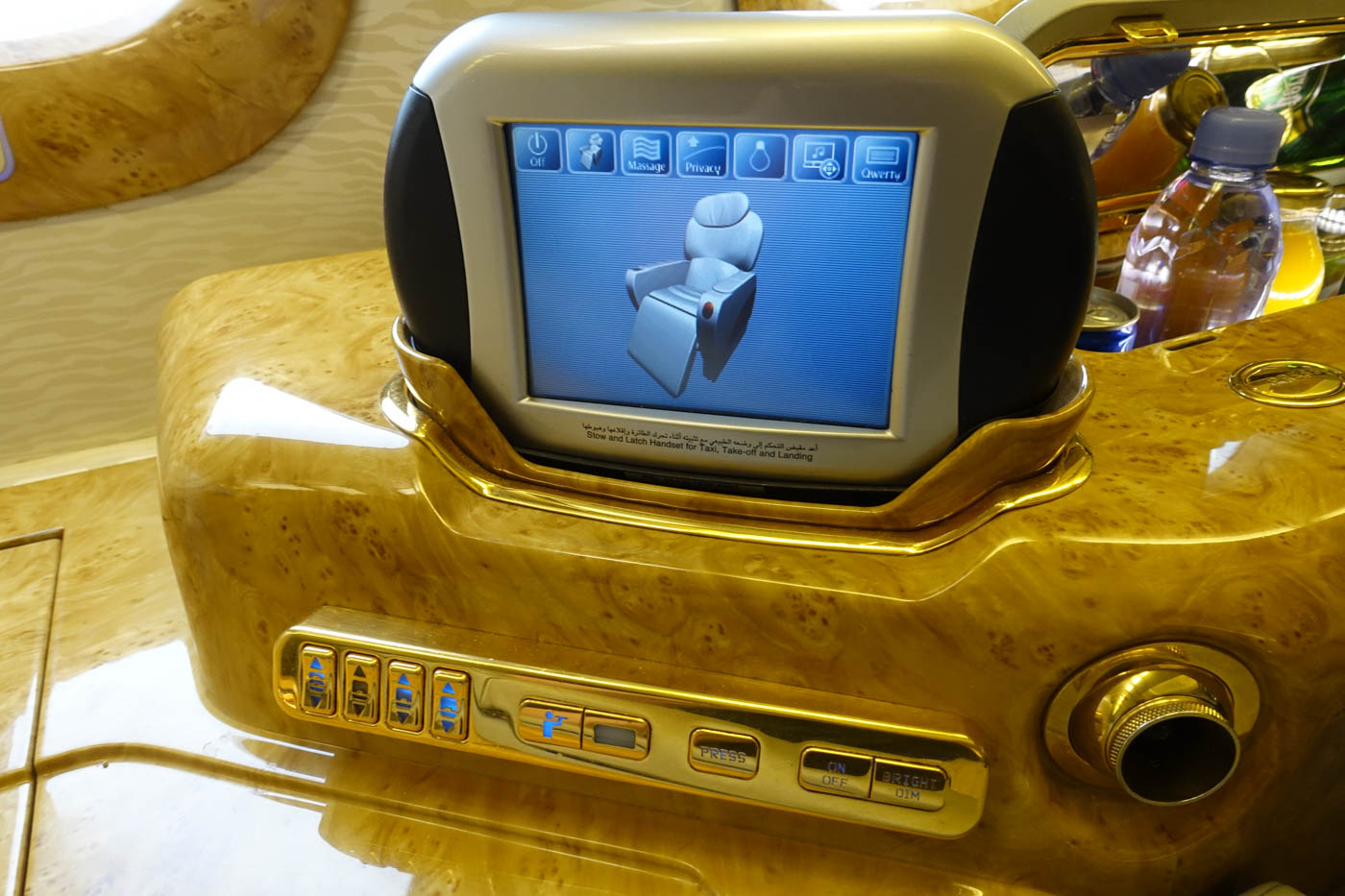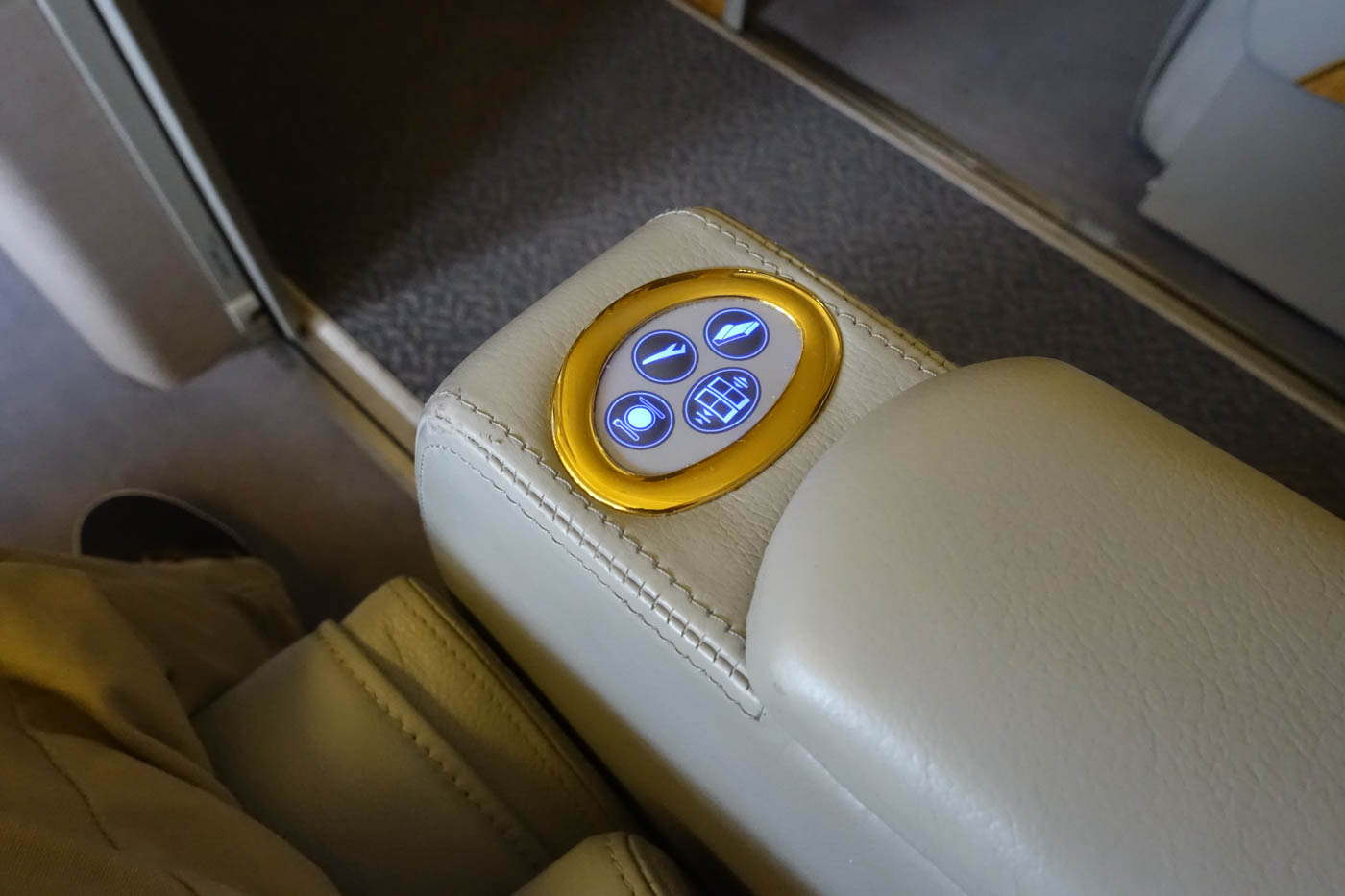 There is also a more traditional media remote in the seat armrest.
I sat back and enjoyed my glass of Dom and browsed the menu while we waited for boarding to finish. On today's flight, they were offering both a breakfast and lunch menu. Emirates offer a complete dine-on-demand concept in First Class, so you can order anything you want at any point during the flight.
Breakfast Menu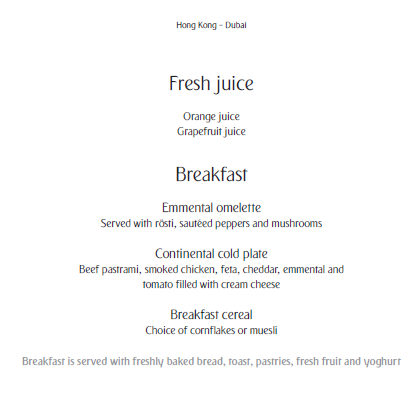 Lunch Menu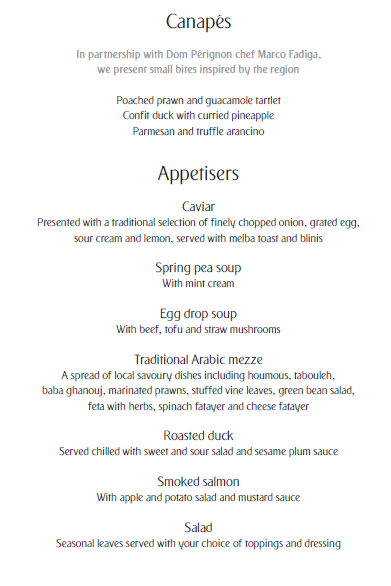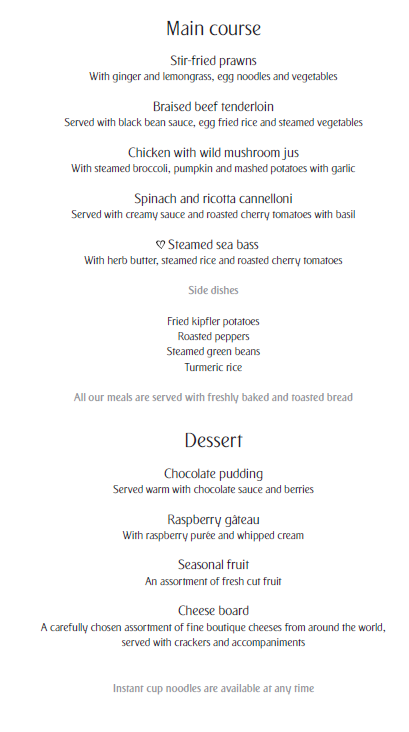 In terms of drinks, the menu goes on and on; this is another area Emirates excels over most other airlines in First Class, they offer an amazing amount of premium drinks.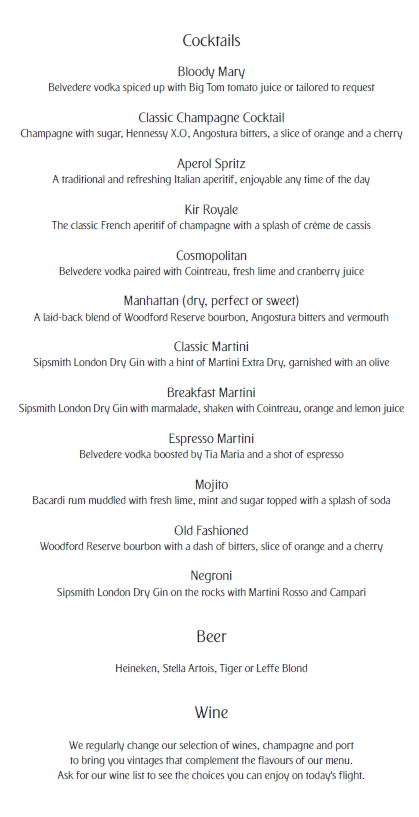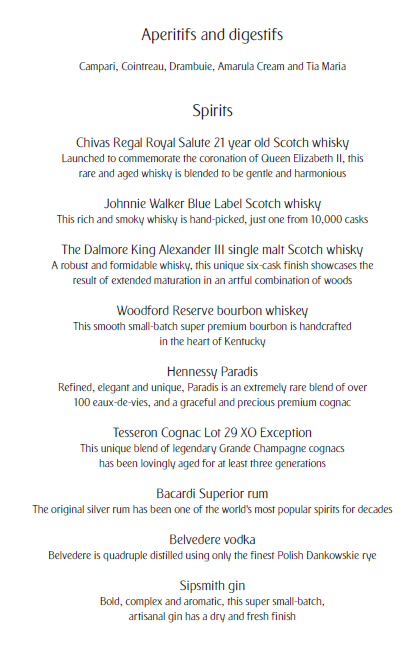 Boarding was finished quite quickly as the plane wasn't very full at all. We pushed back and began our taxi to the runway, the crew returned to collect the pre-departure beverage glasses as well as the snack basket, however assured me that they would bring it straight back once we were airborne :) After a short taxi, we were on our way.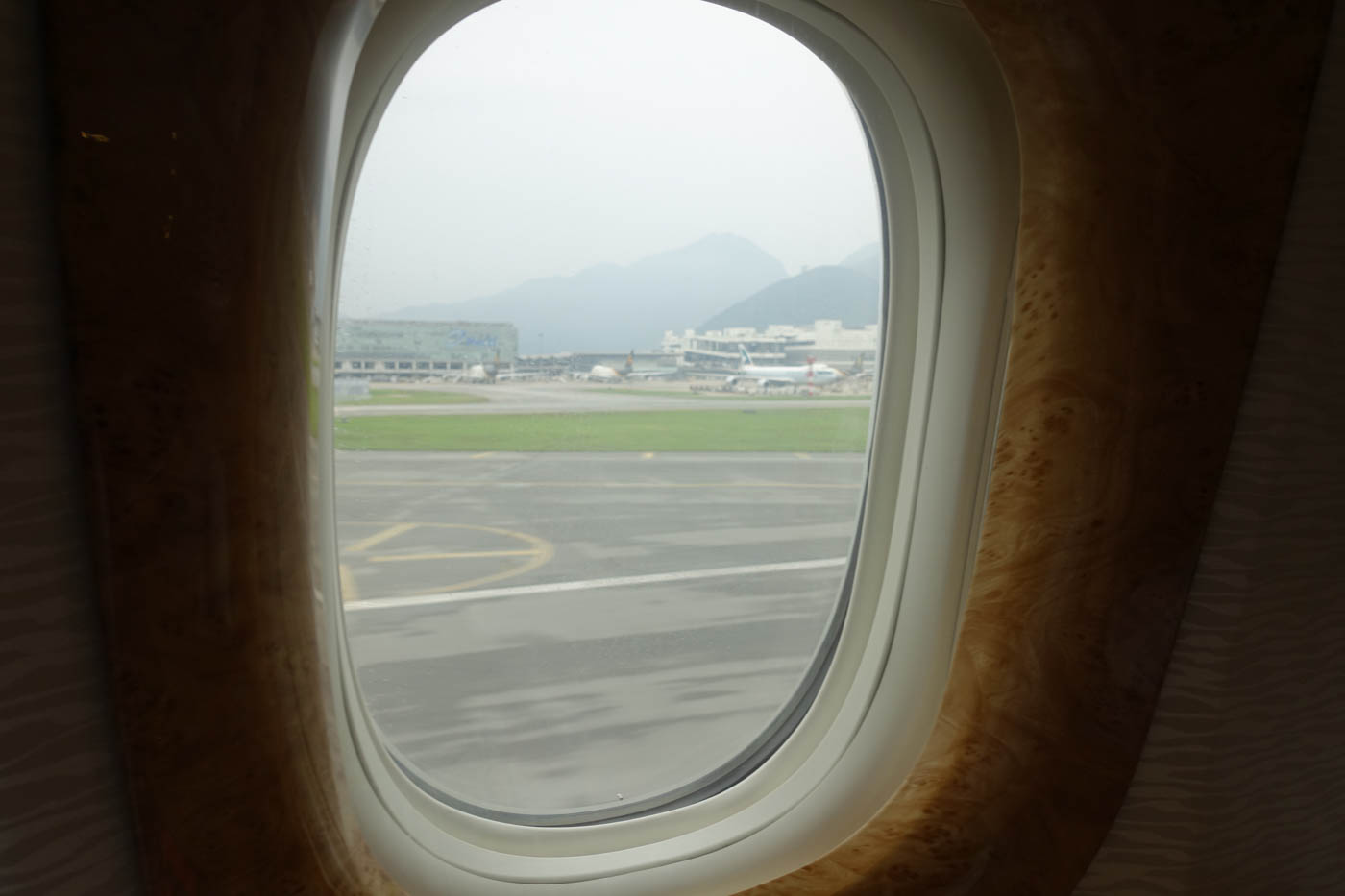 The seatbelt sign was turned off, and the crew made their way through the cabin (all two of us) to check if we needed anything. I decided to make the most of Emirates First class and planned to order breakfast and then a late lunch closer to the end of the flight. For breakfast, I ordered the omelette with a glass of fresh orange juice and an accompanying glass of champagne.
Omellete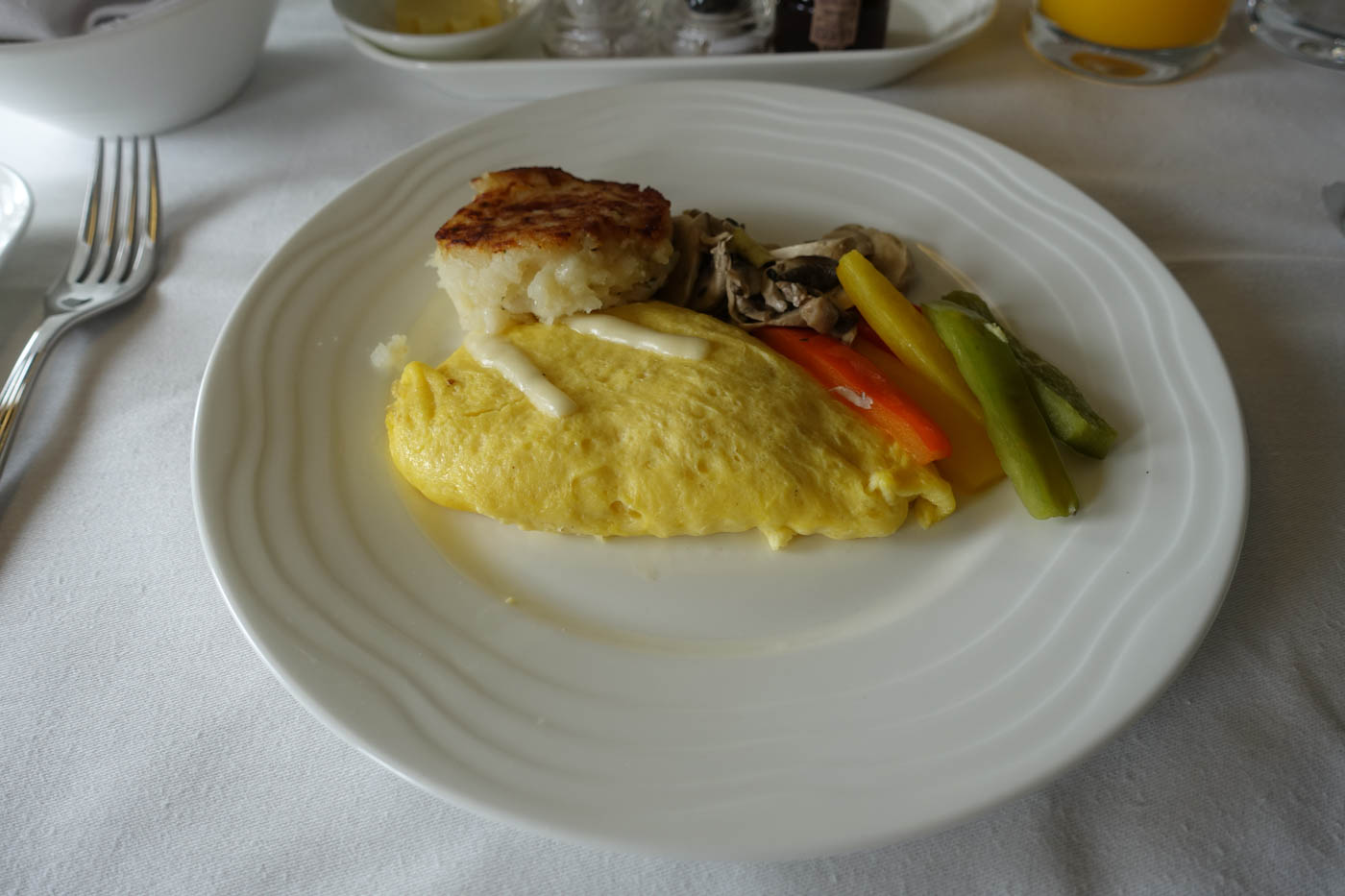 Bread Basket Full of Pastries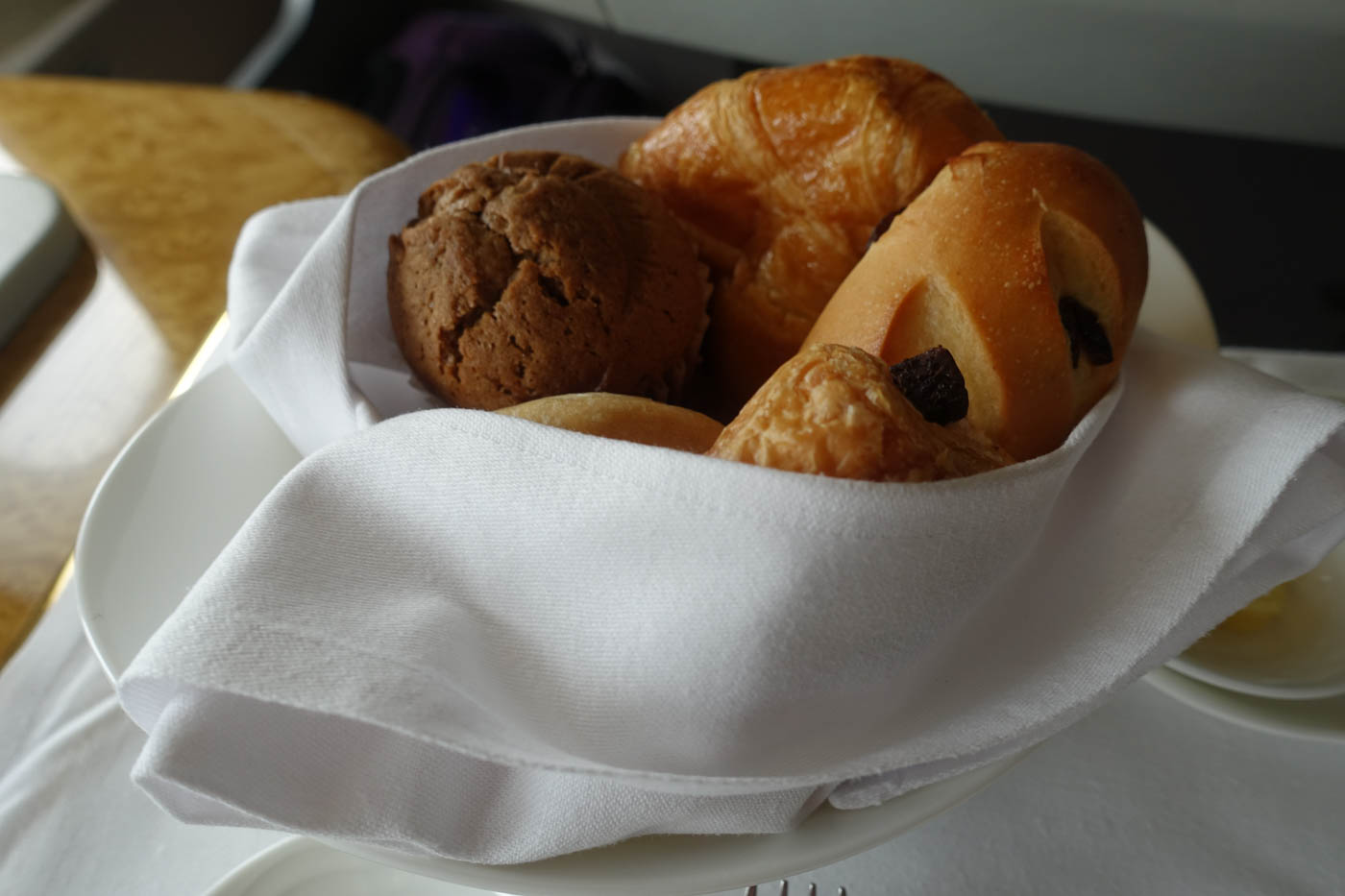 Table Setting
After breakfast, I settled in to watch a movie. I was really impressed with how comfortable the Emirates seat was to lounge in. Within a matter of moments, and some small seat adjustments, I was uber comfortable. My only complaint was that the primary seat controls were via the touchscreen tablet and it was far from responsive. It felt like it was an old resistive touch screen and required some finessing to make it work, I gave up using it for the media controls and instead reverted to the traditional controller in the armrest.
After about two hours, I got up to explore the cabin and go for a walk (I hate sitting still on planes). I took the opportunity to pop my head into the forward Business Class cabin and snap a quick photo. It fascinates me that Emirates have such a good First Class product yet Business is still 2-3-2.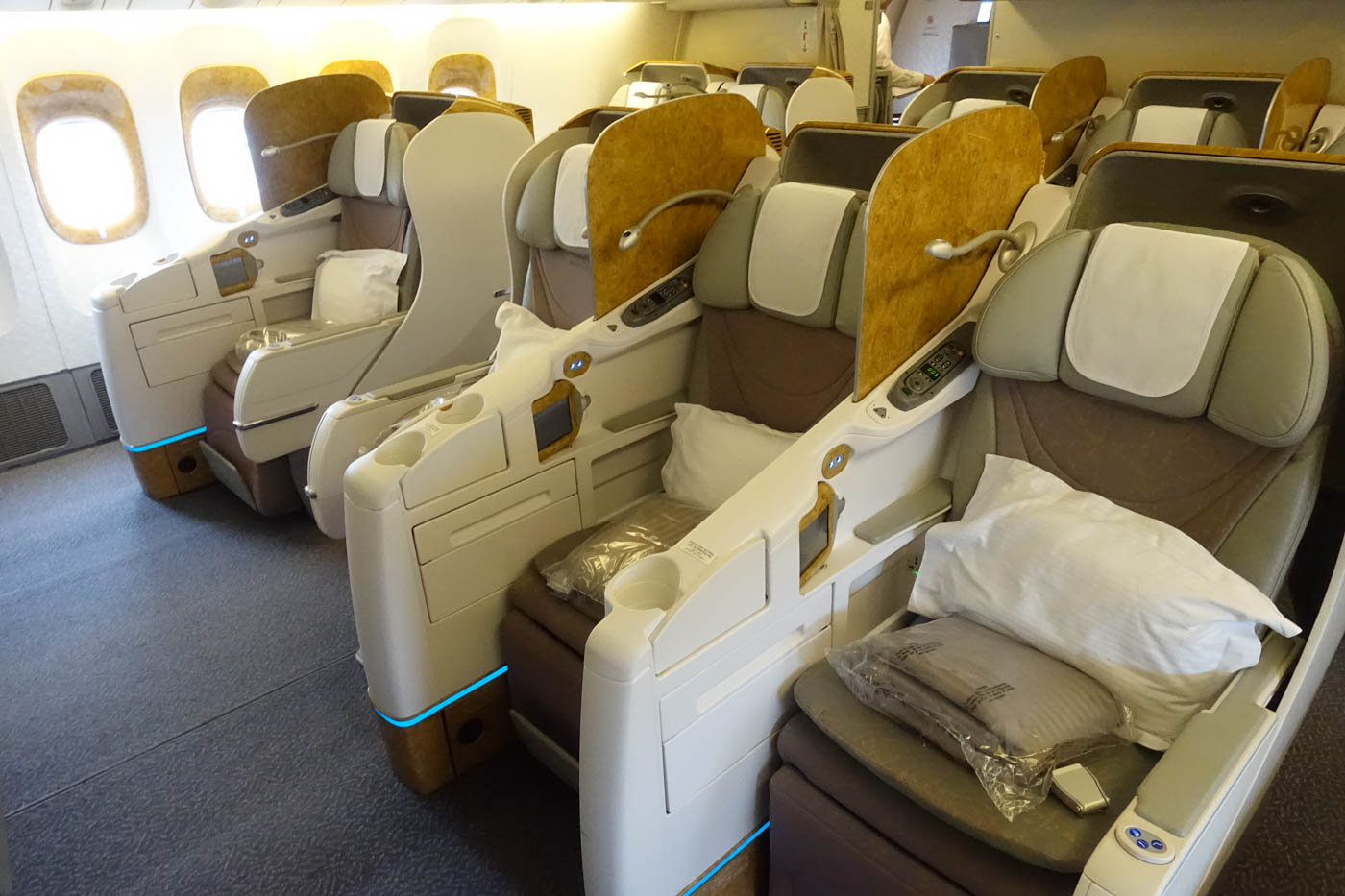 I wasn't quite ready for lunch yet, so upon returning to my seat I ordered an Old Fashioned and some warm nuts to snack on.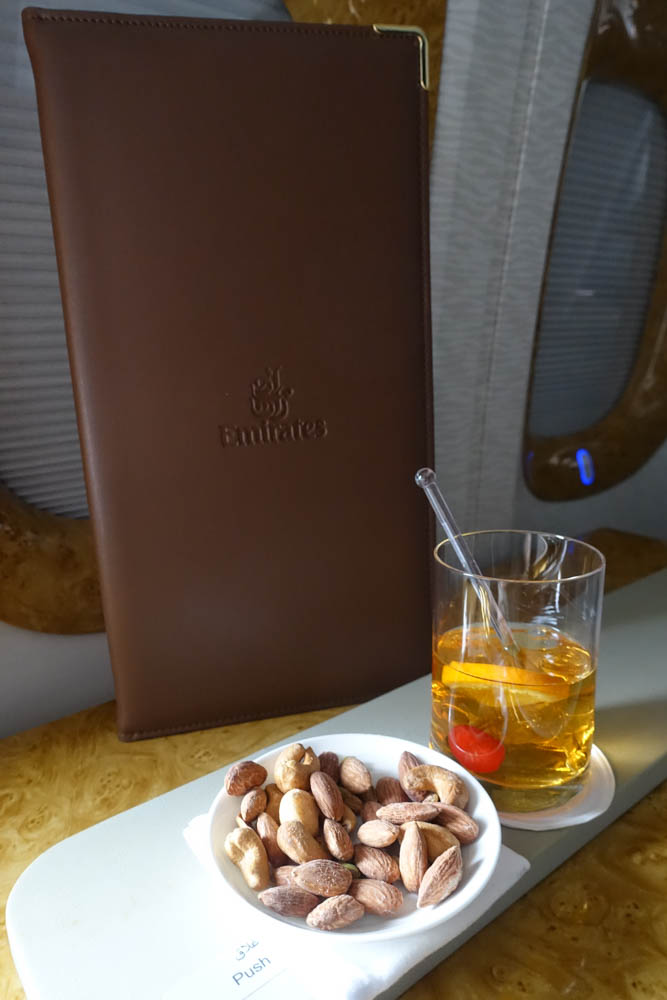 I did a bit of work and then decided it was time for lunch. I settled on the Duck for entree and the Beef for main. The meal was accompanied by another warm bread basket that included some fantastic garlic bread!
Duck Entree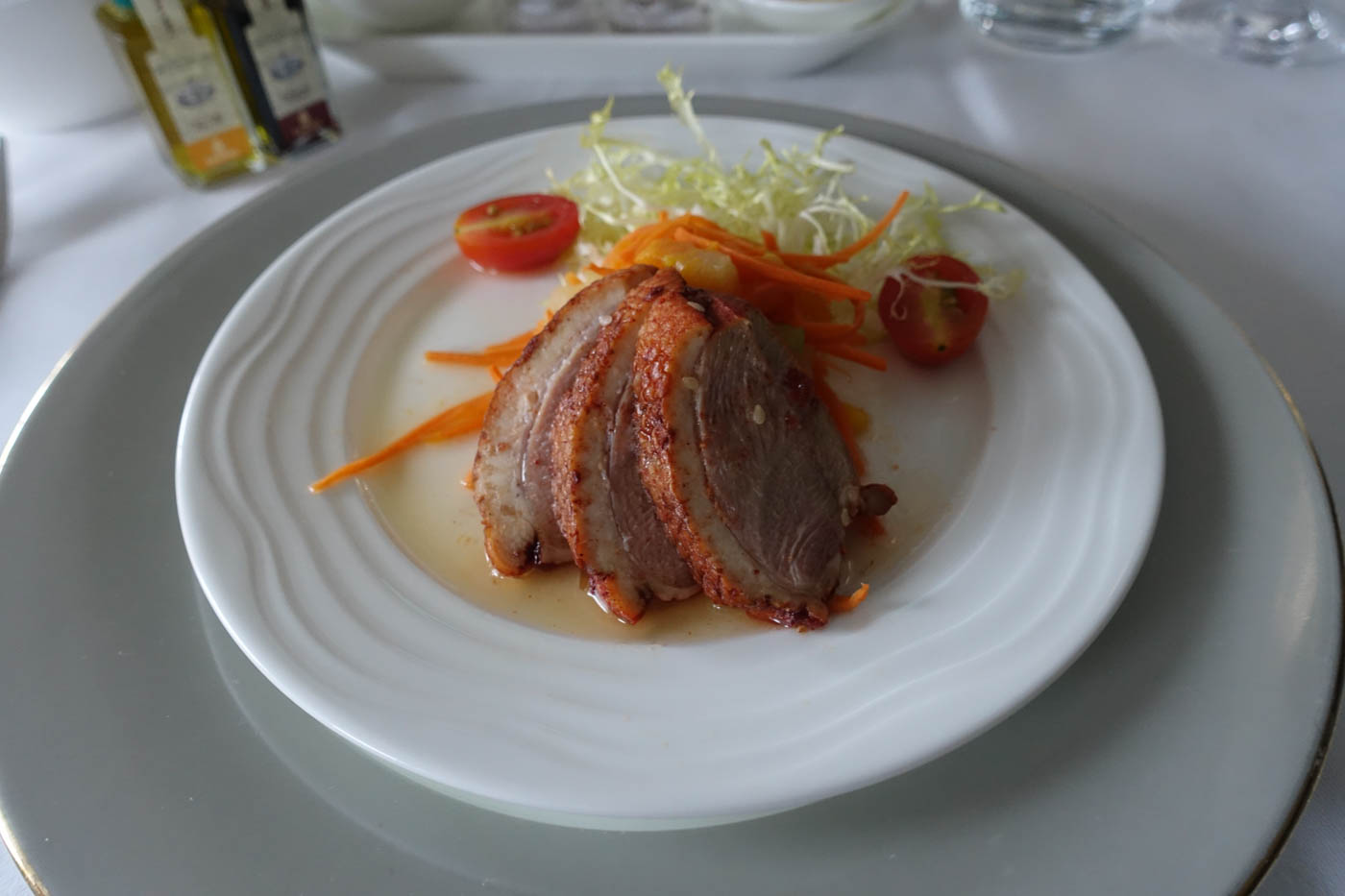 Bread Basket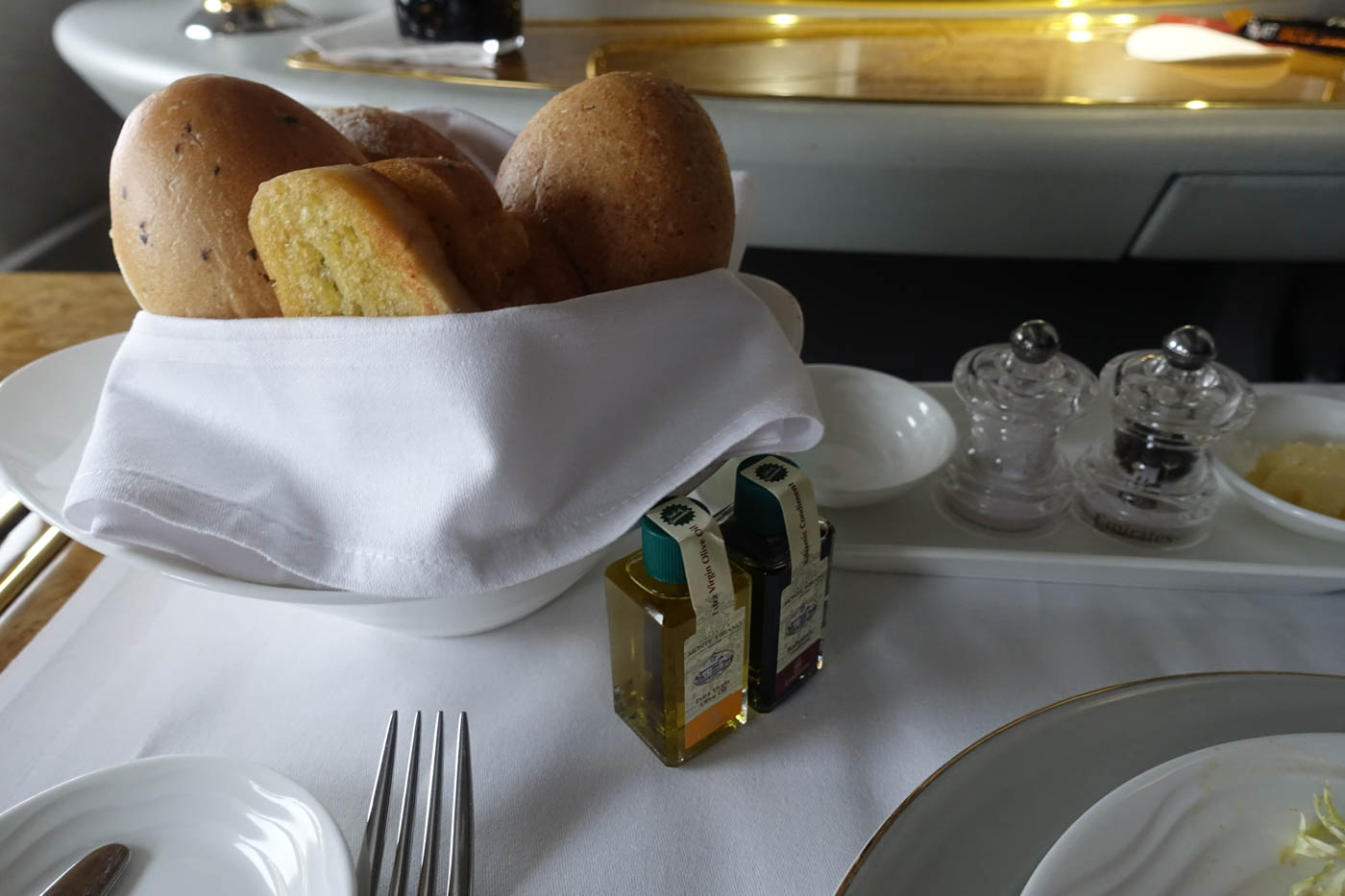 Table Setting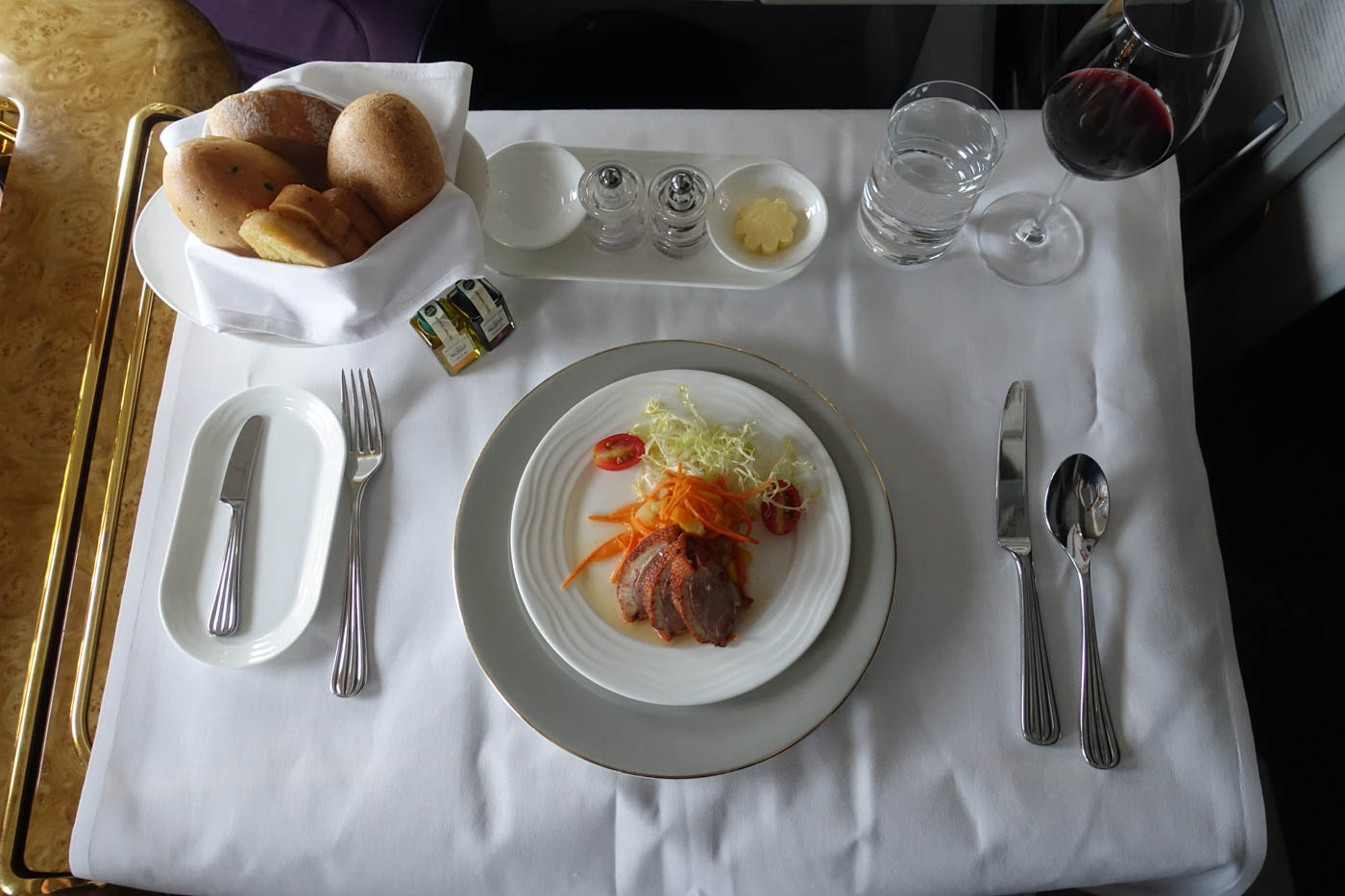 Beef Main Course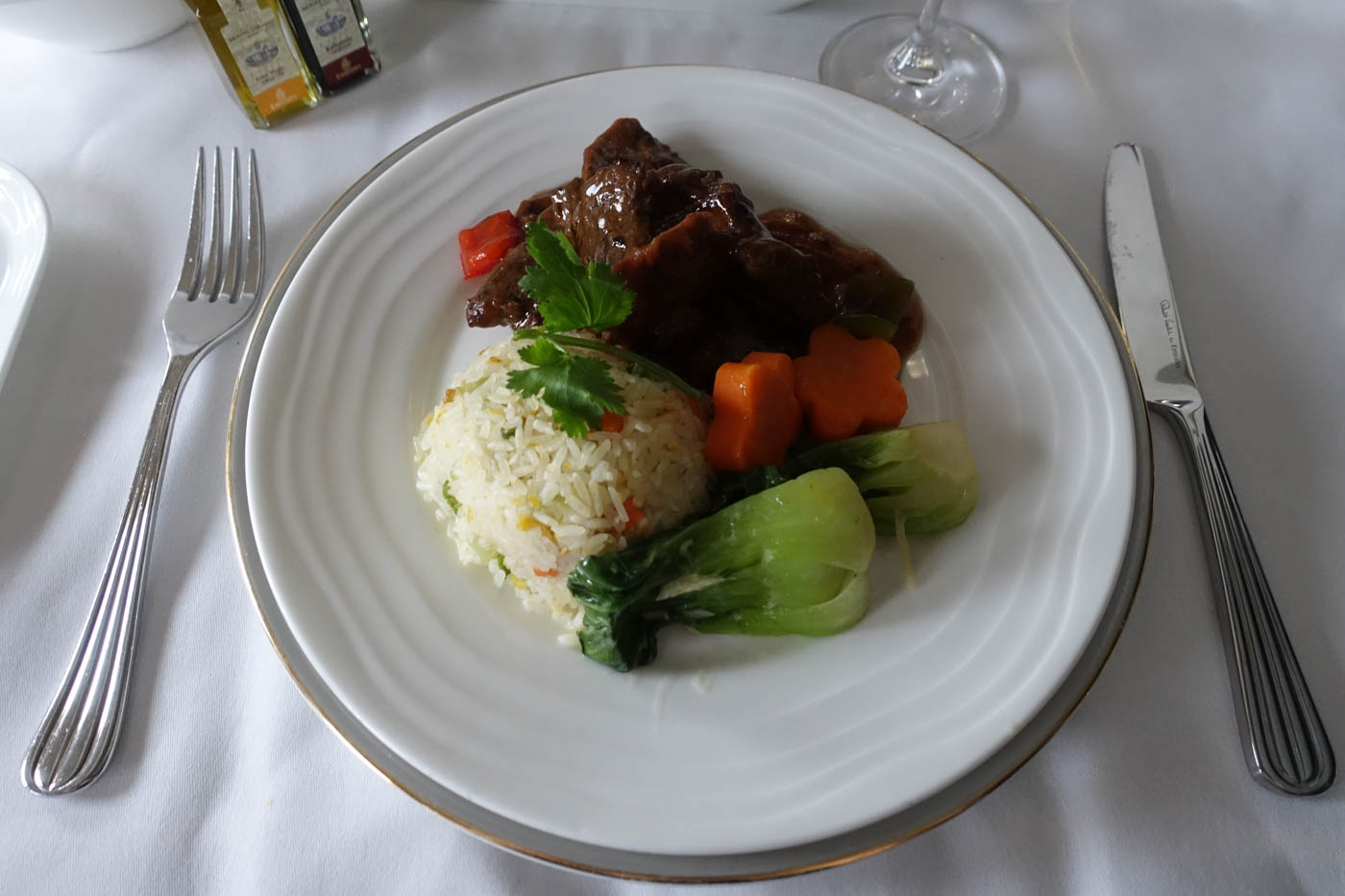 I wanted some wine with lunch and went with the recommendation of the onboard similar, and ordered the French Bordeaux. It was a very nice drop, and I even got offered a small carafe at my seat so I had a convenient refill on hand!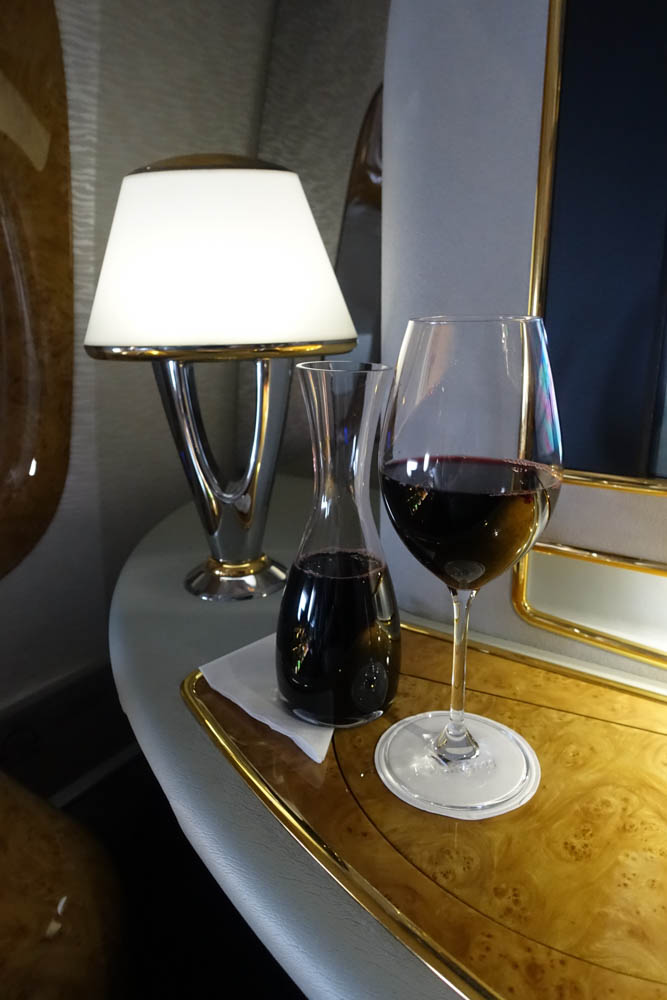 By this time Mrs B still hadn't ordered any food as she wasn't feeling hungry, but this was clearly stressing the staff, and they keep checking on her to ensure she really didn't want anything. It was quite amusing to watch.
It was small design elements of this suite that impressed me, for example, the large table that folded out of the side console had a little hook that folded out on the opposite side of the suite to add support to the table to ensure it was firm and flat once fully extended. Small details like this really make a difference.
Table Support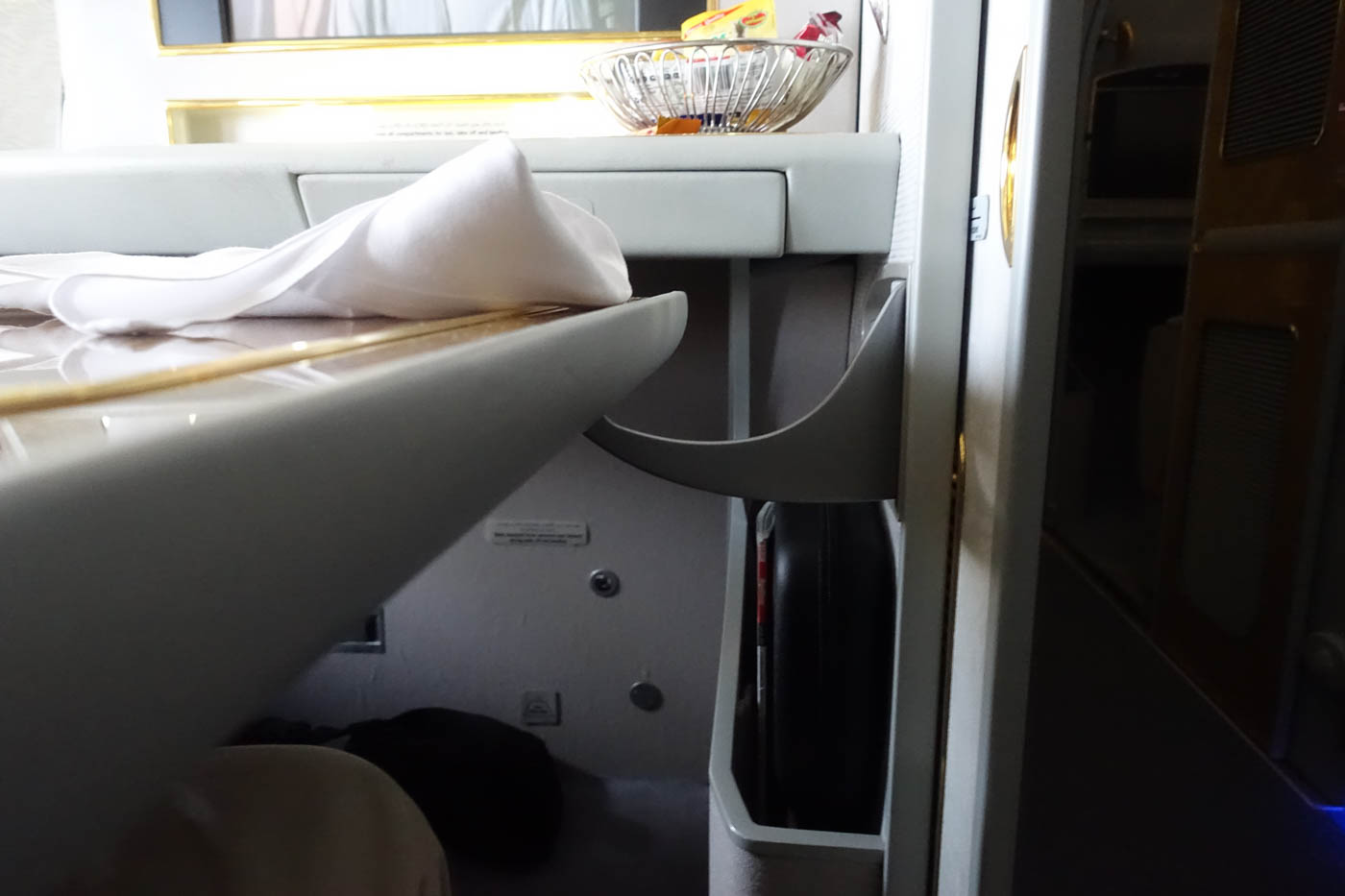 After lunch, I was given some very tasty chocolates and offered more wine, although I decided to be well behaved as I knew I would be drinking more on the next flight.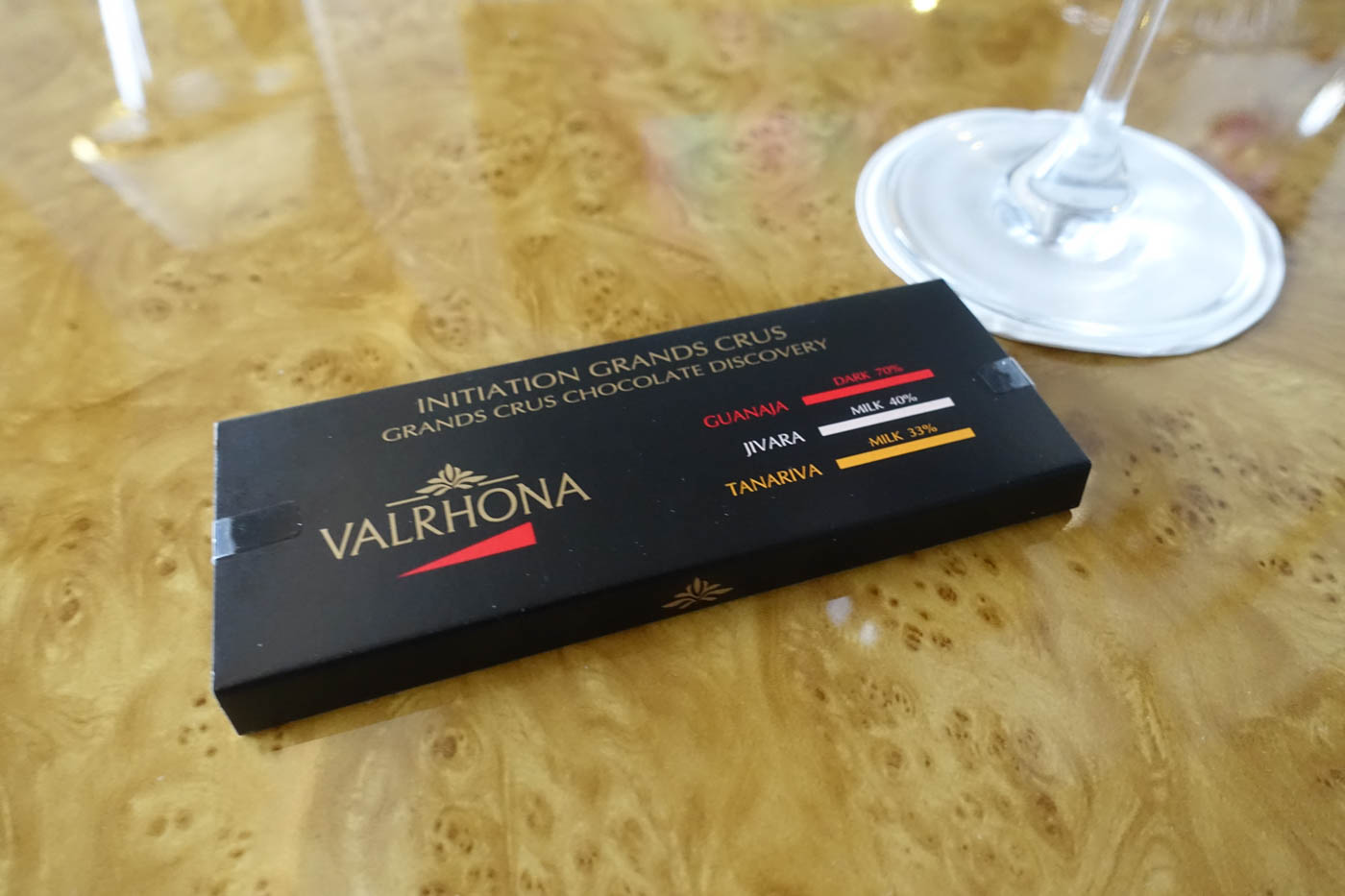 After finishing lunch it was almost time to land in Dubai, the 7 hours since leaving Hong Kong seemed to fly by and my first flight in Emirates First Class was almost over. The crew did one final sweep through the cabin to check if we wanted anything else before arrival and to say thanks for flying Emirates.
Overall Impression
Whilst I had been looking forward to trying Emirates, it is an old hard product now, and I was half expecting to be disappointed and underwhelmed. Well, I am pleased to say that this was not the case! Overall I was very impressed with Emirates First Class and would happily fly it again. I will probably do a separate article in the near future comparing the various airlines First Class product that we have tried, but it is safe to say that I wouldn't rate Emirate higher that Etihad, but it would come a close second.
If you have Qantas points to burn Emirates First is a fantastic option.