Review: Emirates EK317 A380 First Class Osaka to Dubai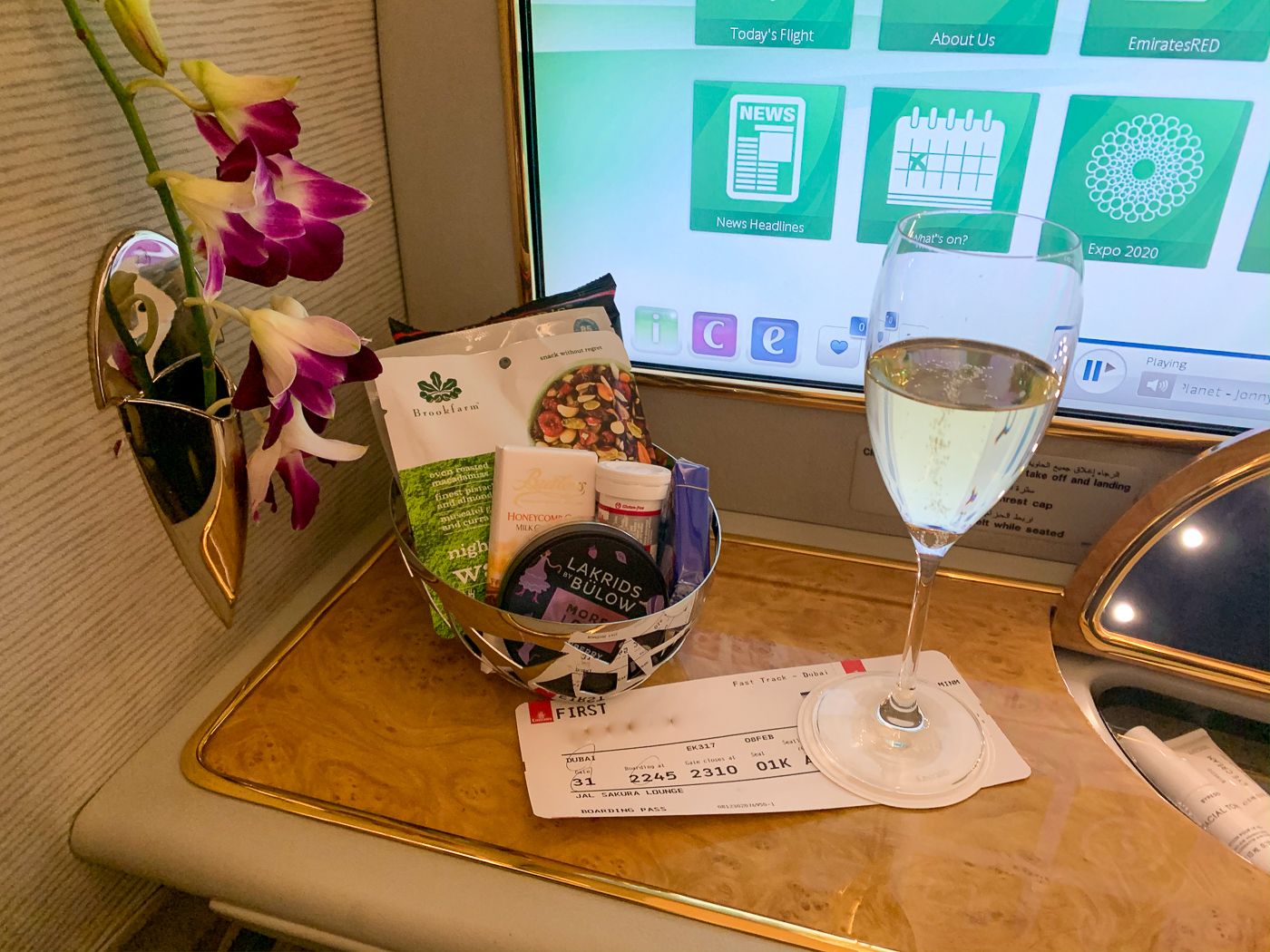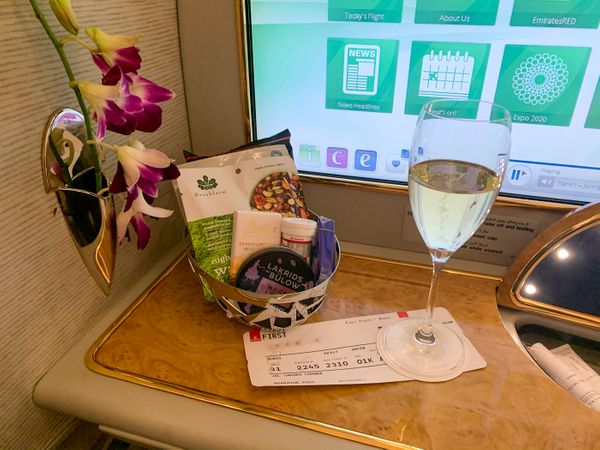 Table of Contents
Snow, Sand and Refundable Bookings
Review: New Sydney AMEX Lounge
Review: ANA NH880 787 Business Class Sydney to Tokyo
Review: Niseko Village Hilton
Review: Osaka Kansai JAL Sakura Lounge
Review: Emirates EK317 A380 First Class Osaka to Dubai

After the lack-lustre experience in the lounge we got to the gate a few minutes before boarding, it was the usual A380 gate chaos with people everywhere. The gate had a fantastic view of our A380 waiting on the tarmac, something about the shape and size of A380's is just surreal. We made our way towards the front of the crowd just as priority boarding was called at 22:40.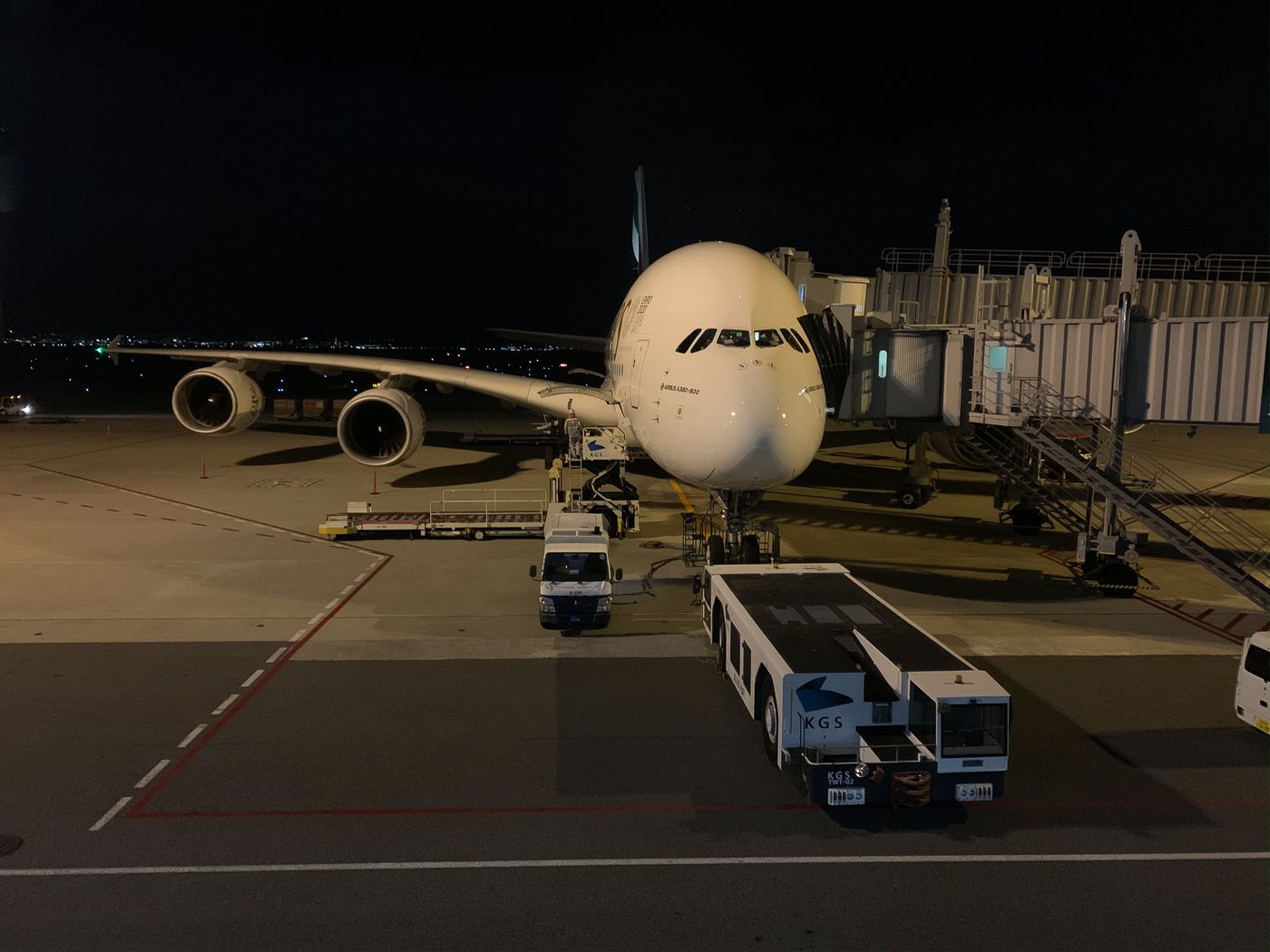 While we have been lucky enough to fly Emirates first class before it was on two shorter flights, so I was keen to give the experience a longer overnight flight and get to try the bed out properly. We were shown to our seats and I am not quite sure why, maybe we didn't look surprised or shocked enough, but the stewardess said 'oh I don't think you need me to explain the seat to you as you have flown Emirates first before?' and then offered us a pre-departure beverage and checked what size pyjamas we wanted. I was pleasantly surprised to see that they were still serving Dom Perignon P2 on-board so I could hardly say no to a glass before we took off :)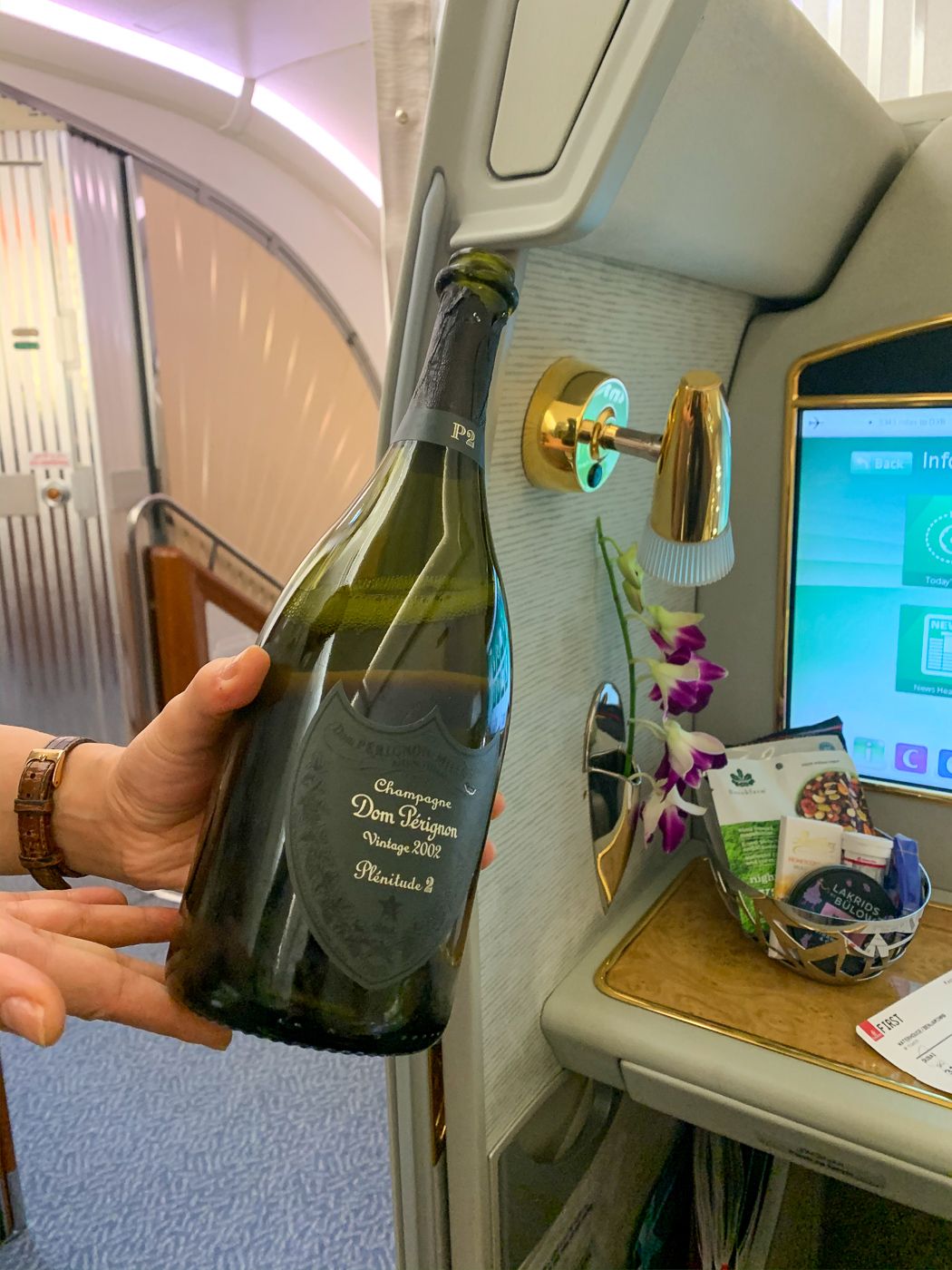 Shortly afterwards, the cabin manager came and introduced himself. Interestingly his tablet was reflecting that we started our journey in CTS so somehow the bookings got linked when the check-in agent at Sapporo checked our baggage through. He also offered us a top-up of champagne, how could I say no to another glass of P2.
We were each given a nice tote bag that contained our pyjamas, slippers and our amenity kits. The pyjamas came in a felt case which while a little over the top was a nice touch.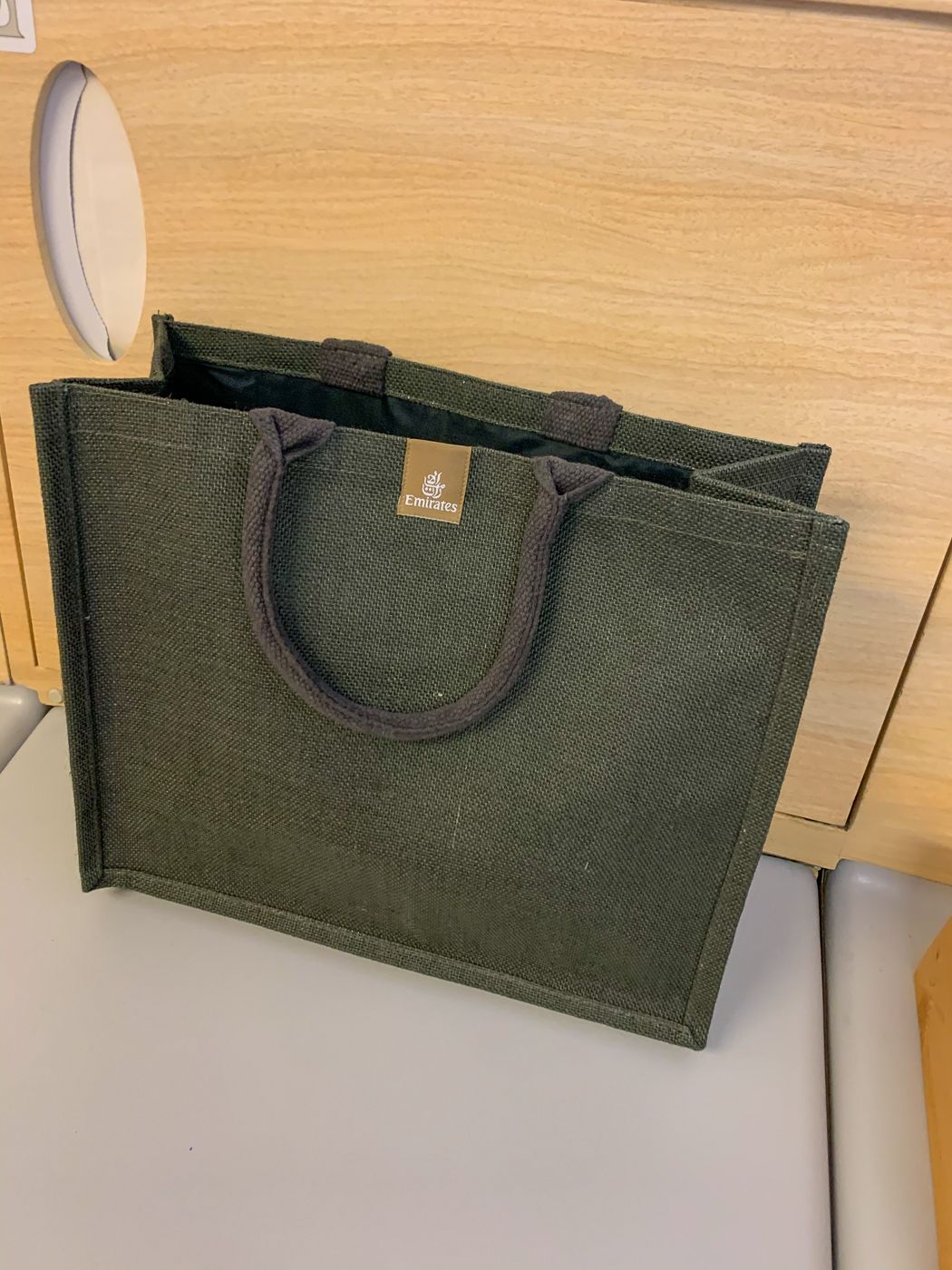 Both the male and female amenity kits were Bvlgari and had both a male and female Bvlgari perfume as well as the usual toiletries.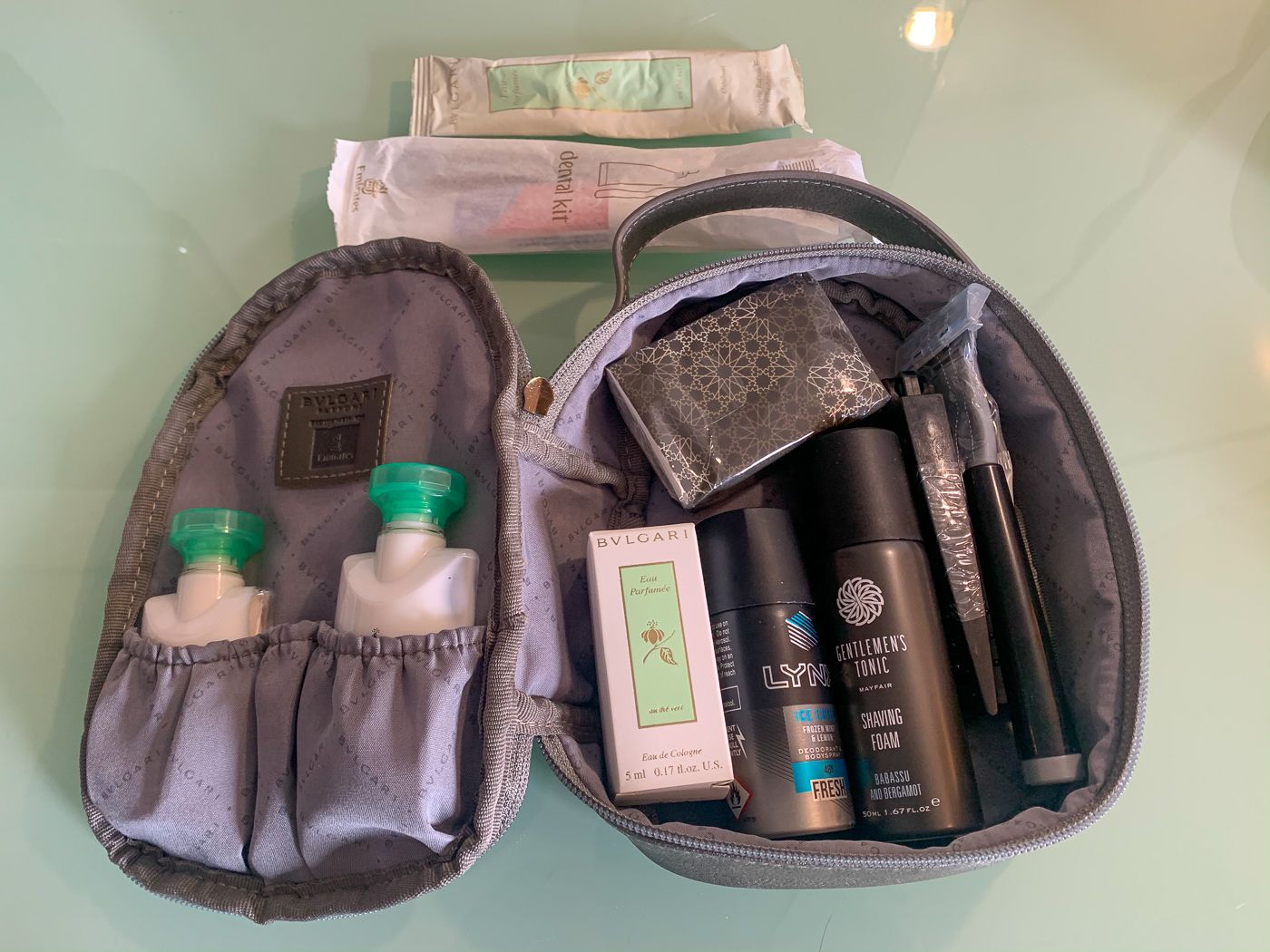 The Emirates first-class cabin is a fantastic use of space with 12 seats in the same area that Etihad put nine seats. However, despite fitting more seats in, each seat still feels very spacious and with the doors closed very private.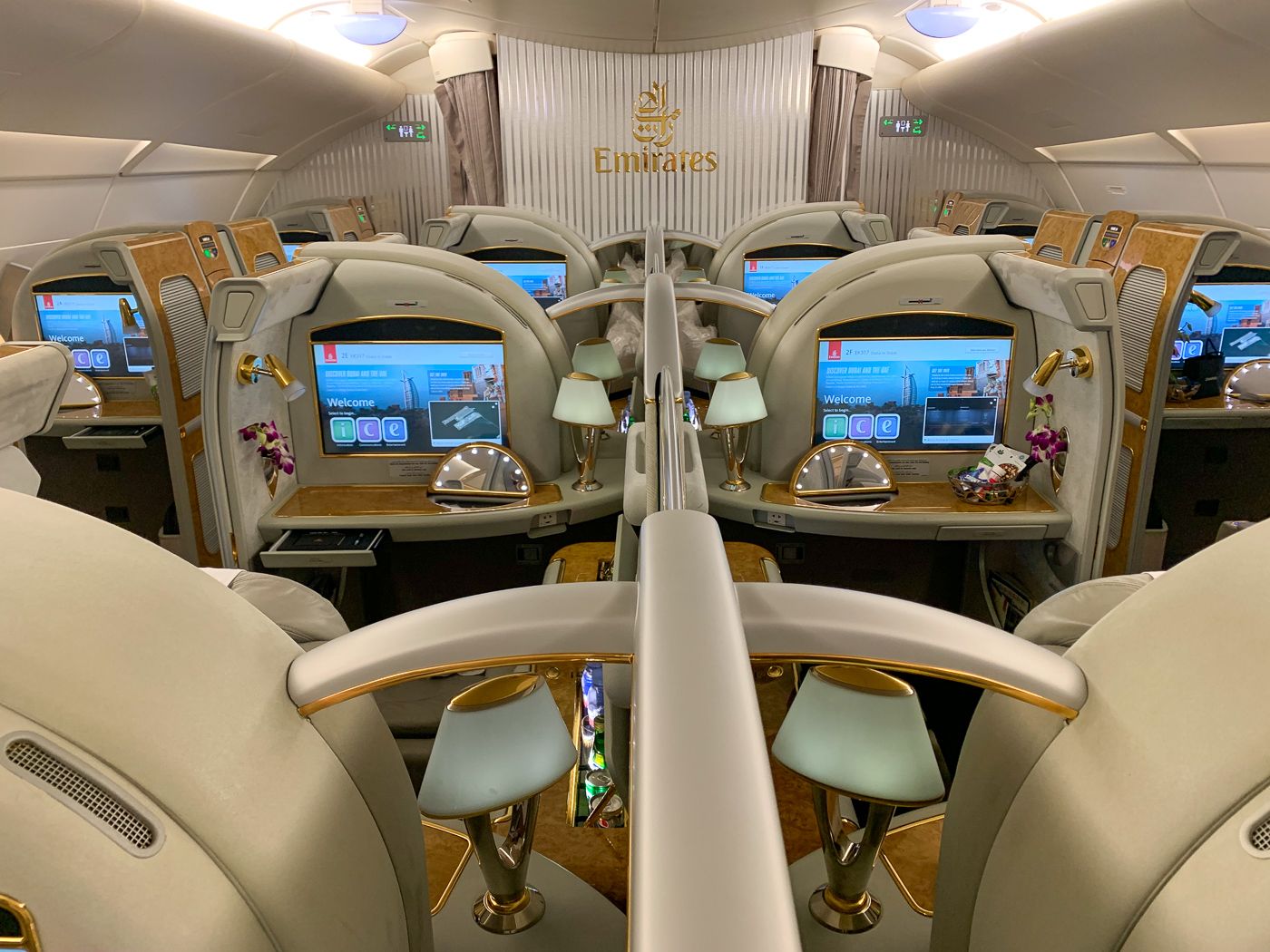 The seat itself is large and very comfortable. Unfortunately, we had a plane that had the older fit-out. Essentially both fit-outs are almost identical except the newer fit-out has a larger TV and a newer tablet that is considerably more responsive.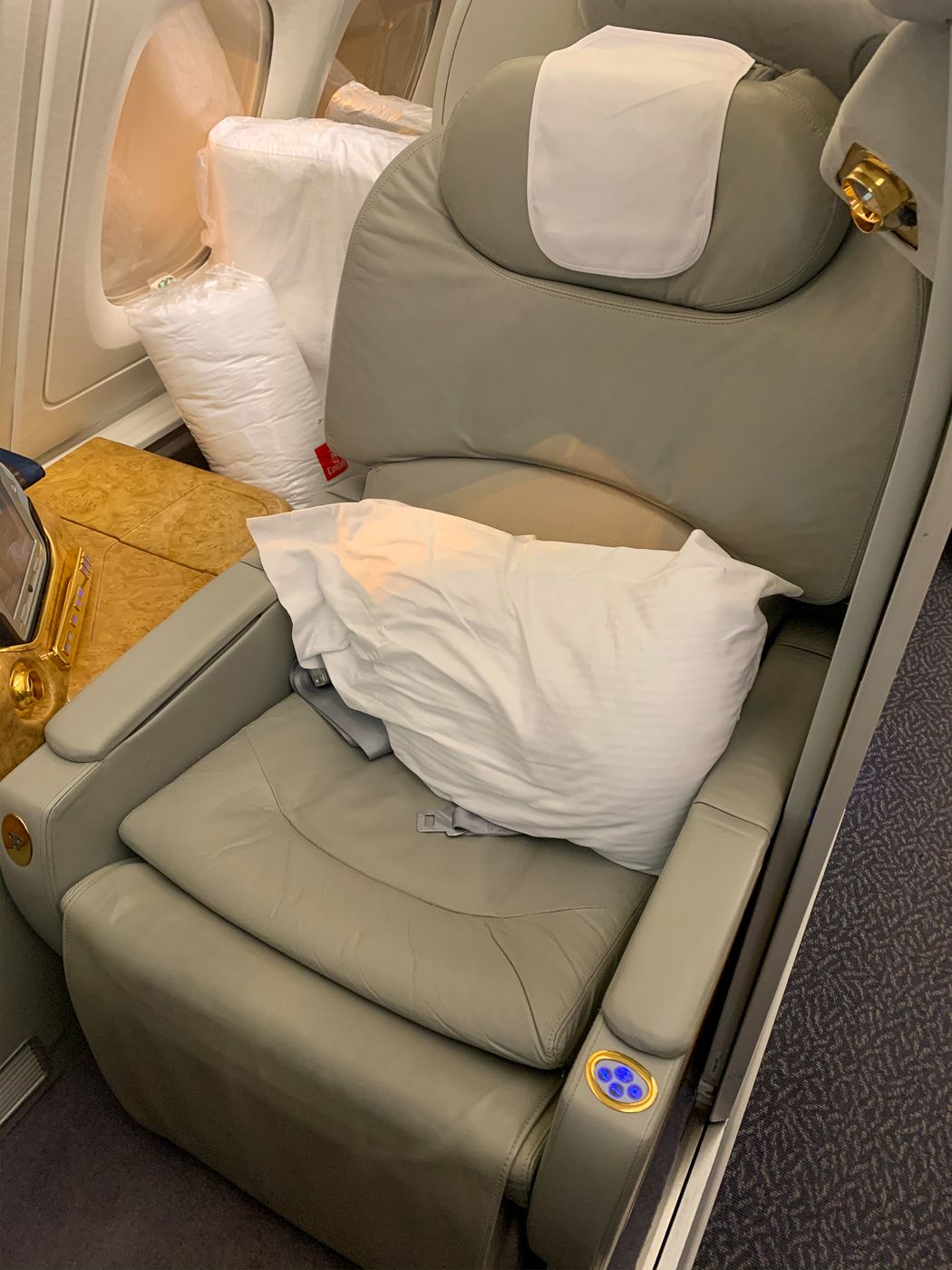 My one complaint about the Emirates seat is that there are no real hardware buttons to control the seat; you need to use the touchscreen. On the newer seat that has a more responsive touchscreen, this isn't too bad, but on the older one, it is finicky and can get annoying.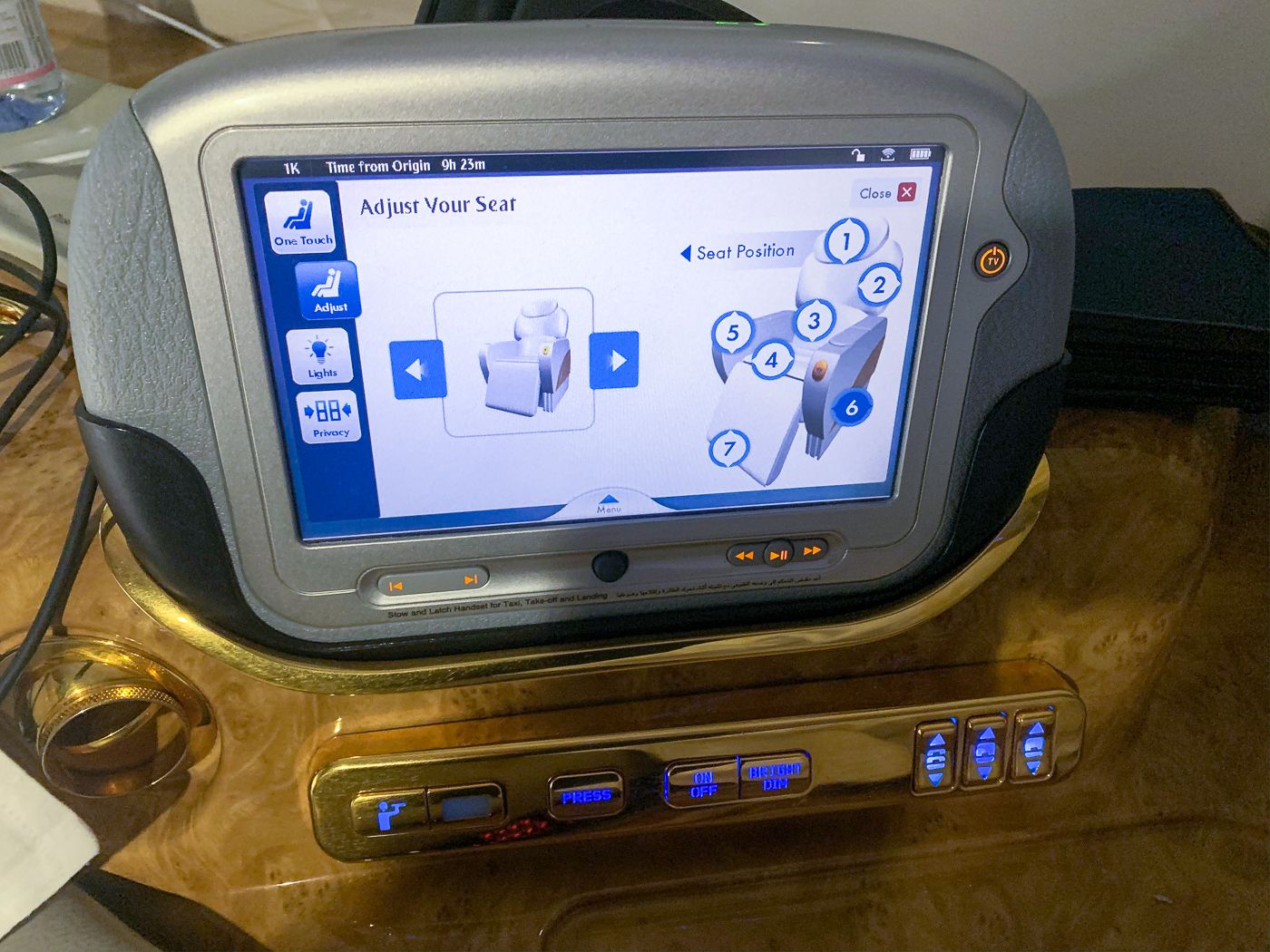 I still don't quite get the point of the retractable bar in each suite as it is not cooled and the drinks aren't placed in there cold it seems kinda pointless, but it looks cool I suppose and makes for a good Instagram shot :)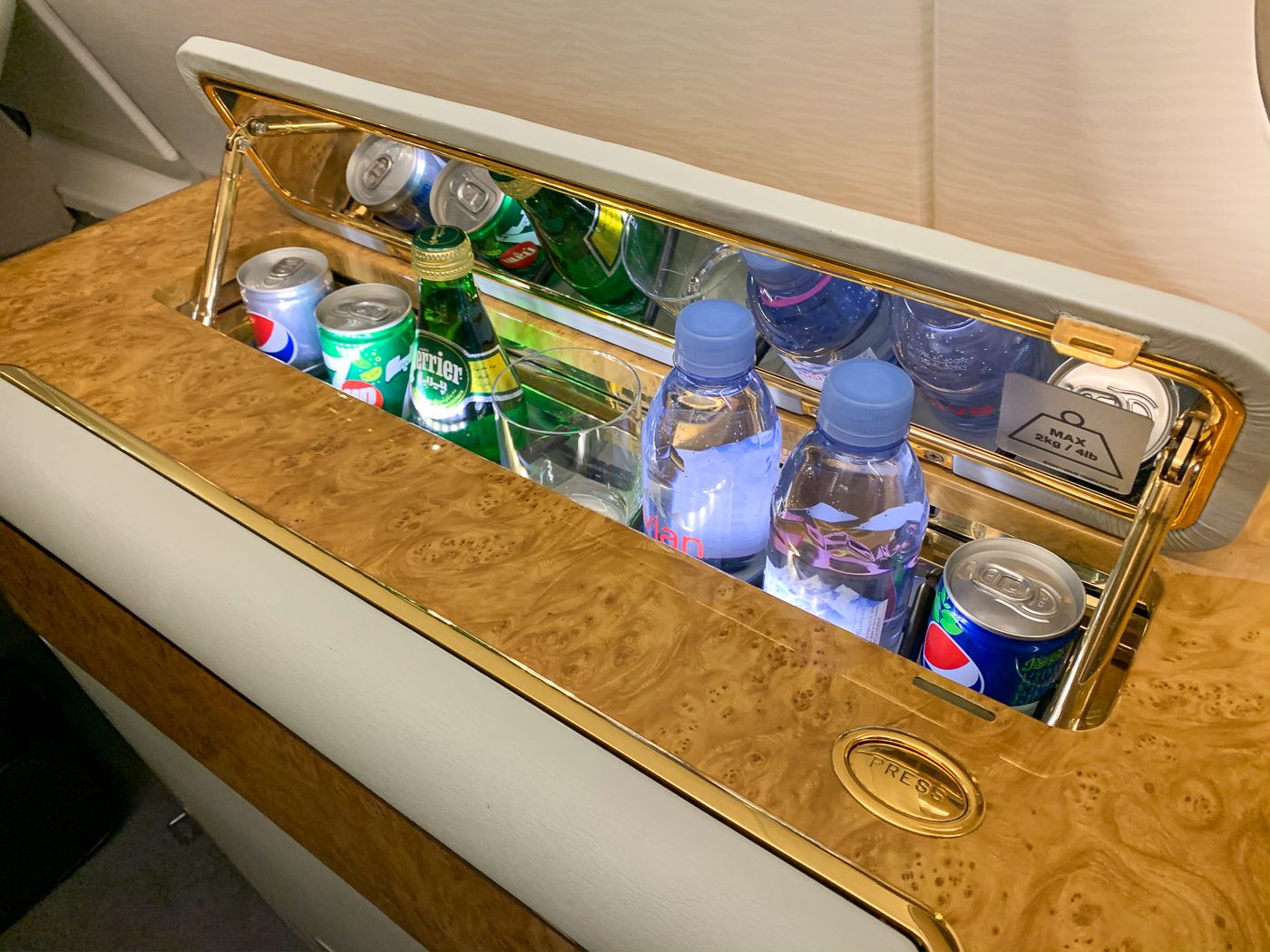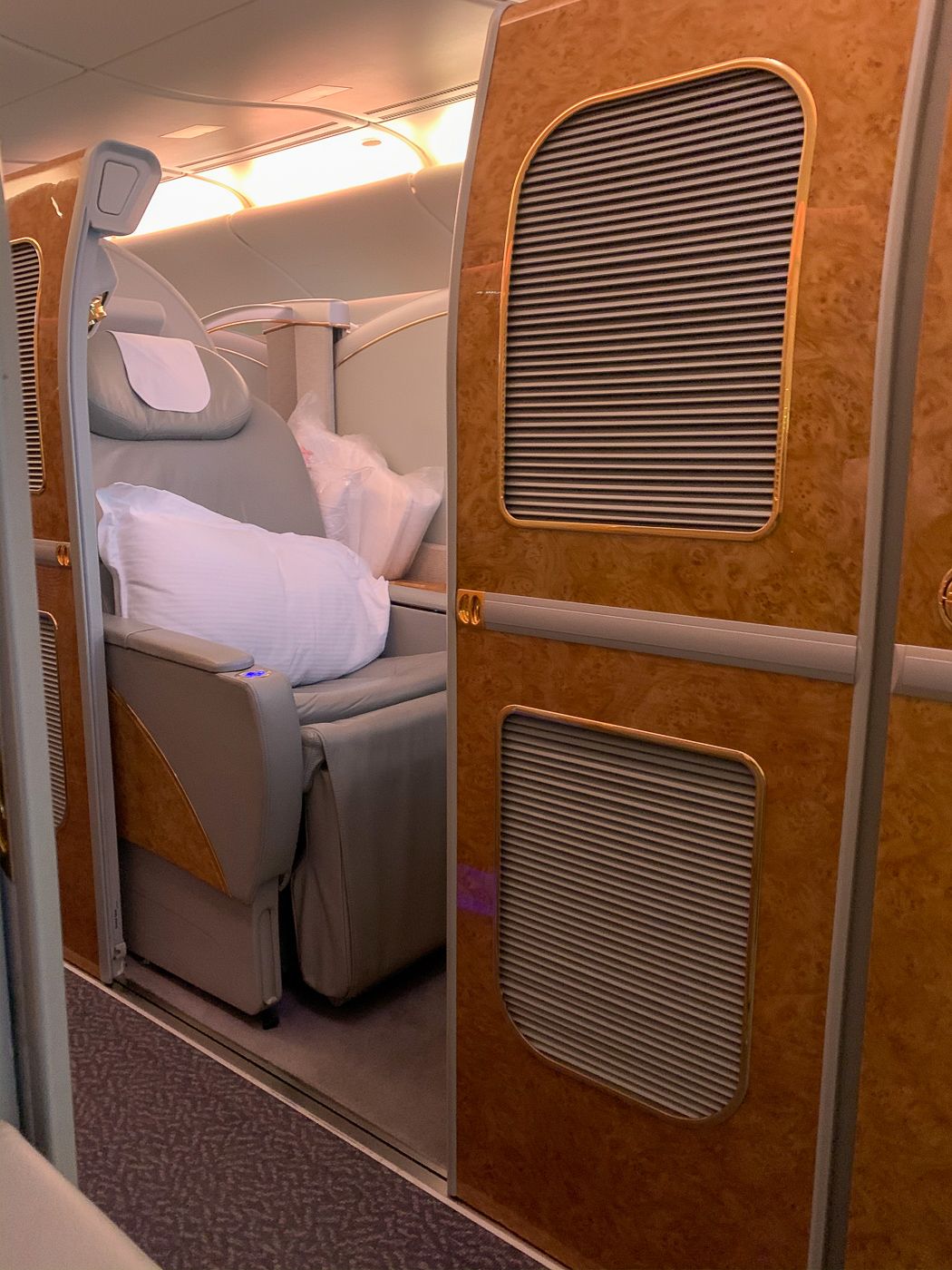 There was a pair of Bowers & Wilkins noise-cancelling headphones in the suite that were comfortable, sounded good and provided reasonable noise cancellation. Headphones are something that so many airlines seem to cost cut on, and it is good to see that Emirates still have decent noise-cancelling headphones on offer in first class.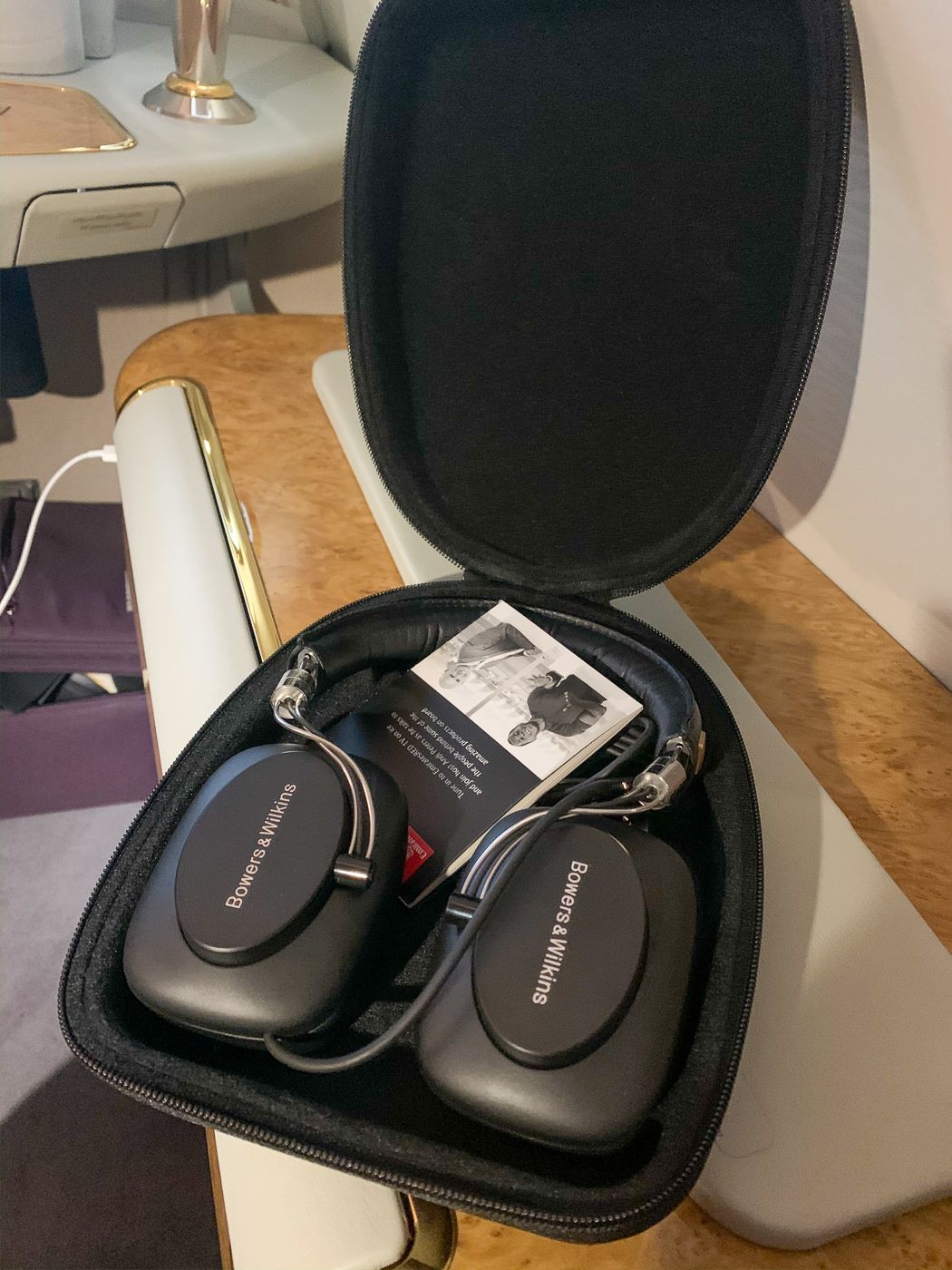 It seemed to be a reasonably full flight, and boarding took awhile, but we pushed back from the gate on time at 23:20, and after a short taxi, we were in the air. I do appreciate that Emirates inflight entertainment is gate to gate, so you can watch a movie while taking off and waiting for the seatbelt sign to switch off.
Once airborne, the crew jumped into action and offered us another drink along with some warm nuts and explained the menu. As the bottle of P2 was open, it seemed like the logical choice :)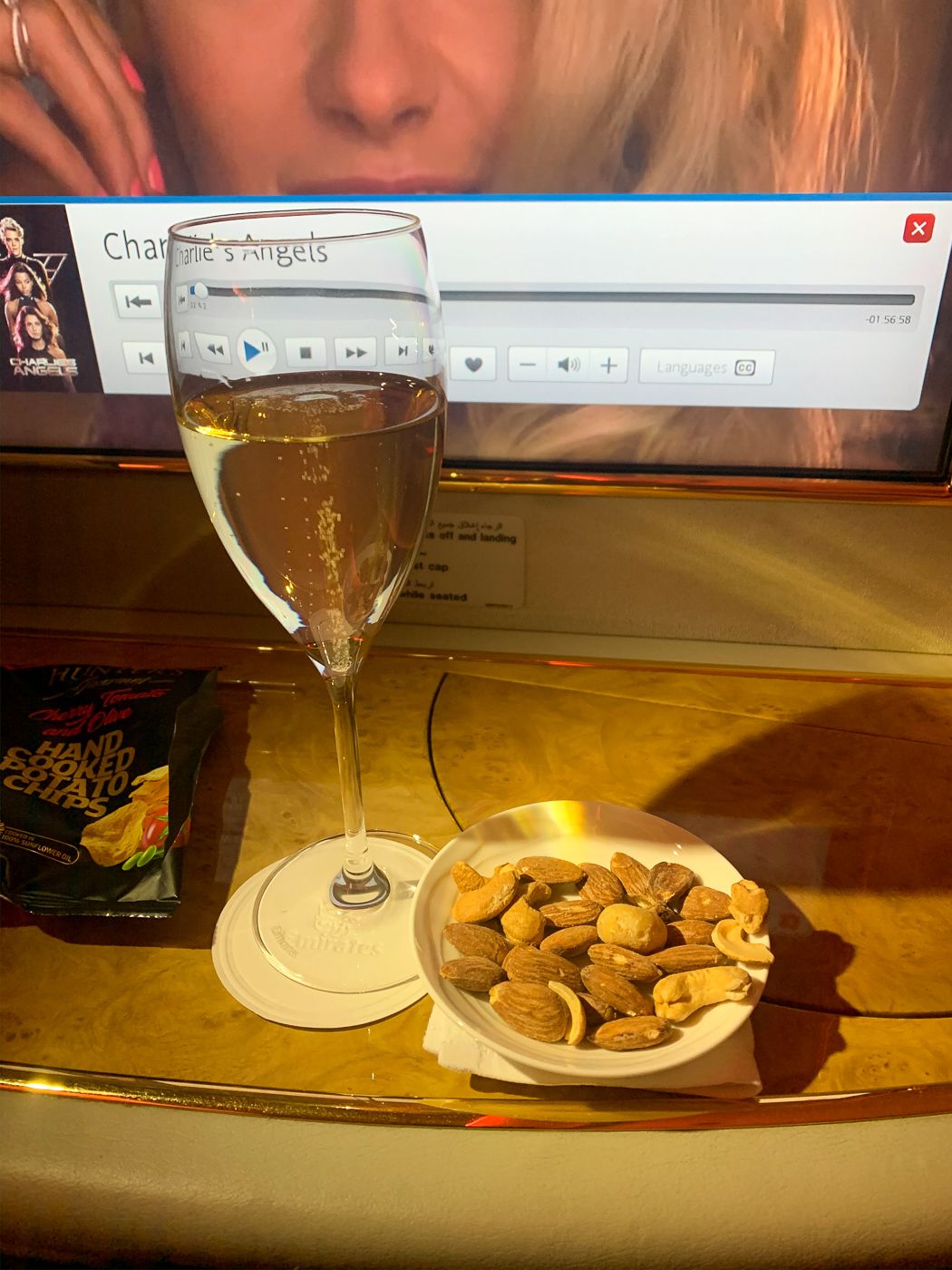 Emirates first class offer a dine on demand concept allowing you to order and eat whenever you please throughout the flight. The menu had both western and Japenese options for dinner and breakfast.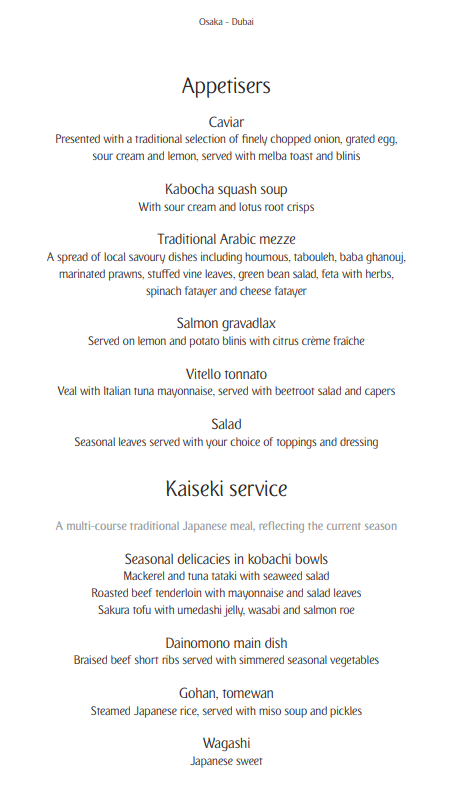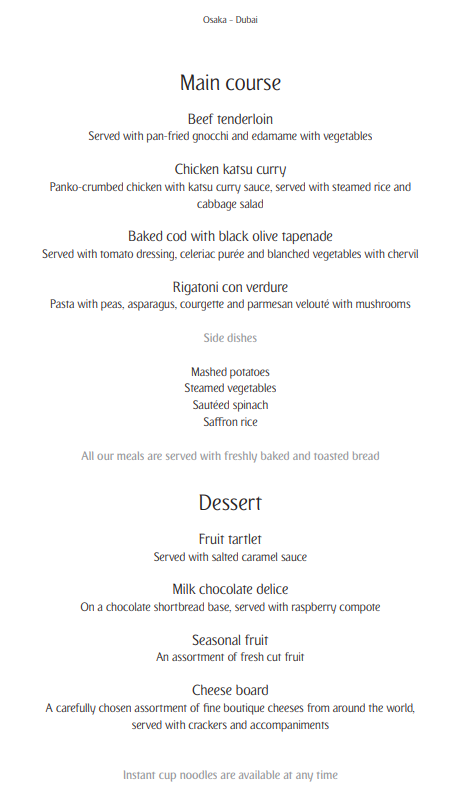 And the drinks menu was as follows.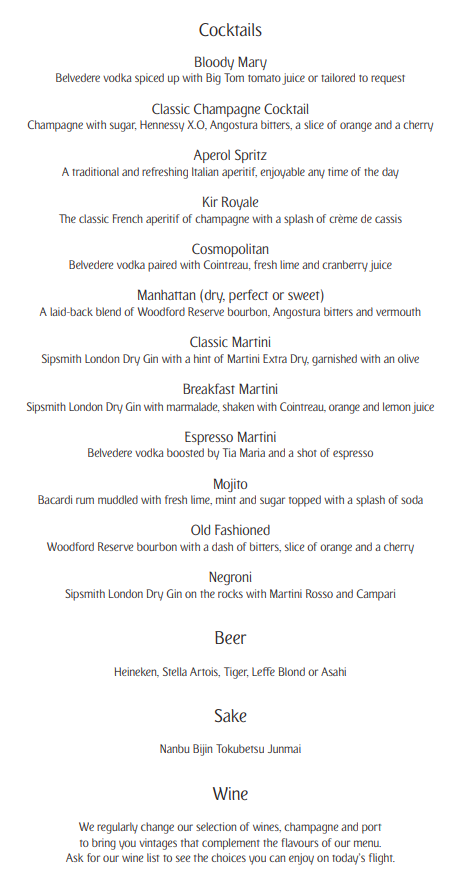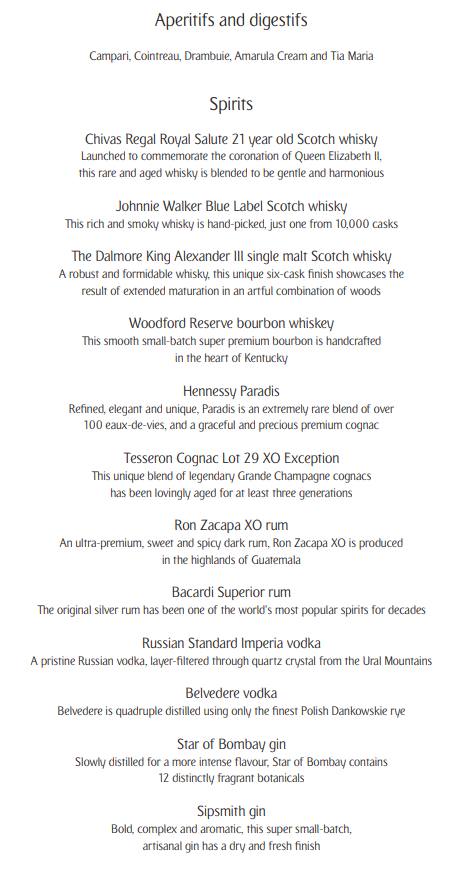 We asked to have dinner straight away as we hadn't eaten in the lounge, and Mrs B was keen to get some sleep. I wasn't hugely hungry so just ordered the Katsu Curry and Mrs B went for the Kaiseki Japanese menu.
It wasn't long (2 more glasses of P2 to be precise) and dinner was ready, my table was set with a giant breadbasket that included some delicious garlic bread as well as two different types of bread rolls.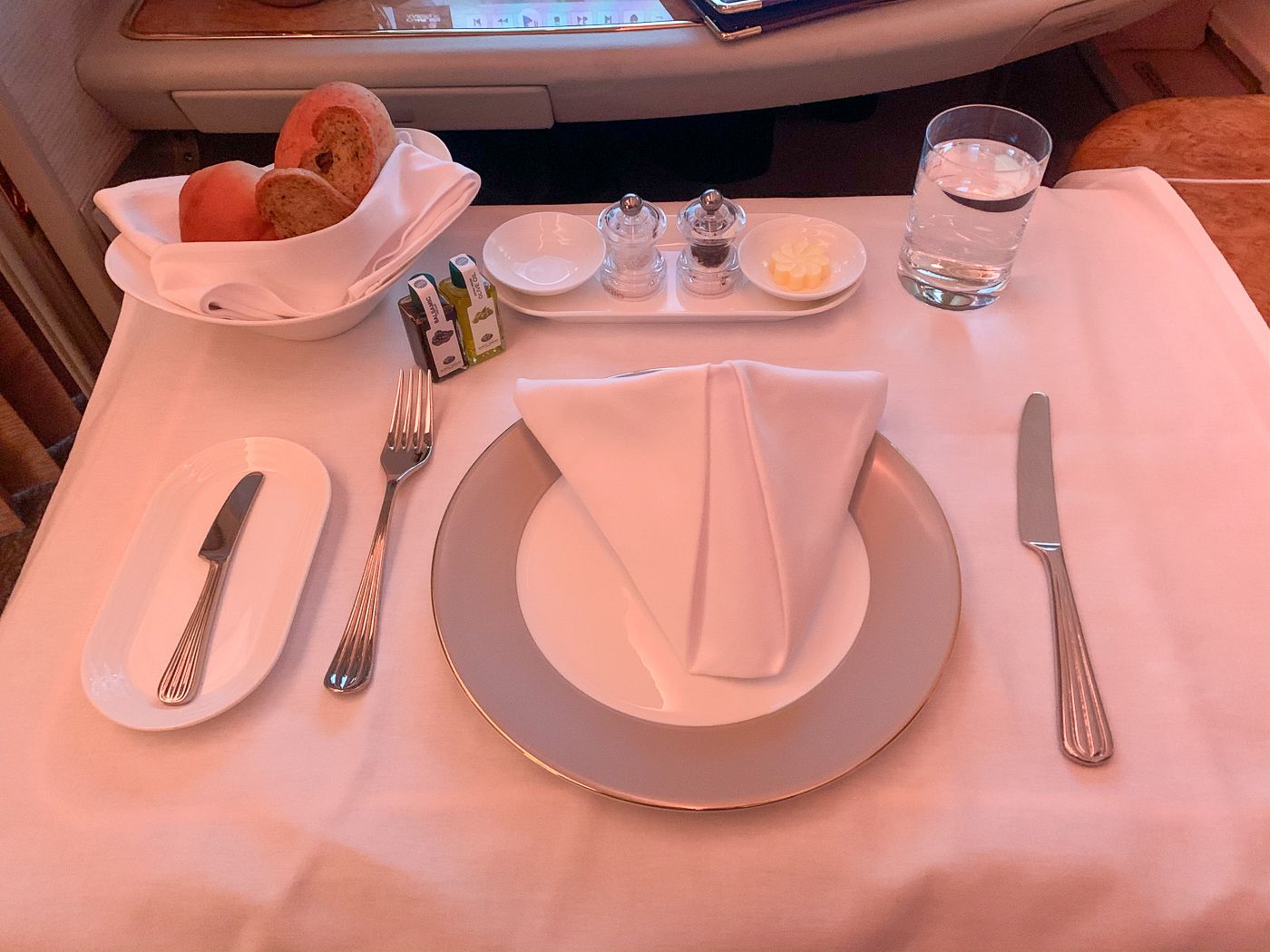 My dinner was served as I heard the familiar POP of another bottle of P2 being opened :). The Katsu curry didn't necessarily look that impressive, but it was really tasty. The Katsu crumbing still had plenty of crunch, which considering it was warmed up on the plane was pretty impressive.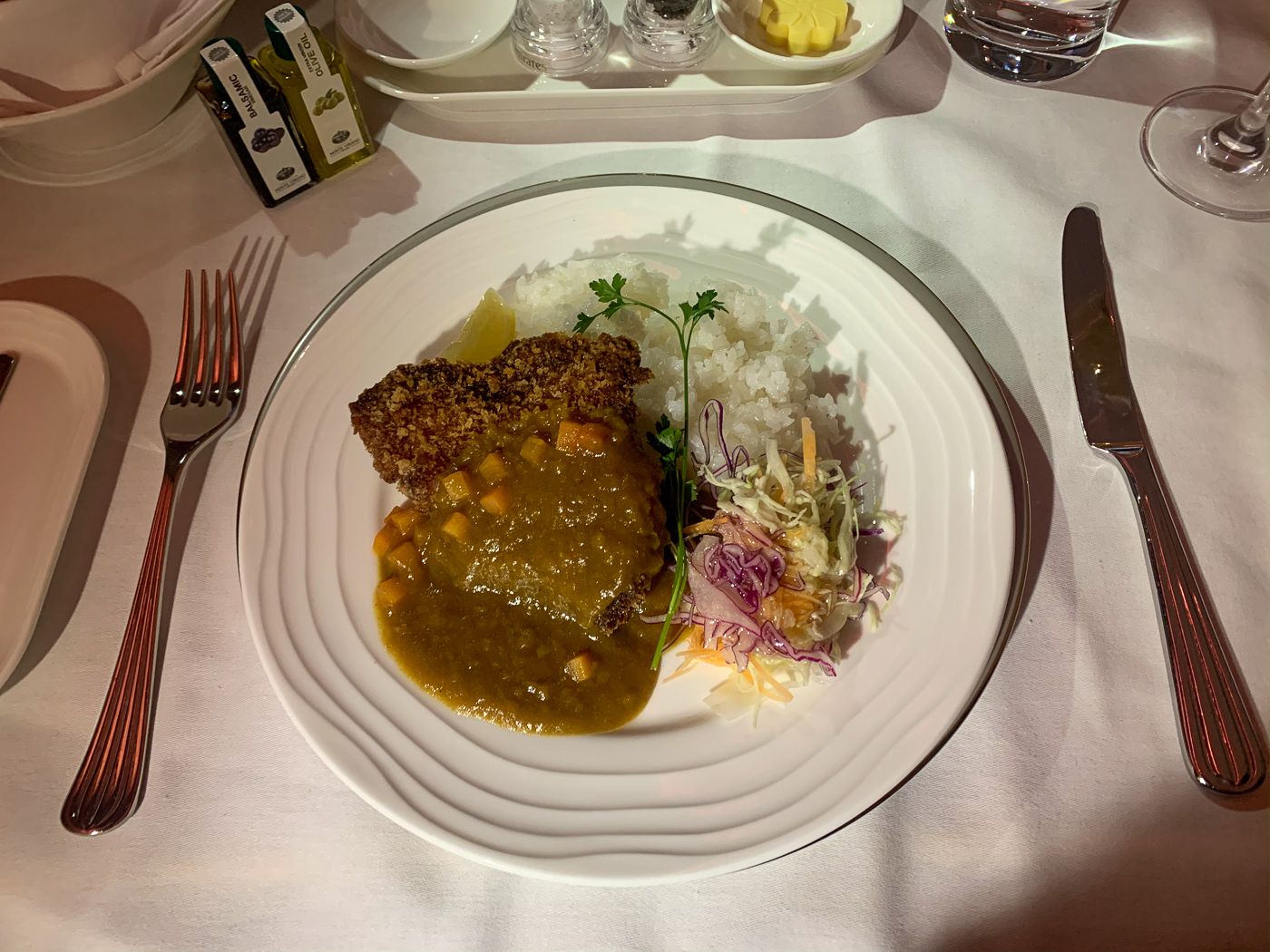 Mrs B enjoyed her meal but said it lacked in flavour a little, which surprised me as I was expecting the Japanese meal to be fantastic departing out of Osaka.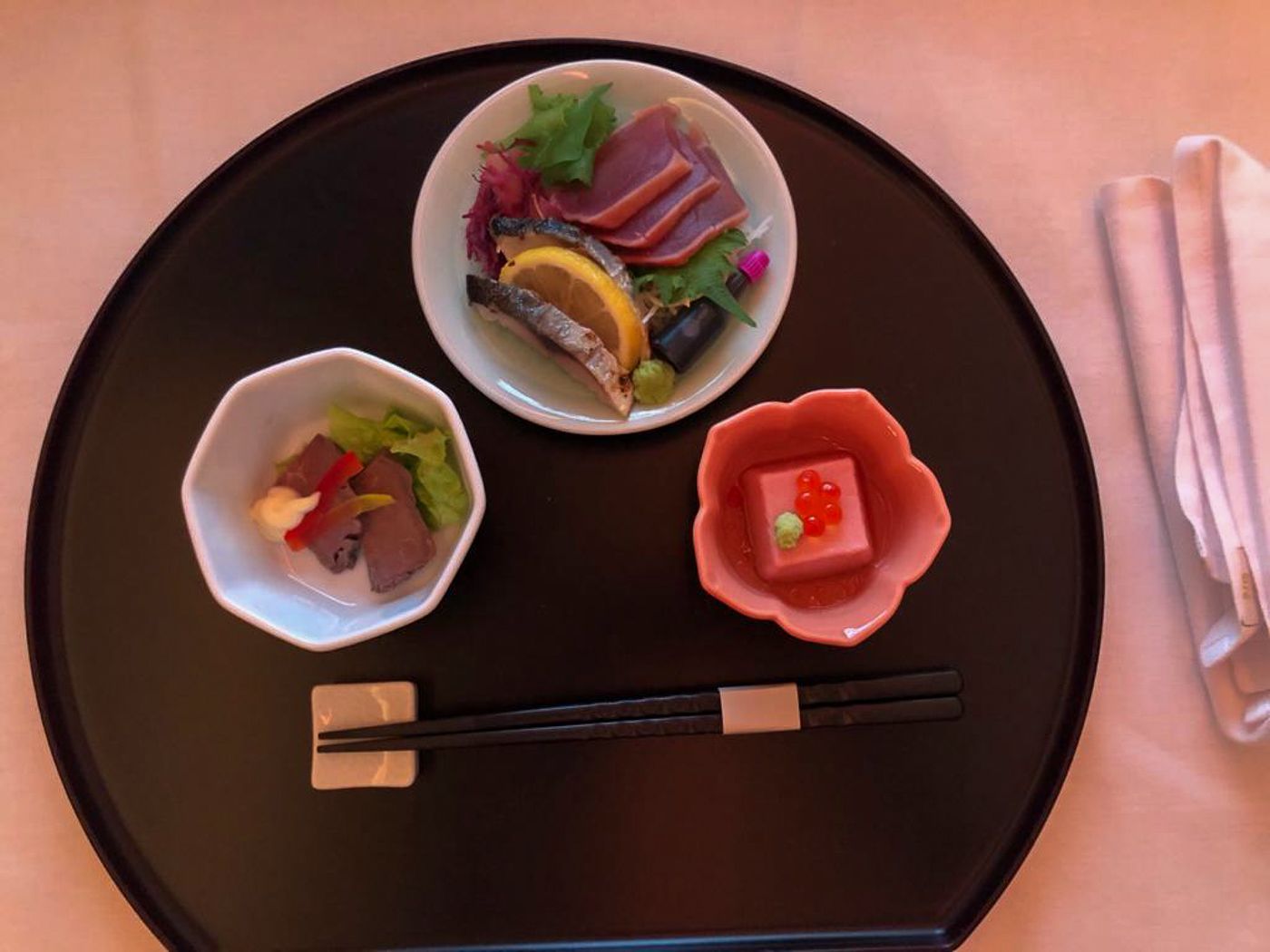 With a fresh glass of P2 in hand (yes I was up to number 6, at least it think it was number 6...) I went for a wander to the bar at the back of the business class section. Unfortunately, I forgot my phone, so I didn't snap any photos. The bar was busy, and I didn't stay long. The gentleman behind the bar did offer to go and get a bottle of P2 for me if I wanted a top-up, but instead, I just headed back to my seat. I finished the night off with a glass of Dalmore King Alexander single malt while I waited for the shower to be free.
The shower spa on board the Emirates A380 is something else, no matter how many times you have seen it, it still manages to amaze and what is crazy is that there are two of these suites on each A380!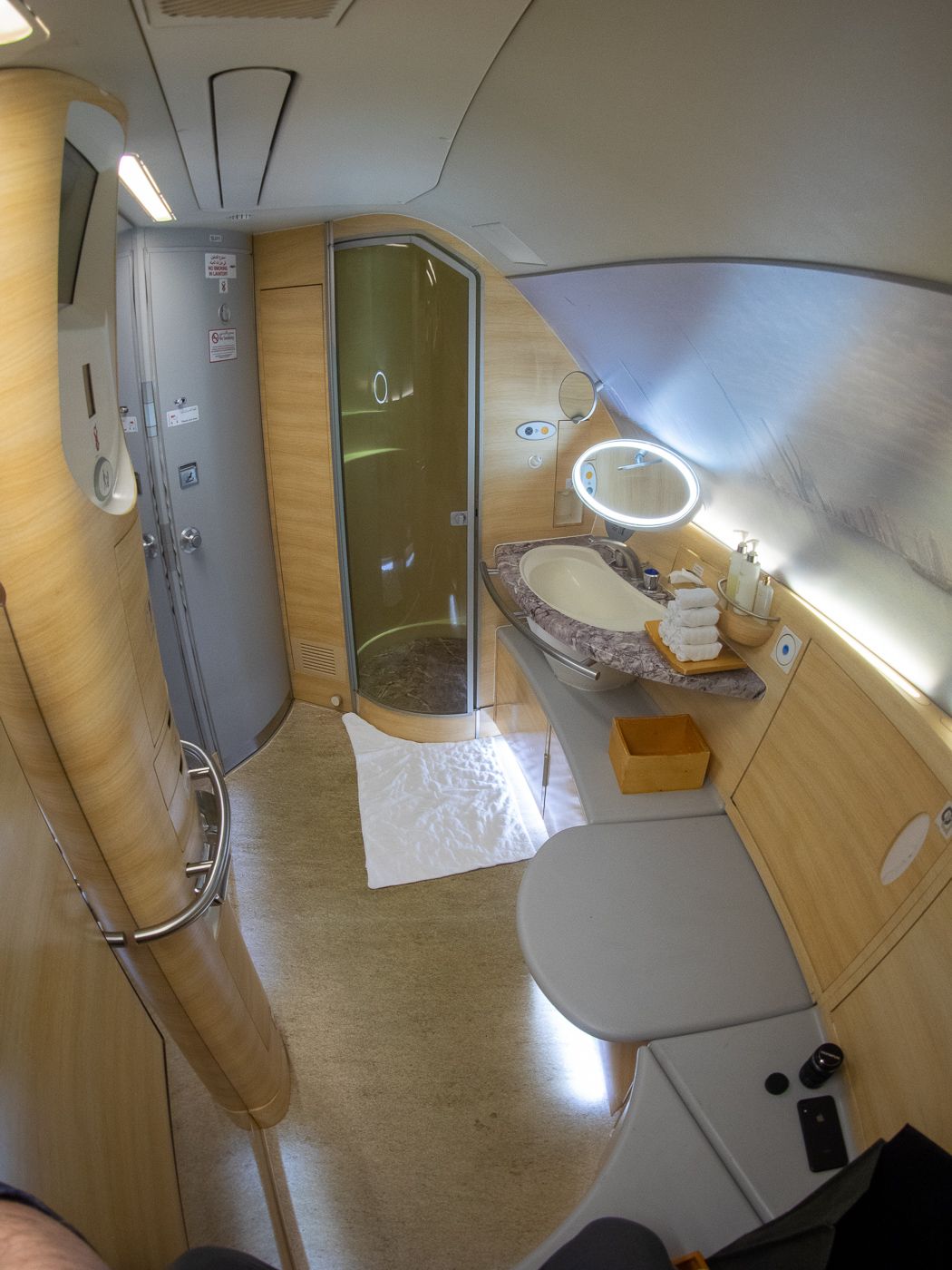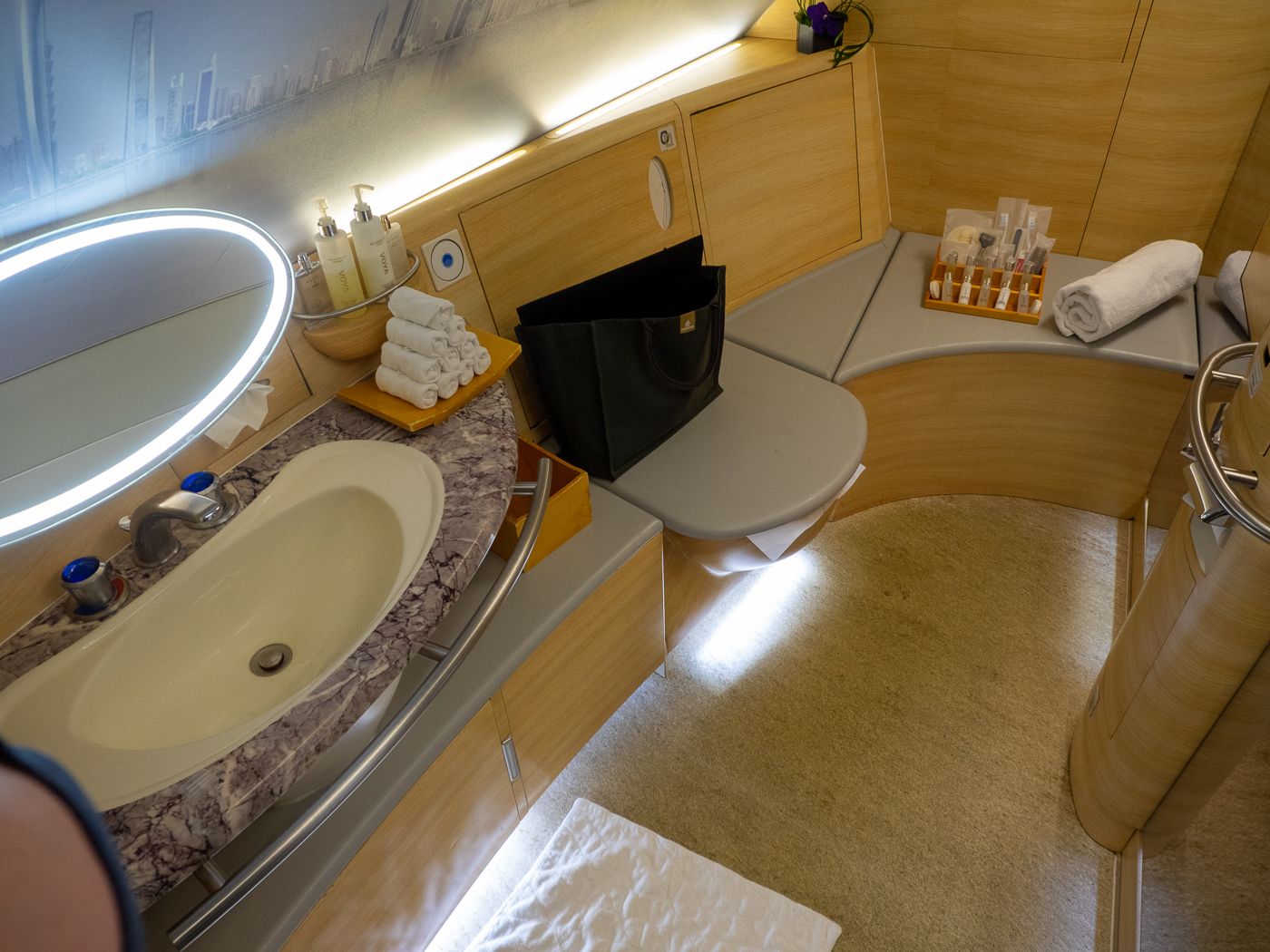 Time to crank up that heated floor, 5 will simply not do!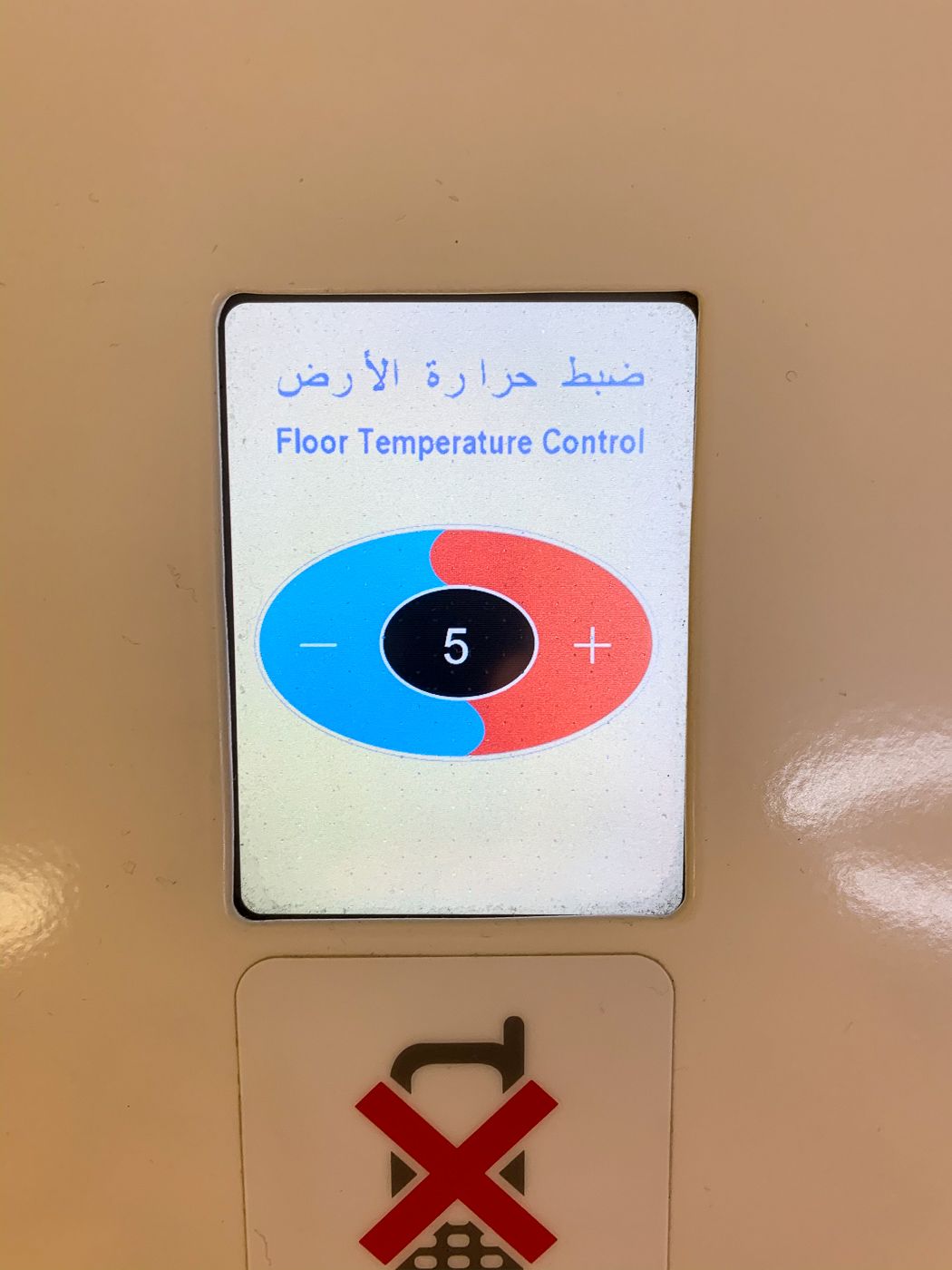 The shower suite has a full complement of amenities located within, so you really don't need to venture into the provided amenity kit at all.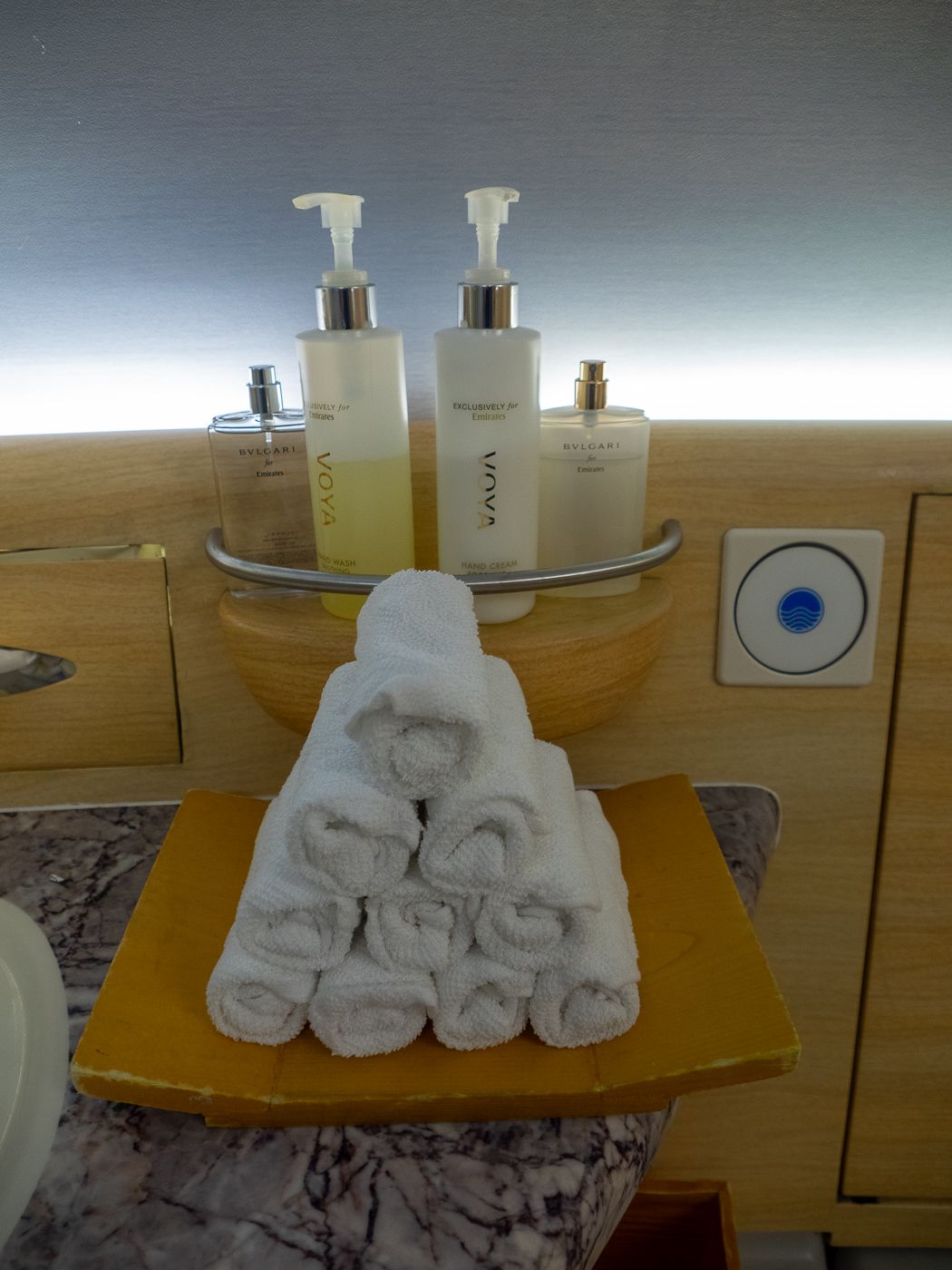 When not being used as a shower, the suites are the regular bathrooms for first-class passengers. There is a little bench that folds down to hide the toilette when not in use.
The actual shower operates the same way as the Etihad one and has a little illuminated ring that tells you how much time you have left. You get 5 minutes of water in total, and the shower will automatically shut off when you have ~1 minute left to give you a warning you are almost out of water.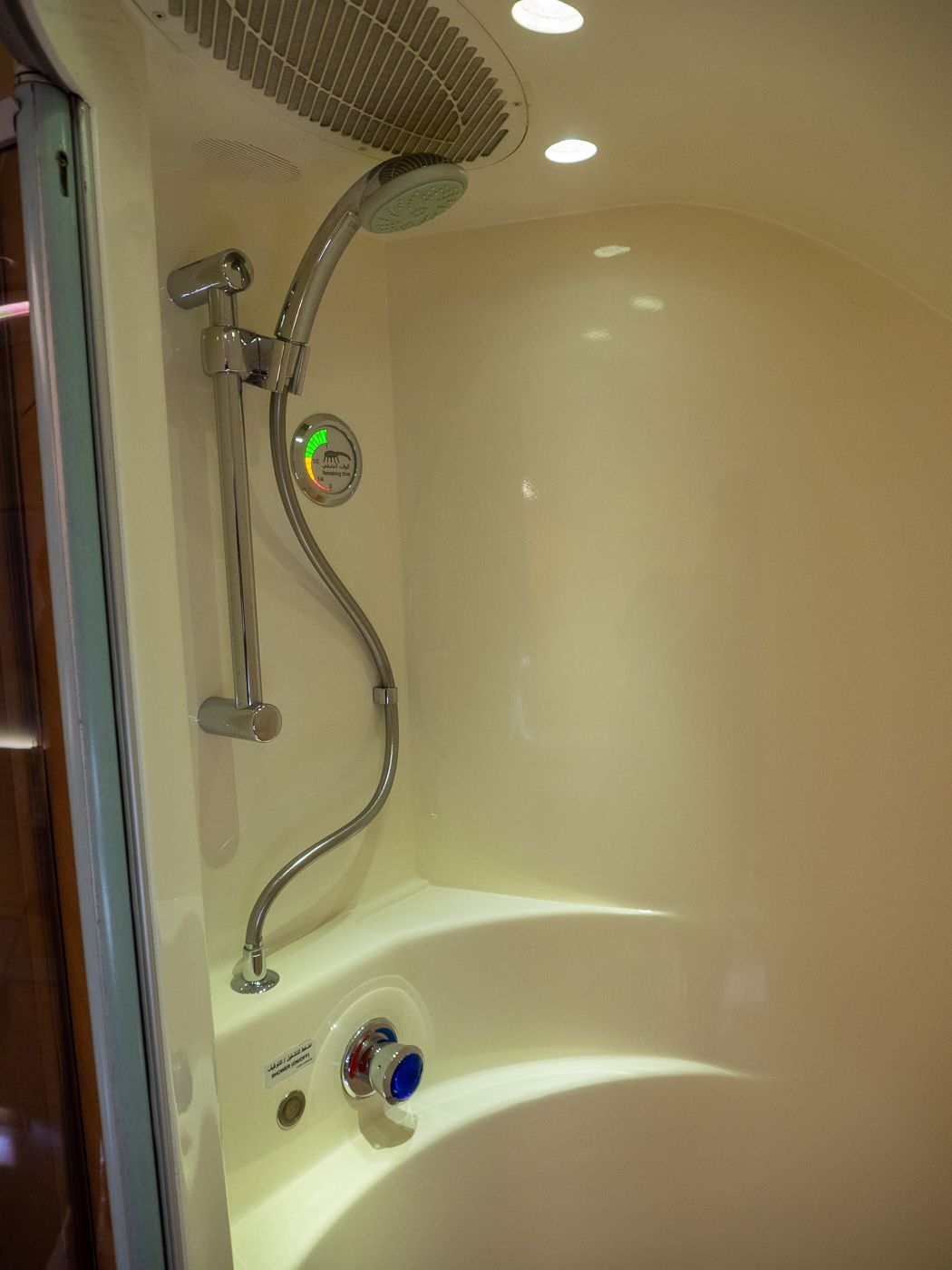 After finishing my shower, I came back to my seat, and the bed was nicely made with a small fruit platter waiting on the table. There was a thick mattress topper as well as a quilt and pillow. The bed was large and comfortable, and the mattress pad did a lot to help make the seat feel like a flatbed, however, the seat still felt like it was a small angle down. With the doors closed, the bed felt very private without feeling claustrophobic at all. I was honestly surprised how much space there was in the suite.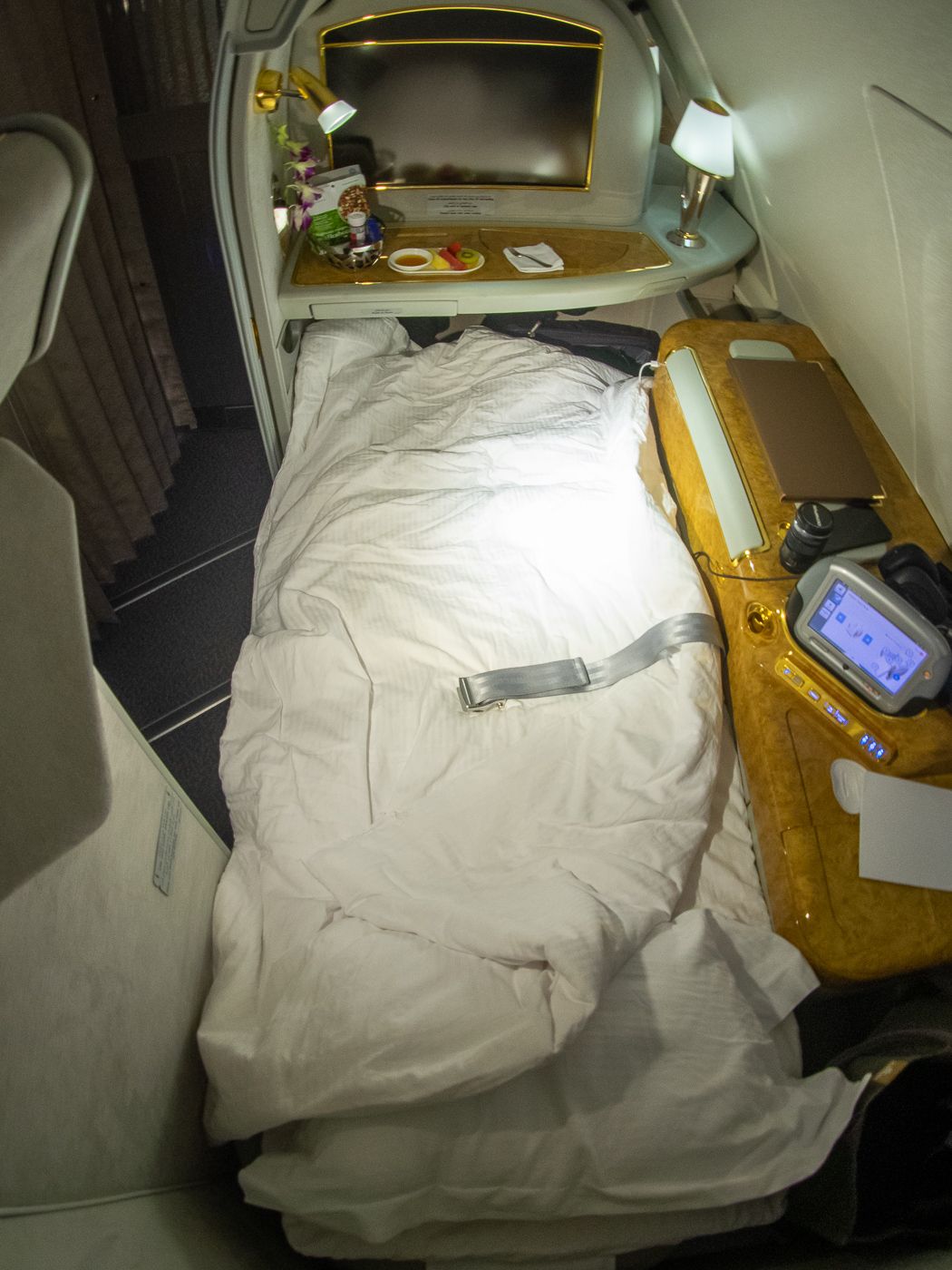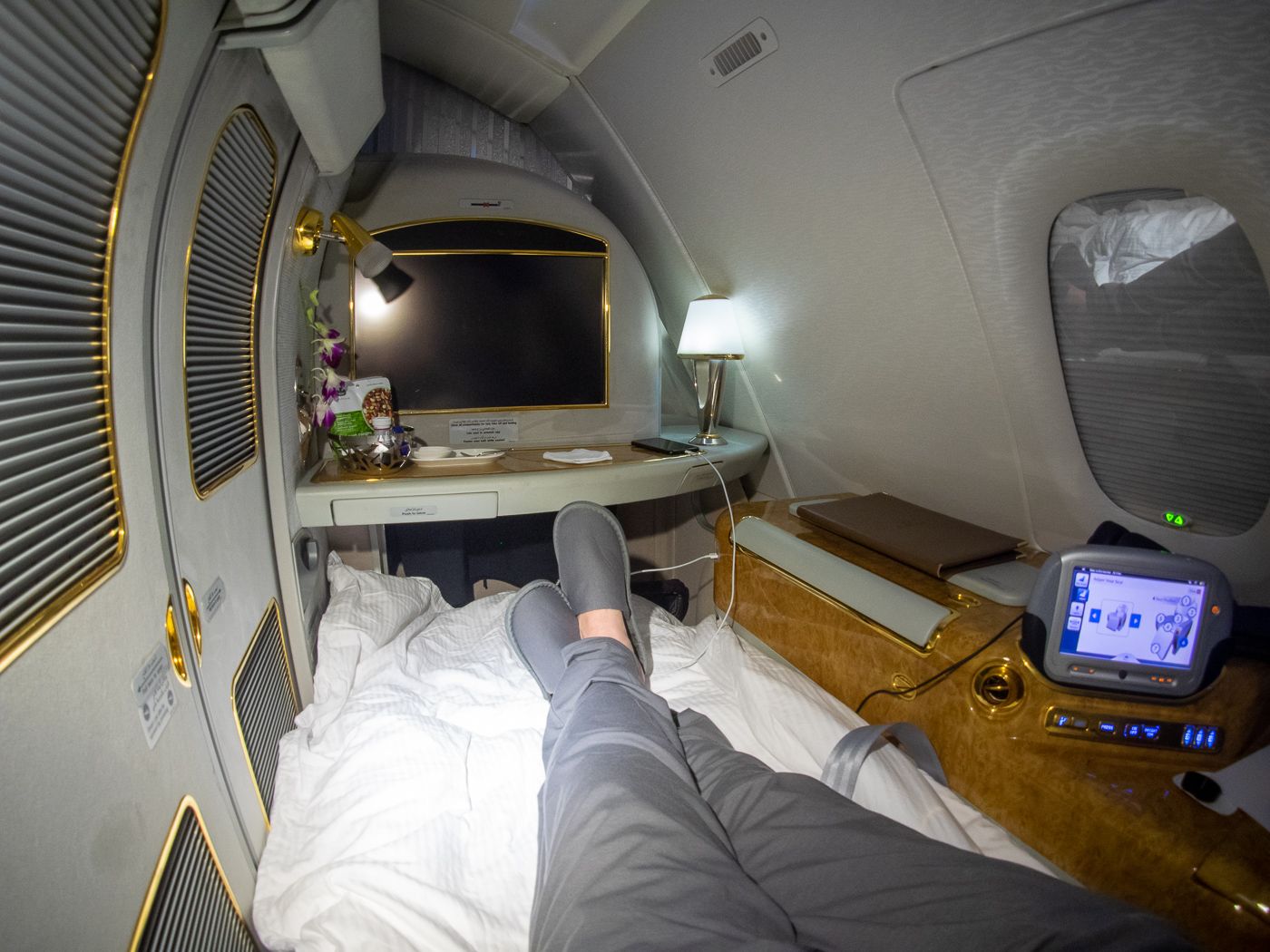 I slept pretty well and got a little over 6 hours of sleep, waking up with just under 2 hours left in flight time. I ordered some coffee while I looked at the breakfast menu.
For breakfast, I ordered the Duxelle Omelette and some freshly squeezed orange juice. My table was set with a lovely bread basket that had some fresh pastries and croissants.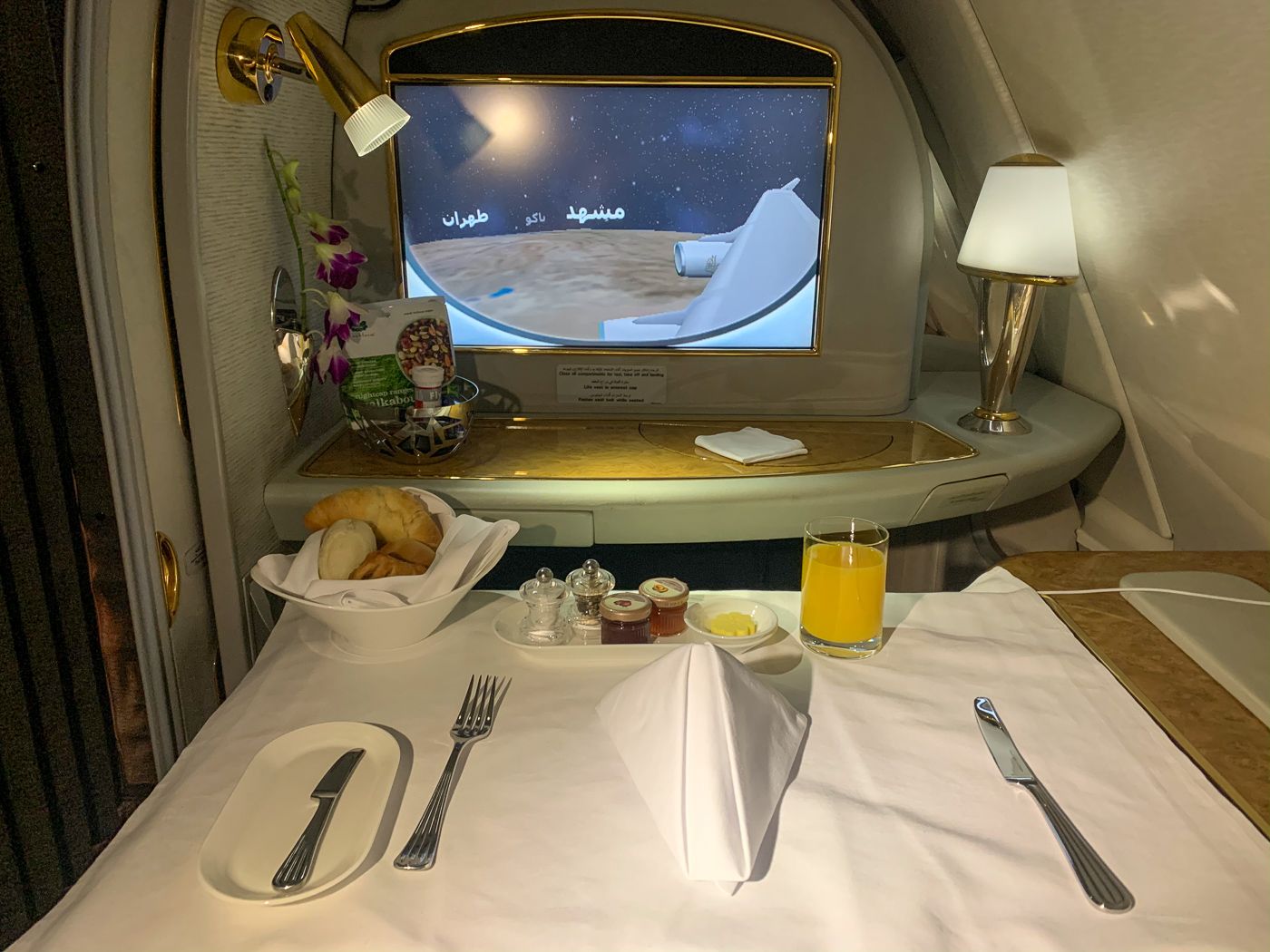 The omelette was ok, it wasn't the best breakfast I've had on a plane, but it was pretty good.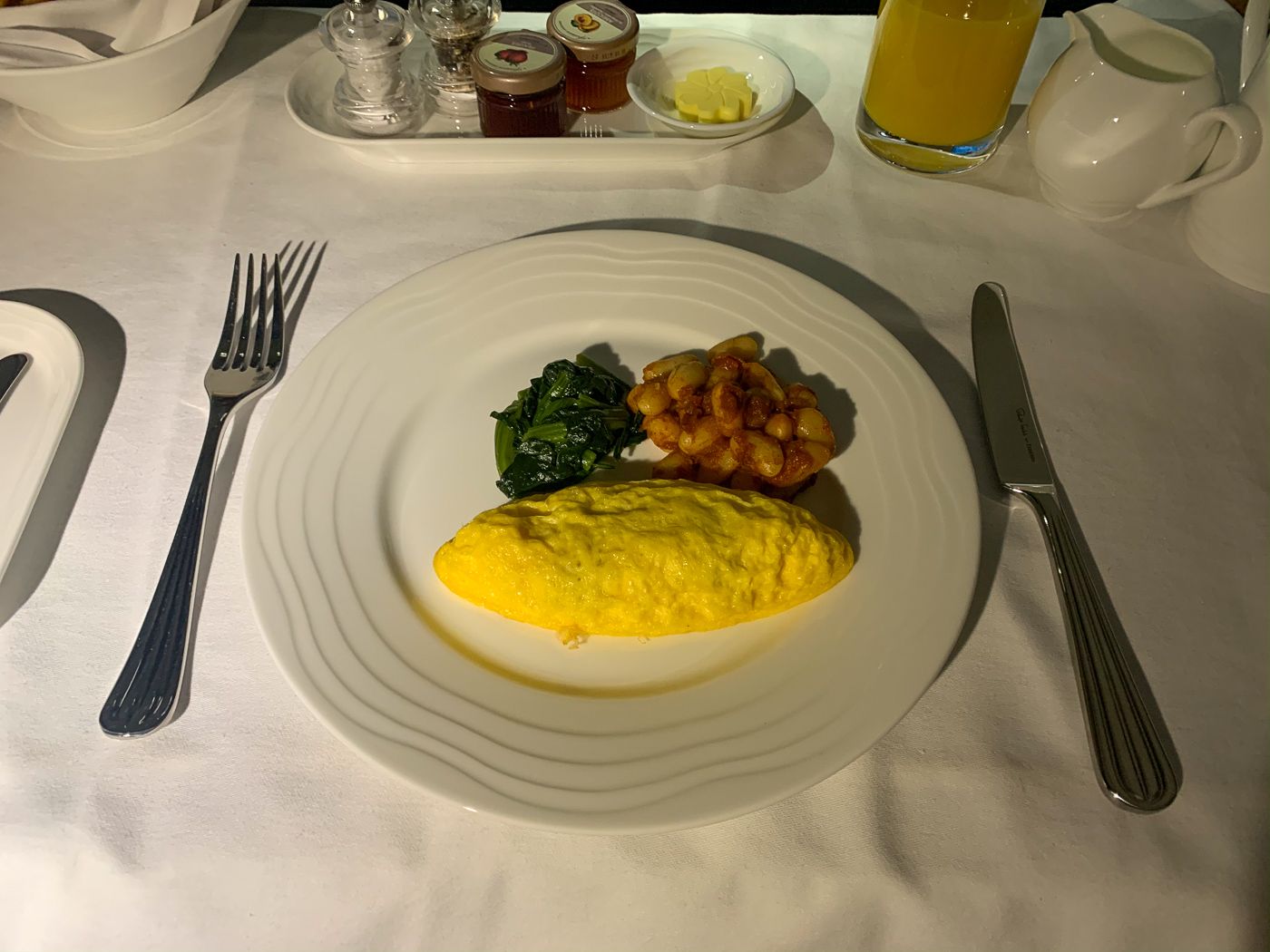 Before I knew it, we were on our descent into Dubai, and the cabin crew were coming through to clear the cabin. They encourage you to take as many of the snacks from the snack basket as you would like, which is a nice touch.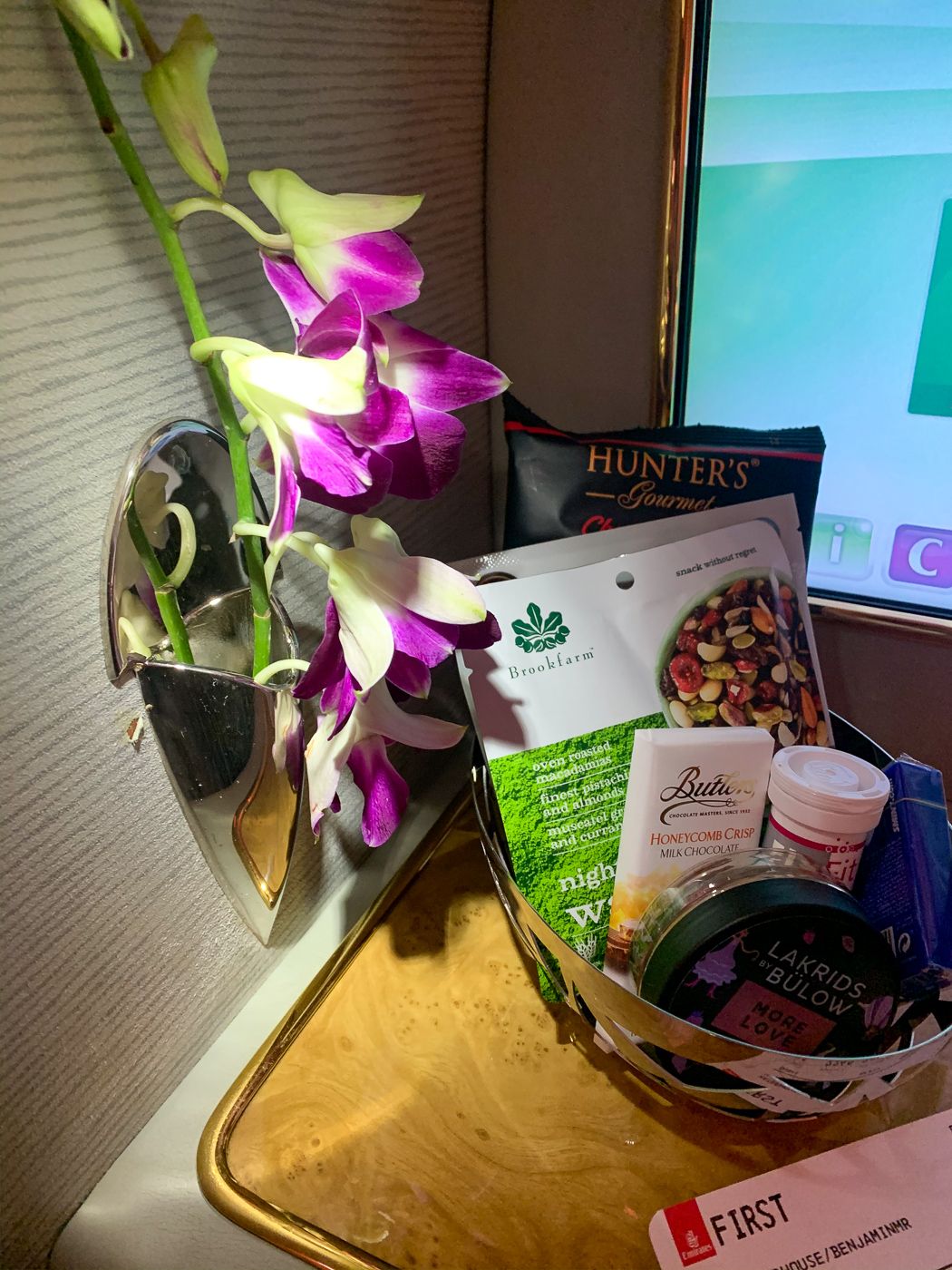 Overall Impressions
I enjoyed this flight, it was a good mix of enjoying the Emirates dining service as well as being able to get some rest in a comfortable bed, and the bar on the A380 always makes for a fun flight. I think overall I still prefer Etihad Apartments, but Emirates is a close contender.
Emirates first class is still one of the best uses of Qantas points in Australia. The product and experience are far superior to Qantas in every way, especially if you fly on the A380 with the shower suites.