Review: Emirates A380 First Class Dubai to Amsterdam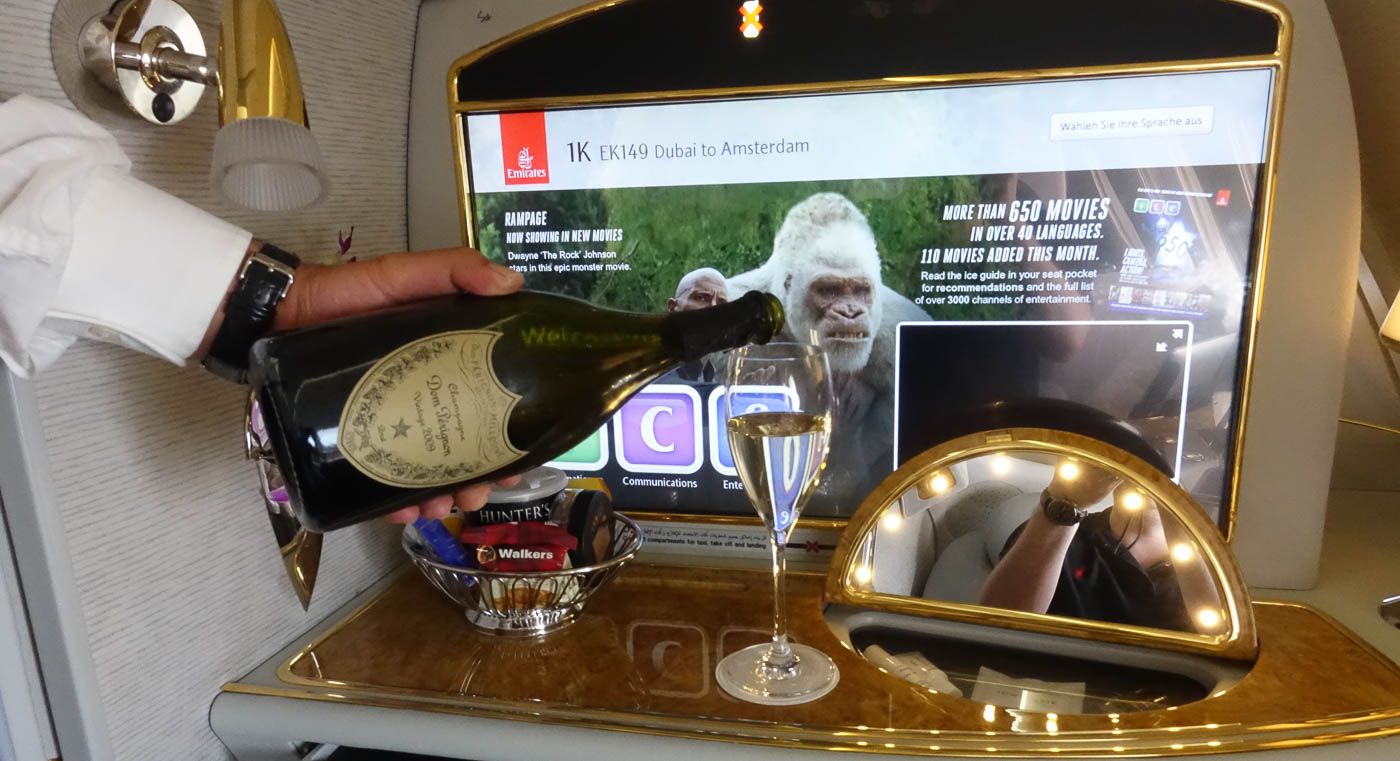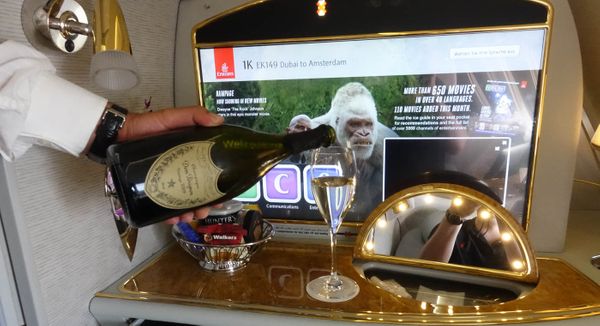 Table of Contents
Escaping Winter to Europe With a Quick Stopover in Hong Kong
Review: Qantas International Business Lounge Sydney
Review: Qantas A330 Business Suites Sydney to Hong Kong
Review: Conrad Hong Kong Junior Suite
Review: Emirates Business / First Lounge Hong Kong
Review: Emirates 777 First Class Hong Kong to Dubai
Review: Emirates Concourse B First Class Lounge Dubai
Review: Emirates A380 First Class Dubai to Amsterdam
Travel: Exploring Amsterdam
Review: Hilton Amsterdam
Travel: Exploring Paris
Review: Drawing Hotel Paris
Review: Etihad First/Business Lounge Paris Airport
Review: Etihad EY32 A380 Apartments Paris to Abu Dhabi
Review: Etihad EY454 A380 Apartments Abu Dhabi to Sydney

After a lacklustre experience in the concourse B First Class lounge, I was eager to get aboard again and settle into the comfortable Emirates First Class Suite. We made our way to gate lounge 32 and proceed to board our A380.
As we were at concourse B we boarded via the lower deck and had to make our way upstairs to the First Class cabin. My very first impression was that the cabin was uncomfortably hot, like crazy warm! Apparently, the air conditioner was broken, and the ground unit couldn't keep up. But no matter what it made for an uncomfortable time on the ground.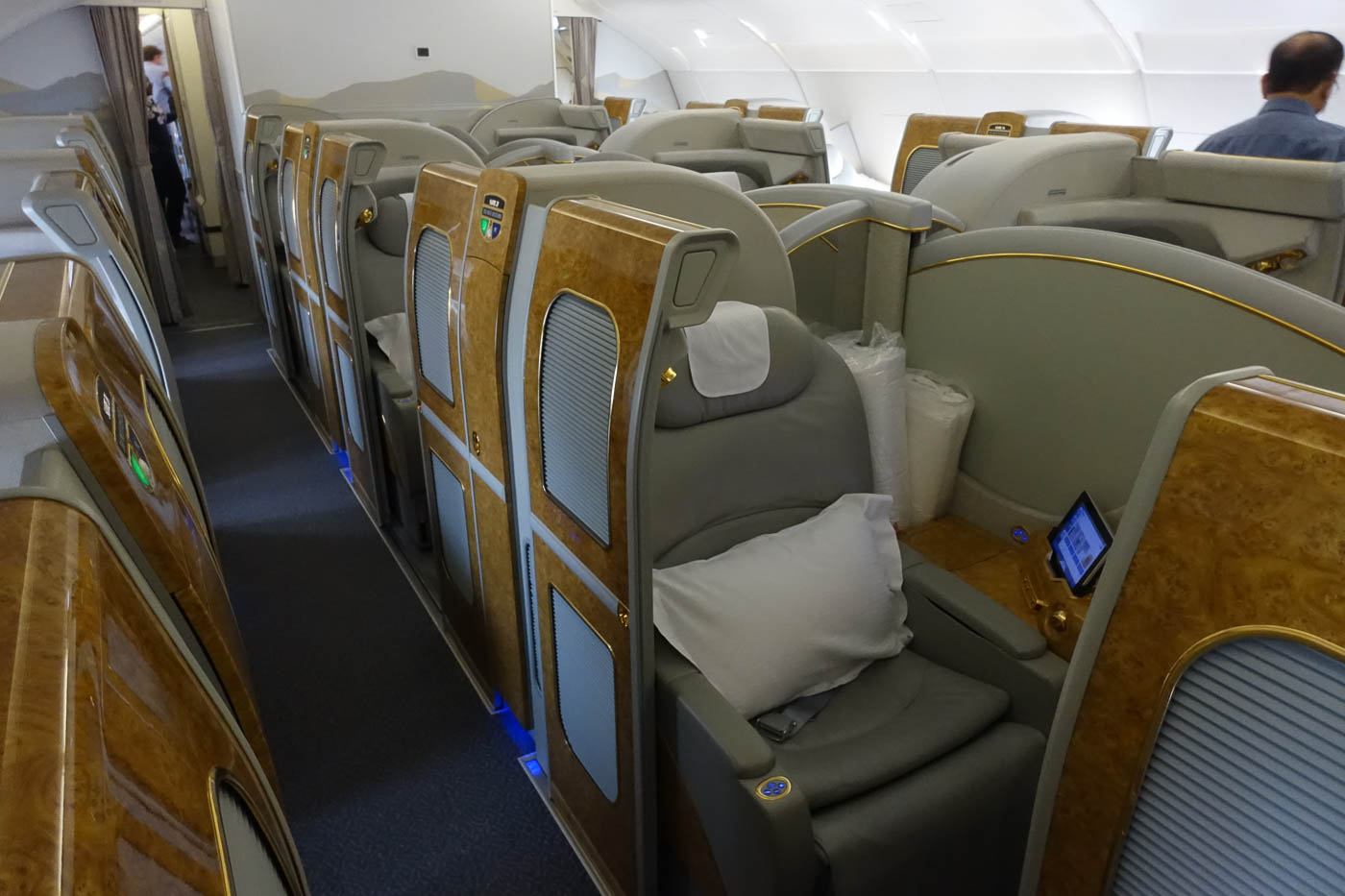 After somewhat getting used to the heat we were shown to our seats and offered a pre-departure beverage. I went with a champagne and ice water. I forgot to mention in my previous review, but Emirates currently serve 2009 vintage Dom Perignon in First Class. They also, for a limited time, have Dom Perignon P2 2000 vintage. But more on that later.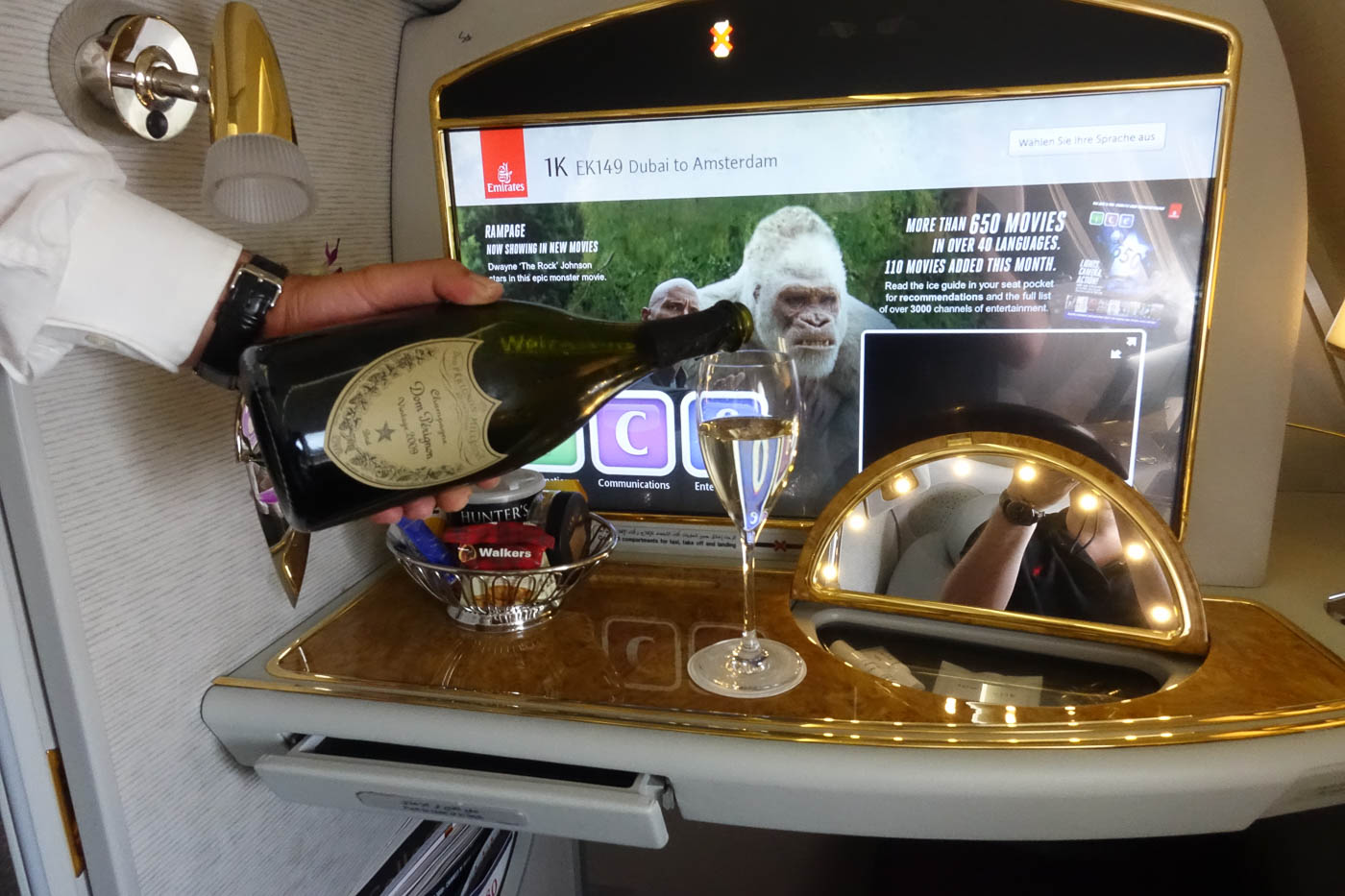 The First Class cabin on the A380 was very similar to the 777, and the suites are basically identical, although they had much larger 32" widescreen as well as a newer wireless tablet for seat and media controls. I won't go overboard on seat photos in this review as they are very similar to my previous post on the 777. I would say the suites on the A380 did feel newer than the ones on the 777, but this could have just been a by-product of the age of the particular aircraft on the day.
My throne for the next few hours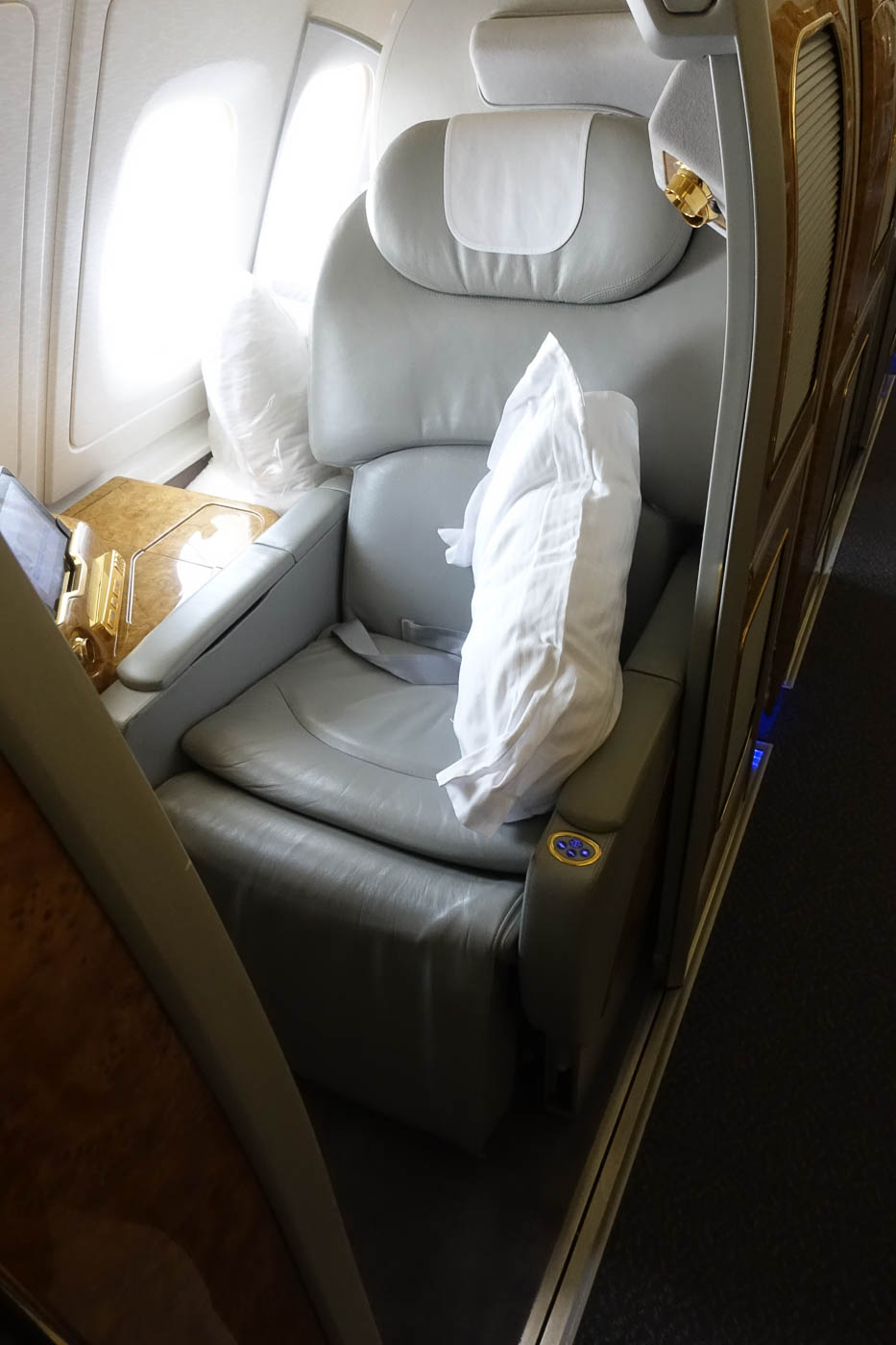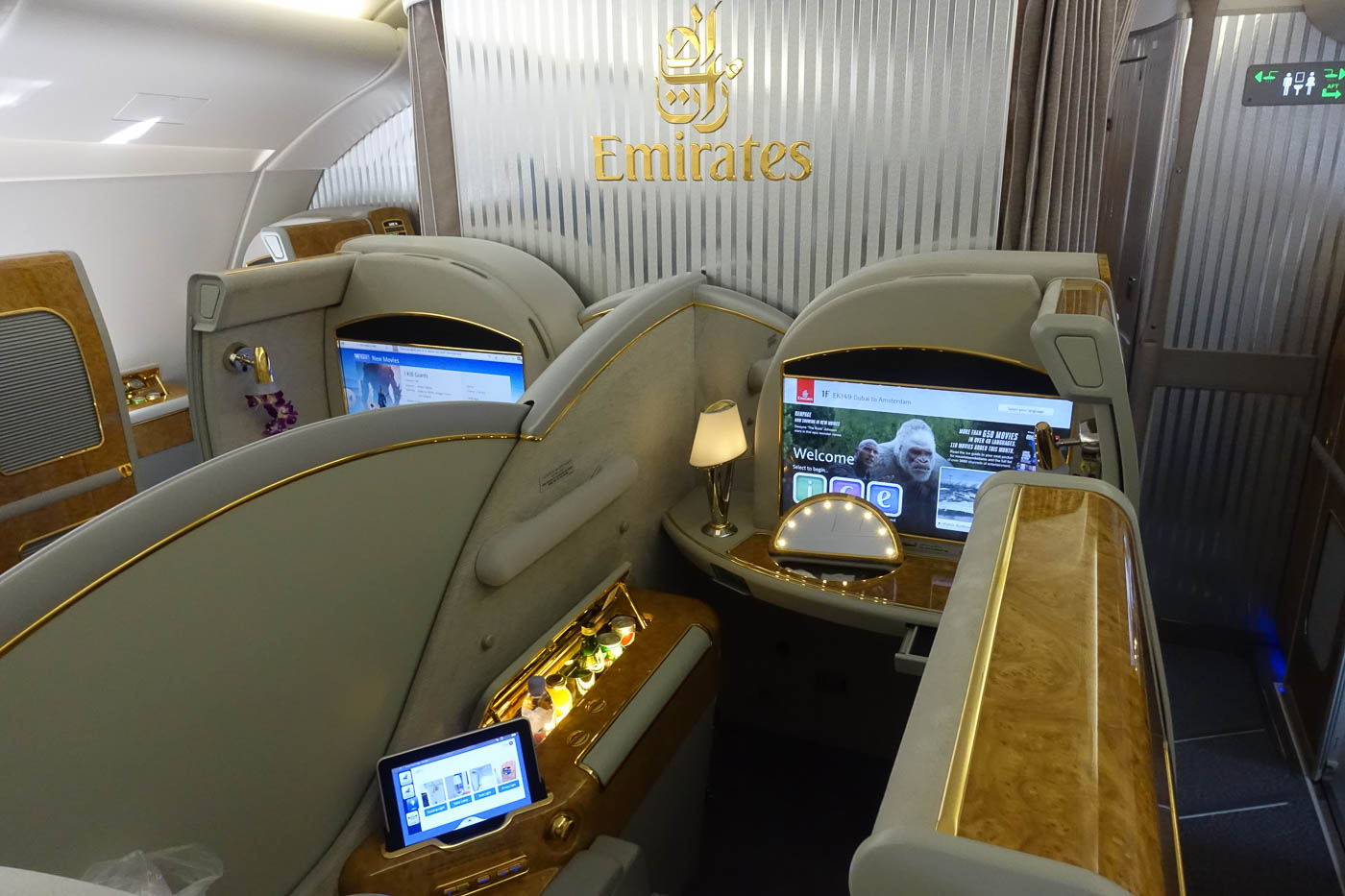 No shortage of leg room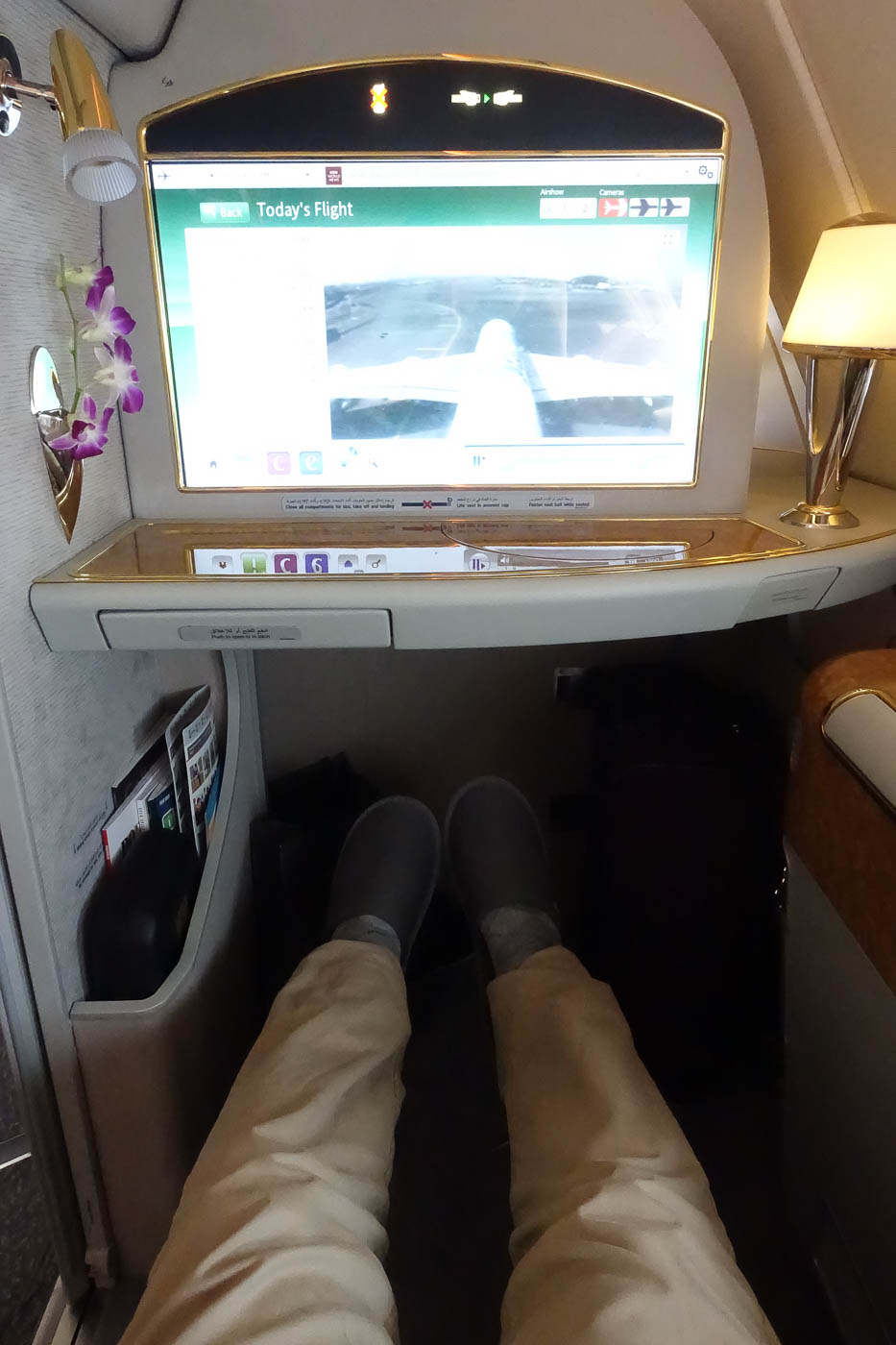 The cabin on the A380 feels much larger with 12 suites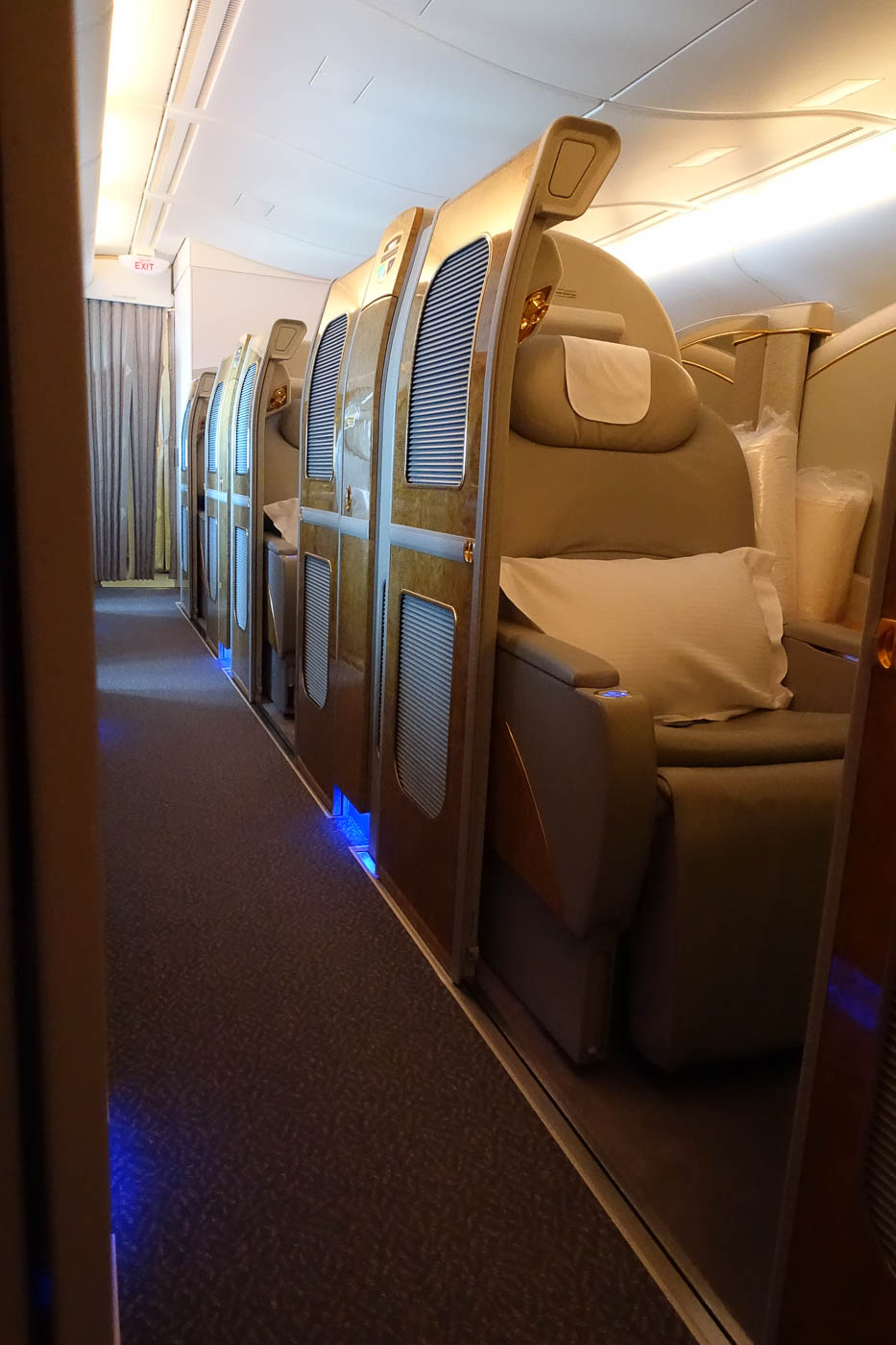 One welcome change to the seat over the 777, was the addition of the new larger wireless tablet for seat and media controls. It was actually responsive and made adjusting the seat and controlling media far easier. It could also be used as another screen, so you could browse the movie collection for example on the tablet itself rather than just using it as a remote to control the main screen.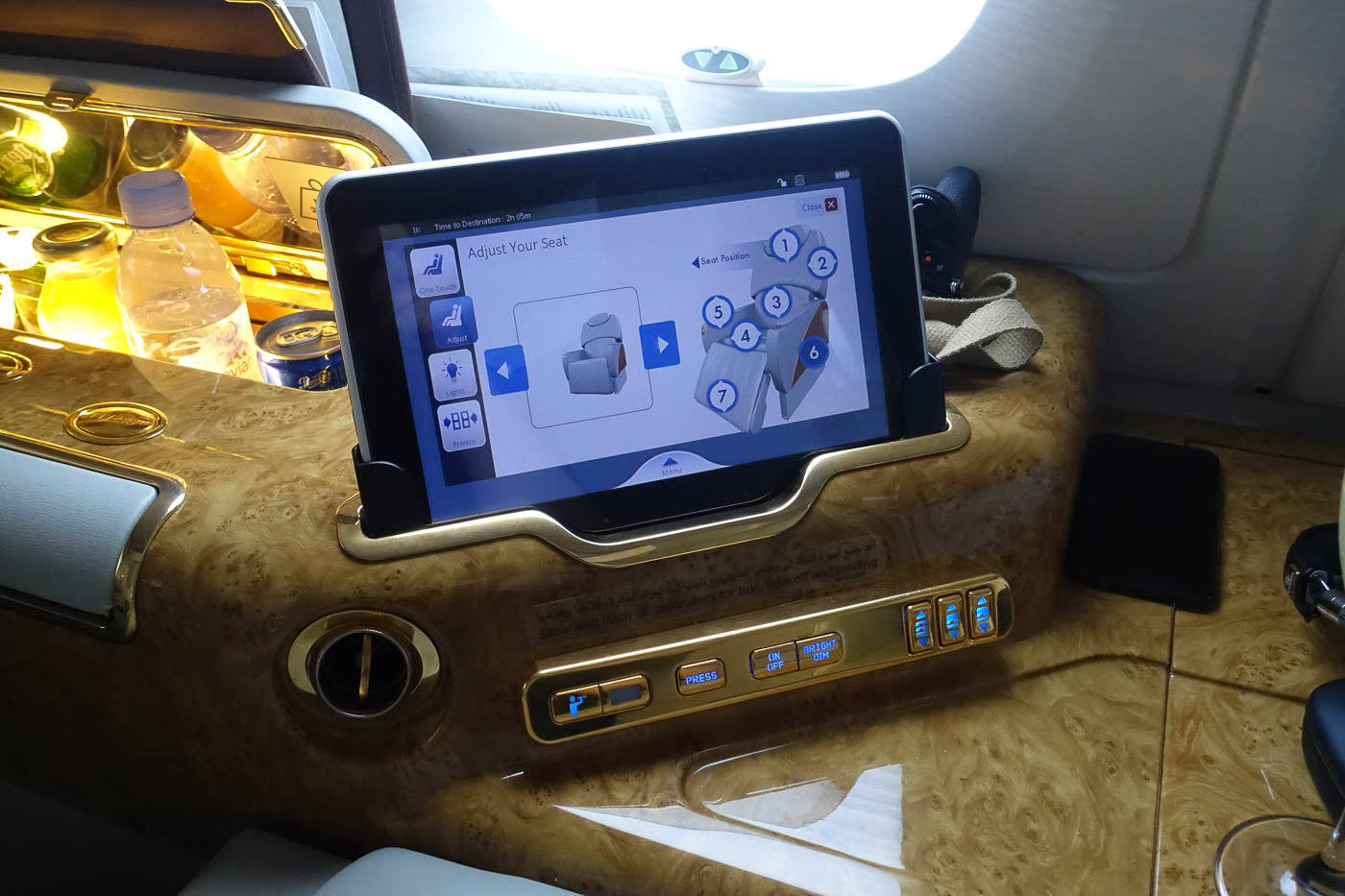 Browsing the movie collection on the tablet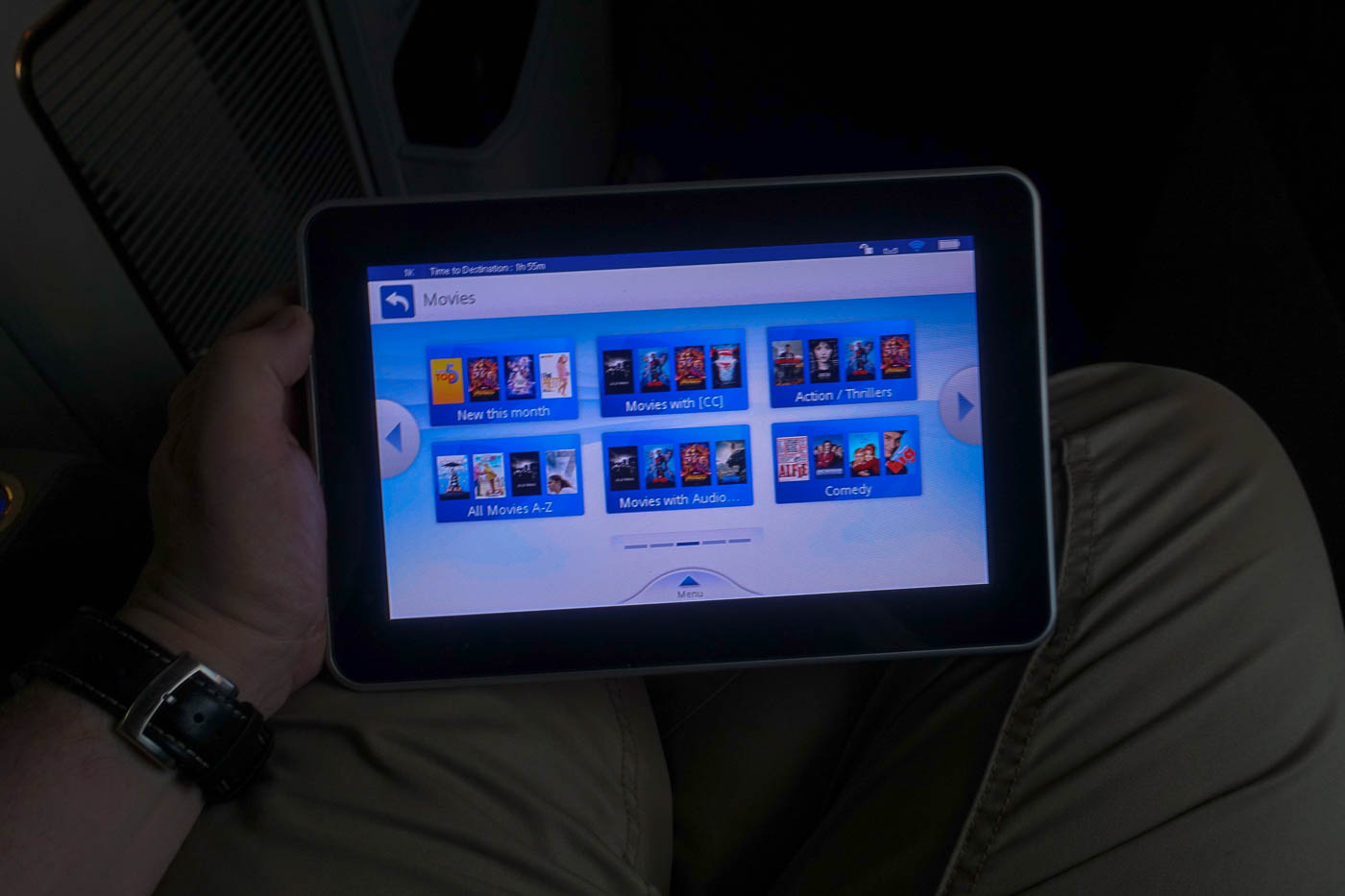 There was also a new media controller in the armrest, which had its own touchscreen. In saying that the tablet was so good, I didn't use this controller at all.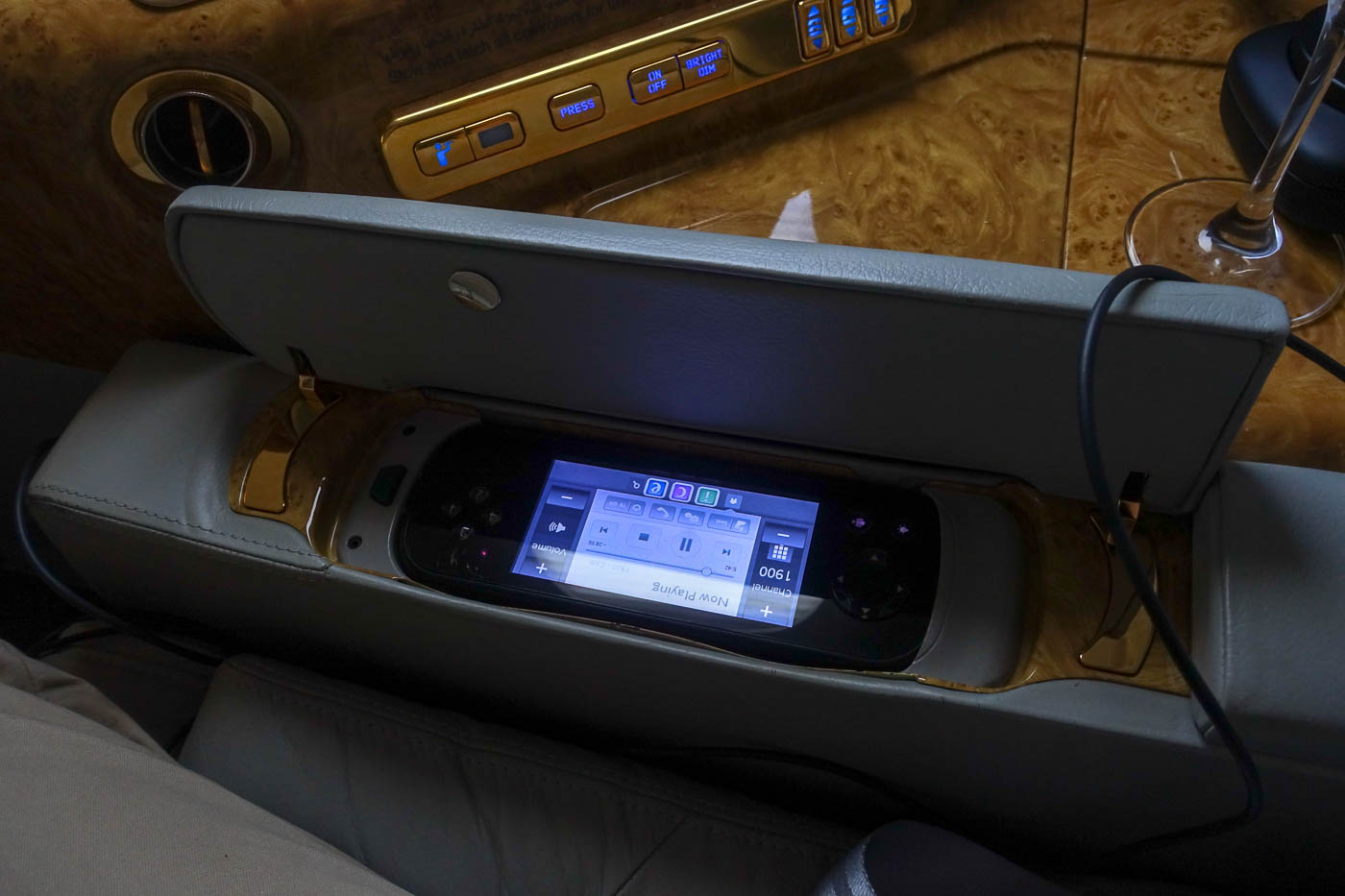 Another great thing was that Emirates First Class provided decent sounding Bowers & Wilkins noise-cancelling headphones to all passengers. This is a welcome feature, so many airlines offer crappy headphones and rely on passengers providing their own if they want to have a decent media experience and enjoy the comfort of proper noise cancelling.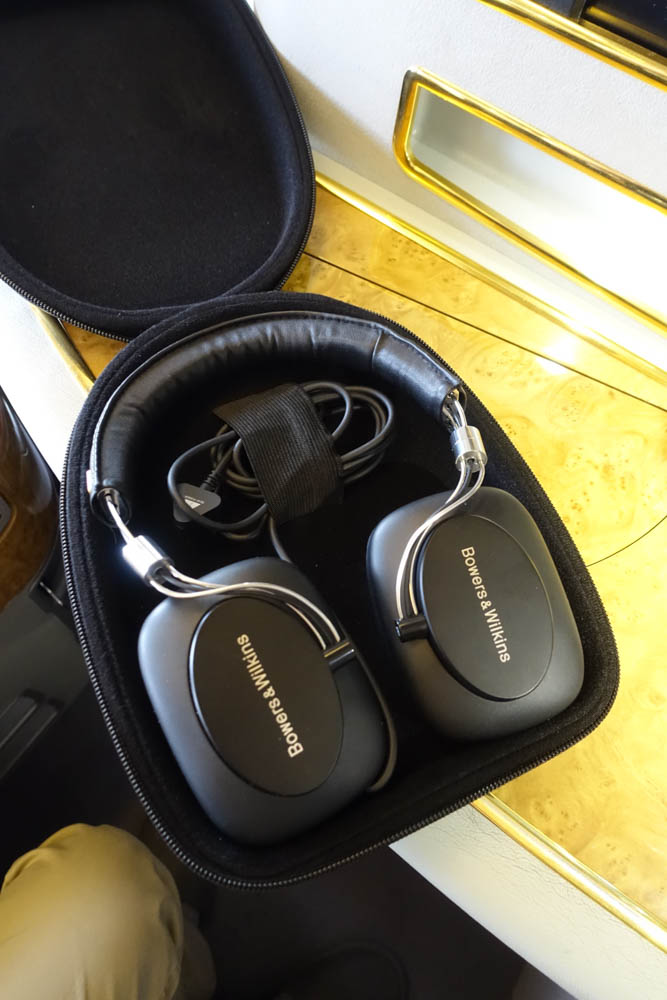 On today's flight, there were only two other passengers in the first class cabin, so eight of the twelve seats were empty. The rest of the plane was basically full though so boarding took awhile. The crew came and introduced themselves, offered us a cold towel and also checked if we would like a shower on today's flight. I mean is that really a question? How could you actually say no to showering at 38,000 feet! Both myself and Mrs B decided we wanted to shower right after take off as it was so hot we wanted to cool down and freshen up. Unlike our last flight, we were also offered amenity kits. The kit is Bvlgari branded, comes in a nice leather case and contained perfume, toothbrush, shaving kit and creams. Emirates also give you a nice tote bag to carry things to and from the shower.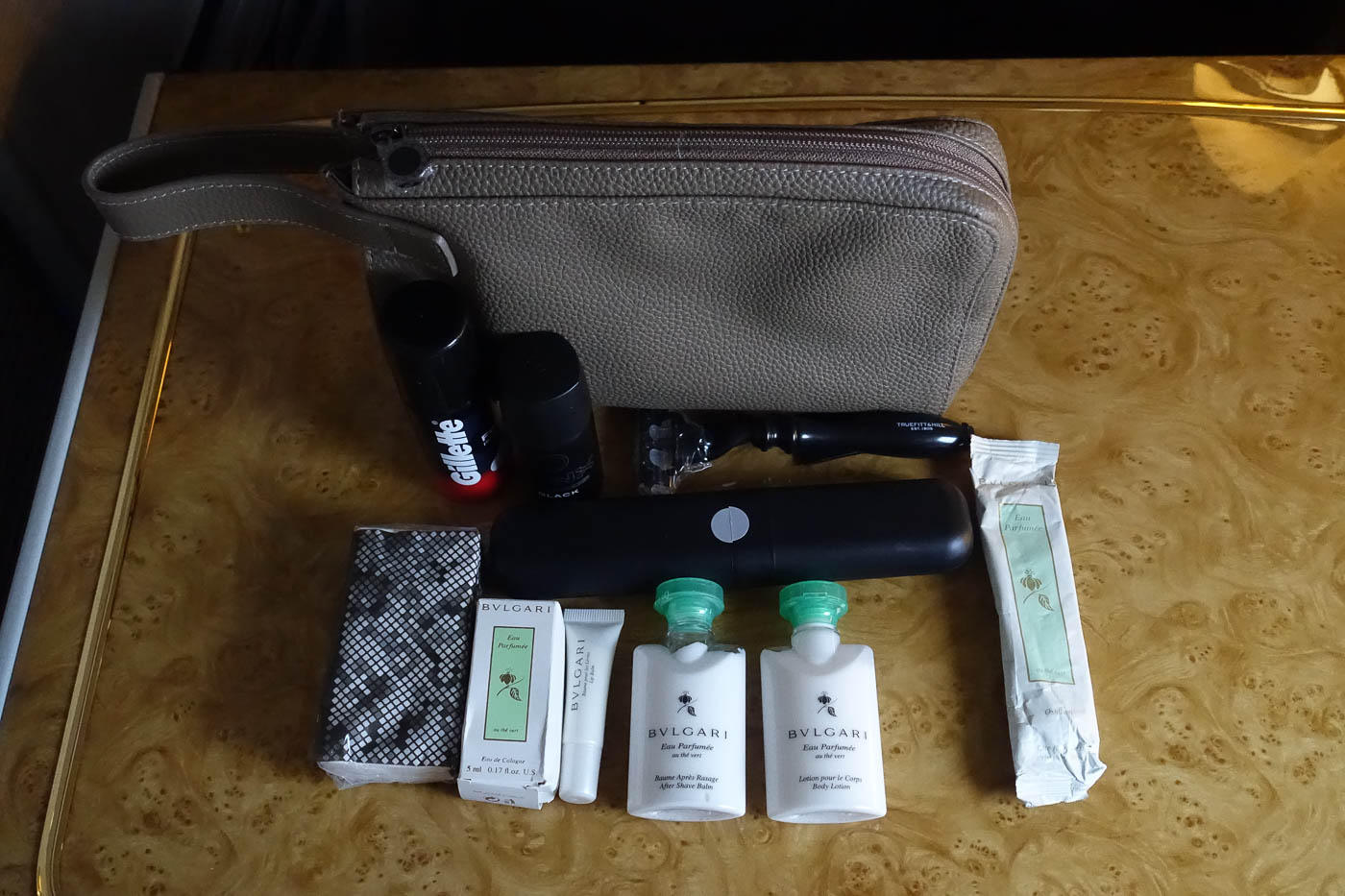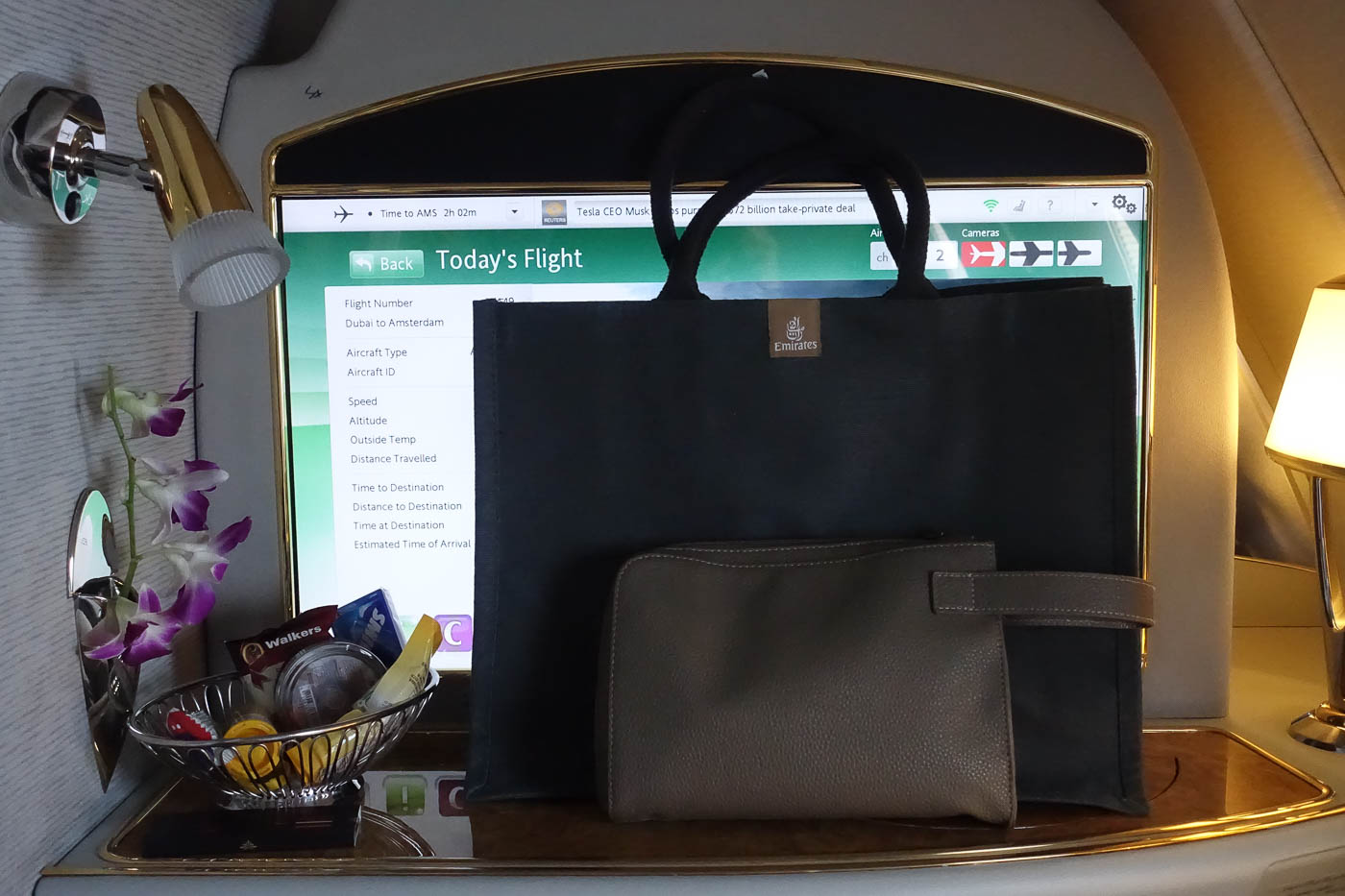 Boarding was finally finished, and we were on our way. The captain assured everyone over the PA that the cabin would get cooler once the engines started, although this seemed to be a slow process. We were queued behind several other planes on the tarmac but eventually got underway.
Once the seatbelt sign was off, we were informed the showers were ready, and we could both head to our shower. The Emirates A380 has two shower suites at the front of the First Class cabin, unlike Etihad which only has one (the second one is dedicated to the Residence passengers). The shower suites are massive; it is really hard to explain just how crazy they are, Emirates certainly outdo Eithad here!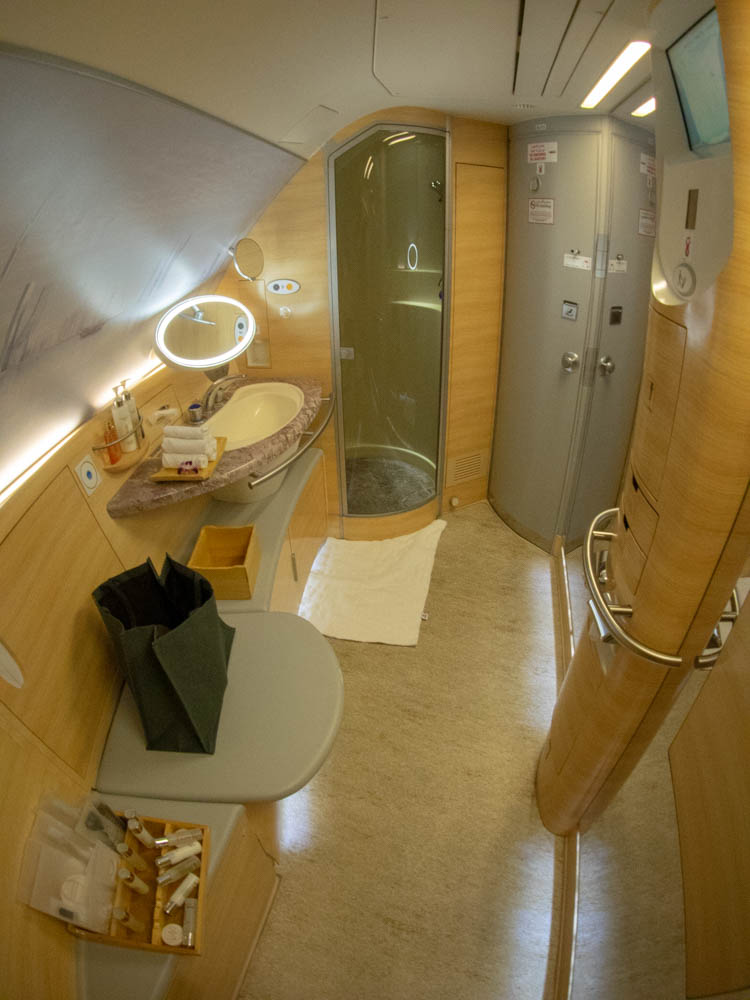 Full selection of amenities for your shower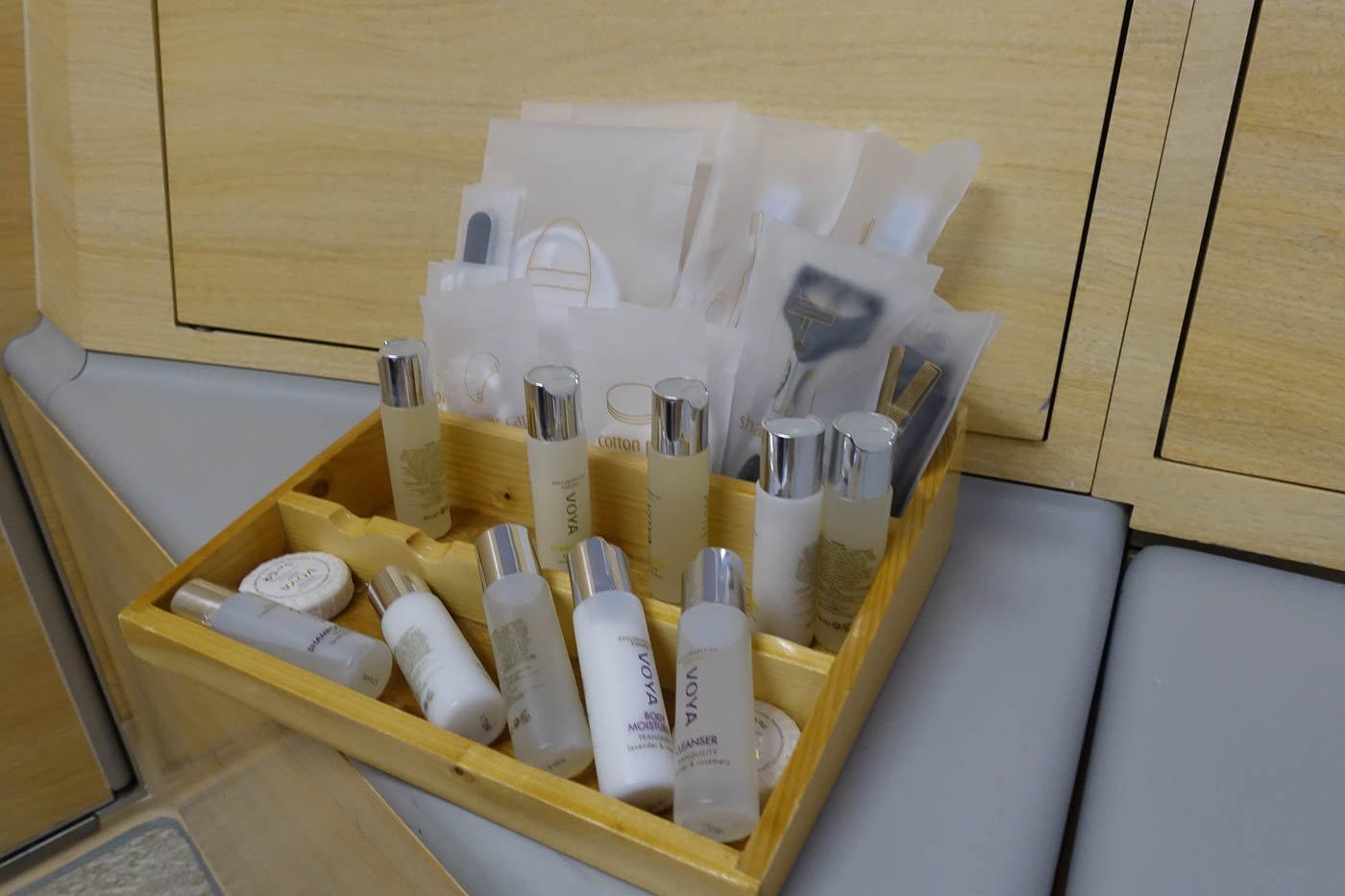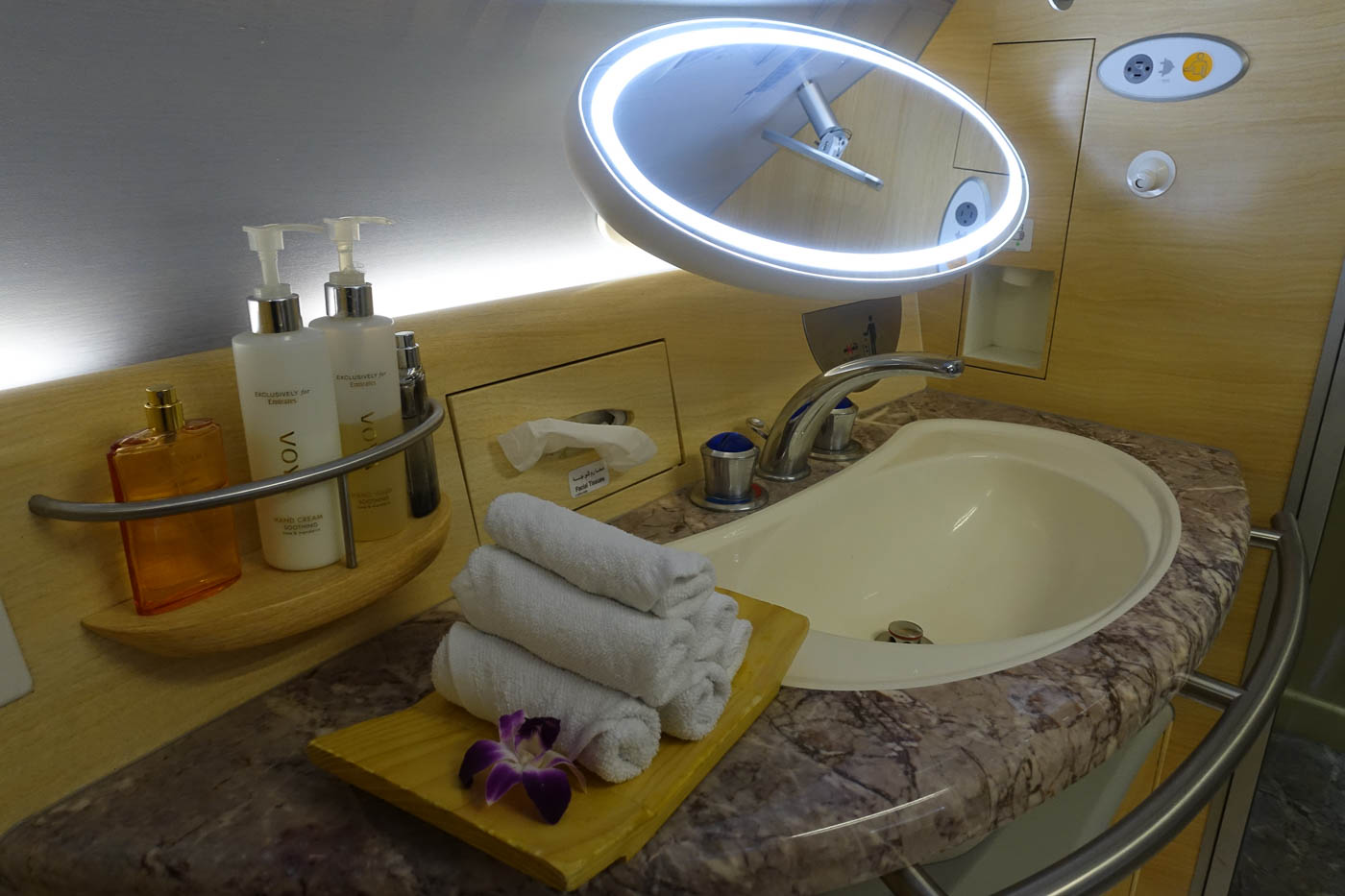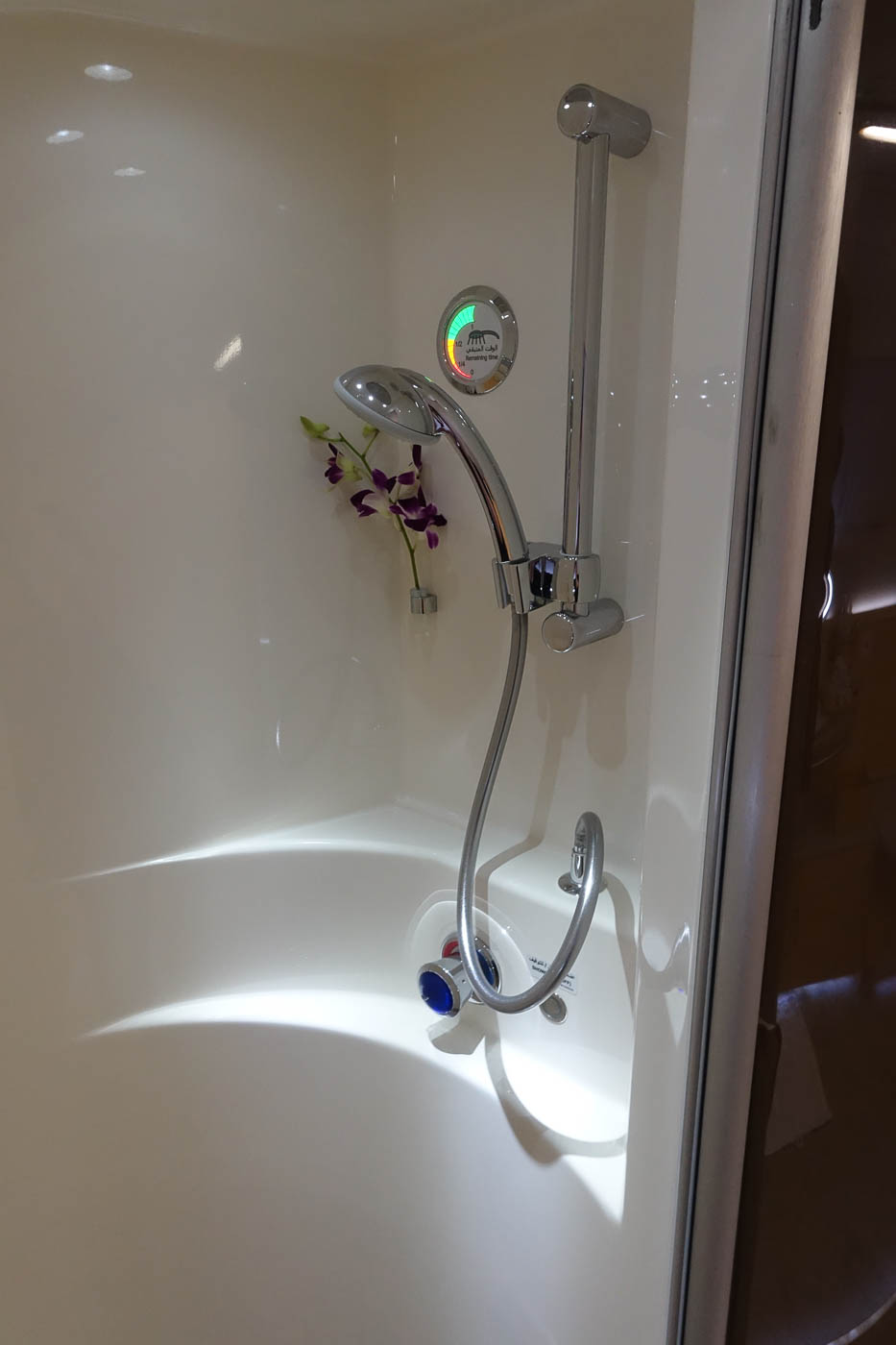 You can even control the floor temperature whilst in the shower suite!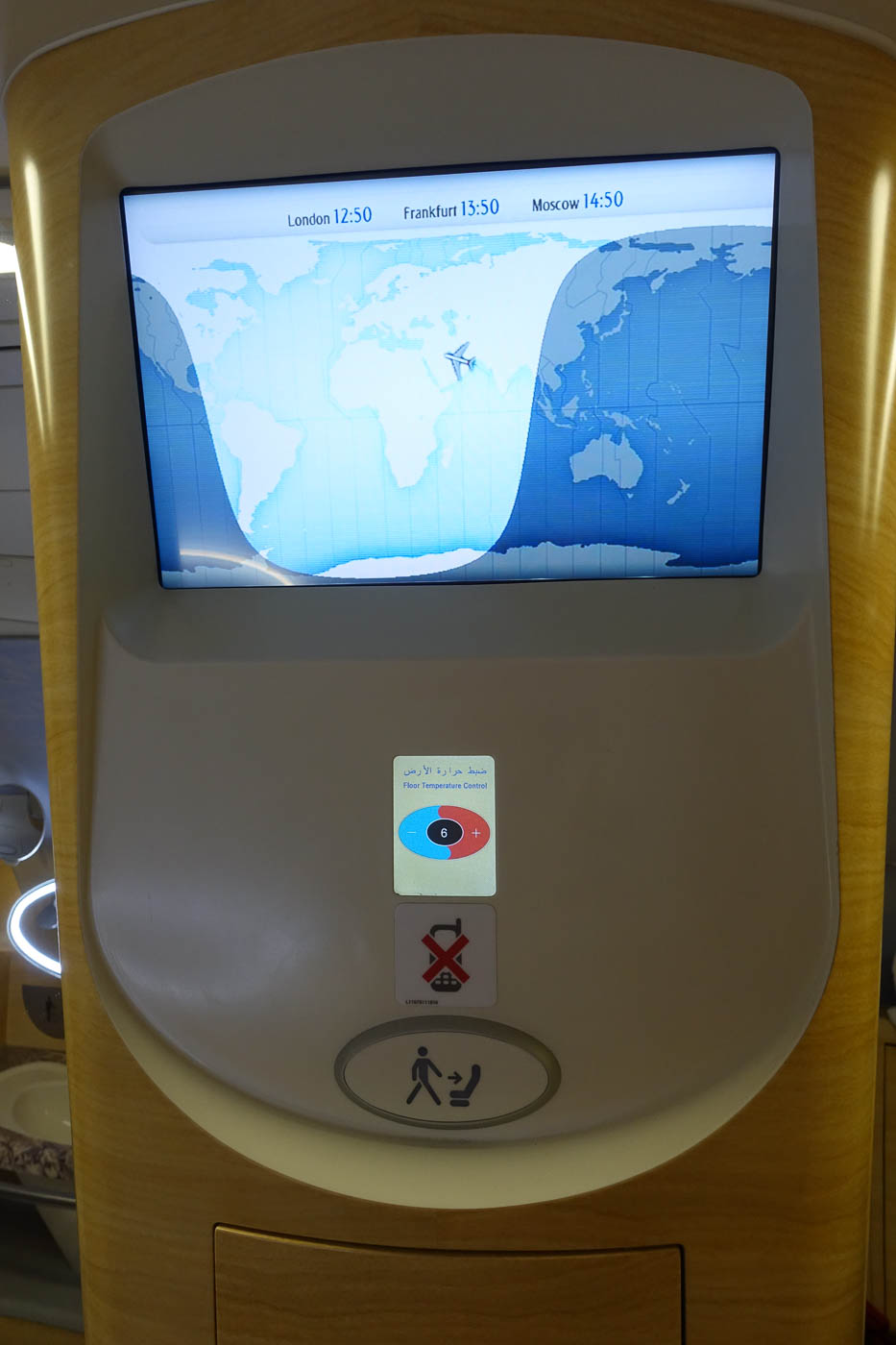 Complete with full size hair dryer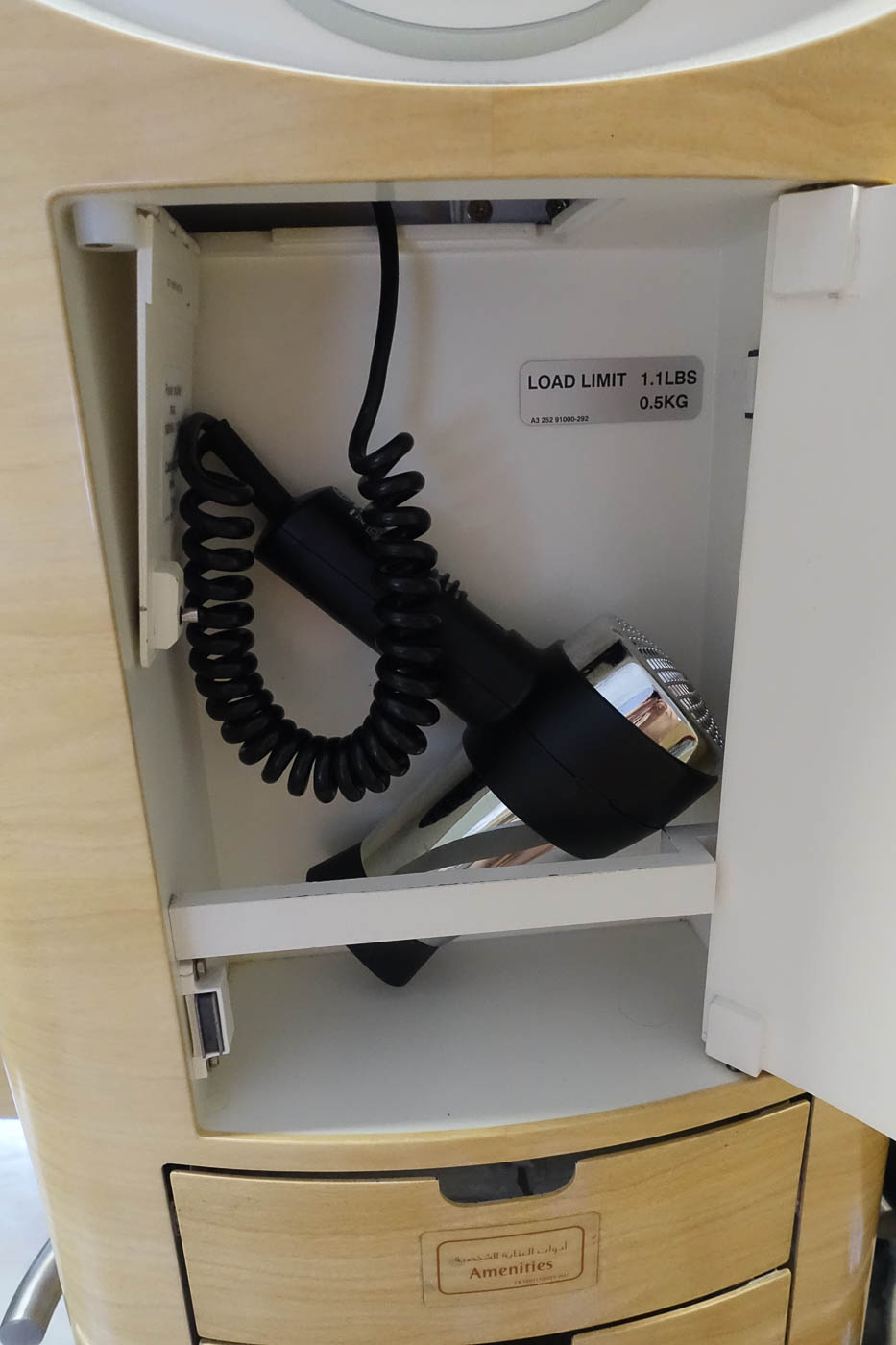 After returning back to my seat from the shower, there was a nice cold fruit plater waiting at my seat.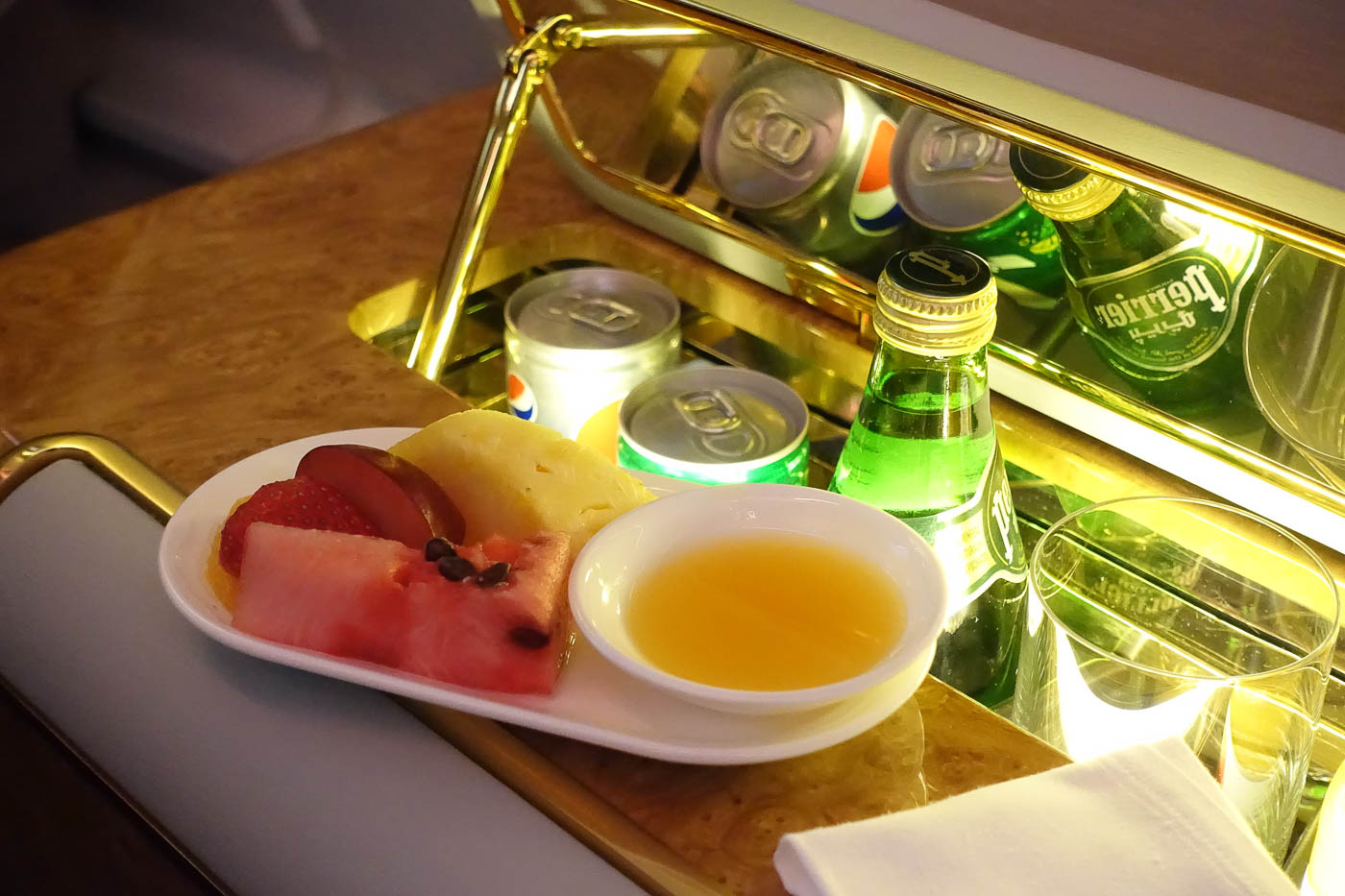 Another thing I loved about the Emirates First class suites was that each suite contained two individual air nozzles. This especially would be a welcome addition on an overnight flight when trying to get some sleep.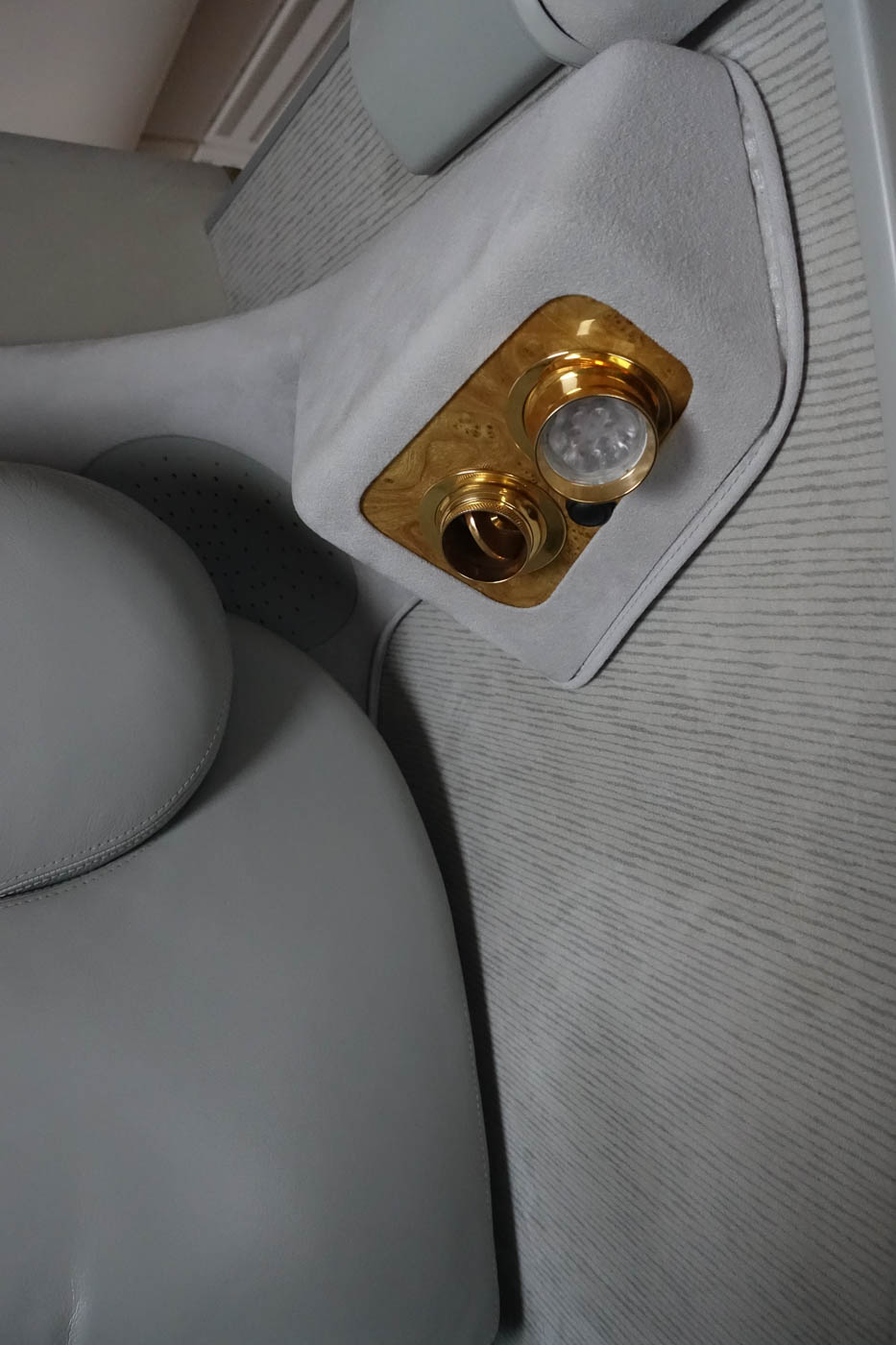 With the cabin finally cooled down and feeling refreshed from a shower I thought it was time to grab another drink and watch some TV. I browsed the menu and decided to try the Dalmore King Alexander III single malt Scotch whisky as I had never heard of it before and I don't mind a good single malt. My whiskey arrived, and it was delicious, very smooth drop that I could have easily kept drinking. Upon googling back on land, it appears to be a ~$300 bottle of single malt, so I am not surprised it was enjoyable.
Whilst I could have quite happily continued drinking the single malt, I was well behaved and thought I should switch to something else. Now one thing that I completely overlooked in the menu on the previous flight was the fact that Emirates for a limited time is currently serving Dom Perignon P2 2000 vintage champagne in First Class. I couldn't resist, I had to try a glass, and I wasn't disappointed! I would love to do a side by side tasting of this and Krug, but it was certainly up there with it.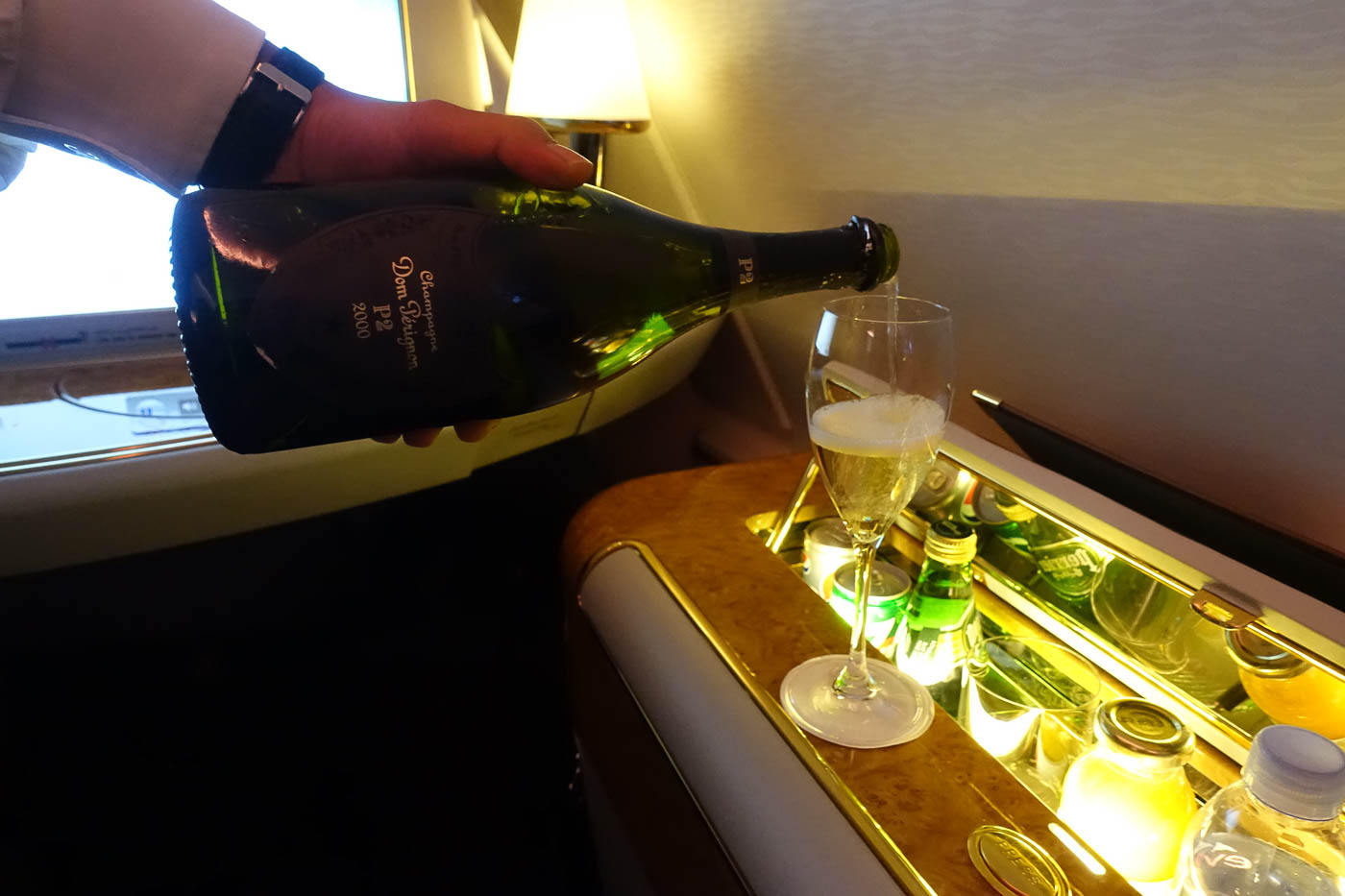 It didn't take me long to finish my first glass of P2, and I seemed rude not to have another one, after all, I was the only person drinking it, and they had opened the bottle for me. So with my second glass in hand, I went for a walk to explore the plane and check out the famous Emirates A380 bar which is located at the rear of the Business Class cabin. It should also be noted that the A380 has a small bar up the front of the First Class cabin at the top of the stairs in between both the shower suites. It is really there more for show, and you wouldn't want to stand and have a drink at this particular bar.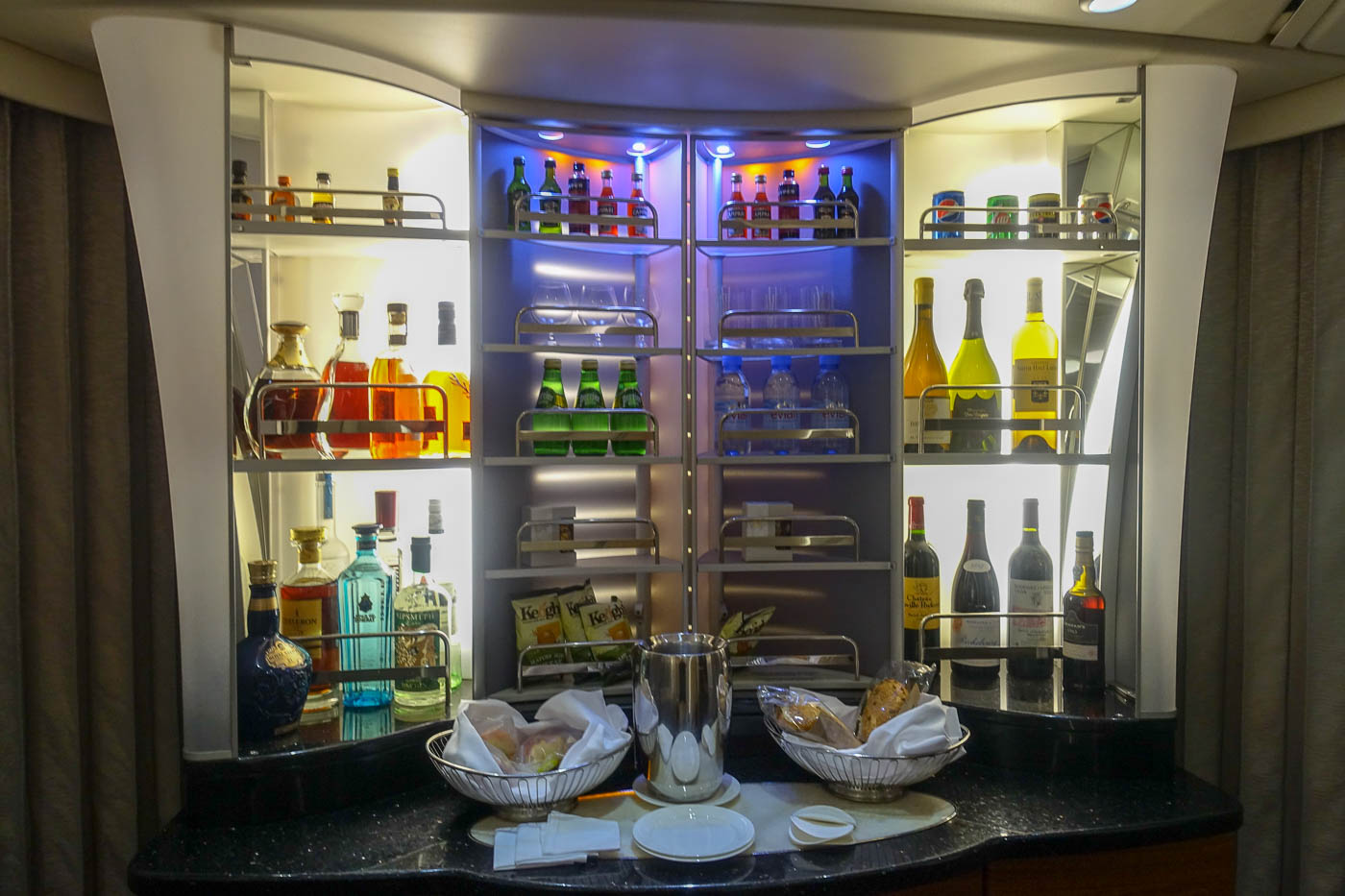 As I walked through the galley, the crew immediately paused and asked if I needed anything, I let them know I was heading to check out the bar and they kindly offered to follow me down with the bottle of P2. As I already had a full glass, I said not to bother as I probably wouldn't be down there too long.
I got to the bar, and it was empty as the Business Class cabin was still finishing up meal service. The bar space is kind of cool and really quite large considering it is valuable real estate on a plane. There is a large stand-behind bar as well as curved bench seats on each side.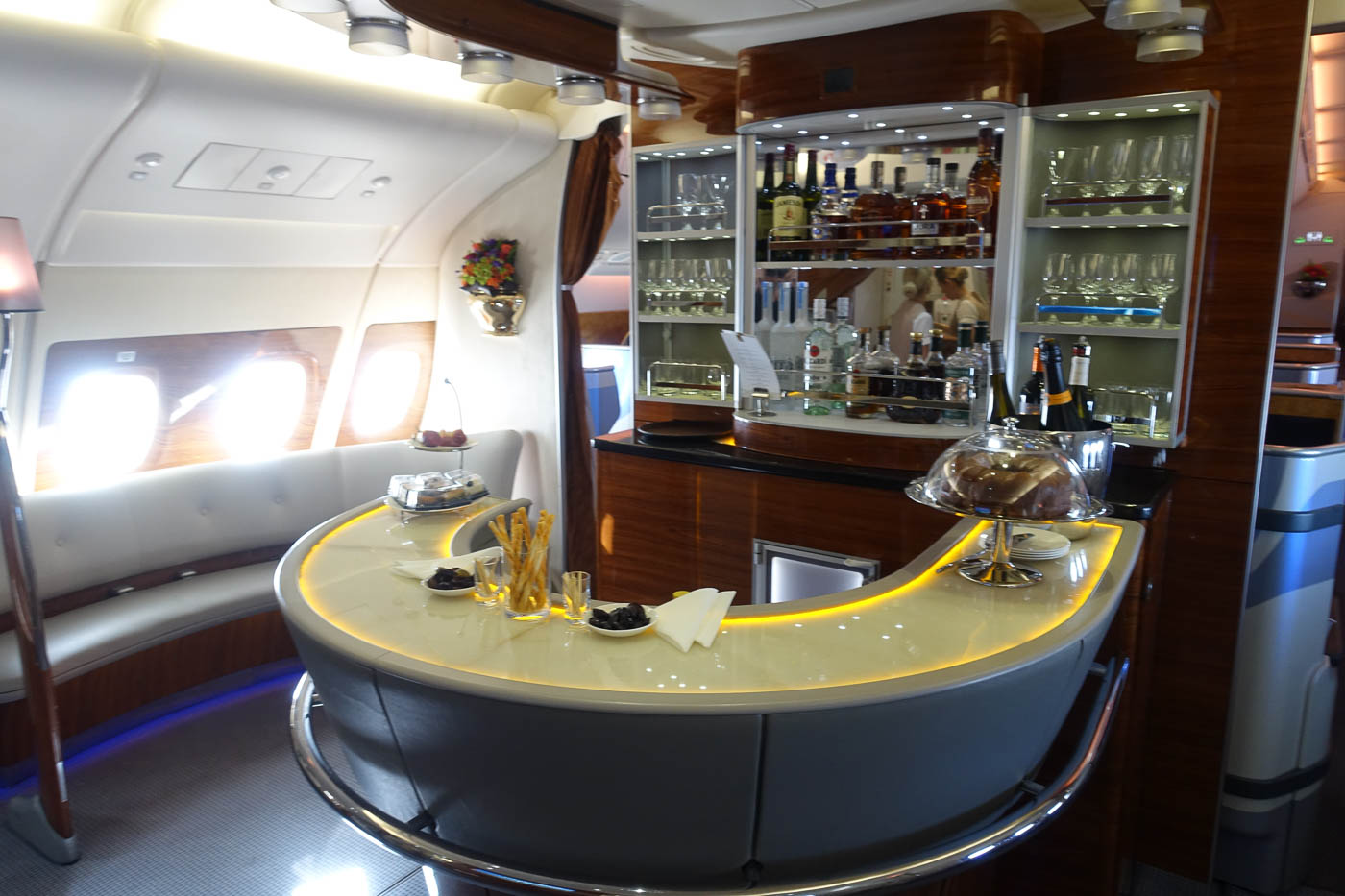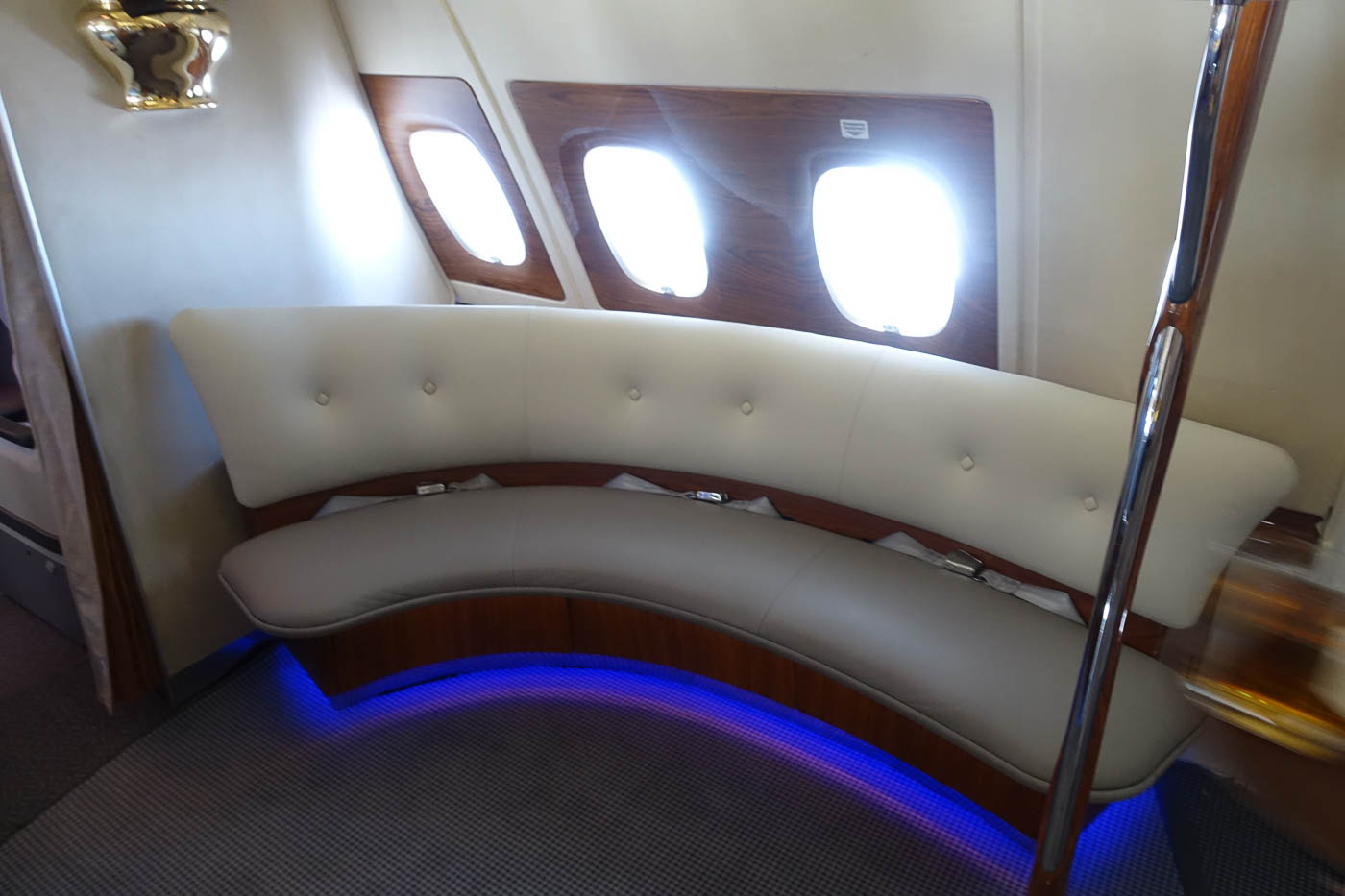 There is also a large screen that shows the airshow.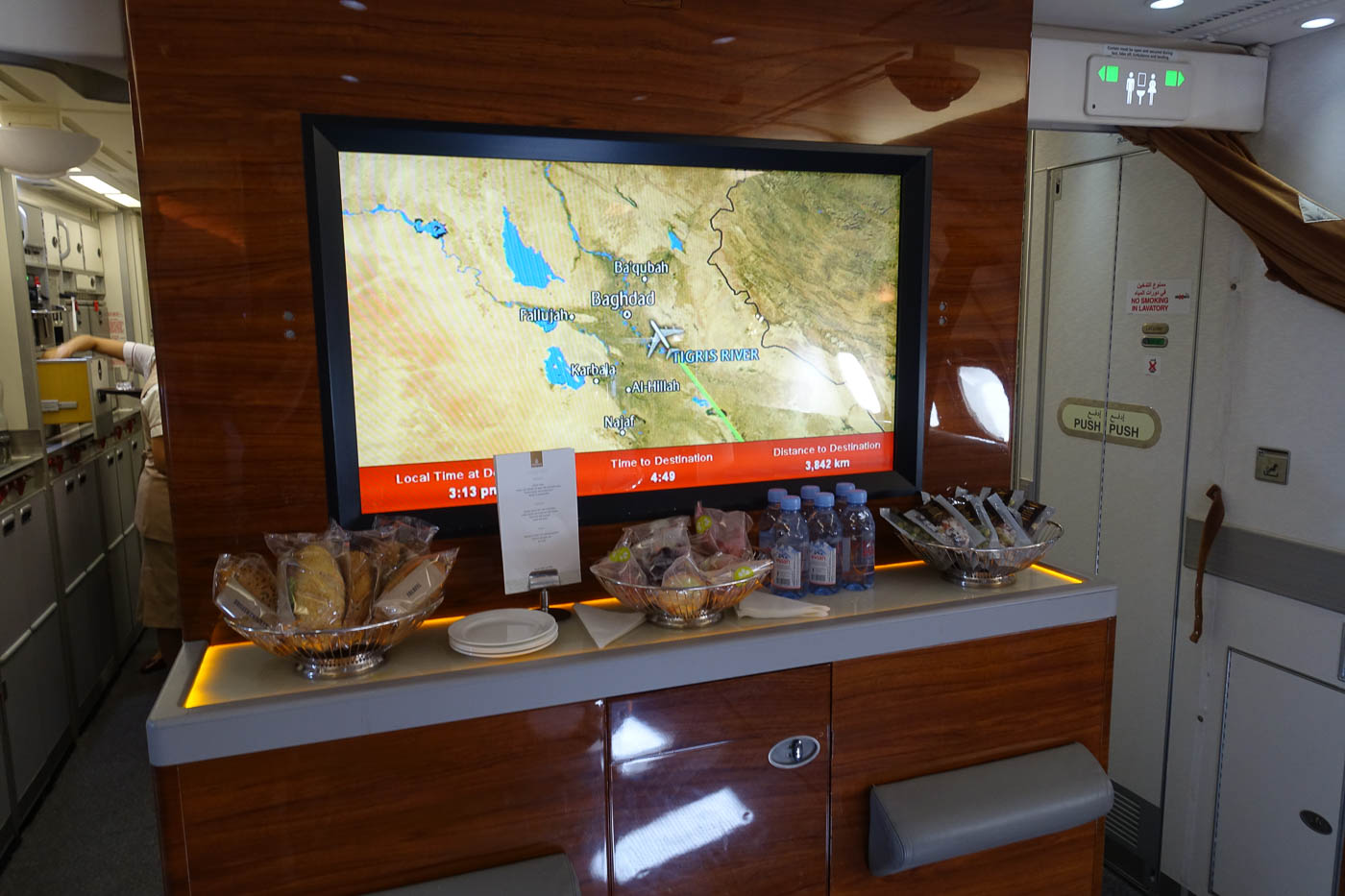 When empty, the bar is a little boring, but as passengers start to congregate at the bar, it becomes quite a social space. Just as I was about to leave the bar and head back to my seat, a few other passengers came through and started talking. Before I knew it my champagne was empty and the bar staff where kindly offering to refill my glass. I think they must have seen my slight hesitation and quickly followed up saying they could call up the front and bring down the champagne I was drinking, how could I say no to that. I am actually not sure how they knew I was drinking the first class champagne, maybe the glassware is different. I lost count of how many glasses I had at the bar, but I know the bottle ended up being finished. When the champagne ran out, it seemed like a good time to head back to my seat and order some dinner.
This is what the menu looked like on today's flight. The drinks menu was the same as our previous flight.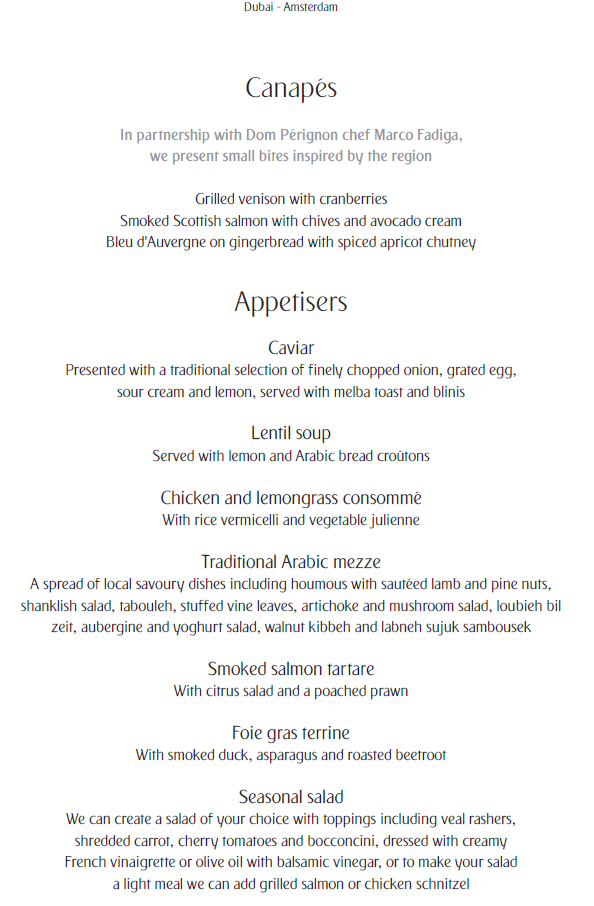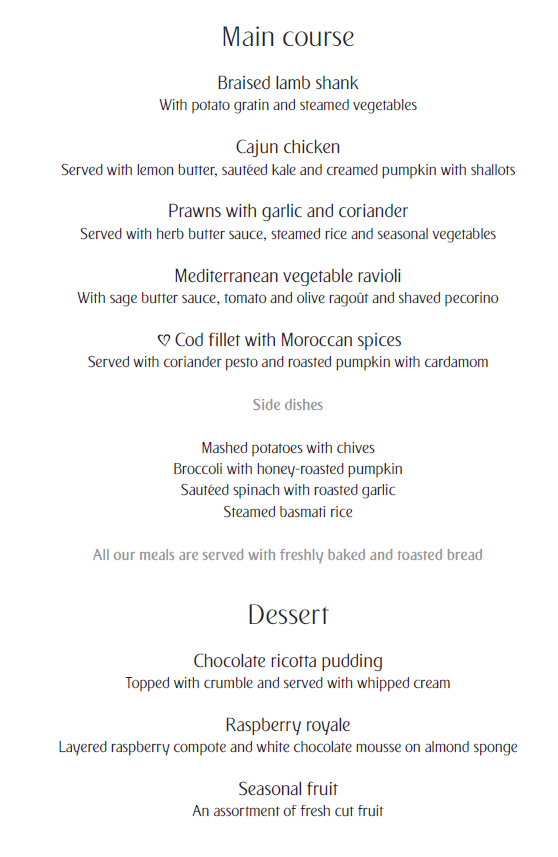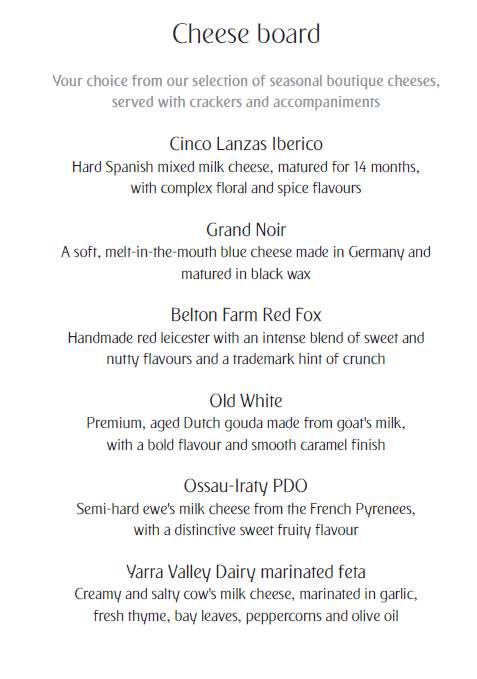 None of the appetisers took my fancy, and I still wasn't that hungry so opted just to have a mains and went with the Prawns with Garlic and Coriander. I also asked for the bread basket and in particular the garlic bread :)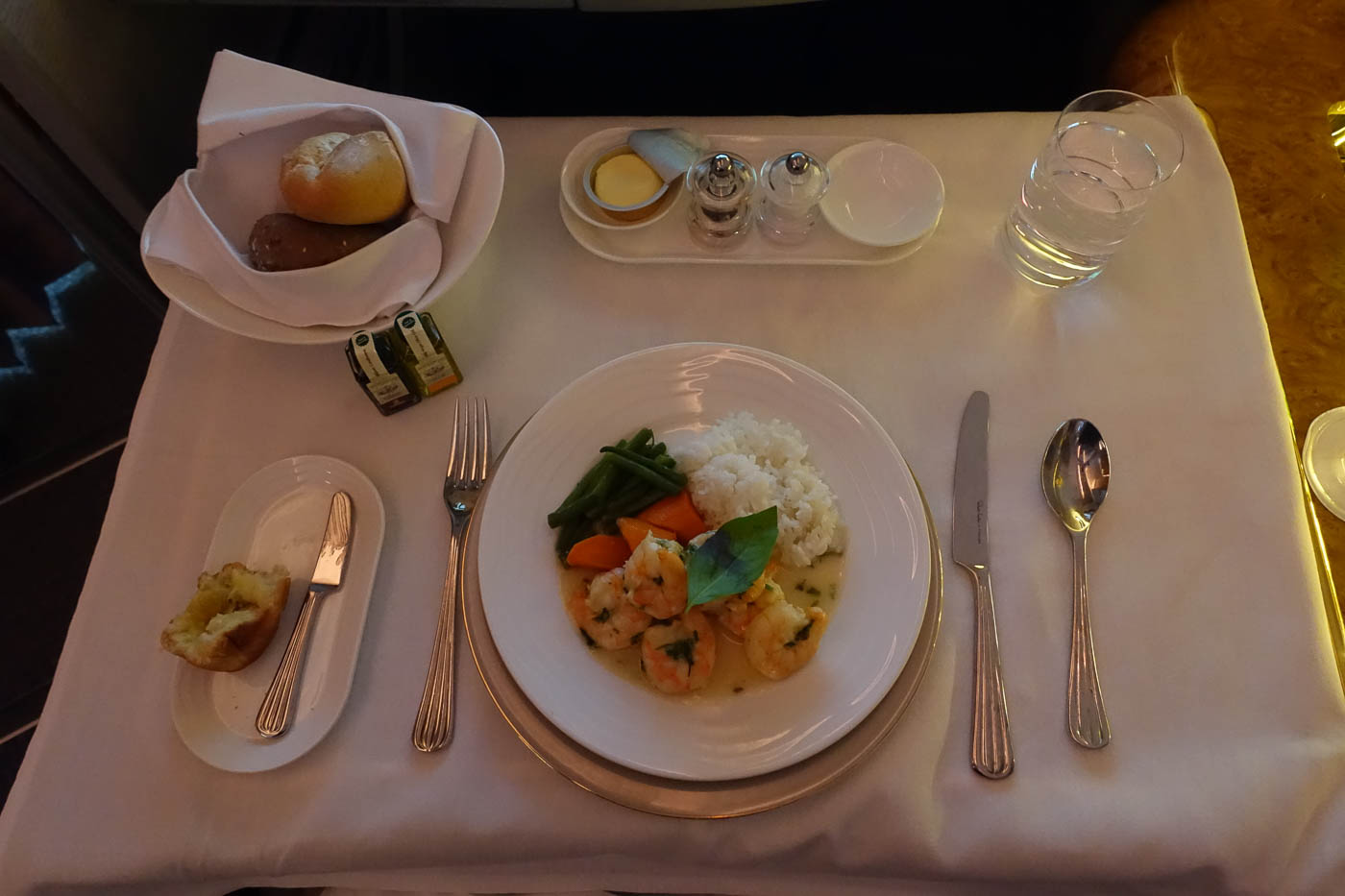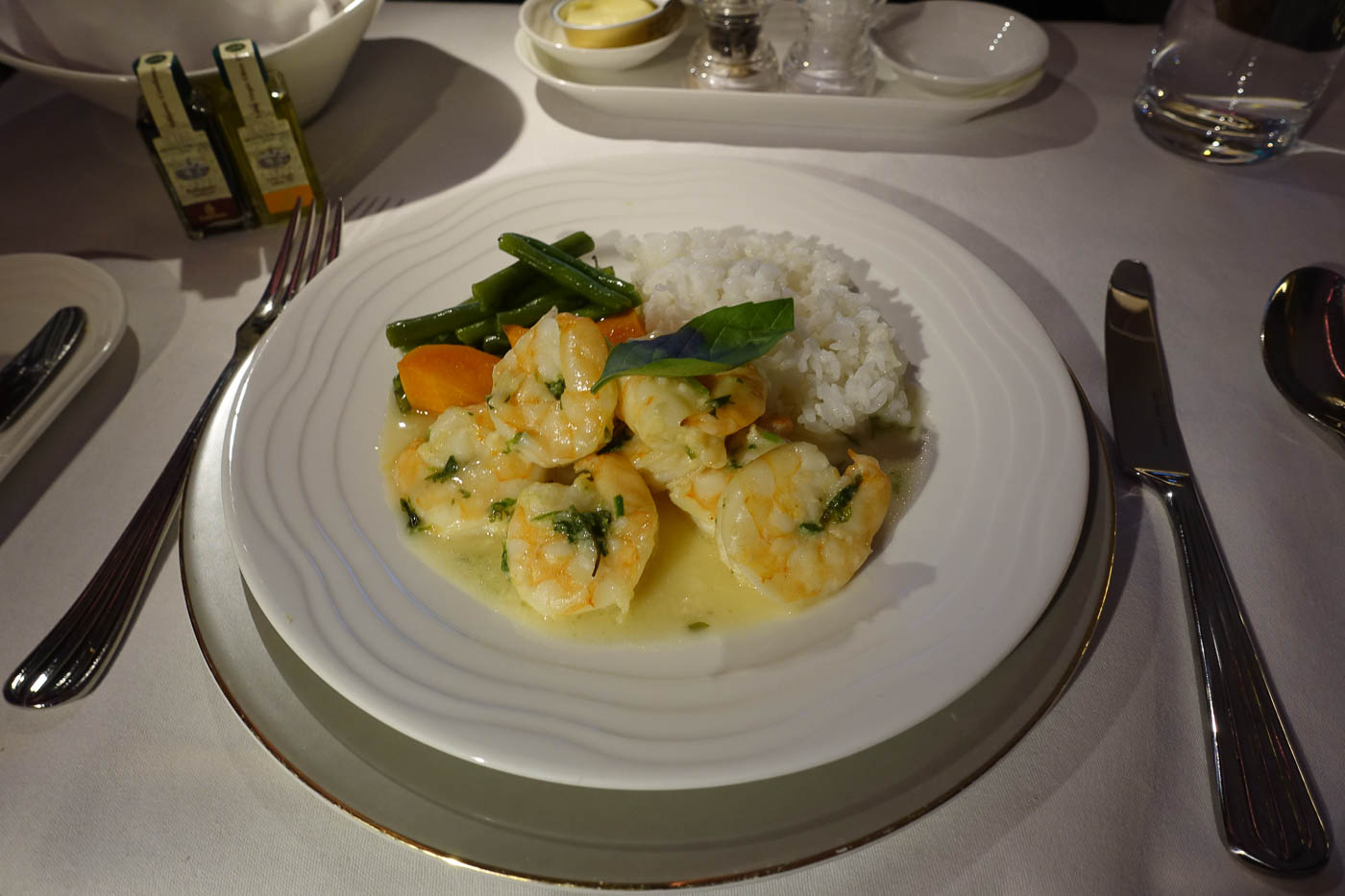 The prawns where large and pretty tasty, overall it was an enjoyable meal but certainly wasn't filling. I opted not to have dessert or the cheese platter as I was already too full from all the food and champagne consumed. With just over 2 hours left in the flight I reclined my seat, closed the suite doors and before I knew it fell asleep; so I can only assume the seat was relatively comfortable in bed mode. That or the champagne caught up to me. By the time I woke up, we were on our descent into Amsterdam, and our Emirates First Class experience was coming to an end.
Overall Impression
Overall this flight was pretty similar to the previous one and was a fantastic experience. The Emirates First Class suites are super comfortable and being on the A380 with the onboard shower and bar was the icing on the cake.
The service on this flight was also impeccable. The small thing like noticing that I was going to the bar and offering to move my drink down and overall friendliness of the staff made it a really pleasurable flight and something that you will remember.