Review: Etihad EY32 A380 Apartments Paris to Abu Dhabi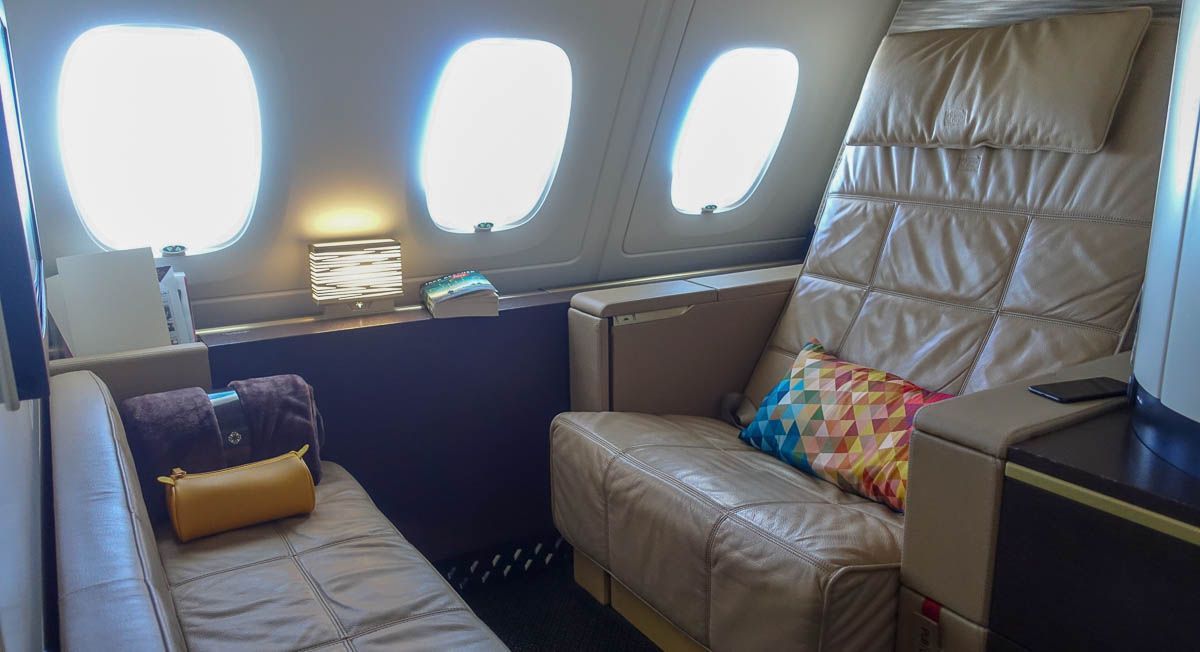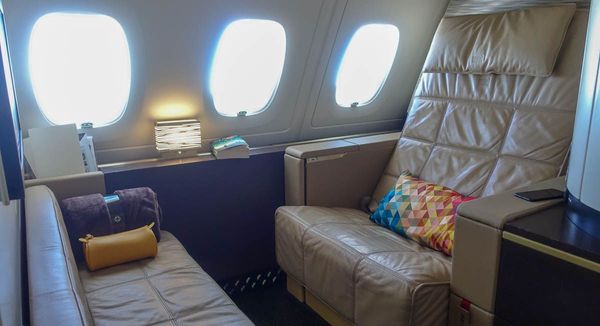 Table of Contents
Escaping Winter to Europe With a Quick Stopover in Hong Kong
Review: Qantas International Business Lounge Sydney
Review: Qantas A330 Business Suites Sydney to Hong Kong
Review: Conrad Hong Kong Junior Suite
Review: Emirates Business / First Lounge Hong Kong
Review: Emirates 777 First Class Hong Kong to Dubai
Review: Emirates Concourse B First Class Lounge Dubai
Review: Emirates A380 First Class Dubai to Amsterdam
Travel: Exploring Amsterdam
Review: Hilton Amsterdam
Travel: Exploring Paris
Review: Drawing Hotel Paris
Review: Etihad First/Business Lounge Paris Airport
Review: Etihad EY32 A380 Apartments Paris to Abu Dhabi
Review: Etihad EY454 A380 Apartments Abu Dhabi to Sydney

I firmly believe that Etihad Apartments is one of the best uses of Velocity points and to date it has been our favourite way to fly so we were looking forward to coming home on the EY A380.
As mentioned in my intro post to this Trip Report, this flight and the next were booked using 203,000 velocity points + $903 taxes per person for CDG-AUH-SYD all in Etihad Apartments. The taxes to book Etihad are expensive as you are charged a $300 per segment booking fee, but it is worth it and not all that much more expensive than taxes and fuel surcharges Qantas charge for a similar journey .
We got to the gate quite early thanks to the lounge being overcrowded and having terrible WiFi ...but unfortunately boarding was delayed ~20mins.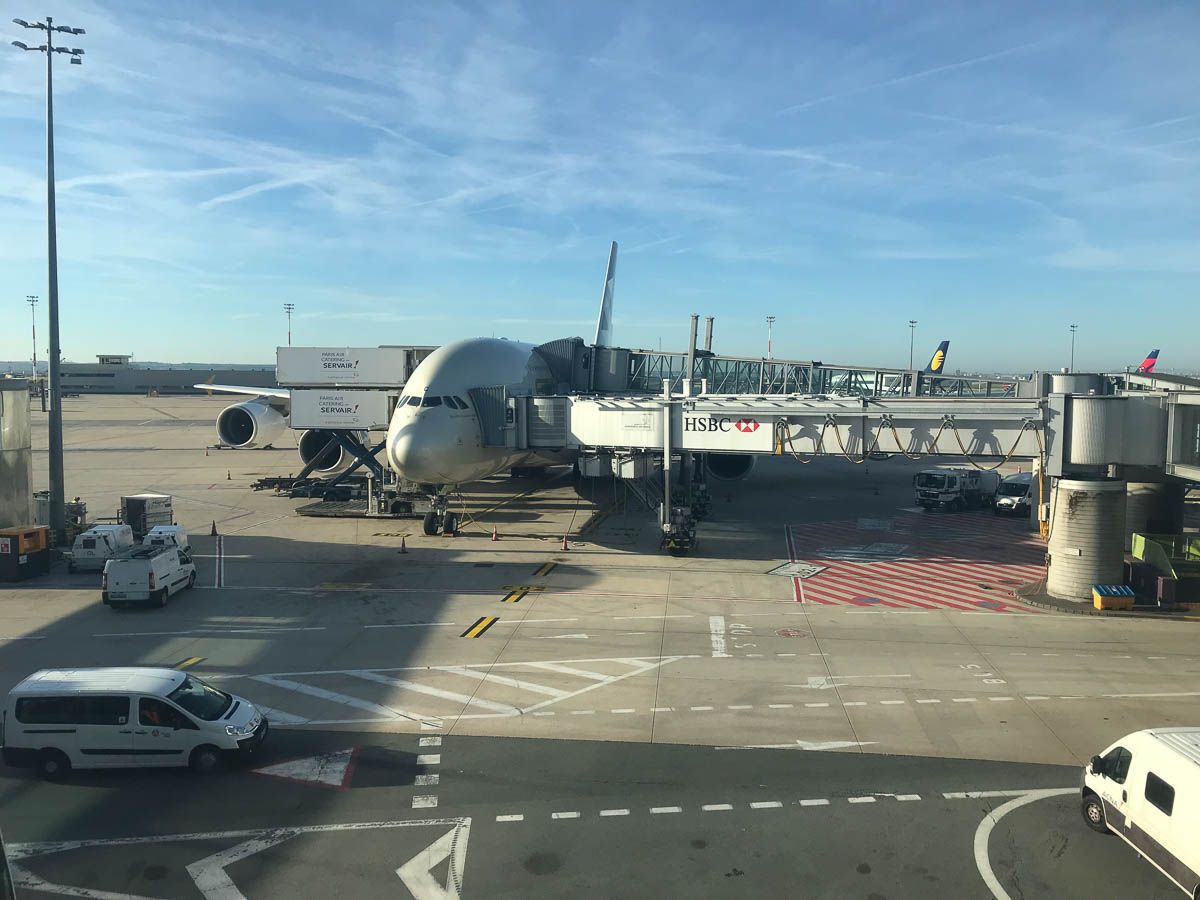 Boarding commenced and we were shown to our seats. I was immediately reminded just how massive and spacious Etihad Apartments are, it really is a ridiculous way to fly!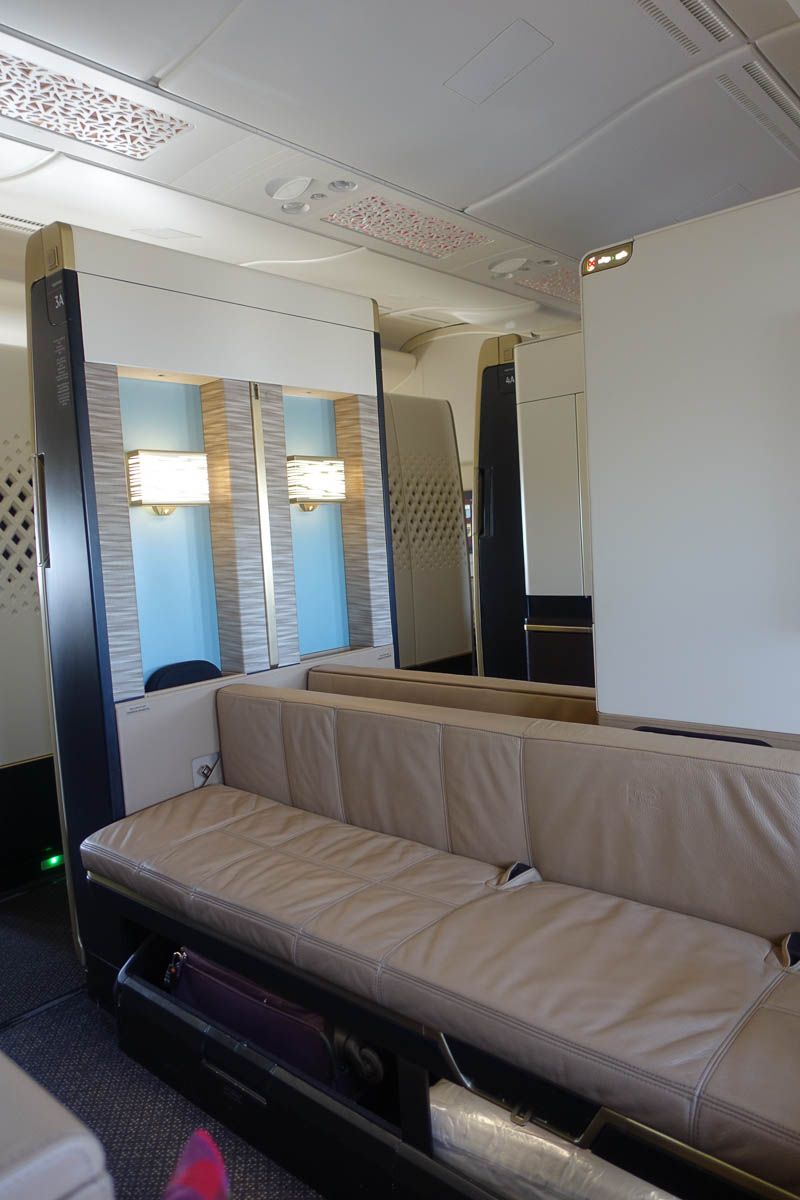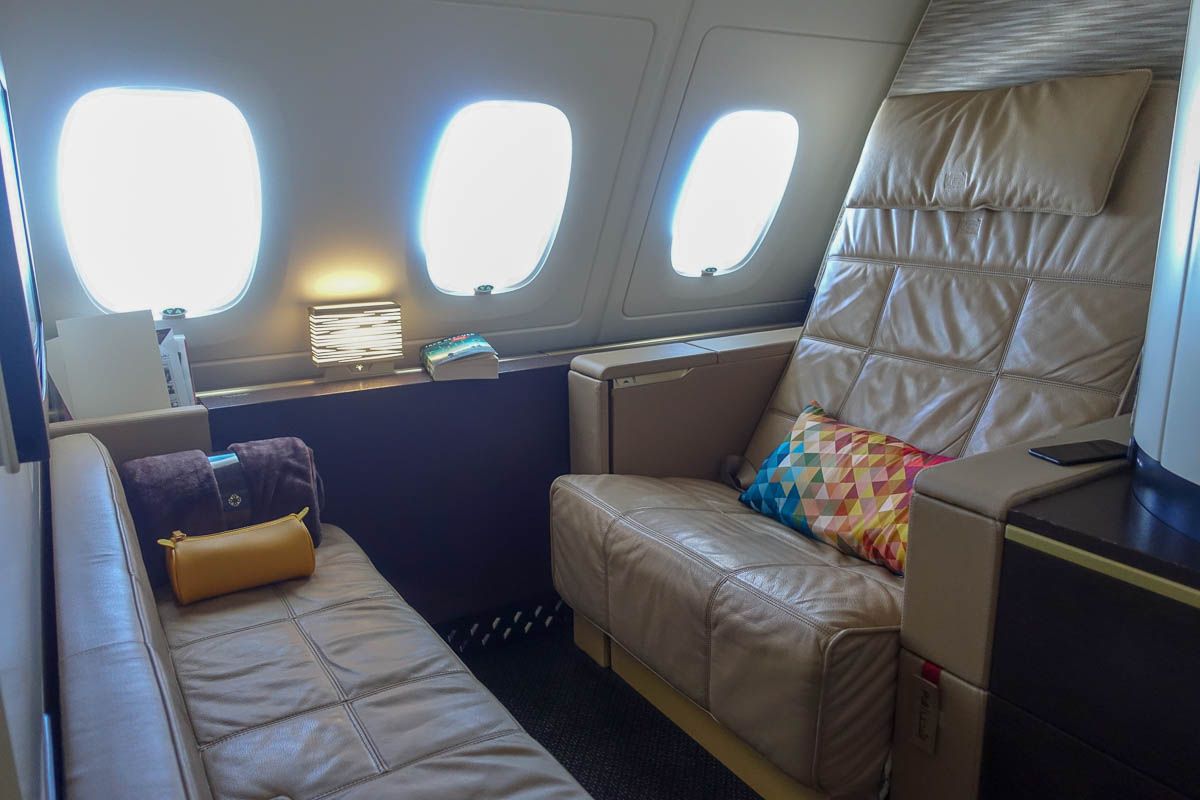 Picking the Best Seats
Whilst all seats in Etihad Apartments are fantastic, there are a few things you should be aware of if you are lucky enough to be flying Etihad Apartments.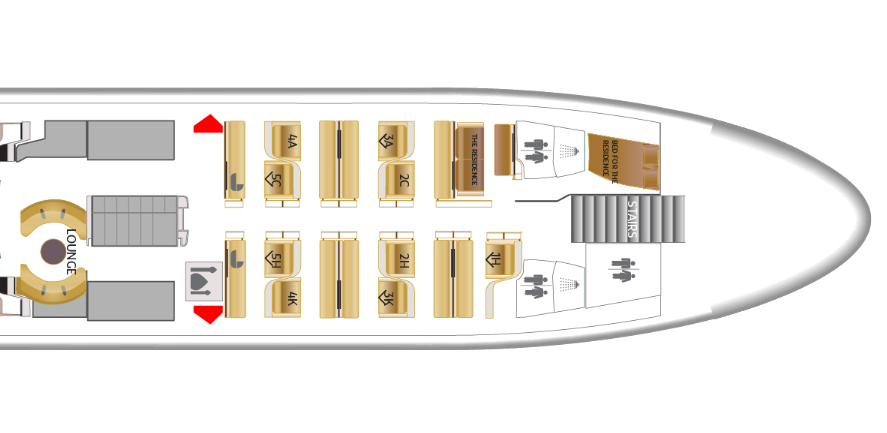 Essentially there are two configurations for Apartments, if you look at the seat map above you will see that the seats alternate from being a window seat to being an aisle seat. The aisle seats are very far away from the window and offer slightly less privacy, hence I would high recommend you aim to book seat 4A, 3A, 3K or 4K. The non-aisle seats look something like this.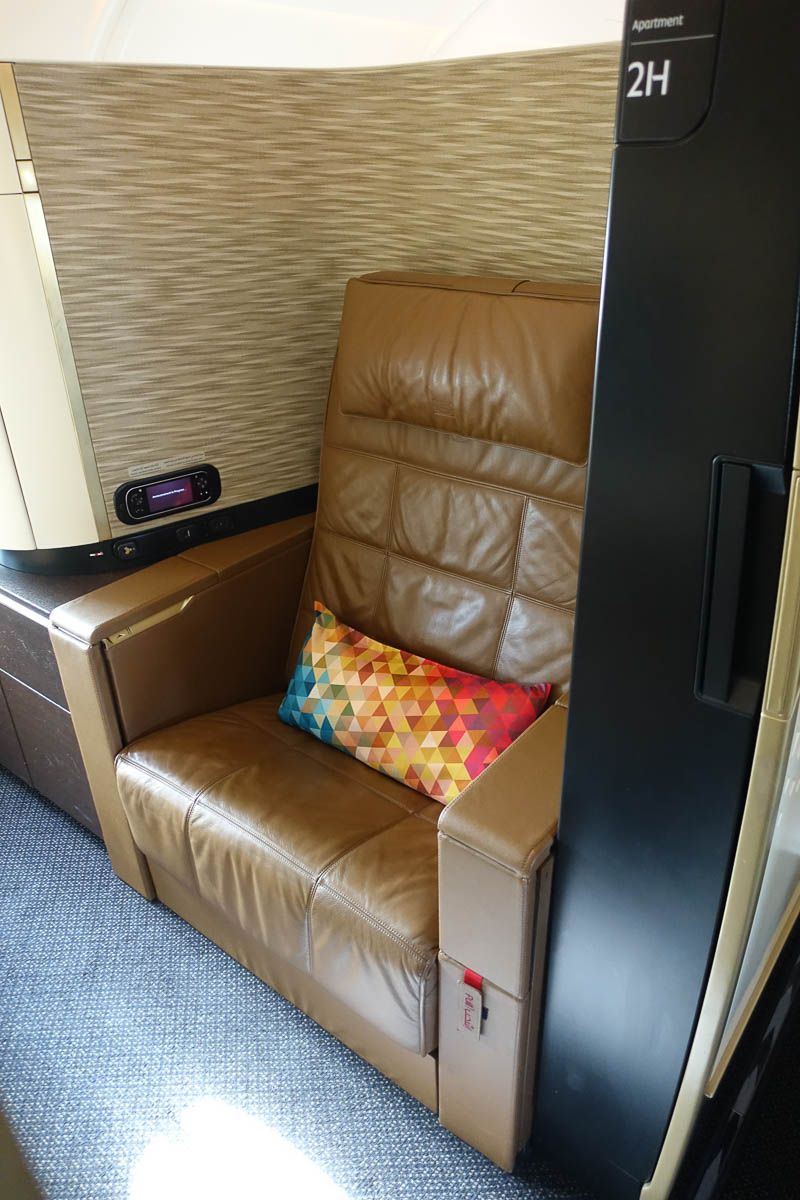 The other important thing to note if you are travelling as a couple is that you want to book one of the seat pairs, either 3A & 4A or 3K & 4K as they have a divider that comes down over the bed section.
The Flight
After settling in to our seats, we were offered a pre-departure beverage. I always think it would be rude to say no :) I ordered the champagne and Mrs B ordered an orange juice. Our drinks were delivered with a warm face towel and some dates.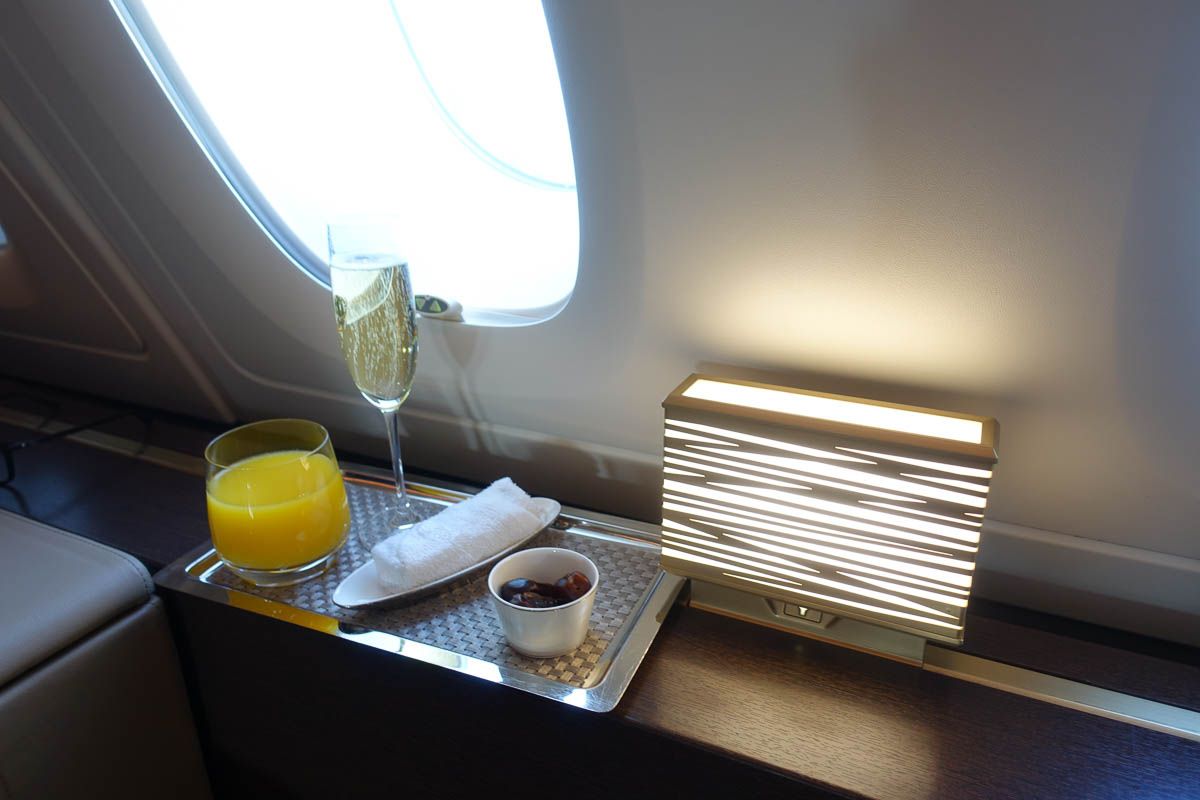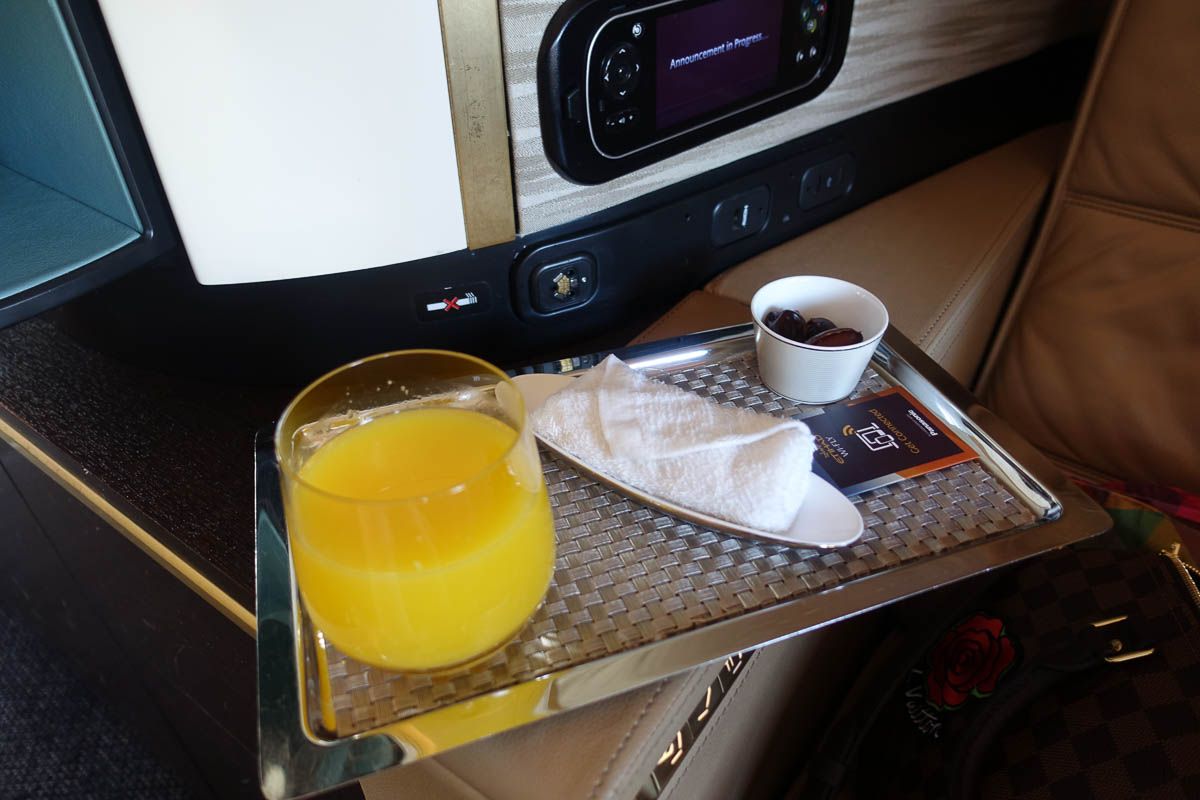 I was pleased to see that Etihad is now offering WiFi vouchers to guests travelling in First Class. This was a welcome addition since last time we flew with them. Especially since Etihad have been making more cuts lately to on-board services.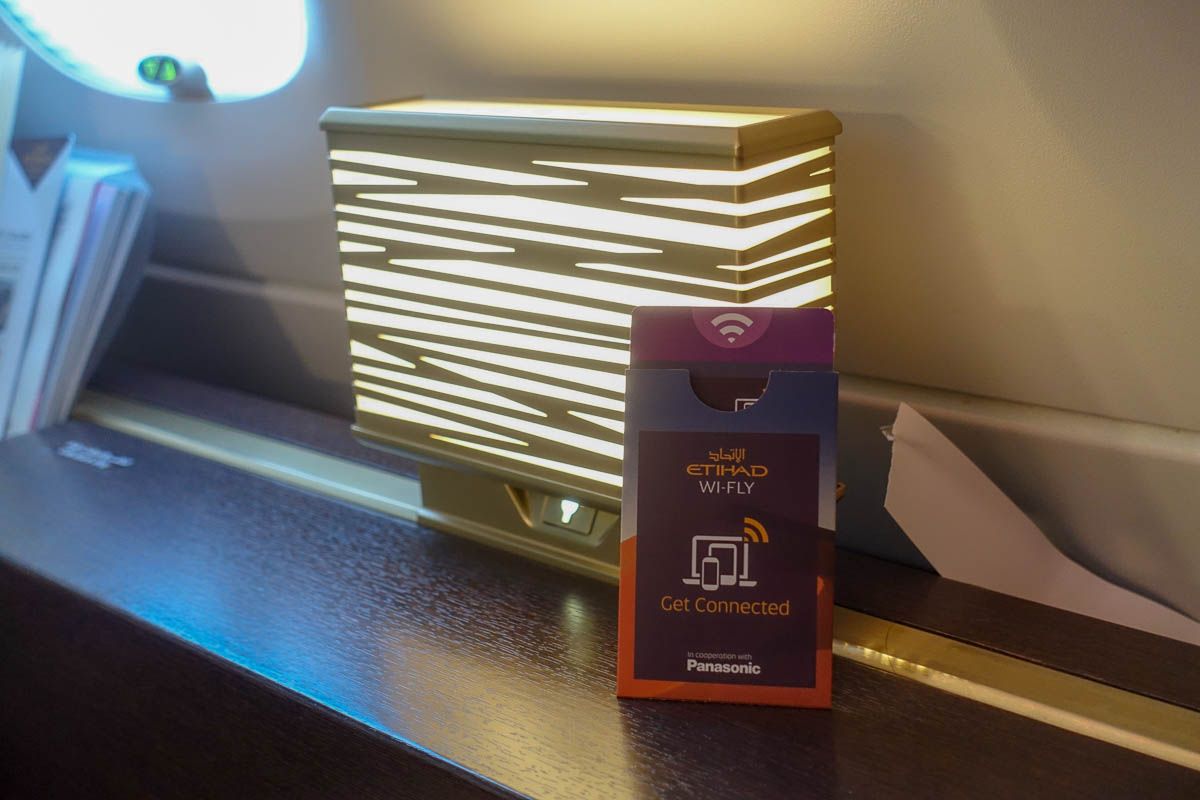 Waiting in our seat was the new amenity kit from Acqua di Parma that was recently launched along with the brand new 'loungewear'. The amenity kit was nice, although fairly basic, with toothbrush, perfume, lip balm, socks and eye mask. Unfortunately I don't have any photos of them, but the new loungewear was excellent and some of the best airline pajamas I have worn.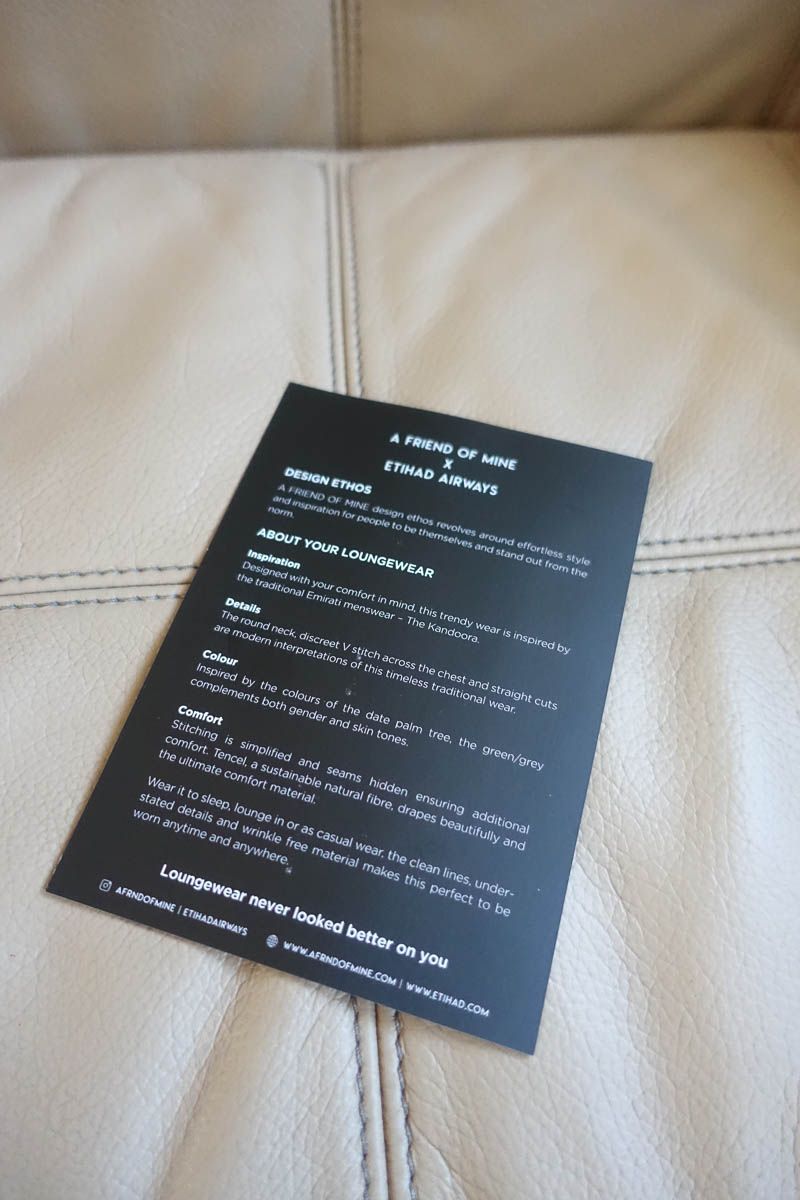 Boarding was completed fairly quickly and we pushed back from the gate and were on our way to Abu Dhabi. The on-board chef came around while we were taxiing to the runway to explain the menu and dining options on board and offered to get us lunch after we were airborne. Etihad have a dine-on-demand system that allows you to order food whenever you want.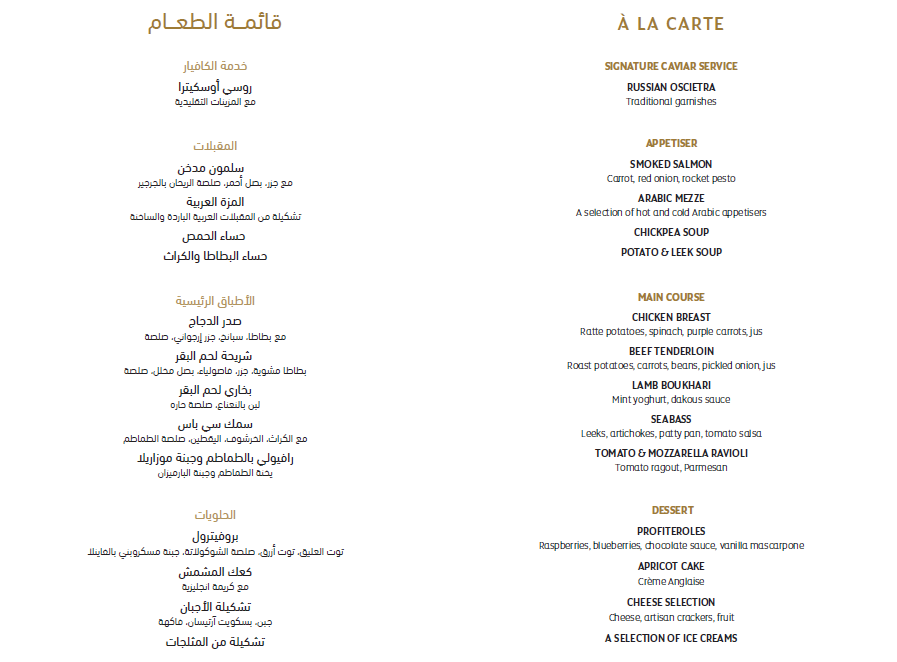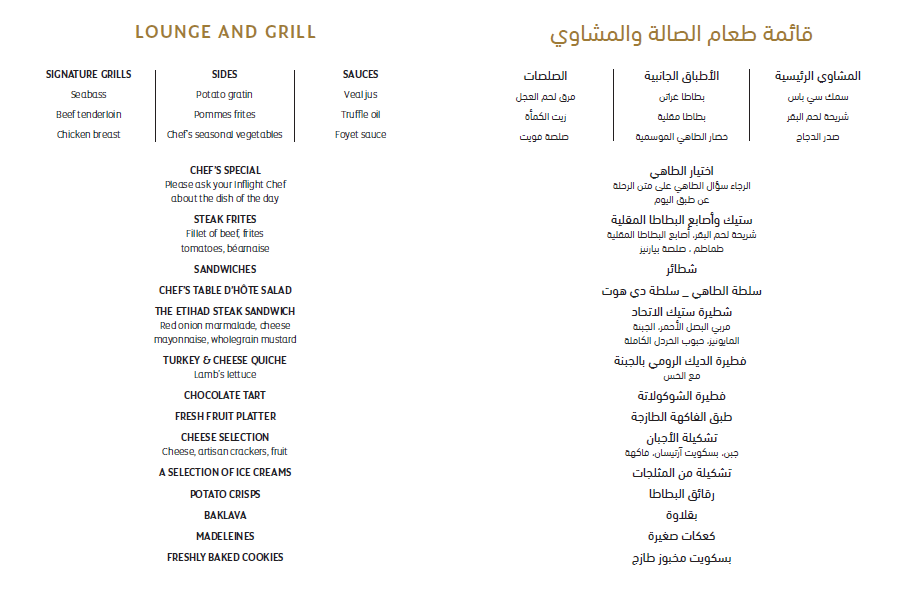 Shortly after the seatbelt sign was turned off we were offered another drink and some snacks. I decided to have another champagne while I perused the menu and decided on lunch.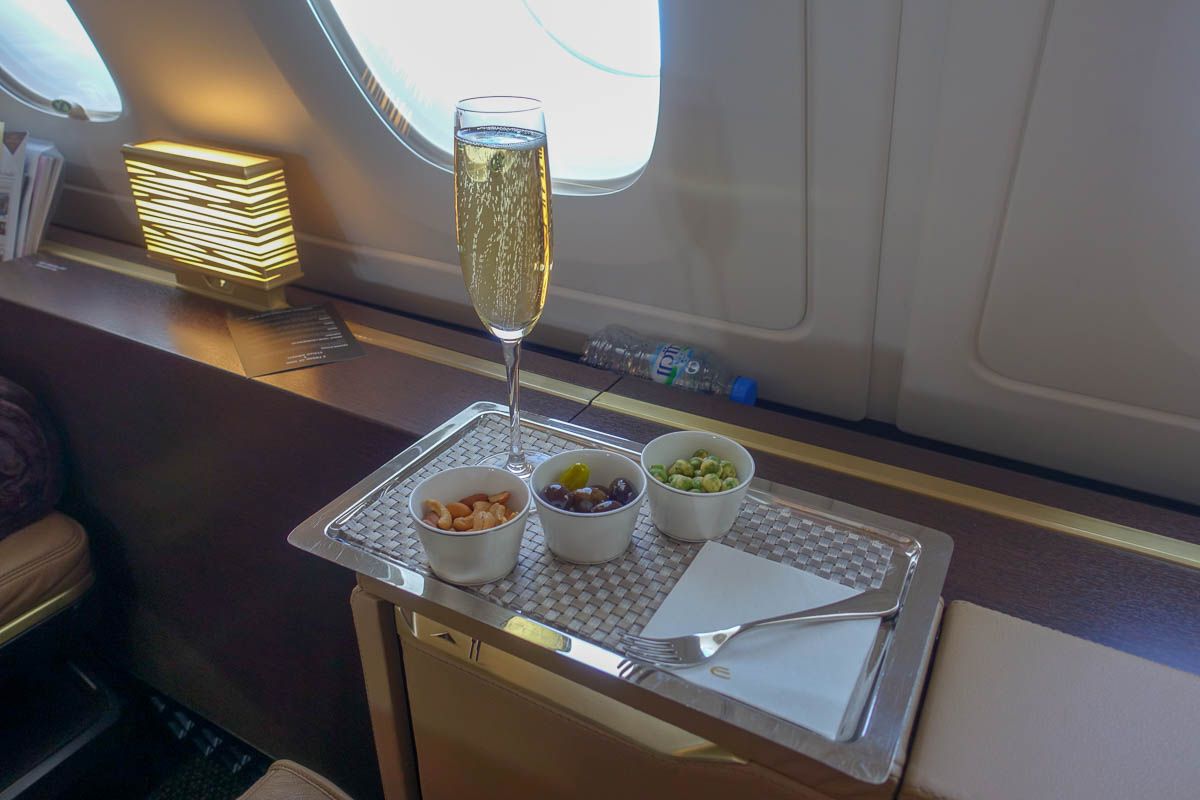 We both decided to go for items off the lounge and grill menu for lunch rather than getting a three-course meal. I ordered the Steak Frites and Mrs B ordered the Steak Sandwich. The food was delicious and well presented, dining in first class is really quite an experience and far more than just eating a quick meal.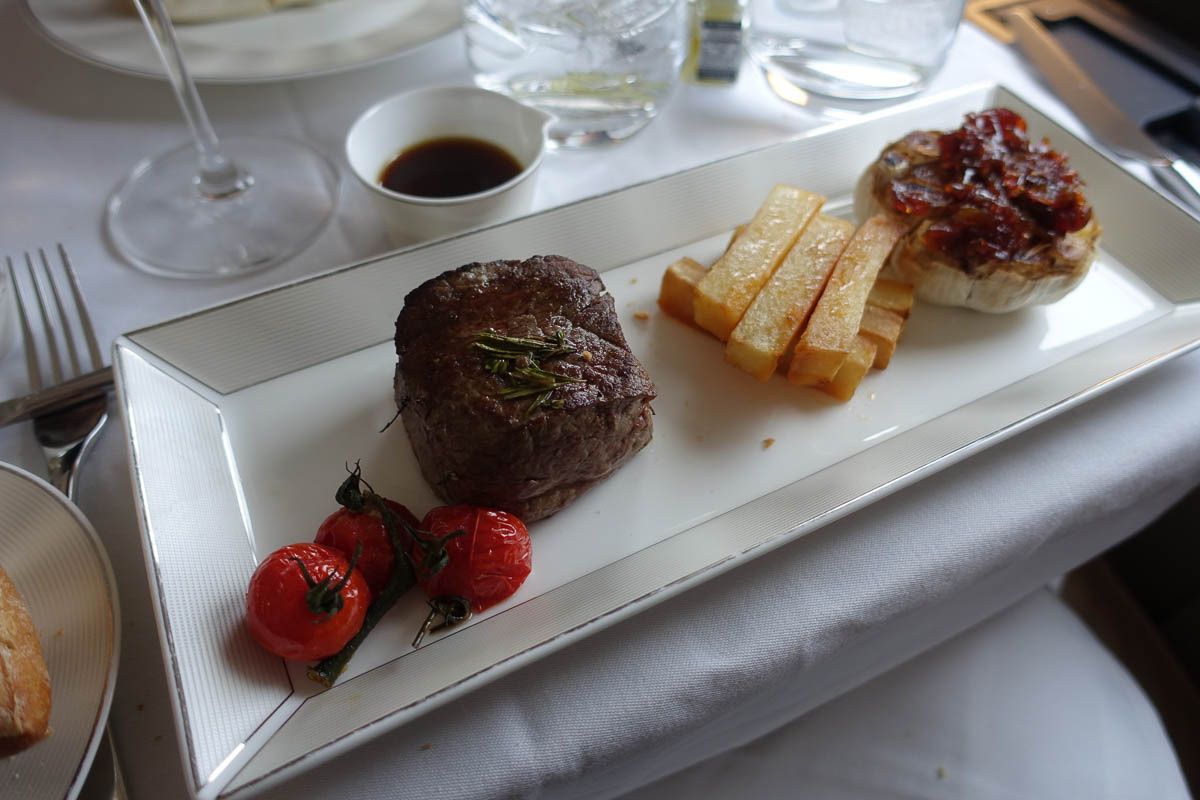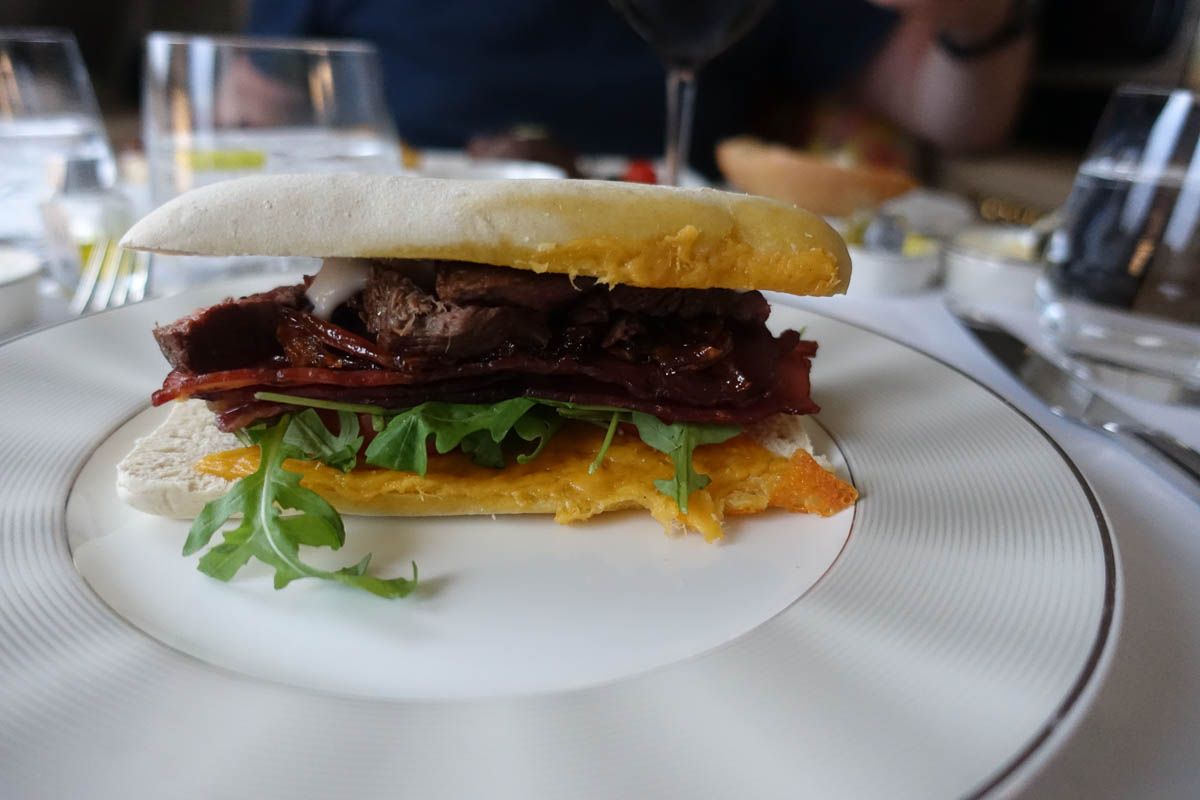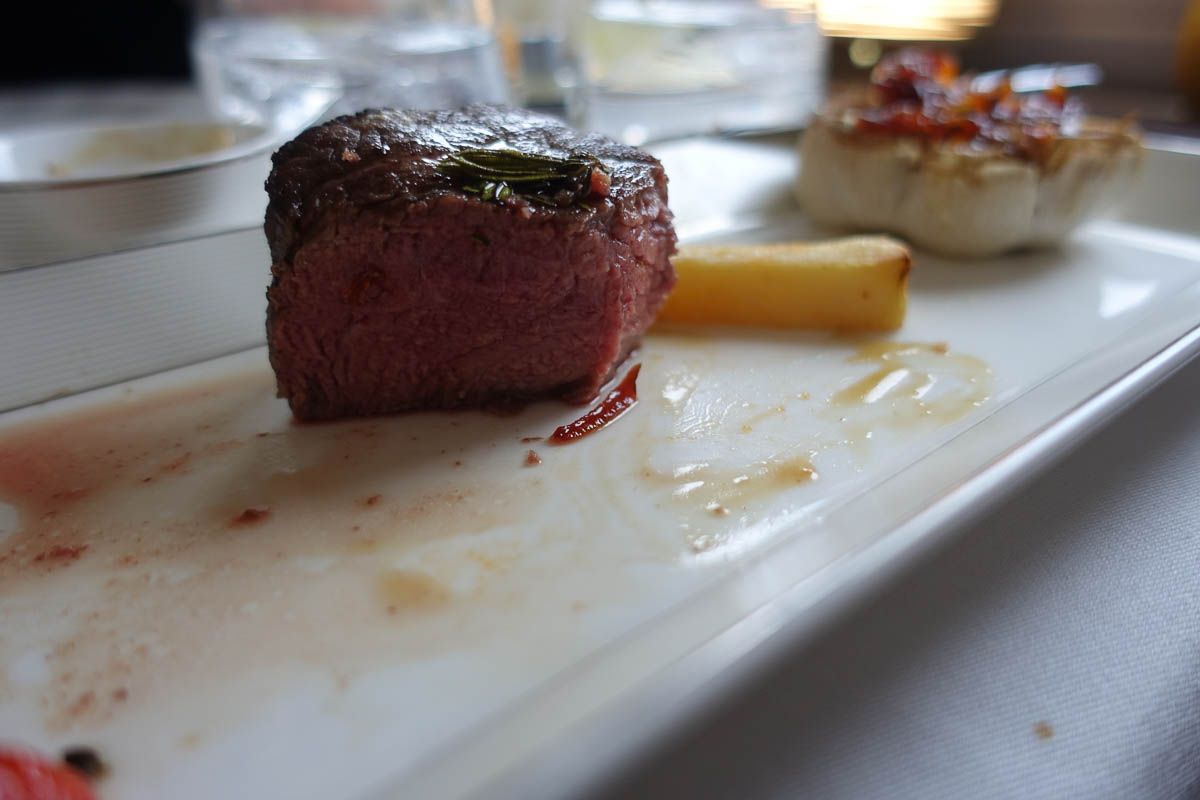 After lunch Mrs B went back to her own apartment to continue reading her book and I turned on the airshow and settled in to get some work done.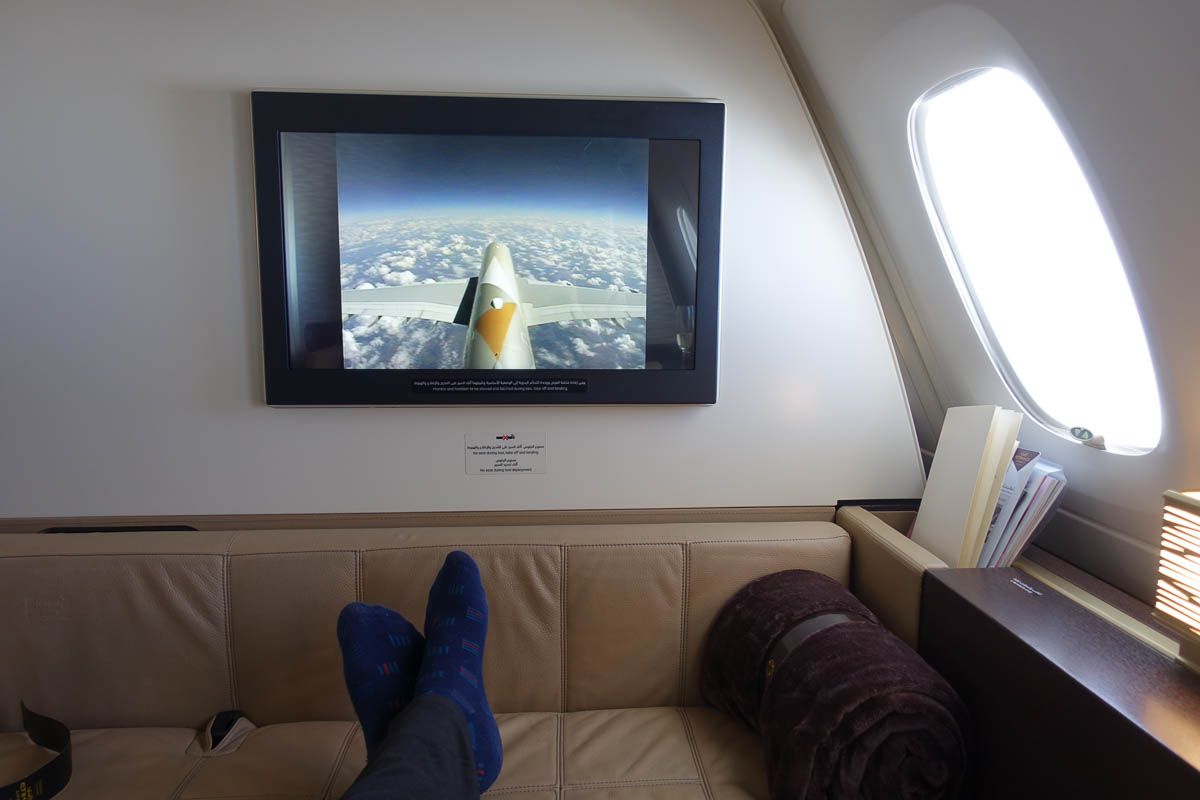 This flight was over so quickly, and before we knew it, we were preparing for landing! 7 hours really isn't enough time to enjoy Etihad apartments.
Overall it was a great flight and lived up to our exceptions and memories of our first experience on Etihad.