Review: Virgin 777 'The Business' LAX-SYD
After an amazing two weeks in the US, it was time to head home, whilst we were not traveling in First Class, I was really looking forward to this flight as Virgin Business class has some fantastic reviews.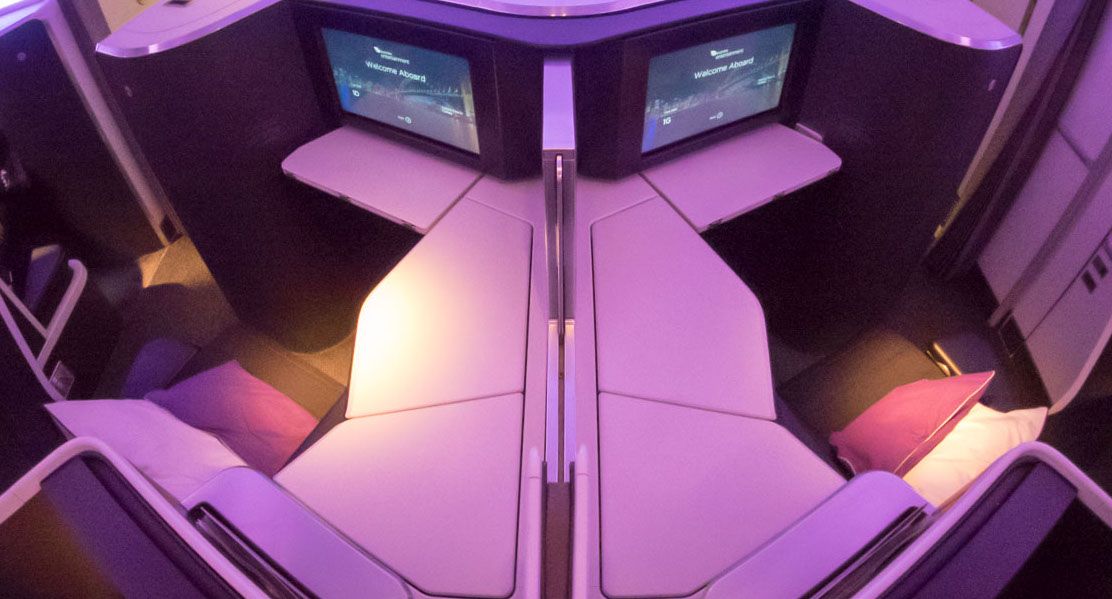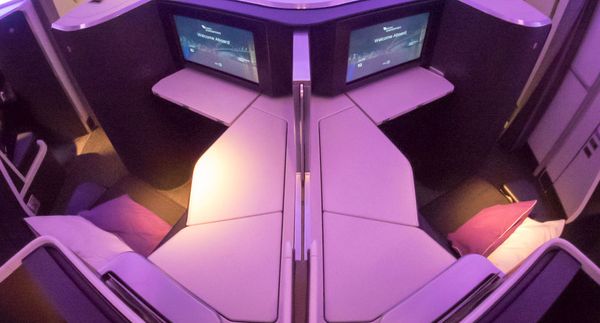 Table of Contents
The Long Way To Vegas...
Review: Sydney Etihad Business/First Lounge
Review: Etihad Apartments Sydney to Abu Dhabi
Review: Abu Dahbi Etihad Flagship First Class Lounge
Review: Etihad Apartments Abu Dhabi to New York
Review: JetBlue Mint New York to San Francisco
Travel: San Francisco to Yosemite
Review: Half Dome Village Yosemite National Park
Travel: Exploring Yosemite National Park & Lone Pine
Travel: Braving The Summer Heat in Death Valley
Review: Encore Las Vegas
Review: Emirates Business / First Lounge LAX
Review: Virgin 777 'The Business' LAX-SYD

After an amazing two weeks in the US, it was time to head home, whilst we were not travelling in First Class, I was really looking forward to this flight as Virgin Business class has some fantastic reviews.
Virgin refitted their 777 fleet about 12 months ago and rebranded their business class product to be called 'The Business'. The refit consists of 37 individual seats in a 1-2-1 configuration providing direct aisle access to each seat.
We left the Emirates LAX lounge with plenty of time to spare as I wanted to try and board the plane early to get plenty of photos. Unfortunately, when we arrived at the gate, our bird had only just get there so we had a 20-minute wait before boarding.
Our bird at the gate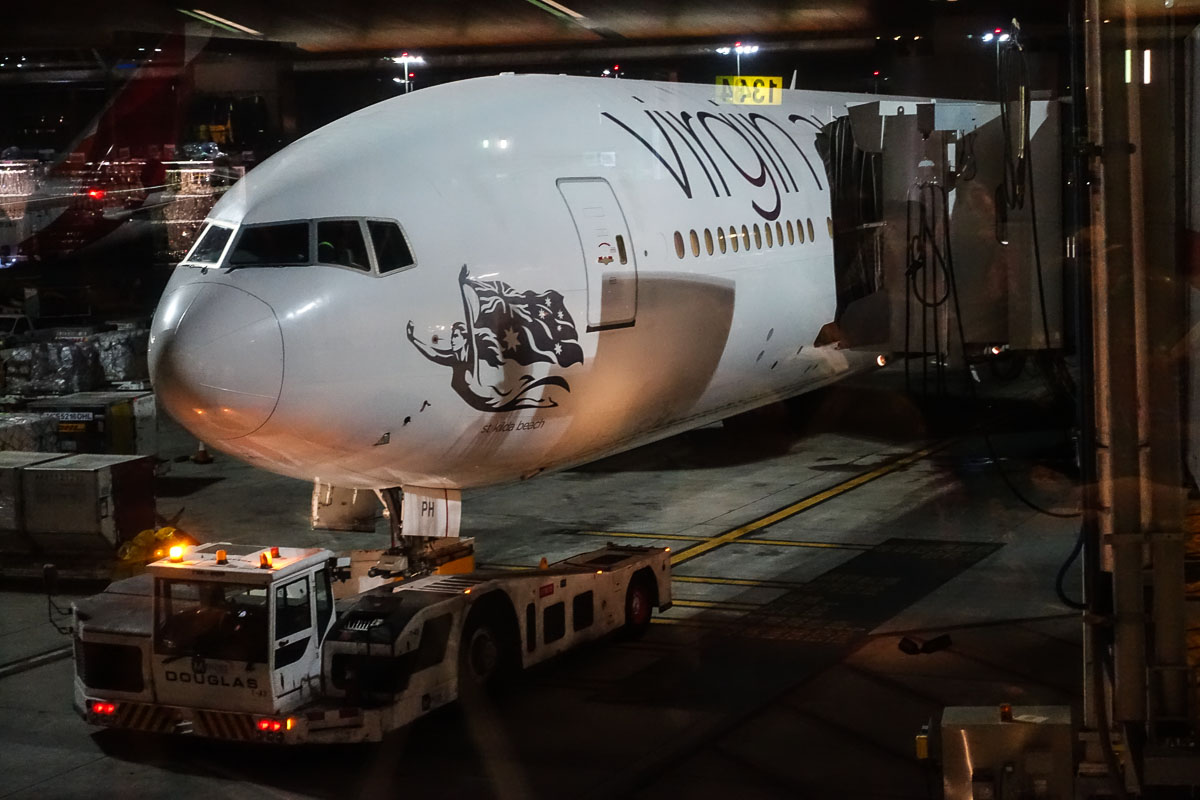 Finally, they announced boarding, and despite the mad rush at the gate we managed to get on the plane before the cabin filled up too much. My initial impression of the cabin was that it felt very spacious considering it housed 37 seats! The 777 also had fantastic mood lighting, however, this made it challenging to get good photos of the cabin.
I settled into seat 2G, my home for the next 14 hours. There were menus, a blanket, bedding and a bottle of water left on the seat. Shortly after getting settled Jennifer came and introduced herself to me and told me she would be taking care of my side of the cabin. She also offered me a pair of pajamas as well as a pre-departure beverage. The pajamas were not fantastic, they were oddly stretchy and massive, but Virgin still get points for providing pajamas in Business Class.
Pre Depature Champange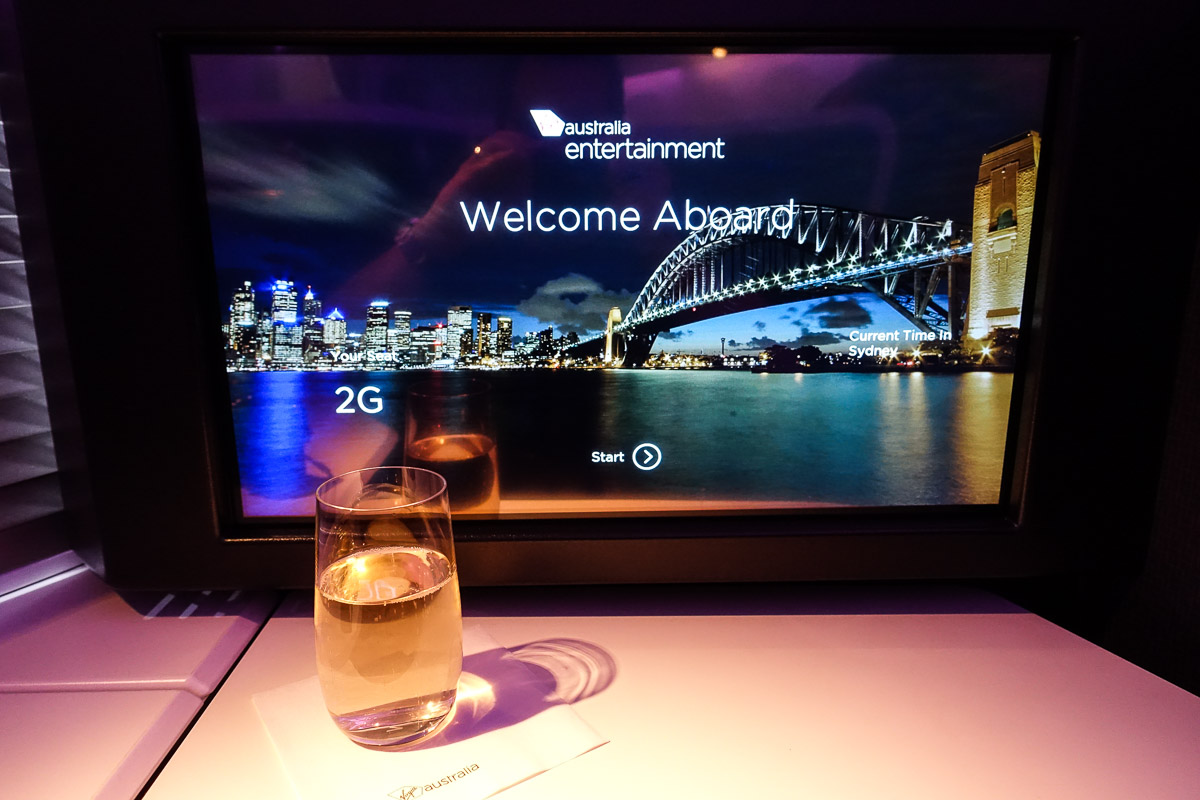 The Pajamas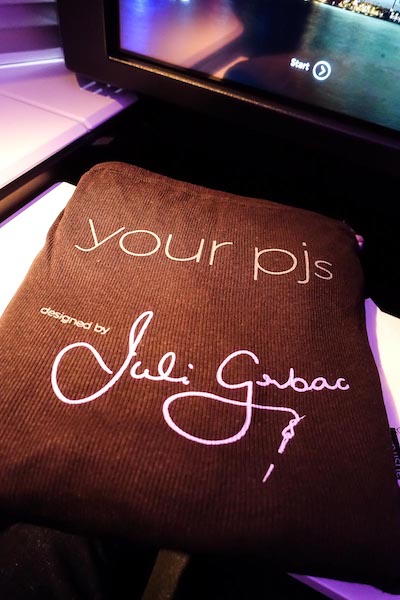 The seats are from BEA Aerospace, despite not being a closed in suite like the Apex suites they still provide an amazing amount of privacy. The seats were incredibly comfy when it seated mode - they provided a good level of back support and room to move. I liked the fact that the armrest on the side was retractable which allowed you to make the seat even wider. We were seated in the middle pair which is great if you are traveling as a couple as you can retract the partition between the two seats and still communicate with each other.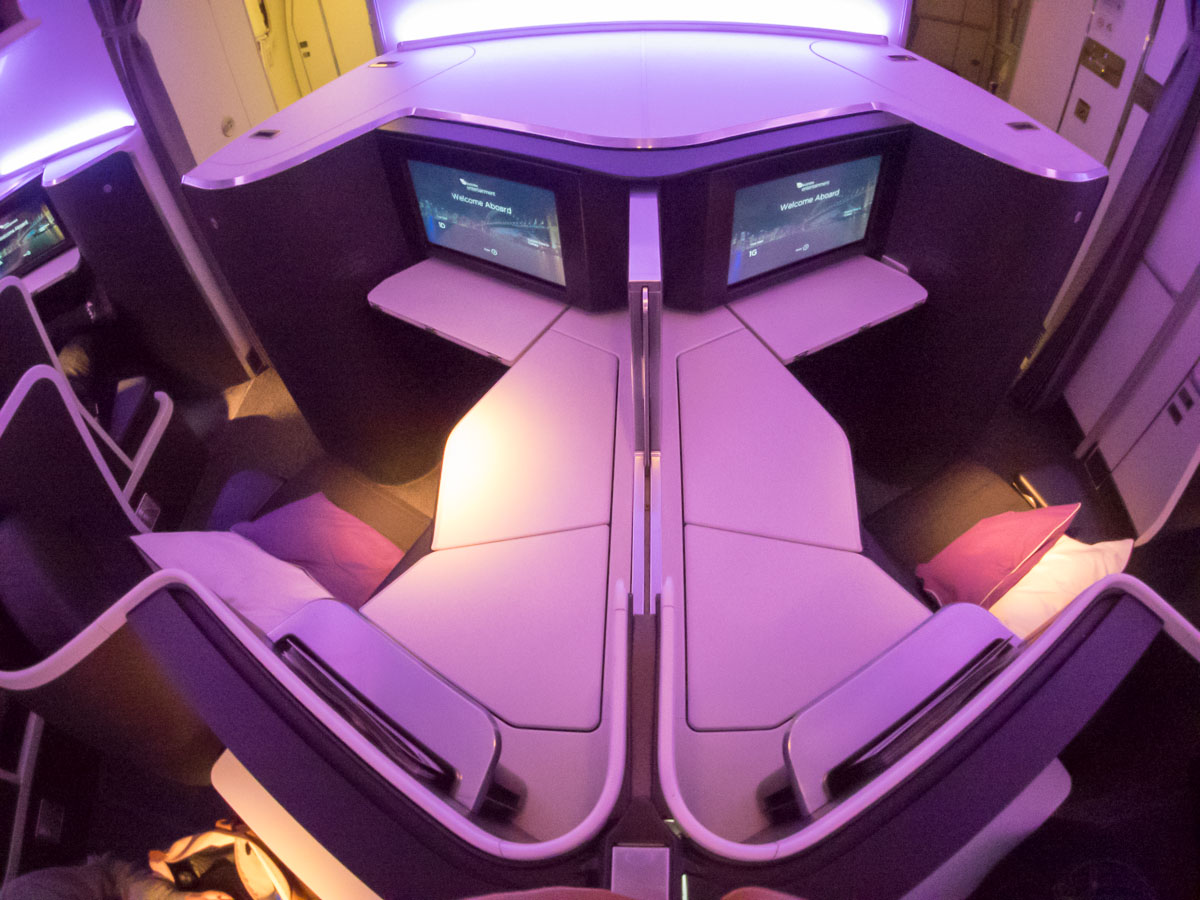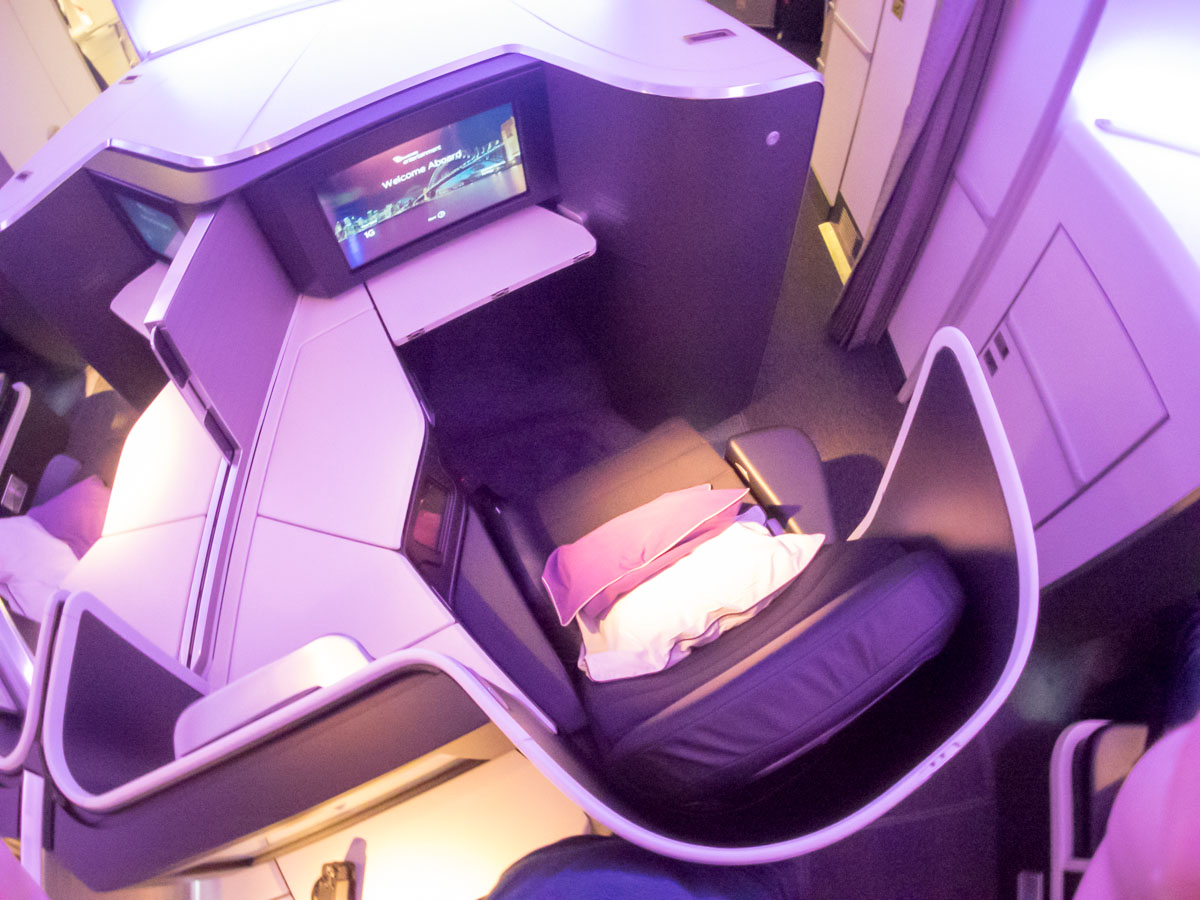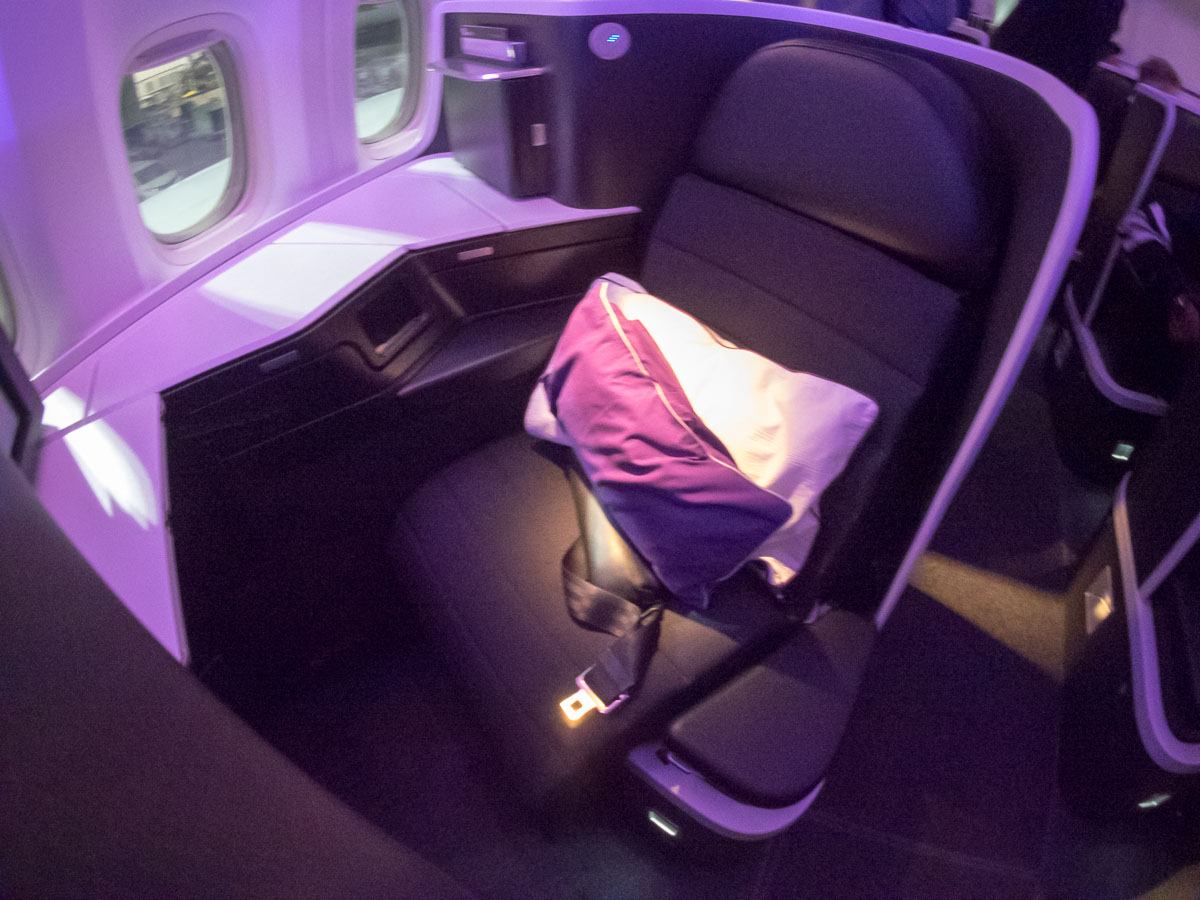 Before we took off, Jennifer also took the time to explain the menu and let me know that they would be serving dinner straight after take off and I could choose to have the full 3 course meal, or if I wanted to get to sleep straight away she was happy to bring me something from the 'snack' menu as it would be much quicker. I declined the 'quick' snack and opted for the full dinner, placing my order.
The Food Menu
The Drinks Menu
Virgin also have a great system for breakfast where you fill in a card and place your order before going to sleep to minimise disruption in the mornings.
We were shortly underway and before I knew it we were airborne. The crew did not waste any time and sprung into action. The meal service started with some canapes and a drink.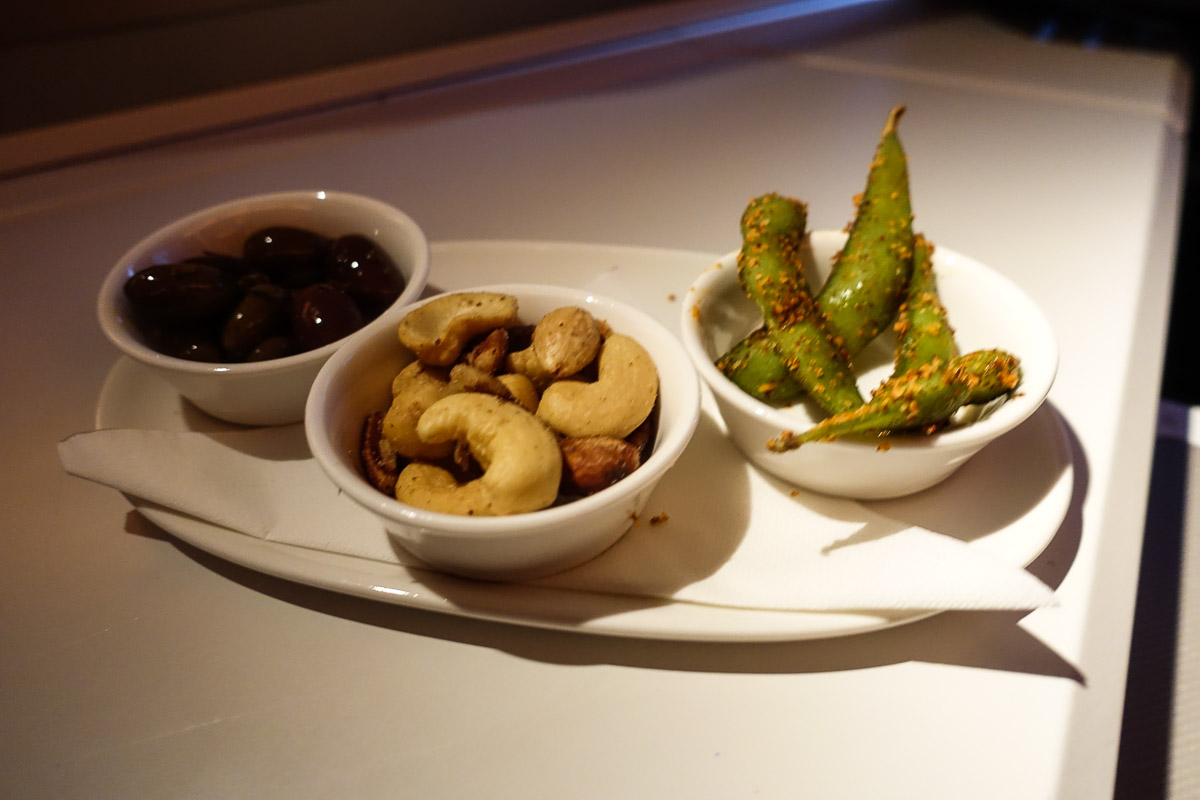 Our table was then set, complete with linen tablecloth and napkin.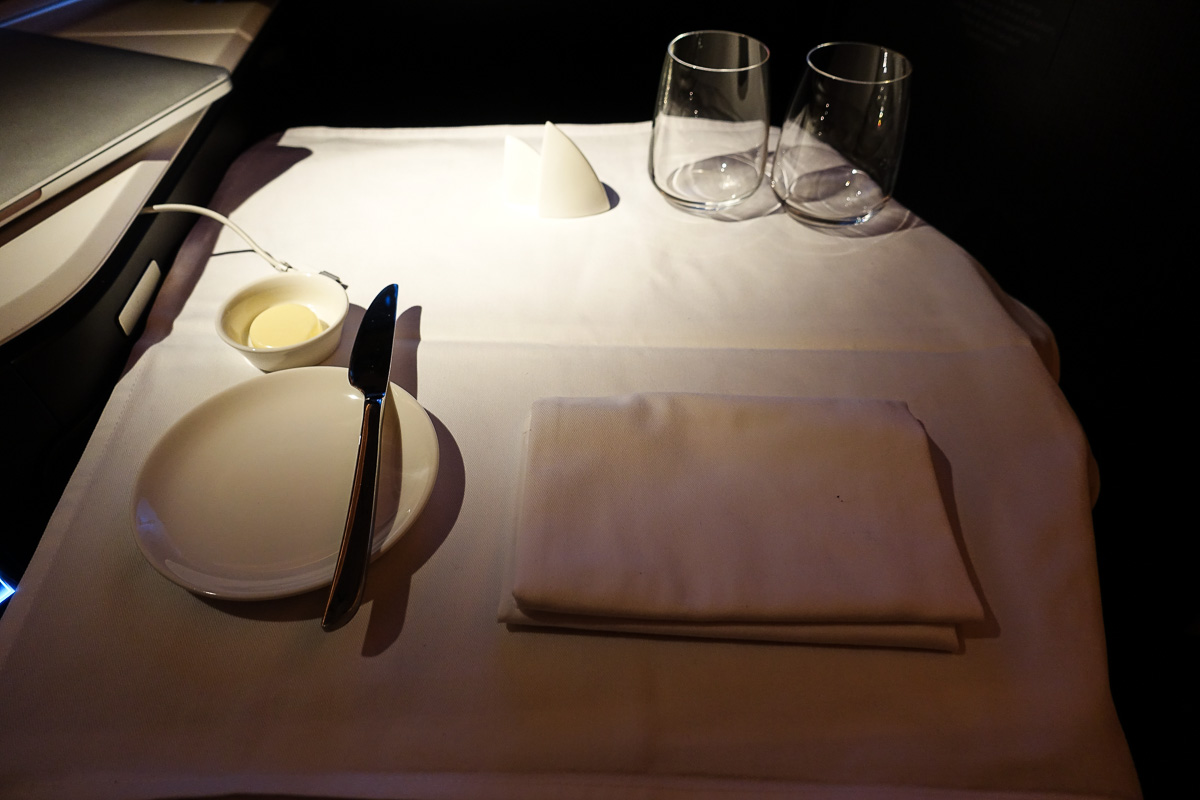 For entree both Mrs B and I ordered the Peking Duck Breast, Whilst the duck wasn't what I was expecting when I ordered it, it was delicious.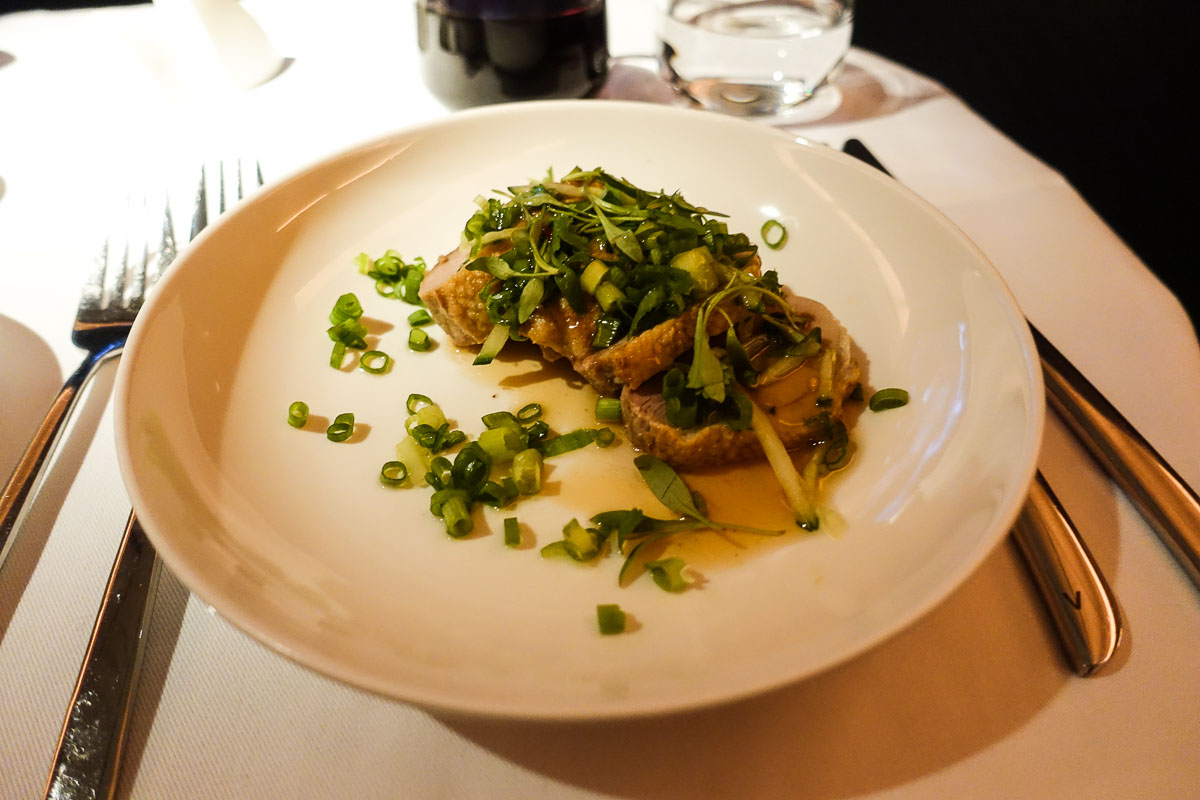 For mains, I ordered the Beef Fillet with Mushroom and Mrs B ordered the Corn-fed Chicken with Rice.
Beef Fillet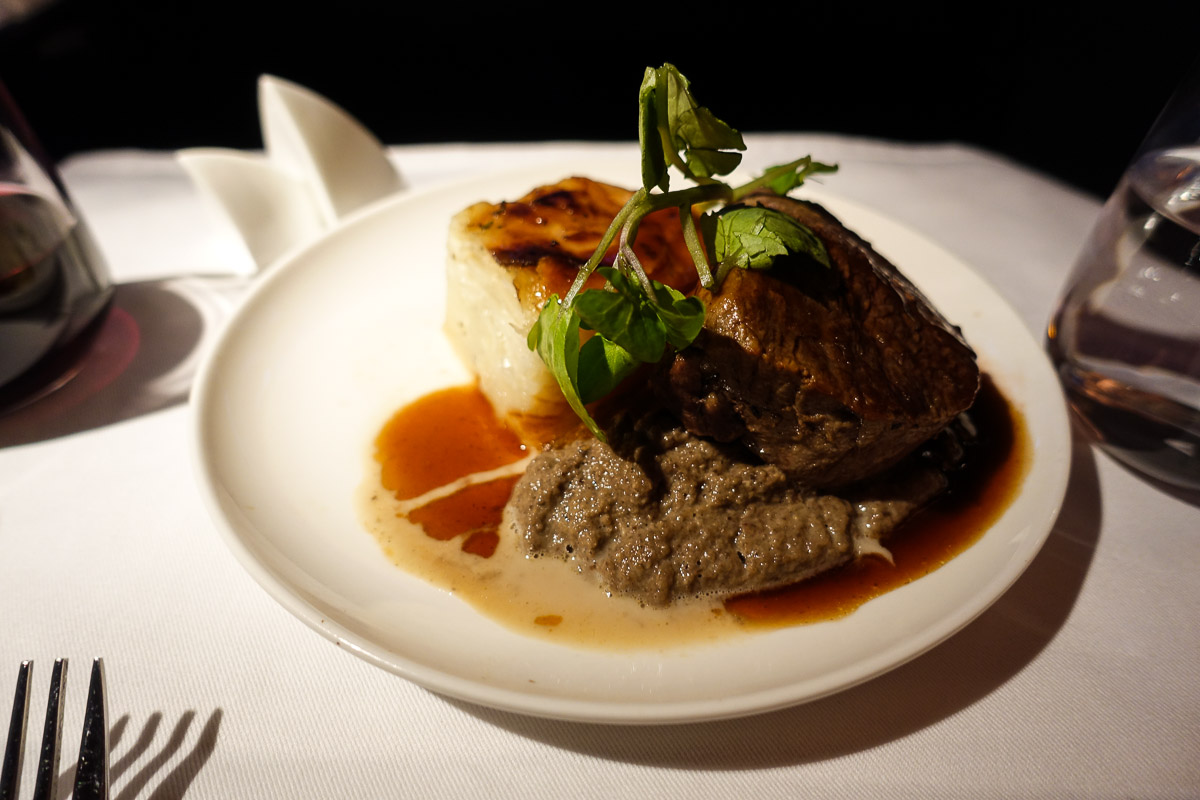 Corn-fed Chicken with Rice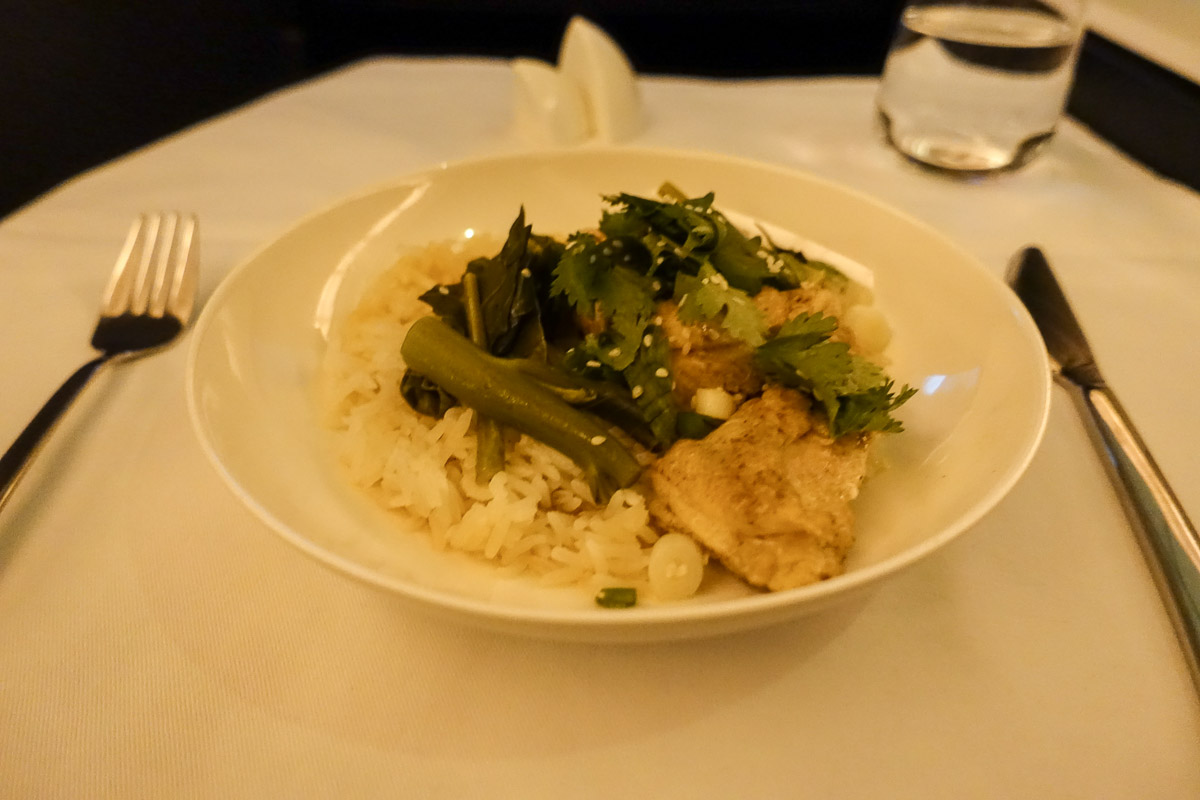 Despite being very full from a massive dinner (and a few snacks in the lounge) I was convinced by the lovely crew that I really needed to try the dessert with another glass of wine. Who was I to say no!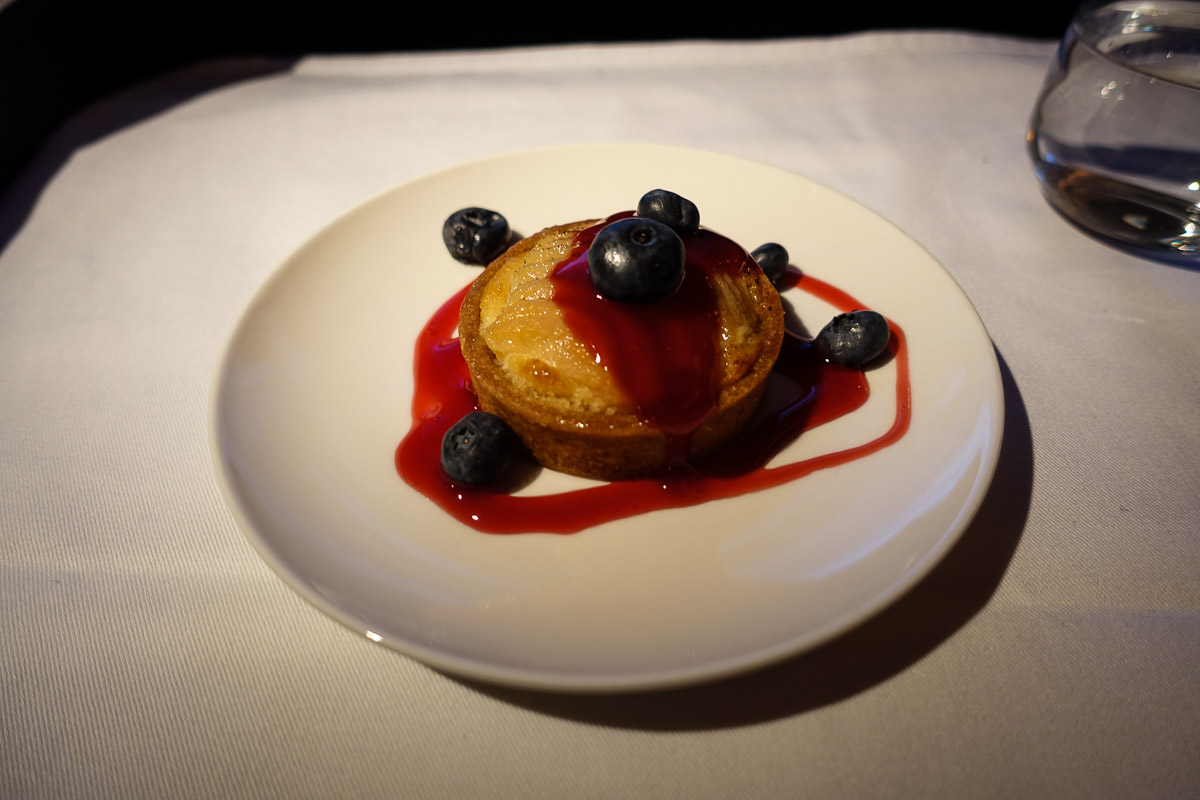 In general, the food was fantastic, much better than I remember Qantas business class being (albeit a few years ago since flying QF J).
After dinner, I went for a wander to check out the inlight bar that sits between the two J cabins. The bar is an impressive area and I can imagine it gets pretty rowdy on a daytime flight.
The stocked bar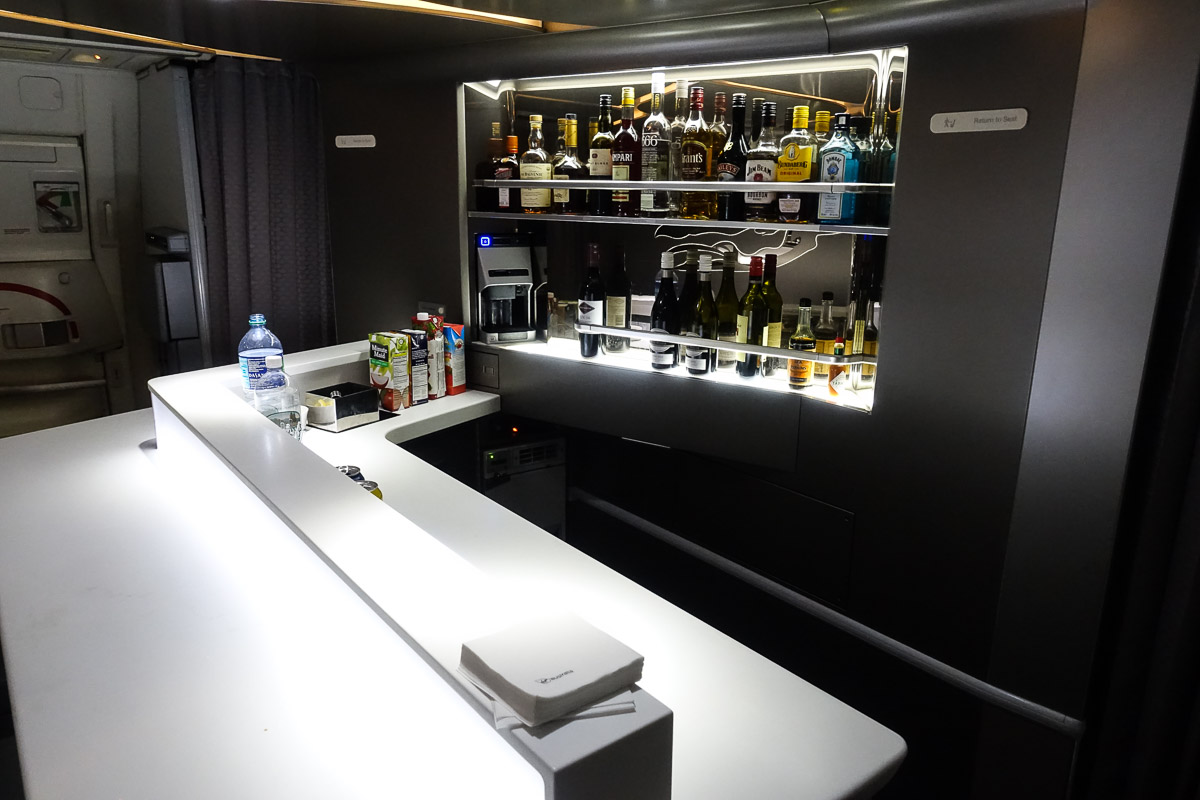 More Seating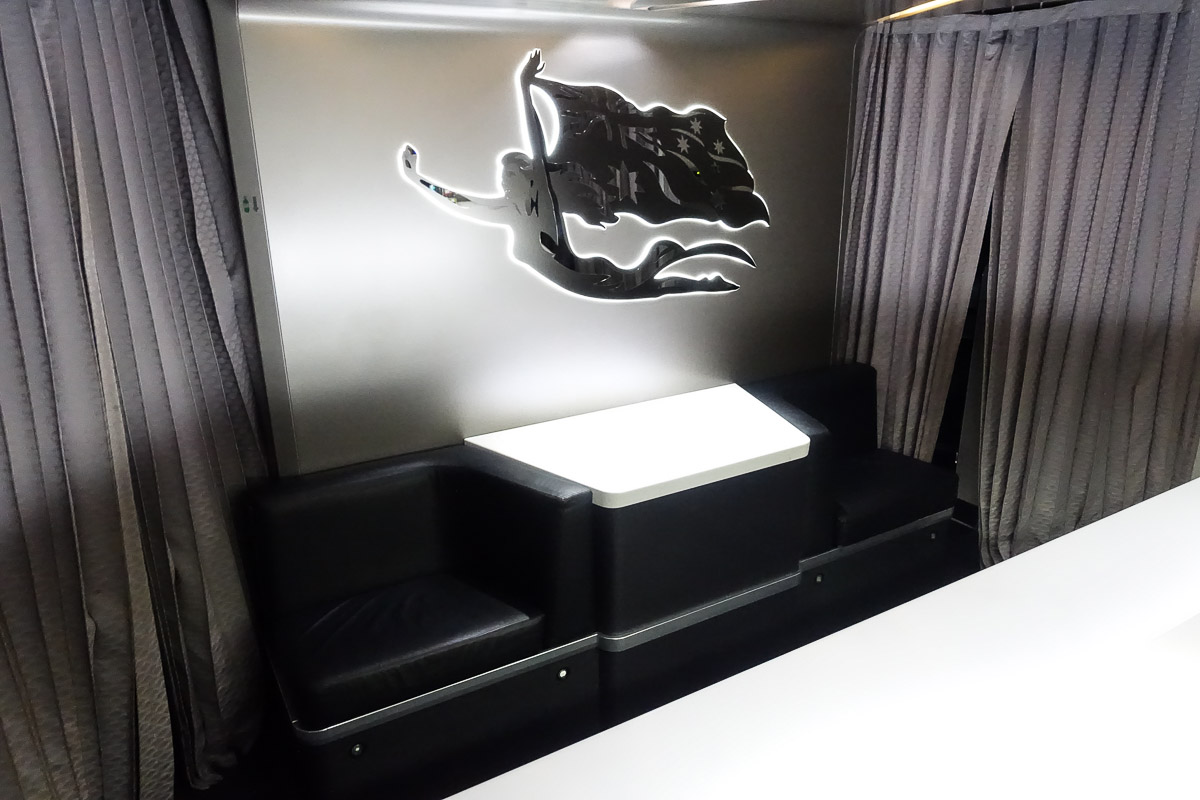 I wanted to get some work done before calling it a night, so after dinner, I dug out the laptop and enjoyed a few more glasses of wine. The seat was set up really well in terms of storage and access to things like power and USB. Next to the sliding table was a large storage compartment that housed the IFE remote as well as power, but the compartment was set up well that you could still close it with room for the cable to safely come out. There was also a smaller compartment that was perfect for a wallet and phone.
Storage compartment with power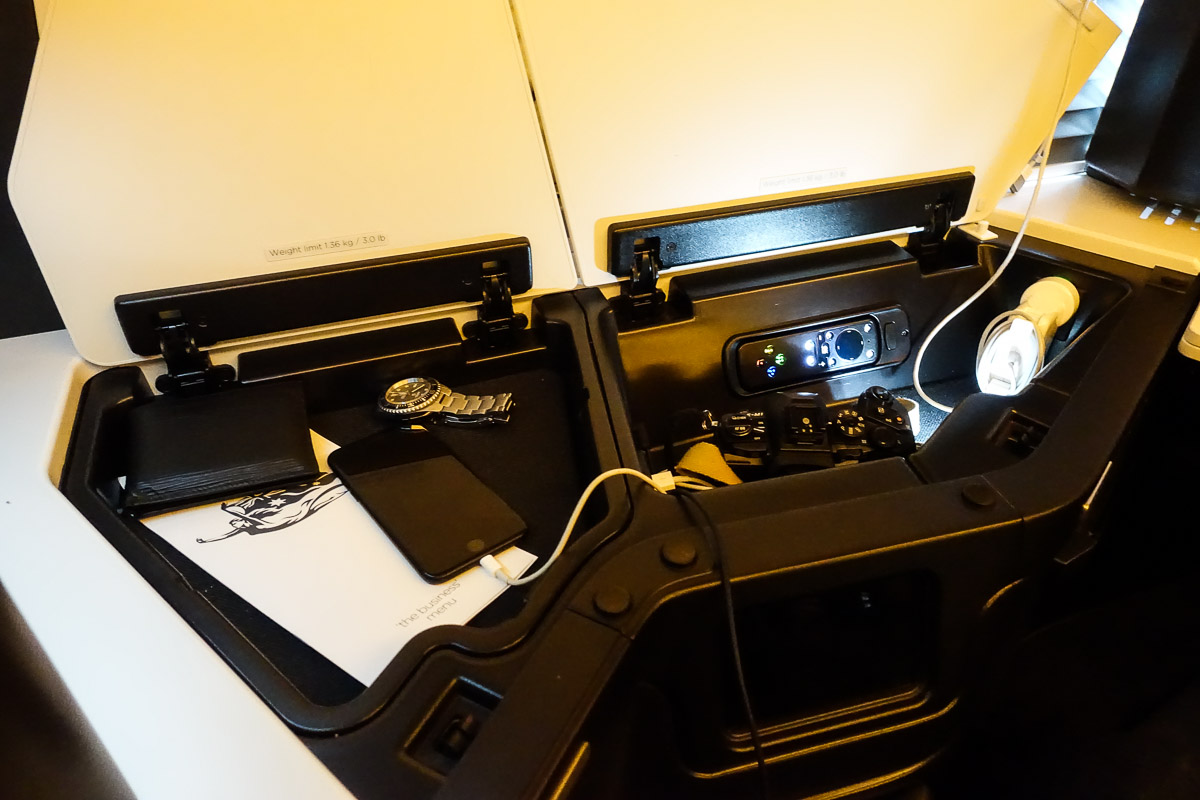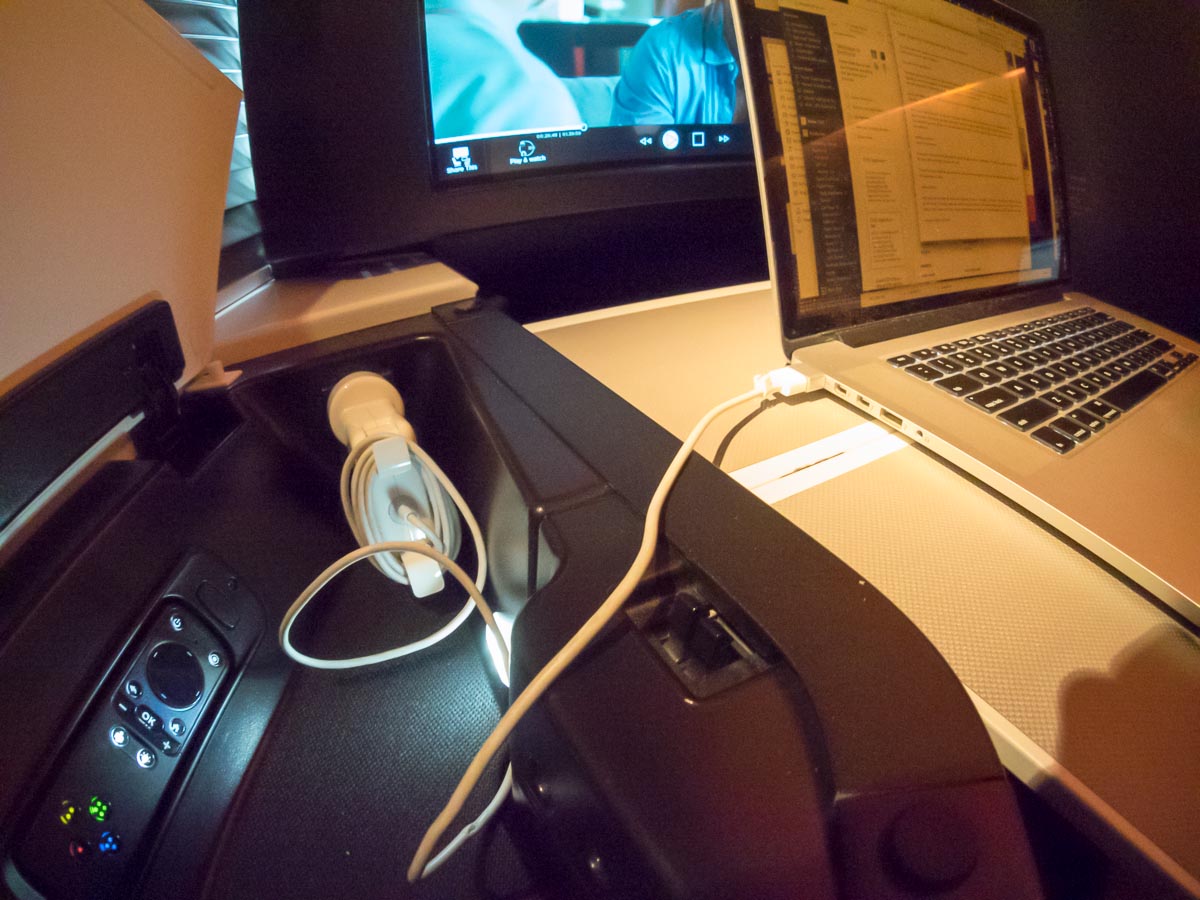 Just below the storage compartments is a small touchscreen that gives you full control of your seat.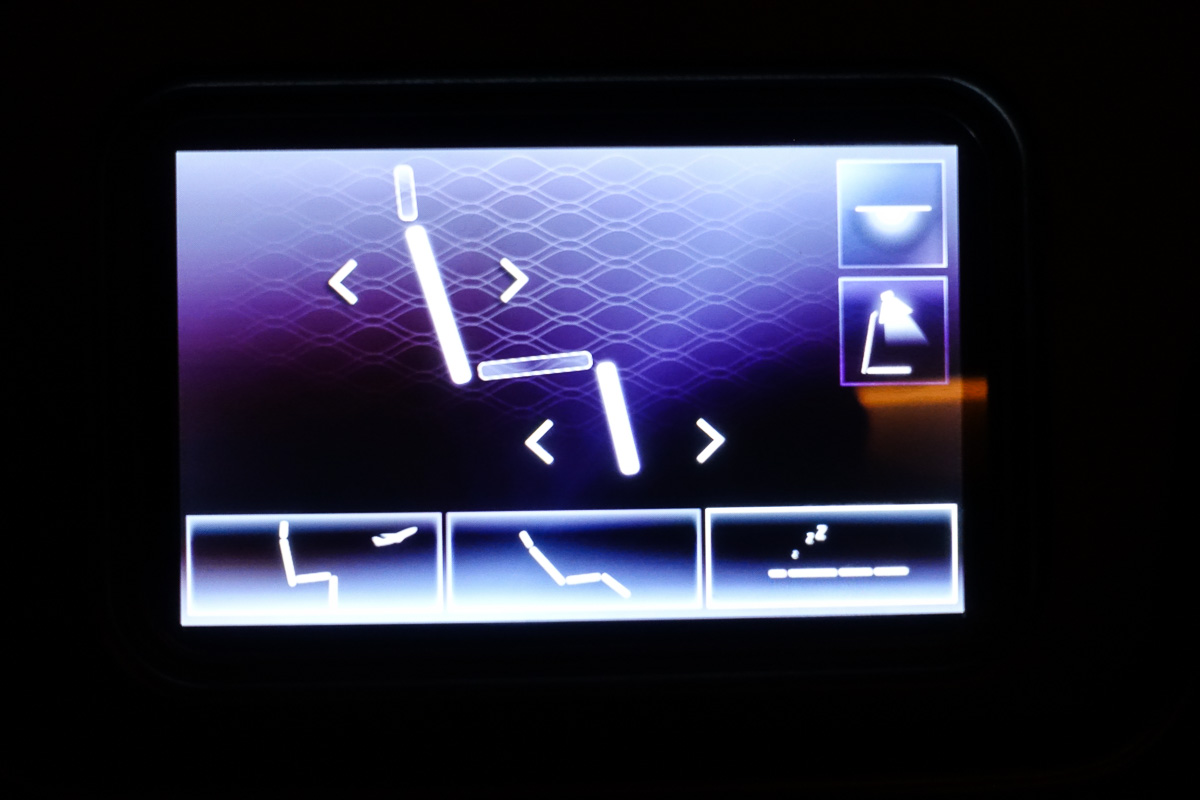 After a long day, it was time to get some sleep. The cabin crew were more than happy to set up my bed, including more pillows and bedding.
The Bed Setup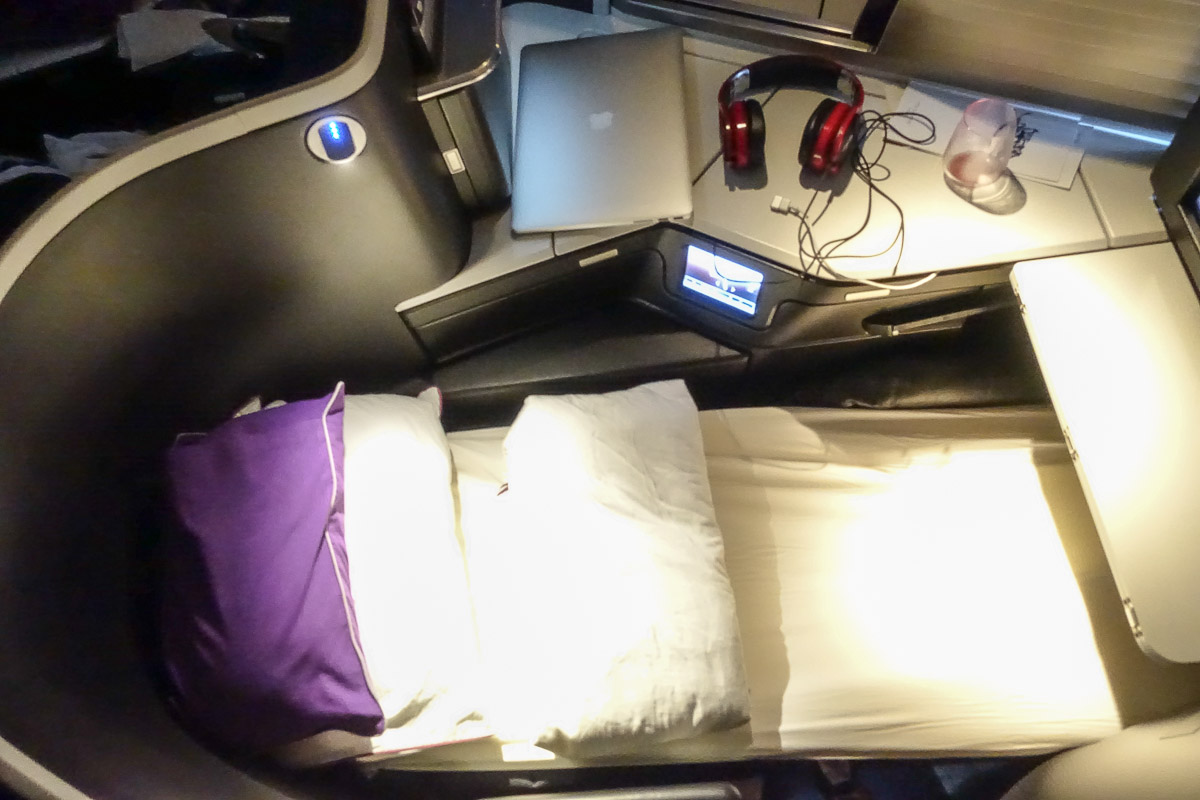 I got a solid 6 hours sleep, in what was a very comfortable bed. It was not on-par with a first class suitem but it was still a pretty good bed in the sky.
Shortly after waking up I saw a message on the IFE screen offering coffee at the bar, which was a nice way to socialise while bedding was collected and breakfast was prepared. Virgin has partnered with Nespresso, which meant good coffee in the sky.
By the time I got back to my seat the bedding was cleared and the seat was back in seat mode. Interestingly the table is not set for breakfast and you simply get a plastic tray with what ever you had ordered the night before.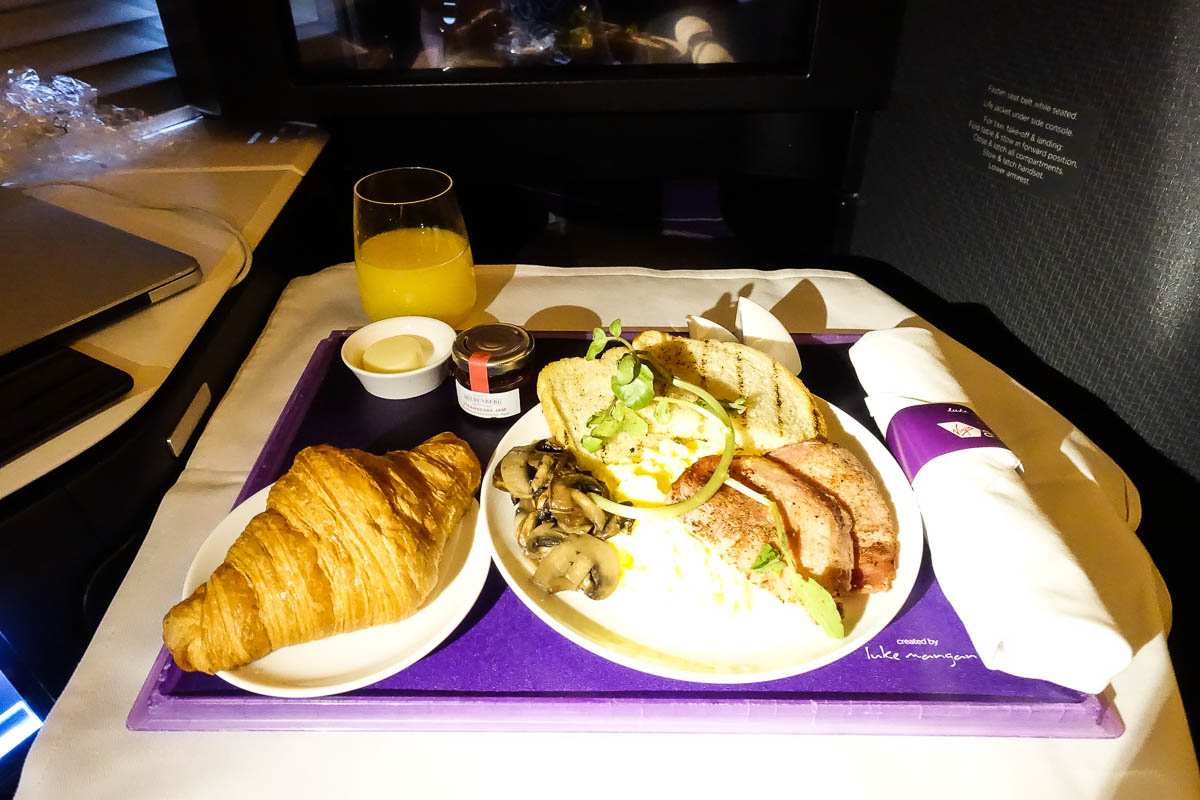 Overall Virgin Business was pretty impressive. I would go out on a limb and say that it is probably the best business product between Australia and Los Angeles at the moment and I would certainly fly with them again.