Table of Contents
The Long Way To Vegas...
Review: Sydney Etihad Business/First Lounge
Review: Etihad Apartments Sydney to Abu Dhabi
Review: Abu Dahbi Etihad Flagship First Class Lounge
Review: Etihad Apartments Abu Dhabi to New York
Review: JetBlue Mint New York to San Francisco
Travel: San Francisco to Yosemite
Review: Half Dome Village Yosemite National Park
Travel: Exploring Yosemite National Park & Lone Pine
Travel: Braving The Summer Heat in Death Valley
Review: Encore Las Vegas
Review: Emirates Business / First Lounge LAX
Review: Virgin 777 'The Business' LAX-SYD

Due to the fact that I couldn't redeem Velocity points on Etihad for Syndey to San Francisco as it exceeded 15,000 miles we had to reposition from New York back west to San Francisco. I decided this would be a great opportunity to review JetBlue Mint.
Mint is the fully flat trans-continental business class product that Jet Blue offers and has had great reviews online. They also tend to offer excellent value if you book in advance, I picked our tickets up for $600 each.
Jetblue have a didicated check-in area in JFK for Mosiac and Mint customers, that will take care of your bags so you do not need to do the kiosk check-in and self-service bag drop that you would normally do if flying JetBlue.
One of the big downsides of JetBlue Mint is the lack of lounge facilities, which was a bit of a pain considering we had a few hours to kill. Jet Blue fly out of Terminal 5 at JFK, there is an Airspace lounge that you can pay to access but by all accounts it isn't worth it. So we decided to wait at the gate.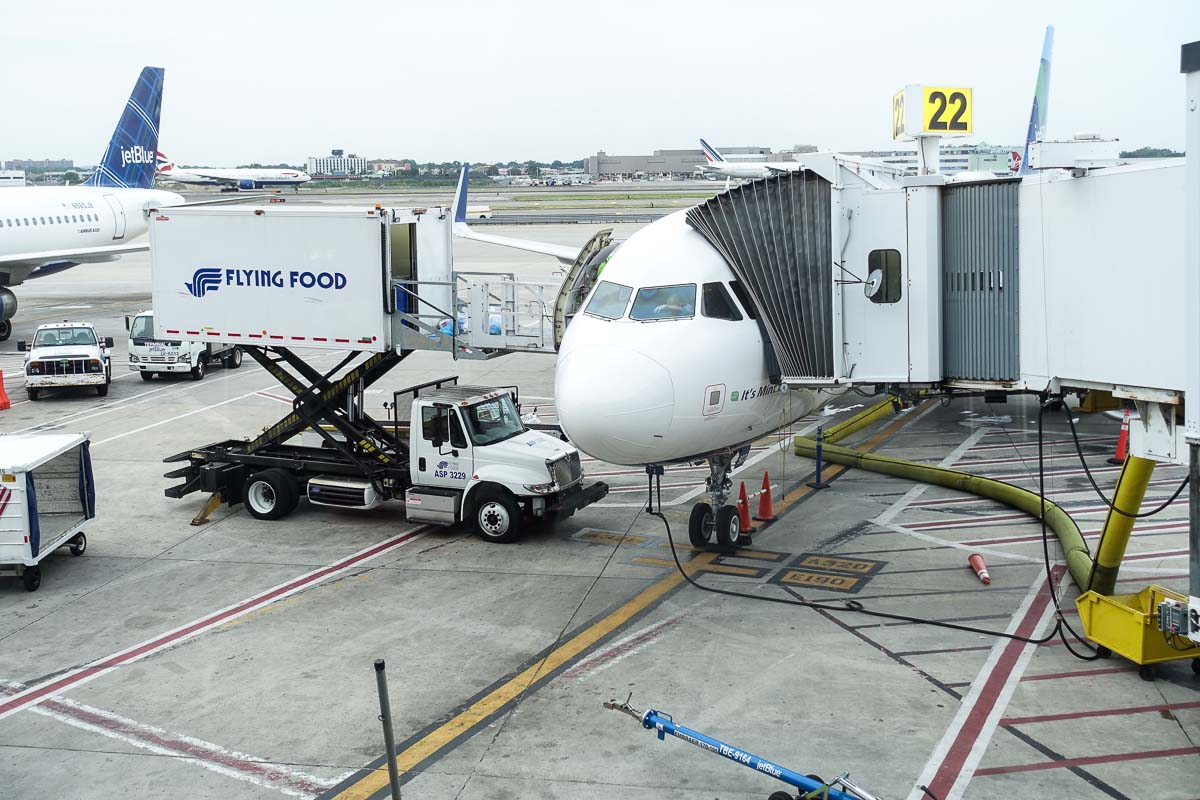 Once the gate was open, they called for JetBlue Mosiac members and Mint passengers to board first. JetBlue fly an A320 narrow body plane and have impressively crammed in 16 fully flat business class seats.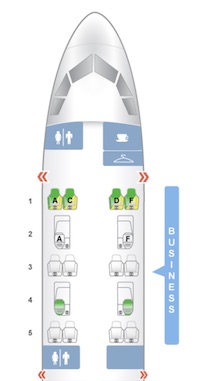 The seats are laid out in an unusal 2-2 and 1-1 alternating row configuration. With the 1-1 seats having doors to close them off to be enclosed suites, these encloused suites are booked on a first come first served basis.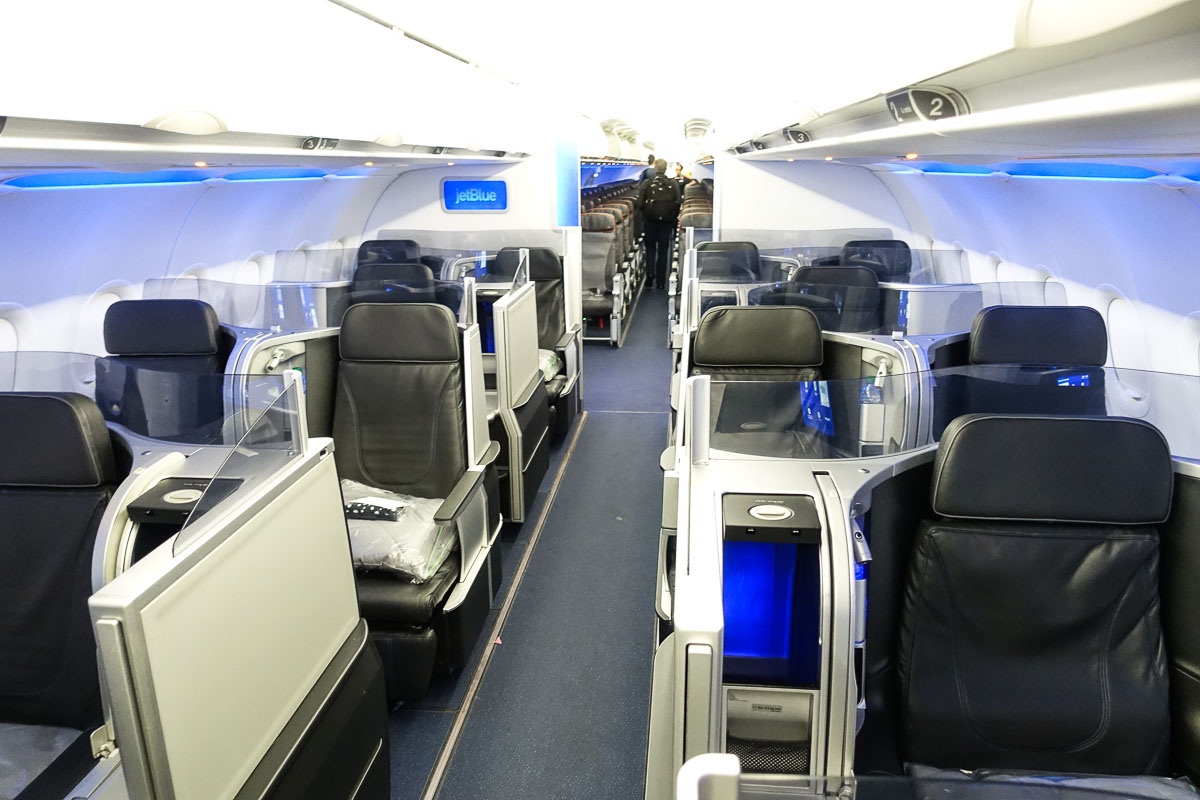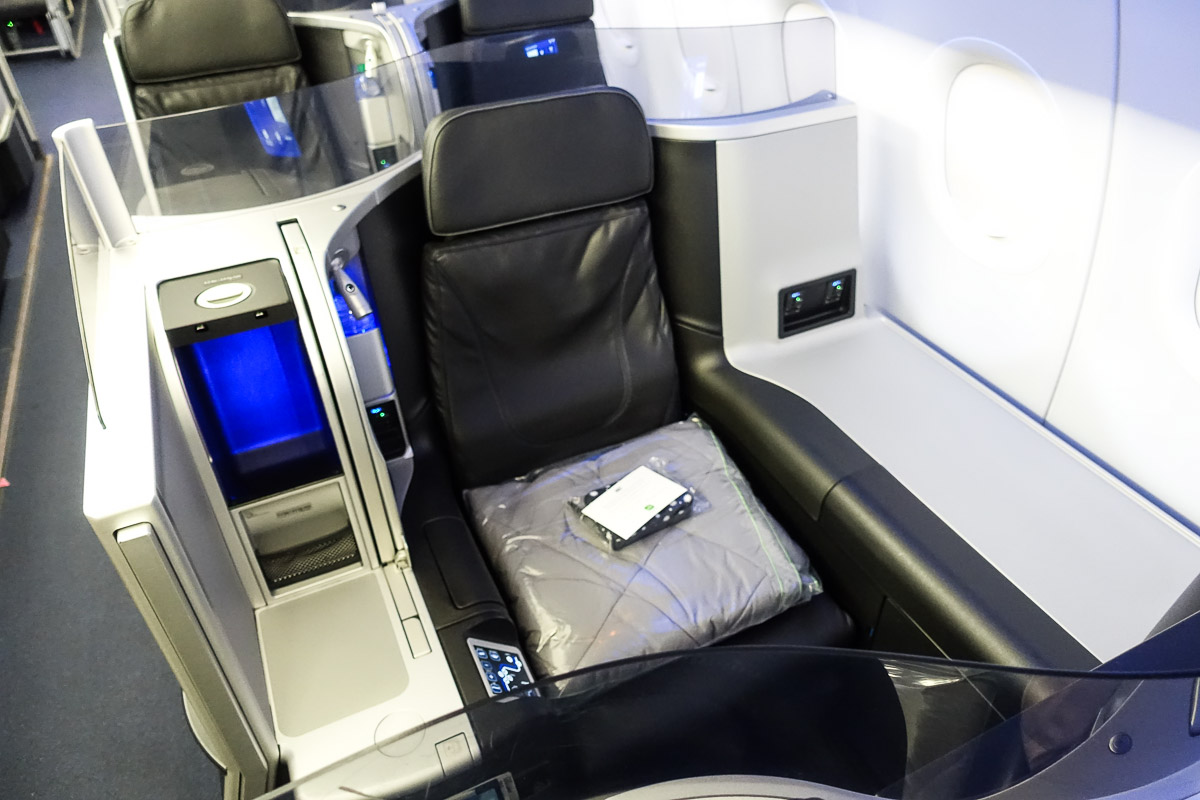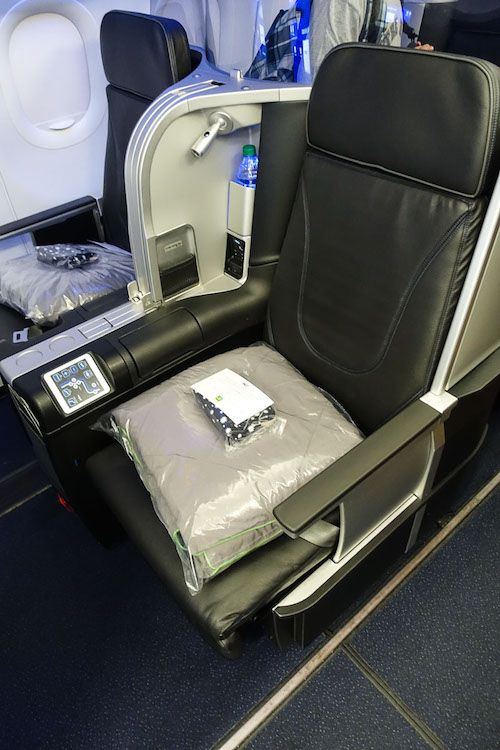 I was really impressed with the individual seats, they are amazingly private and spacious for a narrow body aircraft.
We were seated in row 1 in the 2-2 config. On each of our seats was a welcome note, amenity kit, blanket and pillow.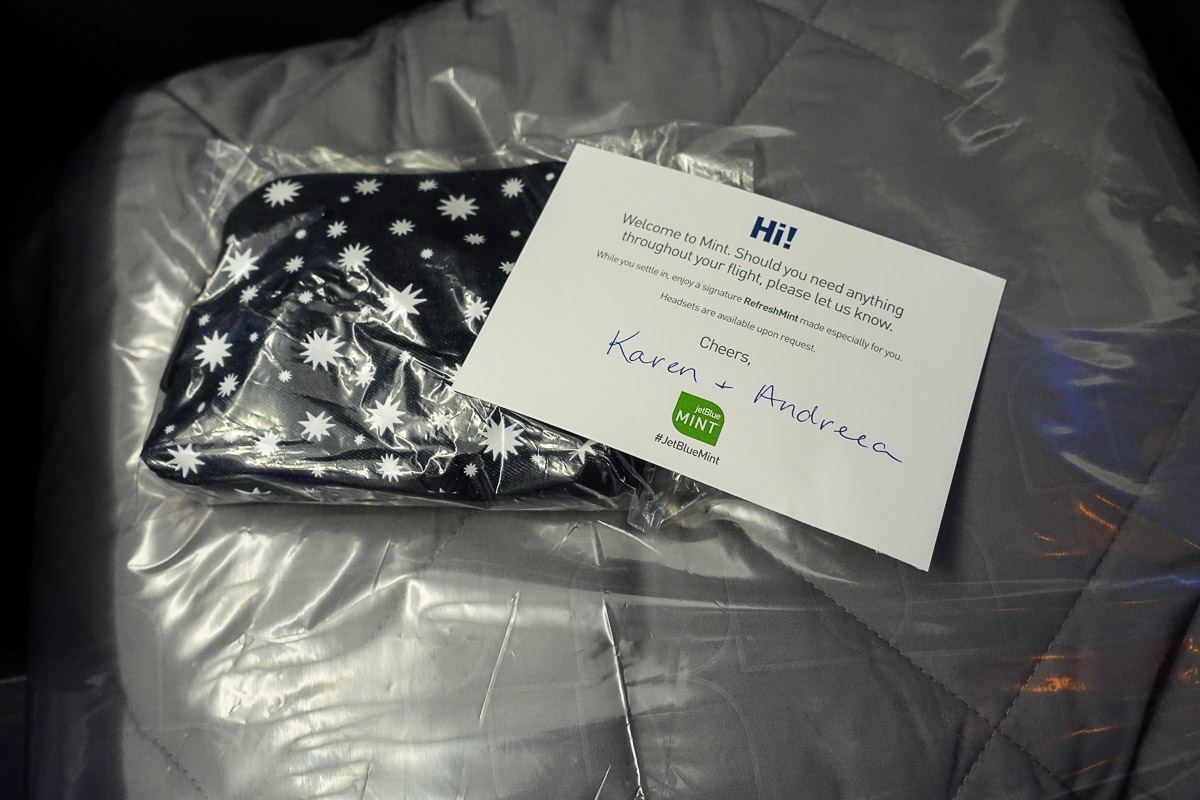 Shortly after taking our seats, Karen came and introduced her self and offered us a pre-departure drink. We both selected the signature drink which was a mint lime-aid with Vodka and it was delicious!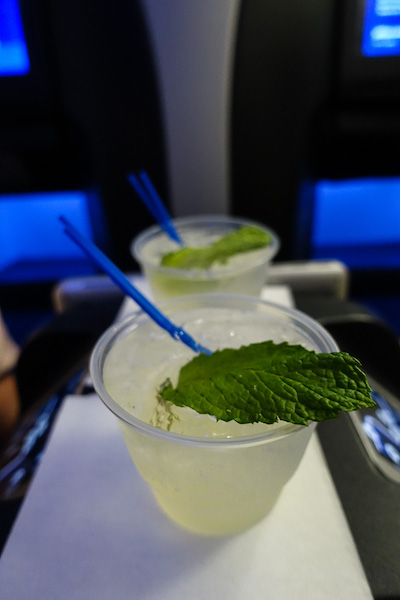 Karen explained the menu to us before coming back to take our order. JetBlue has an interesting concept where you order up to three dishes. They are all relatively small, so you can sample a few different options.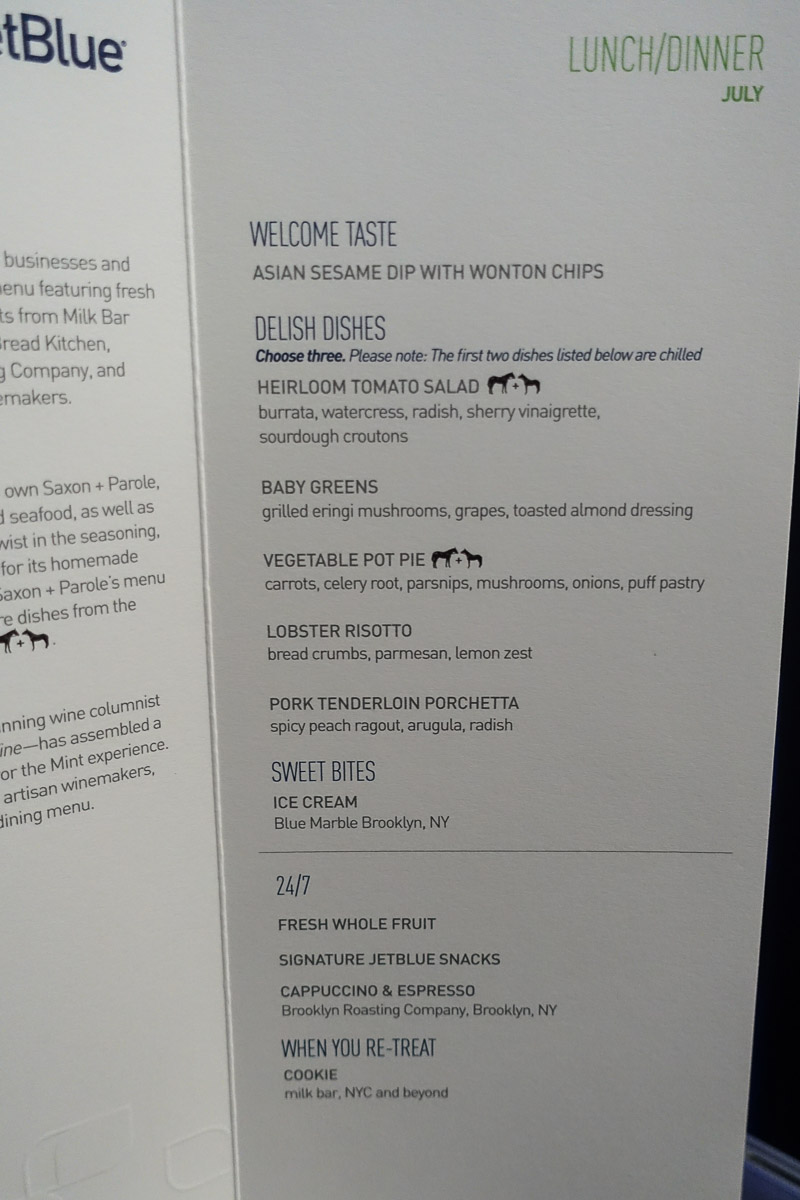 The seat itself was reasonably comfortable, though considering we just came from Etihad apartments, it would have been hard to impress us. But it was comfortable and had a reasonable amount of leg room.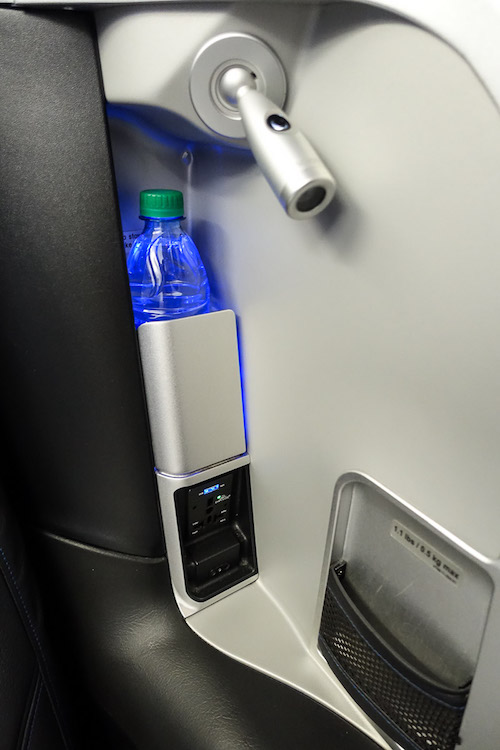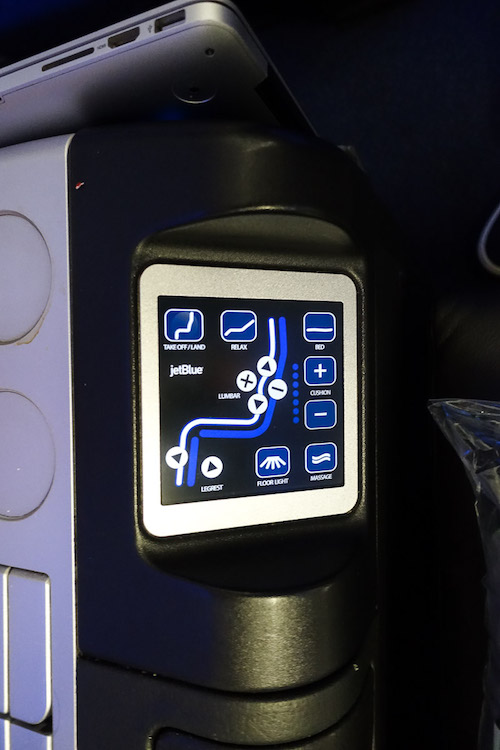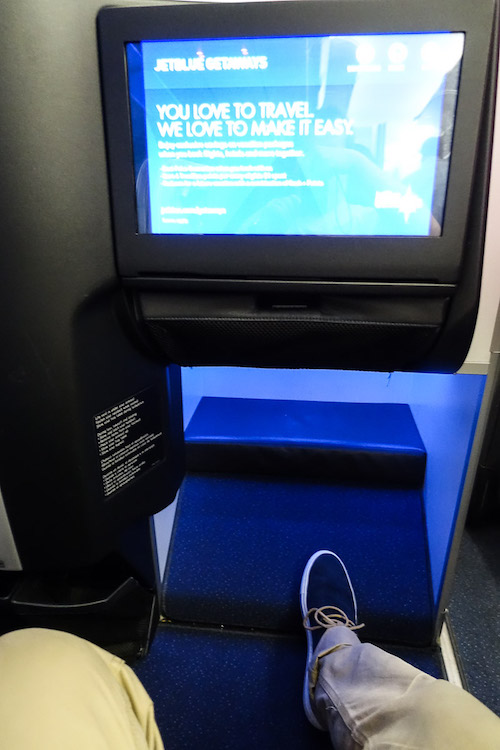 My only real complaint about the seat was the complete lack of storage. There was a tiny compartment for your phone just below the reading light and a small netted area under the TV screen but very little storage for anything like headphones or a laptop.
Shortly after take off, we were offered another drink and a snack while they prepared dinner.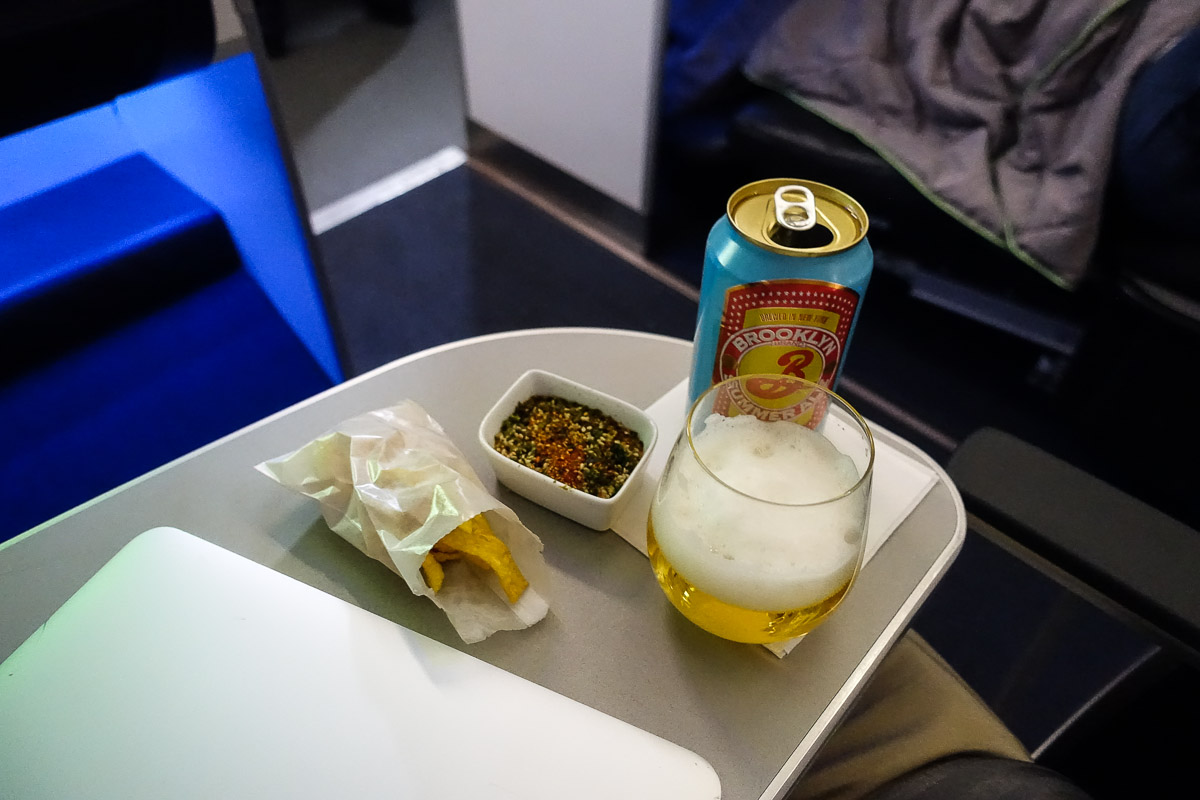 For dinner I ordered the Lobster Risotto, Vegetable Pot Pie and the Pork Tenderloin Porchetta. The food was presented together on a nice tray. I appreciated the effort to redesign the tray and food containers to not resemble the traditional airline presentation. All in all the food was pretty good.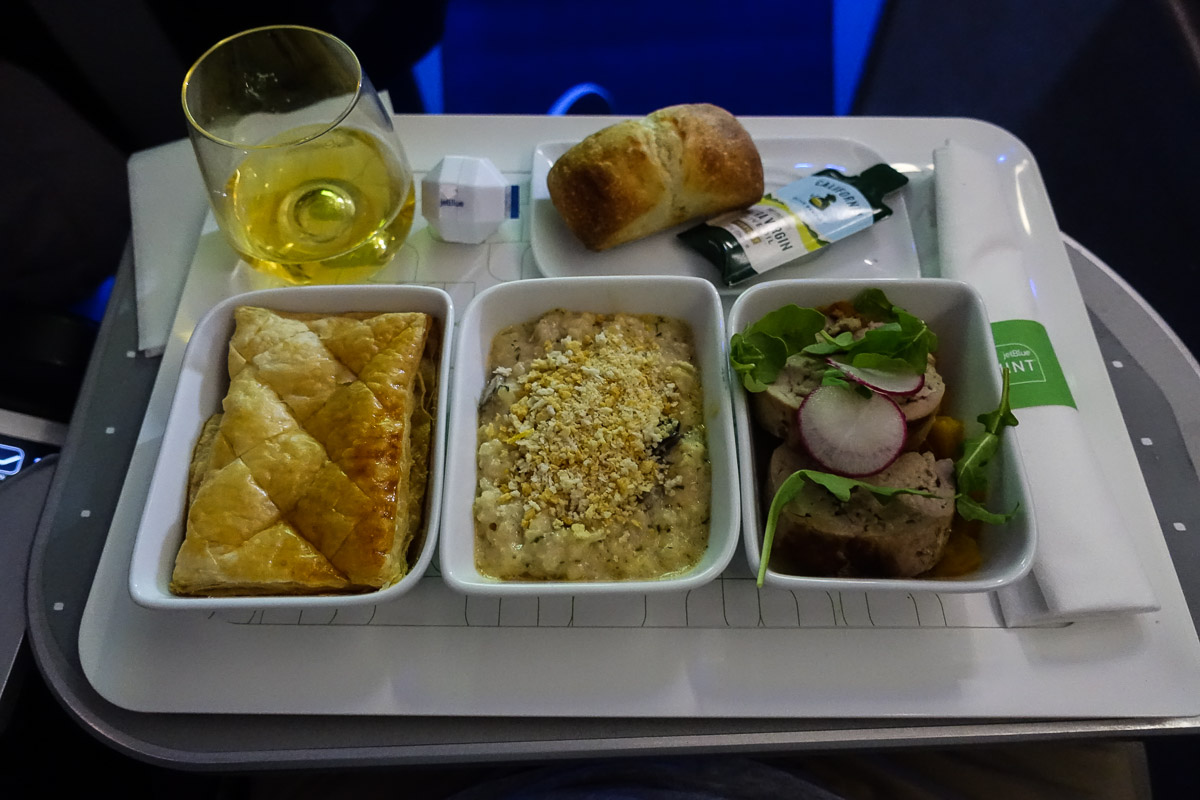 After dinner I got some work done, I was rather impressed with the FREE wifi. It was fast and worked throughout the entire flight. I find it amazing that a domestic airline can offer free wifi to all passengers yet Etihad wanted to charge a ridiculous amount for 150mb of wifi to its first class passengers.
Whilst I wasn't planning on getting any sleep, I thought I would check out the seat in bed mode.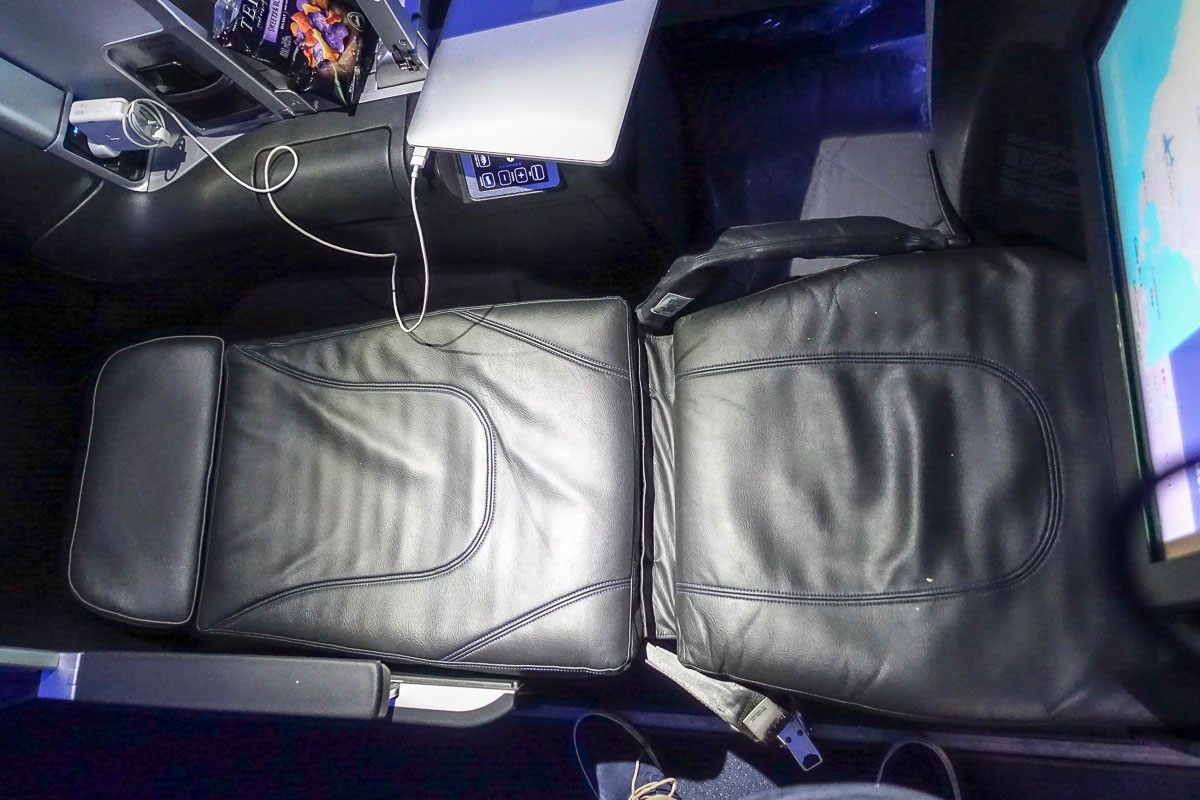 JetBlue provides a blanket and a pillow for your seat, but that is it in terms of linen. The seat did, in fact, go fully flat and it was reasonable in length, but it could have done with a mattress pad if you wanted to get any real sleep. In saying that I had just been spoiled with 30+ hours of Etihad First Class
Included with the blanket and pillow was a little amenity kit provided by Hayward. The amenity kit is one of the best I have seen in Business Class and comes with some really unique stuff, with a micro fibre cloth, mints, an orange refresher towelette and a postcard.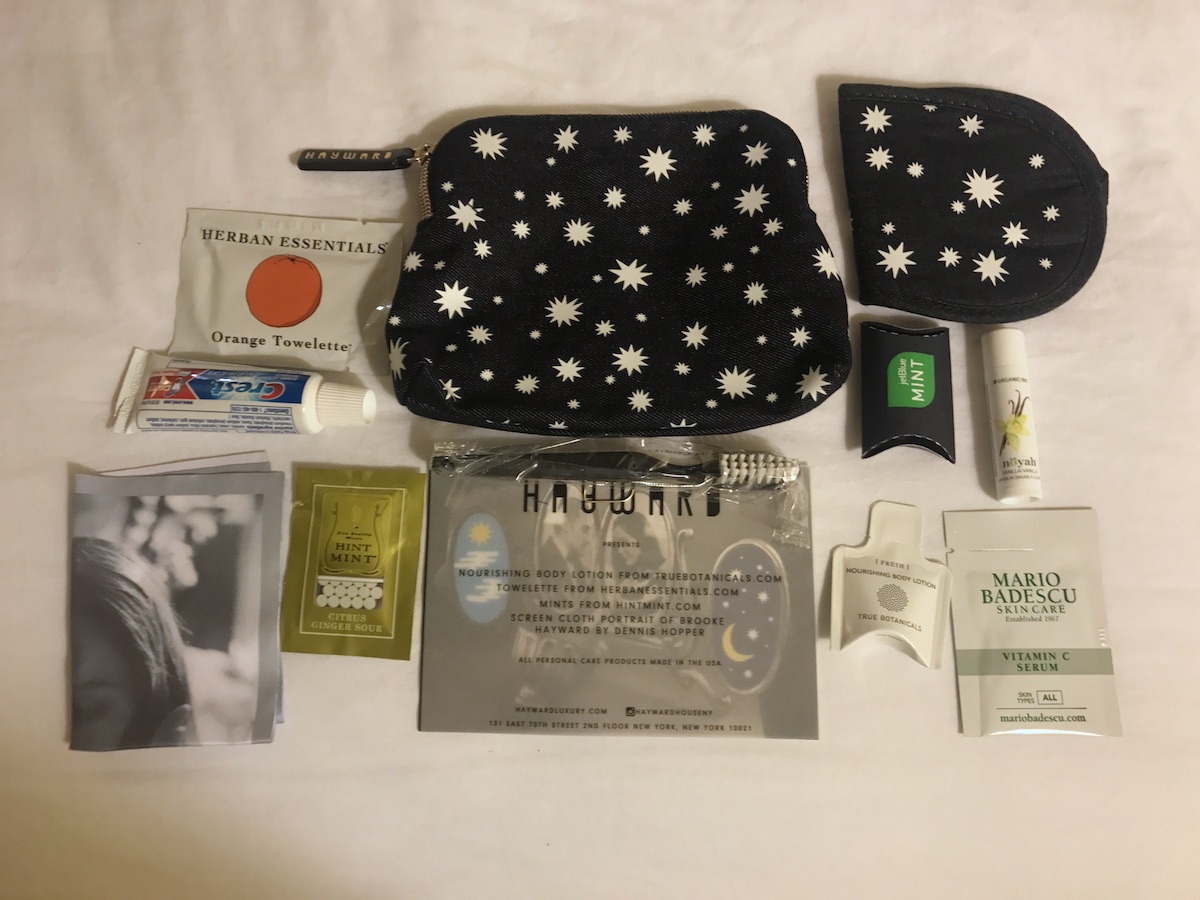 In summary, I had a great experience in JetBlue Mint, the service was fantastic and friendly and the seat was plenty comfortable for a 6-hour trans-con flight. I would definitely fly with them again.
Subscribe to pointy end of the plane
Get the latest posts delivered right to your inbox