Review: Thai Airways Business Class Sapporo to Bangkok
After the disappointment of the Sapporo Royal Lounge, we headed to gate 65 early at 9:10 am. Boarding was scheduled for 9:20 am, however shortly after arrival boarding was delayed to 9:40 am.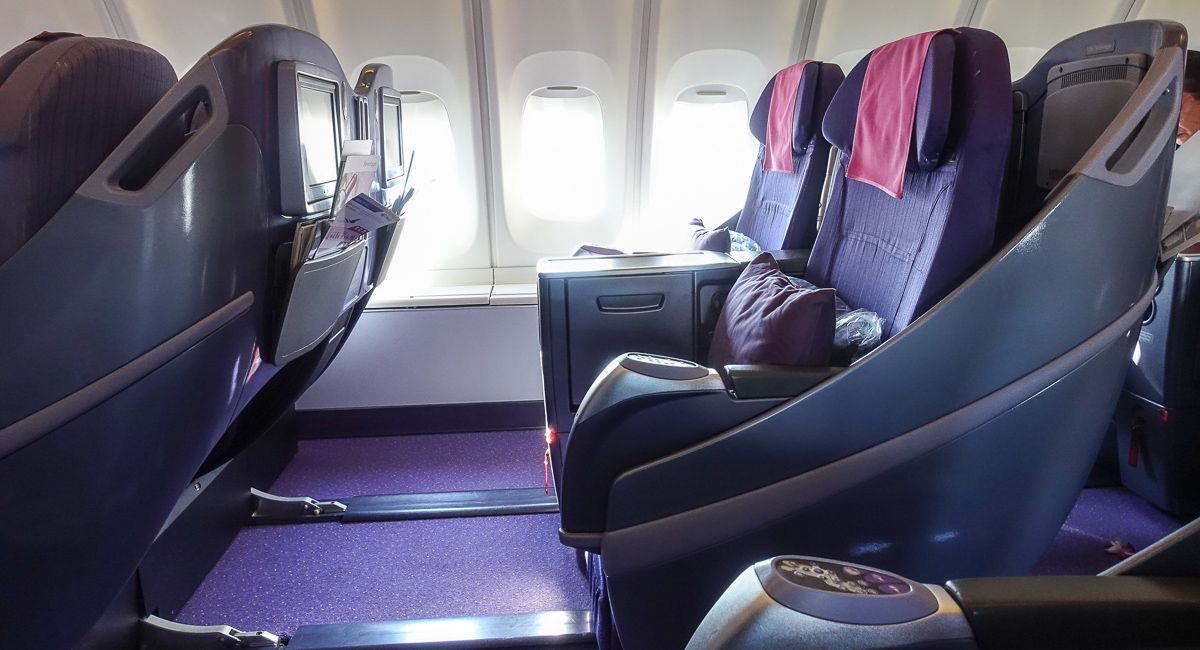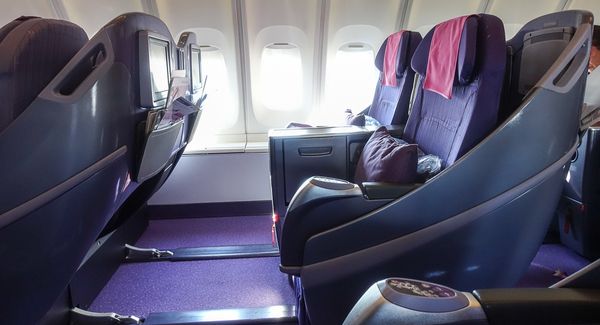 Table of Contents
Introduction: Skiing and Sightseeing in Japan
Review: Air New Zealand Sydney Lounge
Review: Thai Airways 747 Business Class Sydney to Bangkok
Review: Thai Airways Bangkok Lounge & Spa
Review: Thai Airways 777 Business Class Bangkok to Tokyo
Travel: Exploring Tokyo in the Snow
Review: Japan Airlines $10 Class J Upgrade
Travel: Exploring Niseko
Review: Sapporo New Chitose Royal Lounge
Review: Thai Airways Business Class Sapporo to Bangkok
Review: Thai Airways 747 Business Class Bangkok to Sydney

After the disappointment of the Sapporo Royal Lounge, we headed to gate 65 early at 9:10 am. Boarding was scheduled for 9:20 am, however shortly after arrival boarding was delayed to 9:40 am. In true Japanese style the gate agent apologies and suggested we sit down. However, I was happy to stand in line as I wanted to board early.
TG671 had swapped out from a 777 to a 747 for the peak months and as the 747 is a 3 class config with First, Business and Economy they allow business class guests to select seats in the first class cabin on a first come first served basis. I was kicking my self as I had forgotten to setup a flight alert and by the time I went to check our seat assignments all seats, except one, in the F cabin were taken. I did check with the check-in agent however she said the cabin was full.
We boarded the plane right at 9:40 am and made our way up the stairs to the upper deck and found our seats. We were once again sitting in 12A and 12B. There was a pillow, blanket and amenity kit sitting on our seats. We were offered a pre-departure drink and informed of the 7 hours and 30 minute flight time.
Nothing like a breakfast champange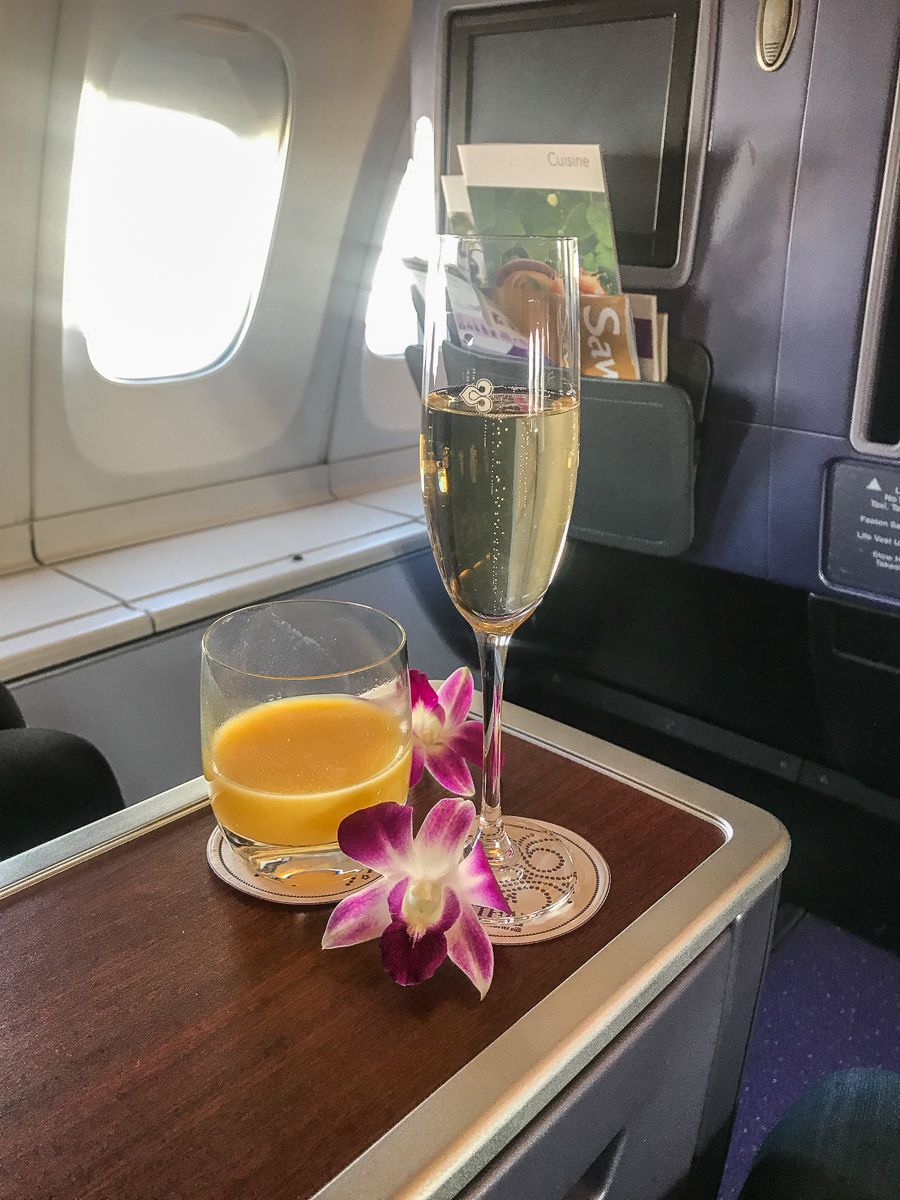 The Seat & Amenities
I hadn't realised until now that Thai have two different angled lie-flat seats, we were on one of the older 747's, and it had a slightly different seat to the one we flew from Sydney to Bangkok.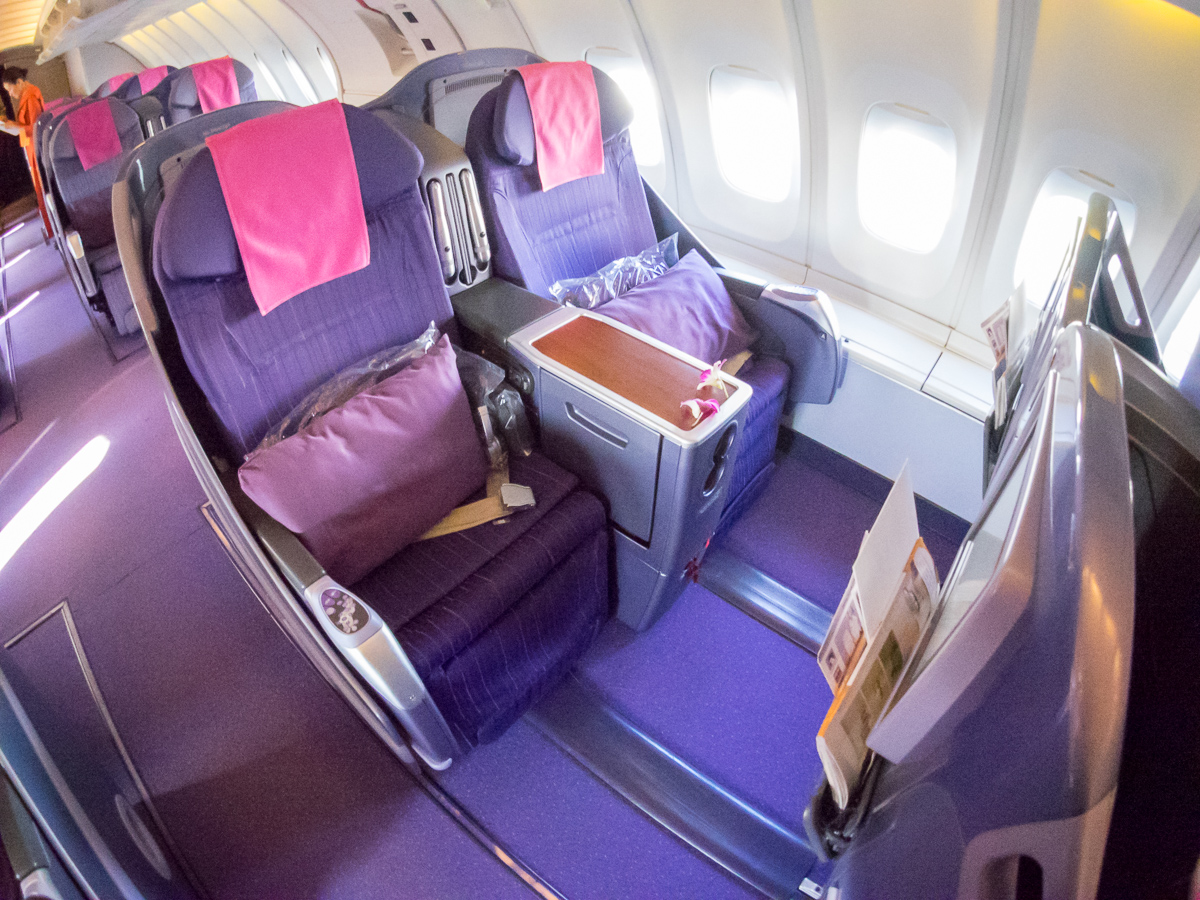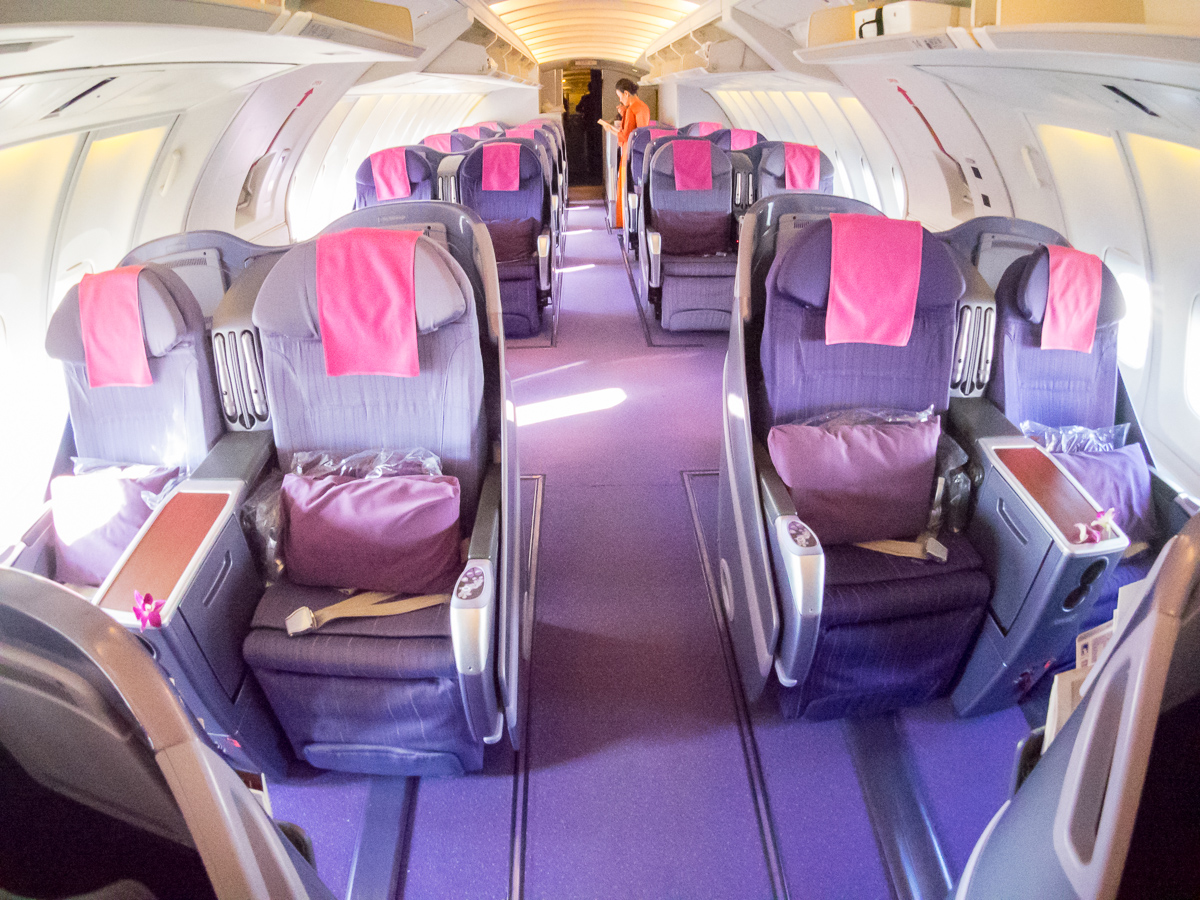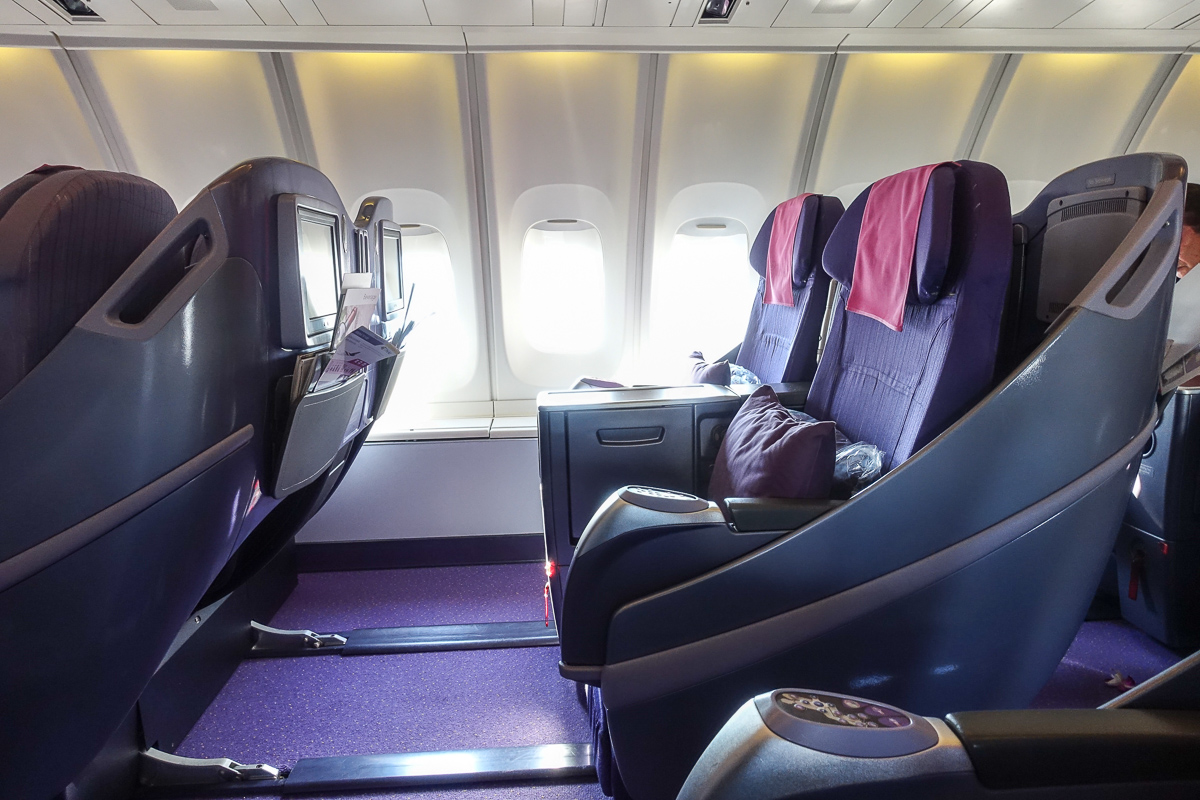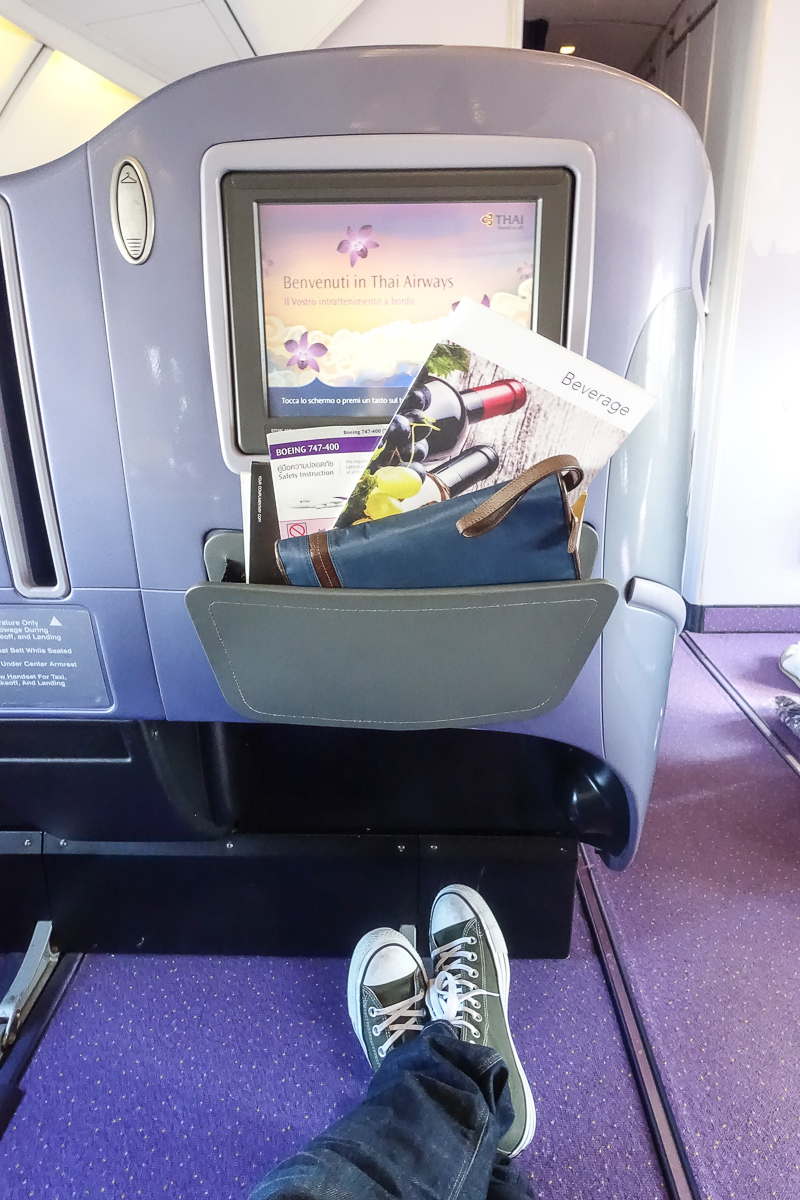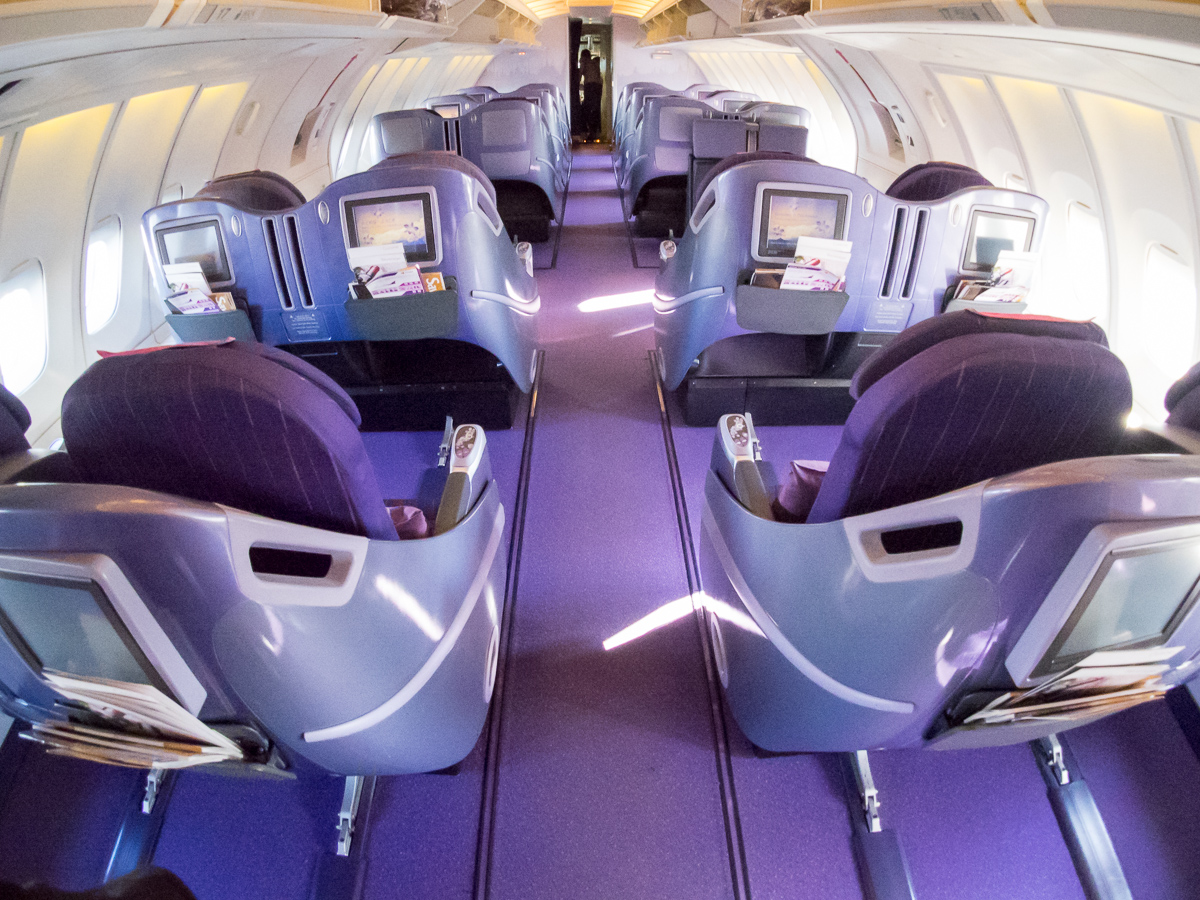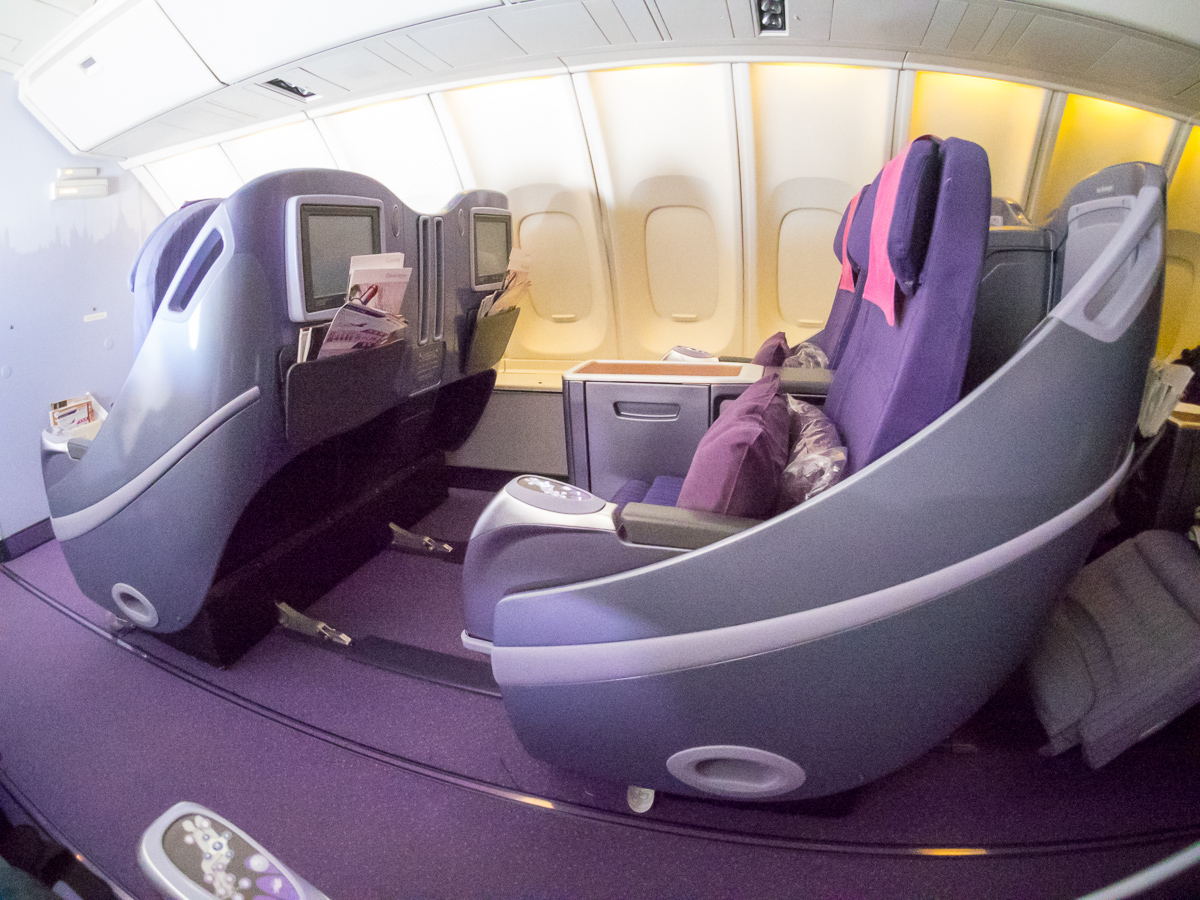 The main differences in the seat were a much smaller IFE screen (it looked about 12" rather than 15" and lack of USB power. However, the seat did have significantly more control over movement and position compared to the newer seat.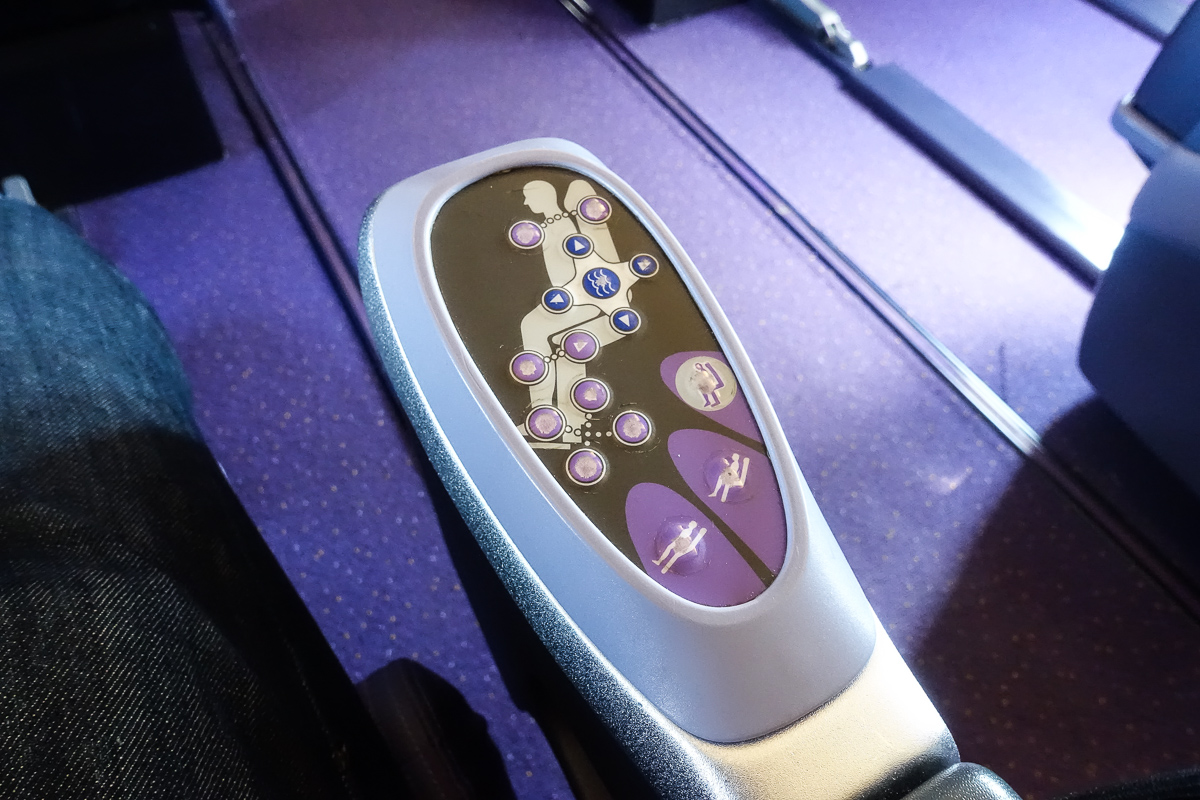 No USB power, but a nice pocket to store small items like a phone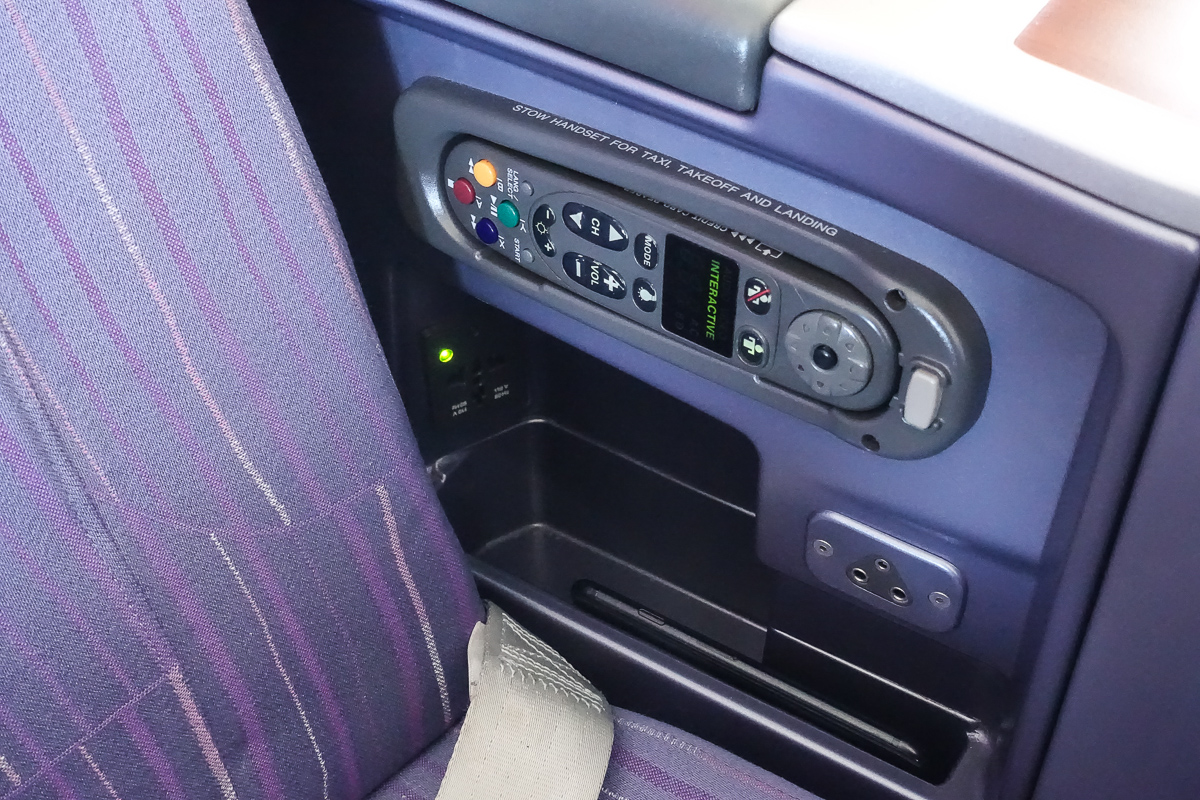 I quite appreciated the extra controls that allowed you to adjust both the length of the seat as well as the length of the footrest, neither of which is available on the newer seat I have previously flown. In bed mode, the seat felt like it was at the same angle as the newer 747 seats, however as this was a daytime flight I didn't try the bed mode out at all.
My only real complaint about this seat was that it didn't have a centre armrest and we you reclined the seat it lowered which meant your arm could not comfortably sit on the centre console.
We were once again provided with the same amenity kit we received ex-Sydney with a grey Furla bag stocked with a hairbrush, lip balm, hand cream, earplugs, slippers and an eye mask.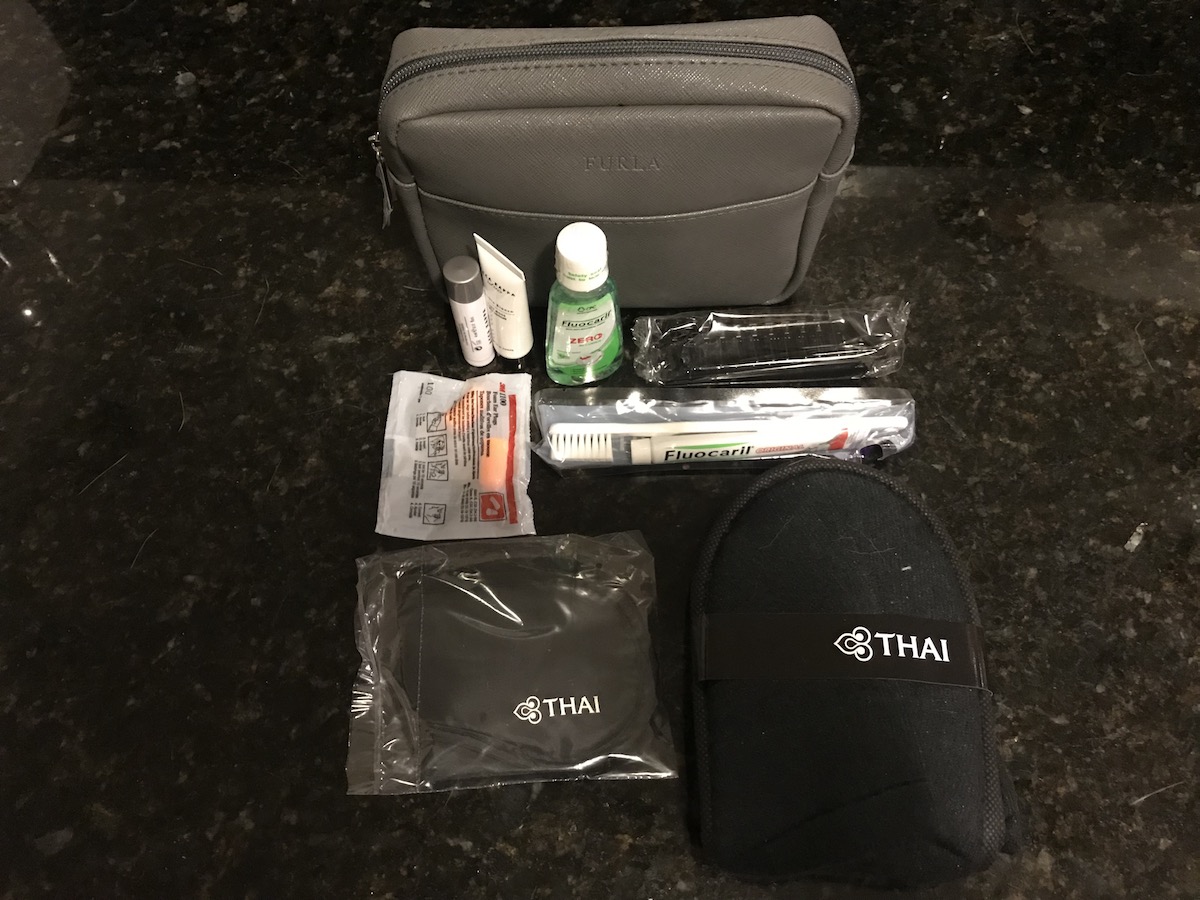 The Flight & Service
The flight mustn't have been full as it wasn't long before the final door was closed and we pushed back from the gate. The crew did another walk around to collect glasses and take peoples orders for lunch as well as a drink service once we were at cruising altitude. Both myself and Mrs B ordered a coffee for post take off as we were still quite sleepy from our 5-am departure from Niseko. Mrs B ordered a cappuccino, and I ordered a black coffee with just a dash of milk (I recently found out I am lactose intolerant).
Once the seatbelt sign switched off our coffees were promptly delivered, the lovely hostess brought me a small jug of milk so I could make sure I was happy with how much milk was in the coffee. The cappuccino looked a little sad but tasted ok apparently.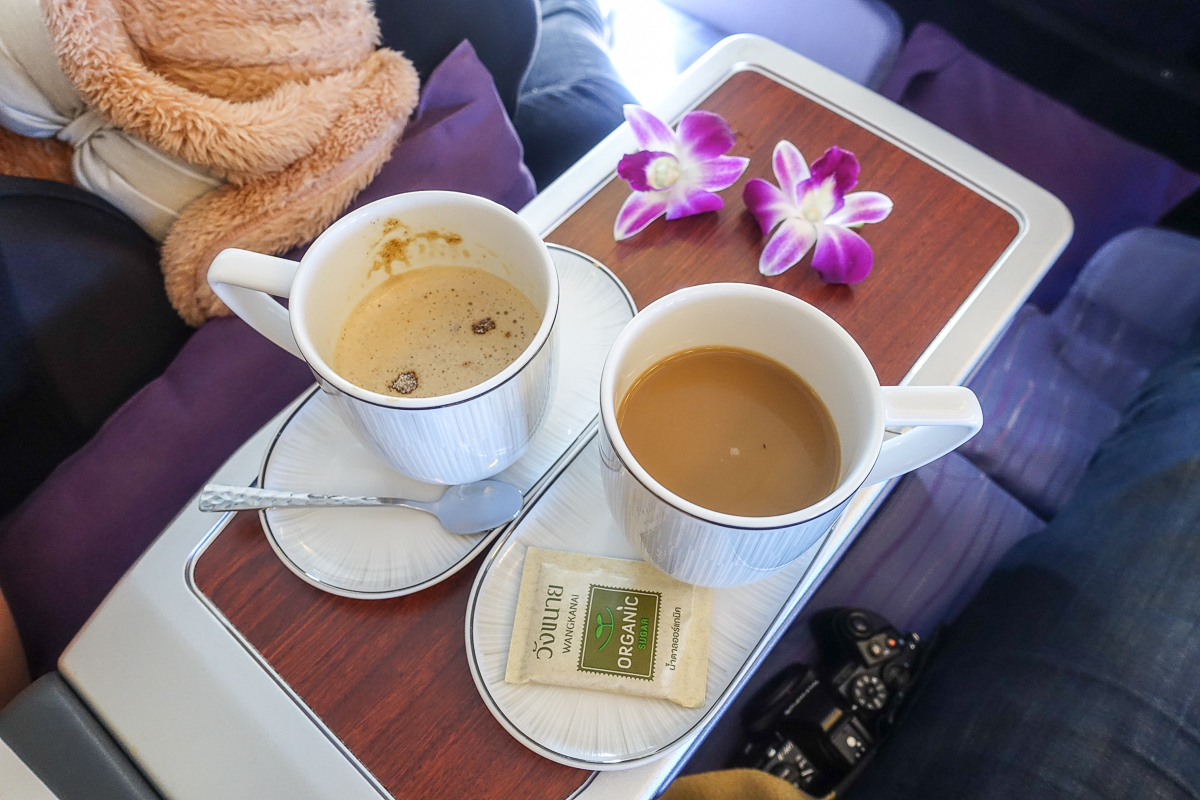 I found it slightly odd that for a 10 am departure they were serving lunch rather than breakfast, but it probably worked out for the better as aeroplane breakfasts are never that great. The menu offered three choices for lunch, a Samrab Thai, Western and Japanese option. I wanted to go with the Samrab Thai option, however, after my 'enlightening' experience with a ridiculously spicy curry on a Thai Airways flight from Frankfurt to Bangkok, I was a little nervous. But in the end, I decided to give it a go and we both ordered the Samrab Thai option, whats the worst that could happen. If you are curious, you can read about the crazy spicy curry incident here.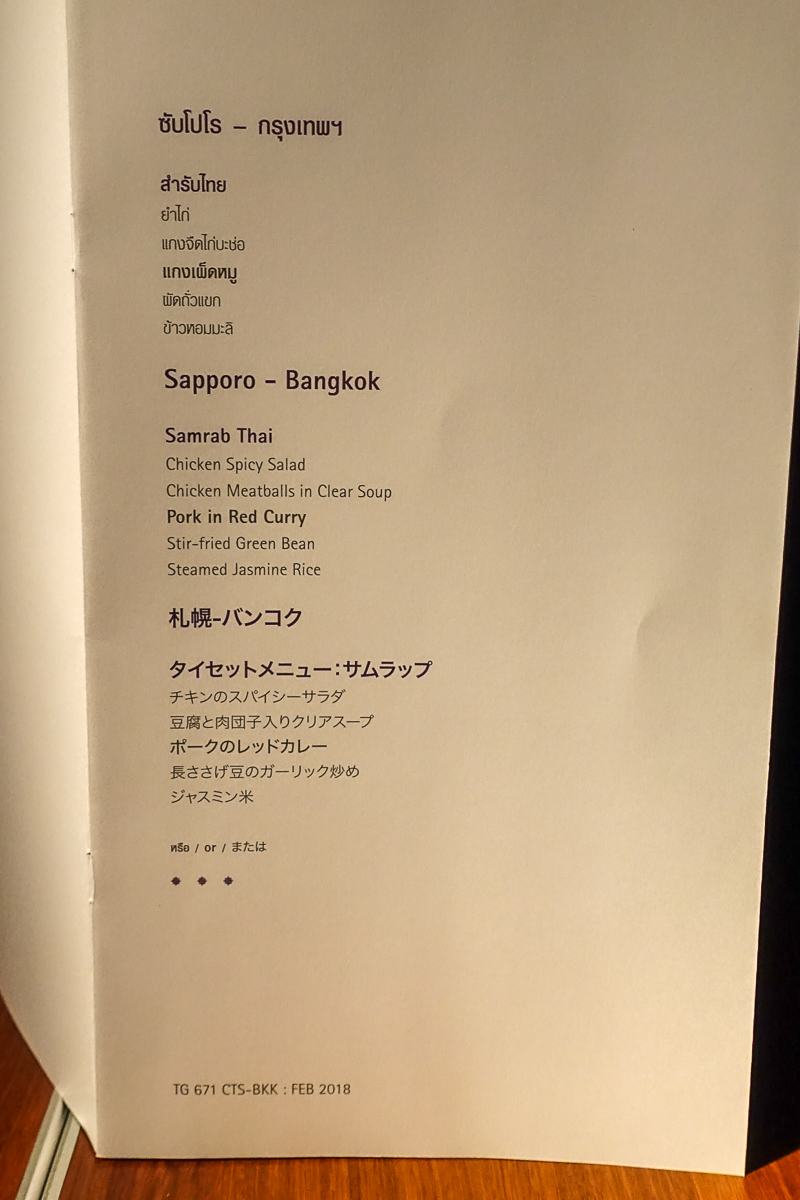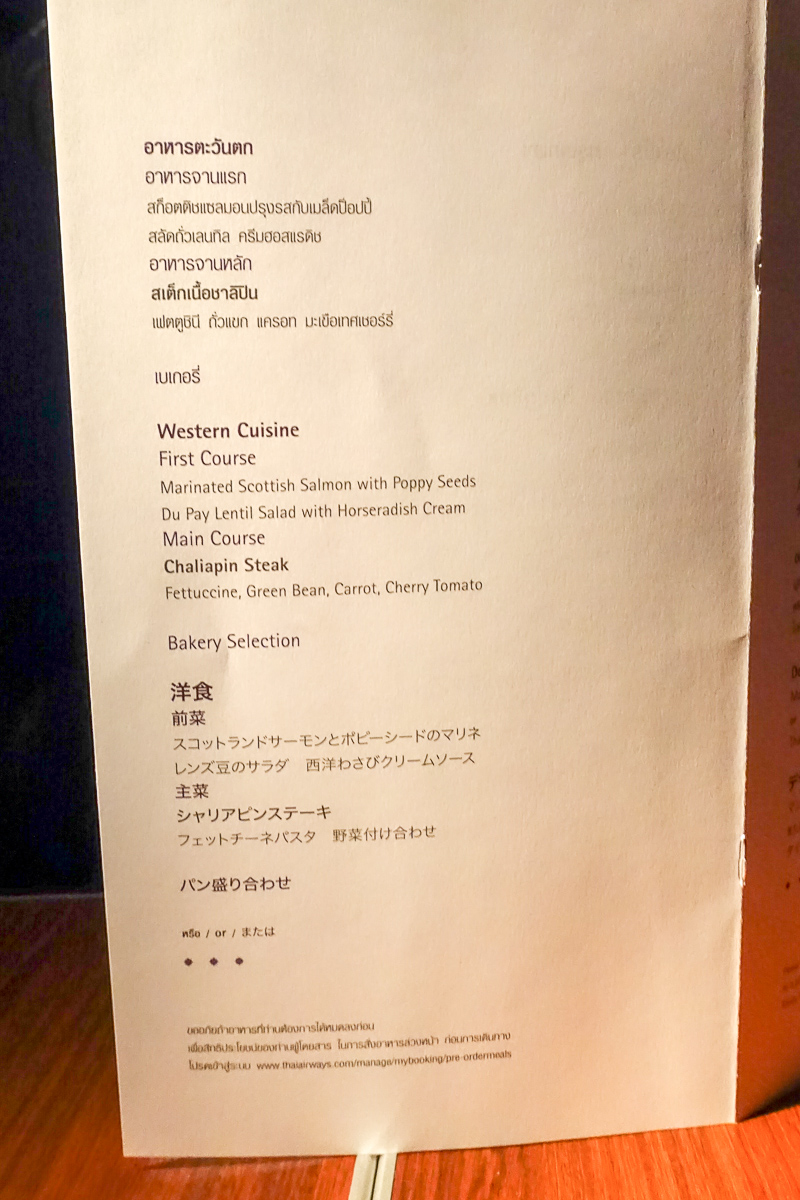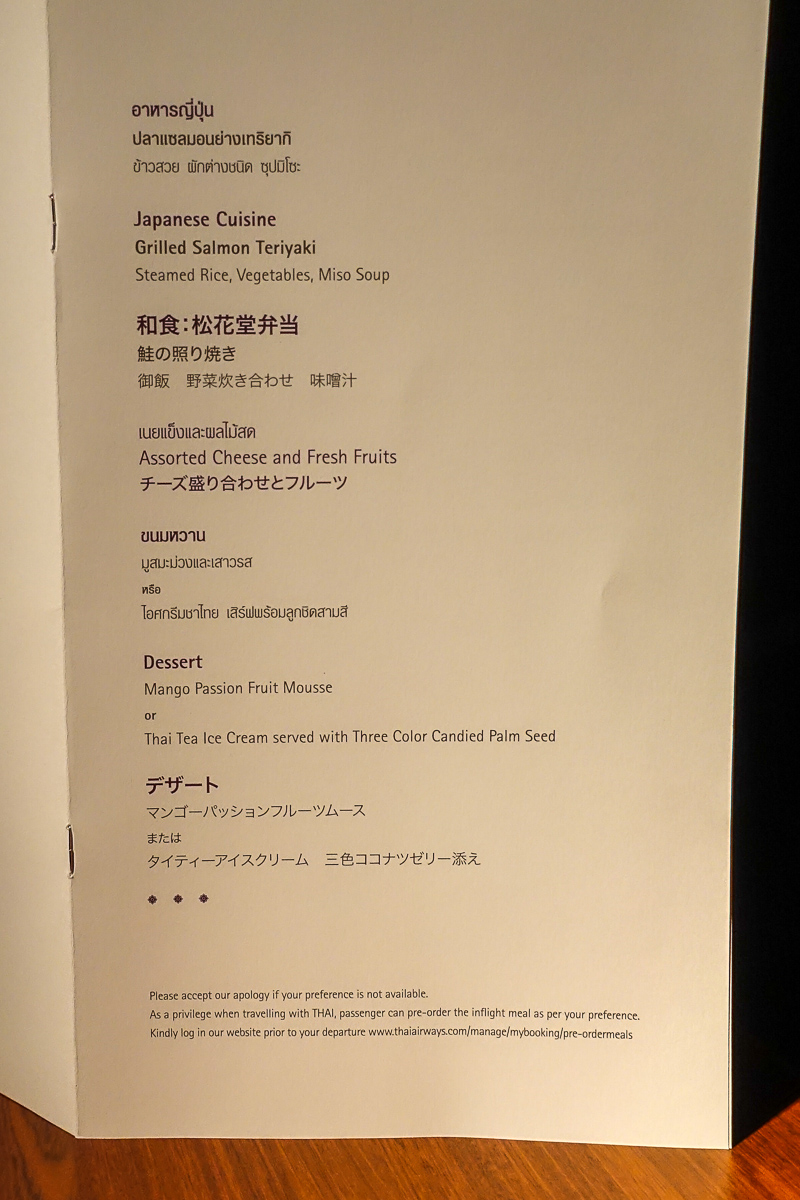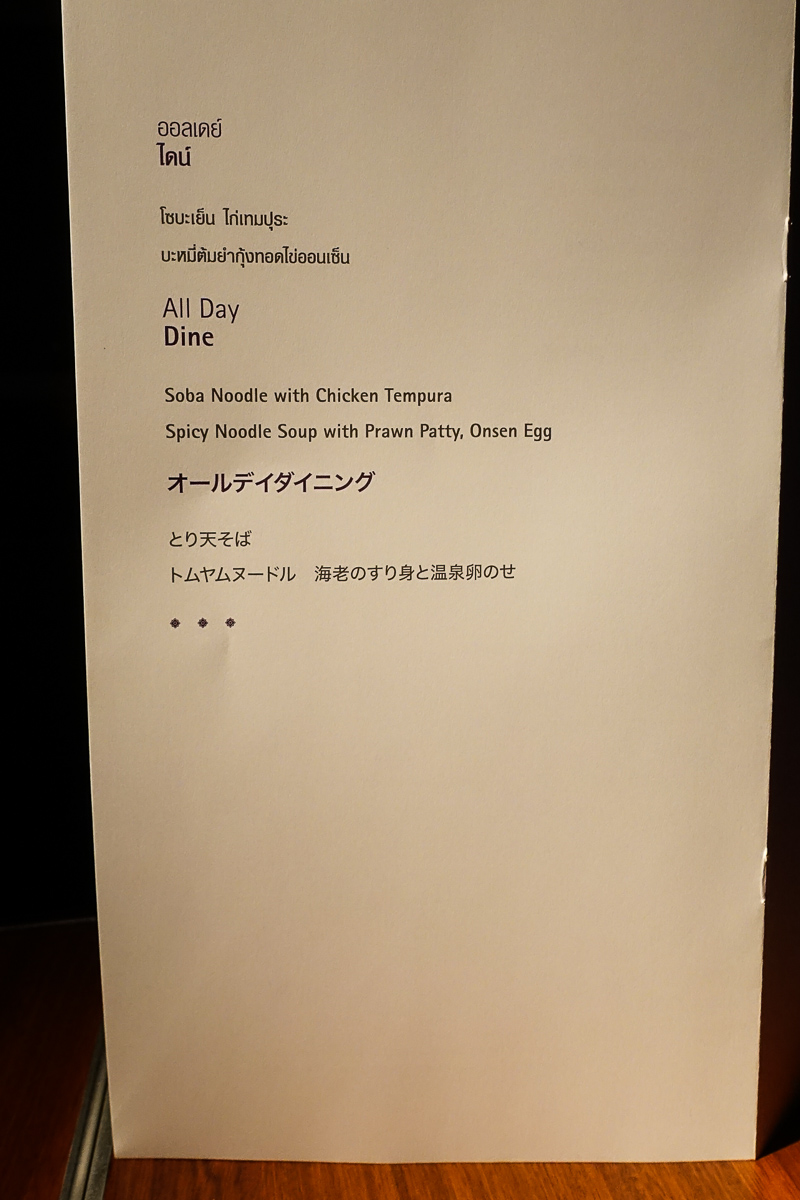 And then the drink menu was pretty much the same as our previous flights.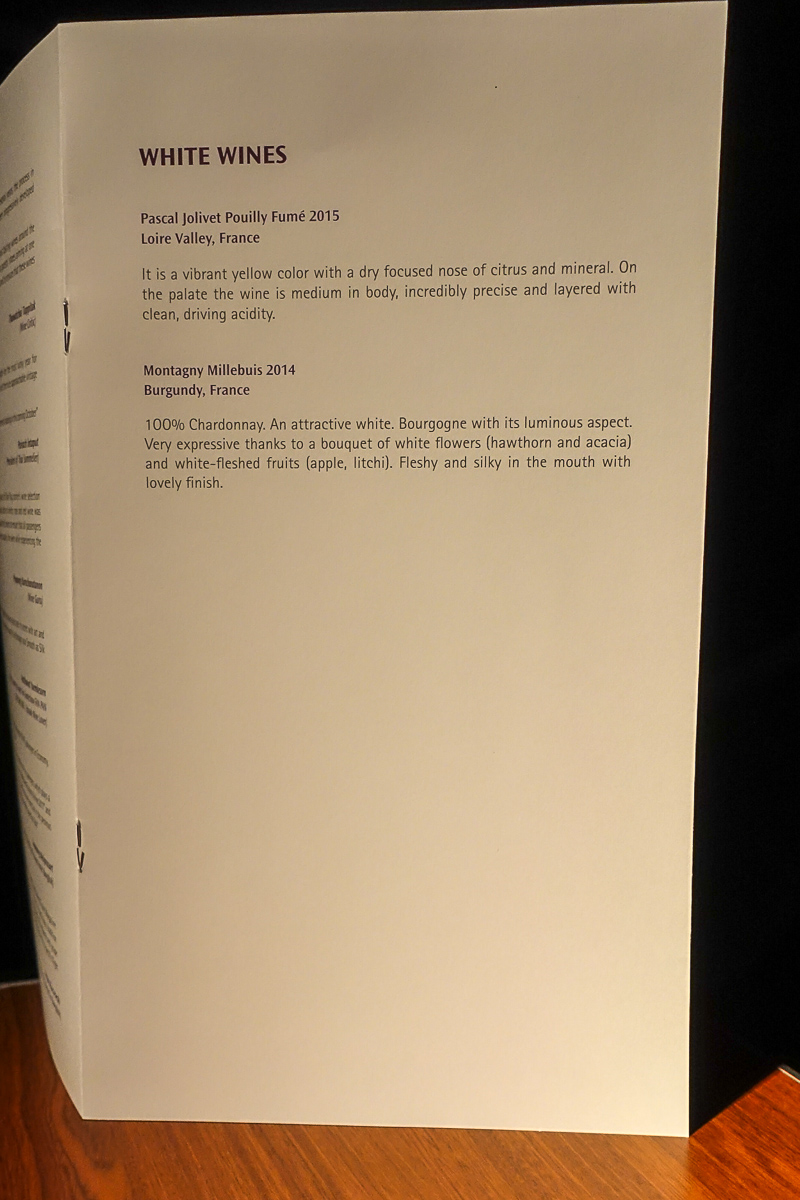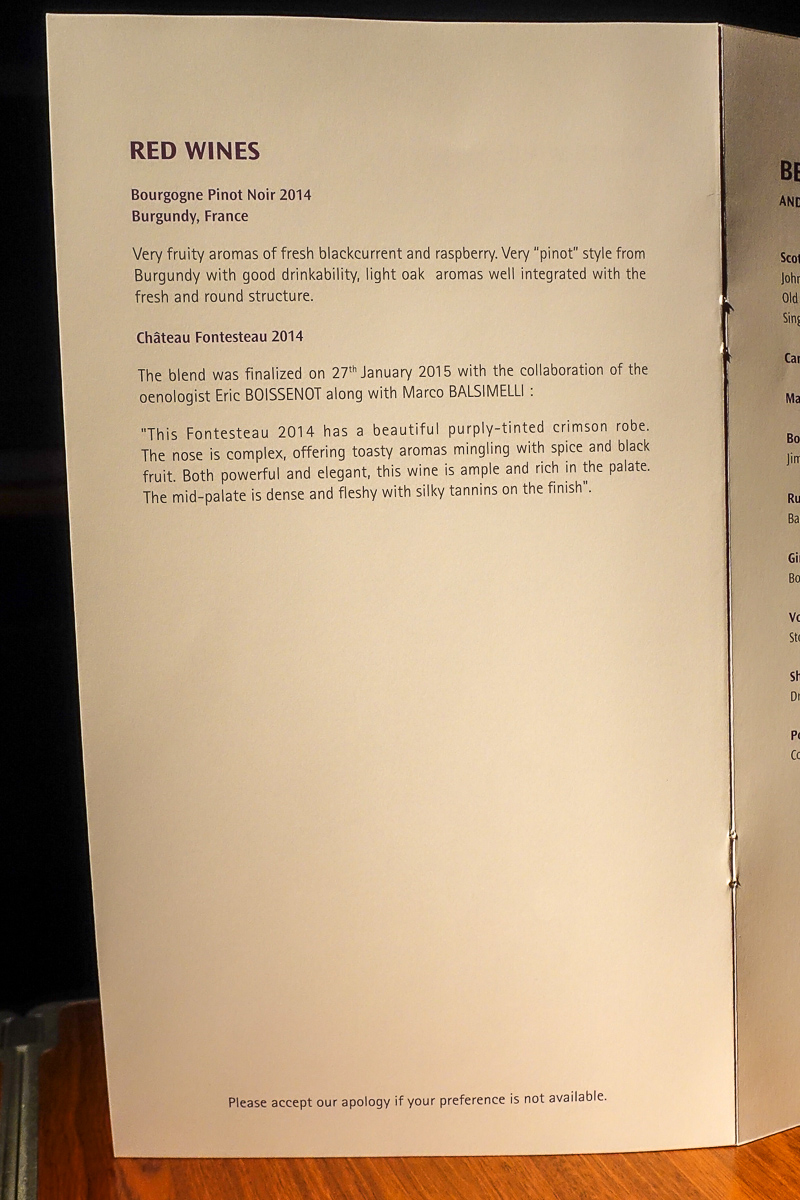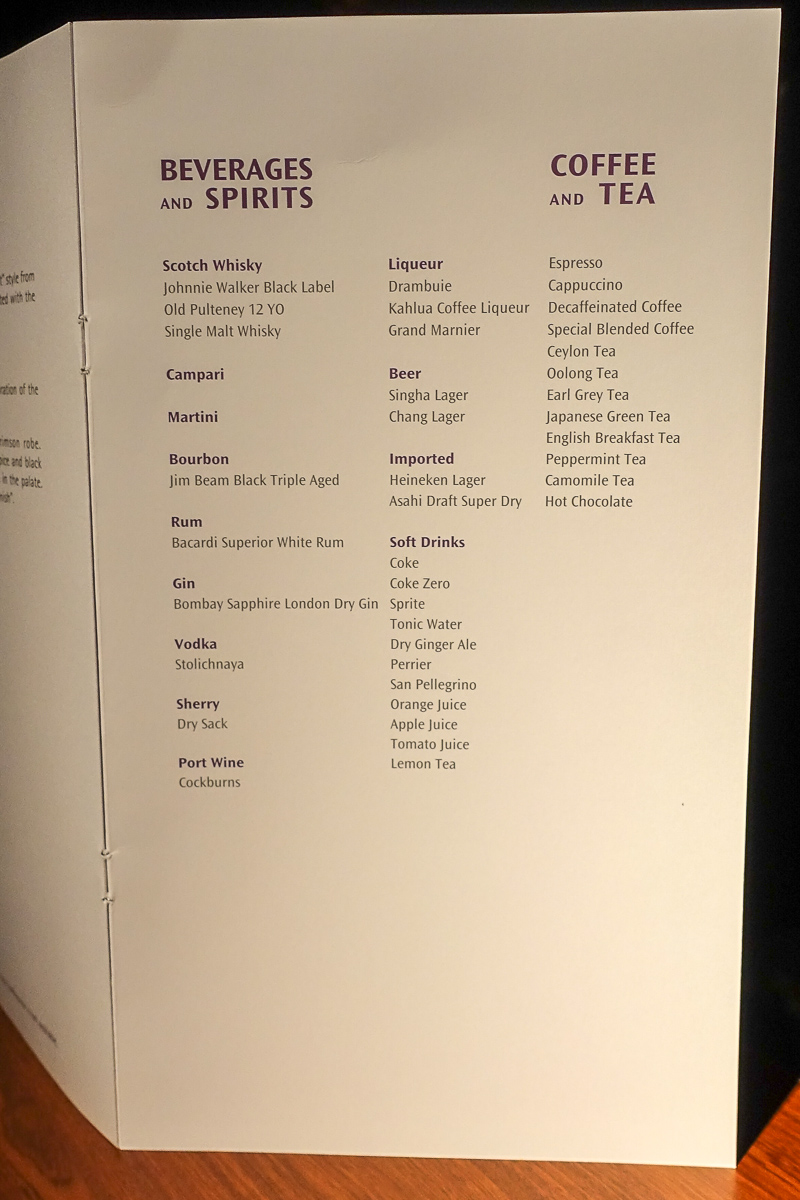 About 30mins later lunch was served, by this time Mrs B had fallen asleep. The hostess asked me if I wanted to wake Mrs B up for lunch, however, I knew better than this and suggested she would prefer to stay asleep. My lunch was served and as I had had a coffee post take off it was suggested that I may want a beer or wine to go with lunch. I felt it would be rude to say no so got a beer ;)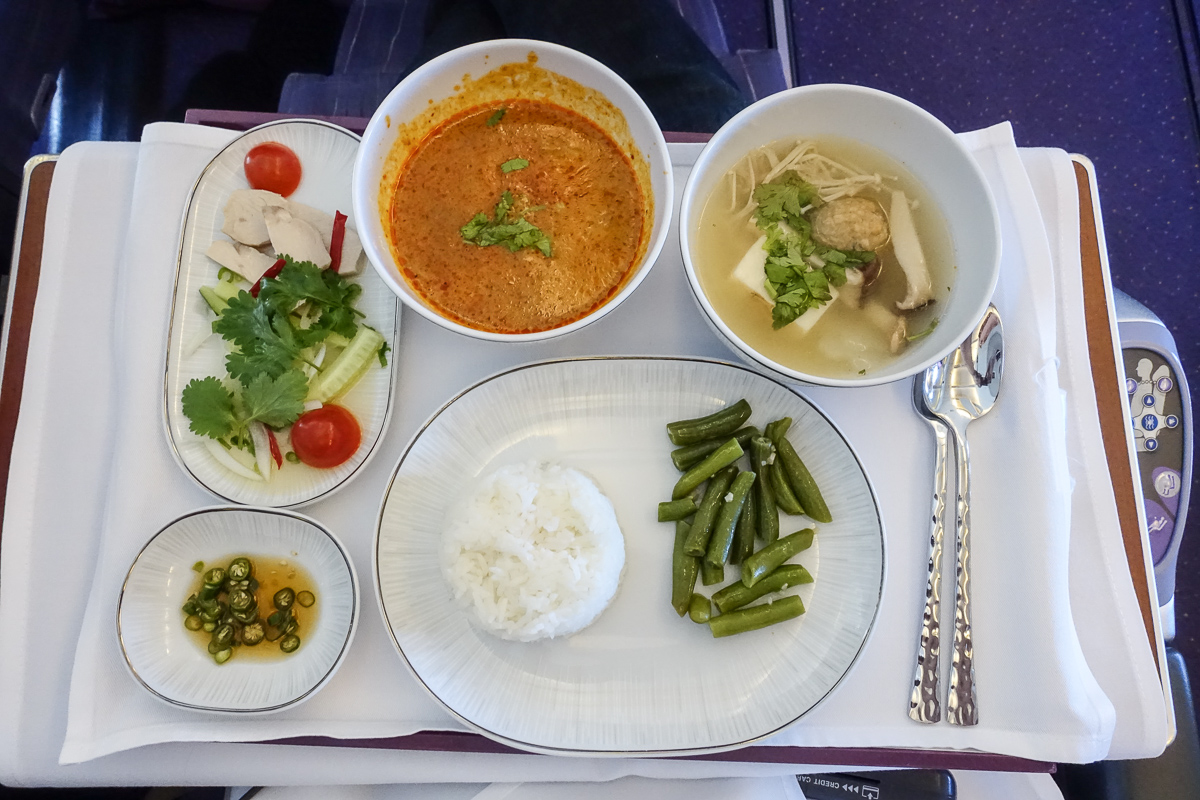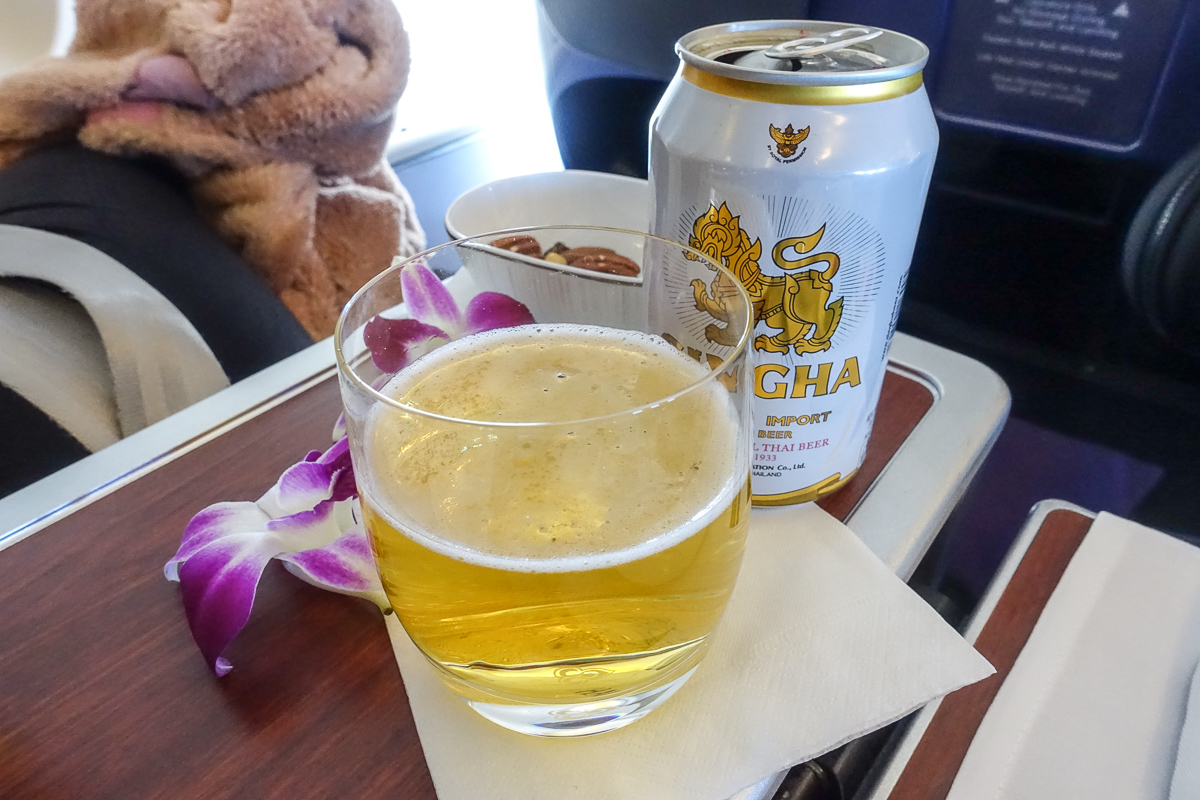 The Samrab Thai meal was delicious, the red curry was spicy and packed with flavour. I tend to find curries and stir-fry dishes on planes to often be a good choice. I was quite full at this stage so skipped the fruit and dessert.
After dinner, I explored the in-flight entertainment system, despite having a slightly smaller screen it was basically identical to the system on our previous 747 flight. I settled in to watch a movie and ordered another beer.
About an hour later Mrs B woke up and the cabin crew must have noticed her light turn on as they came and offered her lunch almost immediately. Mrs B also enjoyed the meal and followed it up with the Thai ice cream dessert, which if nothing else looked impressive!
After my movie finished, I wasn't feeling inspired to do any work so instead put on another movie and ordered a coffee to keep me going as I was trying to stay awake on this flight and sleep on the next one. I decided to check out the all-day dining menu and ordered the soba noodles with tempura chicken. The dish wasn't what I expected as it was served cold, however it was quite tasty and a good snack.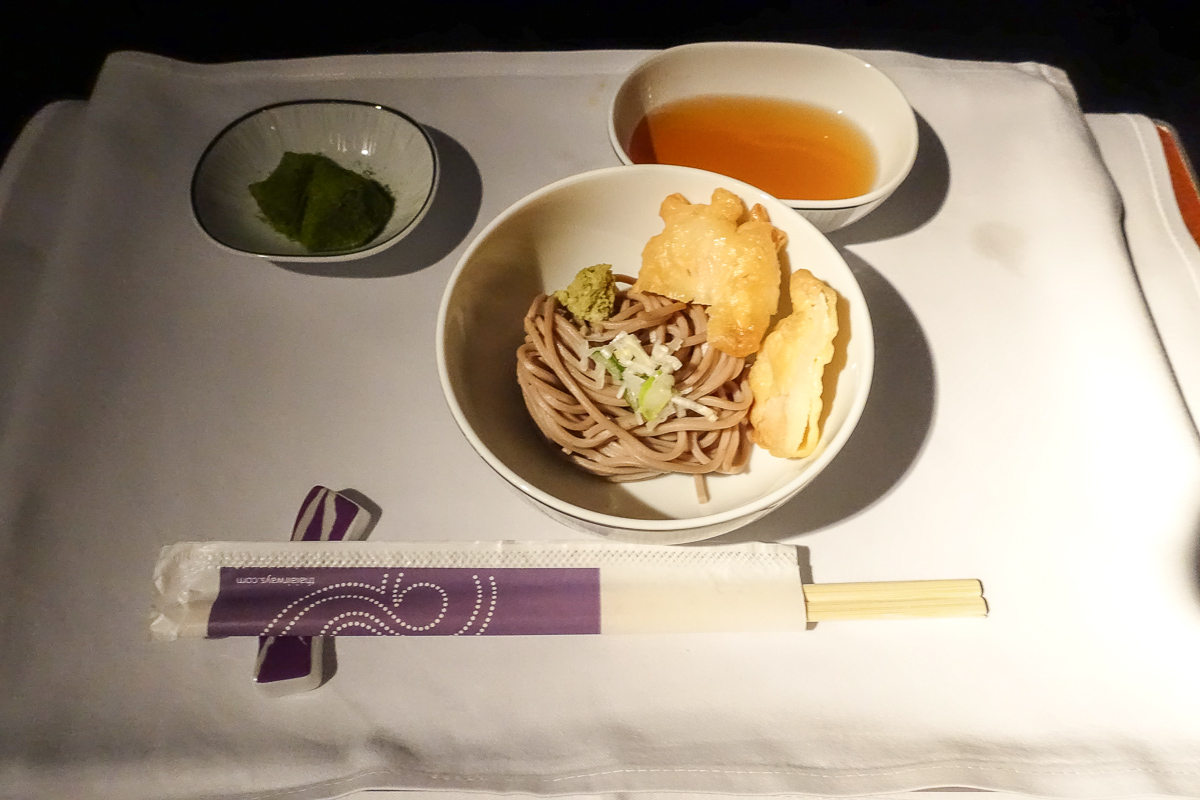 My second movie finished and we were 2 hours out from arrival. As Mrs B hadn't ordered a second meal one of the crew came around to check if she was hungry to ensure she would have enough time to eat before we began our descent into Bangkok. Shortly after this, we began our descent before I knew it we were on the ground in Bangkok. I find BKK an odd airport, you often end up at a remote stand and have to bus it between the terminal and plane. In this particular case we pulled up at a gate, but then upon exiting the plane were ushered downstairs to awaiting buses to be transferred to another part of the terminal, I am still not quite sure why. Thankfully we landed 15 minutes early so we headed straight for the Thai Airways Spa and managed to get in straight away for our 30-minute complimentary massage.
Overall Impression
The crew on this flight were great, they were attentive and seemed to constantly be checking if anyone needed anything. In general, I actually found the older seat slight more comfortable to lounge in compared to the seats on the newer 747, but only marginally and I suspect it wouldn't be that comfortable to sleep on for any length of time.