Table of Contents
Introduction: Skiing and Sightseeing in Japan
Review: Air New Zealand Sydney Lounge
Review: Thai Airways 747 Business Class Sydney to Bangkok
Review: Thai Airways Bangkok Lounge & Spa
Review: Thai Airways 777 Business Class Bangkok to Tokyo
Travel: Exploring Tokyo in the Snow
Review: Japan Airlines $10 Class J Upgrade
Travel: Exploring Niseko
Review: Sapporo New Chitose Royal Lounge
Review: Thai Airways Business Class Sapporo to Bangkok
Review: Thai Airways 747 Business Class Bangkok to Sydney

JAL's domestic Business class is branded Class J and if purchased in advance will only cost you ~$10 above a normal Economy ticket. The domestic 777's also offer First class but it was a significant step up in cost. So I decided to fork out the extra $10 and give it a try.
When you go to book JAL flights directly on jal.co.jp you will see that for most cases Class J is only 1,000 yen more than the Economy ticket.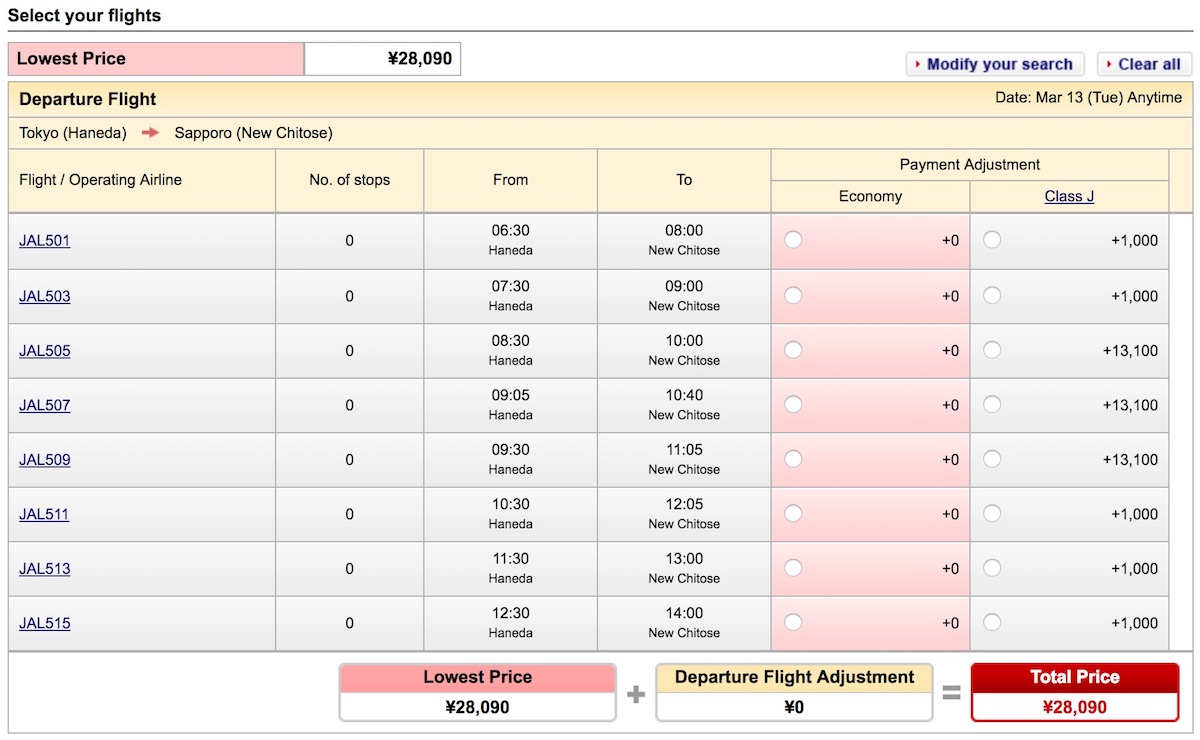 Our flight was departing Haneda airport at 11:30 am for Sapporo. We decided that we would catch a taxi to the airport after the fun we had navigating the subway with our suitcases on arrival. We arrived at Haneda airport nice and early at 9:45 as there was very little traffic.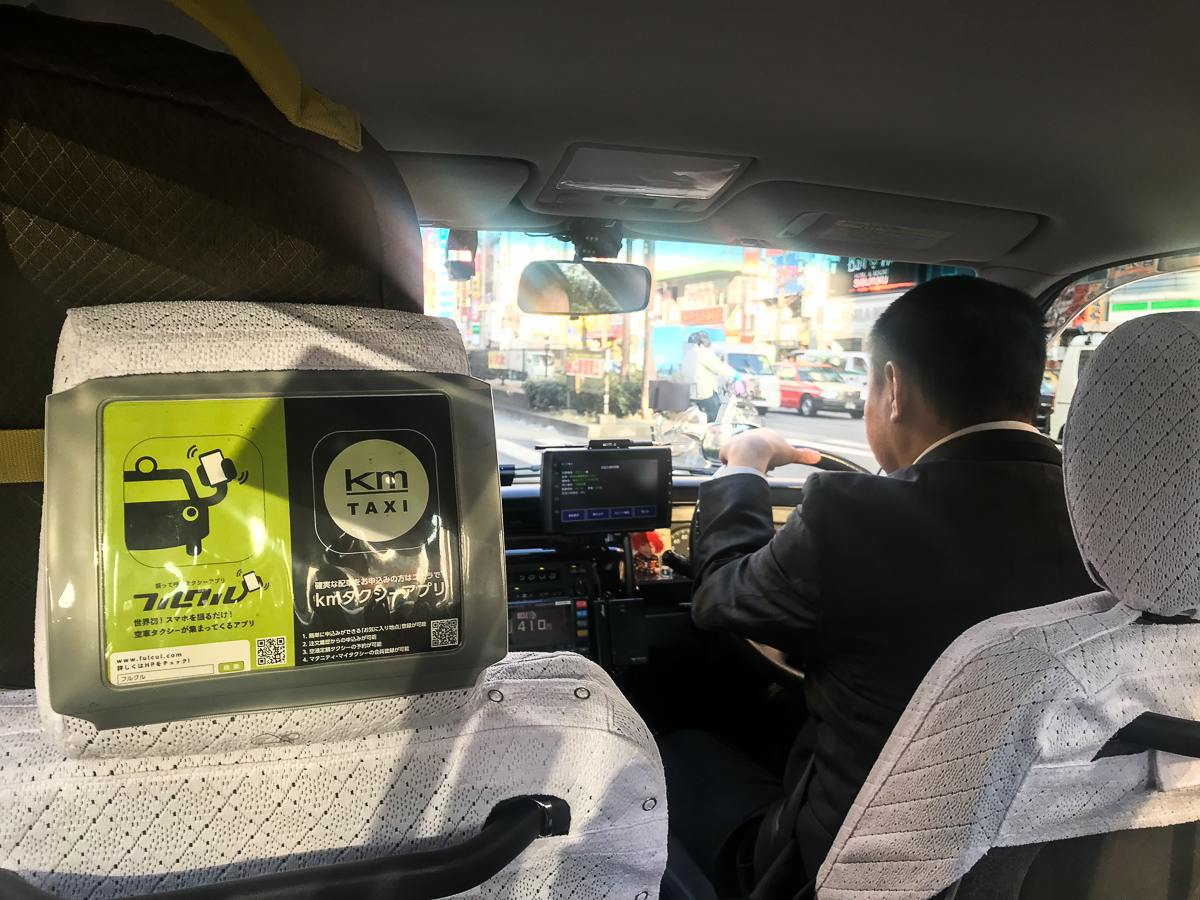 After checking in and making our way through security, we found a table in the food court to grab something to eat and drink. Despite Class J being JAL's domestic Business class, you do not get any lounge access included with the ticket. You need to either have Oneworld status or be flying domestic First class to get into the lounge.
We made our way to the gate 10 minutes before scheduled boarding time and were informed that the boarding was delayed 15 minutes. Once boarding opened we made our way down the jet bridge I was surprised to see that they were using both doors on the 777-200 and First Class and Class J were boarded through the front door while Economy boarded through door 2.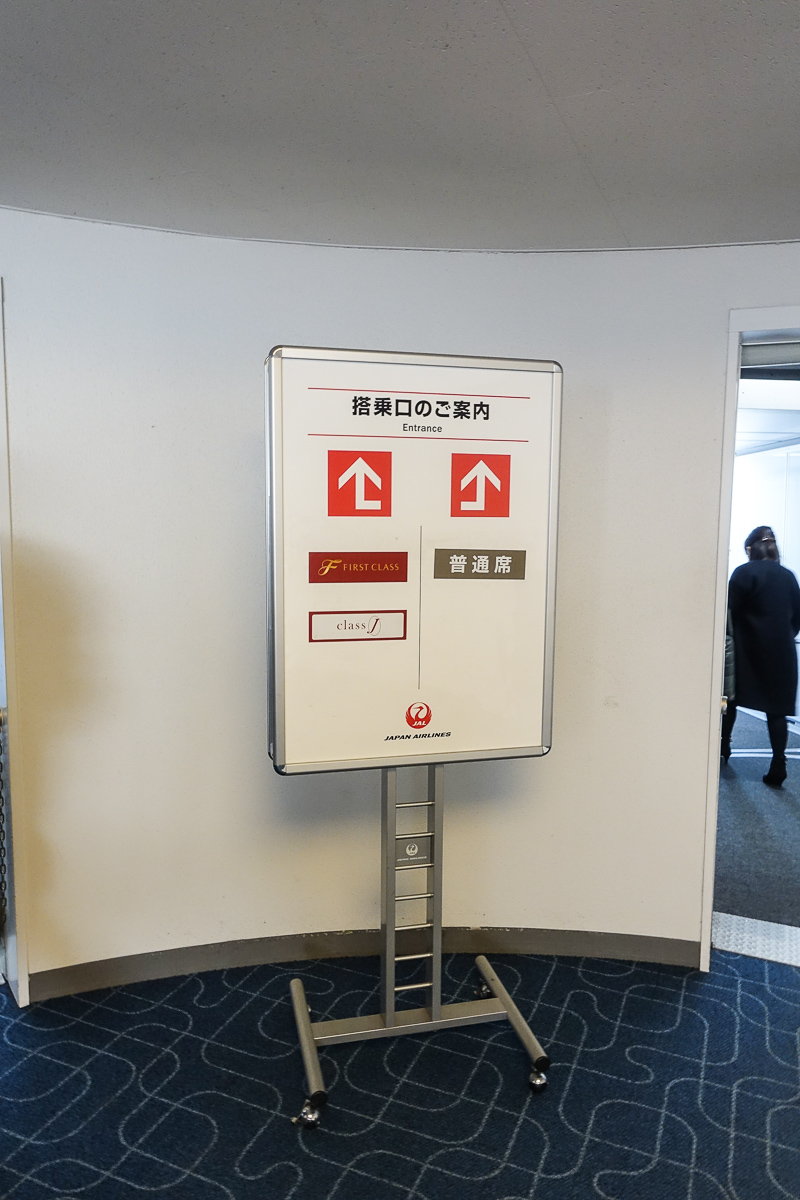 Another trick I discovered while researching Japan Airlines is that they have fixed cost on-departure upgrades. So if seats are available in Class J or First class upon checking you can pay a fixed cost (8,000 yen for Class J to First Class) to upgrade despite what ticket you originally purchased. As this was a short flight I decided to be well behaved and not ask for an upgrade at check-in, but I did check out the First Class seats as we boarded. They looked very comfortable and spacious for an hour-long domestic flight!
JAL Domestic First Class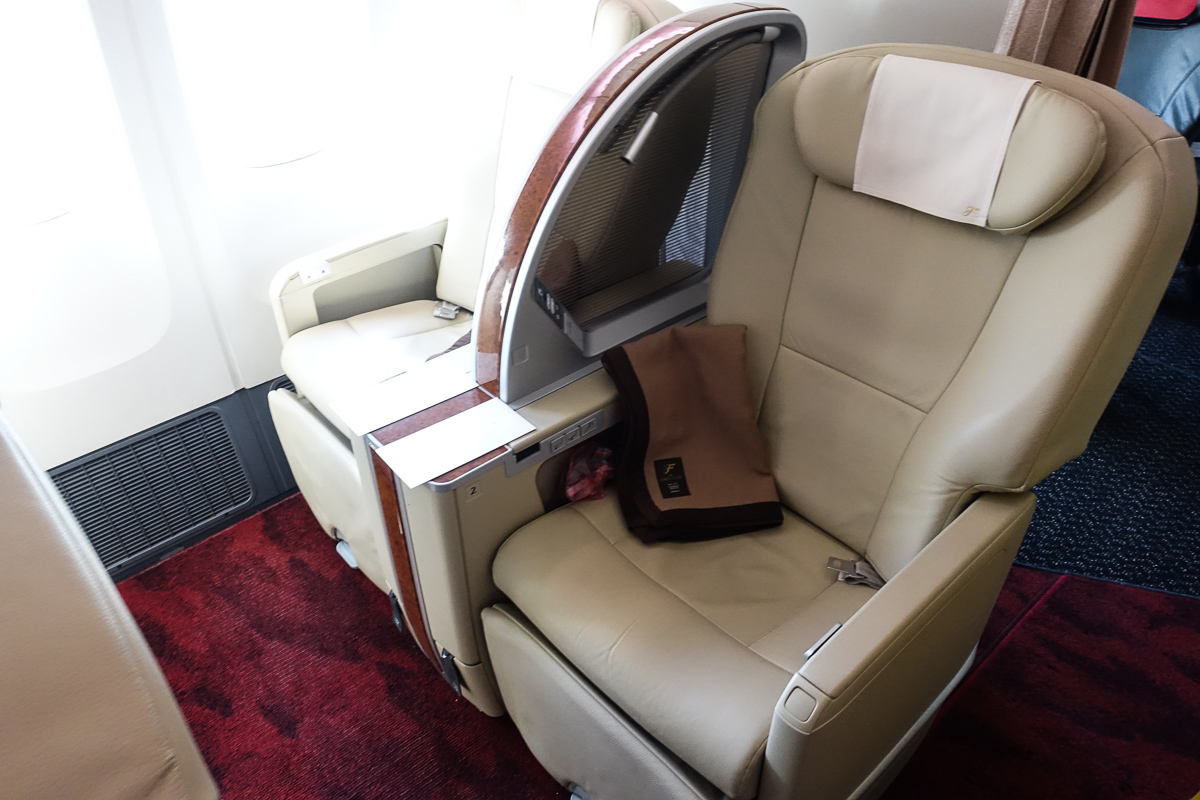 JAL Class J on the 777 is a 2-4-2 configuration compared to the 3-4-3 configuration in Economy and provides significantly more pitch and recline than Economy. I would say from a seat perspective it is very similar to a Domestic short-haul business class seat in Australia.
We found our seats and got settled in, I had selected 13H and 13K which are located in the second Class J cabin.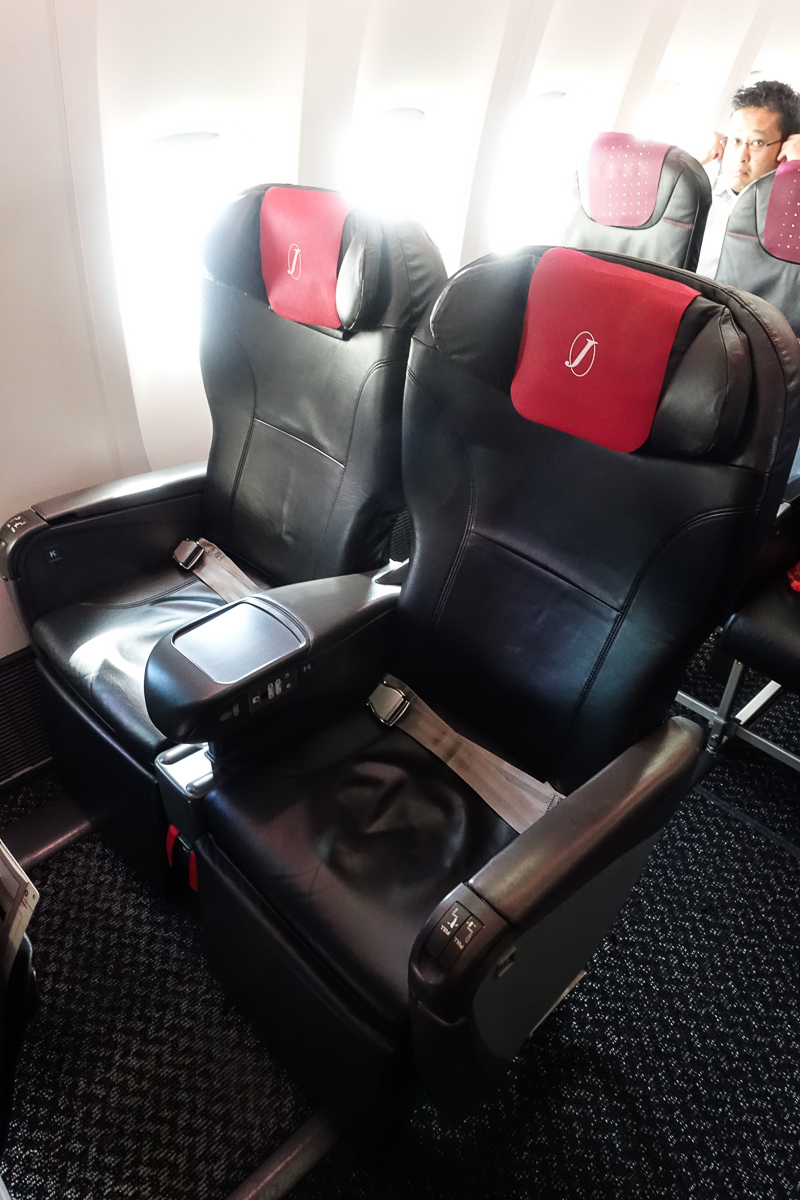 The seats were very comfortable and had plenty of leg room with a seat pitch of 38".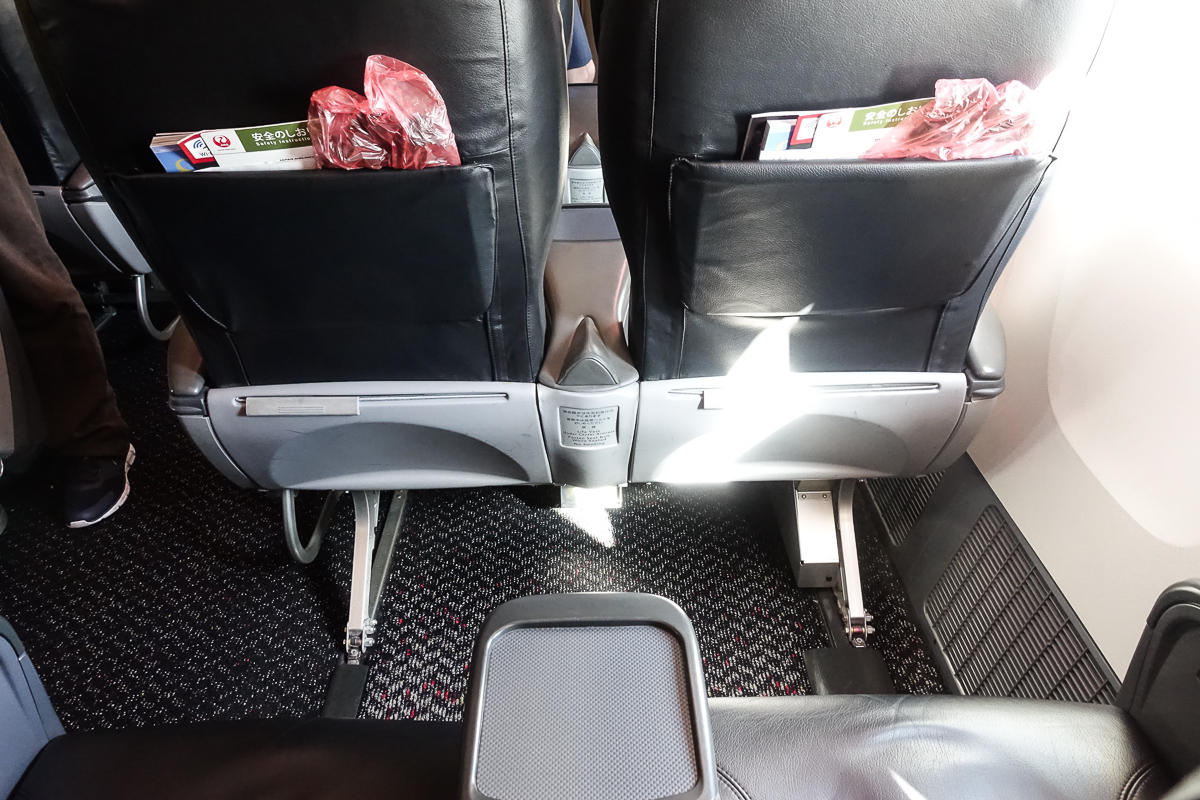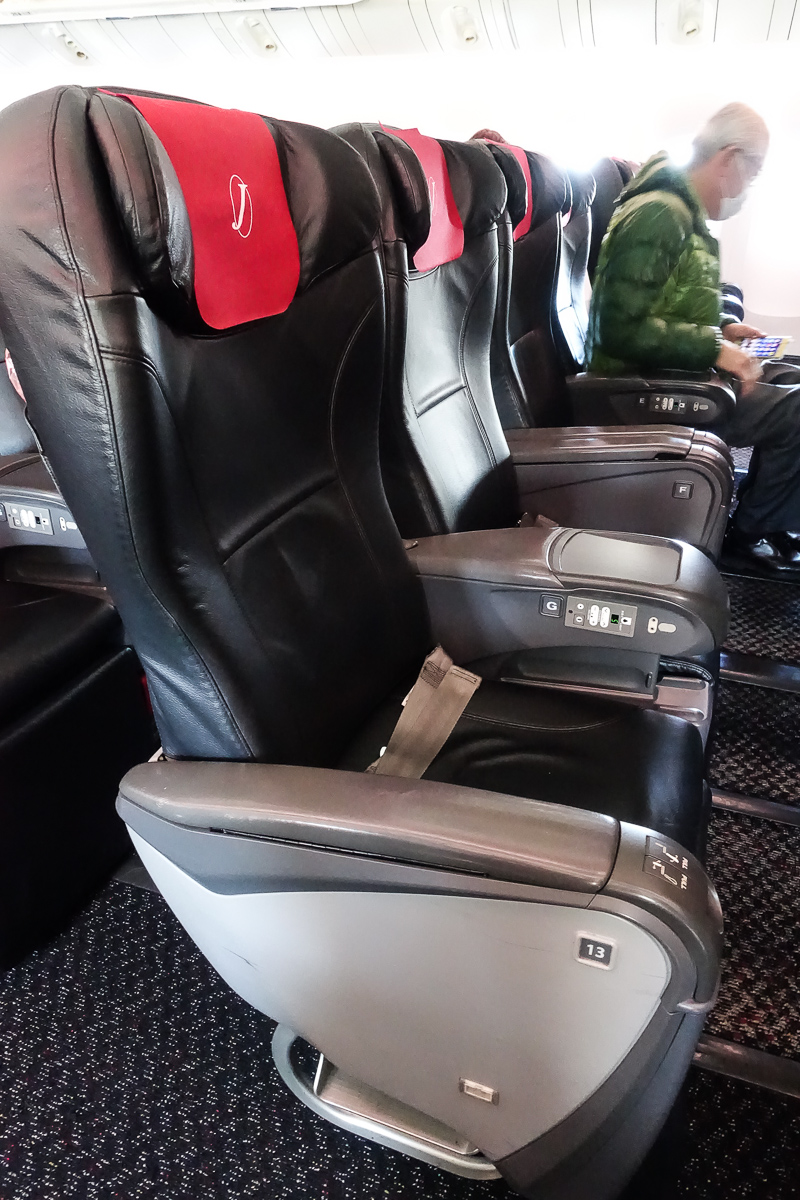 It was quite a full flight and boarding took a little while, during boarding a flight attendant came around and offered blankets and pillows. Class J essentially has the same level of service as Economy, so you get a basic drinks cart but no hot meal of pre-departure beverage that you get in First class.
The doors finally closed and we began our taxi, I loved that they put the nose camera up on the shared TV screens :)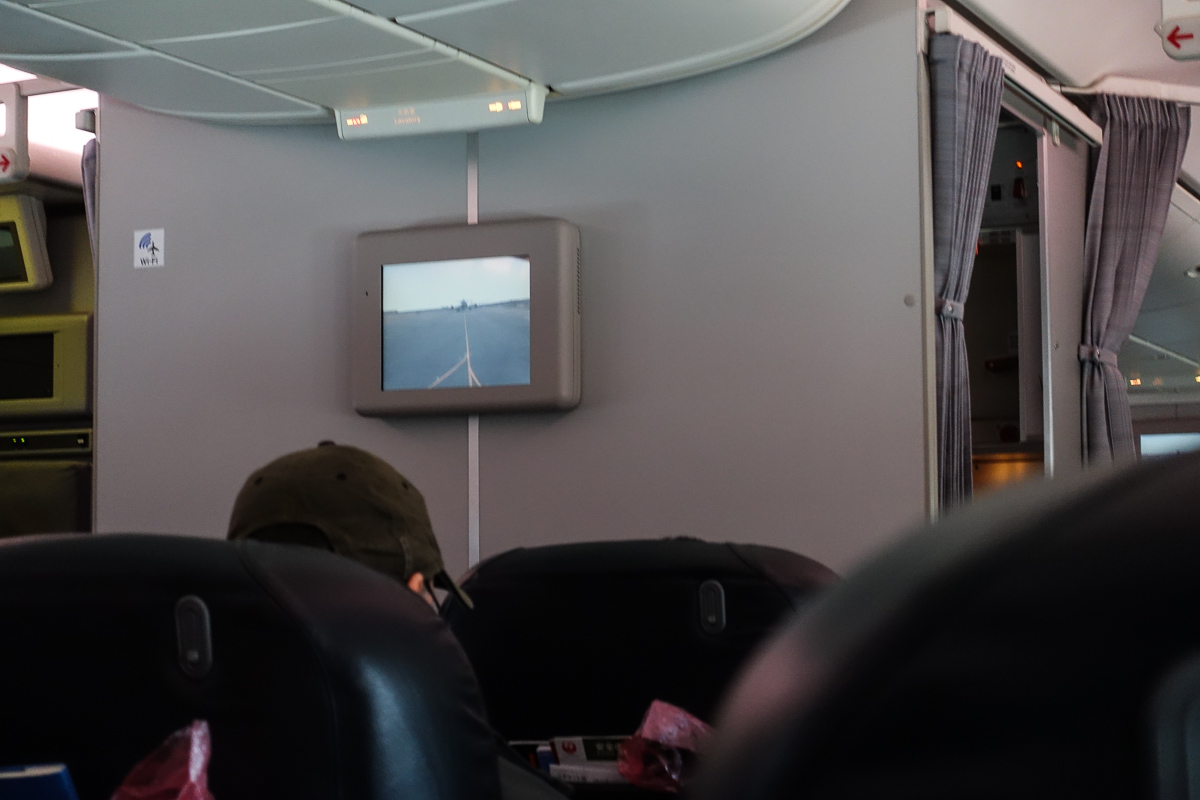 Shortly after takeoff there was a beverage service with complimentary tea, coffee, water and juice. By this time, Mrs B had nodded off and I was impressed that rather than simply ignoring her they stuck a little sticker on the back of the seat in front saying "If you have any requests, please feel free to call the cabin attendants". I thought this was a nice touch.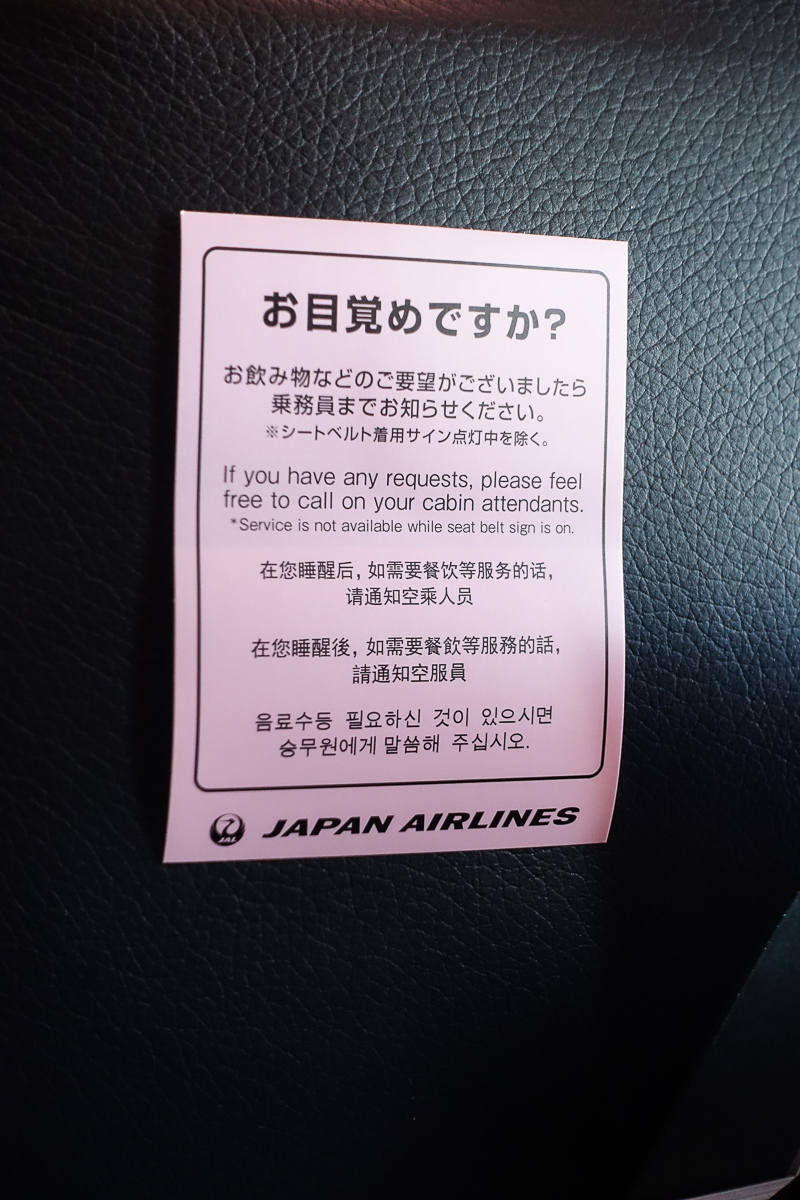 Overall Impression
Japan Airlines Class J is really just a slight more comfortable seat with extra legroom, but for 1,000 yen (~$10) it is well worth it even for a short 1-hour flight. Just don't expect a Business class level of service. After flying Class J I am very interested to see what JAL's domestic First class is like.
Subscribe to pointy end of the plane
Get the latest posts delivered right to your inbox