Review: Thai Airways 747 Business Class Sydney to Bangkok
Boarding was scheduled for 3:30pm so we left the Air New Zealand lounge around 3:20pm as I wanted to get on the plane nice and early to take some photos before other passengers boarded. When we got to the gate it was the usual chaos before a flight boarding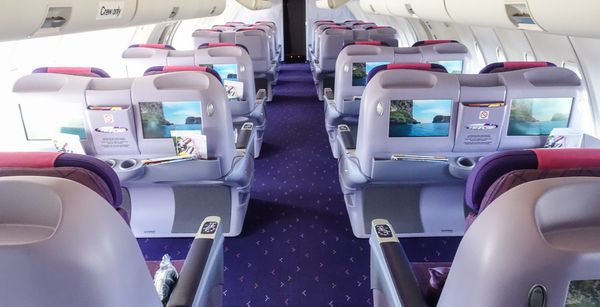 Table of Contents
Introduction: Skiing and Sightseeing in Japan
Review: Air New Zealand Sydney Lounge
Review: Thai Airways 747 Business Class Sydney to Bangkok
Review: Thai Airways Bangkok Lounge & Spa
Review: Thai Airways 777 Business Class Bangkok to Tokyo
Travel: Exploring Tokyo in the Snow
Review: Japan Airlines $10 Class J Upgrade
Travel: Exploring Niseko
Review: Sapporo New Chitose Royal Lounge
Review: Thai Airways Business Class Sapporo to Bangkok
Review: Thai Airways 747 Business Class Bangkok to Sydney

Boarding was scheduled for 3:30pm so we left the Air New Zealand lounge around 3:20pm as I wanted to get on the plane nice and early to take some photos before other passengers boarded. When we got to the gate it was the usual chaos before a flight boarding, made worse by the fact that an Etihad A380 was boarding right next door. Surprisingly no one was in line at the premium boarding queue. We joined the queue and shortly after the gate staff came over to check our passports and apologise for the short delay. Interestingly the Menzies gate agent enjoyed having a good dig at Thai Airways about always being late. It wasn't long before we were on our way down the jet bridge.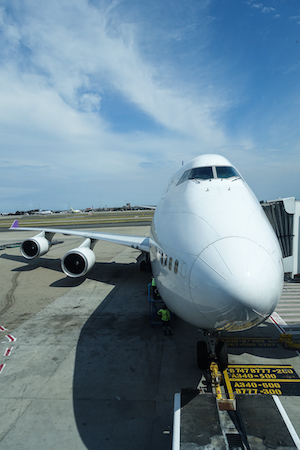 We were greeted at the door and ushered upstairs, have I mentioned before how much I love the 747 it really is the queen of the skies. I have fond memories as a child flying to New Zealand and always hoping (and no doubt asking my parents many times) that we would fly on the 'two story' plane.
We headed up the stairs and found our seats 12A and 12B. Within minutes of sitting down, Jo came over and introduced her self to us and informed us that she would be looking after us for the duration of the flight. After settling a few other guests she came back with some warm towels and asked if we would like a pre-departure beverage. It seemed rude to say no, so we agreed to a Champagne :) Thai serve non-vintage Verve Clique in business which is always an enjoyable drop.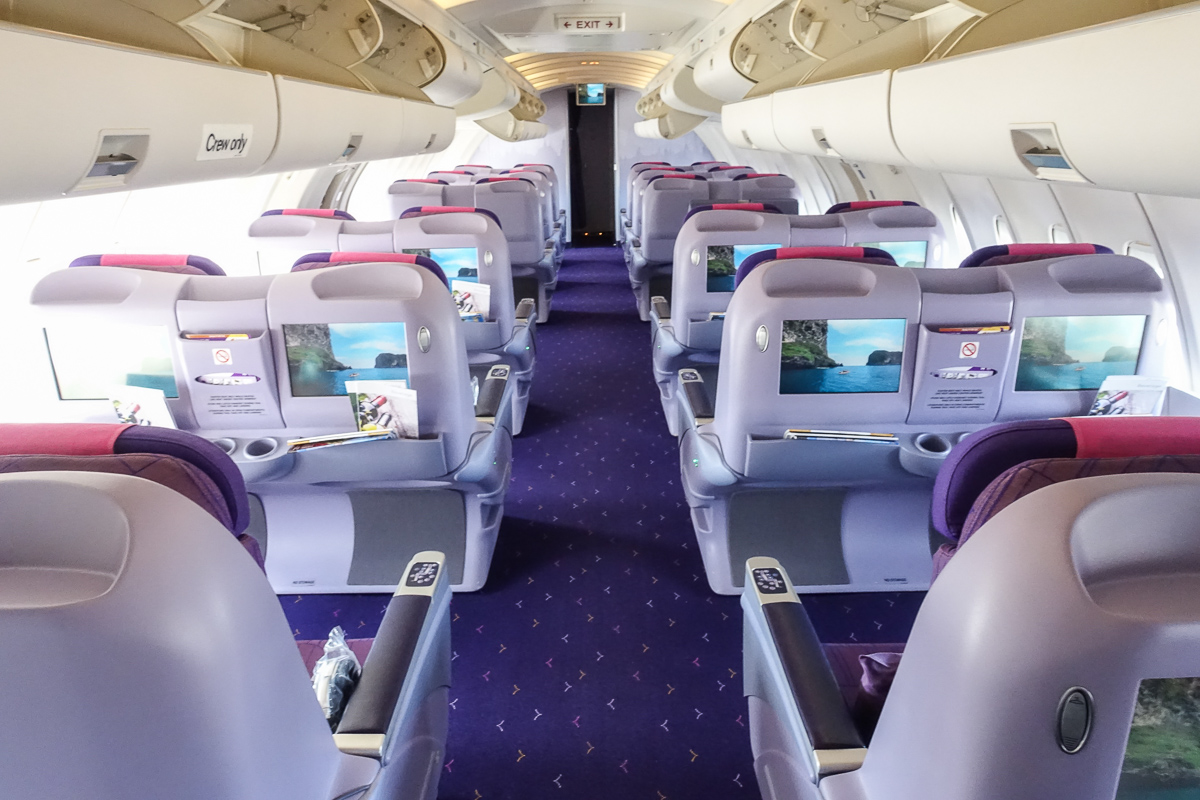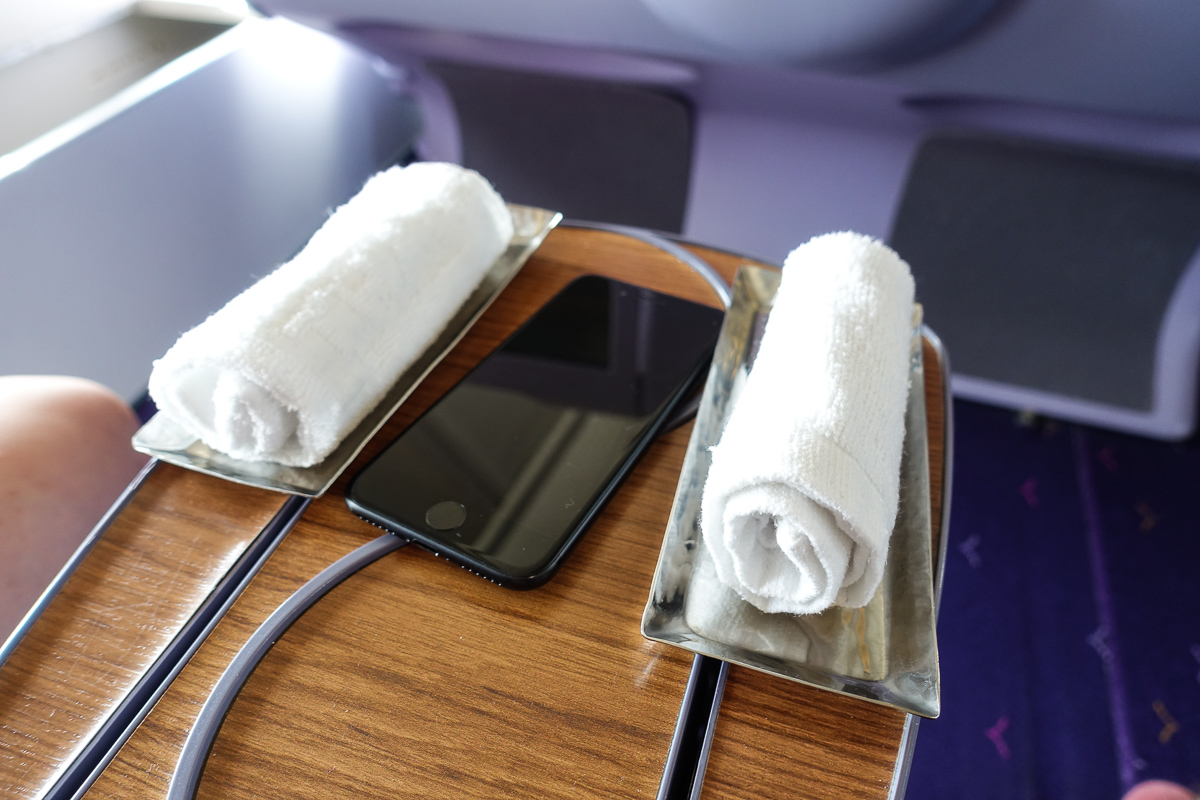 The Seat & Amenities
The business class seat on Thai Airways 747 is split across both the lower deck and the upper deck. With 14 seats downstairs in a 2-2 config and 26 seats upstairs also in a 2-2 config. The seats are certainly not revolutionary as they are only angled lie-flat without direct aisle access. Compared to a modern business class layout with every seat having direct aisle access and 180 degrees lie flat.
In saying that, for a daytime flight they are a comfy seat with stacks of leg room and have the added bonus of feeling very open and spacious compared to a pod/shell design you often see these days. The seats are in fixed shells so when the person in front reclines it doesn't encroach into your space at all and the seat pitch is just crazy at 61" so you have oodles and oodles of leg room. I am certainly not a tall guy but I couldn't touch the seat in front of me with my feet.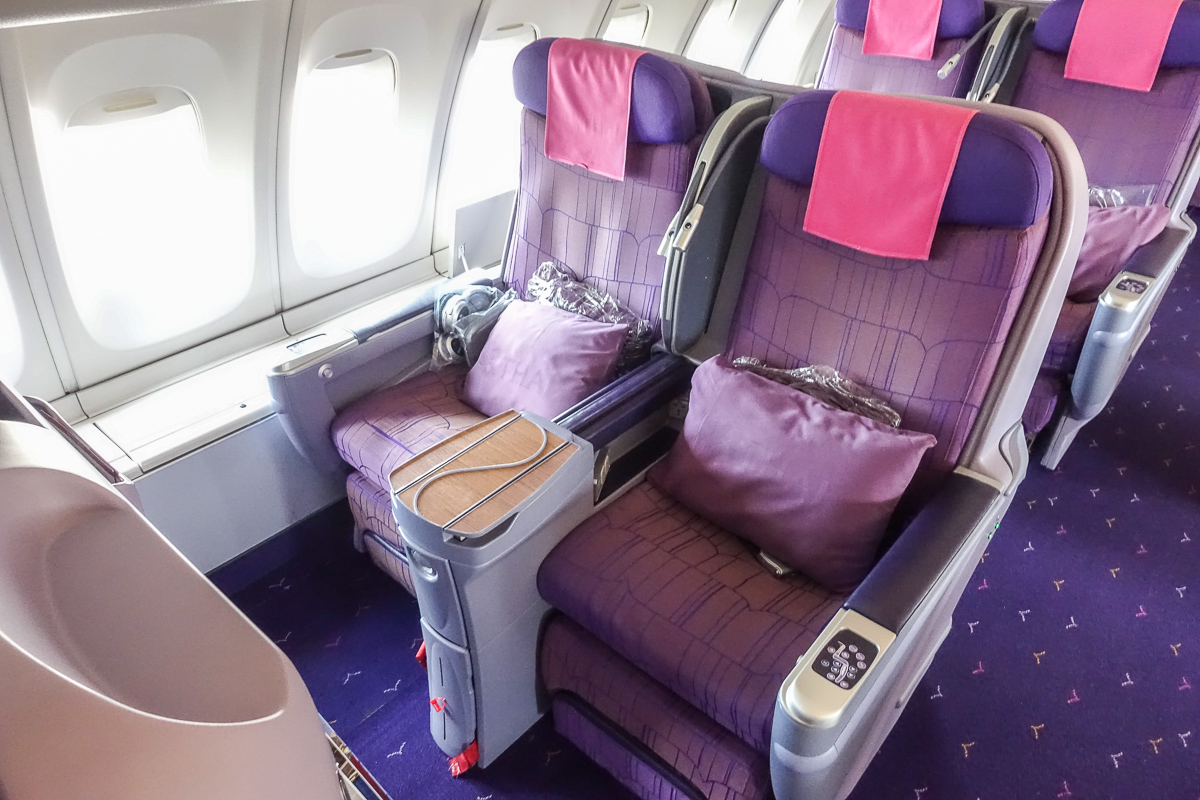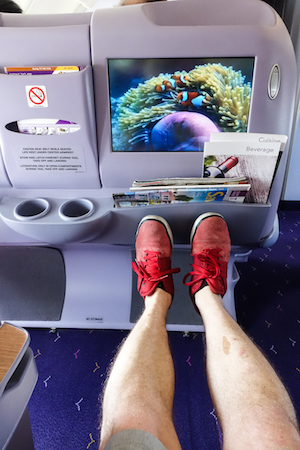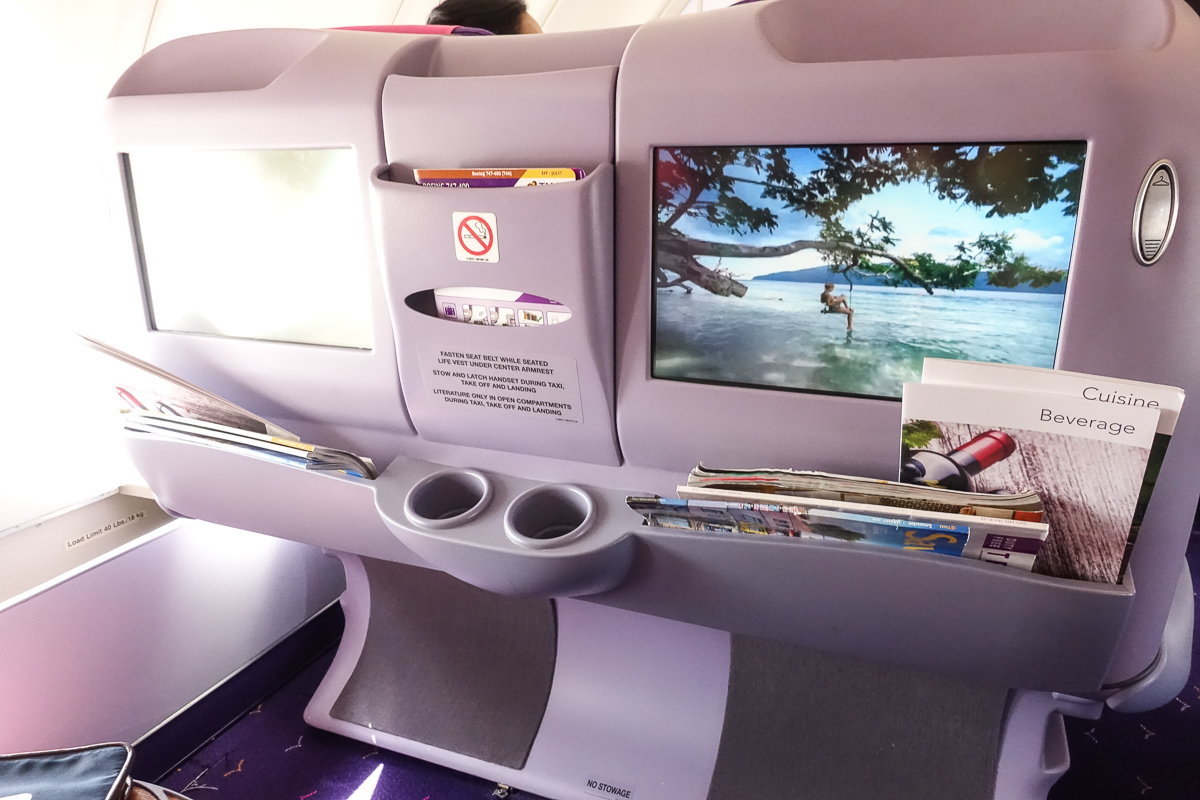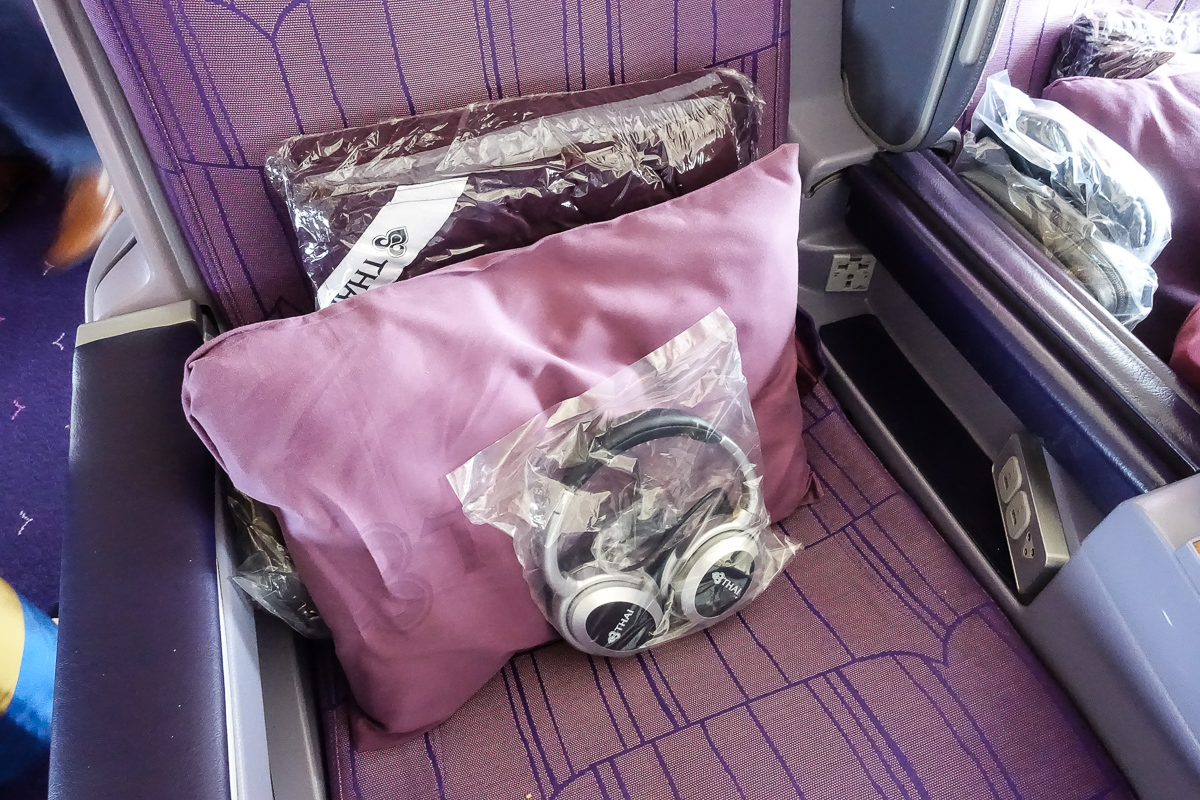 The seat controls are on the side and include a massage function and adjustable lumbar support.
Recline the seat into bed mode gives you a long flat surface to lie on but it is at a slight angle rather than being at 180 degrees. It wouldn't be the best bed in the sky to get a solid sleep on, but it isn't too bad. There is a footrest that folds down that you can put your feet against to stop you sliding down the bed. It will be interesting to see how we go getting sleep on our return overnight flight.
If I was going to be picky and complain about elements of the seat other than the fact that is is not lie-flat and doesn't have direct aisle access, then it would be that it doesn't have much accessible storage. If you are sitting in the window seat you have a fantastic storage area under the windows. However, in the actual seat itself, there are basically no pockets to store a camera or mobile phone for example.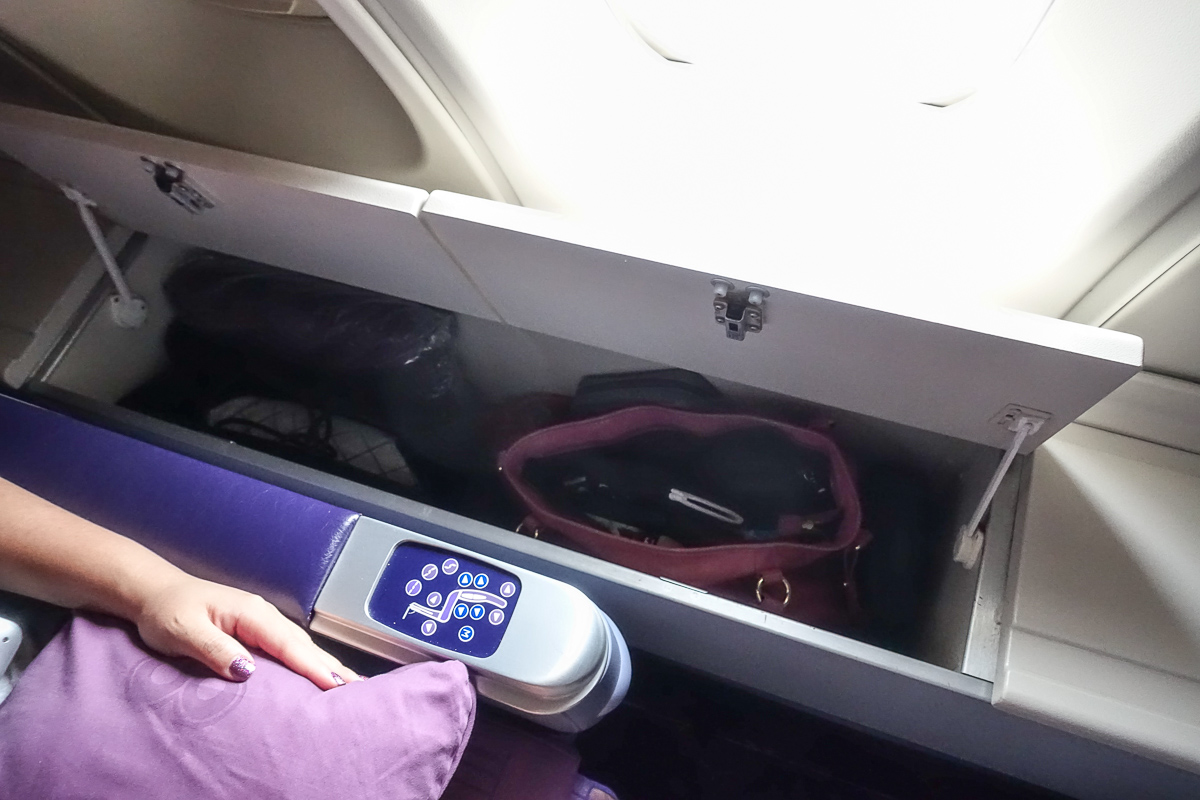 Thai have actually changed the amenity kit they provide in Business since the last time I flew them. The new kit is provided by Furla and contains slippers, lip balm, hand cream, toothbrush, a hairbrush, some earplugs and an eye mask.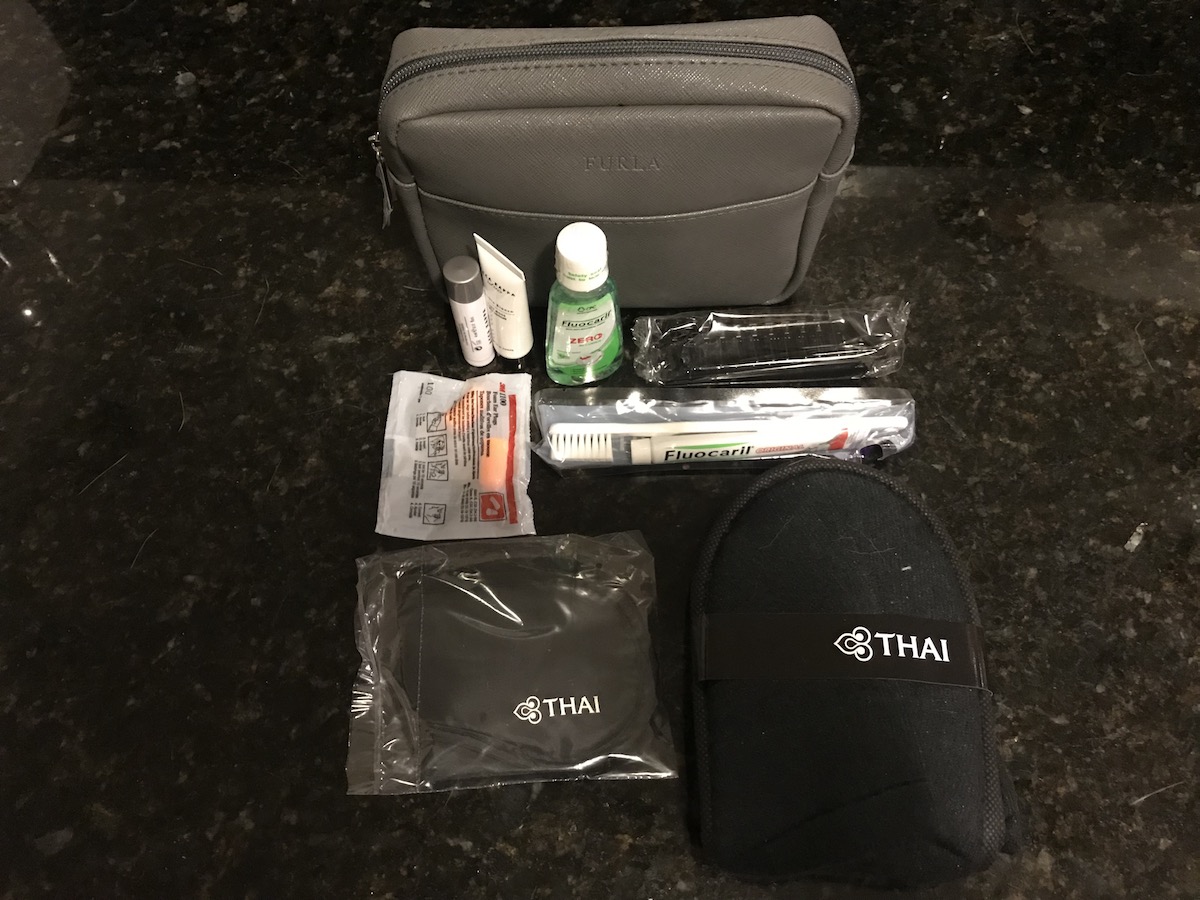 One thing I do find disappointing is that Thai does not provide pyjamas in Business class, so it pays to BYO if you want to get comfy.
The Flight & Service
As we settled into our seats with our champagne Jo returned and went through the menu. She offered to get us another drink with warm nuts after takeoff and took our dinner order.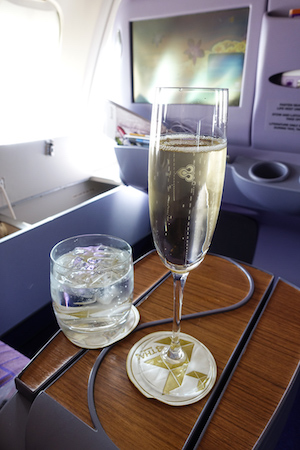 We pushed back from the gate right on time at 4:10 pm, my champagne glass was topped up whilst the safety video played in the background. We had a short taxi to the runway with almost no queue and were on our way in minutes. Once we hit altitude the seatbelt sign was switched off and the crew kicked into gear with more drinks and warm nuts arriving. I ordered another champagne and Mrs B ordered a peppermint tea. I did find it slightly odd that they served the cabin in no particular order, which didn't matter but seemed inefficient and resulted in seatmates getting drinks at different times. I have to say that I really like the glassware and china that Thai airways use. They changed it about 18 months ago I believe and all the glasses and tableware are excellent. I would happily have them in my house!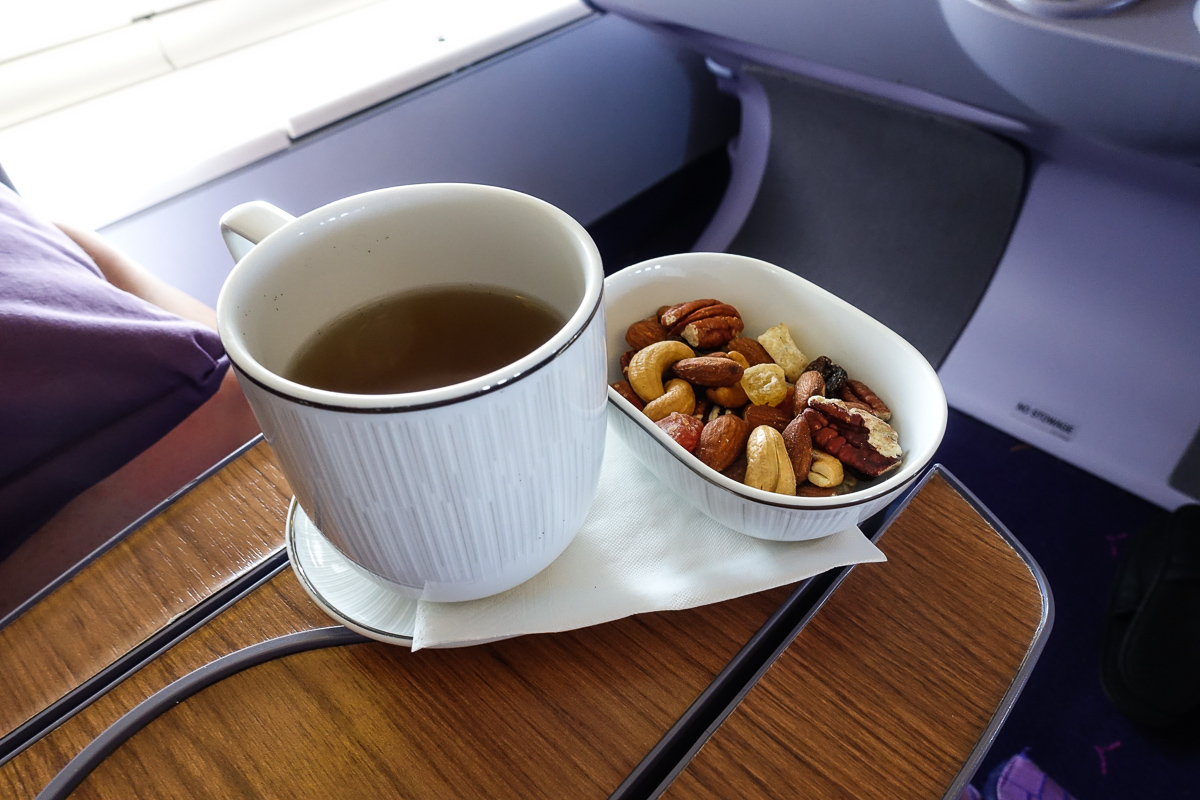 About 15 minutes later dinner service began, by this time it was about 5:10 pm so only an hour since push back. Considering the flight was blocked at 9 hours, I am not quite sure why they served dinner so early. I guess many people want to eat and then get some sleep, but I would have prefered it a little later.
The menu had 4 choices in total, two Thai choices and two western choices.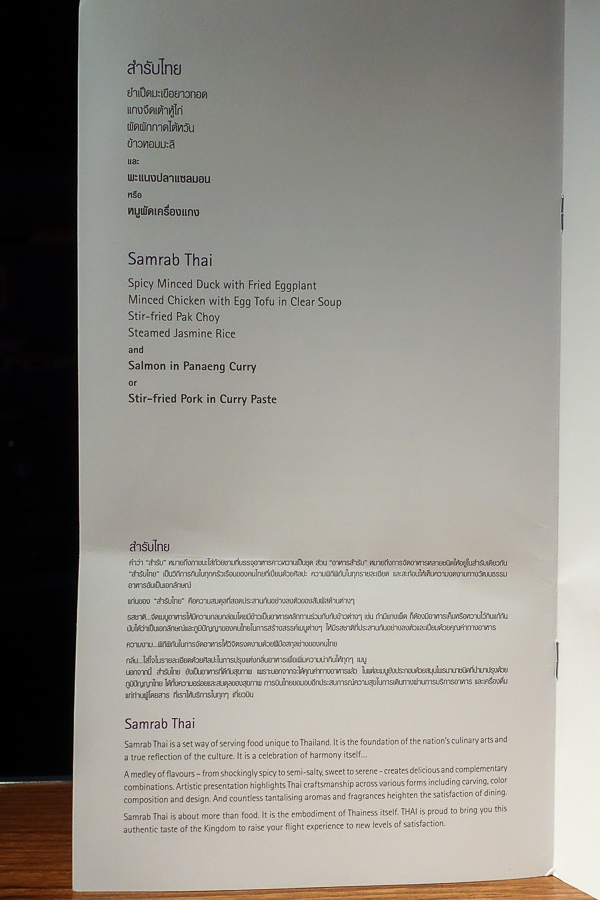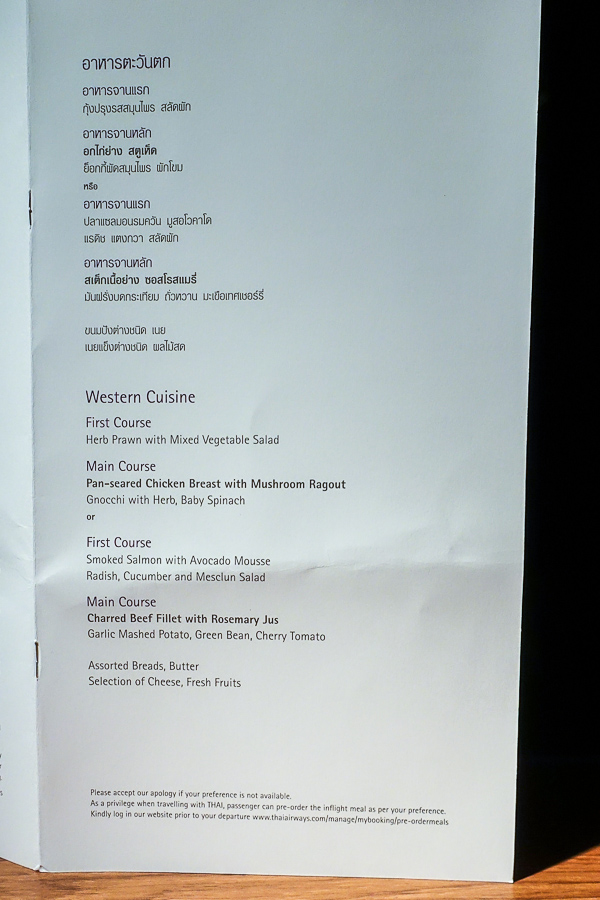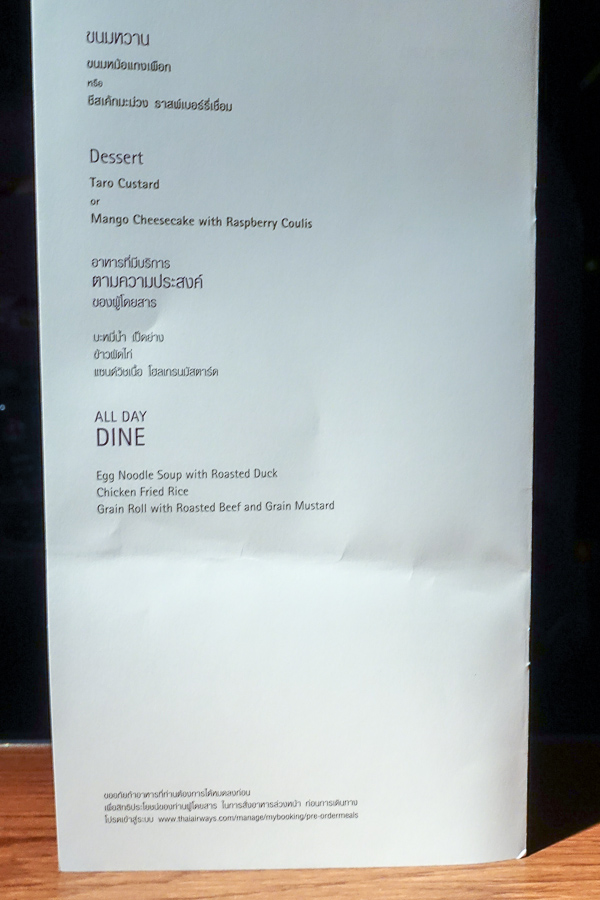 I choose the prawn salad followed by the chicken and gnocchi and Mrs B choose the Thai option with the Pork Stir-fry.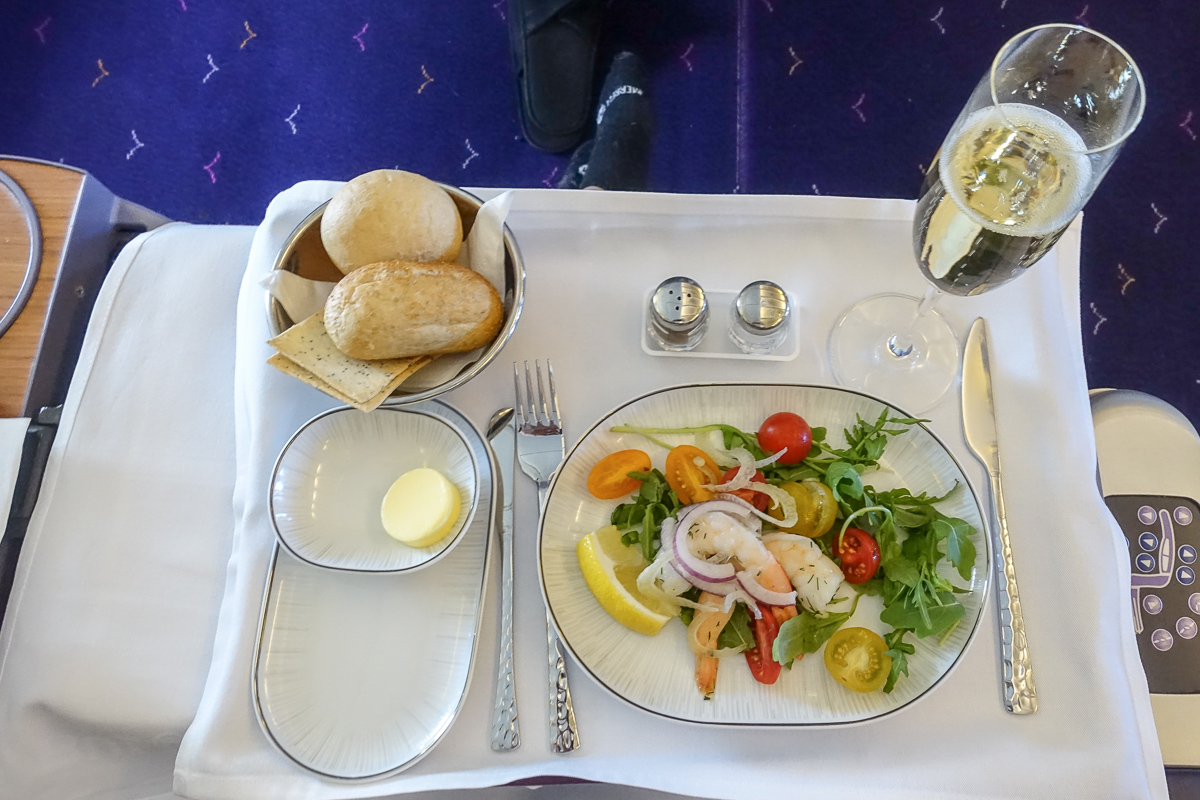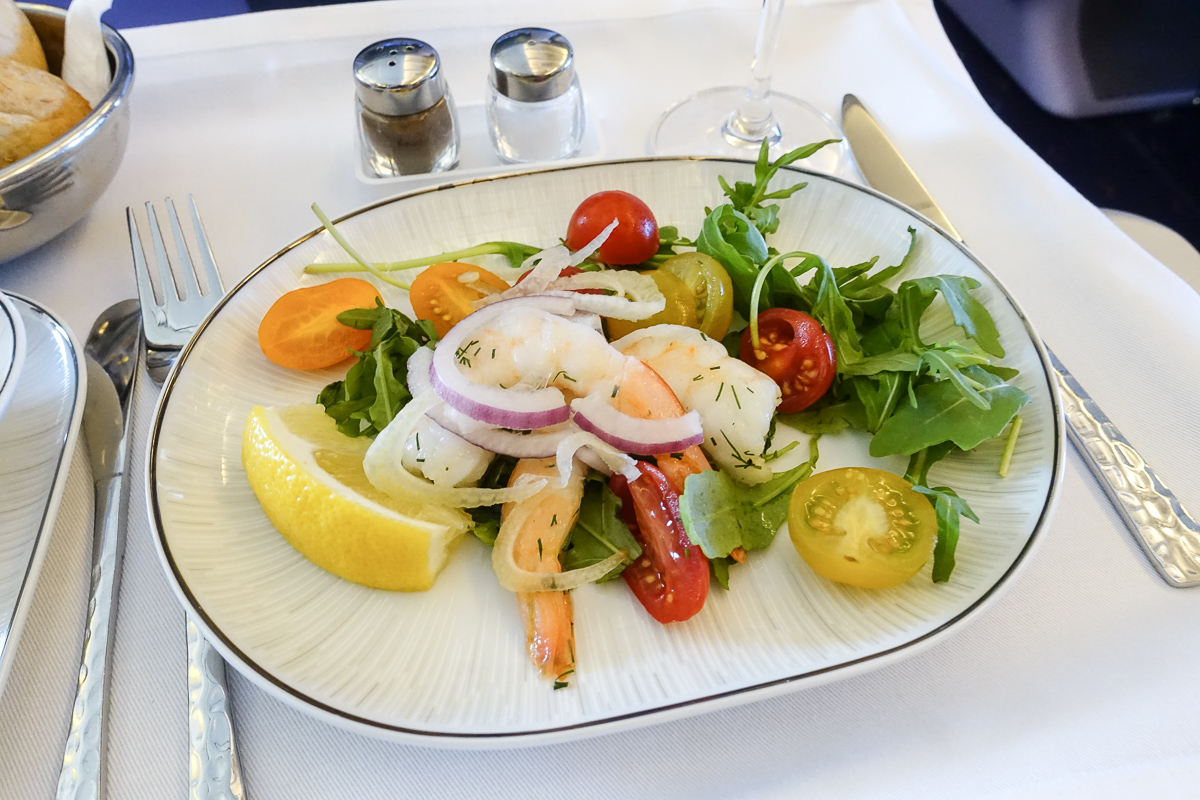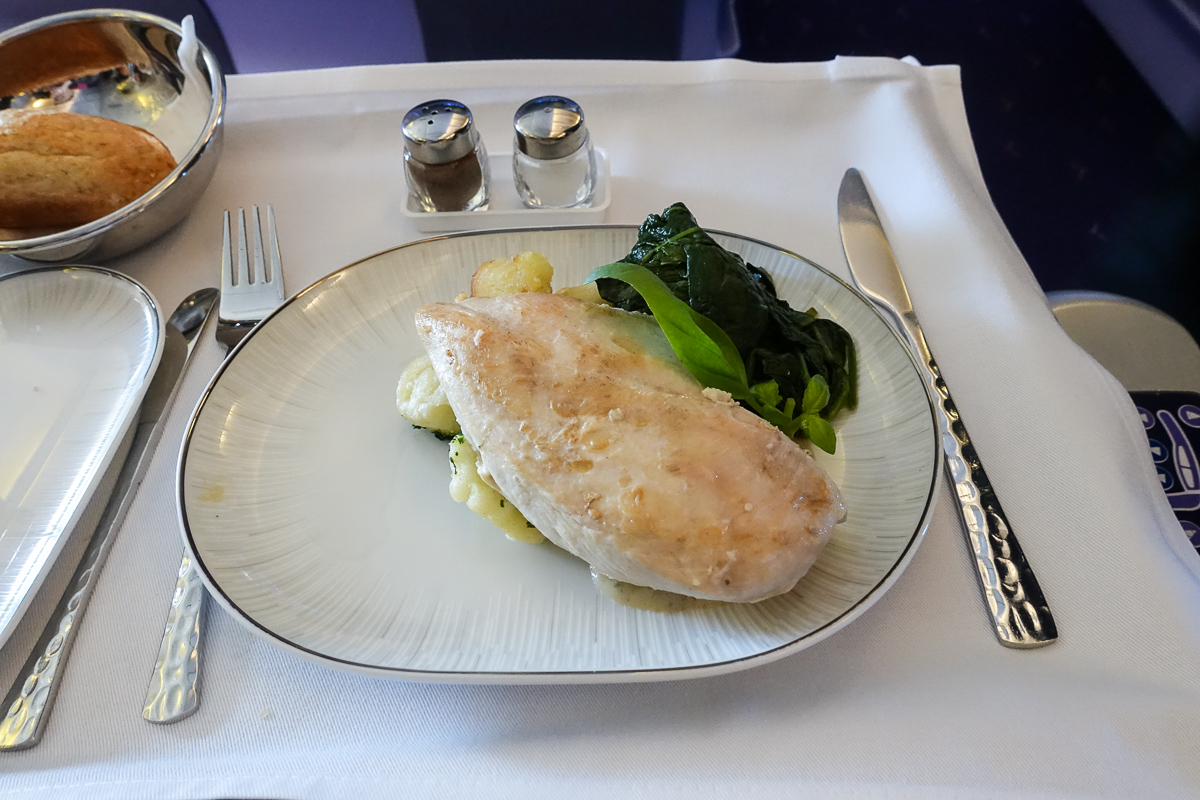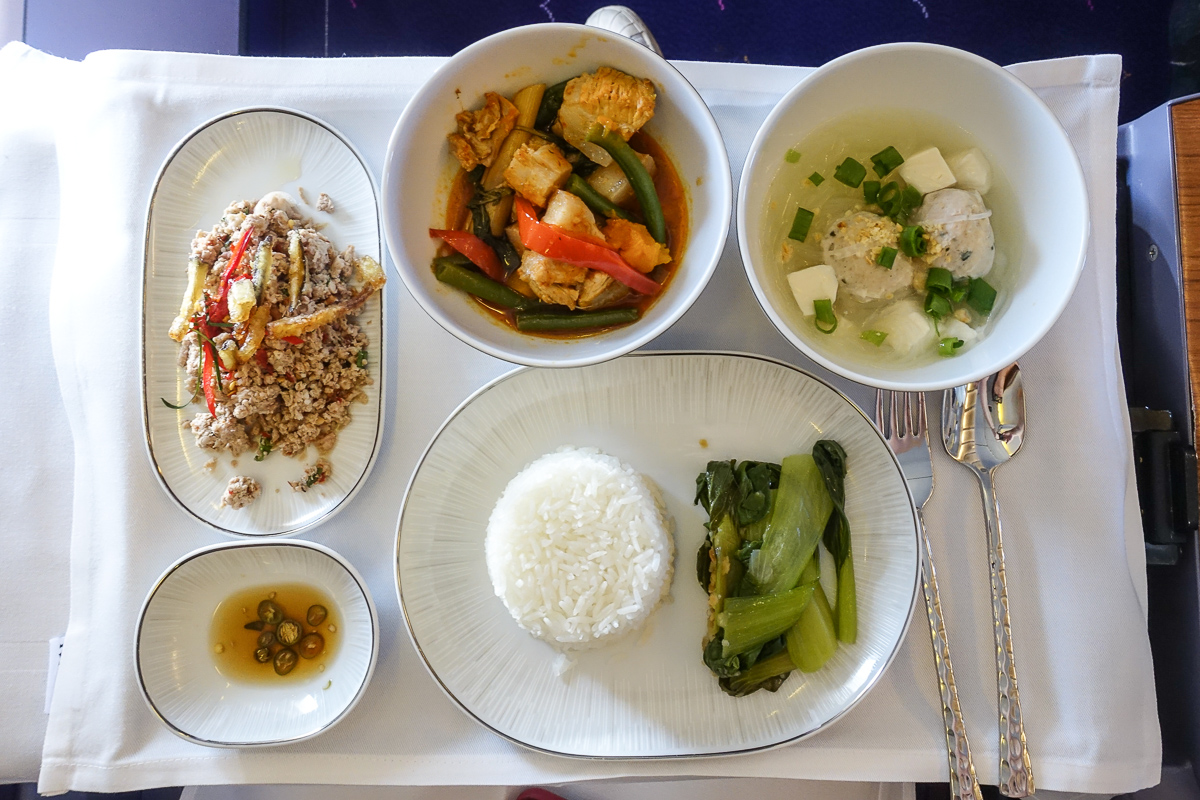 Mrs B also decided to try the taro custard dessert, which apparently was pretty good.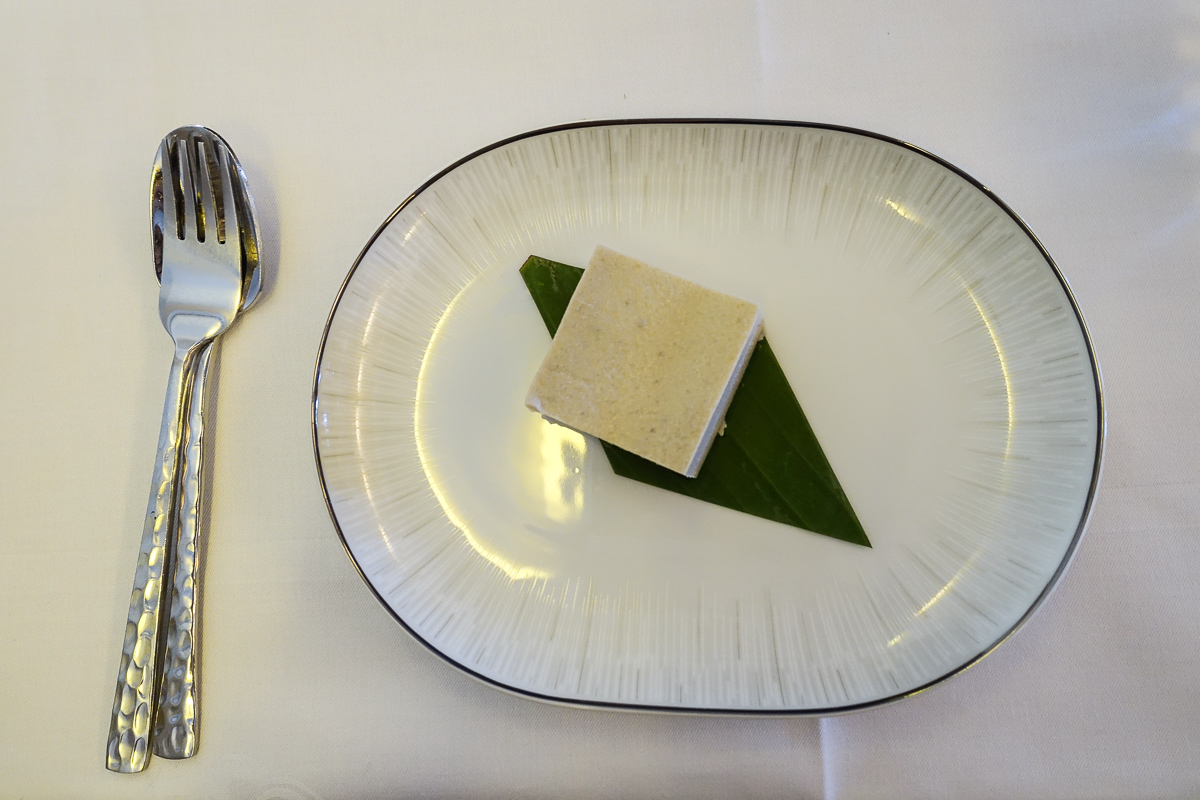 In terms of beverages, the menu looks like this;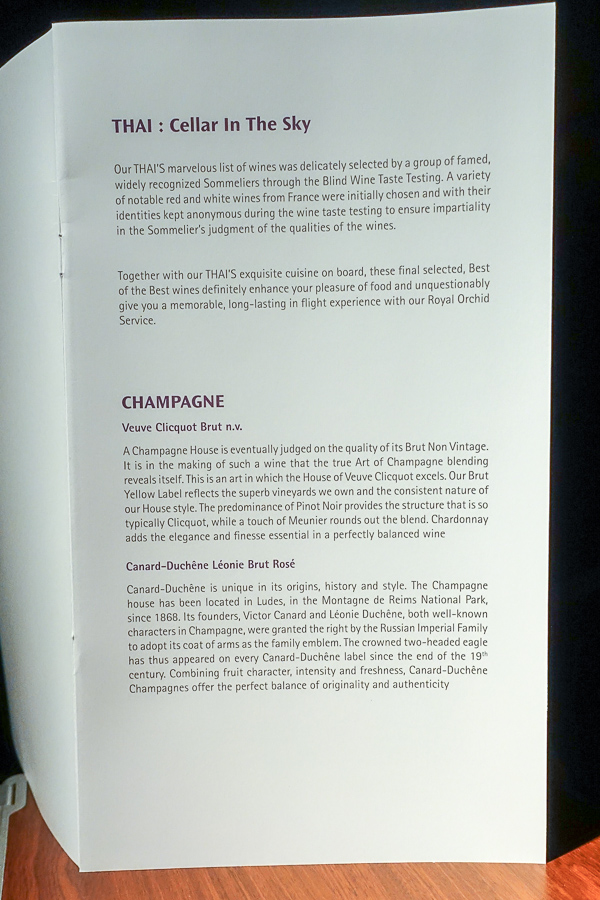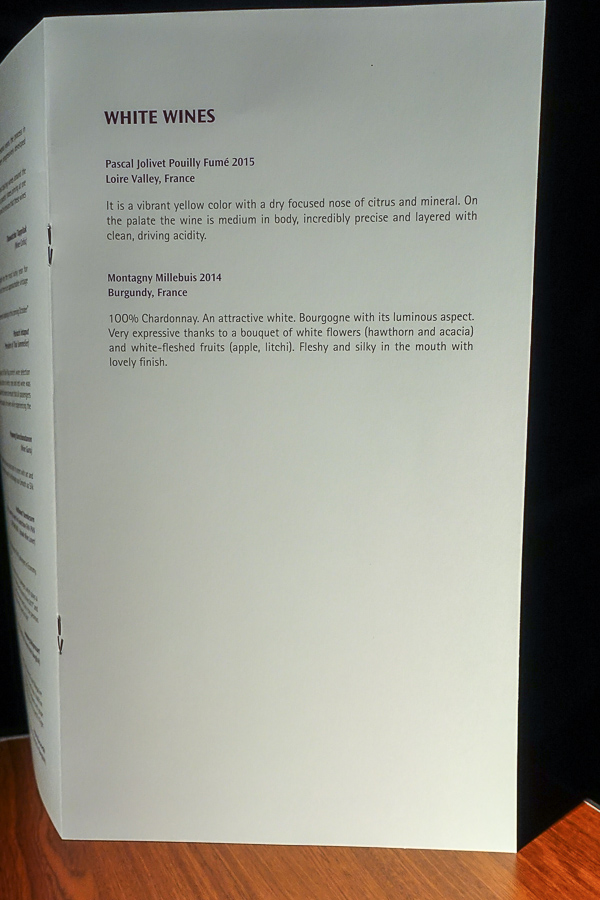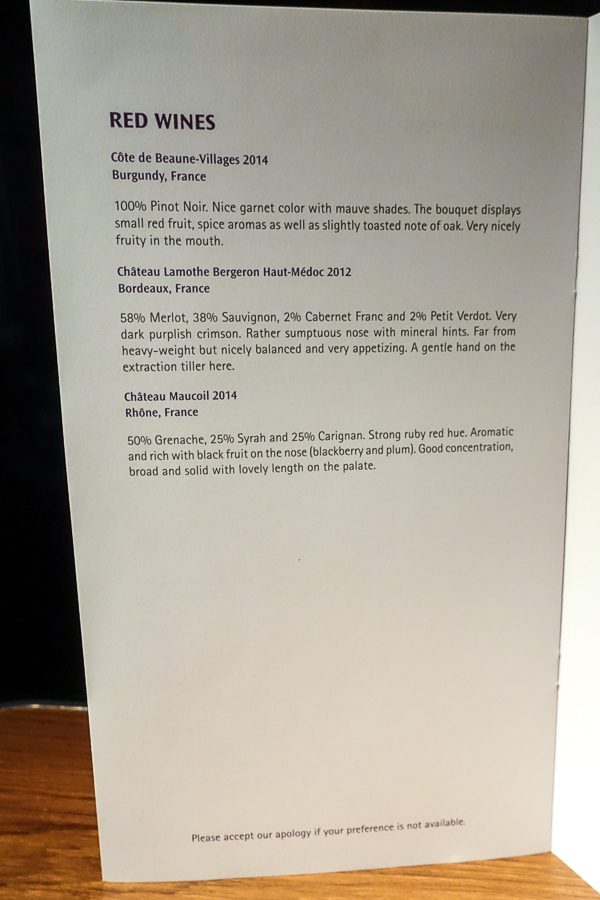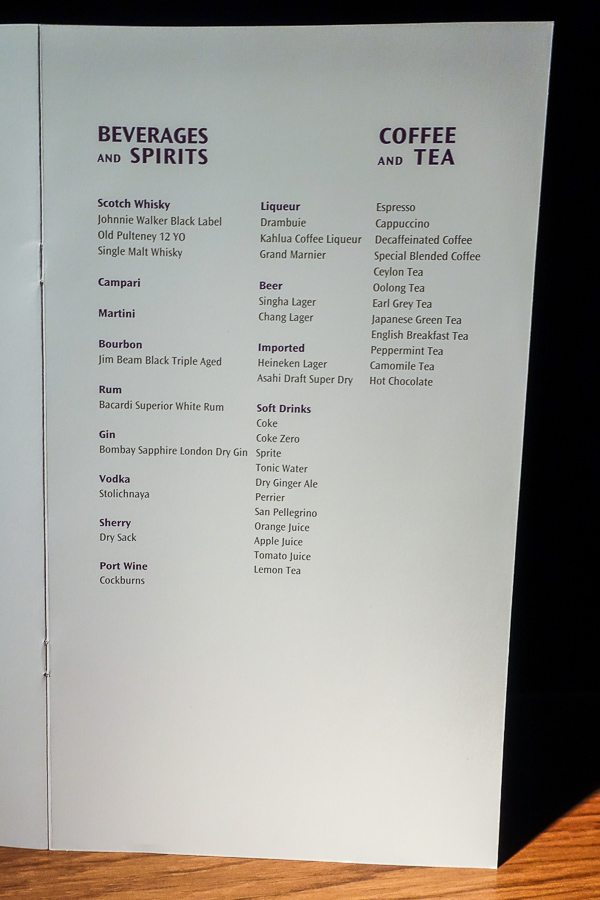 Dinner service was efficient and personalised. Our tables were set with a tablecloth and napkin, however, the meal was delivered on a tray that was placed on the table. In saying that the crew did a great job of clearing plates and serving the main course when each guest finished their entree rather than simply doing it as a production line which can often happen in a large cabin.
Overall the food was good, not outstanding, but good. Mrs B's Thai Samrab was definitely the better of the two meals.
After dinner, I settled in to watch a movie, before getting some work done. The crew continued to check on guests throughout the flight to see if they needed anything.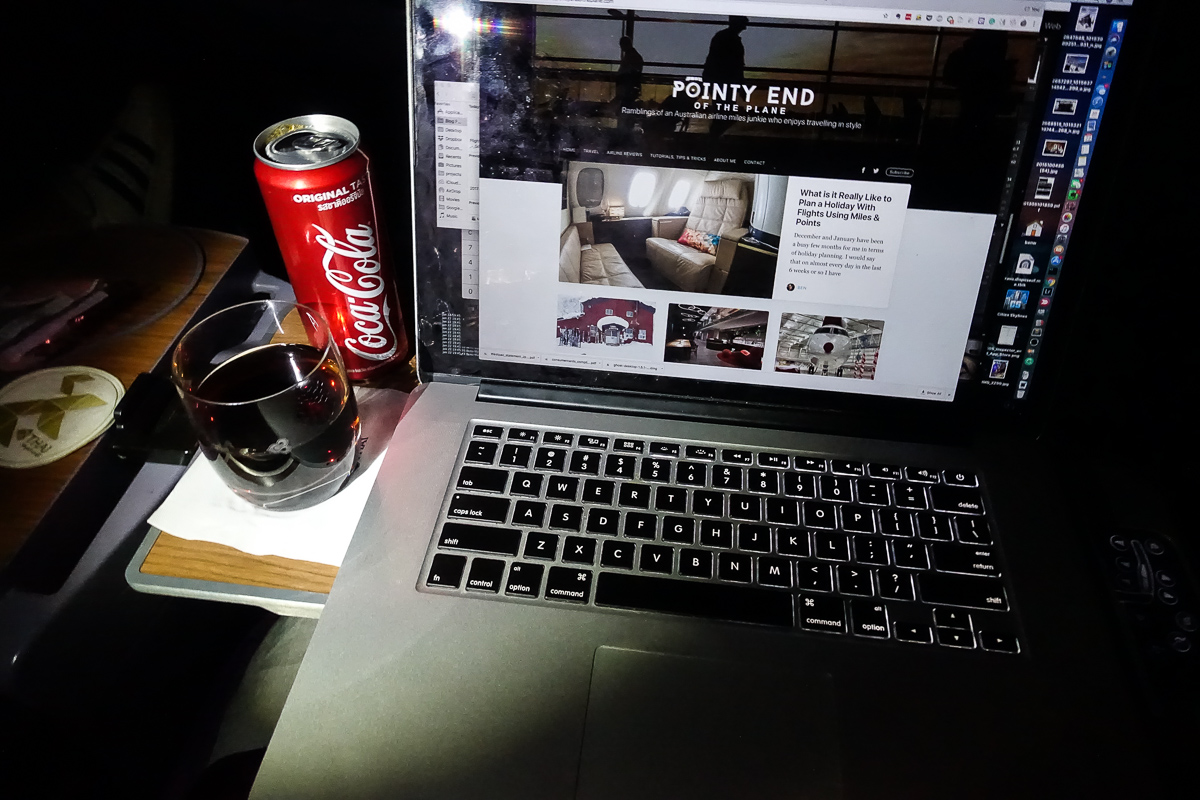 The 747 business class seat has a 15" screen built into the seat back of the seat in front of you. If you are flying business on the 747 I highly recommend you do not select the bulkhead or exit row in business as you end up getting a much smaller screen that slides out from the armrest and doesn't give you any additional leg room.
The entertainment selection was reasonable, with a good selection of movies and TV shows. However, the recent selection was fairly limited and not that 'recent'.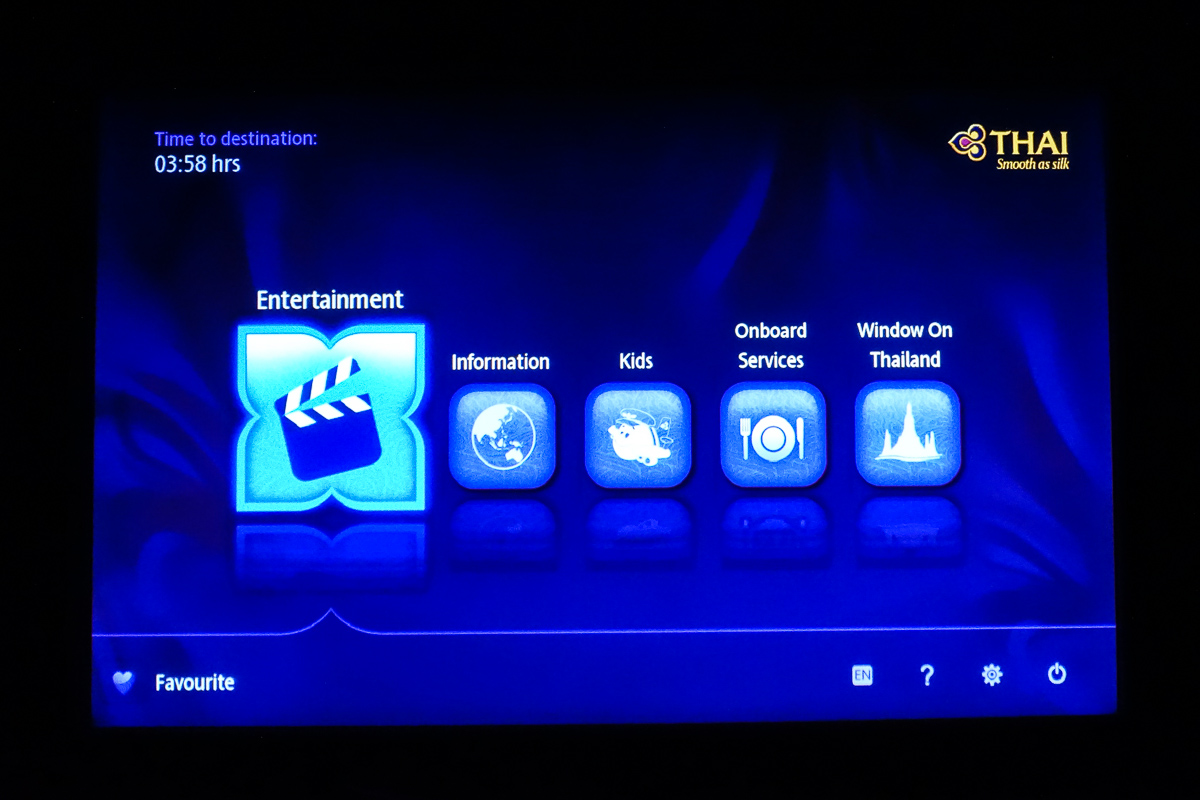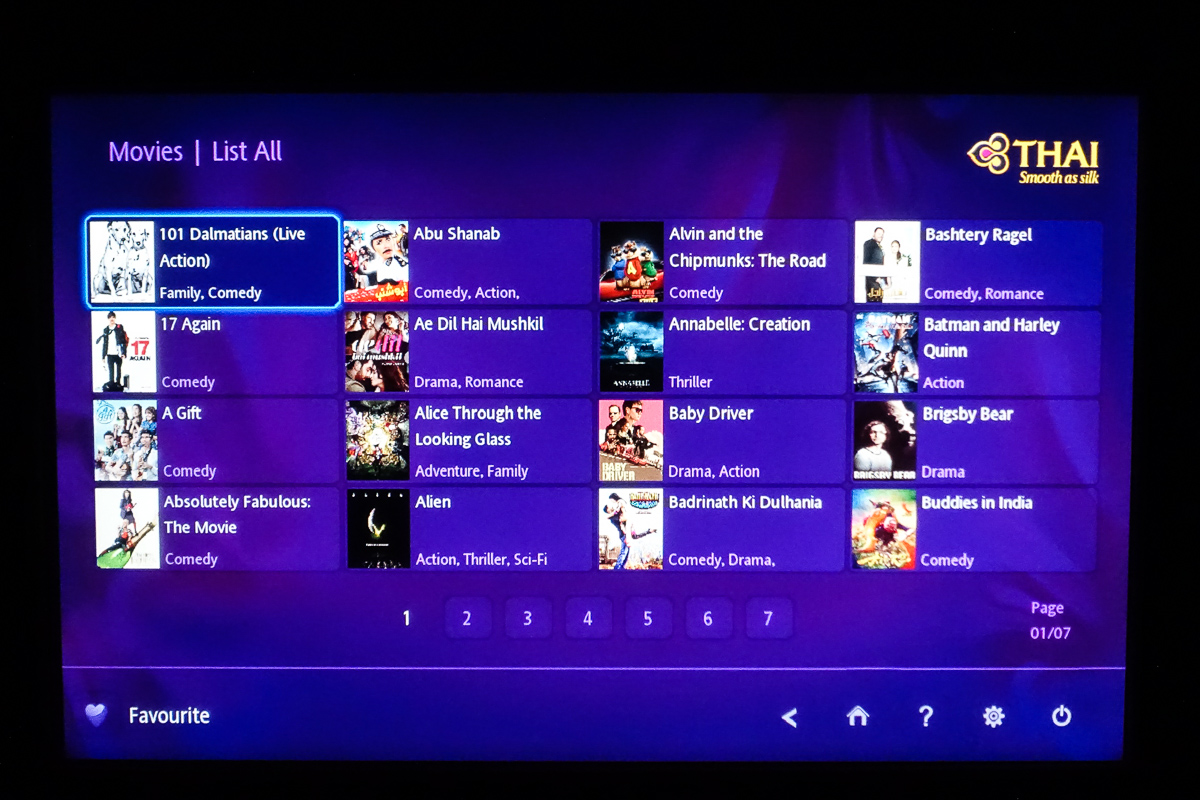 The system also has the typical airshow that cycles through various maps and is always fun to watch.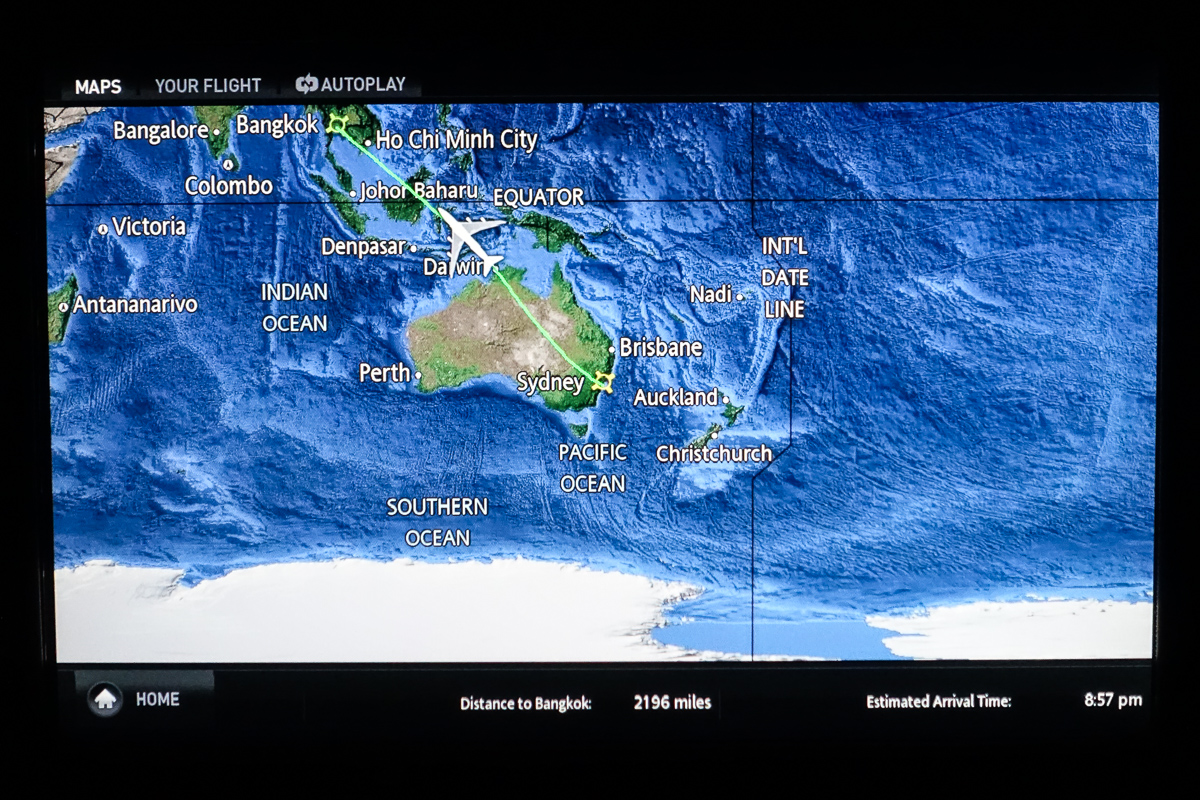 About 3 hours our from Bangkok I started to get hungry so decided to try out the anytime dining menu and ordered the chicken fried rice, which was delicious as a snack!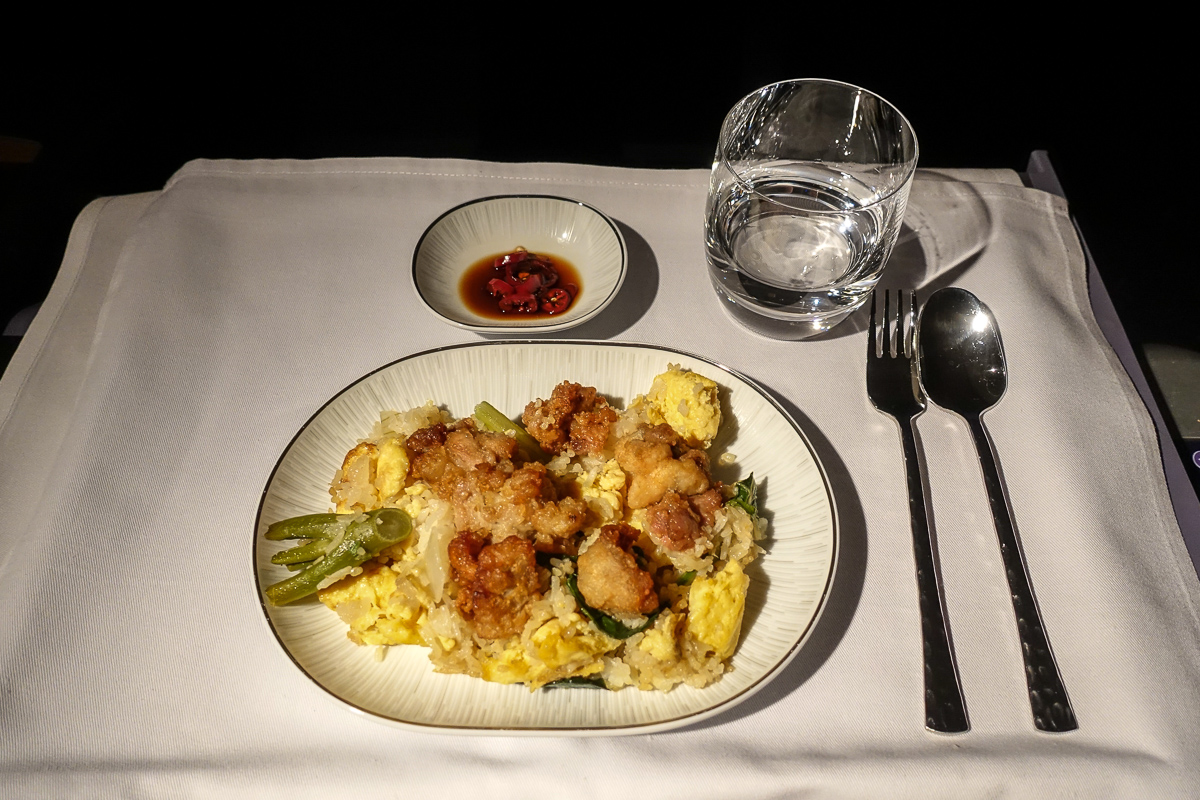 Overall Impression
All in all, this was a pleasant flight, I think I will always enjoy flying on a 747. The crew were fantastic, throughout the flight the service was impeccable. It is the small things that I really find set airline crews apart. For example, as the upstairs cabin was not full, the crew had already worked out that they could sit all passengers that were not travelling together separately. So upon coming up the stairs they directed each person to a new seat provided they wanted to sit by themselves rather than have a seatmate.
I have said it before in my review of Thai First Class (here and here) but I have a real soft spot for Thai Airways premium cabin products. I am not sure if it is just because Thai Airways Royal First was the first real F product that I experienced or if it is because it is so easy to get premium cabin seats out of Australia with Lifemiles. This flight was no exception, despite it being an old plane with a sub-par hard product compared to 'modern' business class seats.