Review: Thai Airways 777 Business Class Bangkok to Tokyo
I was looking forward to this flight from the day I booked it and realised that it was on a 777-300er that had been refitted with Thai Airways new business class product.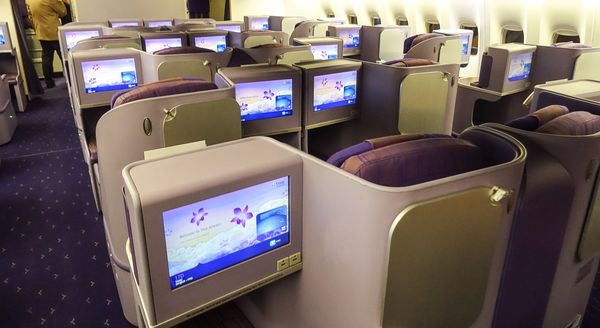 Table of Contents
Introduction: Skiing and Sightseeing in Japan
Review: Air New Zealand Sydney Lounge
Review: Thai Airways 747 Business Class Sydney to Bangkok
Review: Thai Airways Bangkok Lounge & Spa
Review: Thai Airways 777 Business Class Bangkok to Tokyo
Travel: Exploring Tokyo in the Snow
Review: Japan Airlines $10 Class J Upgrade
Travel: Exploring Niseko
Review: Sapporo New Chitose Royal Lounge
Review: Thai Airways Business Class Sapporo to Bangkok
Review: Thai Airways 747 Business Class Bangkok to Sydney

I was looking forward to this flight from the day I booked it and realised that it was on a 777-300er that had been refitted with Thai Airways new business class product.
Thai Airways has a few different business class product, whilst I have flown in the angled lie flat configuration on their 747 several times now. Until now, I haven't had the chance to try their lie-flat product that has been installed on the A380, some of the 777 fleet and the new A350's. The lie-flat configuration on the 777-300er is 1-2-1 with every seat having direct aisle access and 42 seats split across two cabins.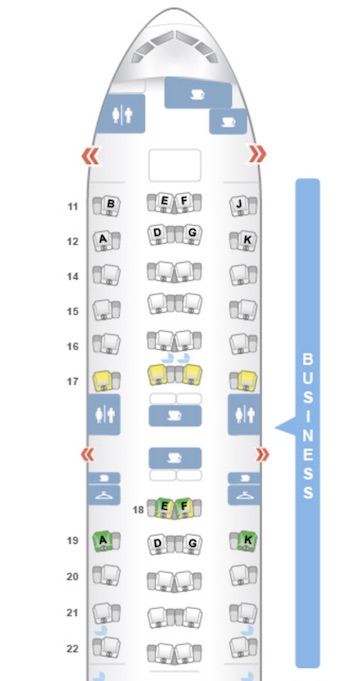 The seats are configured in a staggered fashion to allow room for the footwells from the seat behind. I had selected seats 12A and 15A so that we both close to the actual window rather than having the seats closer to the aisle. However, if you are travelling with a partner and don't want a window, the alternate middle seats that are close together are also a great option.
After arriving at the gate 10mins late (thanks to our fantastic massage at the Thai Airways Spa) we were not surprisingly greeted with a boarding delayed sign. It was also apparent that we were at a remote stand gate and would be boarding a bus to drive out to the plane. Finally, the gate was opened and we made our way down to the bus. Now, whilst I really don't like having to bus to a plane it is always pretty fun to walk across the tarmac and realise just how large modern planes really are!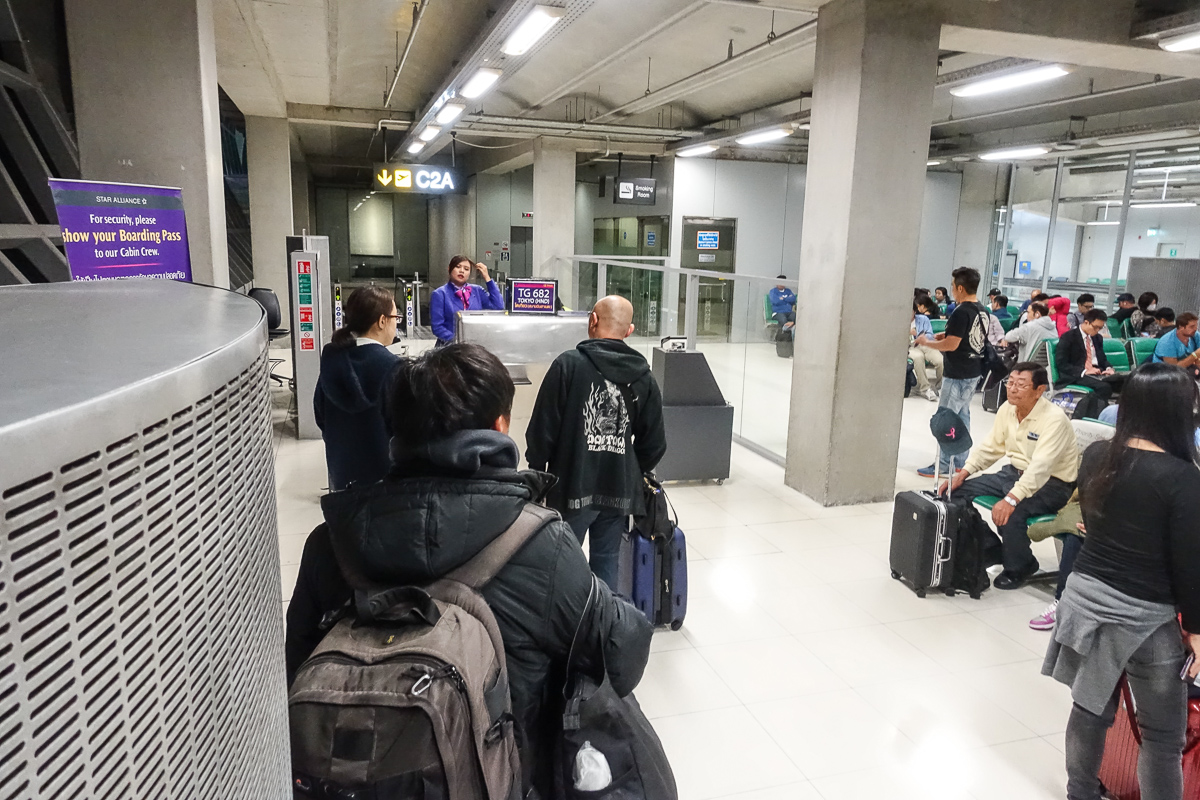 We made our way up the stairs and were escorted to our seats. We were located in the forward cabin on the left-hand side of the plane. The cabin felt quite spacious and the layout looked quite modern, although on closer inspection the seats were starting to show a little wear and tear.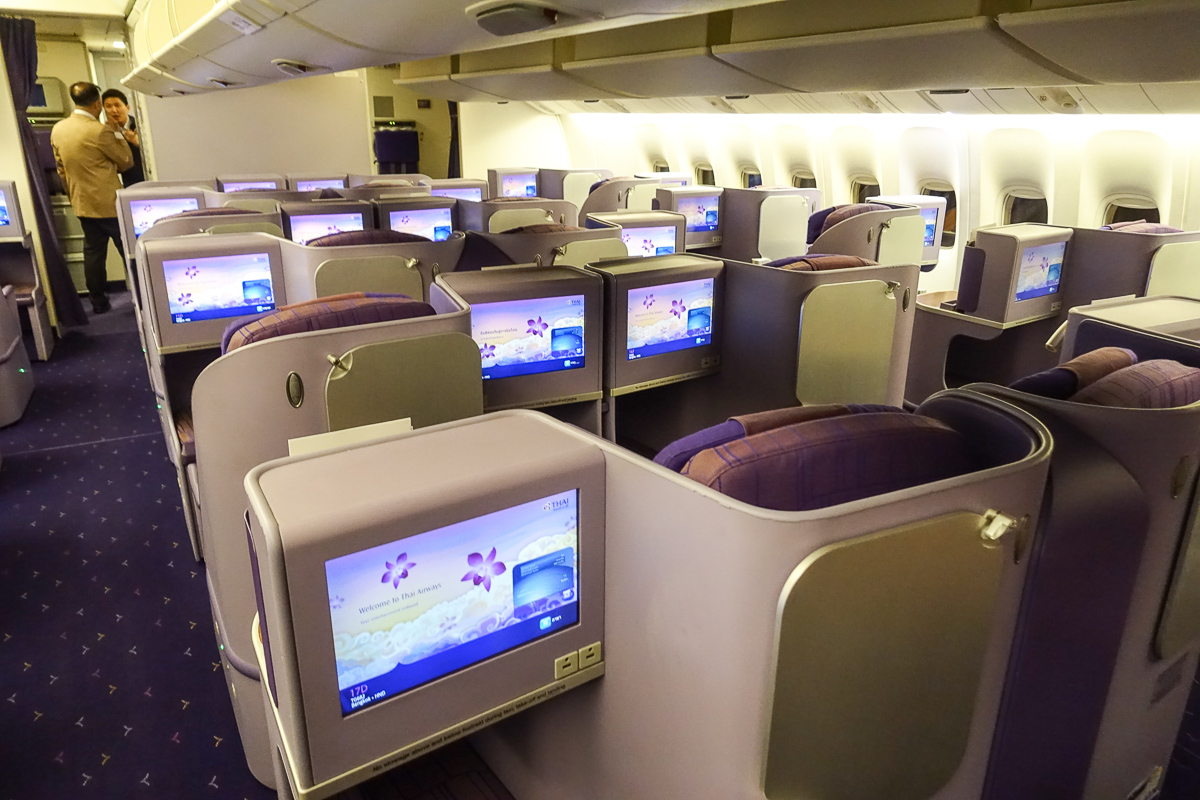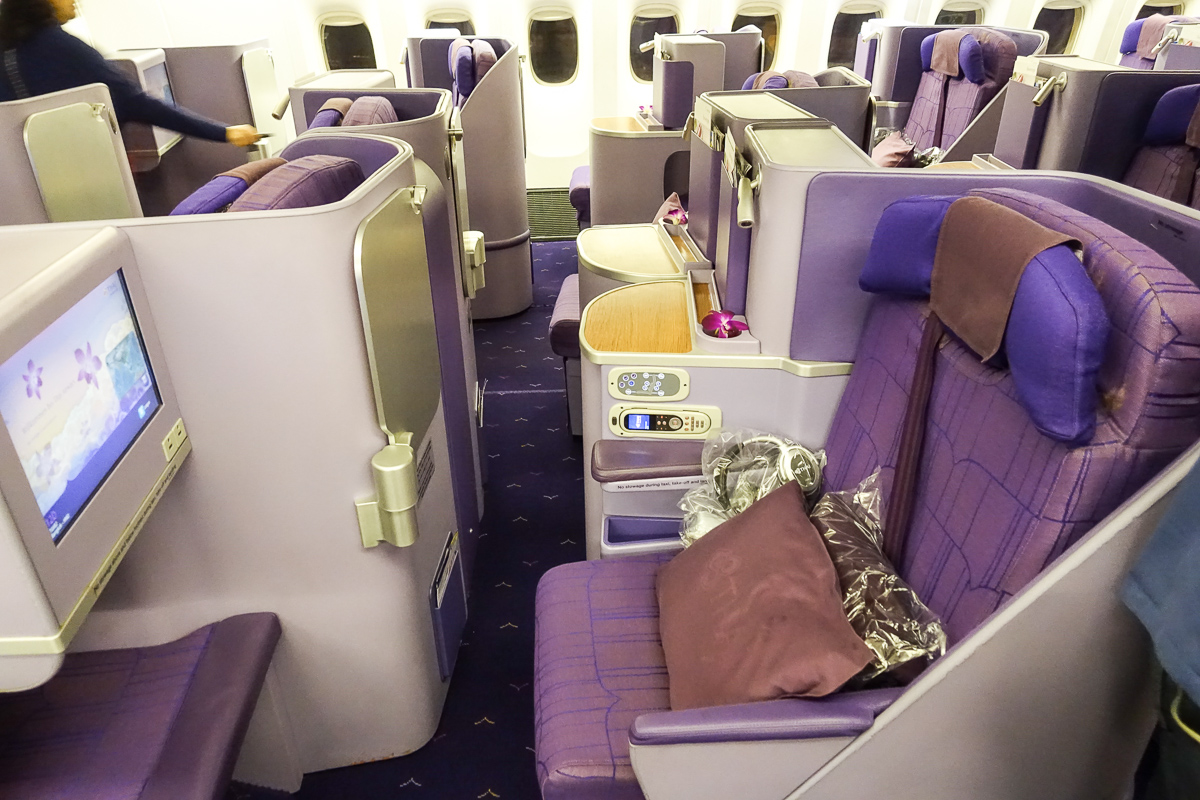 The Seat & Amenities
The window seats (and the closer together centre seats) provide a significant amount of privacy. You have to shuffle into the seat and once you are seated it is quite enclosed, however, it managed to not feel narrow or cramped. On the other hand, the aisle seats are the opposite they felt very exposed and you had no barrier between the edge of the seat and the aisle. This is pretty common in staggered configurations like this, so it always pays to check the layout of the plane you will be flying on and pick the best seats.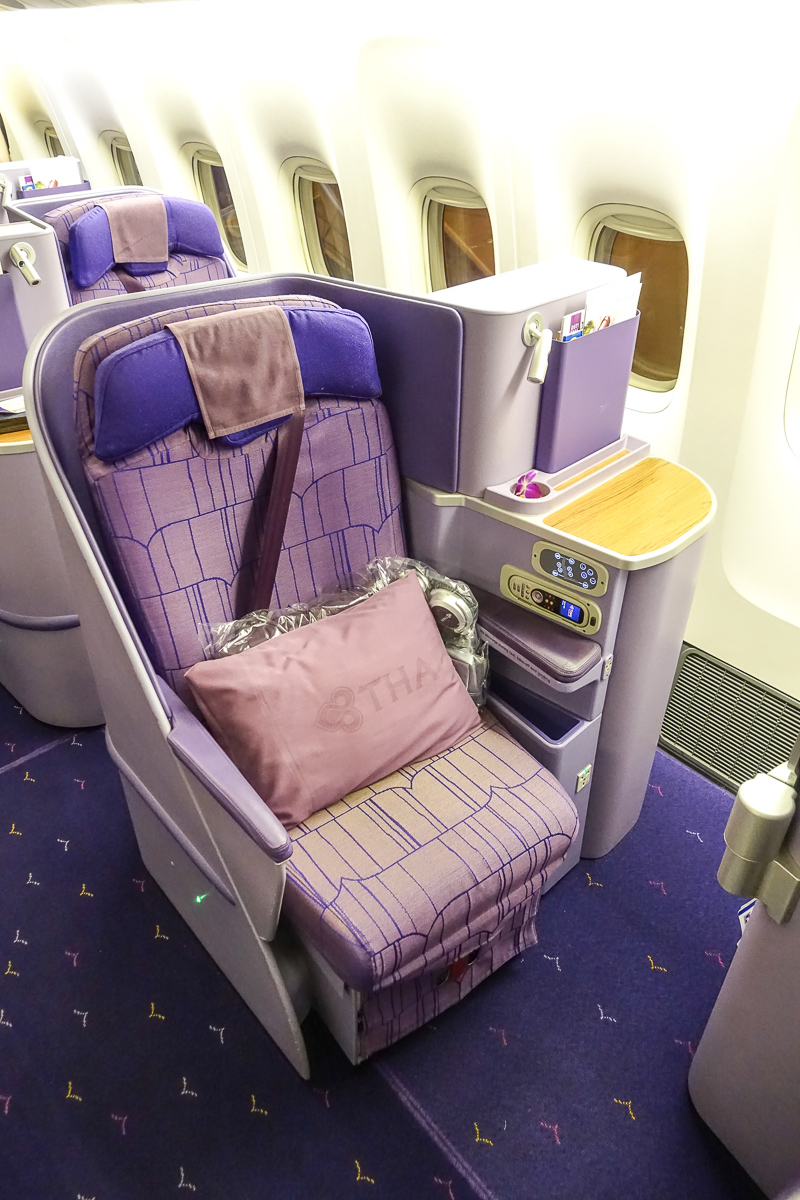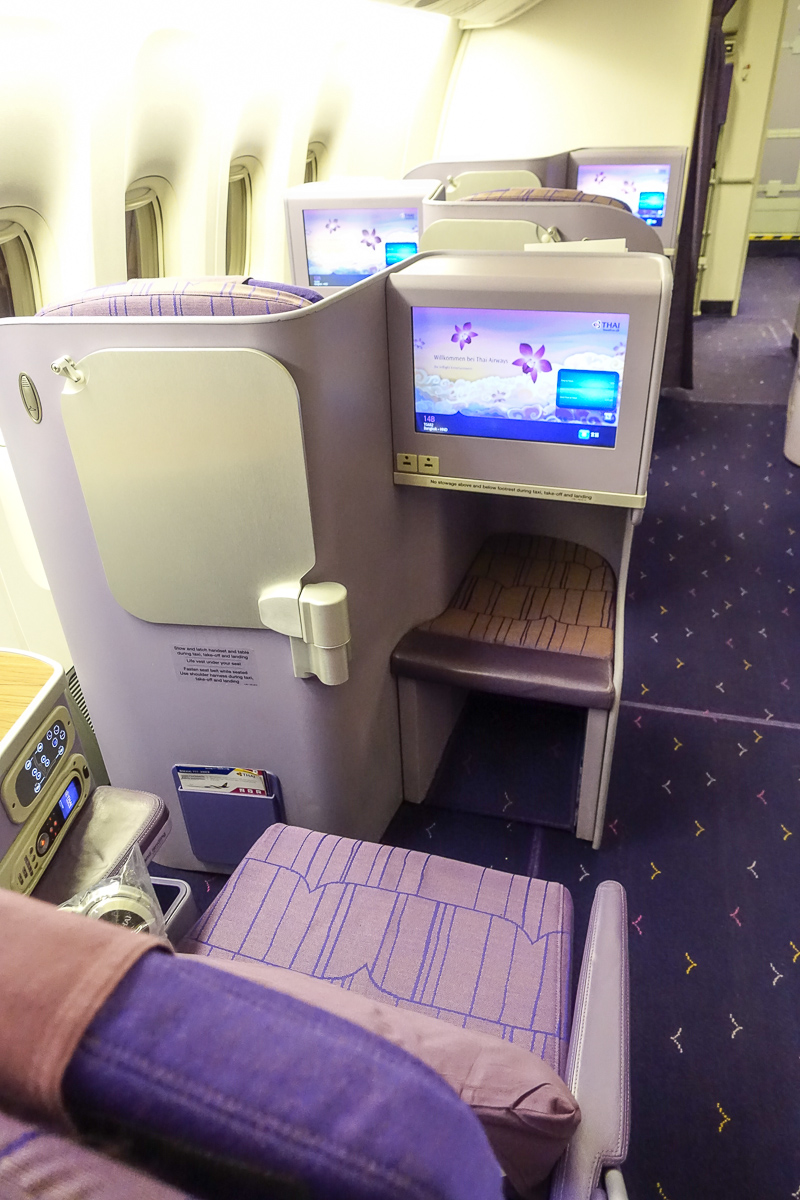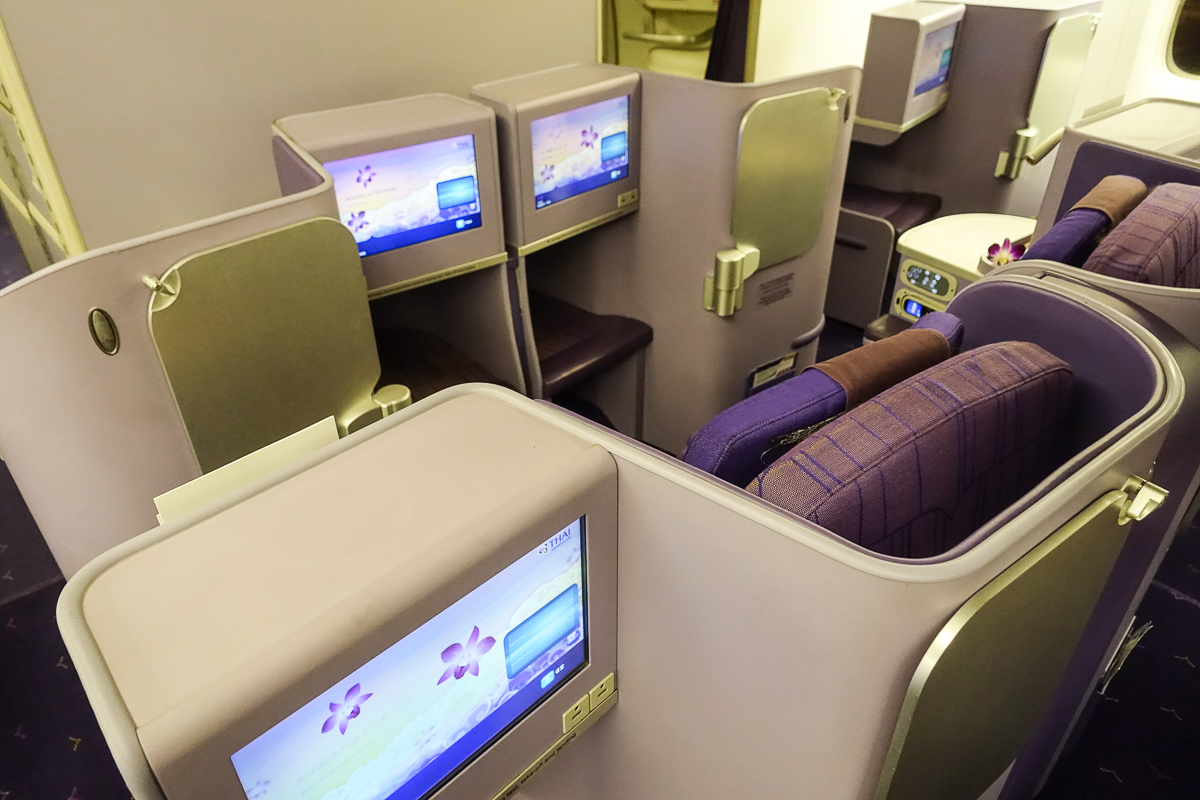 The seat converted into a fully flat bed that extended down into the footwell. As this was an overnight flight I was looking forward to being able to get some sleep.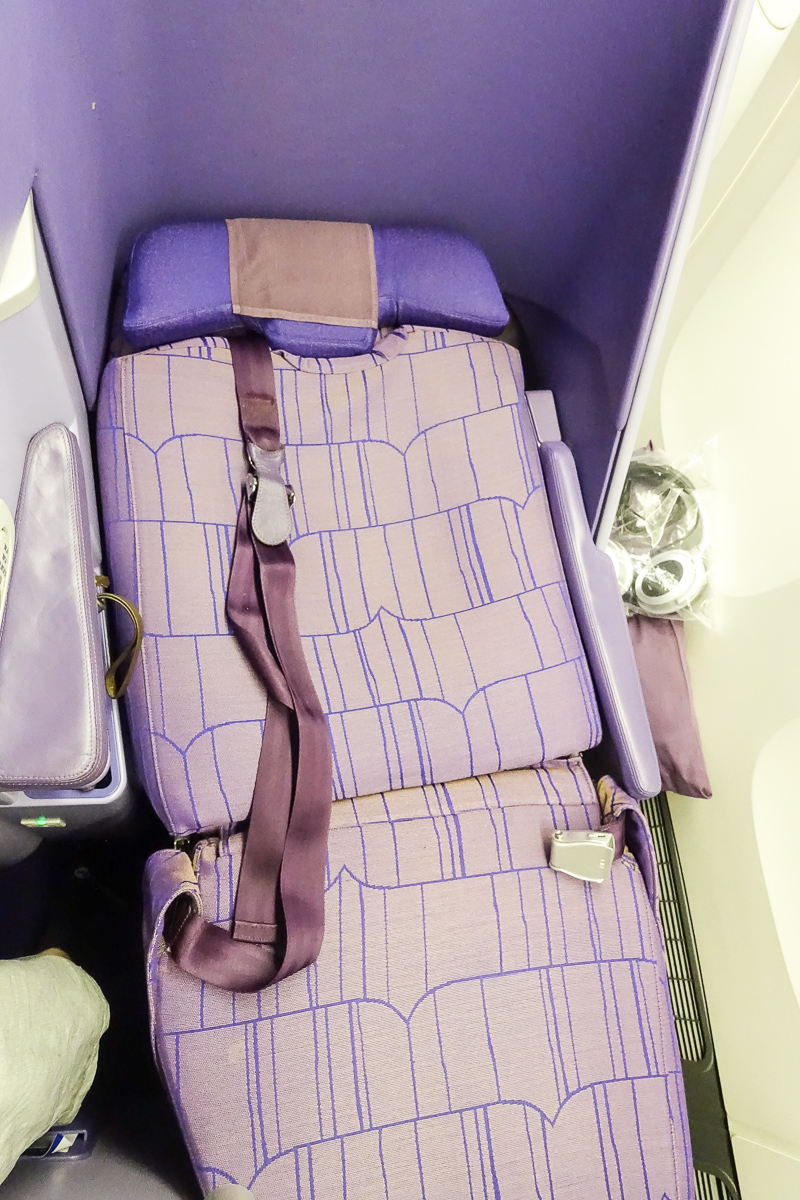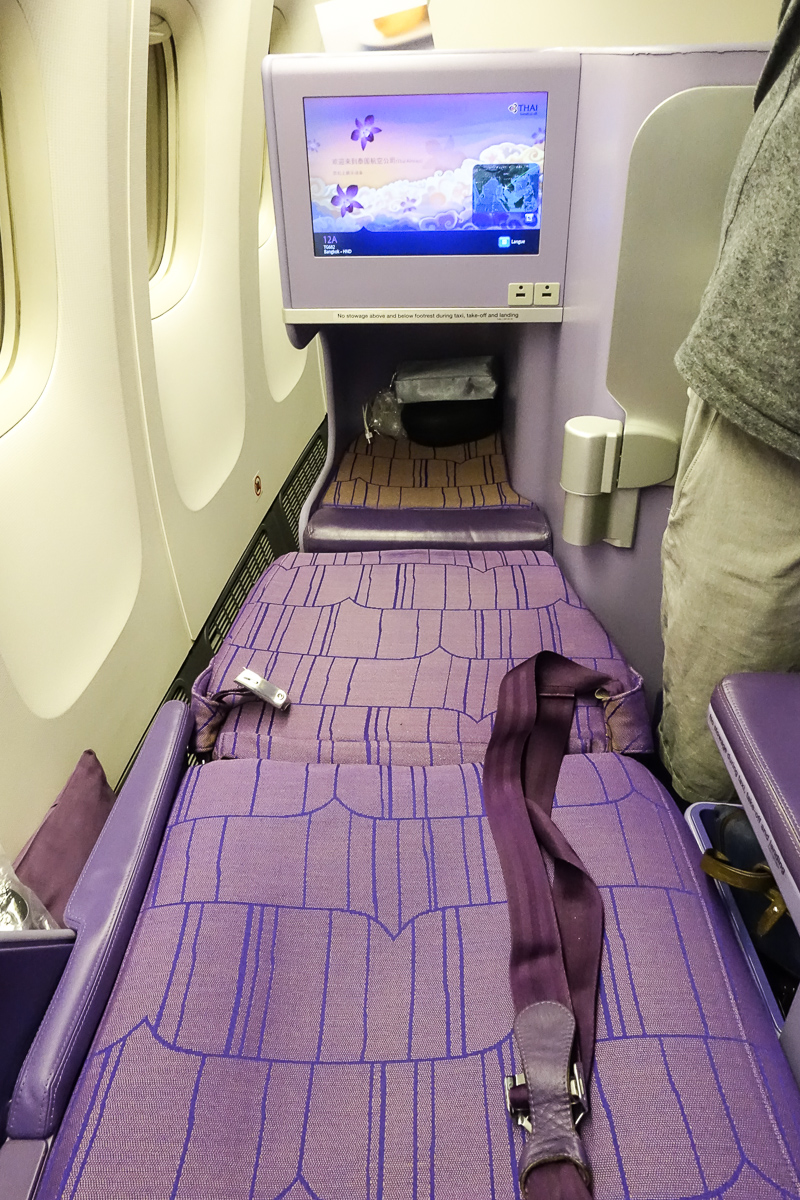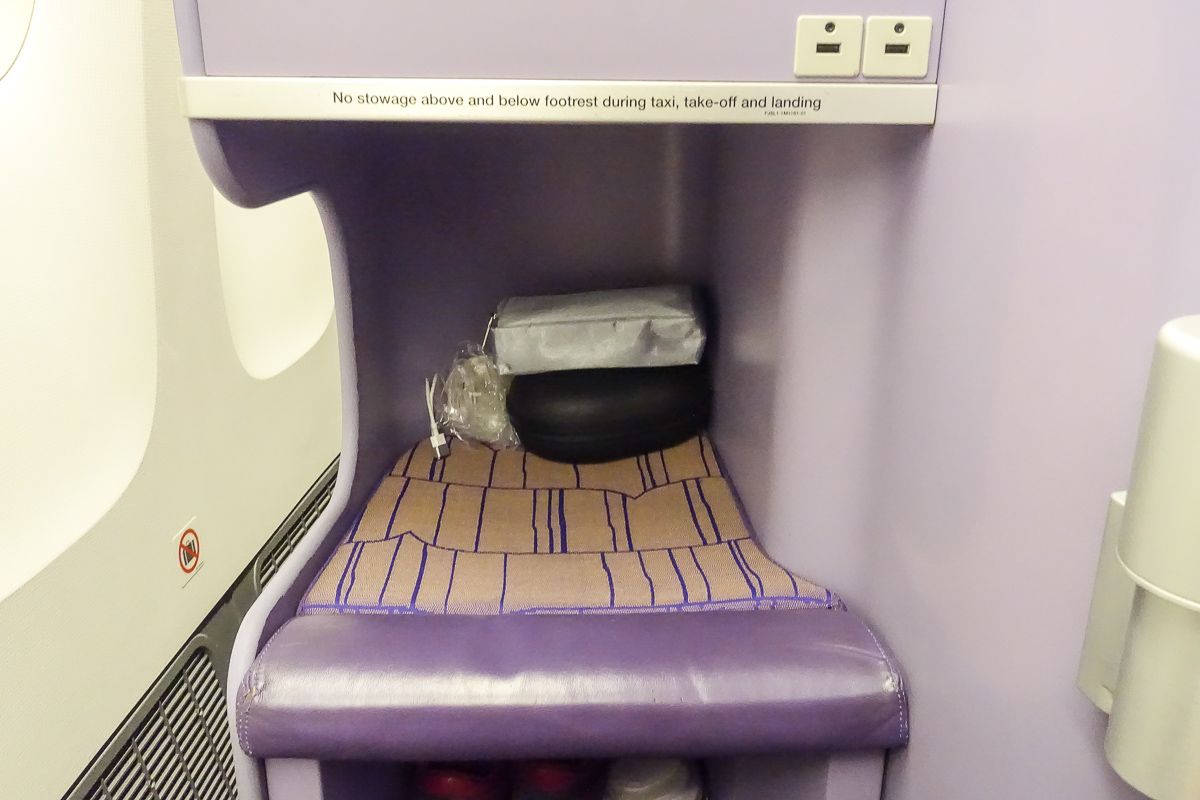 Pillows and blankets were provided, however, there was no mattress pad offered and once the seat was in bed mode it could have really used a mattress pad. It wasn't terribly uncomfy, but the seat was a little uneven through the middle section which made it hard to get comfortable. On the plus side, the footwell was a good size and you had plenty of lengths to stretch out.
Overall I managed to get a solid 5 hours sleep and woke up feeling fairly well rested. This was helped by the fact that the cabin was actually a reasonable temperature and not a sauna as they often are.
My biggest complaint about the seat was that there was zero storage! Apart from a tiny pocket (that didn't even fit my passport wallet), you had to rely on putting things in the overhead compartment. In the end, I had my headphones case in the footwell as it was the only other spot to store things.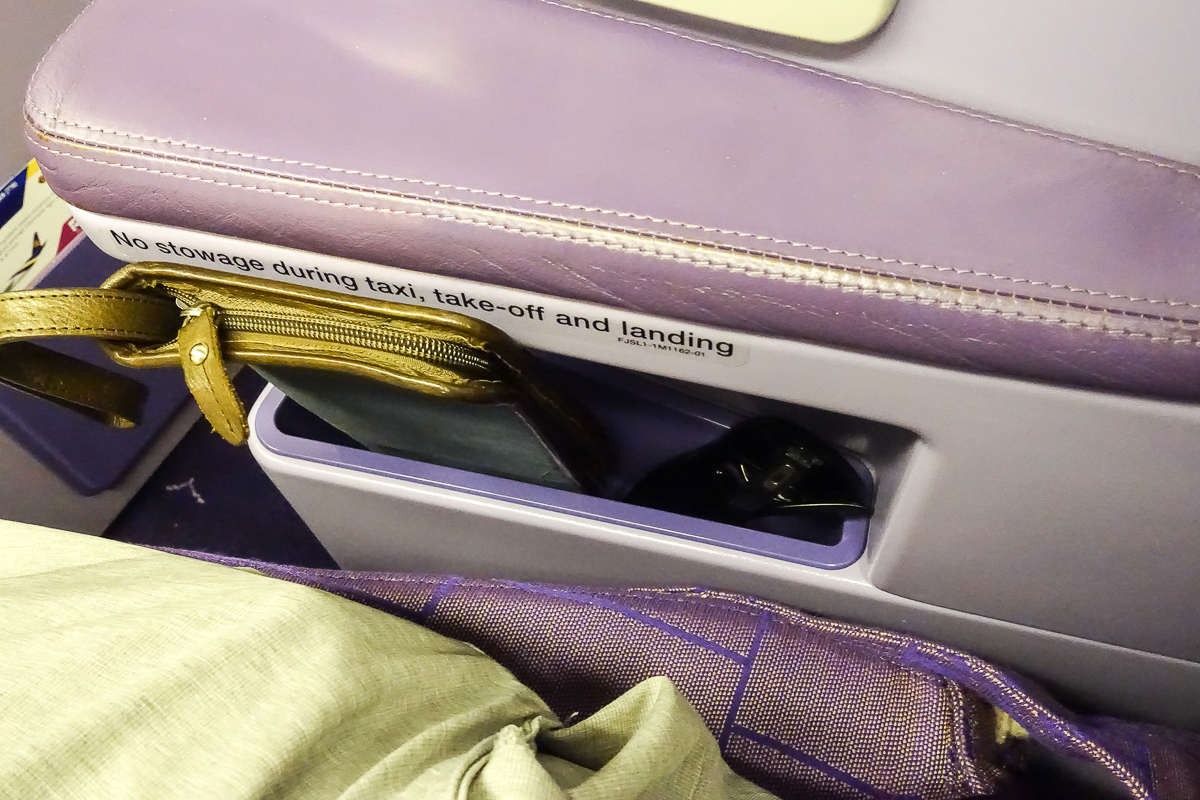 The seat is fitted with a 15" touchscreen for in-flight entertainment, although I didn't get to use it at all during this flight as I slept the entire time.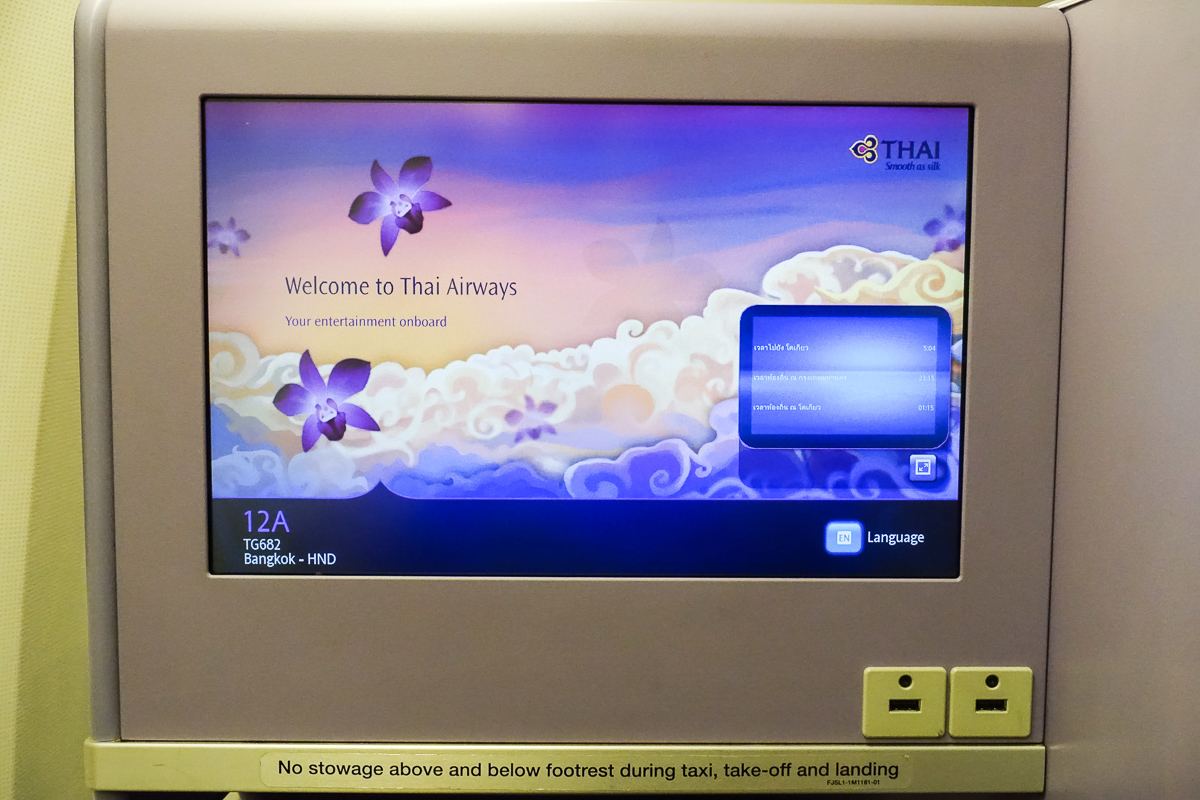 The seat and IFE controls are located on the side of the seat just above the armrest.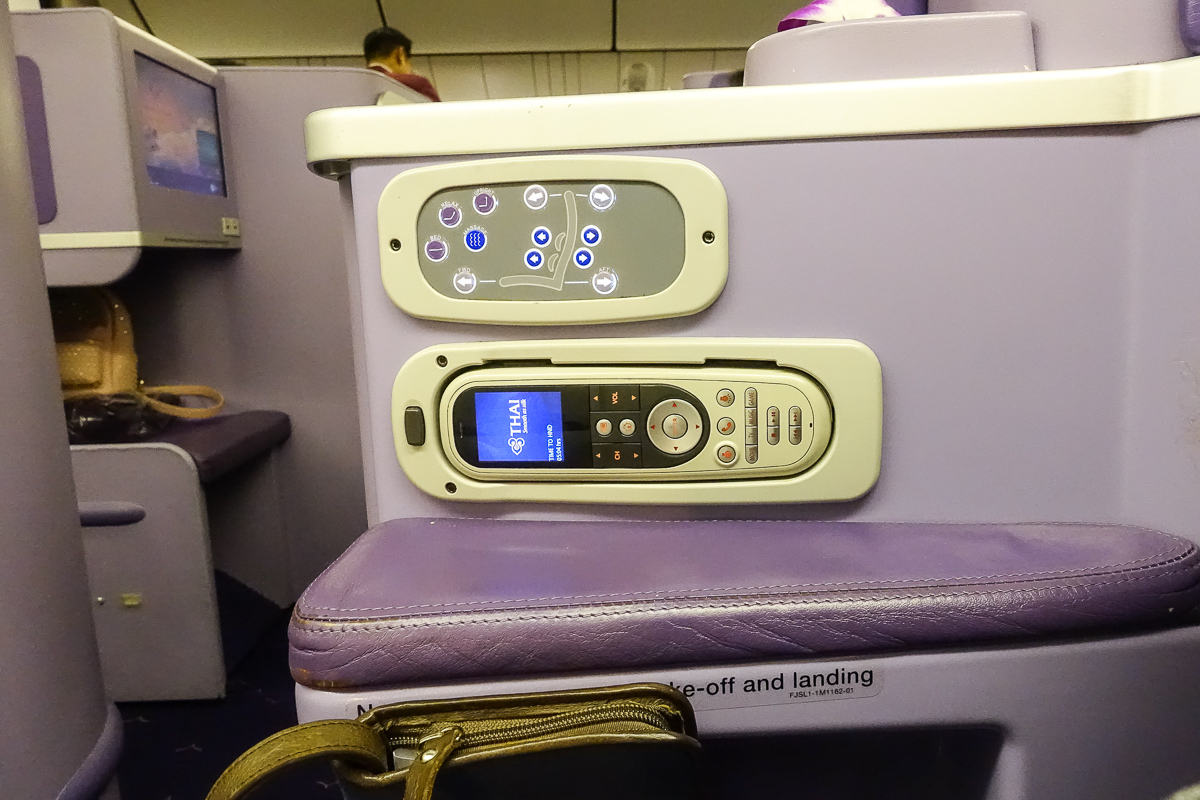 Interestingly we received a different amenity kit on this flight compared to our Sydney - Bangkok flight. It was a Greyhound case, that had this weird diagonal zipper, that seemed to make no sense and just made it awkward to open.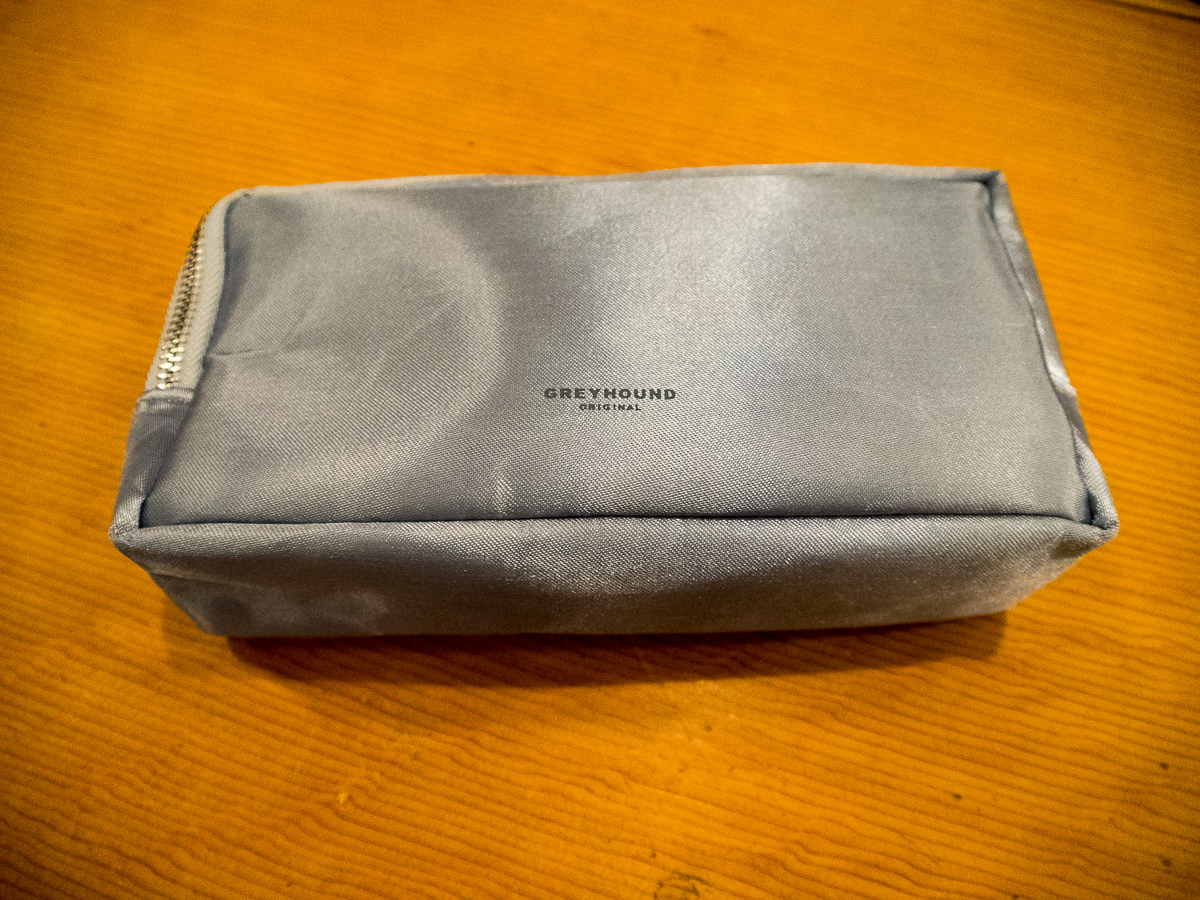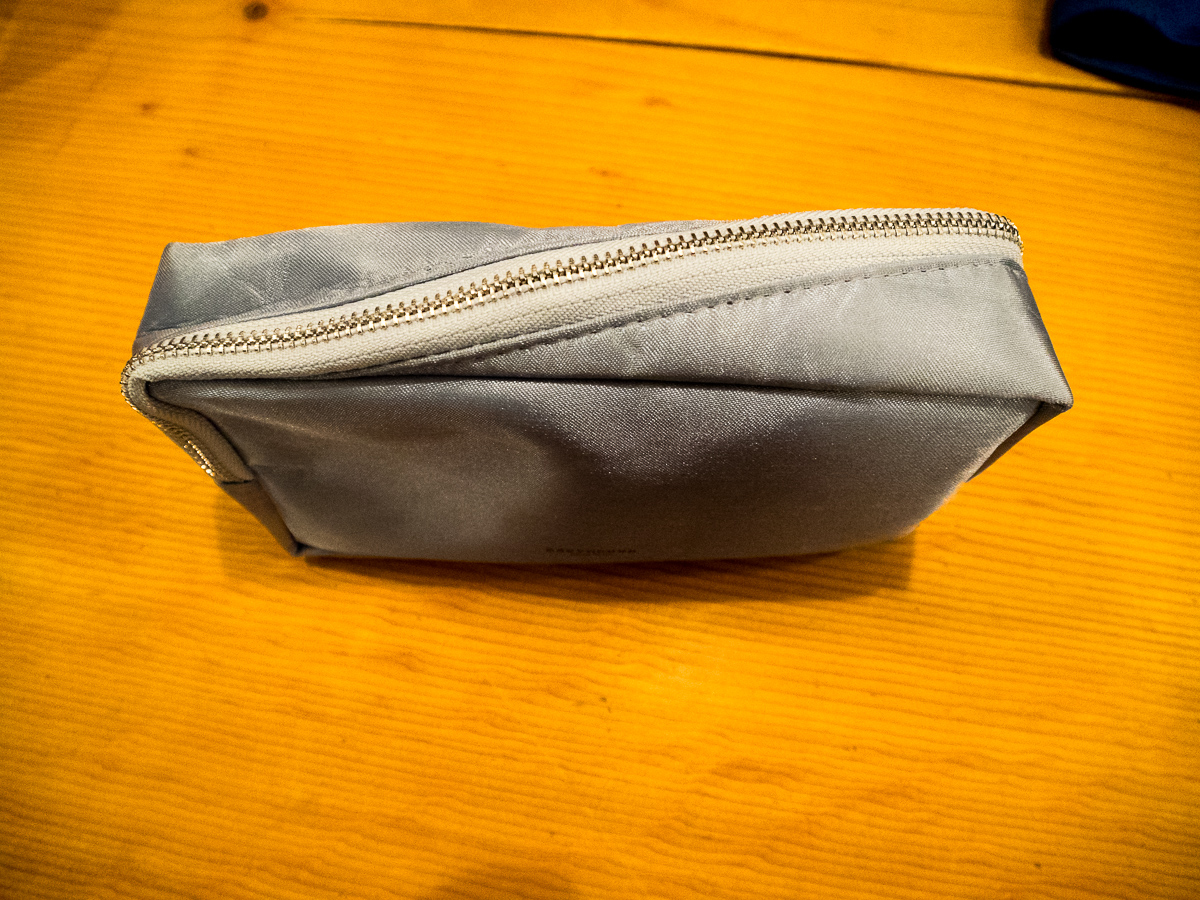 The kit itself included slippers, lip balm, hand cream, toothbrush, a hairbrush, some earplugs and an eye mask.
The Service & Food
Despite being late to board and located at a remote stand the crew managed to make up a fair bit of time and completed boarding fairly quickly. We were promptly offered a pre-departure drink and warm towel once seated. I figured that a glass of champagne was a good little nightcap ;) Mrs B opted for the more sensible orange juice.
The crew did seem a little rushed and I do not recall anyone actually introducing themselves to us. But our stewardess did come around prior to take-off to run through the menu (unfortunately I seemed to have forgotten to take a photo of the menu), I was disappointed to see that the menu only had breakfast and no light supper. Whilst I appreciate the flight was departing at 11 pm at night, I think it is a nice touch to at least have a light supper on offer.
We were also asked if we wished to be woken up for breakfast 2 hours before landing, yes 2 hours! I suppose they need to serve breakfast to 42 seats in business class but on a 7-hour red-eye flight 2 hours before landing seemed a bit rough.
Shortly after takeoff, the cabin lights were dimmed and I reclined the seat into bed mode to get some much-needed shut-eye.
I woke up on my own accord about 10mins before breakfast started to be served, I suspect the cabin lights were what caused me to wake up. Mrs B was still passed out and didn't seem too impressed when the stewardess tried to wake her up and decided to opt out of breakfast and get some additional sleep.
Breakfast was a cheese omelette with a bread basket and granola. Overall the breakfast was ok, I find aeroplane breakfasts to be the least inspiring of all aeroplane food, but it was edible.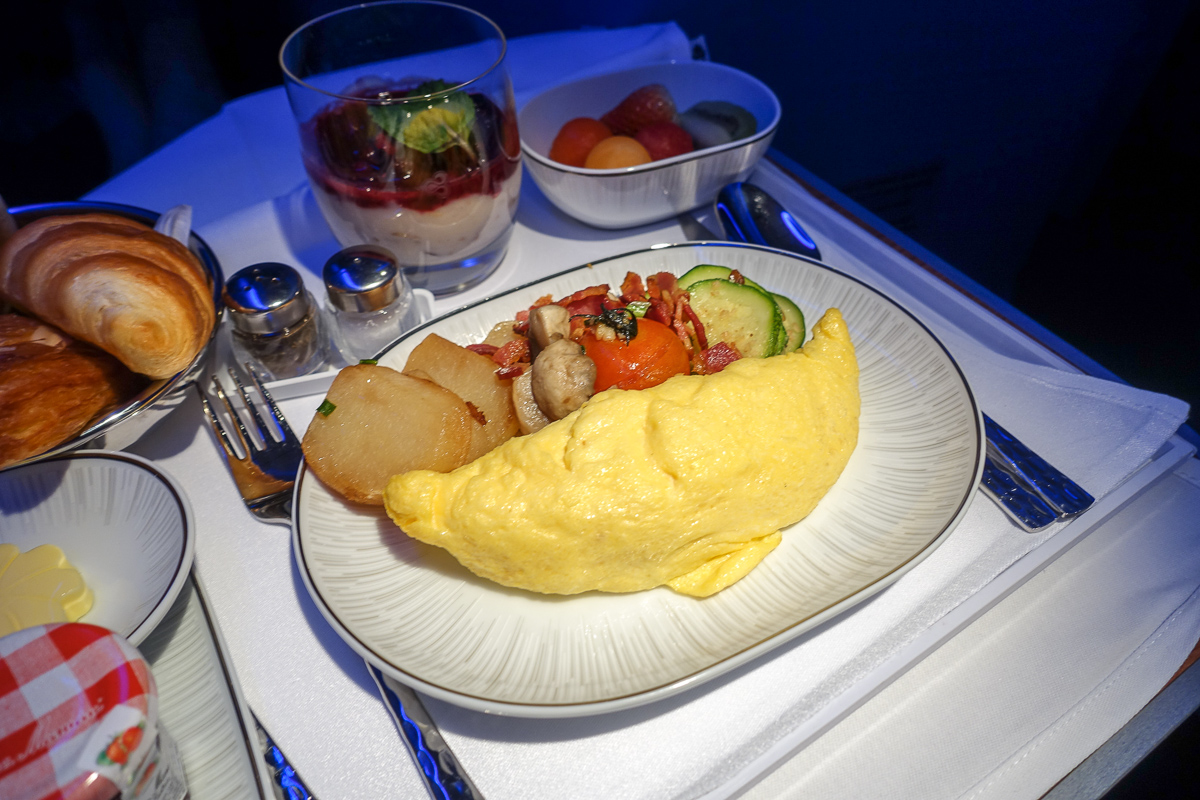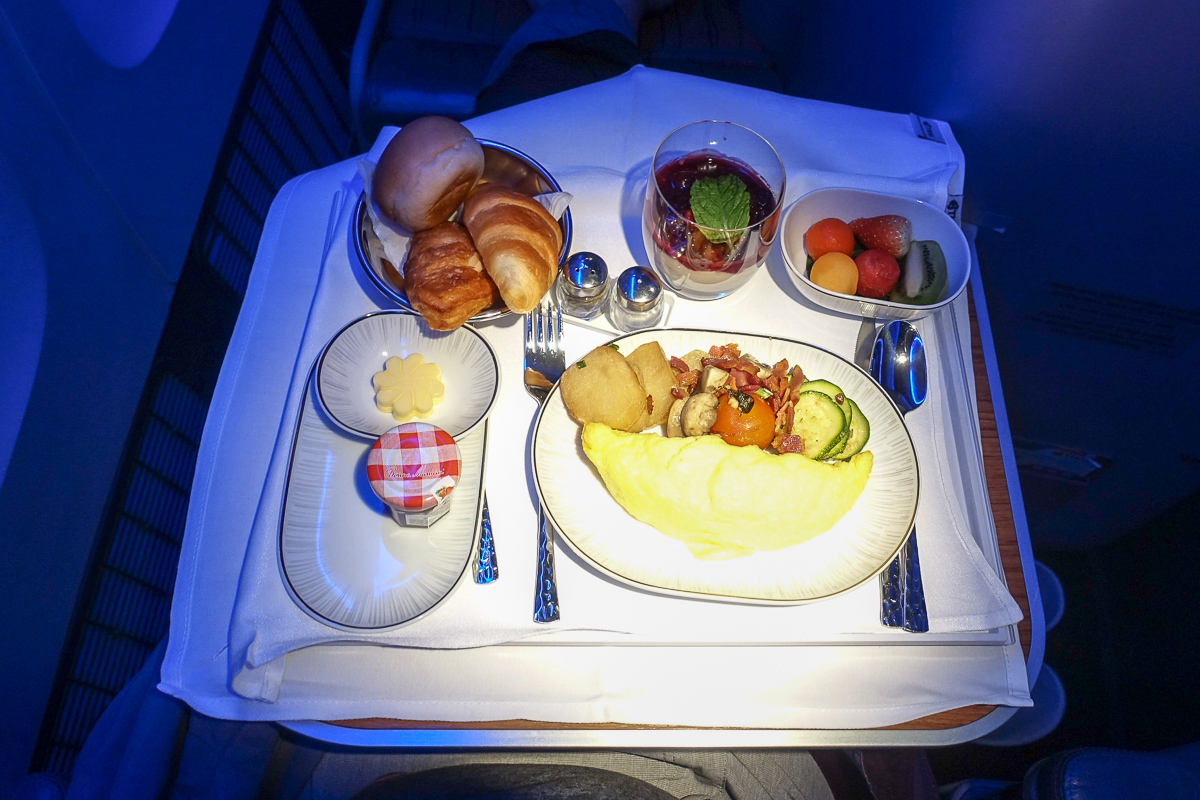 It was a pretty amazing view as we approached Tokyo, the entire city was snow-capped and white. Apparently, it has snown 10cm overnight, which was the most snow Tokyo had seen in 4 years.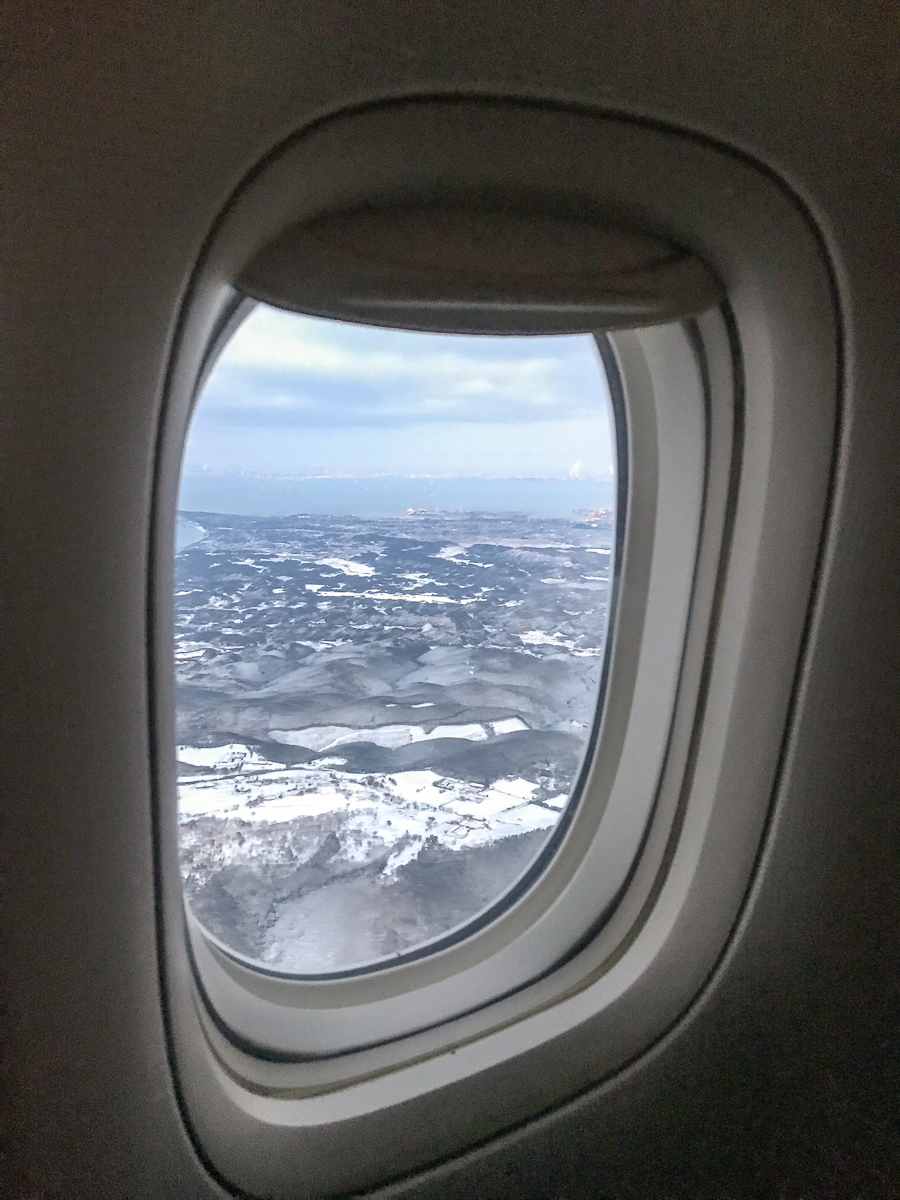 Overall Impression
This was a short red-eye flight, so probably not the best way to review Thai Airways 777 Royal Silk class, but overall it was a pleasant flight. The seat was comfortable and a significant step up from Thai Airways legacy angled business class product. It was not as advanced or comfortable as the B/E Super Diamond seat featured on Virgin's 'The Business' but it isn't a bad way to fly and I would book it again.