Review: Thai Airways 747 Business Class Bangkok to Sydney
As I have already reviewed Thai Airways 747 Business class a few times now, the focus of this review will be on the sleeping experience of the angled lie-flat seat.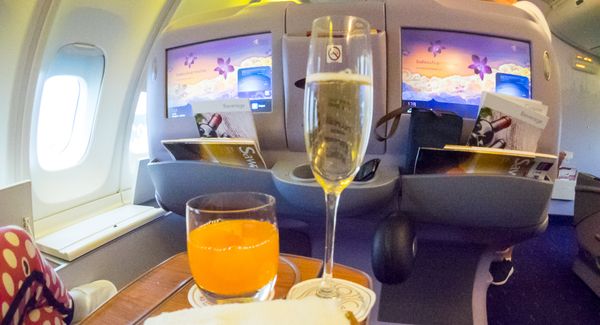 Table of Contents
Introduction: Skiing and Sightseeing in Japan
Review: Air New Zealand Sydney Lounge
Review: Thai Airways 747 Business Class Sydney to Bangkok
Review: Thai Airways Bangkok Lounge & Spa
Review: Thai Airways 777 Business Class Bangkok to Tokyo
Travel: Exploring Tokyo in the Snow
Review: Japan Airlines $10 Class J Upgrade
Travel: Exploring Niseko
Review: Sapporo New Chitose Royal Lounge
Review: Thai Airways Business Class Sapporo to Bangkok
Review: Thai Airways 747 Business Class Bangkok to Sydney

After enjoying another fantastic massage in the Thai Airways Bangkok spa we made our way to gate C9 as it was 5 pm already and boarding was scheduled for 5:10 pm. As I have already reviewed Thai Airways 747 Business class a few times now, the focus of this review will be on the sleeping experience of the angled lie-flat seat.
Before heading to the gate we stopped past the transfer desk, I had been keeping an eye out for award availability to open up on Thai first class as I was keen to upgrade this leg of the trip to be able to get a better nights sleep. Unfortunately, availability never opened up despite the cabin having five seats free. I was curious if they would let me pay for an upgrade and also what the cost would be. Unfortunately (as suspected) because our tickets were award tickets with another carrier they were unable to process a cash upgrade. What was interesting is that Thai Airways do in fact do on-departure cash upgrades to both Business and First so if you are on a cash ticket it is worth asking at the check-in what the cost of an upgrade would be.
We got to gate C9, and the gate area was the usual chaos that is Bangkok airport. The way they have the gate lounges setup is just bizarre if you ask me, it always seems to be chaotic and disorganised. Boarding started, and we made our way on to the plane and were ushered upstairs to find our seats, it was quite a full flight with only seven seats empty in the upstairs section.
The Seat & Amenities
As this was an identical plane to our Sydney to Bangkok flight, I won't go into details on the seats and amenities; you can read about them here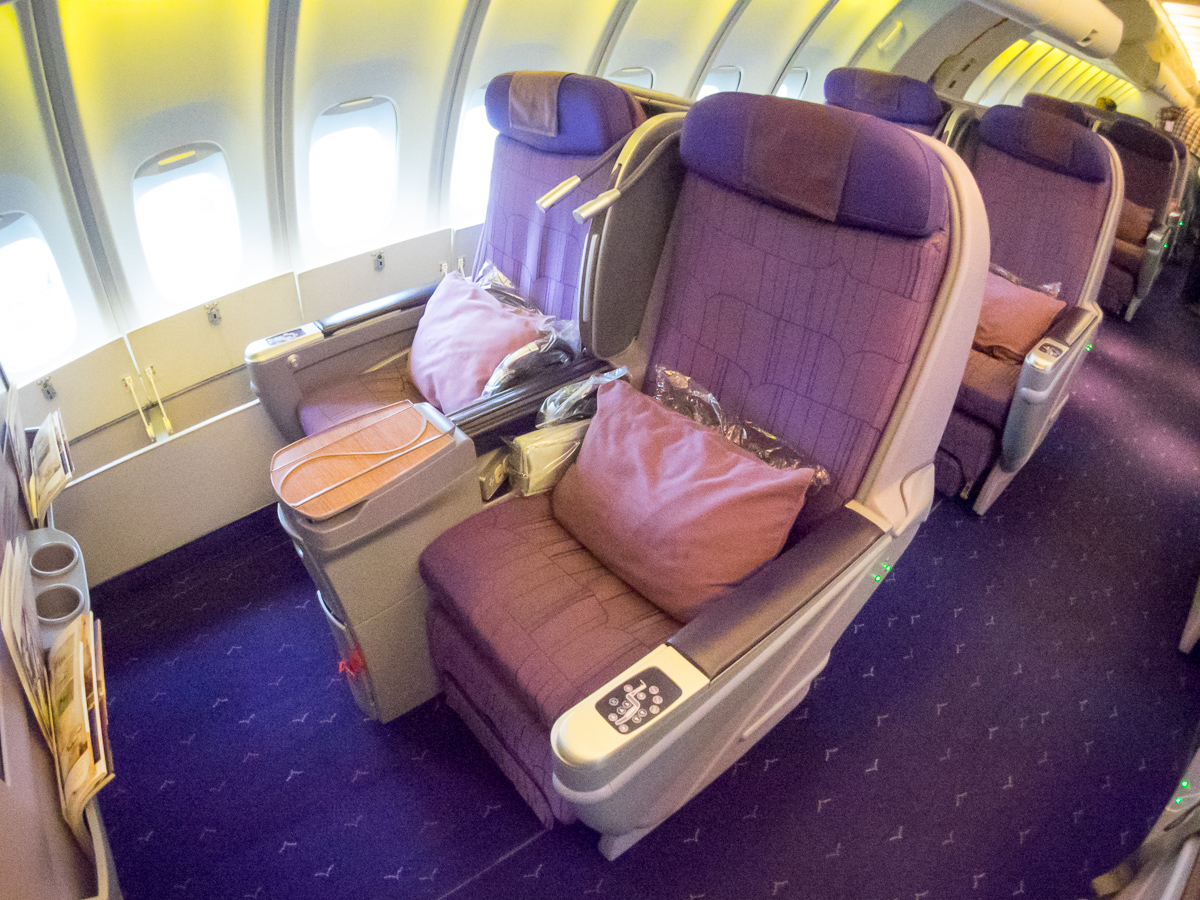 Although it was interesting that we go the same Greyhound amenity kit we got on our previous ex-BKK flight rather than the Furla one. While the contents are the same, I much prefer the actual case on the Furla kit rather than the Greyhound kit.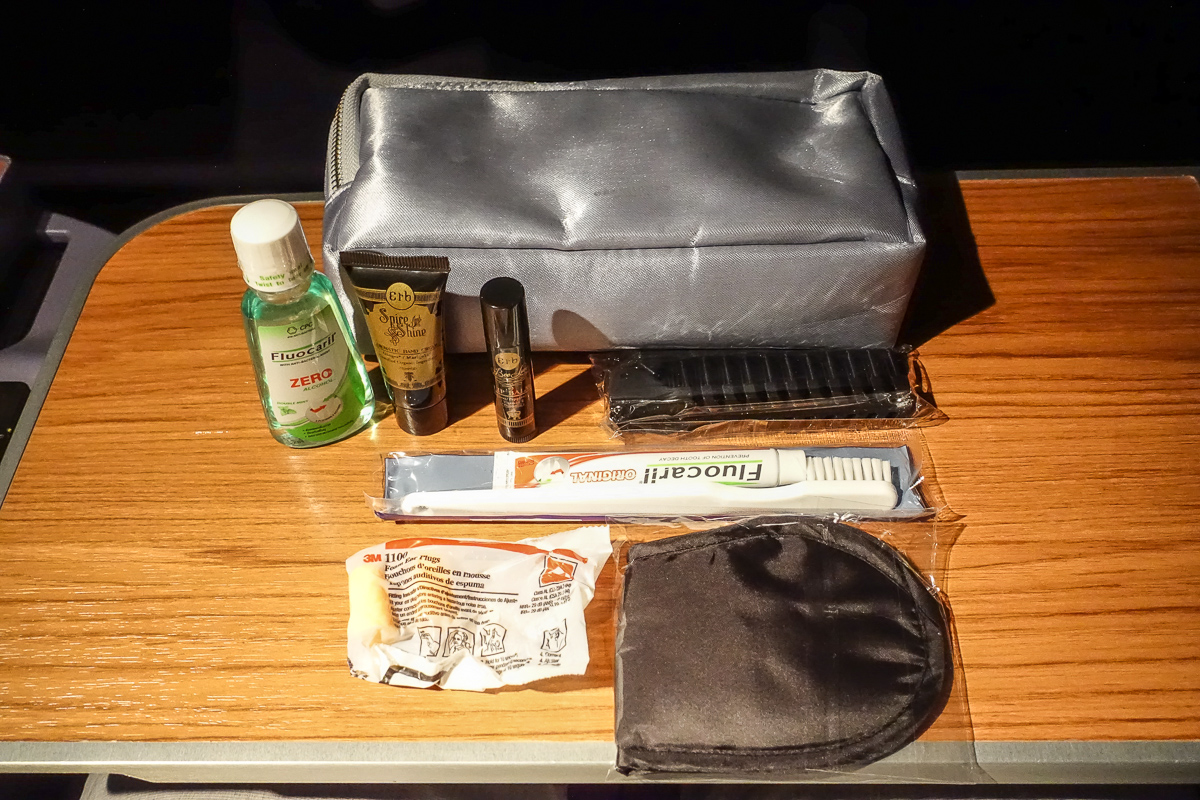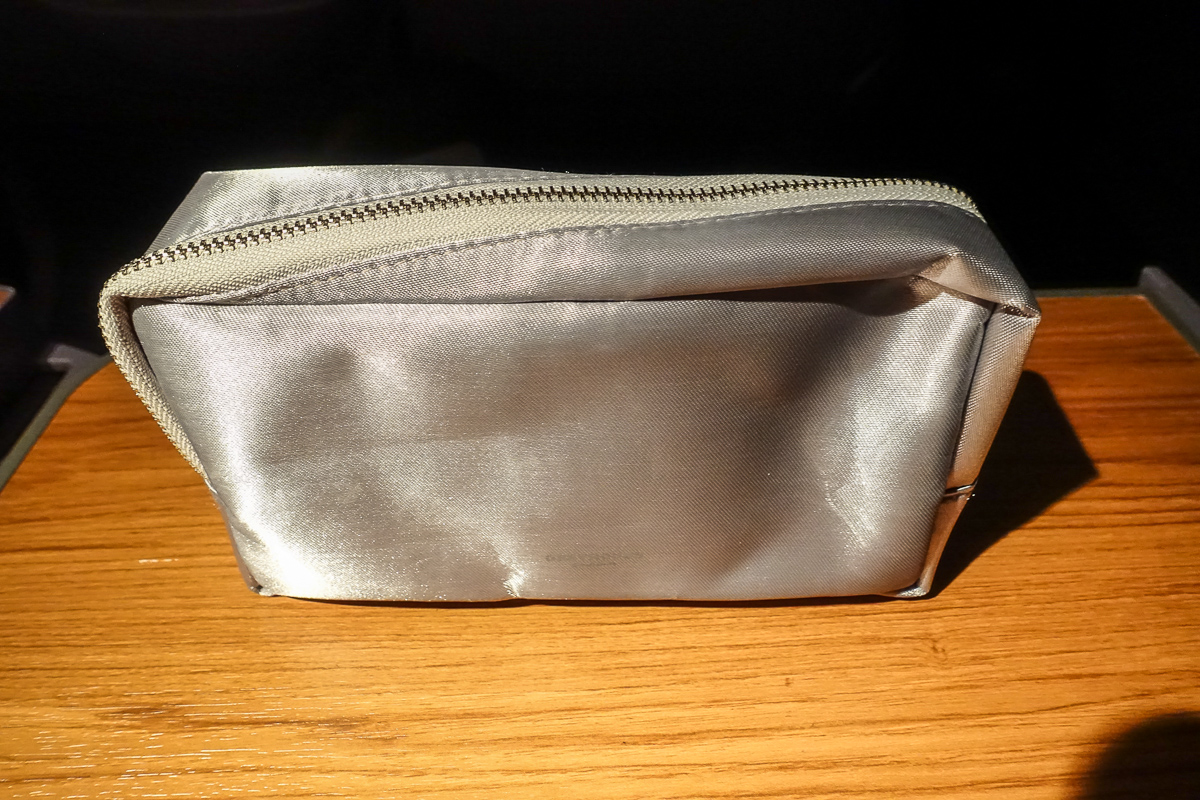 The Service and Food
We settled into our seats, and I decided to head to the bathroom and get changed into some pyjamas as I wanted to get as much sleep as possible on this flight. Mrs B ordered me champagne while I was getting changed which arrived just after I got back to my seat. The crew seemed to be in a real hurry, so there was no chance of a refill, they did a lap around the cabin collecting people glasses before we even pushed back from the gate.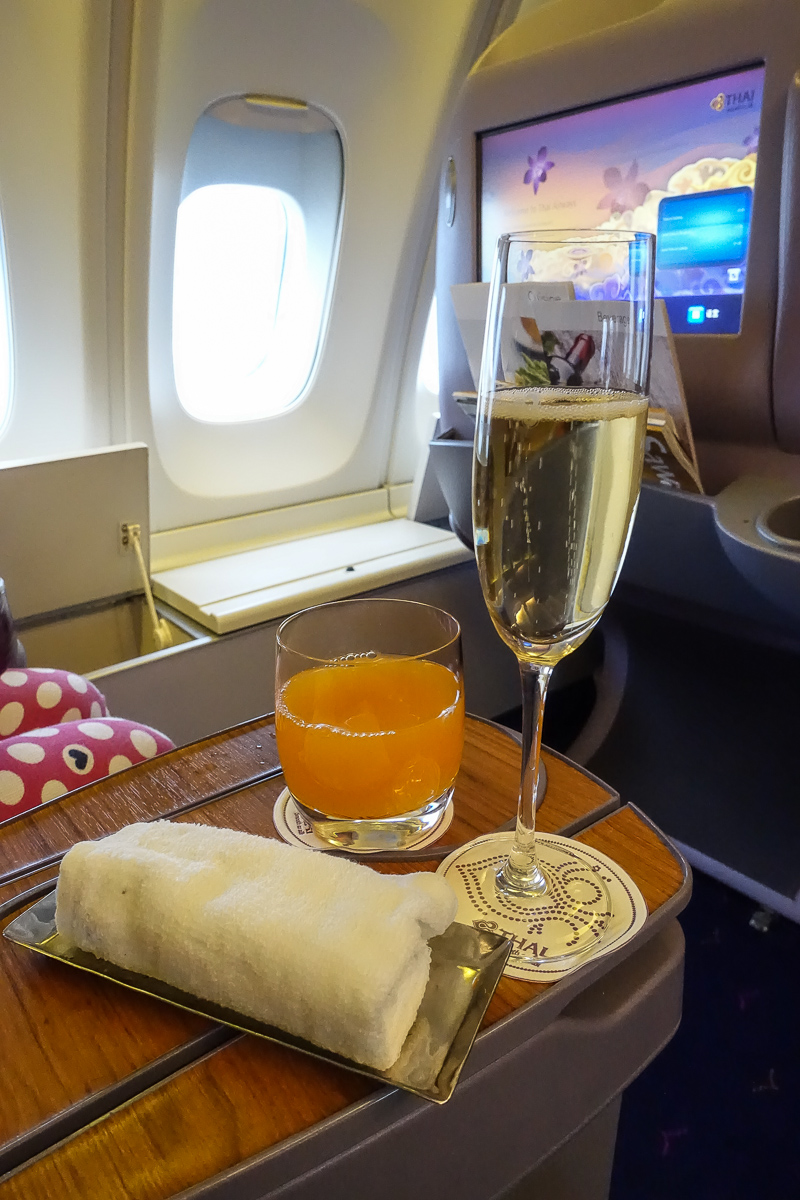 Shortly after we pushed back, the hostess came around to take our dinner orders. There were four choices on today's flight with two Thai choices and two Western choices.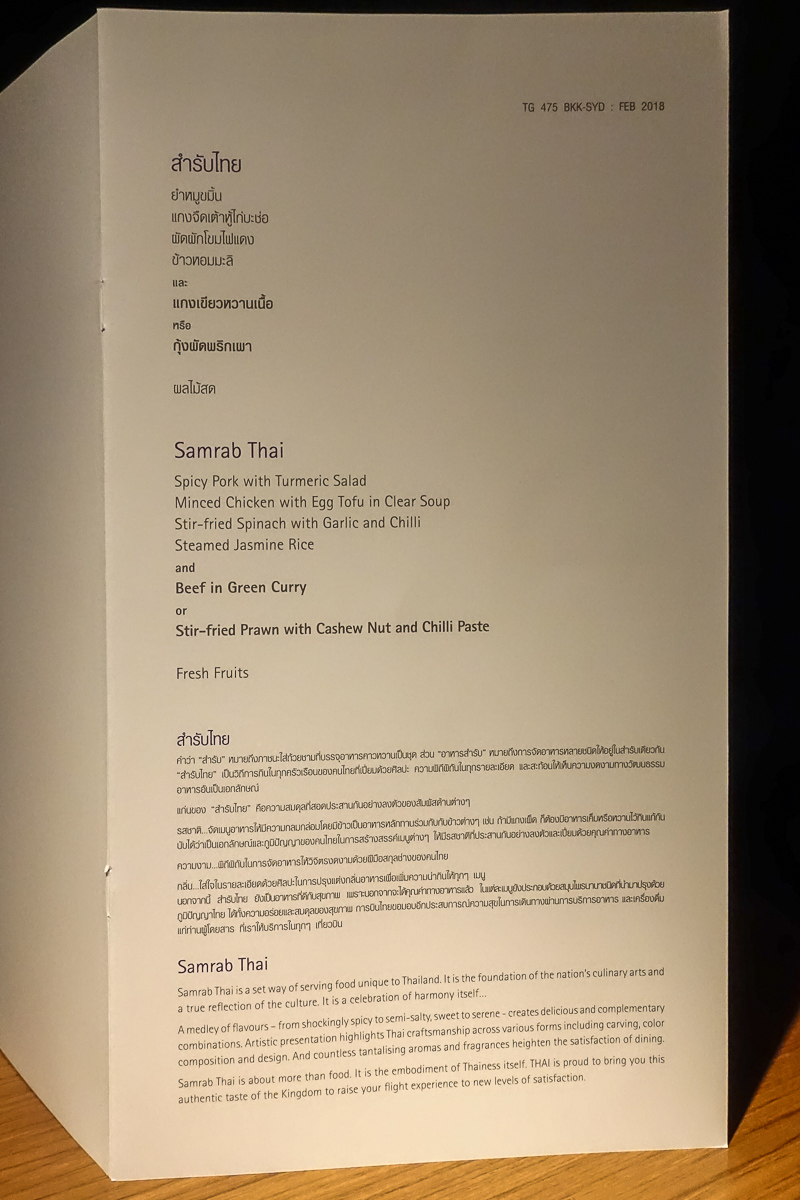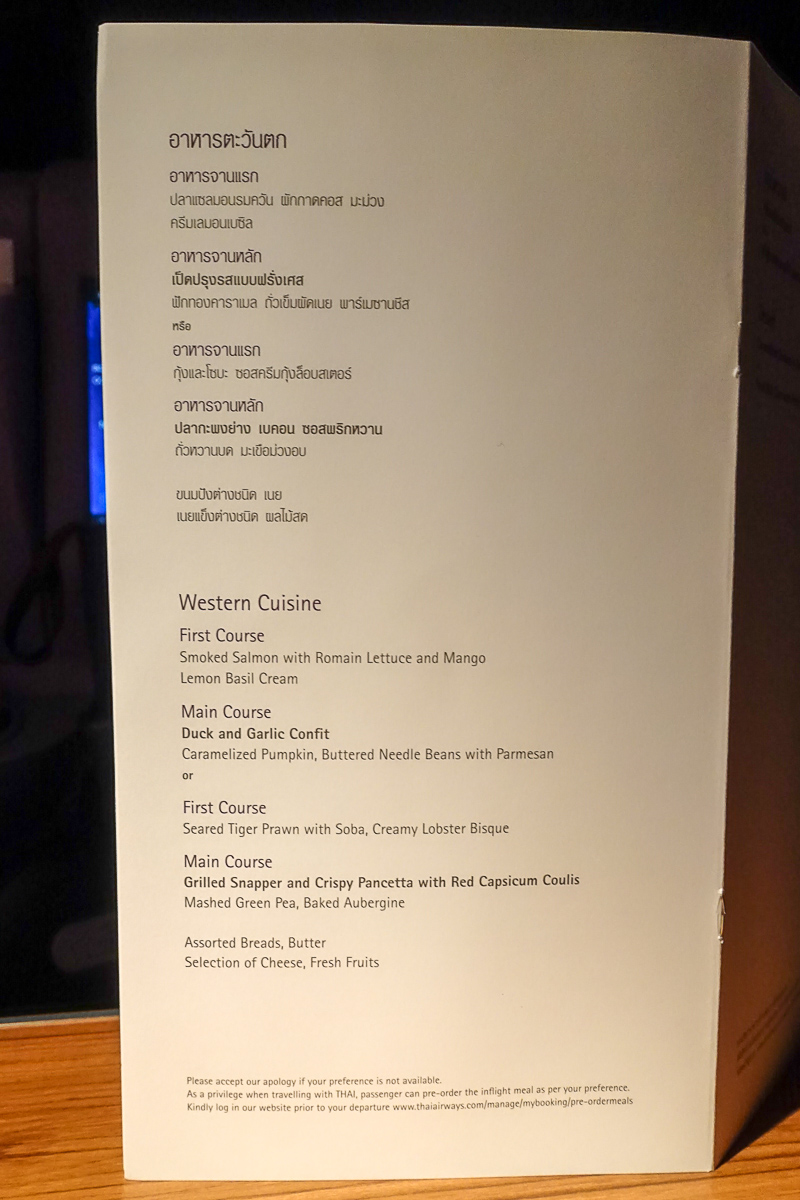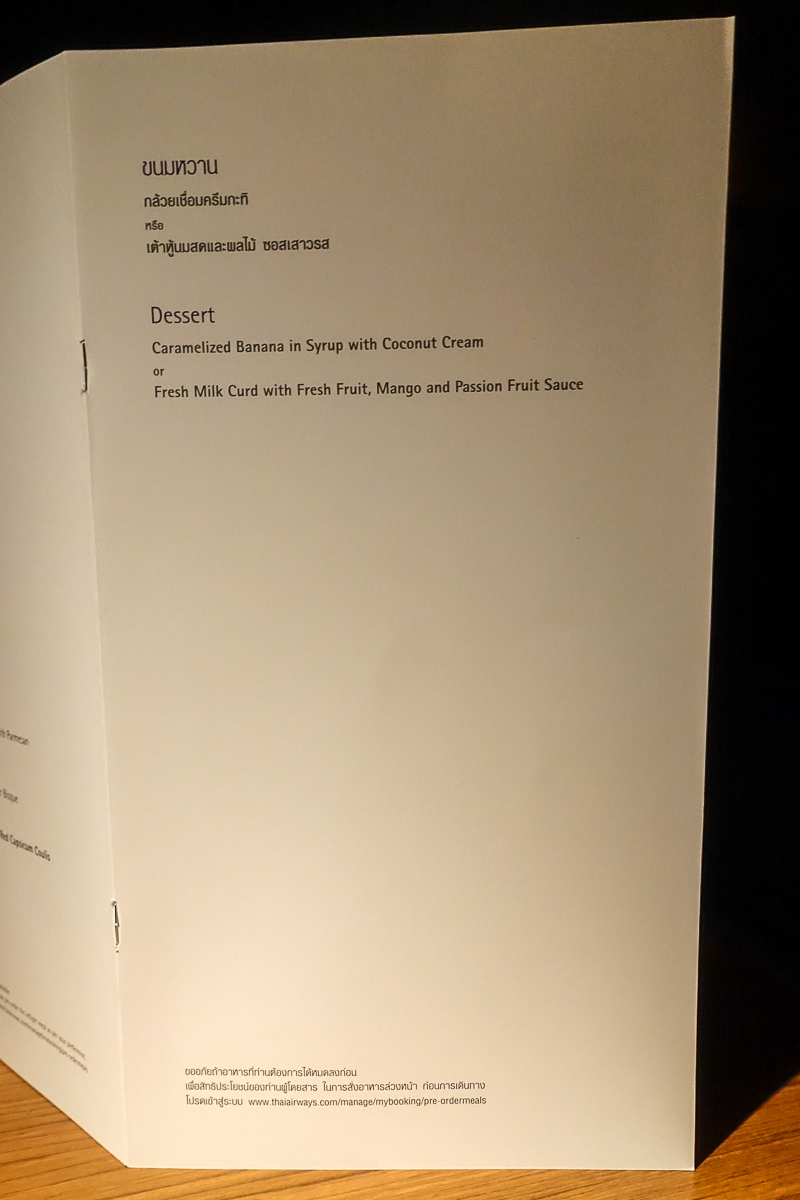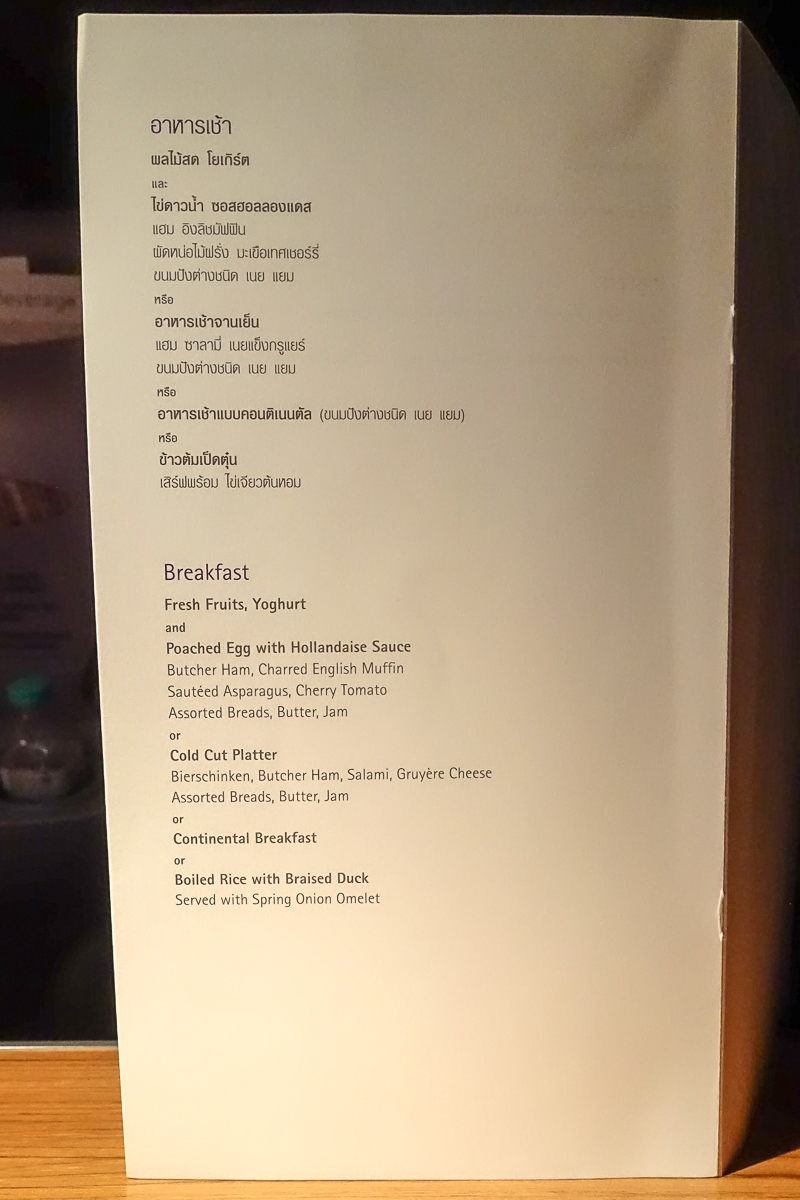 I ordered the Thai Samrab with the prawns, and Mrs B was going to order the same thing except I apparently ordered the last one, so she got the Tha Samrab with the green curry.
Once we hit cruising altitude service began, the crew used a drinks trolley to serve beverages which is the first time I have to seen that happen on Thai Airways. I am not sure if it was a by-product of how full the cabin was or just what this particular crew did.
Overall the crew were very robotic, and dinner service quickly followed the drinks service. My Thai Samrab was tasty, although the prawns weren't very good. Mrs B's green curry ended up being the better choice.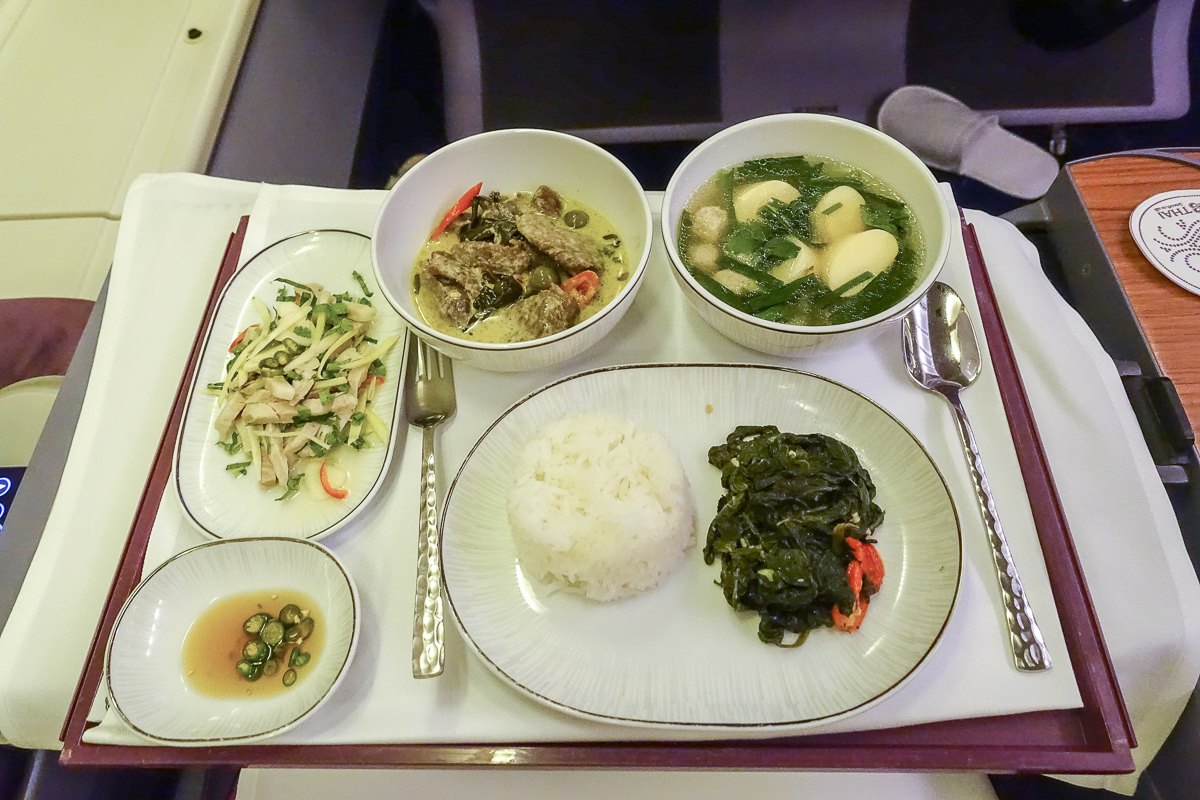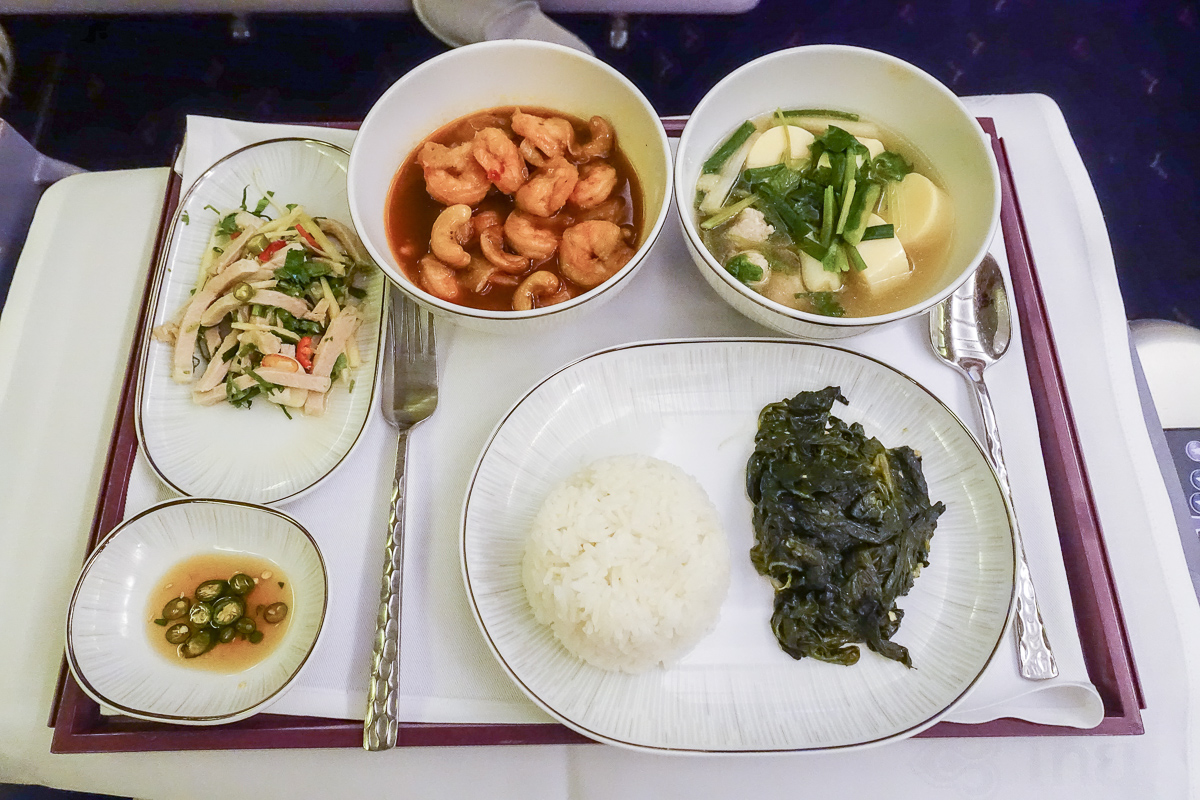 We followed the main meal with a cheese platter and Thai dessert.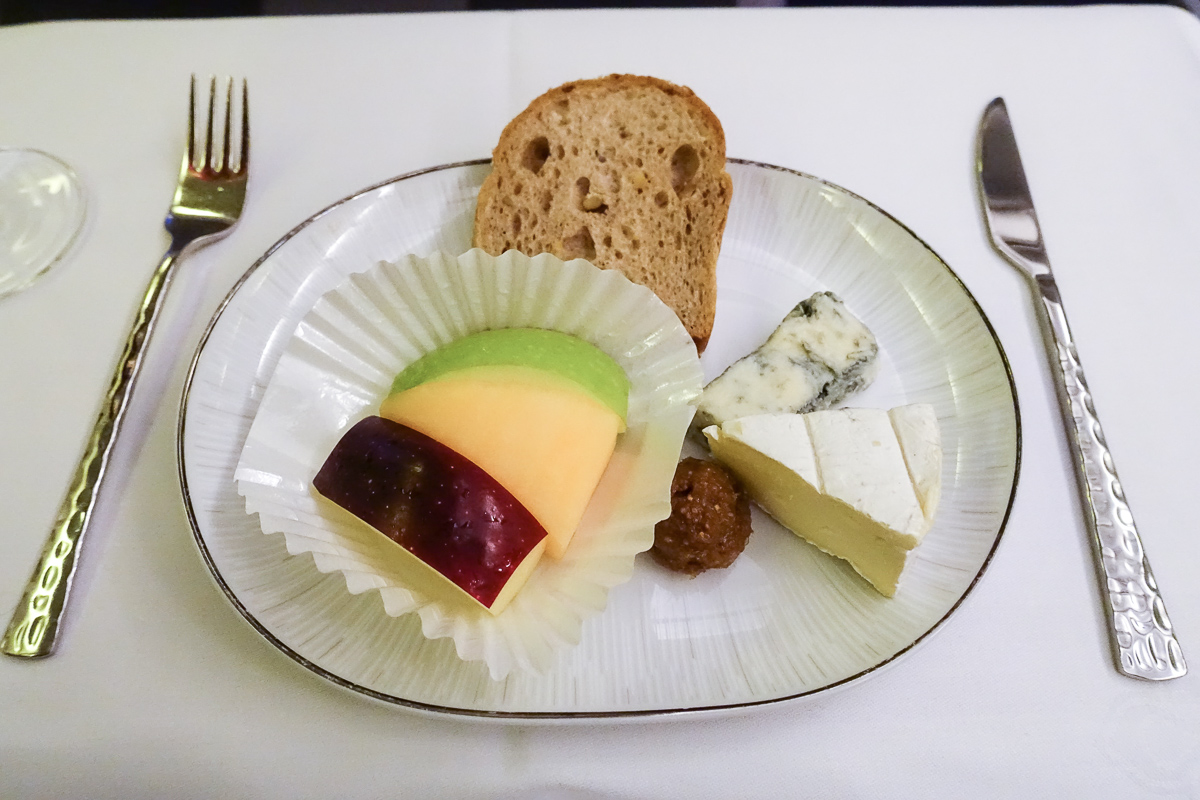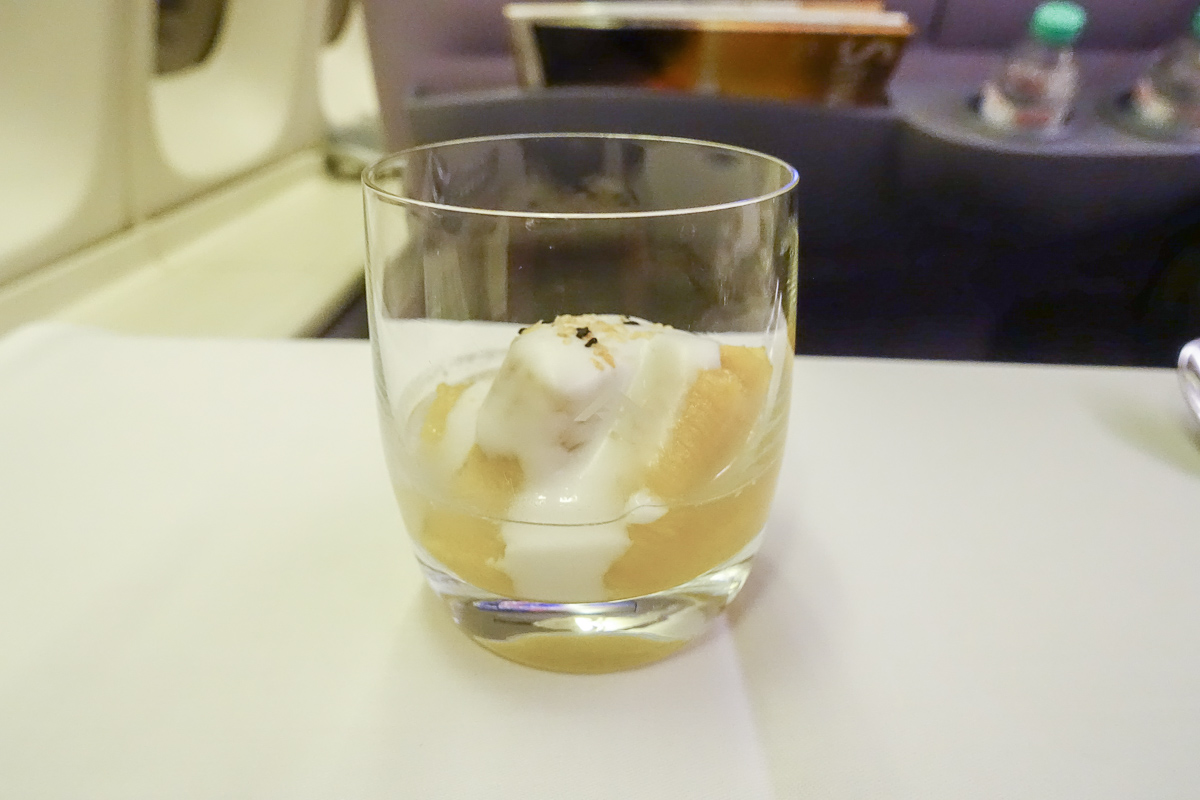 The Bed
We finished dinner and were keen to get as much sleep as possible as this was an overnight flight and we had to get to a wedding pretty much as soon as we landed back in Sydney. While I have flown on the Thai Airways 747 angled Business class seat several times, this was the first time we were on an overnight flight where I wanted to get some proper sleep so I was curious how the angled bed would fare.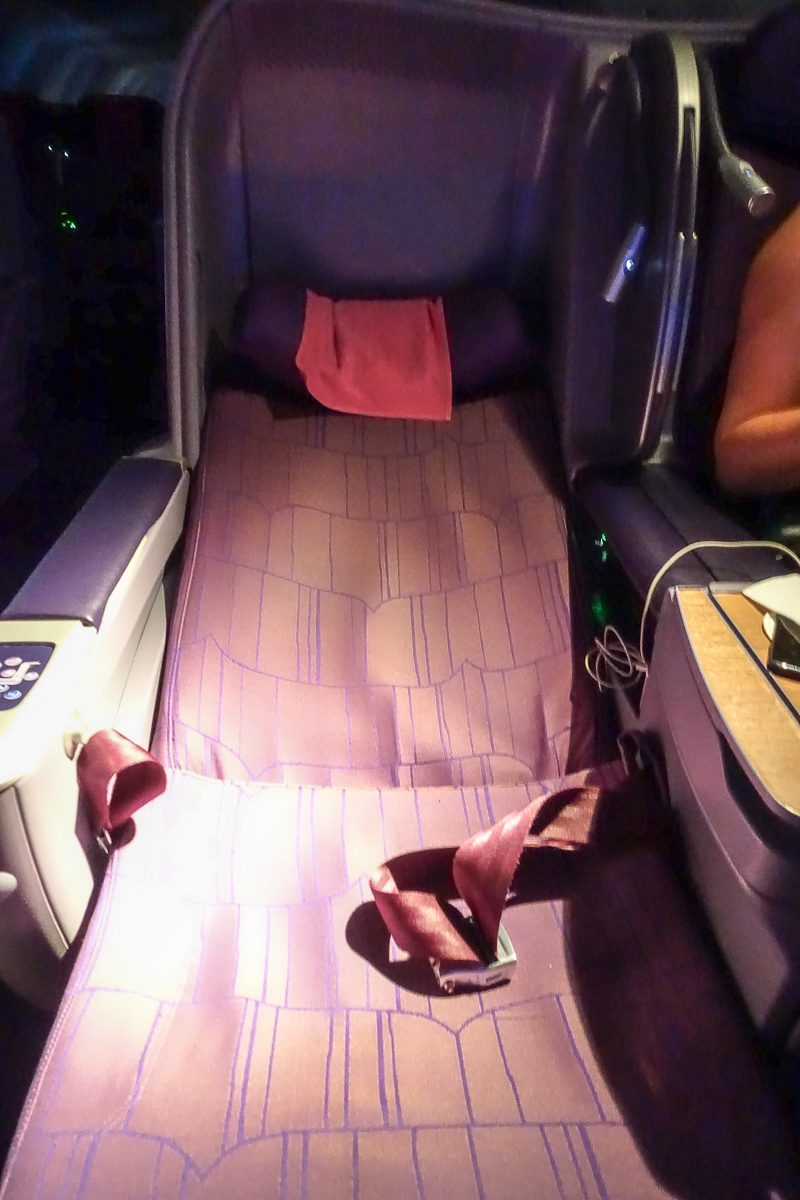 The cabin lights were dimmed as soon as the dinner service was finished and I put the seat into 'bed mode'. Thai provide a blanket and a pillow but do not offer any turndown service.
So to cut a long story short, despite the seat not being on too much on an angle, it was basically impossible to get comfortable. I constantly felt like I was sliding down the seat! There is a flip up footrest that you can brace your feet against to stop sliding, however, no matter what I tried I continued to feel like I was trying to sleep on a slippery slide. All in all, I managed to get a few hours of broken sleep, before I gave up and decided to watch a movie. Mrs B's take on the seat/bed was pretty much the same.
A few hours before landing the crew turned on the cabin lights and begin breakfast service. I ordered the poached eggs, and Mrs B ordered the continental breakfast. Both meals ended up being the same, except Mrs B's was just minus the hot dish.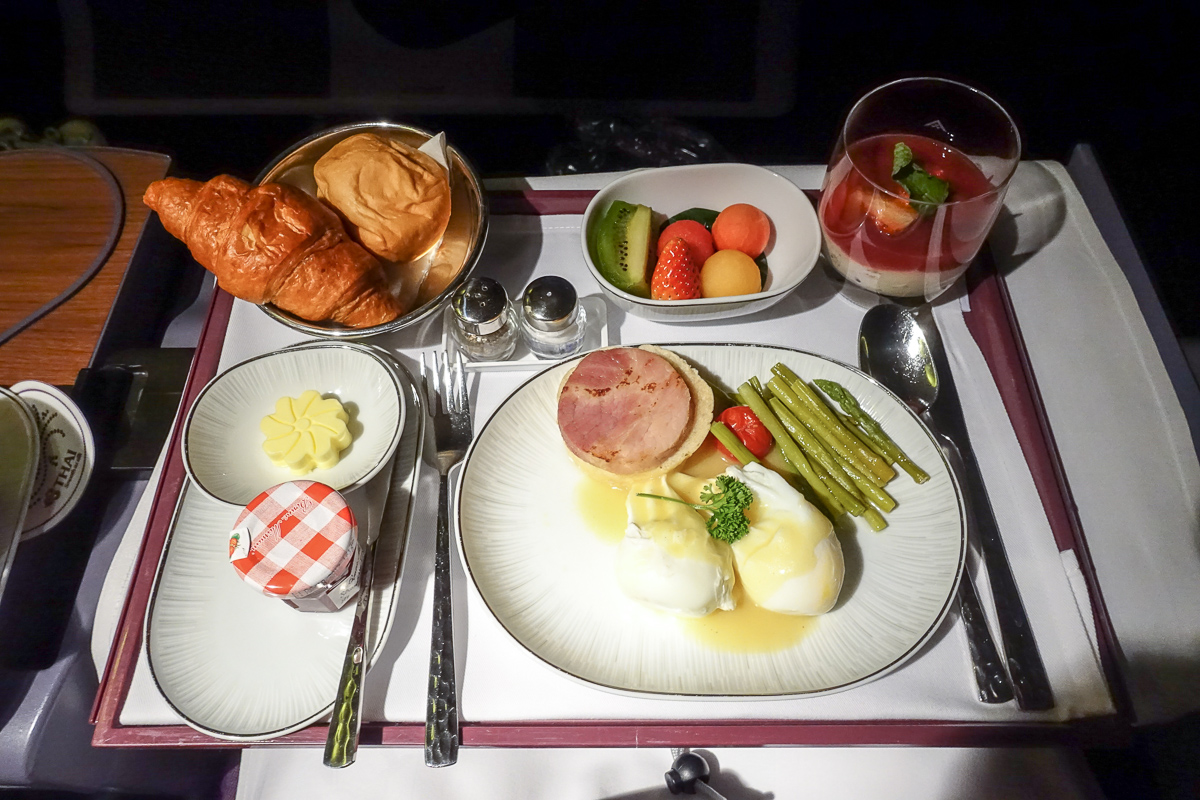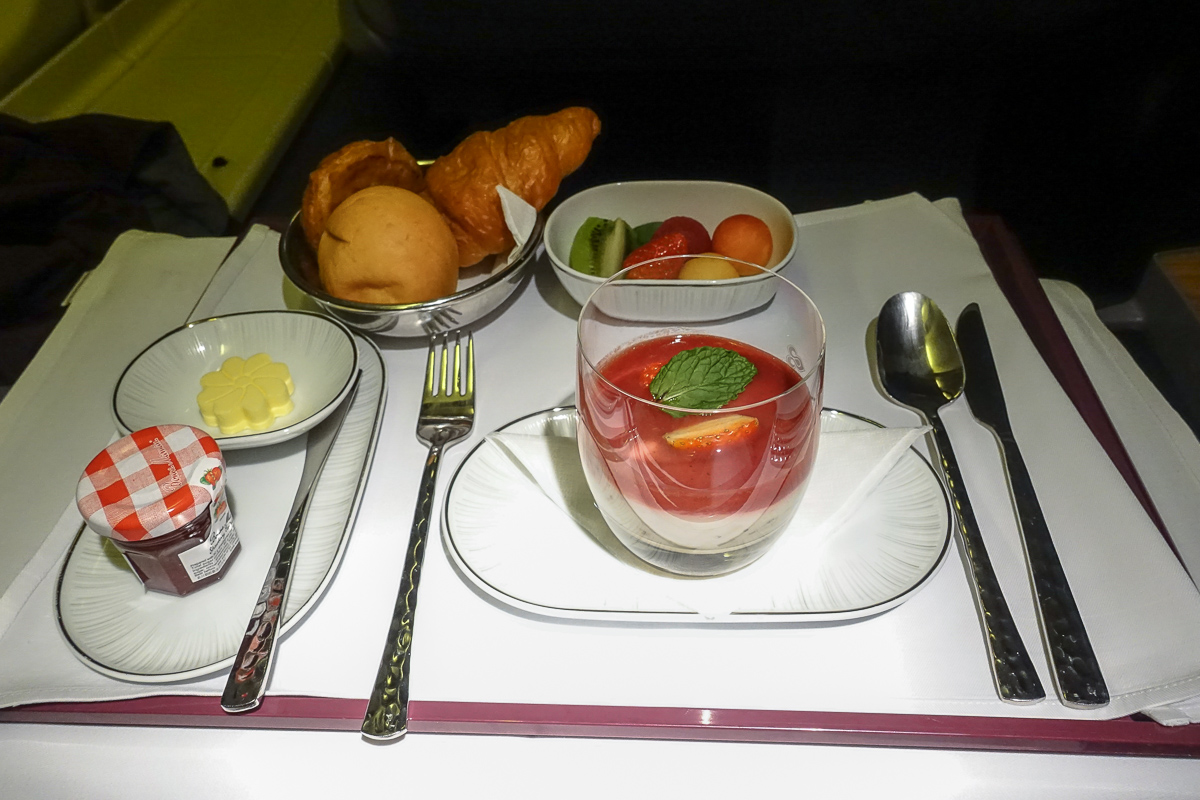 Overall Thoughts
I always love flying Thai Airways and this trip was no exception, the older generation seats have never really bothered me before. However, this particular flight was the first time I have tried to get proper sleep on the older generation product, and it was sorely disappointing and uncomfortable compared to modern Business class products. I would happily fly Thai Business again, however not on an overnight flight. I was booking some flights the other week, and Mrs B only question when I said we were taking the red-eye to Hong Kong was "It's not that dodgy Business right?"