Sometimes it Pays to Hang Up and Call Again!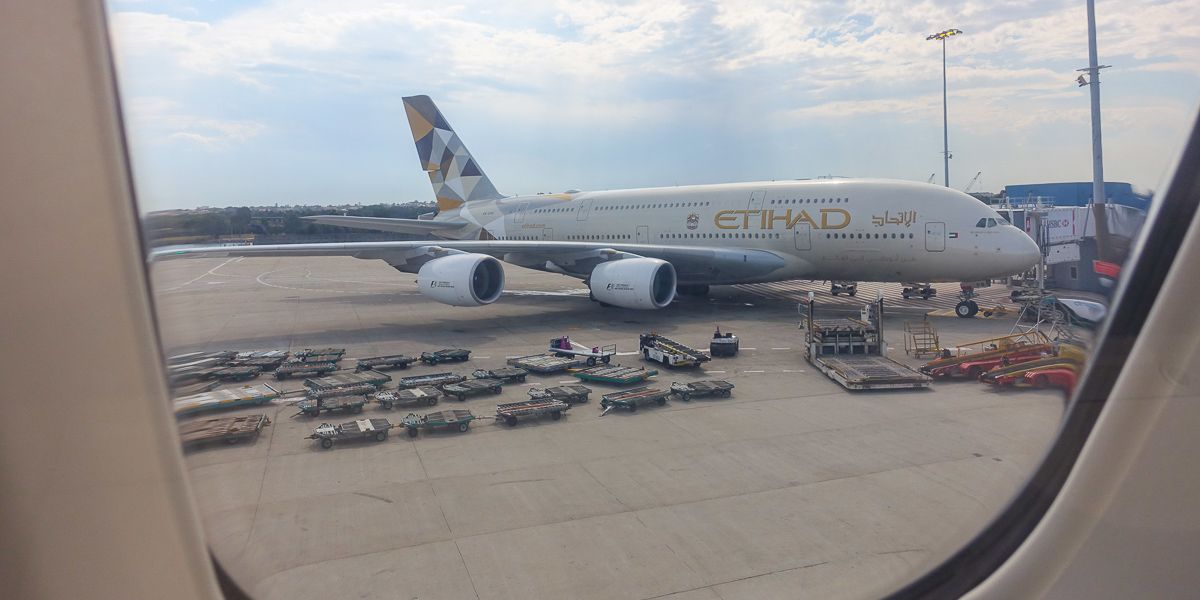 These days you can do most things related to miles & points online, but sometimes you still need to call a contact centre. Especially if you want to book complex itineraries not available online.
Unfortunately booking Etihad First class with Velocity points is one of these cases. The online booking tool for Velocity doesn't even show Etihad first (or Singapore Airlines for that matter) availability, you have to call to confirm availability and then call to actually make the booking. On the plus side, they waive the $60 per person contact centre fee as you can't make the booking online. As mentioned in my guide to booking Etihad First class awards with Velocity points, you can get an idea of availability by looking at the Etihad website but there is no guarantee that this will be available to Velocity.
So before I locked in our Emirates flight for our next Europe holiday I did exactly that, I checked availability for the dates we wanted to return from Paris on the Etihad website and then called Virgin to confirm that it was in fact available. The helpful contact centre agent confirmed the flights I wanted were, in fact, available and so were flights on the next day.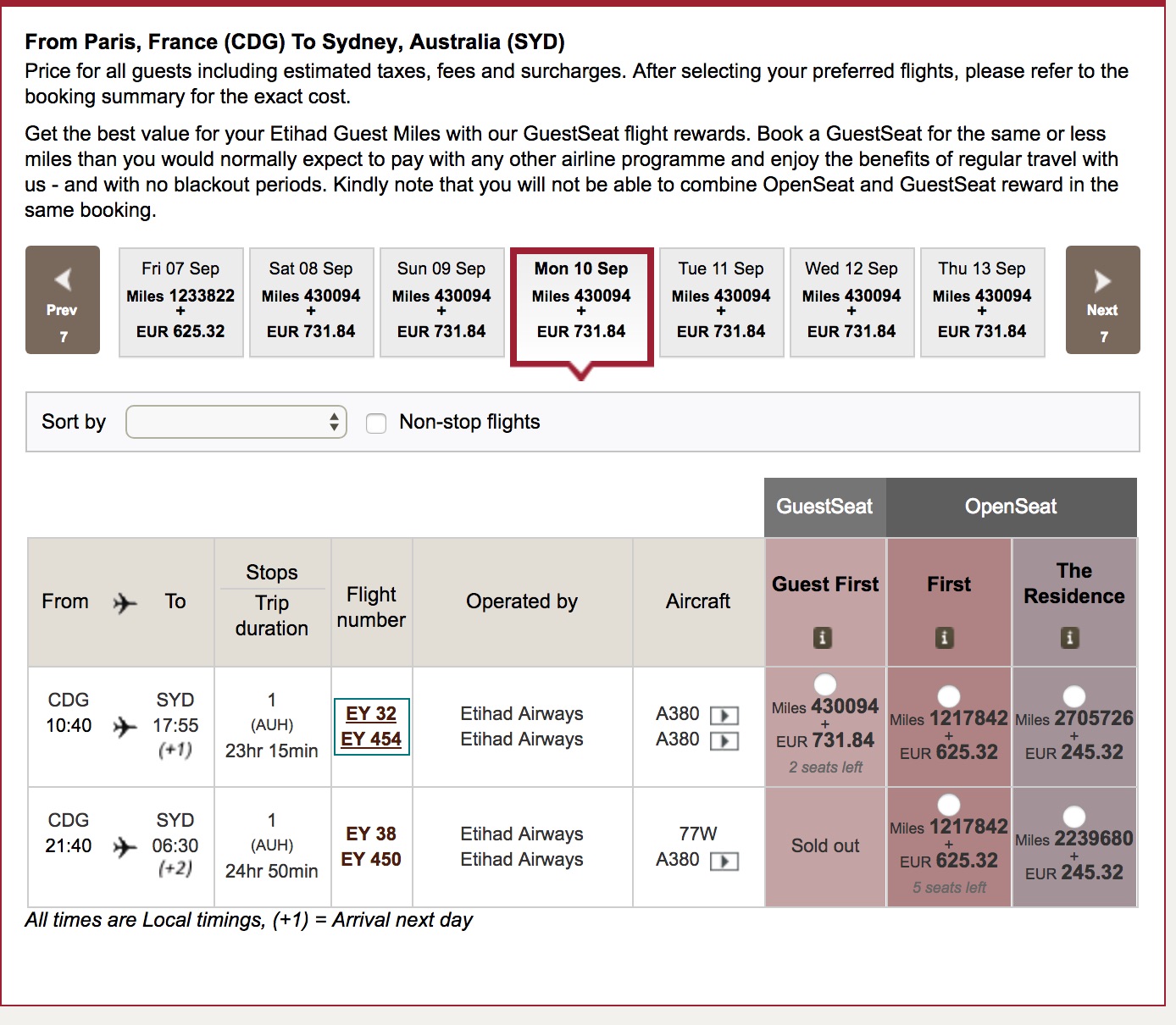 With that confirmed, I hung up and went to book online the Qantas / Emirates flights to Europe (this was my first mistake, I should have just continued and booked the Etihad ones first). Once our Emirates flights were locked in. I called Virgin back to book the return flights we wanted. I was fairly confident because a) the agent had previously confirmed they were available and b) as per Etihad there was availability for two days either side of the day I actually wanted.
First Attempt
So not thinking anything of it, I called back up and gave the representative the details of the flights we wanted (interestingly they always sound surprised when you say First class) and she straightaway said it wasn't available.
I little surprised, I asked her to check again and also check the day after. I could tell by what she was saying that she was searching the segments individually and it was the Abu Dhabi to Sydney segment that was causing a problem.
She was not overly helpful and just insisted that there was no availability and that award availability is always subject to change.
So I decided to hang up and call again.
Second Attempt
After getting frustrated (and a little bit worried) from my first call, I was impatient and called straight back again. Thankfully I got a different agent, who was a little more helpful.
He informed me straight away that yes the flights I wanted were available. He took all my details and the details of the second passenger including my credit card to pay for taxes and then put me on hold to confirm the booking with Etihad and get the ticket numbers.
After the unusually long hold time, I started to guess where this was going and sure enough he came back and apologise and said that when trying to confirm the tickets Eithad said that seats were no longer available. What was odd is that I could see the availability disappear from the Etihad website when he was trying to confirm the tickets and then pop back up when it failed.
Alas, I gave up for the night and decided to try again the next day.
Third Attempt
I woke up the next morning and called the call centre again, giving the representative all the details. Similar to the second attempt she immediately confirmed availability and proceeded to process the booking, although the same thing happened, Etihad rejected the booking. However, this contact centre representative was very helpful. She didn't simply hide behind the fact the 'award availability is always subject to change'.
She continued to try every combination she could and agreed that something odd was happening. In the end, she confirmed that despite O class (the award first bucket) have 2 seats available, when attempting to ticket it was erroring out. She actually implied it was probably a system issue and escalated it to be investigated.
After much back and forth, she managed to find a combination of flights that would in fact ticket, although they are a day earlier than we wanted. She placed this booking on hold and sent my the booking details via email to confirm I was happy with the flight and then processed the booking. Whilst these flights were not ideal, I locked them in as it is only $60 per person to change them if better flight become available.
All in all, this was fantastic customer service, I found it amusing that when I logged on to Etihad to check my booking you can still see all the flights she tried to confirm.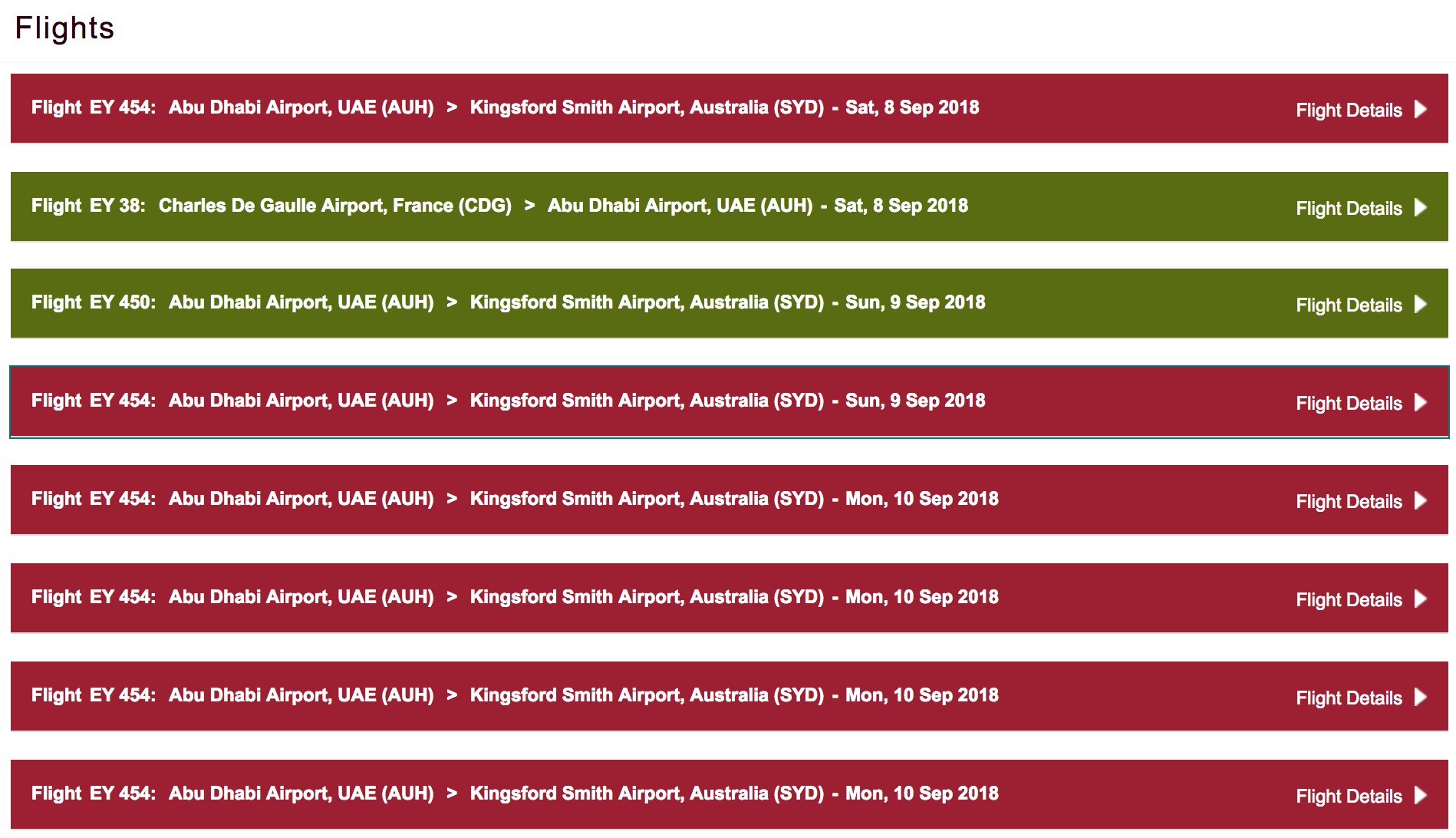 That list went on for another page!
What I Actually Booked
Originally I was trying to get the A380 service out of Paris connecting to the A380 service to Sydney. Mainly because we loved Etihad Apartments, it was an amazing hard product and we both really wanted to fly it again.
Instead, we are now on a 777 from Paris to Abu Dhabi then the A380 from Abu Dhabi to Sydney. On the plus side, it will be interesting to review Eithad's 777 First class and we still get to fly Apartments for the longer 14-hour flight.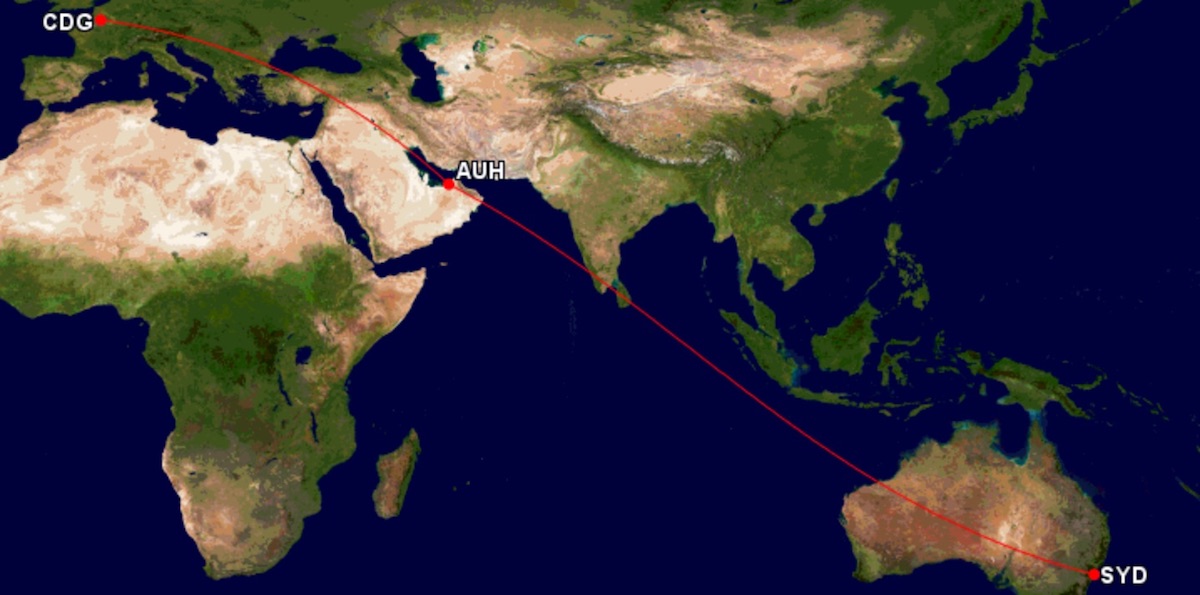 I can't wait to fly this amazing plane again!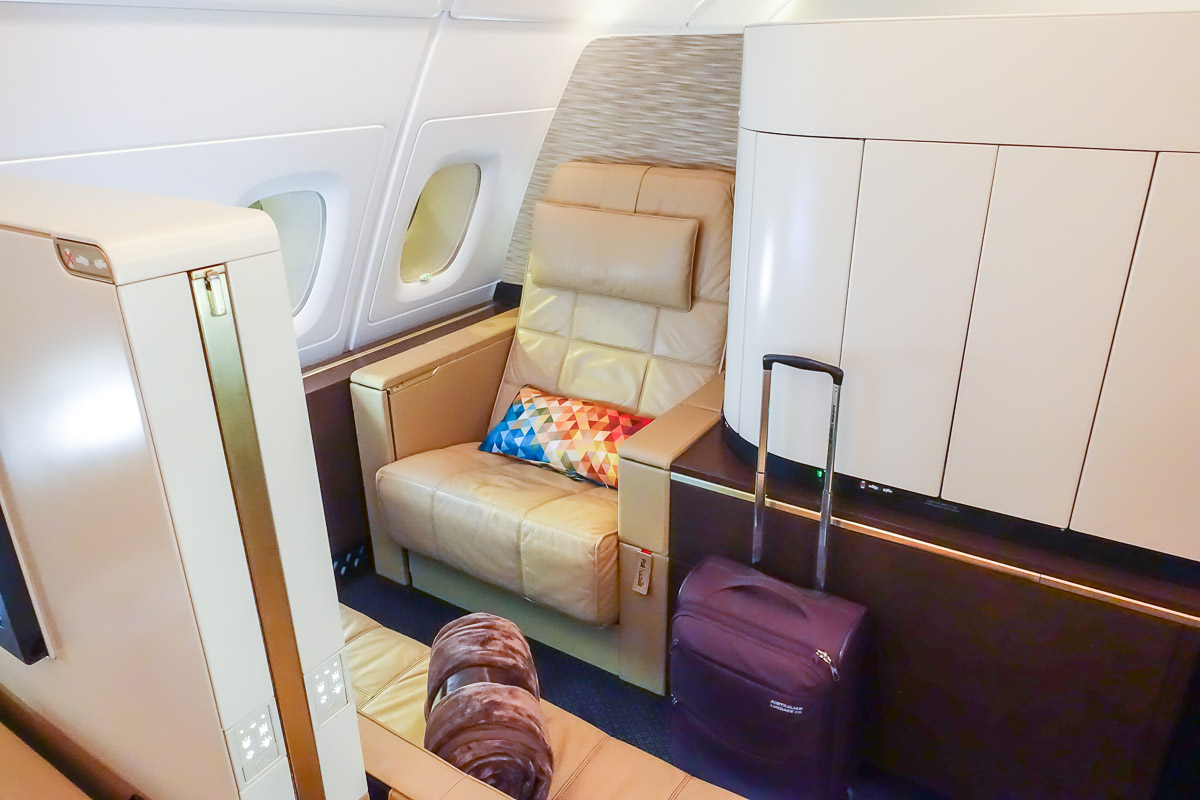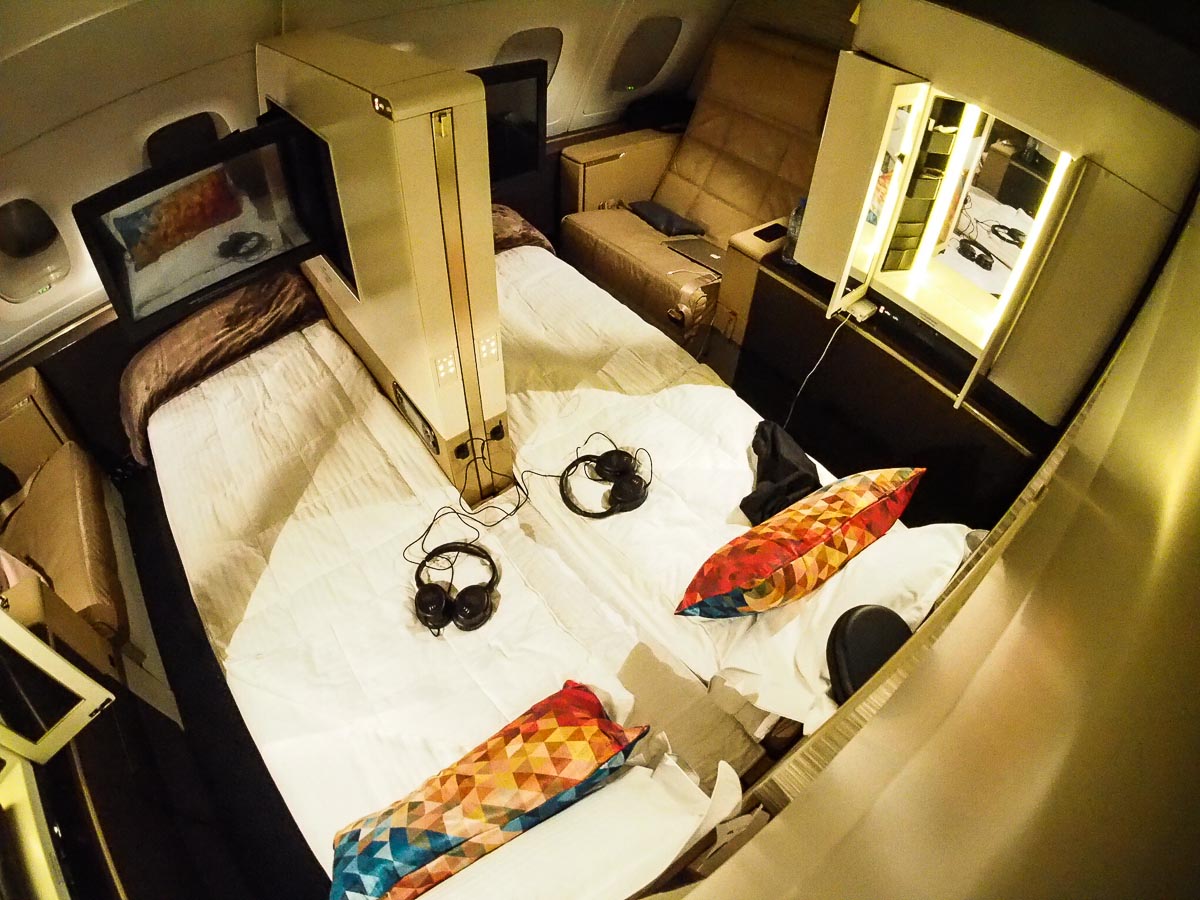 You can check out my previous review of Etihad Apartments here & here