Review: ANA NH880 787 Business Class Sydney to Tokyo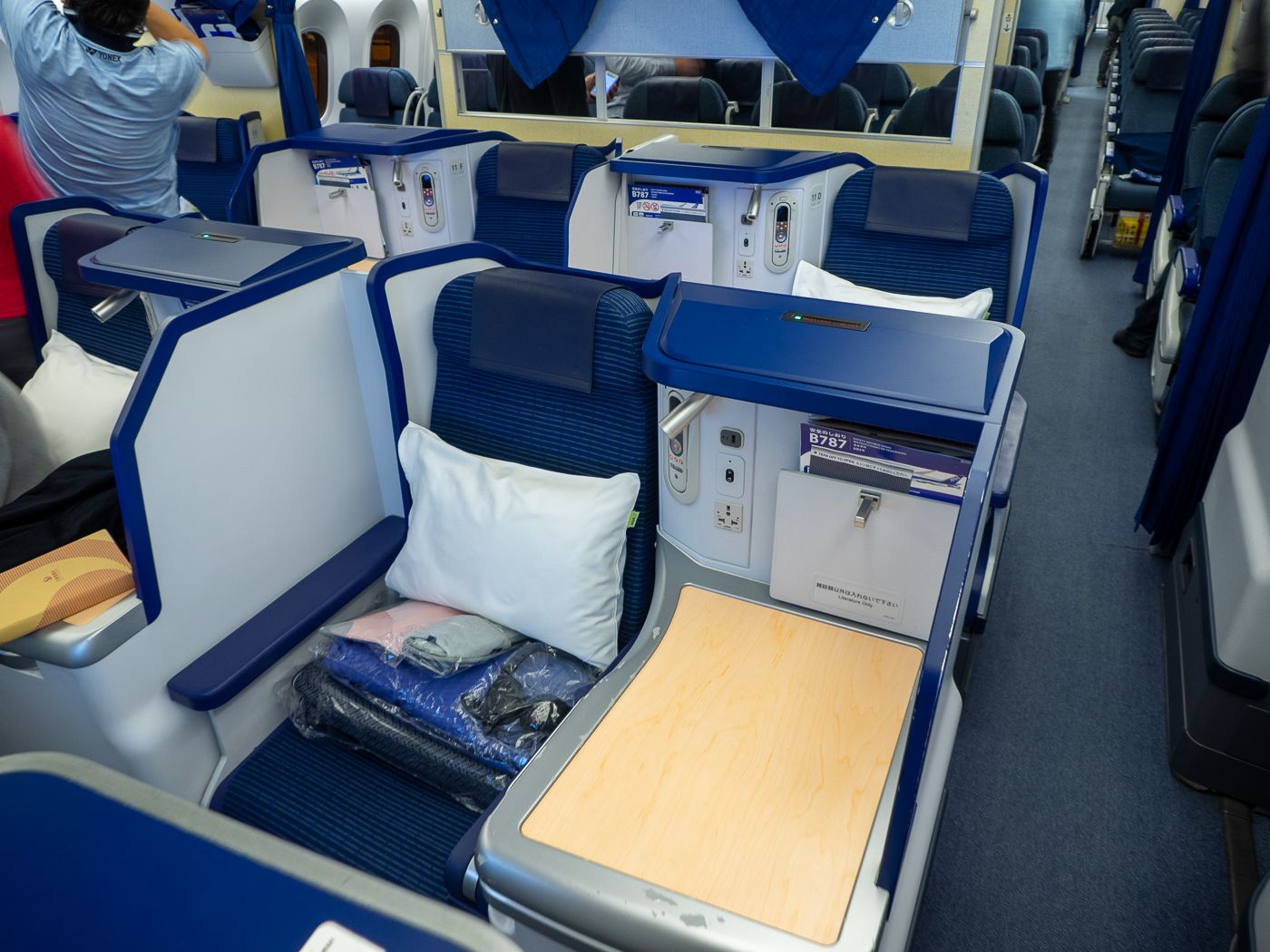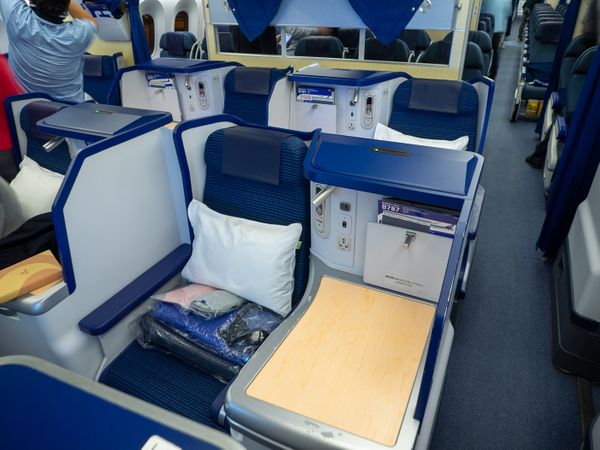 Table of Contents
Snow, Sand and Refundable Bookings
Review: New Sydney AMEX Lounge
Review: ANA NH880 787 Business Class Sydney to Tokyo
Review: Niseko Village Hilton
Review: Osaka Kansai JAL Sakura Lounge
Review: Emirates EK317 A380 First Class Osaka to Dubai

I booked this flight with 50,000 Lifemiles that were purchased during a Lifemiles promotion at ~1.3c per mile (USD), so all up the flight cost ~$1,100 AUD including taxes, which I thought was a pretty good deal. I have never flown ANA internationally before and haven't flown ANA business class so was looking forward to giving it a try.
We got to the gate around 9 pm and boarding was scheduled to start at 9:10 pm. Like many Japanese airlines, ANA has a very strict boarding process that always begins precisely on time. For our flight boarding was split up into three groups, Diamond Tier members, Business class / Platinum tier members and everyone else. Each group is boarded in its entirety, and then the next group begins. Sure enough at 9:11 pm boarding commenced, starting with group 1. I was surprised by how many Diamond members there were, it must have been at least 20 people in group 1. This foiled my usual strategy of trying to be one of the first on the plane to be able to take some photos of the empty cabin.
ANA flies a 787-9 from Sydney to Haneda that is configured with 246-seats. There are 40 Business Class, 14 Premium Economy, and 192 Economy Class seats. The business class cabin is split across the main cabin with eight rows and a mini-cabin with 2/3 rows.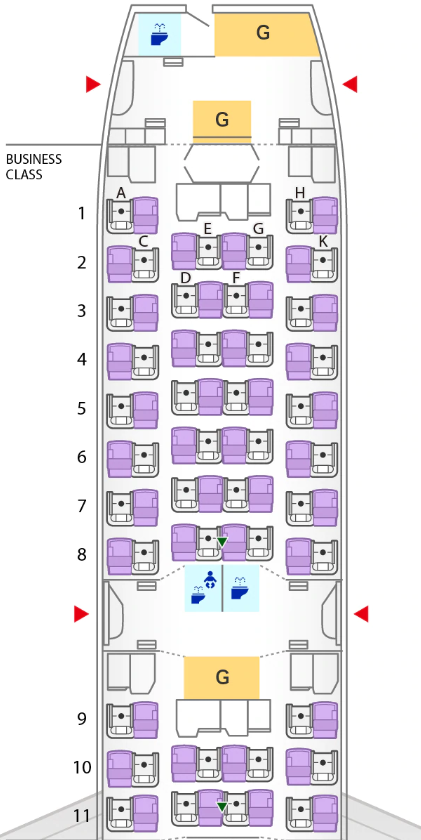 As we booked last minuted our seat choices were somewhat limited, I selected 11A and 10E in the mini-cabin as I wanted seats with more privacy for the night time flight. By the time we boarded the business class cabin was already 50% full, so getting photos was a little challenging. ANA seats have a very utilitarian look about them and don't really have a WOW factor, but they looked comfy, and that's the main thing.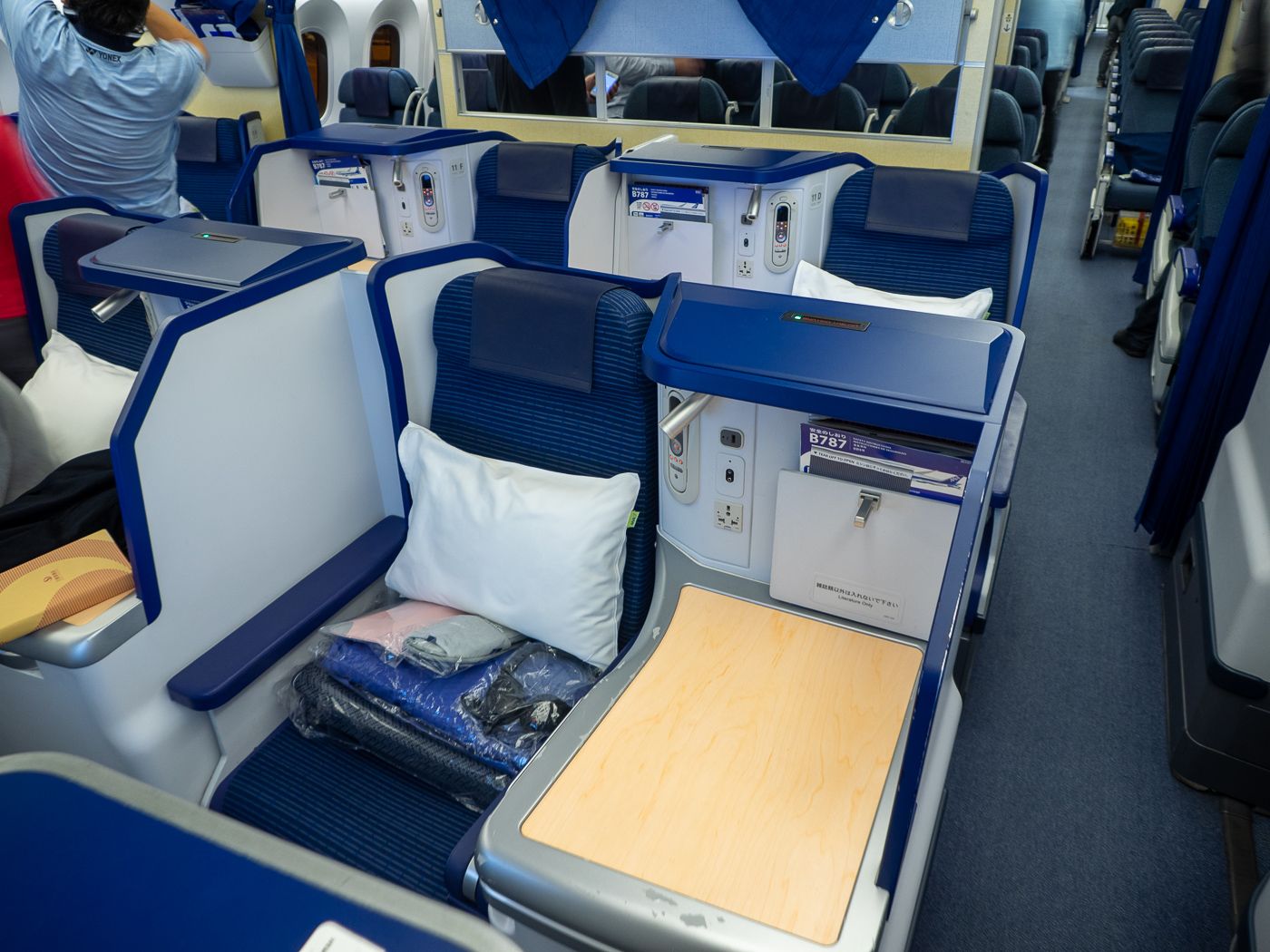 The seat was quite a decent size, and the footwell also had plenty of space and didn't seem to narrow down to a small point which some business class seats do (more on this below when the seat was in bed mode). Each seat had an 18" touch screen for the entertainment system that had a reasonable selection of movies and TV shows in both English and Japanese. As this was an overnight flight, I only watched one movie.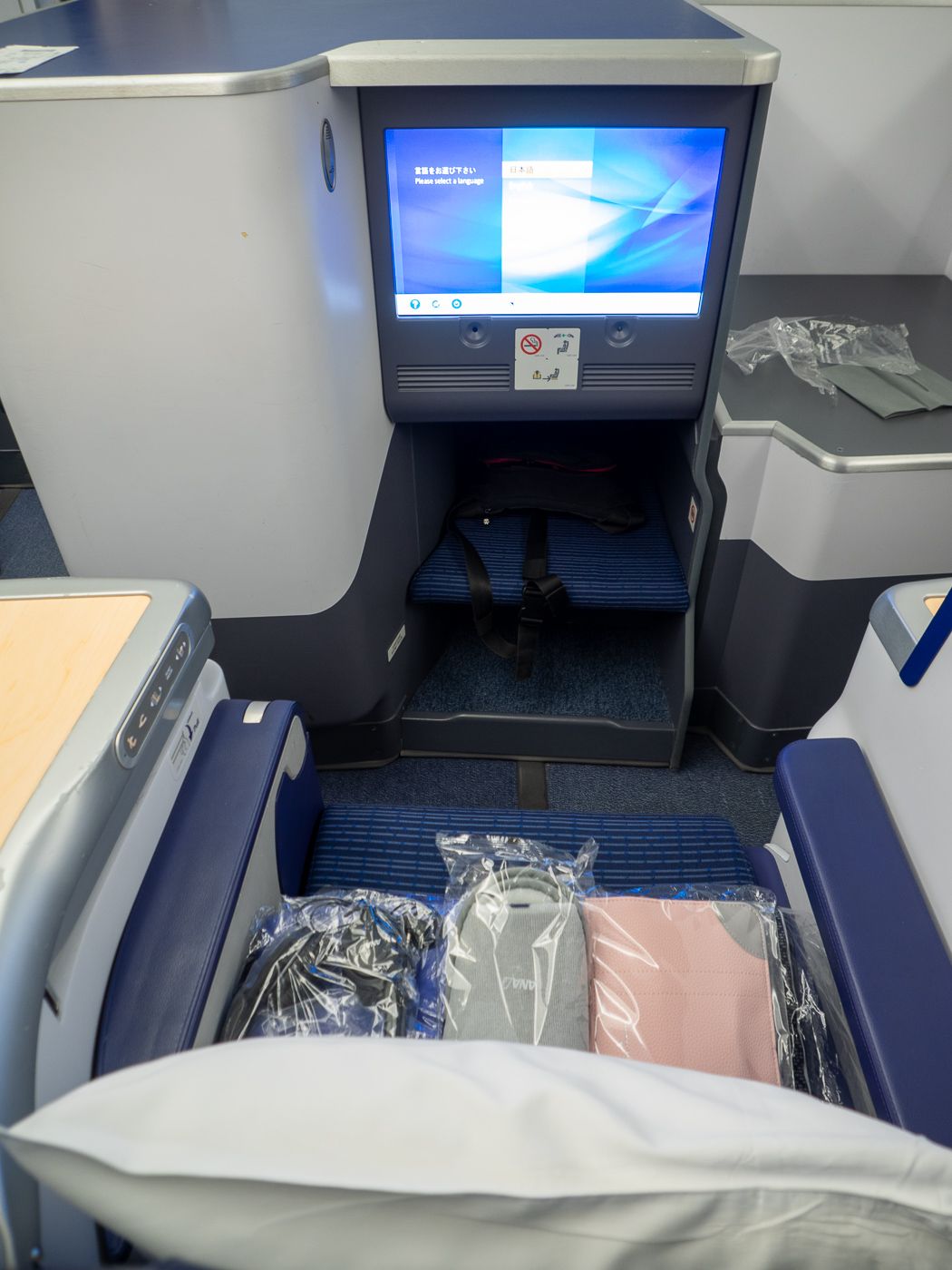 The entertainment remote was on the side seat panel along with a power socket and USB port for charging devices. The side table provided a nice storage area; however, there were no other pockets or storage areas in the seat which I found frustrating. I ended up with a pile of stuff (laptop, book, passport wallet and phone) all just sitting on the bench, if we hit any turbulence I am sure it would have all gone flying!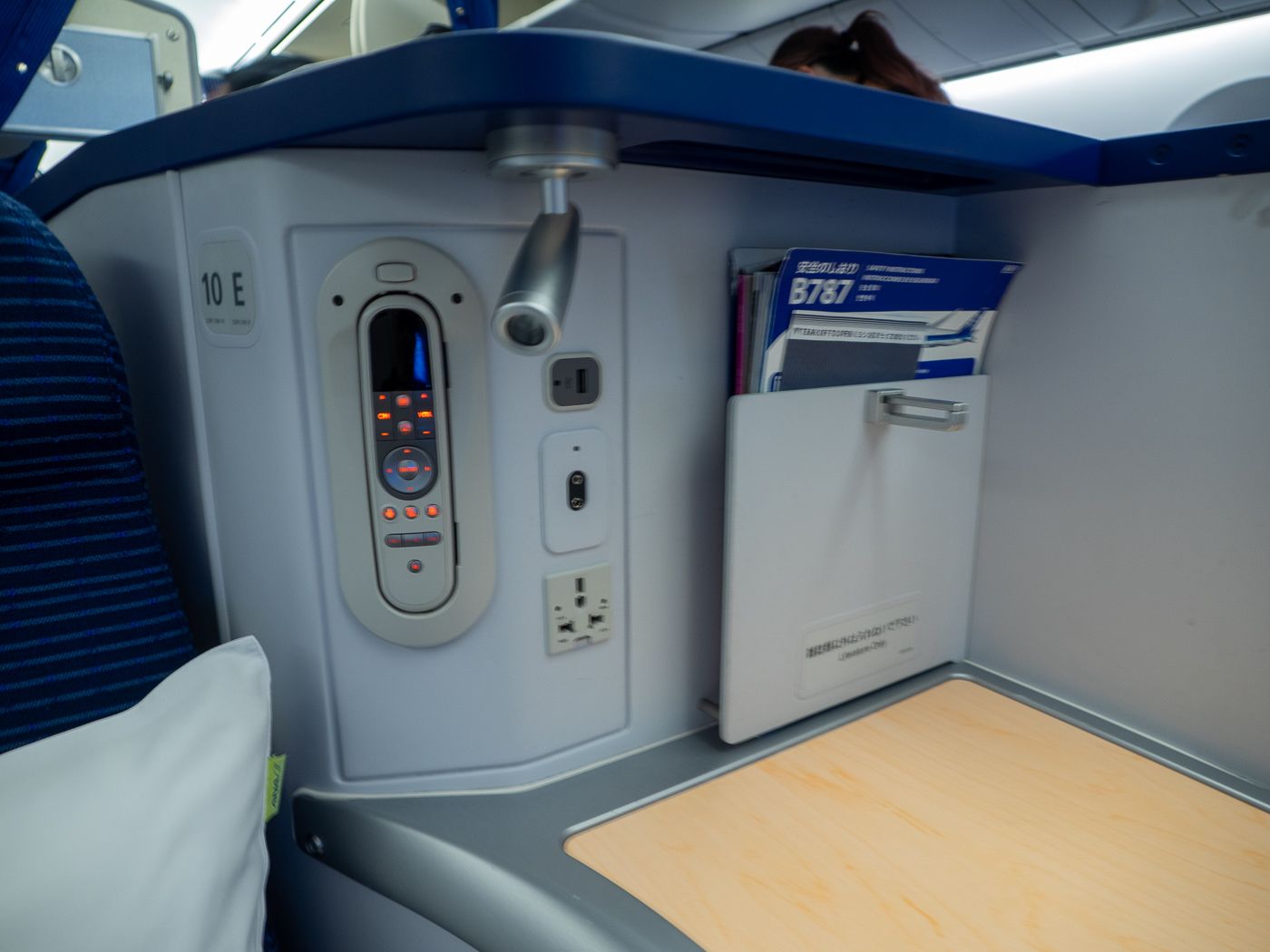 Waiting on the seat was an amenity kit, blanket, mattress pad and some slippers. The amenity kit was uni-sex and contained a toothbrush, earplugs, eye mask, face cream, cleanser and body lotion.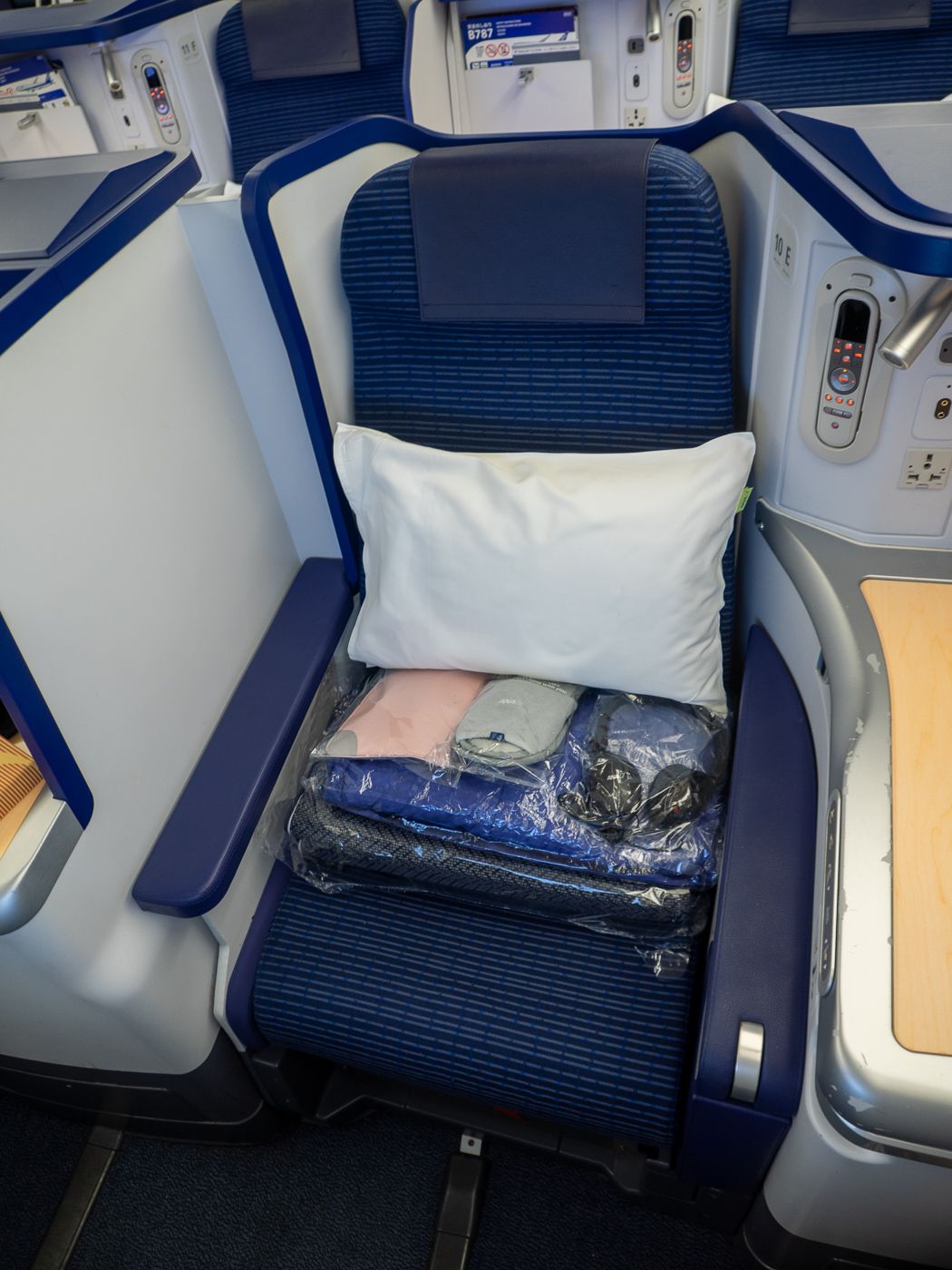 Mrs B was sitting in 11A, which was one of the window seats closest to the window providing more privacy and better views out the massive 787 windows! I am always taken back how big the 787 windows are.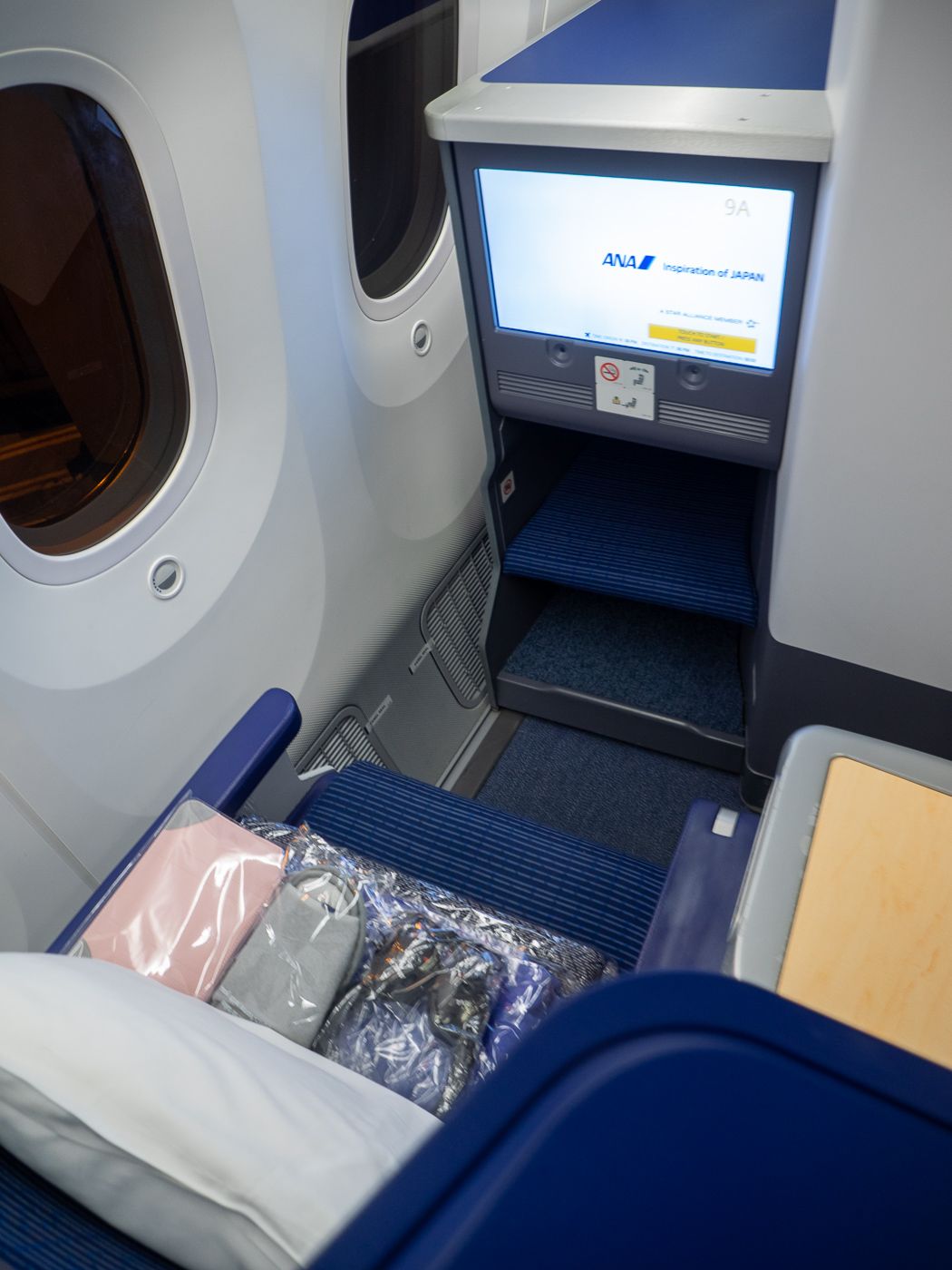 ANA has a staggered config for business class each seat has a large flat table surface, which is essentially the top of the footwell from the seat behind. For windows seats, A and K are the seats closest to the window, and for the middle seats, E and F have the large table between the seat and the isle providing more privacy. I would highly recommend you pick a seat that is A, K E or F to get a little more privacy for the night time flight, the below photos show the difference between the two options.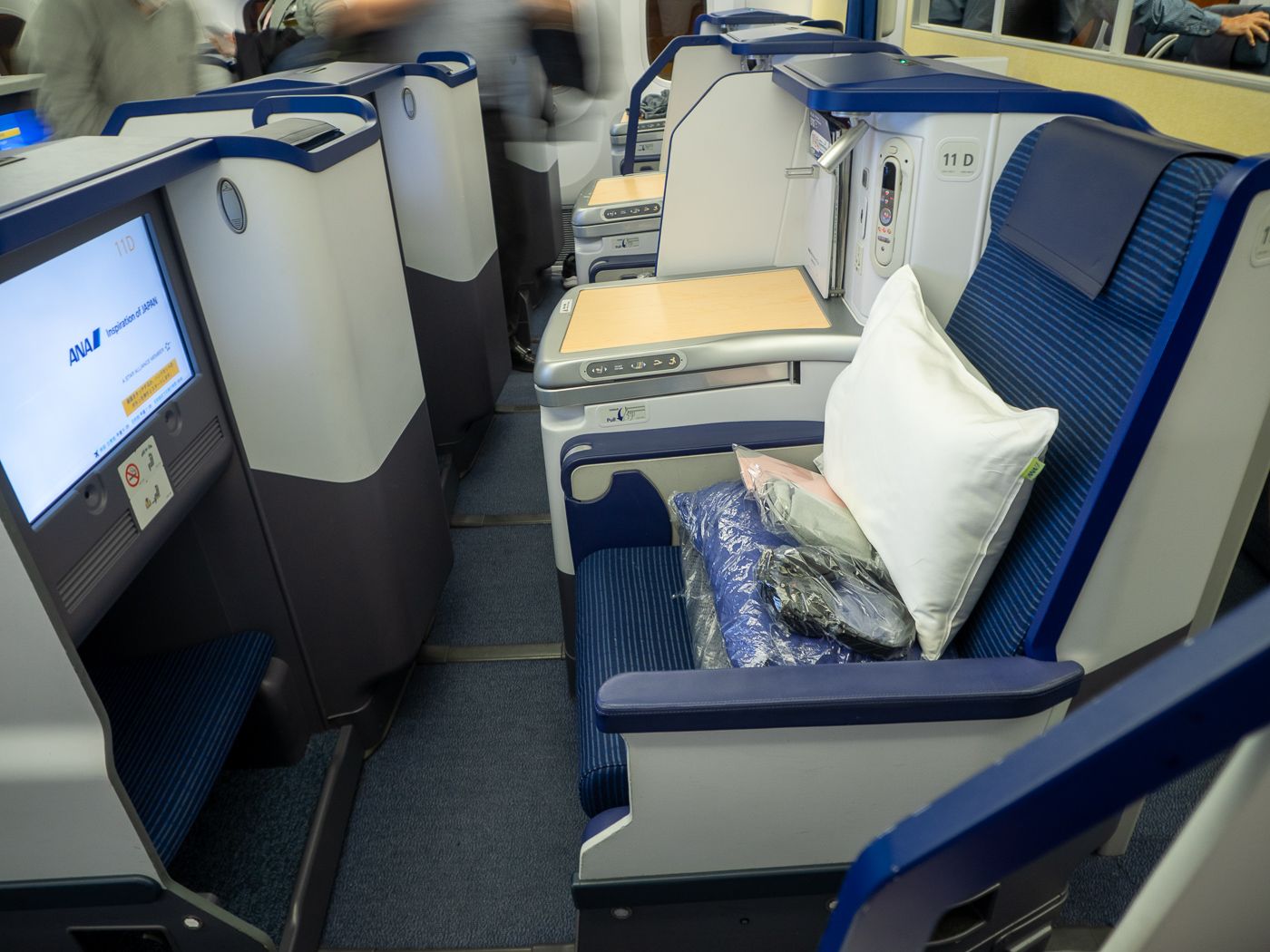 As the cabin was reasonably full when we boarded thanks to ANA's efficient priority boarding system (Australian airlines could learn a thing or two). As I didn't get a chance to take a photo of the empty business class cabin,  I snapped a few later on in the flight.
The business class mini-cabin would be my pick on this flight as it felt far less crowded.

Boarding was completed very quickly, and we settled into our seats and were offered a pre-departure beverage which surprised me as I had read that ANA doesn't usually do this. We had a long taxi out to runway 34L before a smooth takeoff, and we were on our way.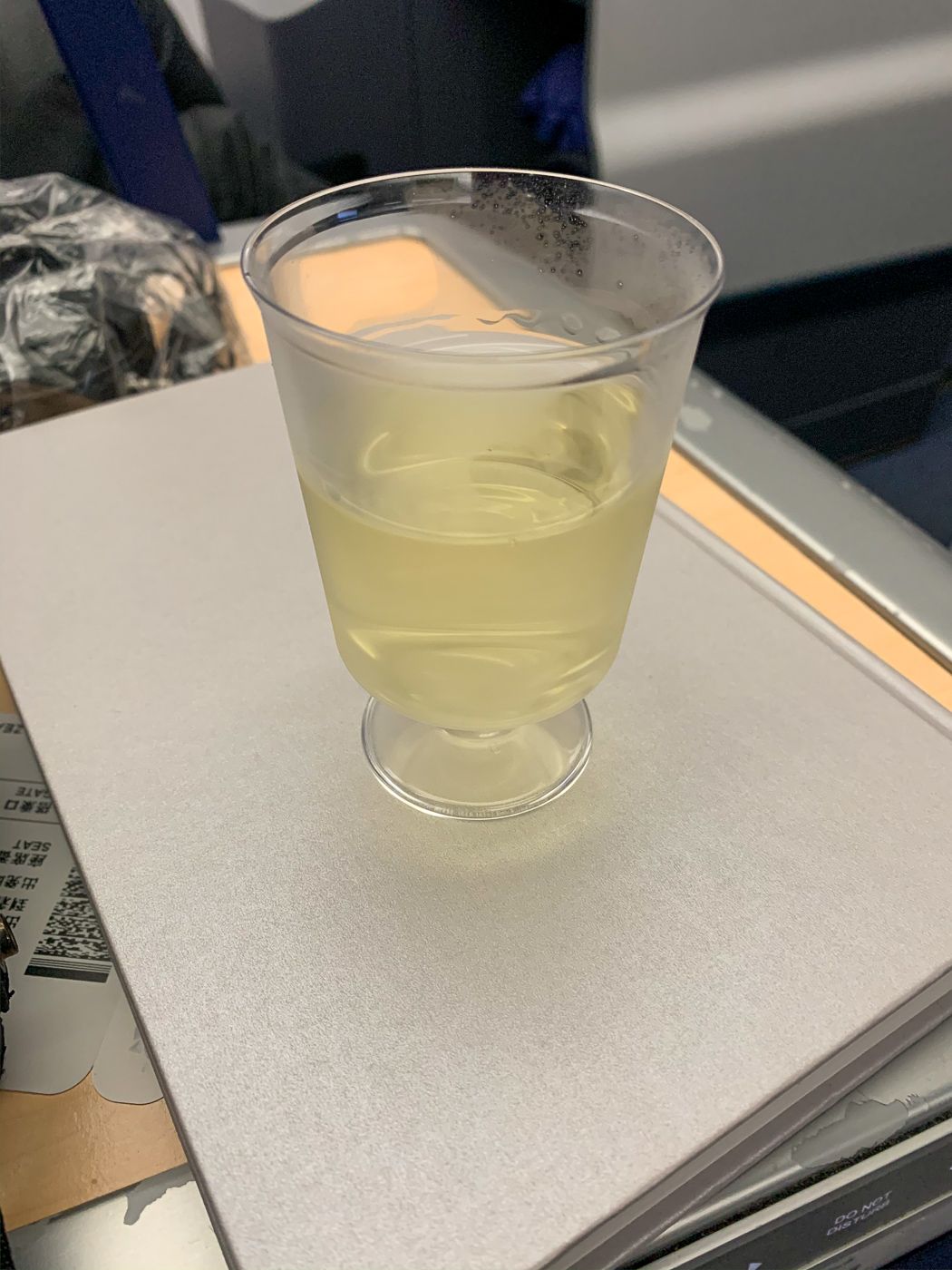 Once airborne and the seat belt sign was turned off, we were given the menus for the flight and offered another drink. While the Hibiki on the menu tempted me, I figured it was a little much for a pre-dinner drink and went with a Sapporo.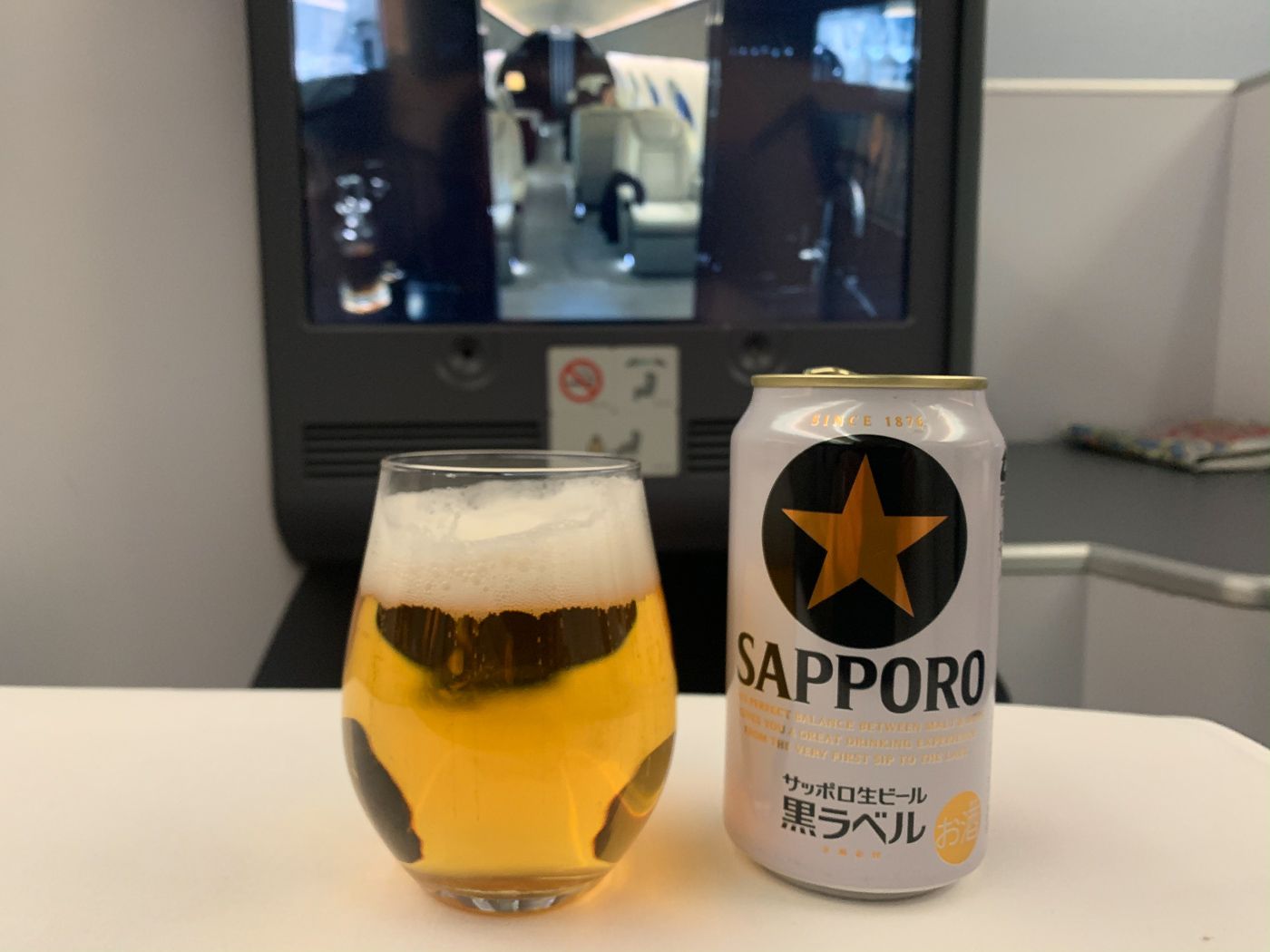 The beverage menu was as follows and contained a good selection of wine, spirits and non-alcoholic drinks.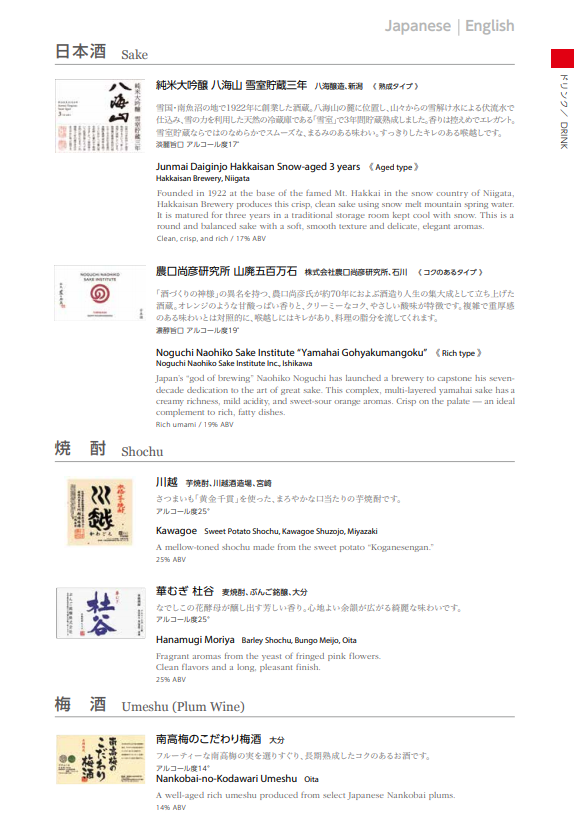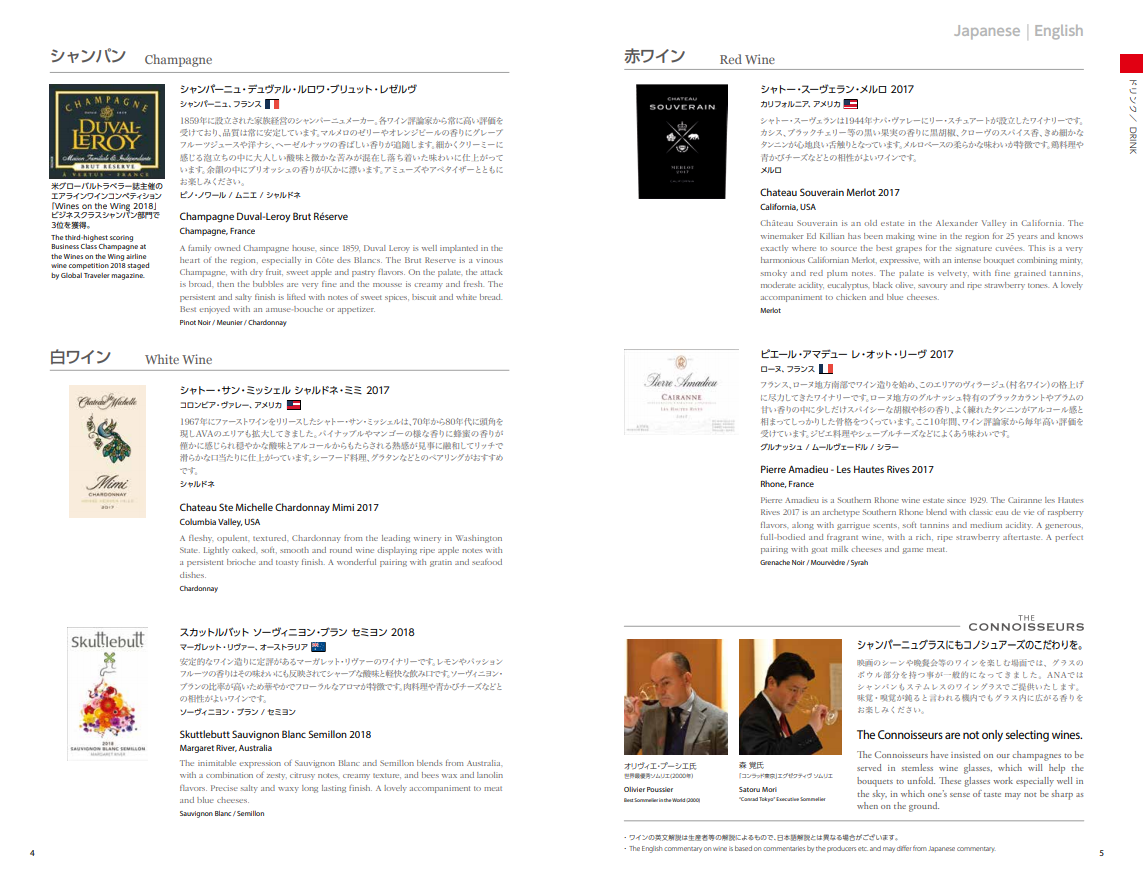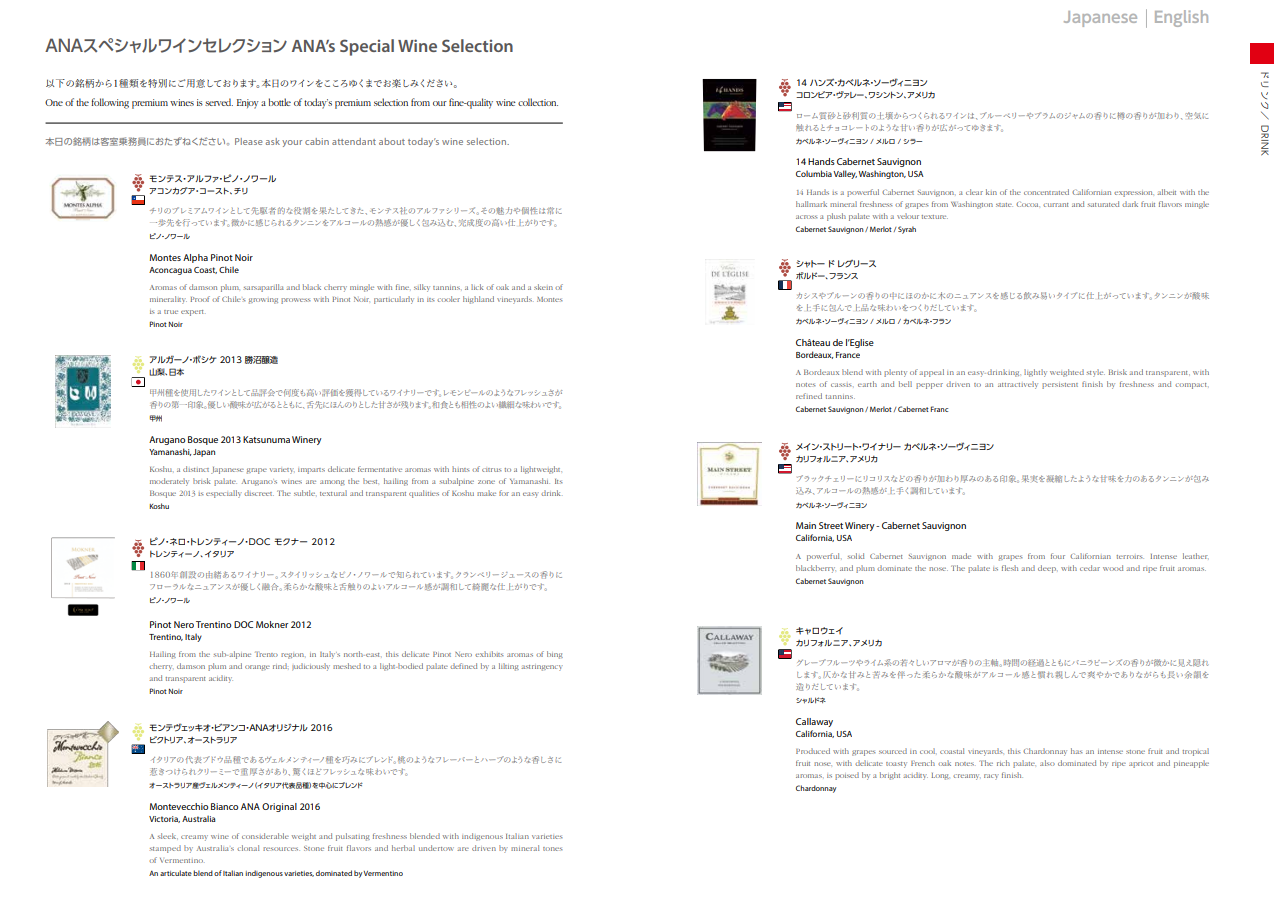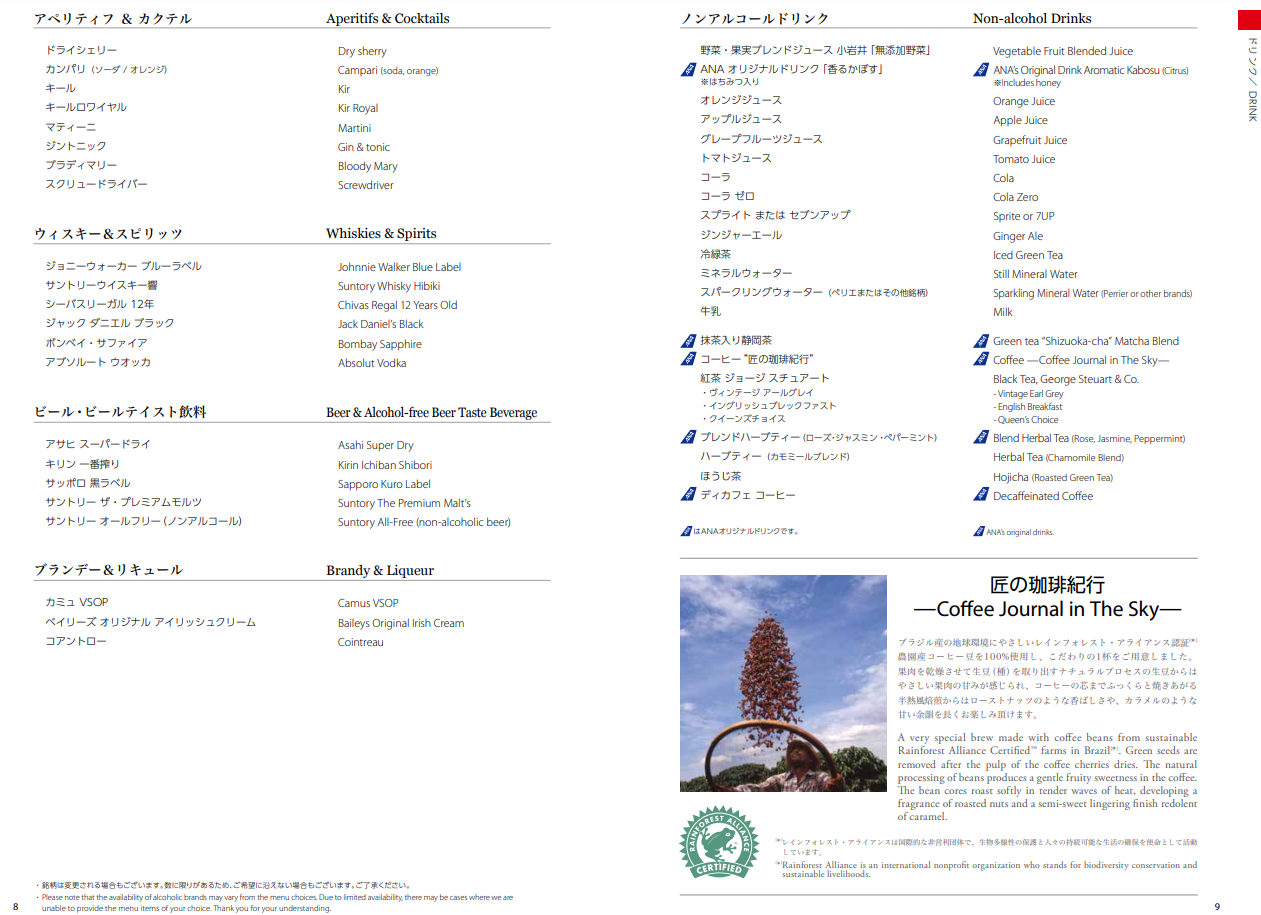 The dinner menu was as follows and had both a Japanese and western option as well as an anytime snack menu. There was no breakfast menu as breakfast wasn't actually served on the flight. Instead, you could order off the anytime menu if you wanted something to eat prior to landing.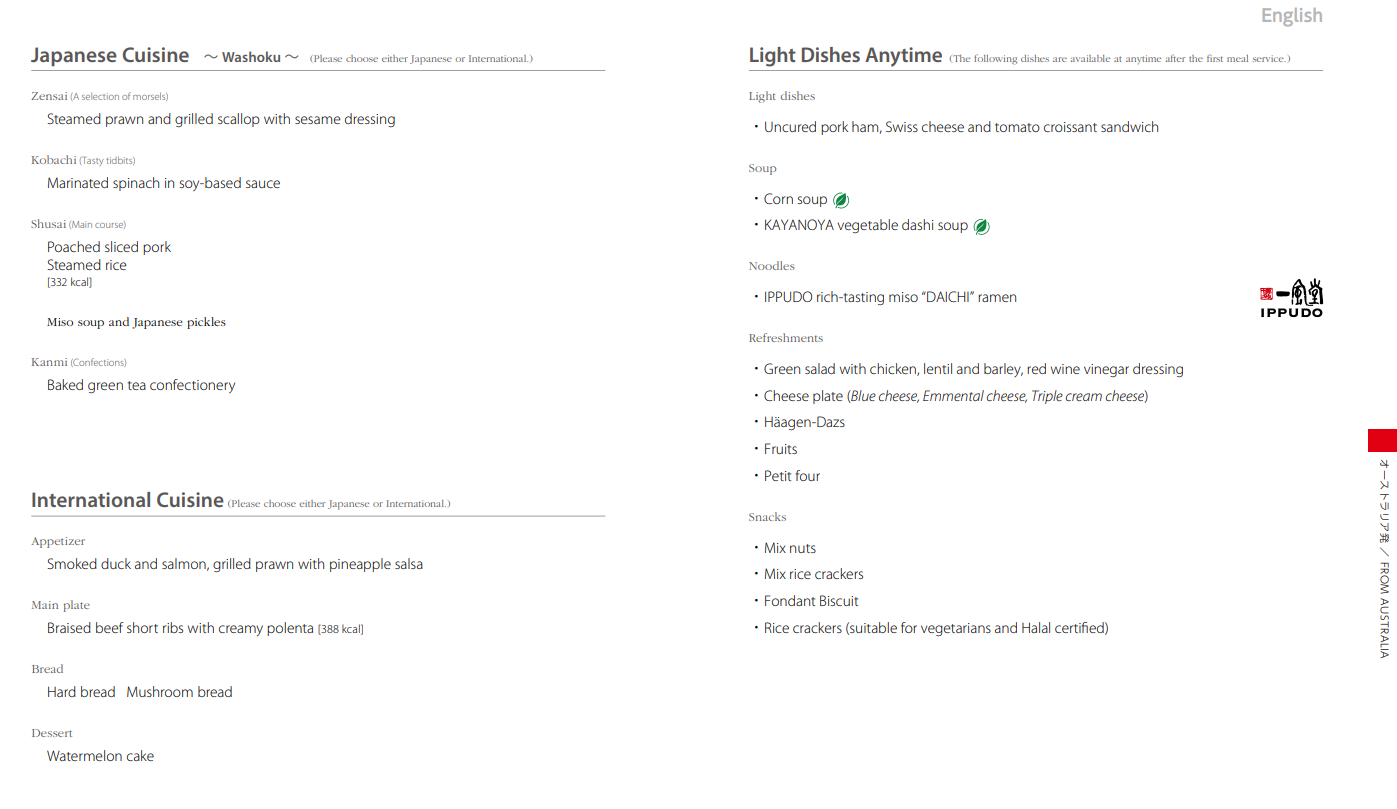 For dinner, I went with the Western/International option, service was very efficient, and we weren't waiting long before our meal was served. All three courses were served together on the same tray rather than individual as some airlines do.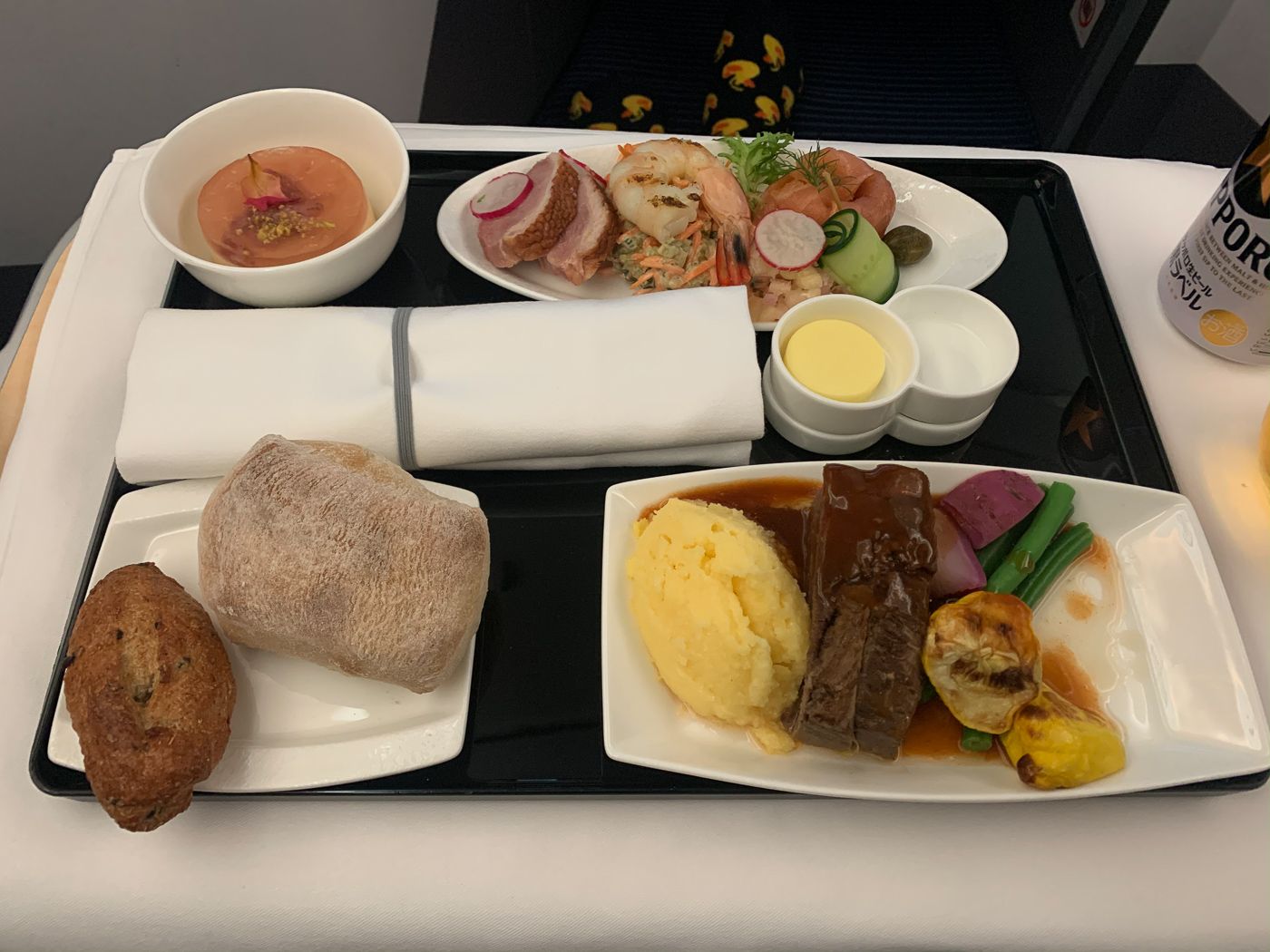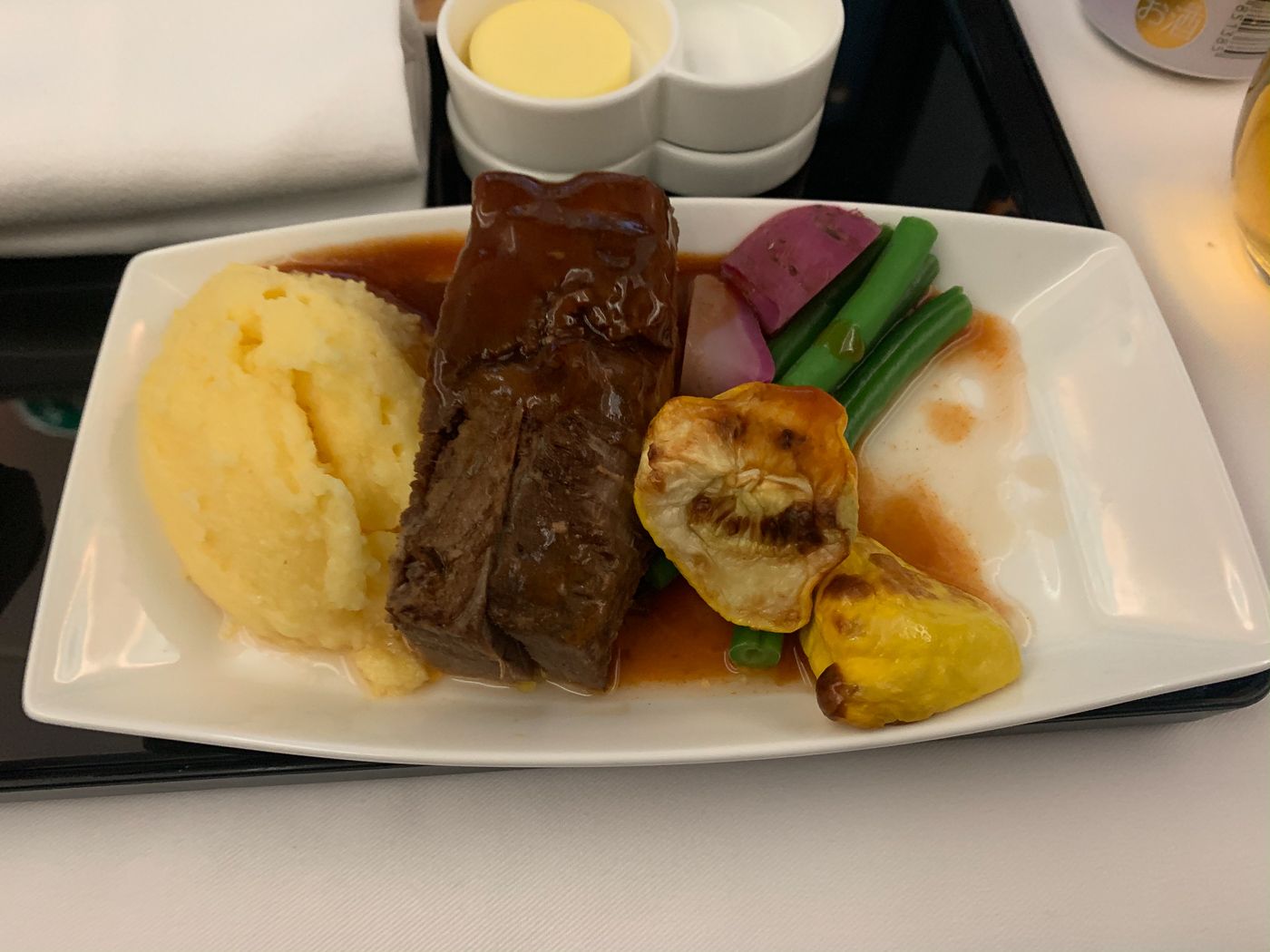 The meal was ok it certainly wasn't the best meal I've had on a plane, but it wasn't terrible, it just lacked flavour.
Mrs B went for the Japanese option and had similar feedback.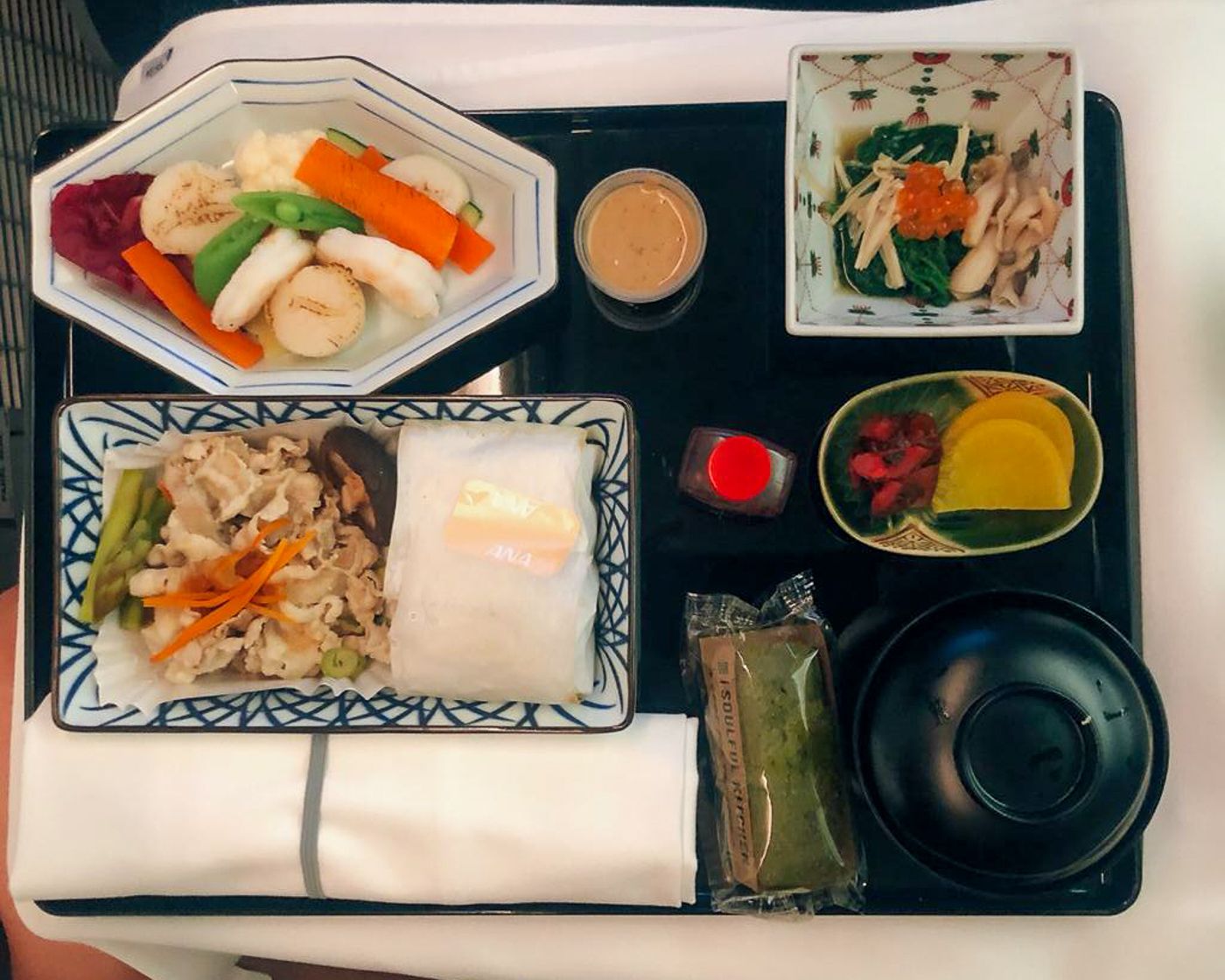 After dinner I couldn't resist giving the Hibiki a try, I was also curious to see what Hibiki they were serving in business as ANA is still serving Hibiki 21 in first class which is almost impossible to buy these days. Not surprisingly it was Hibiki Japanese Harmony non-age statement, but still delicious.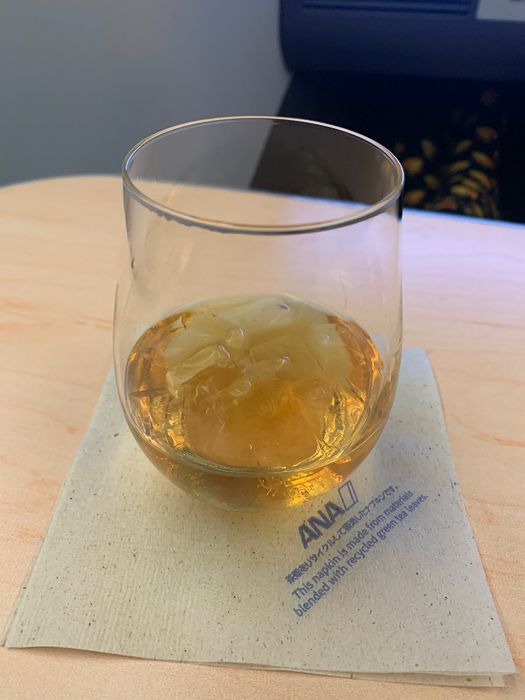 With just over 7 hours of the flight left and my nightcap finished off, I wanted to try and get some sleep. ANA does not offer turndown service or pyjamas in business class, but they do have a mattress pad which is always a plus, interestingly it wasn't actually long enough to cover the entire bed, but it was still a welcome addition. The layout of the seats meant that the footwell was square and not an odd triangle shape that narrows to a point that you need to jam your feet in to.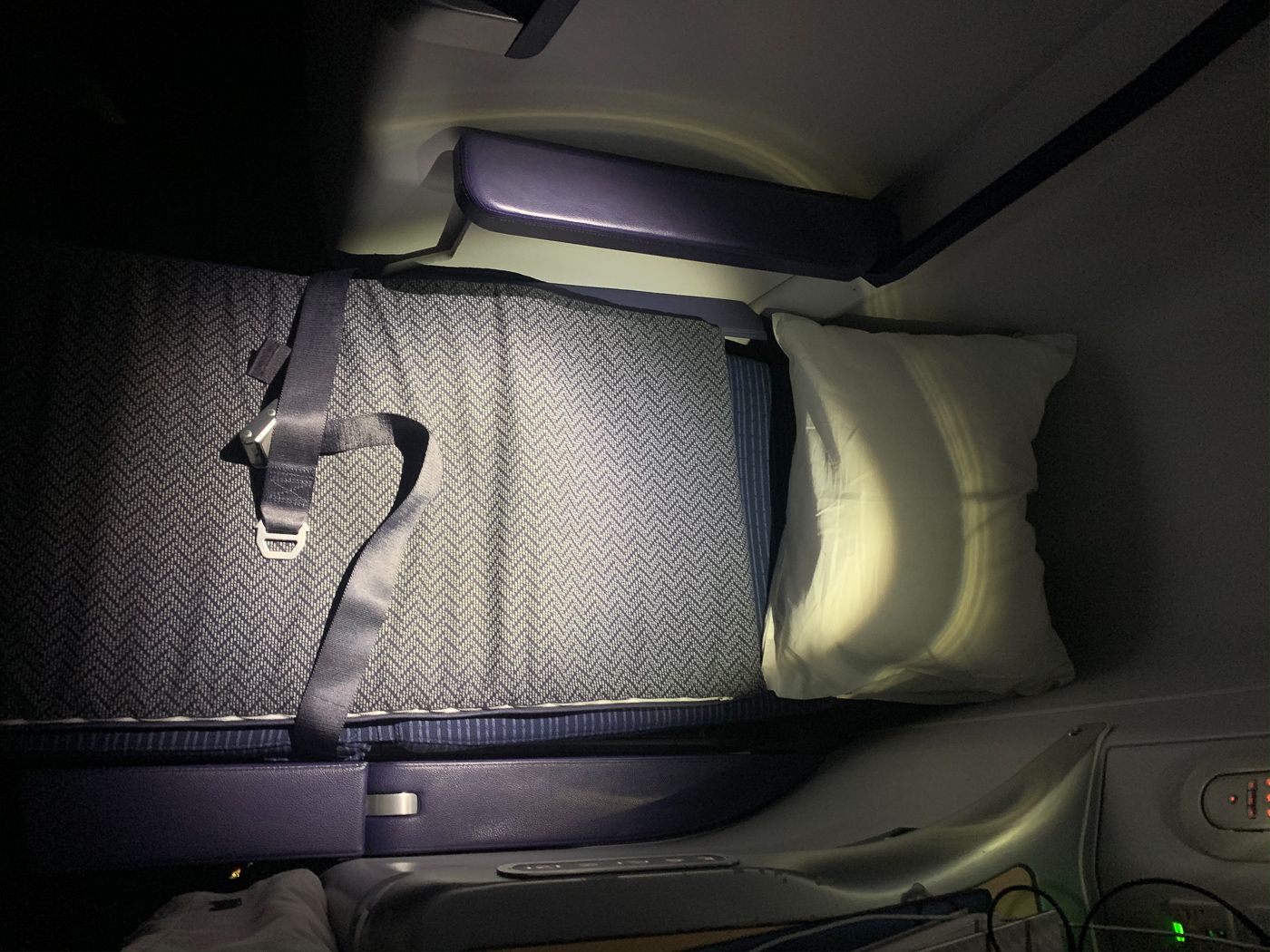 The bed was comfy, and I got a pretty good sleep thanks to the cabin being a reasonable temperature and not the usual sauna that planes can be. The seats that were closer to the window and further from the isle certainly provided more privacy than the others but still not that great compared to newer business class products like Delta one suites. I woke up with just over an hour to go before landing and ordered a coffee along with a breakfast ramen, because why not :D The Ippudo instant ramen did not disappoint, it was delicious.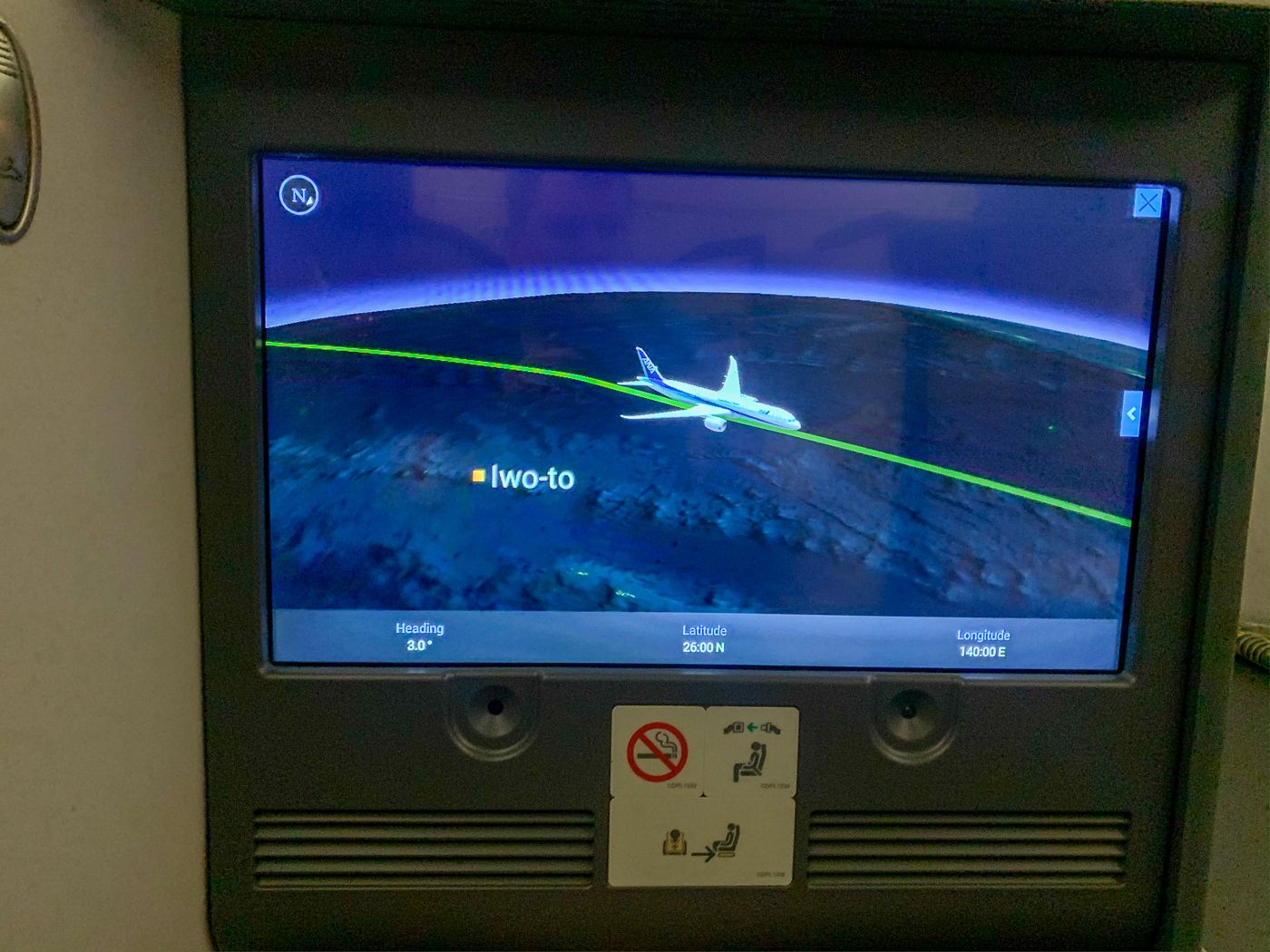 Overall Impressions
I enjoyed our ANA flight, while the seat could have provided a little more privacy it was comfortable and a good way to do the short over-night hop to Japan. The flight was over before we knew it and it certainly made for a much quicker trip than our normal routing through BKK on Thai Airways. Overall this was a fantastic use of 50,000 lifemiles!