Guide Series: Getting Started With Miles & Points in Australia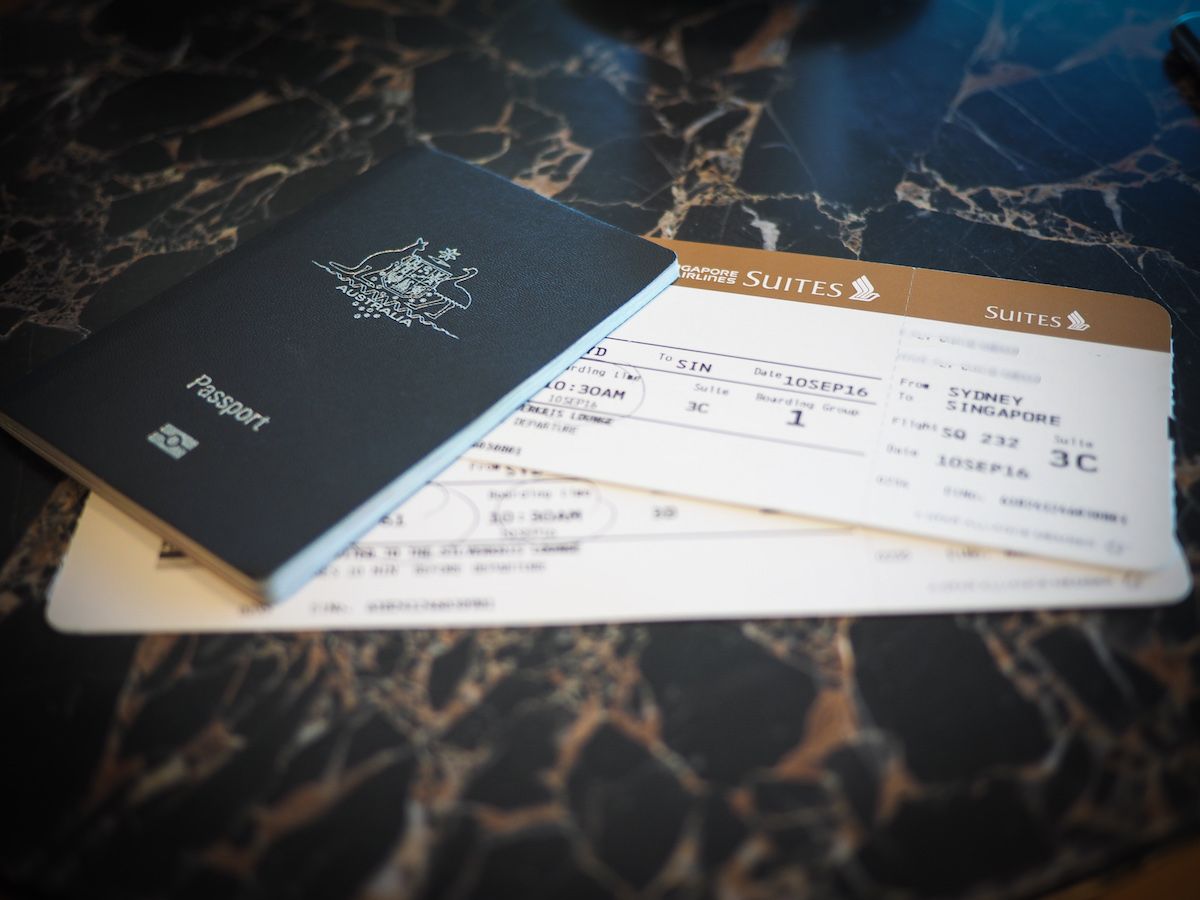 I thought it would be good to write a getting started post that addresses many of the questions around miles & points from what they are, how to earn them and most importantly how to use them. If you already have a good understanding of miles & points then this post is not for you.
First of all, I wanted to dispell a common myth, frequent flyer miles & points do not allow you to travel for free! Acquiring miles ultimately has a cost associated with it (not always obvious, but it's there), however, if you play the game right, even taking into account the acquisition cost you can land yourself pretty cheap international flights at the pointy end of the plane.
Key Programs in Australia
Most people are probably aware, but both major airlines in Australia run frequent flyer programs, Virgin Velocity and Qantas Frequent Flyer.
| Airline Program | Joining Fee | Partner Airlines |
| --- | --- | --- |
| Virgin Velocity | Free | Etihad, Singapore Airlines, Virgin Atlantic, Virgin Samoa, Air New Zealand, Delta Air Lines, Virgin America |
| Qantas Frequent Flyer | $89.50 | Oneworld Alliance - 15 airlines globally |
When starting out in the miles & points game it is best to choose one program to focus on. Once you get going it is quite common to end up accruing points to many programs.
How do you earn miles & points
I would argue that airline miles in Australia are easier than ever to acquire right now. There are so many different options available to increase the balance of your frequent flyer account.
Credit Card Spend
Probably the biggest contributor to miles & points globally (and Australia is no different) is credit card loyalty programs. Credit card companies and banks now offer a myriad of different credit cards that are linked directly to loyalty programs that allow you to accrue miles & points. Broadly there are two types of point earning credit cards:
Transferable Points - There are a few transferable point credit card systems, but the most common is the American Express Membership Rewards program. The benefits of transferable points is you are not locked into one FF program. Your points are earned and kept with the bank or credit card issuer and then you choose to transfer any given amount to one of the program partners. This might be an airline frequent flyer program or hotel loyalty program. These types of credit card obviously give you the most flexibility.
Fixed to a specific airline - These credit cards are tied directly to one specific airline and will deposit your hard earned miles each month to your frequent flyer account.
Every credit card has a different earn/transfer rate, but you can expect to get ~1-2ppd on most AMEX cards in Australia
Credit Card Sign-on Bonus
Very large sign-on bonuses have become increasingly popular over the last few years. Essentially credit card companies are using these as a way to attract new customers.
Many premium credit cards will offer a sign-on bonus between 50,000 and 100,000 miles! This is a great way to start off and build a balance of miles quickly.
Point Hacks have a great list of current Australian credit card promotions
Shopping Portals
Both Qantas and Virgin have shopping portals that allow you to shop online with various partners and earn points at the same time. This is a simple way to build your miles & points balance with everyday purchases. Both programs have a large number of partners, for example, Menulog, Kogan, David Jones and Apple to name a few.
It also pays to keep an eye out for promotions, for example, several times in the past Qantas have offered up to 10 points per dollar on David Jones purchases. Now image you need to buy a new fridge which is going to cost you $1,000, by choosing to buy that fridge at David Jones and using the shopping portal you would net 10,000 Qantas points.
Another shopping portal of note is the Qantas Epiqure store, this is a Qantas branded online store that sells wine and fine foods. Epiquire runs promotions every month on certain wine that can give you anywhere from 5,000 - 15,000 point bonuses on the purchase.
Hotel Bookings Sites
Similar to shopping portals both Qantas and Virgin offer hotel and holiday booking portals. That allows you to search for accommodation and holiday packages and book them online, earning you additional points per dollar spent on the booking.
For example on a recent hotel booking for 4 nights in Las Vegas, by booking through the velocity portal I managed to earn 10,000 Velocity points.
These portals also offer bonuses on certain bookings. Last year I managed to net a 20,000 point bonus on a cruise booking via the velocity portal.
Flying
Arguably the most obvious way to earn airline miles & points is by flying. There are no real secrets here, the more you fly the more points you can accumulate. However, it is important to note that you can still earn a large amount of miles & points even if you are not a frequent flyer jetting around the country. If you look at the breakdown of the million velocity points we earned in 18 months, only 7% of them were earned by actual flights.
Using Miles & Points
Using your hard earned miles & points correctly to maximize value is the key! Frequent Flyer programs are a huge revenue generating center for all airlines. This is primarily due to the fact that the airlines gear the programs to make the less 'valuable' uses of miles & points easier to access and redeem in many cases they promote the less desirable methods of redemption to encourage people to take them up. This guide is focused on using points with one of the Australian frequent flyer programs, it does vary a little and get more complex once you talk about the international programs.
Redeeming for flights
Every airline has different names and terminology for their frequent flyer program. But mostly follow a similar pattern, at a macro level you have two ways to redeem your miles for a flight:
A True Award Seat
Award seats are what you want to be redeeming. They are the limited inventory that the airlines release at a discounted rate for people to redeem via their frequent flyer program. If you want to travel at the pointy end of the plane these are the seats you want.
In my post on Useful Tools for Award Travel I talked about always referring to the airline's award charts to price your flight. These award charts list the true price for any given flight if you secure an award seat.
Award seats were the original intention of frequent flyer programs, however as only limited inventory is released they can be hard to come by if you don't know the tricks, so airlines started to come up with additional ways to encourage people to burn hard-earned miles.
One additional thing to note with award seats is that you still need to pay the taxes on top of the award. This usually isn't a huge amount of money. For example, for a one-way flight from Sydney to Los Angles in Virgin Business, the taxes are $118. The airlines will often try to encourage you to 'pay' the taxes using points, however, this is always a bad use of points. I will illustrate this more in my example below.
The main tip for finding true reward seats is to either book very early (350 days out) or book last minutes (10 days out). Stay tuned for a post on finding availability

Anytime Awards / Points + Pay
Any time awards or points + pay is an alternate system for using your points to pay for airline travel. Essentially the way this works is the airline puts a dollar value on each point and then deducts this from the ticket price. As of writing this Virgin appears to be putting a value of 0.006c on each point.
The trick here is the airlines are double dipping, they are putting a value on the points that is less than what they sell them to credit card companies for hence making an additional revenue stream.
In general points + pay is always a bad use of miles & points.

Upgrades
There is one last option for redeeming points for travel. This is often talked about as the 'best' use for points and that is to use your points to upgrade you basic economy ticket to a business class or above.
Upgrades are complex for many reasons and I would not normally recommend people go down this path. Essentially upgrades for Qantas and Virgin usually come out of the same award inventory that is released for true award seats. whats more is you usually need to have purchased a full fare economy ticket, which is very rare as people almost always buy the discount or sale fares.
Lastly airline status becomes very important with upgrades. Qantas for example release upgrades in status order, so if you hold no status with them you will be behind a long list of other people. Virgin, on the other hand, do not let you use points for upgrading long-haul international unless you hold Gold or Platinum status.
Example - One-Way Sydney to Los Angles Virgin Business Class
To put this into context I will try and illustrate these different options with an example itinerary. I am using Virgin, however, the same logic applies to the Qantas program as well.
My example flight is a one-way flight in the fantastic Virgin Business Class from Sydney to Los Angles, I searched for a flight in the next week so that has obviously pushed the price of the paid flight up as it is a last minute booking. My example flight is worth $8,800 to buy outright and would be 95,500 velocity points for an award seat.
In the screenshot below you can see there is availability for an award seat at 95,500 velocity points vs an Any Seat business for 1,344,100 velocity points. With Velocity, the Any Seat Awards are essentially points + pay system that allows you to slide a scale to adjust home many points you use against the price of the flight.


By comparison, if I adjust the points + pay option and redeem a similar amount of points it only drops $610 off the price.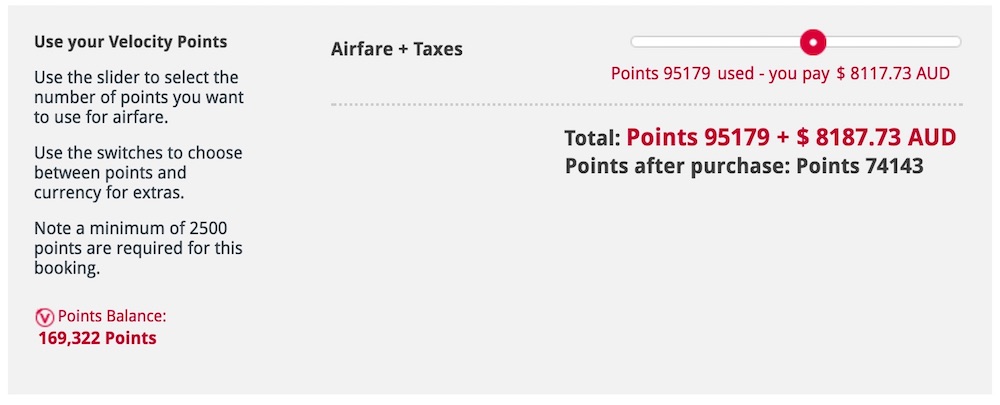 To really illustrate my point if I look at an Economy ticket on the same flight it would cost me $1,119 if I redeem the roughly the same amount of points required for a business class reward I still only get $610 off the price, because Virgin is still only giving you 0.006c per point.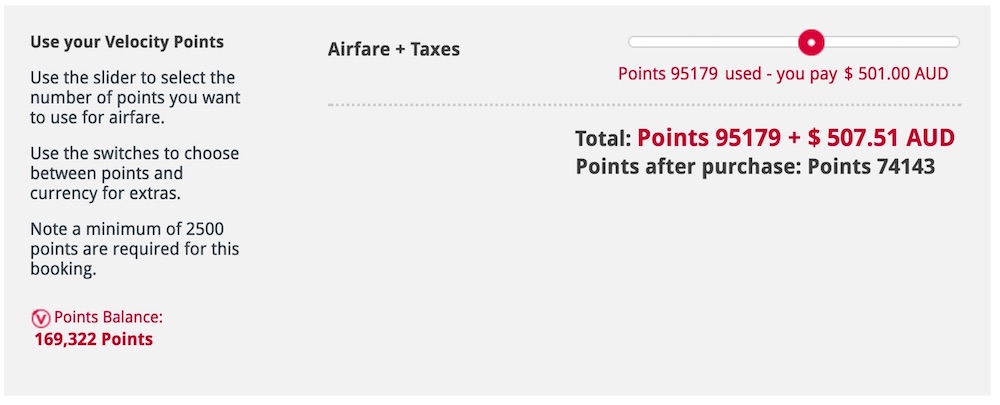 It is also important to note that even with a true award seat, if you use points to 'pay' for taxes you are only getting the same 0.006c per point for the points used on the taxes, hence poor value.
Redeeming for purchases
An alternative use for miles & points is to use them to purchase everyday items or gift cards. Both Qantas and Virgin offer online stores where you can make purchases.
These operate in a very similar way to points + pay flights, in that the airline program is placing a dollar value on the points. If you are careful you can get slightly better 'value' via the online stores than you can get with points + pay, but it still isn't that great.
To illustrate this, below is a screenshot from the Qantas store for a $100 Woolworths voucher for 19,650 Qantas points. This equates to 0.005c per point. However, if you select the Harvey Normal $100 voucher, it comes down to 16,530 points or 0.006c per point.

Buying Miles & Points
Another lucrative way to travel in style at a discounted price is to buy points & miles, however, this is a separate topic in itself and one that is slightly more complex. I will have another post coming soon to cover the options for buying miles & points in Australia.
Stay tuned for the next instalment in our Guide Series coming out next Monday and like our facebook page to stay up to date.