Travel: Train to Venice & Sightseeing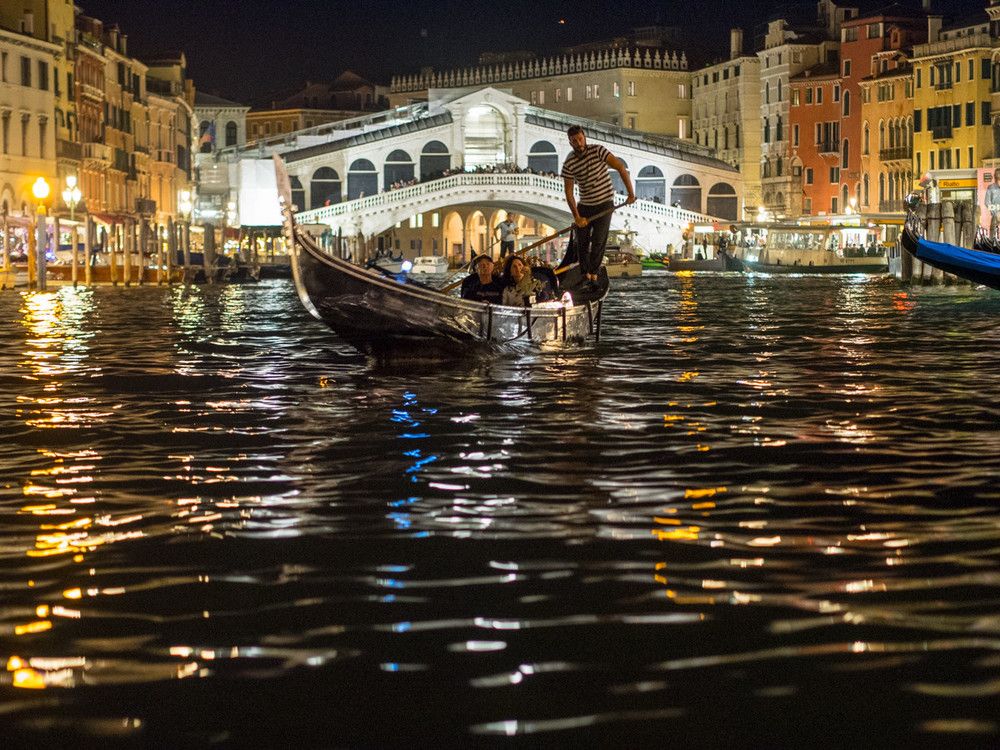 We decided to use trains to get around in Europe, they seemed fairly economical if you purchased tickets online prior to arriving and were fairly fast. We did learn however that similar to most airline tickets, once you have purchased the train ticket and allocated your seat, you cannot move to an earlier departure, despite arriving at the train station early
After disembarking the ship we followed a very confusing set of directions that involved a lady pointing left saying, 'train station white bus', although after turning left we were presented with no less than 4 white busses and a lot of confused tourists. I thought no worries the busses all have signs this can't be too hard. Well, not one of the signs said train station It turns out that we needed to get a bus transfer to the port gate where we could get on another transfer (and pay 2Euro) to the train station. After about 40mins (most of it sitting and waiting) we arrived at the train station. Our first train was a local low-speed train from Chivincichi to Rome, where we transferred to a high speed train to Venice. All up the train ticket to Venice cost 60euro for the two of us which seemed pretty economical. Of note, on the regional trains, the prepaid tickets are valid for 4 hours from the time you select, but not earlier than the selected time, however, on the high-speed trains the ticket is only valid for the train you select.
The main train station in Rome has an interesting system where they don't seem to allocate the platform for the departing train until about 10mins before departure, so everyone stands around this massive board waiting to find out what platform to go to. We also learnt that for whatever reason train stations in Italy seem to have very few seats, so be prepared to stand whilst you wait.

The trains offer two classes, standard and 'first class', when we booked the train online I noticed that 'first class' was only about 20euro more expensive, however, I had seen several references that it wasn't worth it so decided to stick with standard class and I was glad I did. From what I can tell the only difference was the 'first class' seats were upholstered in leather vs fabric and they were slightly wider with 3 across rather than 4, but the pitch seemed to be identical (see below standard on the left, first class on the right) and I guess you get a ticket saying you travel in first class :P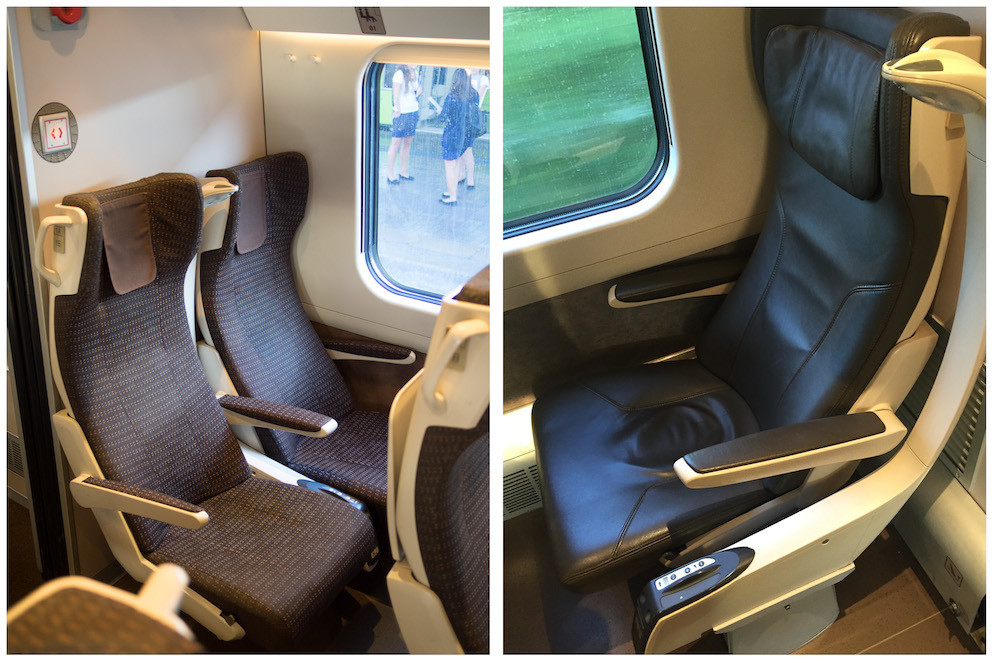 The seats were fairly comfy and offered power and a table as well as free wifi although you need to be able to receive an SMS confirmation number and provide a credit card that they pre-auth 0.01euro on to validate your identity apparently. We were a little disappointed that the seats we selected were facing backwards (which you couldn't tell when booking), but half way through our journey after pulling out of Florence the train changed direction so we were facing forward for the last half of the trip.
We got off the train in Venice and walked out of the station to be treated instantly by the grand canal, breathtaking is about the only thing I can say. I had a little chuckle to myself when google suggested the best way to our hotel was to take 'Bus No.2' from wharf C, the bus service was, in fact, a boat, which makes total sense but was still a little surprising.
We stumbled our way through buying a bus ticket at the ticket machines and made our way onto the bus. Our stop was just on the other side of the Rialto Bridge where we walked down several of the little alleyways to our hotel, Hotel Bella Venezia. It turns out that I fluked a hotel in a great location right smack bang in between Rialto Bridge and St Mark's Square. The room was nice, spacious and had massively high ceilings with the decor in classic Venetian style. The windows overlooked a small canal which seemed quite popular with the Gondola boats.
After checking in and dropping bags off, we went exploring to find some dinner. After 5 minutes of walking around Venice we both fell in love with the place. It just has a certain charm about it that's hard to explain. I mean I had seen the picturesque photos of buildings along the grand canal in Venice with the water lapping up against the front door, but I guess I wasn't expecting the whole city to be like that! It was quite surreal walking around for 3 days and not seeing one single automobile.
We headed towards St Mark's Square as it was still daylight and thought we would check it out, it was packed like crazy with people. But it was buzzing in a good way and a great spot to people watch. As we were so close we thought we would also check out the Rialto bridge.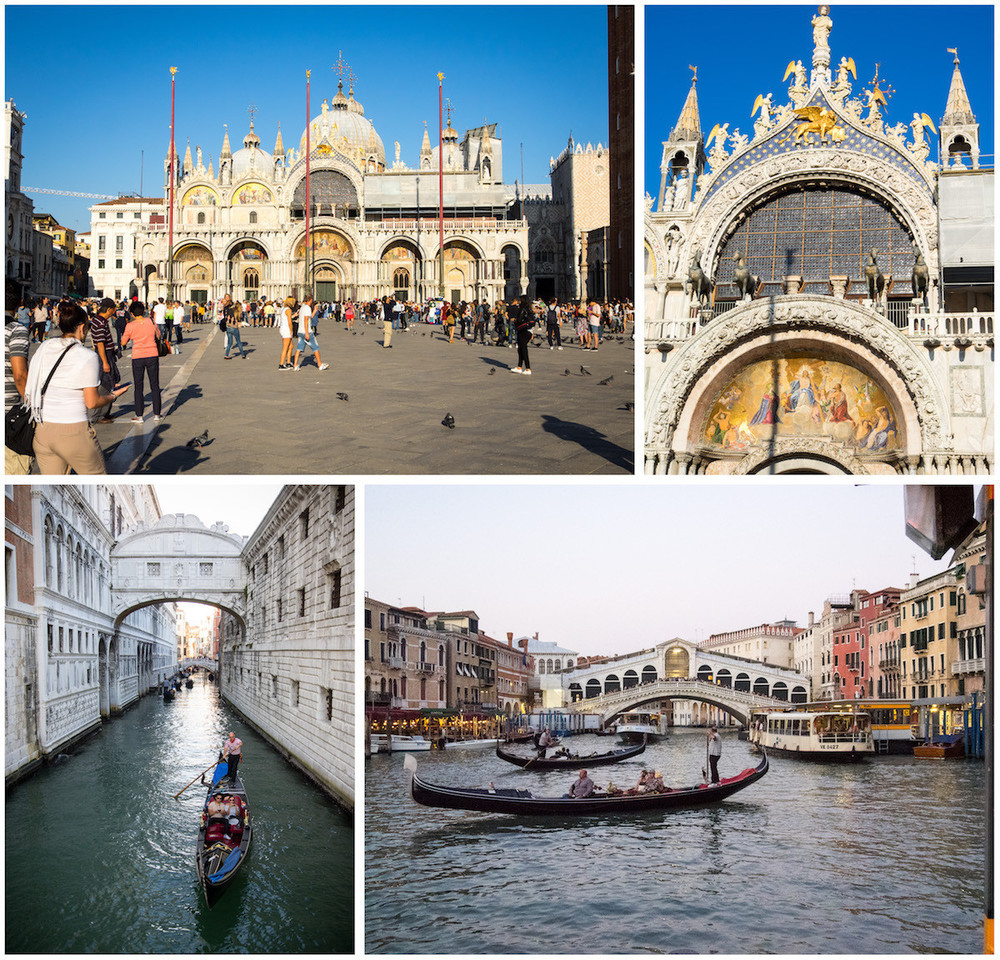 By this time we were getting hungry but didn't really want to pay the outrageous tourist prices along with cover charge and music levy for the cafes in St Mark's Square so went exploring for a little restaurant in the back streets to grab some dinner. After dinner, we continued to meander around until it started to get dark. The combination of the boats, canals, stone buildings and street lights was a dream for night photos.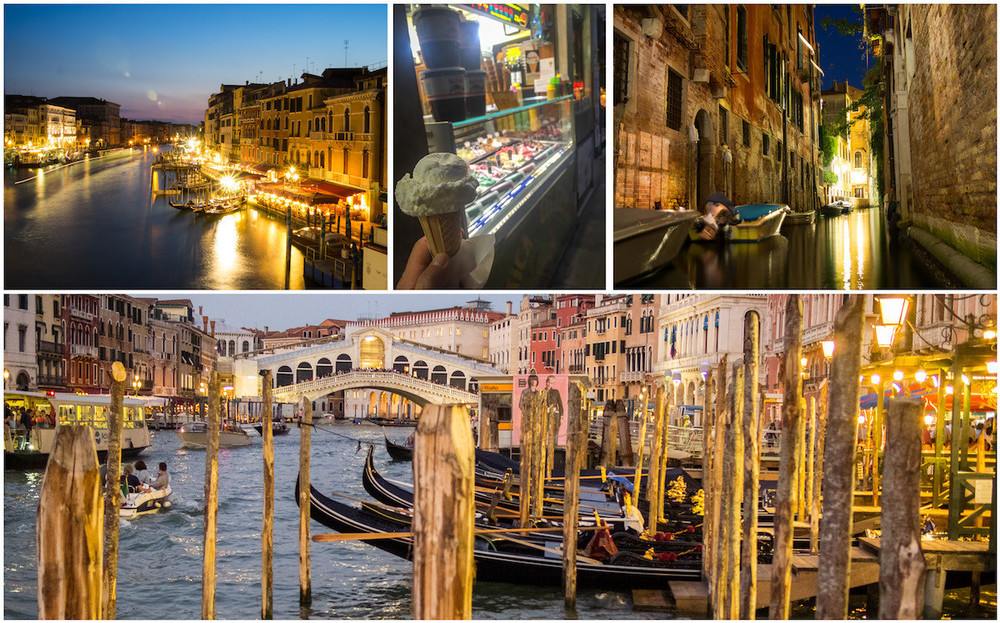 After awhile we were pretty tired after a long day of transit so retired to the hotel to rest up for a full day tomorrow.
The next day we got up and heading off again with the aim to hit most of the 'sights' on the map. We pointed ourselves roughly in the right direction and went exploring! I just found the endless alleyways and canals of Venice fascinating and could have spent days exploring them. Before I knew it, we found ourselves buying takeaways slices of pizza for lunch and just sitting on the edge of the canal taking it all in whilst watching the water taxis and gondolas whiz by. We saw on numerous occasions what could only be described as the Venice equivalent of a traffic jam - how more accidents don't happen on the canals is amazing.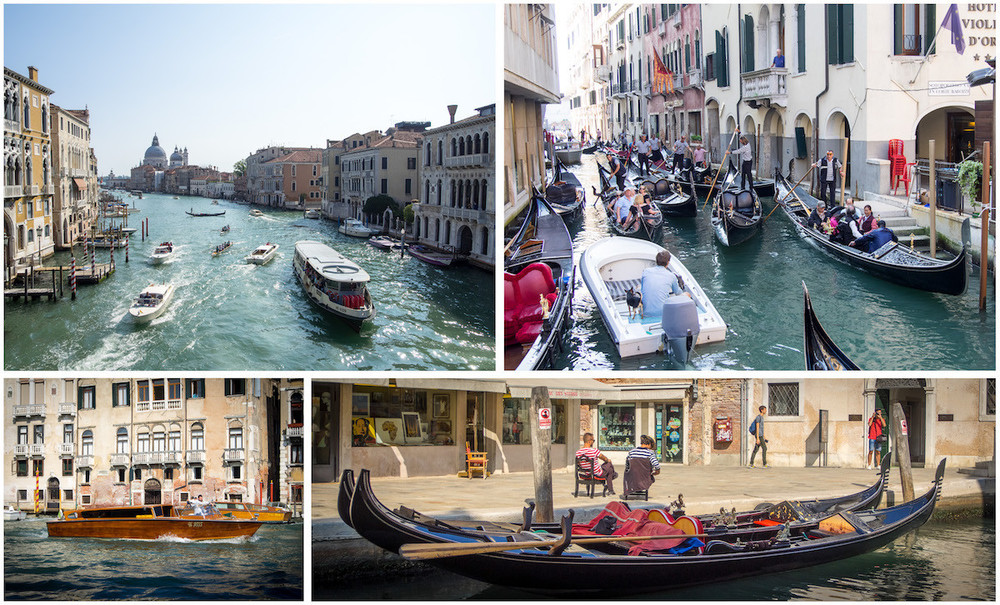 We ticked off most of the main sights, to be honest, I can't remember the names and I have misplaced the map so I can't list them, but everything was in walking distance which was great. And really, the best bit of it all was getting lost in the multitudes of tiny alleyways. There really was a surprise around every bend. Sometimes you emerged from an alley that's the width of your shoulders into a antique market in the middle of a large piazza… and other times you're glad you're paying attention or you'd have fallen into the canal that suddenly appeared in front of you.
Finally, on our last night, I decided to head out after dinner and grab a couple more night shots of the grand canal. This was one of my favourites.