SQ Suites SYD-SIN Review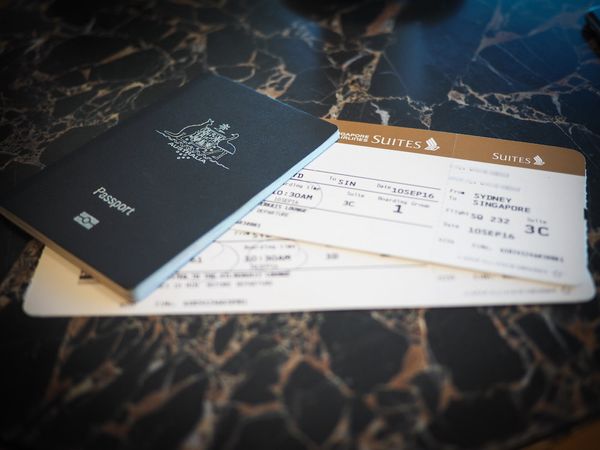 The time had arrived, our boarding passes were scanned and I eagerly walked down the jet bridge trying not to speed ahead of Mrs bwhouse (I don't think she was as excited as I was about the whole suites thing). I have never actually flown on an A380 before so not only was this my first flight in suites but also my first flight on the whale jet. Man it is an impressive looking plane, the sheer size of it still amazes me.
We got to the cabin door and were greeted by name, an impressive touch considering there were 6 pax in the cabin today. I have read many reviews of Singapore Suites and remember reading somewhere that a sign of a good crew (more on that later) was being greeted at the door by name so I was looking forward to what lay ahead with SQ's famous service.
My first impression of the Suite really can be summed up in two words 'holy ****!!', this thing is big, like really big. That is all you can really say, I mean you can comfortably seat two people in one seat (yes we tried), which is just insane when you actually stop and think about it. After the initial impression sunk in and we started to settle into our seats a lovely stewardess came around and offered us pyjamas and asked what drink we would like, I was somewhat surprised she asked this questions, I mean wasn't it obvious 'Krug of course' I said with a grin on my face.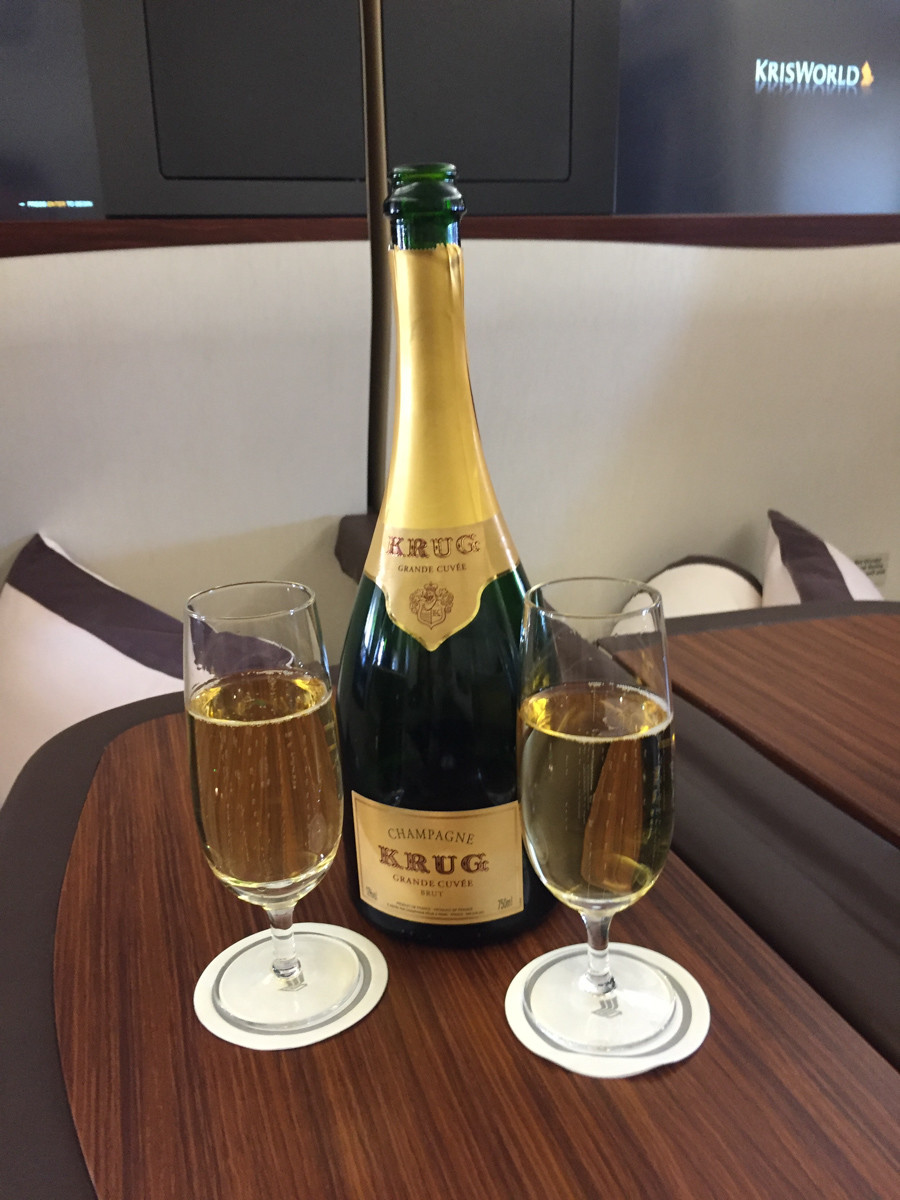 With two glasses of Krug in hand a sudden wave of disappointment and terror came over me as I realised airline travel would now be ruined for life. What have I done, we can't afford to fly in suites for the rest of our travels and the thought of traipsing to the back of the plane seemed criminal at that point in time. Oh well I guess that is a problem for another day.
A little while later someone was back to confirm our BTC selection and take our order for lunch. I say someone because interestingly not one of the stewards or stewardess on the flight actually introduced themselves so I never caught any names, I have read in many trip reports that the IFS came over to introduce them selves but I can't say we experienced that.
Mrs bwhouse and I had both ordered the Lobster for lunch. For the additional courses I chose the Tuna, followed by the chicken soup and finishing off with the eclair, whilst Mrs bwhouse had the caviar, followed by the chicken soup and the pear tart for desert. I continued with my best efforts to finish the bottle of Krug and then sampled one of the red wines the stewardess recommended, which was fantastic. Interestingly I was actually brought the wrong meal, easy mistake I suppose, once I made the steward aware it was promptly taken away and replaced.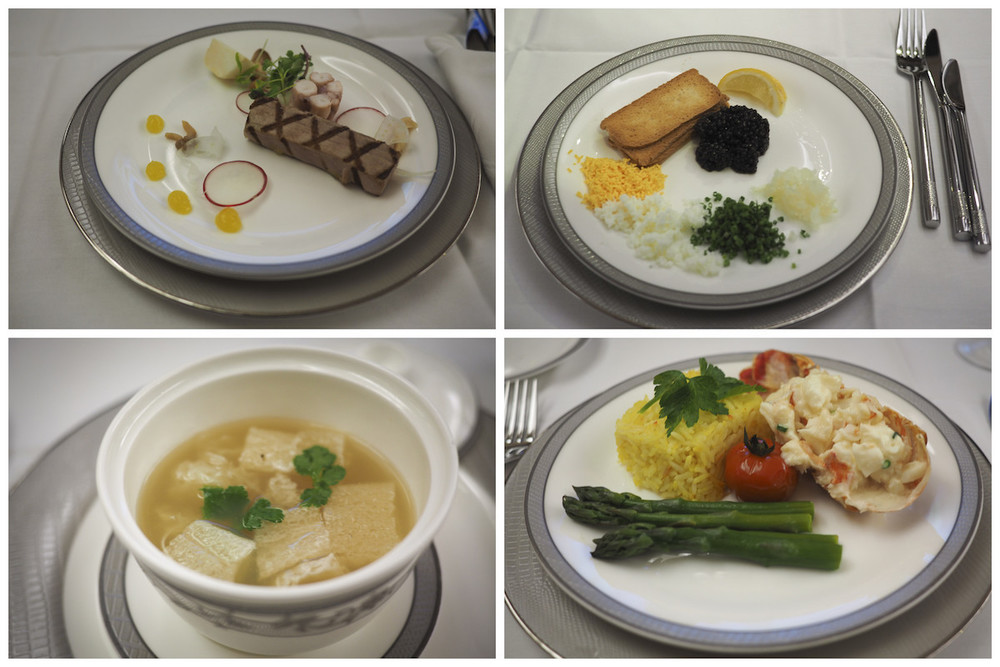 We were both too full for cheese or fruit as we had a late breakfast in the lounge. I did, however sample the Jamaica Blue Mountain coffee which was fantastic and definitely the best coffee I have ever had on a plane.
After lunch service the tables were cleared and I settled in to watch a movie. I was trying to behave and not drink too much but the red was delicious so I pressed the call bell and ordered another glass to have while watching the movie. Whilst it was probably a good thing, I was somewhat surprised that I was never offered a top up and my glass just sat there empty, maybe I just needed to be more liberal with my use of the call button :/
After my movie finished, we decided to ask for the bed to be made, because well why not. Whilst it isn't really a true 'double' bed as most people know it has a bar down the middle it is still really impressive and was a nice change to lie down and have a quick nap followed by some work.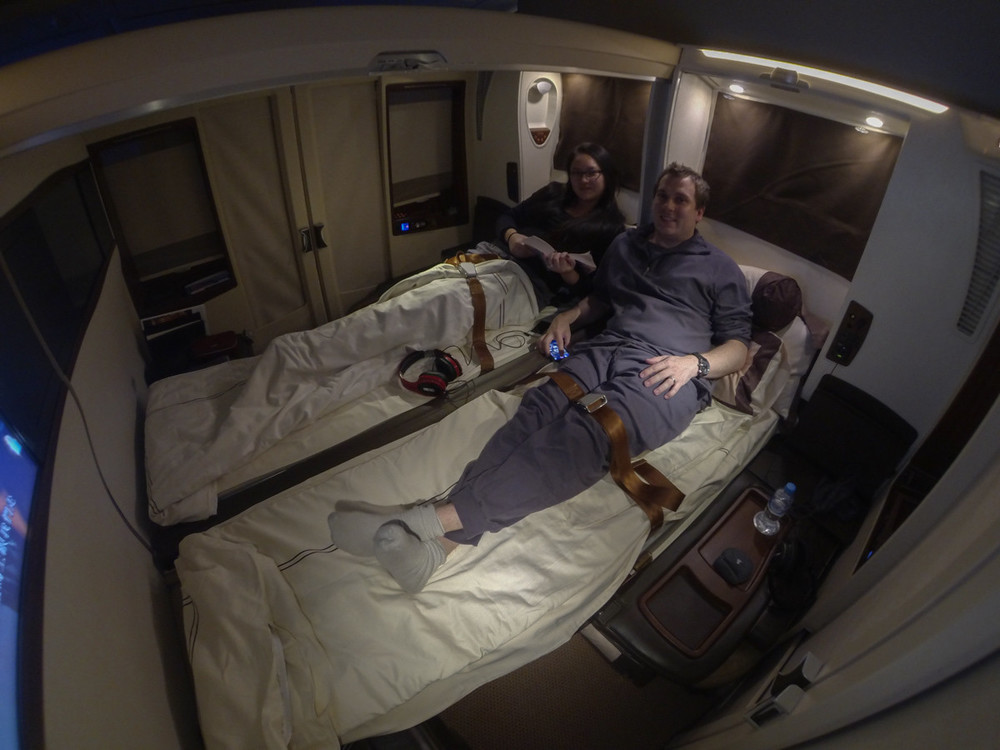 After a short snooze, to which I was only woken up due to the cabin feeling like a sauna. We were informed that we would be landing in less that two hours and asked what we would like for our second meal. We both picked the spinach fettuccine with pork. I decided to go for another wander of the plane whilst our suite was being turned back into chairs and Mrs bwhouse went to get changed. Now admittedly this was the second time I went for a lap around the plane, but I can never stay still on a flight so always find my self walking up and down the aisles every so often. The funny thing was is Mrs bwhouse overheard the crew saying, oh Mr bwhouse is exploring the plane again, apparently the crew were keeping tabs on me as I got reminded when I was at the rear of the plane that our meal would be ready very soon and to make my way back.
Up until now, I was doing a good job of remembering to take photos, but I may have been a few bites into this meal before I got the camera out.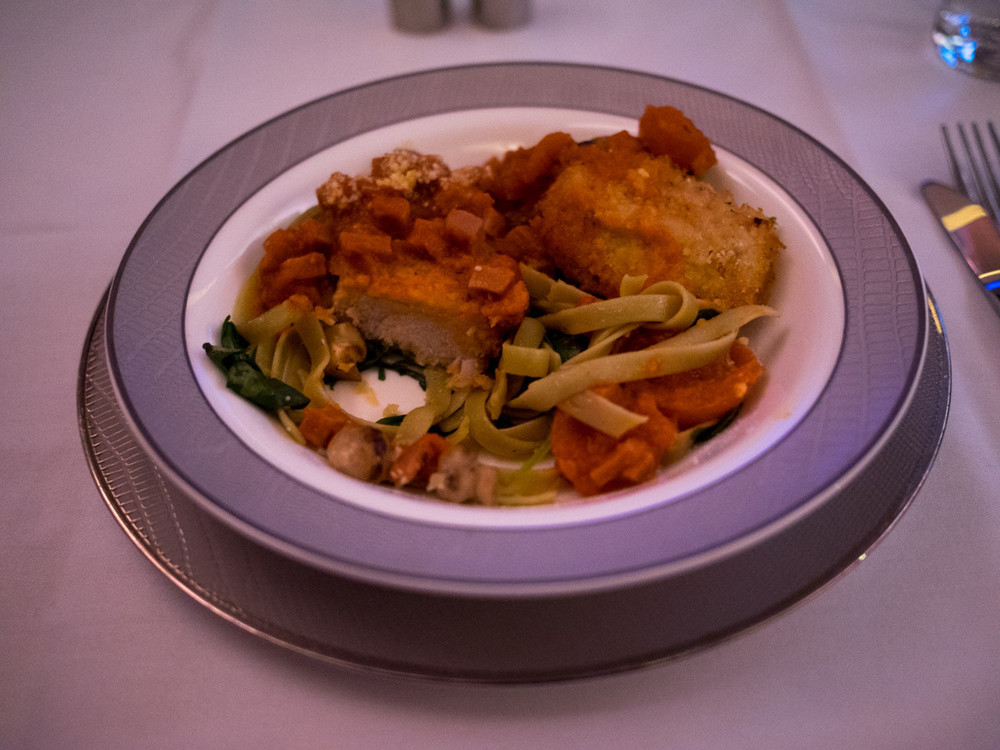 Overall it was an amazing experience, the 8 hour flight just disappeared. I did feel, however, that the crew were not on there A game. Maybe I have just read too many reviews and had unrealistic expectations, but you so often hear how amazing SQ crews are especially in F, so it was a little surprising. When I rang the call sign they were quick and attentive, but I seldom saw them walking the isles. It was almost like the 3 male stewards weren't doing much other than chatting in the galley and the poor stewardess was trying to serve the entire cabin. When preparing the table for the light refreshment, for example, she would attend to the 4 people on Mrs bwhouse side of the plane and then walk around to and look after myself and the other passenger on my side which just seemed odd. It will be interesting to see what our experience is like on the SIN-LHR flight in a few days.