Our first port of call was Santorini, the ship was in port for the entire day arriving at 7am and leaving just after 9pm which was great as we didn't need to rush at all. Waking up in Santorini was our first real taste of the Mediterranean, it is hard to explain but it had a different feel to the Caribbean, it was certainly less humid and the water almost felt clearer if that is possible.
We had done a bunch of reading up on what to do in Santorini and we were very glad we did. The cruise port is just off Fira and you need to either take a cable car or donkey ride up the very steep hill to get to the town. Instead, we grabbed one of the boat transfers from the port over to Oia, there were two companies that appeared to be doing these transfers and both included a bus transfer across the island back to Fira, the boat ride and bus transfers cost 15euro per person. We had read that Oia was the typical postcard shot of Santorini with the whitewashed buildings with blue domed roofs. More importantly, we had read about a great little swimming spot in Ammoudi Bay that you needed to climb over a few rocks to get to.
Once we got into the port at Oia (it was about a 15min boat ride) we took a right and walked along the foreshore in front of the cafes and restaurants and kept walking along the path, after a while the path becomes quite rocky and you need to do a little bit of light climbing over rocks. but eventually, we got to this magical little place of crystal clear water wedged between the cliff and a tiny rock island that has a great rock platform you can jump off. There are some makeshift rock stairs to get into the water although they were pretty slippery. We ended up spending about 2 hours here just lounging in the water and taking the whole place in, it was quite surreal to be swimming next to this massive cliff with picturesque white buildings resting on top. After much trepidation we both had a go at jumping of the rock (about 10m height at a guess) which was really fun although at first glance was quite off putting, when you looked over the edge you could see all the rocks on the sea floor and it really didn't look deep enough to be jumping, but this was simply an optical illusion due to the water being so clear.
I highly recommend checking it out if you are going to Santorini, it is a great little spot to kill a few hours.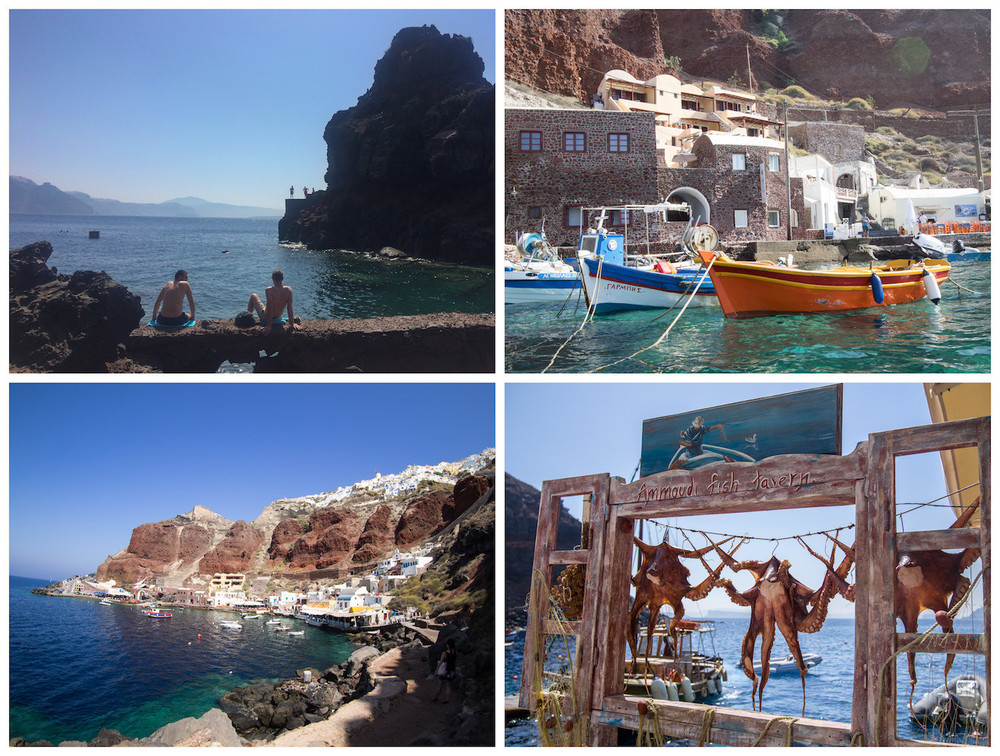 After swimming we walked back to the Oia port and caught the shuttle transfer (was included in our ticket) up to Oia town, unfortunately because we had spent so much time at the swimming hole and several of the shuttle services to back to Fiara had filled up we ended up having to book the 2pm transfer which meant we only got an hour and a half to walk around Oia. Oia was a nice little town, whilst it was clearly catering for tourists it didn't have too much of a tourist trap vibe to it. There were lots of little laneways to explore and at every turn you were presented with another spectacular view.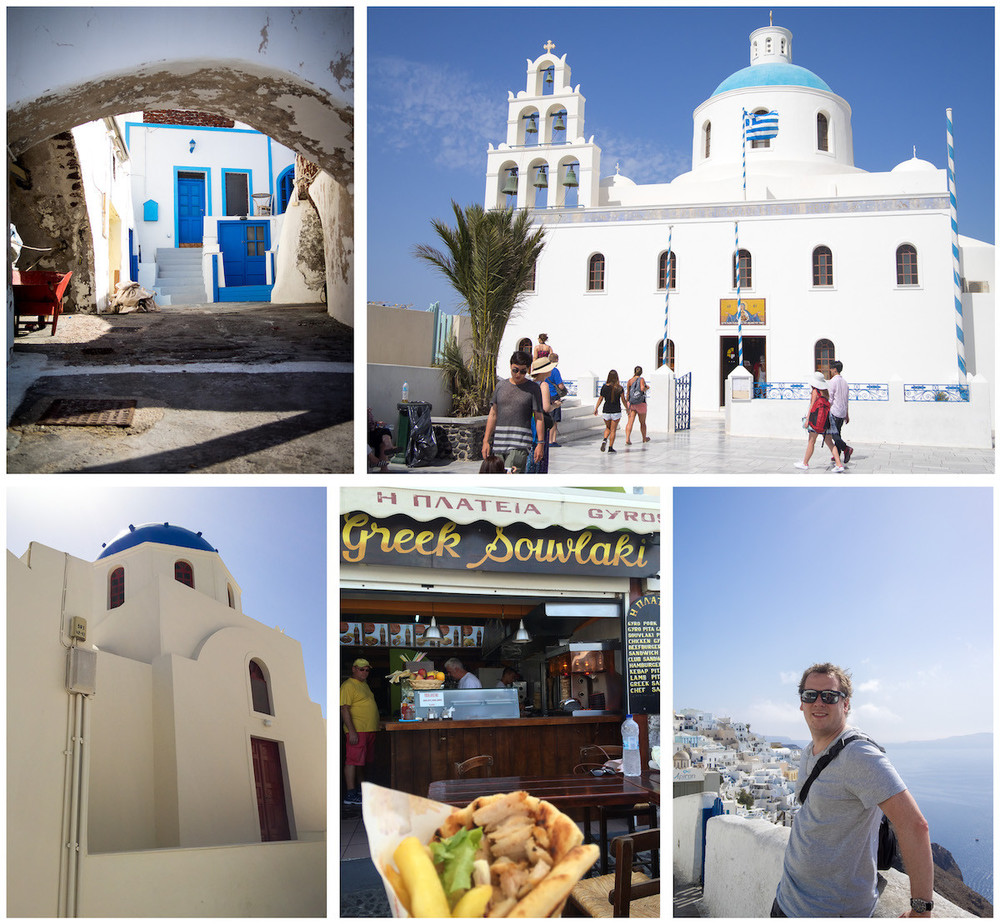 The bus transfer back to Fira provided some pretty interesting views as we drove along the top of the island. We walked around Fira and checked out several of the shops although it felt far more touristy and commercial compared to Oia. Several people recommended going to one of the nice restaurants that overlook the cruise port in Fira for dinner and watching the sunset over the bay, but by 4pm we were hot and with sunset not until 7:20pm didn't really want to kill 3 more hours in Fira so we decided to head back to the boat and lounge by the pool with a beer in hand Come 7:20pm we had a panoramic view of the Santorini sunset from the top deck of the ship so I don't think we really missed out on anything.