Review: Thai Airways B747 First Class BKK-SYD
As we were being whisked away in quite a hurry to make our connecting flight there wasn't much time to think, but I do recall thinking that I needed to use the bathroom. But there was no stopping and we were heading straight for the plane so I figured I would just wait and use the bathroom on board. Well we got settled in and pushed back pretty quickly, by this time I really needed the bathroom, last nights dinner was catching up with me fast! The feeling in my stomach could only be described as lava bubbling at the top of a volcano ready to erupt. The 10 parts chilli, 1 part prawn curry was clearly reacting badly to the multiple coffee's I had downed on the previous flight in an attempt to wake up. This was getting bad and the dam plane could not taxi any slower we finally launched down the runway and took flight, but alas the seatbelt sign was still on as we climbed and kept climbing, someone really needed to tell the captain that we were clearly at altitude and he could stop climbing and switch that seatbelt sign off! I squirmed in my seat trying to ease the pain that was building but nothing was working.
Now during this trip, I have enjoyed all the perks that go with flying first class, but right now the one the only perk that I was looking forward to was the knowledge that when that seatbelt sign eventually turned off, our lovely intent F cabin nestled in the front the of the mighty queen of the skies had two dedicated bathrooms, now whilst I was seated in 1e, so the furthest away from said bathroom, there were only 6 other people in the cabin so I had a 1/3 chance of getting to that bathroom uninterrupted. This is clearly what flying F is about, this is why people fork out the big $$ for the pointy end of the plane, it's not about priority boarding or priority seating or that lounge experience, it's clearly about priority bathroom access, or at least that's what it was about for me at that point in time.
It finally happened, the seatbelt sign went off. I shot out of my seat faster than Usain Bolt and made a b-line for the rear of the cabin. Embarrassingly I made it to the bathrooms before the flight attendants had actually gotten out of their crew chairs and unlocked them, but I think they got the impression I was in a hurry. Now I won't describe what happened next in too much detail because I am sure no one wants to read that. But for those of you that have heard the term ring of fire, well this was more accurately described as ring of thermite. Oh did I learn my lesson, don't eat crazy spicy things on a plane, especially when you have a connecting flight.
Now on to the flight...
We were on a B747, so the old config, which is certainly looking dated. The chairs aren't too bad to sit in, but I find the headrest is too low even when fully extended. My favourite part of this chair is that the ottoman is adjustable and you can bring it closer to the chair so it is actually usable for people who aren't 6ft5.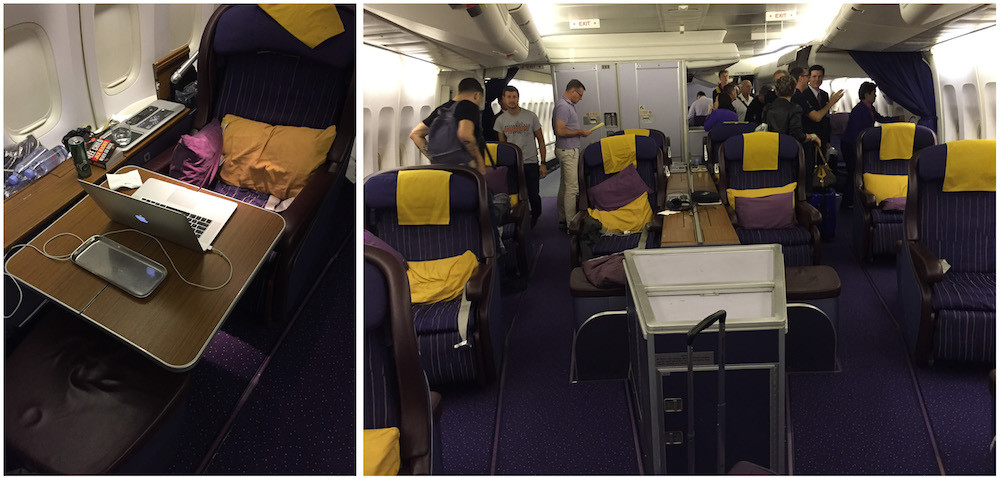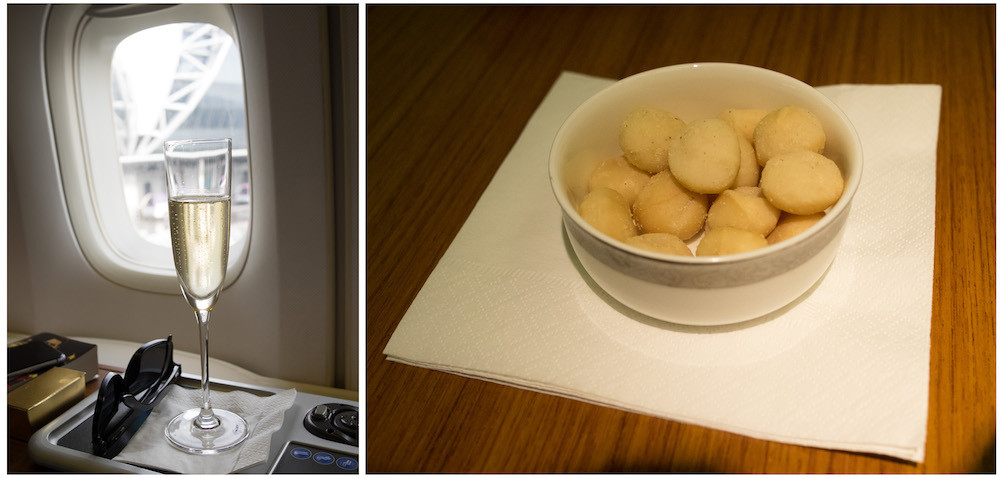 I still love the amenity kits that Thai give out, the Rimowa hard case is great. We are starting to build a collection of them now.

As we had just had breakfast on the previous flight, we both said no to breakfast and just had a coffee. I couldn't resist the smell of the warm croissants so asked for one and was give a nice little bread basket with a variety of baked treats.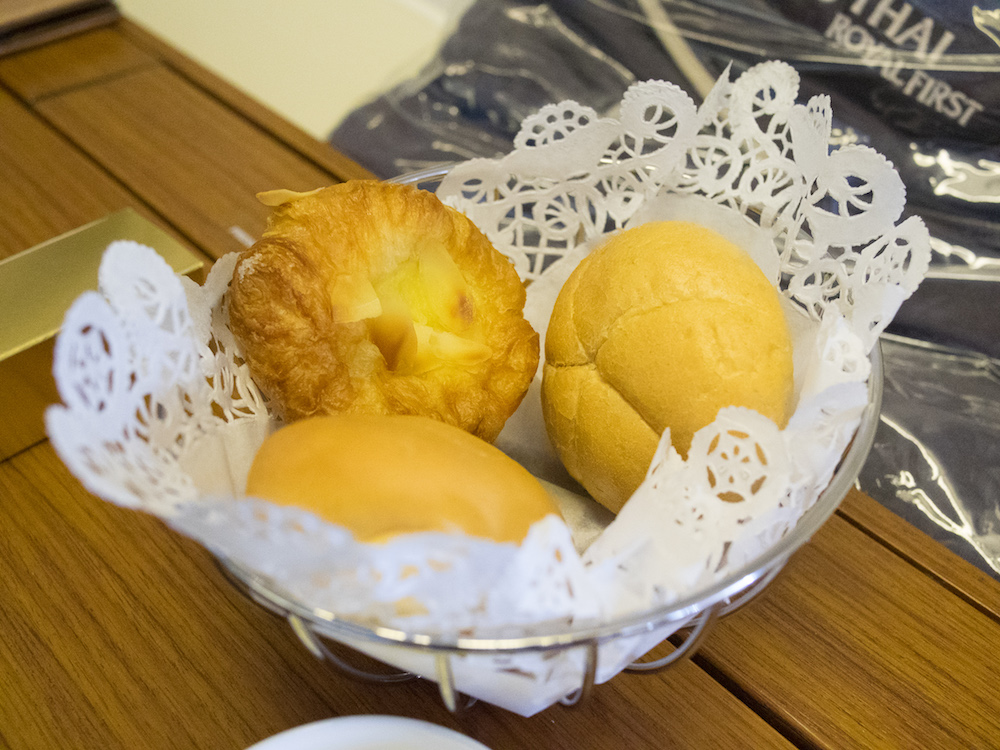 After breakfast was severed, I settled in to read and then get some work done on the laptop as it was a daytime flight, both in the time zone we were leaving and the time zone we were heading too. One thing that still annoys me a little on planes is the desire to darken the cabin even on day time flights. They dimmed the lights and then asked everyone to close window shades. Several people appeared to have their beds made and go to sleep. My issue with this is with the cabin darkened out and no natural sunlight it is hard to fight jet lag and stay awake. I find after several hours my body wants to go to sleep.
At about T-2 hours the cabin lights came on and dinner service began and this time I remembered to take some shots of the menu.
Unfortunately, I seem to have misplaced the photos of the food
We circled around Sydney for a little while before coming into land. I was surprised that there was no ground service in Sydney and we were left to our own devices. My previous Thai F experience was in Japan and we received similar ground service to Bangkok. We were however met by a lady in a Thai Airways uniform, to pass on the bad news that one of our suitcases had not made the connection in Bangkok. Still not sure how one made it and the other did not but oh well we were home so it didn't really matter.
Thankfully the airport was pretty empty and we cleared customs quickly.