Review: Thai airways A380 First Class FCO-BKK
Once I get to the end of this TR, I will give an overall impression of how I ranked all the flights. But to sum up my initial impression, I was really impressed with the A380 hard product. The seat was spacious and comfortable, it obviously wasn't as private as the SQ suites, but in the same token the entire cabin felt much larger as it wasn't closed in, so there was a general overwhelming feel of space. In seat mode, I found the chair equally as comfortable as the SQ chair, albeit not quite as wide. In bed mode, however, SQ was a clear winner. The TG A380 was a decent bed, however, you could still tell it was a chair that went flat if that makes sense vs a nice flat mattress.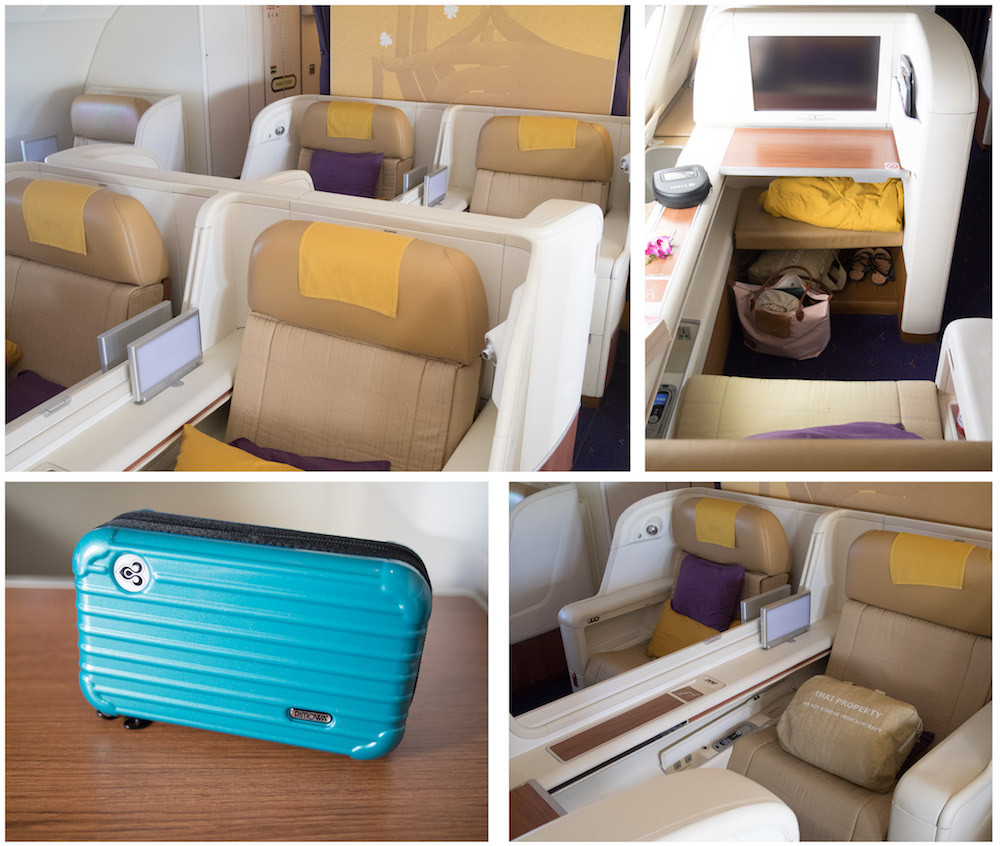 The service throughout the flight was fantastic, the staff were attentive and pro-active if I hadn't stopped them my glass of Dom would have been never ended. I would say the meal service felt a little rushed though, I can't put my finger on why but it felt a little like they wanted it to go to a planned schedule rather than at the PAX pace, that would probably be my only criticism of the overall service.
For the meal we had booked the cook (or at least the TG version of BTC), I ordered the prawn curry (sorry can't remember the actual dish name) and Mrs bwhouse ordered the lobster. I once again forgot to take photos of the menu The meal service started with an appetiser, which was ok but nothing special, we both then skipped the caviar as we are not really fans of it. We then had what the stewardess called the signature dish, which didn't appear to be on the menu. It was a chicken skewers with a vermicelli noodle salad that was fantastic.This was of course accompanied by another glass of champagne. Mrs bwhouse enjoyed the lobster but said it was too rich to finish which brings me to my meal. Now, let me first start by saying I like spicy food and I mean I really like spicy food. I can eat a bucket of the spiciest Korean fried chicken and still be wanting more. But this prawn curry was on a whole other level, the flavours we fantastic but I am pretty sure you could have poured the sauce into the fuel tank as a substitute for jet fuel, it was just nuts. The problem was it was tasty, like really tasty so I just kept eating it (little did I know how much I would regret that decision on the next flight, more on that in the next post). That was until I ran out of rice and then the dish beat me and I just couldn't keep going The stewardess came over and tried her best not to laugh, while she looked at me and said 'It's pretty spicy right?'. By this time both MrsBwHouse and I were both really full, so decided to share a dessert sampler.
and desert

I read for a little bit with a nice peppermint tea and then retired to bed to try and get some sleep. Once again the staff were quite pro-active and offered turn-down service. As mentioned above, the bed wasn't as good as the SQ one and could have really used a thicker mattress. I know, first world problems, never thought I would be complaining about needing a thicker mattress on a plane, I have clearly read too many trip reports!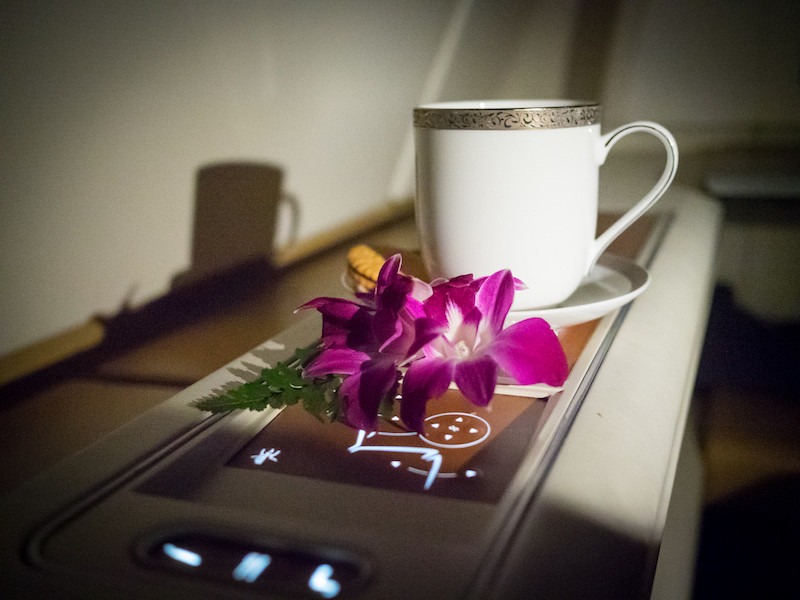 I must have been the first person to wake up in the cabin, with about 1.5hours to go. It was a little freaky but my recollection of events was waking up rolling over to face the aisle and being greeted by our lovely stewardess and cross-questioned about breakfast. I am pretty sure all I got out was 'coffee' with a dazed and confused look on my face. I got up to go to the bathroom, I assume my mumble must have made sense, as when I returned my bed was back to a seat and there was a coffee waiting for me Mrs bwhouse woke up shortly after and we ordered breakfast. I had the omelette with bacon and mushrooms and Mrs bwhouse just had the fruit platter. To be honest, I am not sure if the omelette was cooked fresh or not, but it was pretty good for eggs on a plane.

It was time to land and our TG A380 adventure was over. The CSM came around just before landing and said our outbound flight was also delayed so we should make the connection. Sure enough, upon disembarkment, we were whisked away in a golf buggy to our departing flight to SYD. Unfortunately, this meant no lounge or spa, but on the flip side, it was better than spending 11 hours in BKK airport waiting for the next flight.