Virgin Australia UpgradeMe Bid Experience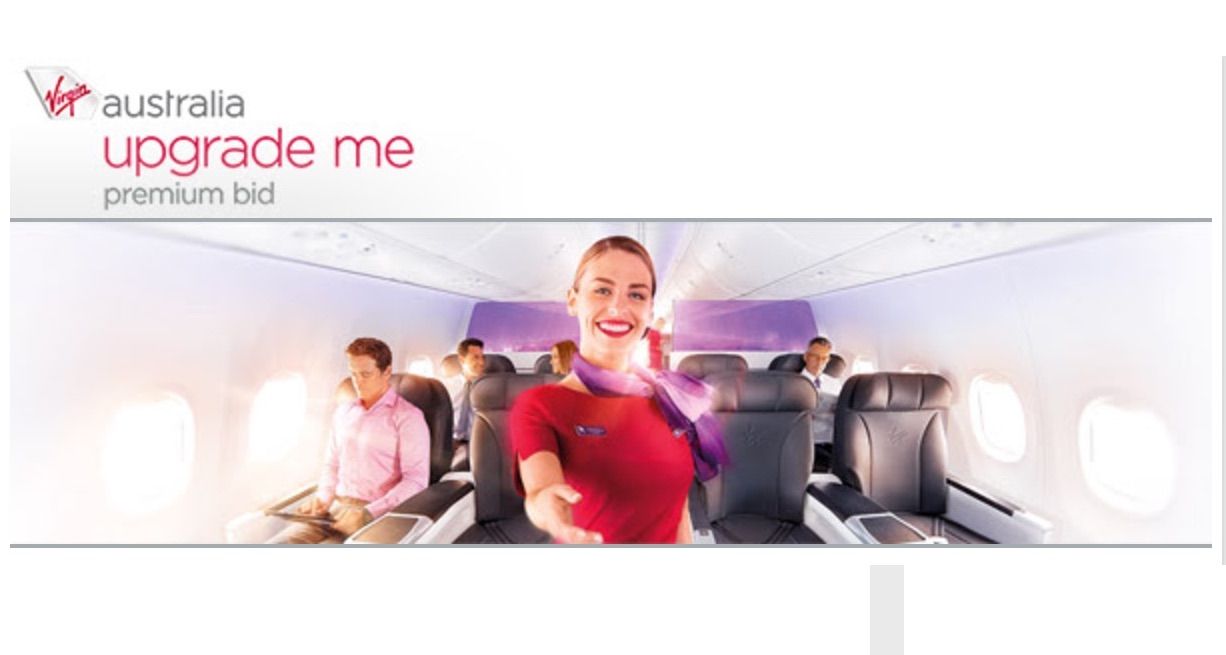 So purely for the purposes of creating blog content I decided it would be a good idea to put an upgradeMe bid in for an upcoming trip I had from Sydney to Brisbane, it had nothing to do with the fact it was a day trip and the thought of another coffee express breakfast or toasted sandwich 'lounge' special after a long day of meetings was demoralising.
What is UpgradeMe?
Virgin for quite some time has offered a service called UpgradeMe Bid that allows you to place a bid against upcoming flights you have booked to have them upgraded to the next class of service. Many airlines now offer this sort of service as a way to generate additional revenue and reduce the need for operational upgrades in the event that Economy is overbooked. The minimum bid and amount required to receive the upgrade changes for every flight, based on load and the number of people who place a bid. I have have had pretty good success before and used UpgradeMe a few times, it can be quite good value for long-haul international upgrades, for example in the past I have upgraded a Sydney - Los Angeles flight, where I purchased discount economy tickets and for a grand sum of $540 was able to upgrade them to premium economy, which consider the normal ticket prices and length of the flight was a pretty good deal.
As a general rule, you do not earn the additional miles or status credits for flying in the premium cabin if you are successful with an UpgradeMe bid. However, I have experienced glitches in the past where I have in fact been credited the additional points.
Bidding on an Upcoming Domestic Flight
It was somewhat of a last minute trip so I had a look at the UpgradeMe website at T-48 hours and the morning flight from Sydney to Brisbane had a much smaller minimum bid of $125 vs the return flight that had a minimum bid of $180.
With that in mind, I placed a bid on the morning flight for the absolute minimum of $125, I always find it interesting the PlusGrade system that Virgin (and many other airlines use) use places the recommended bid significantly higher than the minimum amount. I was in a massive hurry so I completely forgot to check what the actual load on the flight was on ExpertFlyer.

I placed the bid at 10 pm on the Monday for a flight that was at 6:30 am on Wednesday. Well at 6 am on tuesday I got an email from Virgin saying my bid was unsuccessful. Not wanted to be disparaged, after all I had committed to blog content to review Virgin 737 Business Class, I logged back on to the website and submitted an offer to upgrade the return flight, this time though it was at a significantly higher price as the minimum bid was $180. Once again I submitted the minimum bid. This time, however, I checked Expert Flyer and the flight was showing J7, in other words only one seat had been sold in business class, based on this I figured my odds were pretty good. I would also add that $180 for a Syndey - Brisbane flight really isn't spectacular value considering it is only just over an hour in the air.


Well a few hours later I got the email, my bid was successful. Despite it not being the cheapest upgrade (you can usually get the Sydney - Brisbane leg for ~$150) it should be fun to give Virgin Business a try again. It has been quite a while since I have flown it.
You can check out my review of Virgin Australia's 737 Domestic Business Class Here