Review: Virgin Australia 737 Business Class
After my successful UpgradeMe bid on my return flight from Brisbane, I was somewhat looking forward to the flight home rather than dreading the small packet of snacks and beer I would normally get, I would actually get to enjoy a proper meal, this would also save me from the go-to toasted sandwich in the lounge.
I was actually running late to the airport so shuffled through the lounge pretty quickly and then decided to head straight to the gate as I figured I would try and be one of the first to board, this is very unlike me, but on such a small plane I didn't want to be trying to take photos of the seat with lots of people already on board. I actually always feel awkward taking photos in lounges and on planes, which is something I probably need to work on.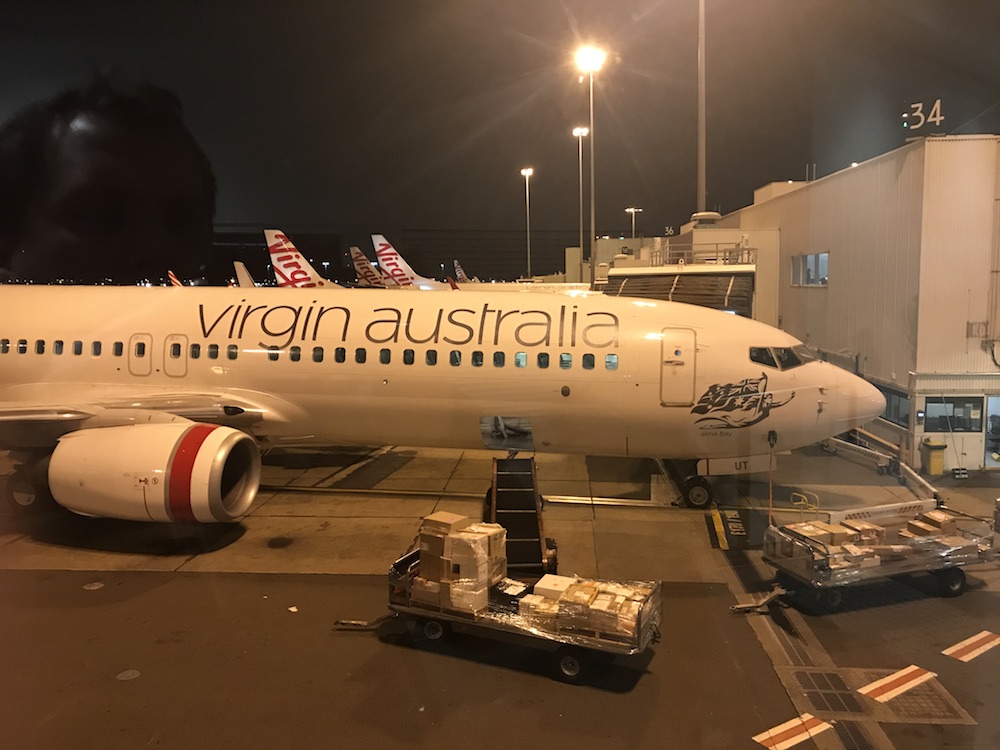 The bird taking me to Sydney
Upon boarding, I was greeted by the CSM Jo after checking my boarding pass she greeted me by name followed by 'Welcome to business' which was a nice touch.
The Virgin domestic 737 fleet has 8 business seats in a 2-2 configuration, they are large recliners with fixed armrests.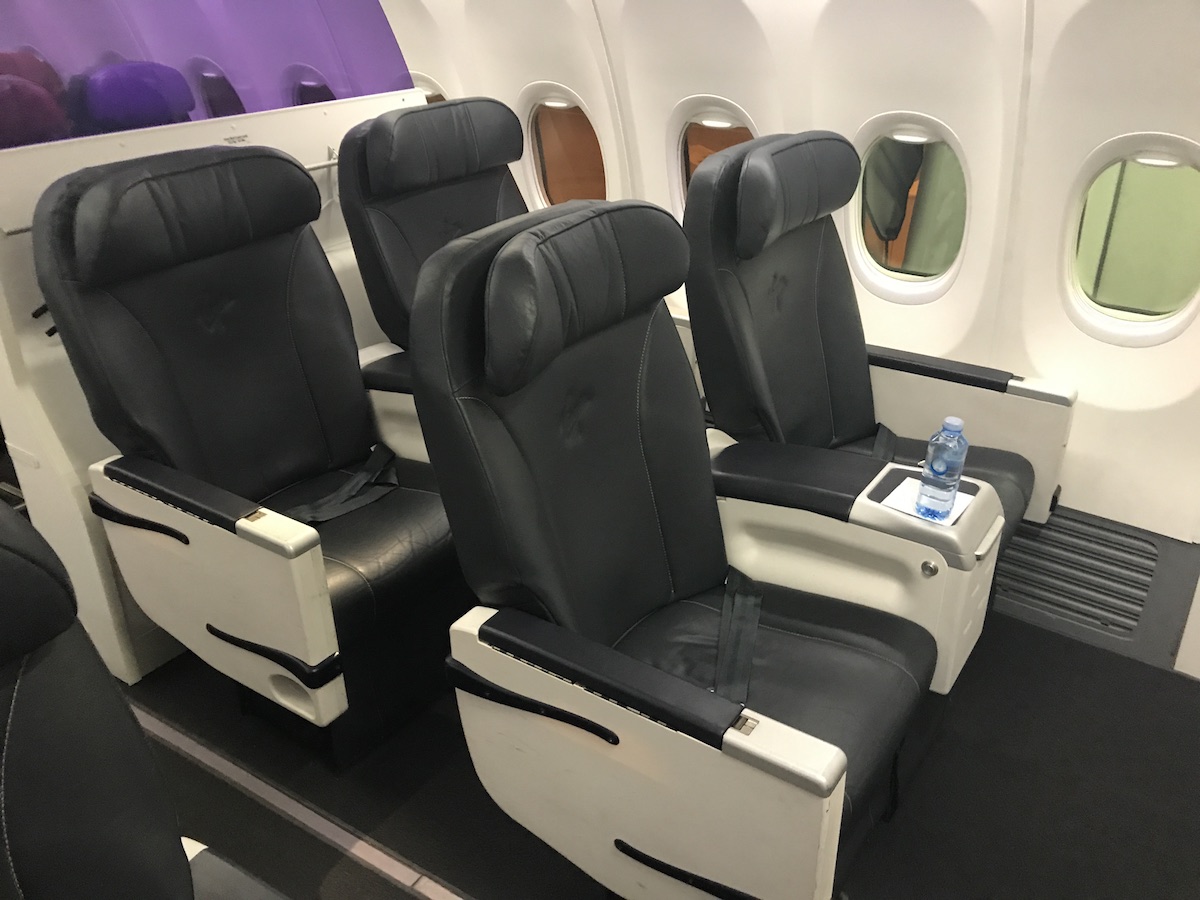 Virgin 737 Business Class
There was a bottle of water left on each seat that was occupied as a sort of pre-departure beverage.
The seats are large with a 38" pitch and generous recline. Whilst the seats are pretty basic and nothing fancy they are very comfy and when reclined you can certainly relax. the centre armrest includes a slide-out mini tray table for drinks and the seat has a large tray table that comes out of the side armrests.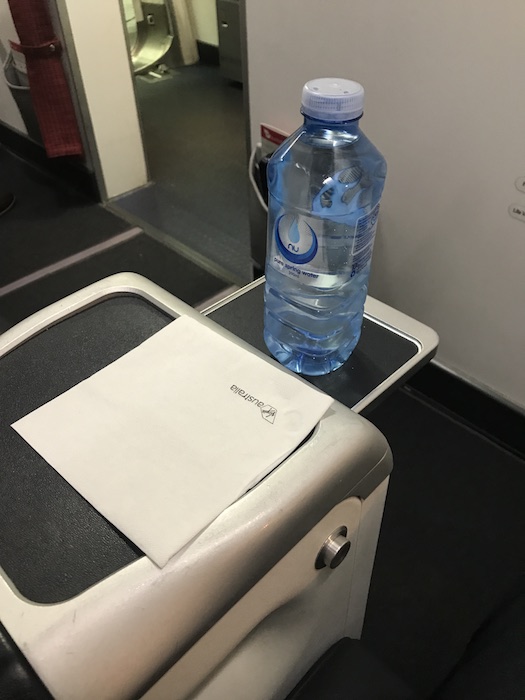 Fantastic Leg Room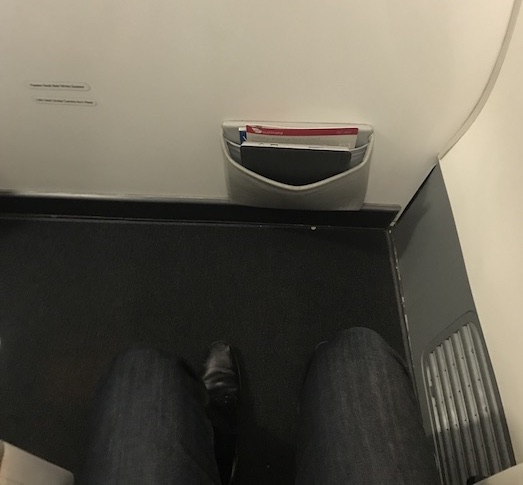 The tray table has a half and full open position.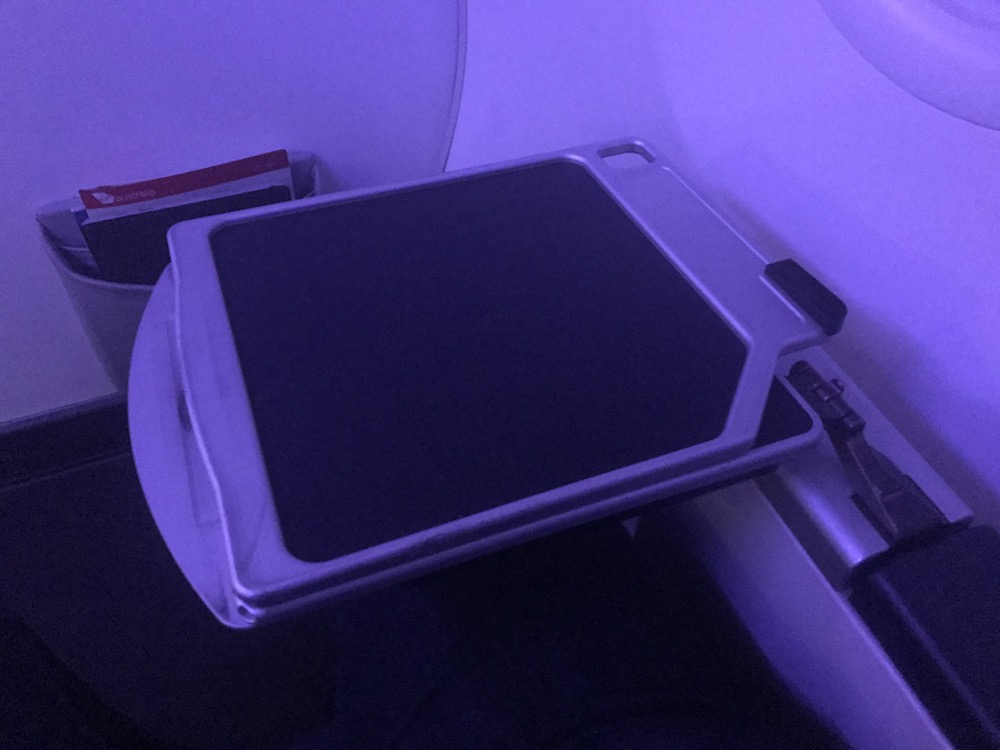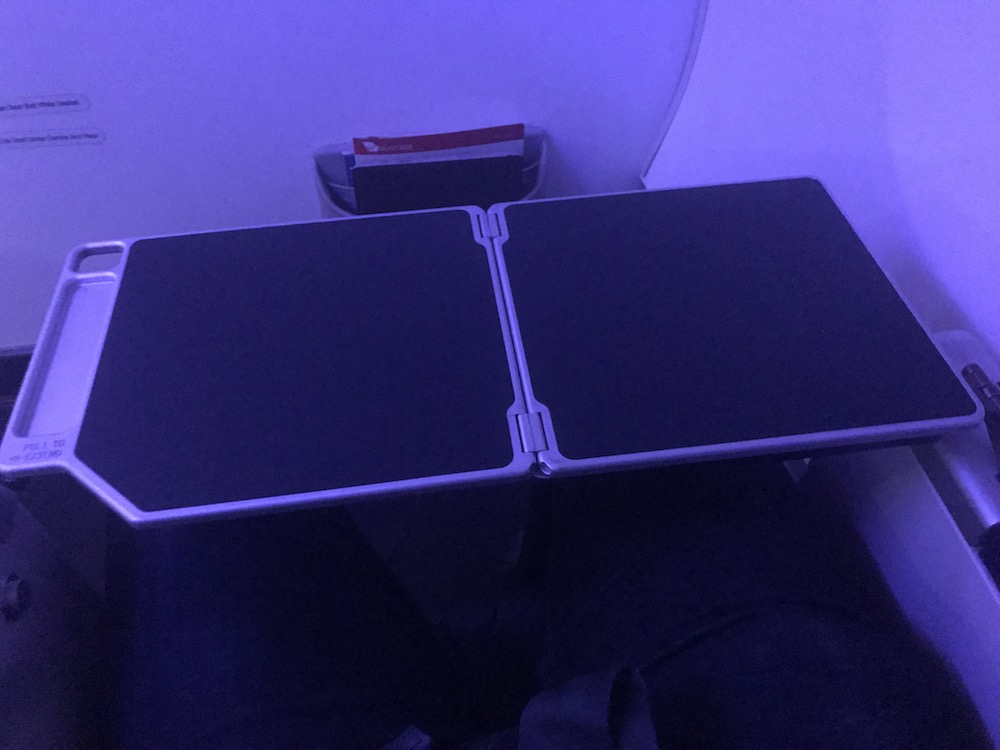 Once boarding was nearly complete, Jo who was looking after the business cabin came around to each seat and went through the menu option to take orders. Two menu choices were on offer, a beef short-rib with couscous and salsa or a vegetarian option of mushroom soup, Jo was quick to assure me that she could add chicken to the soup I wanted, I am not sure if this was a standard offering or if I simply had a blank look on my face as a result of the sound of a mushroom soup...
It goes without saying, I ordered the mushroom soup Beef Short Rib
Shortly after this, the cabin doors were closed and we pushed back to a short taxi and take off. Once the seat belt sign was off the cabin crew sprung into action and began service. Whilst there were only 4 people in the business cabin, the meals were quick to come out and well presented. The tray table came with the main that I had ordered, a bread roll, cheese and crackers and a boxed dessert.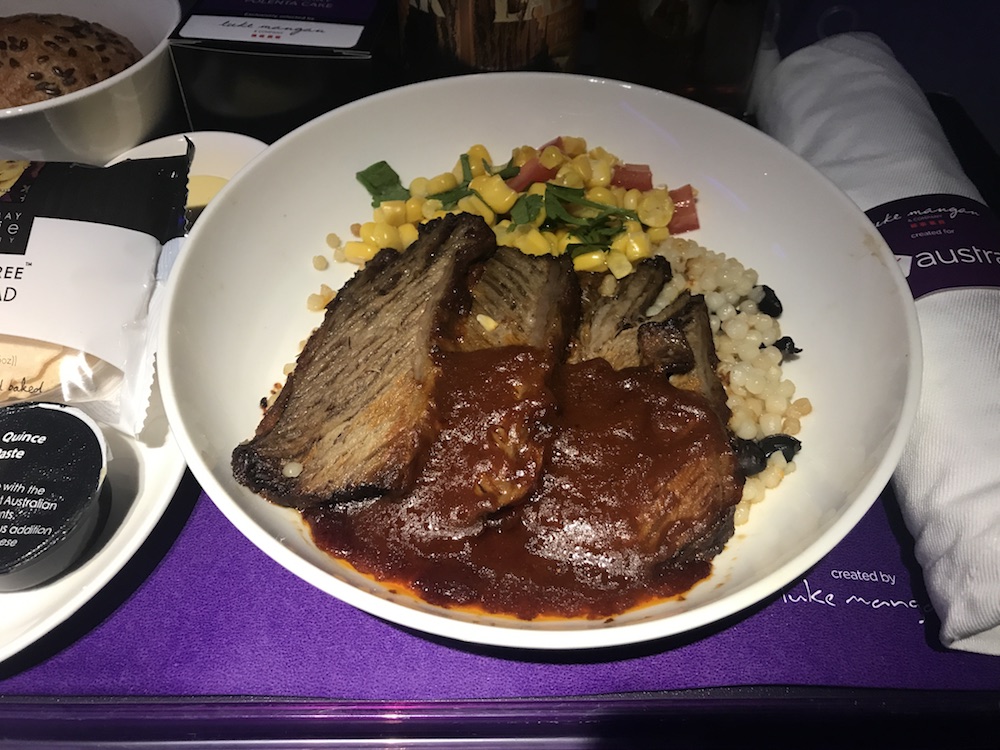 Amazing Beef Short Rib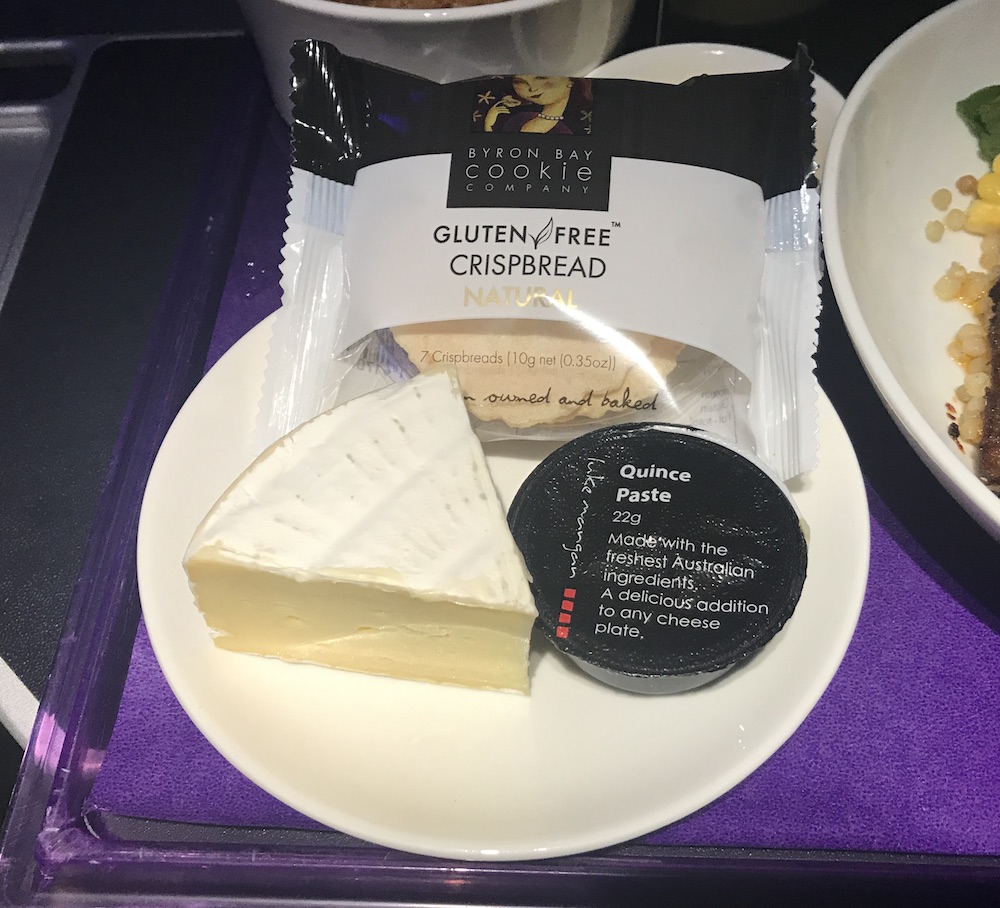 Cheese & Crackers

Dessert to top it off
The meal was actually amazing, I was pleasantly surprised. The beef short rib ranked up there with some of the best meals I have had on a plane. It was flavoursome and incredibly tender, it literally fell apart as you cut into it. The bread roll was very fresh and also warm which was a nice touch. I finished my meal up and before I knew it the captain announced that we were beginning our decent into Sydney. Now Brisbane to Sydney is a short flight, but this one really did whizz by!
So was it worth the $180 for the upgrade? In short NO, but was it fun writing the blog post? absolutely. So all is well in the world of pointyendoftheplane.com :)