My experience with VISA Platinum Concierge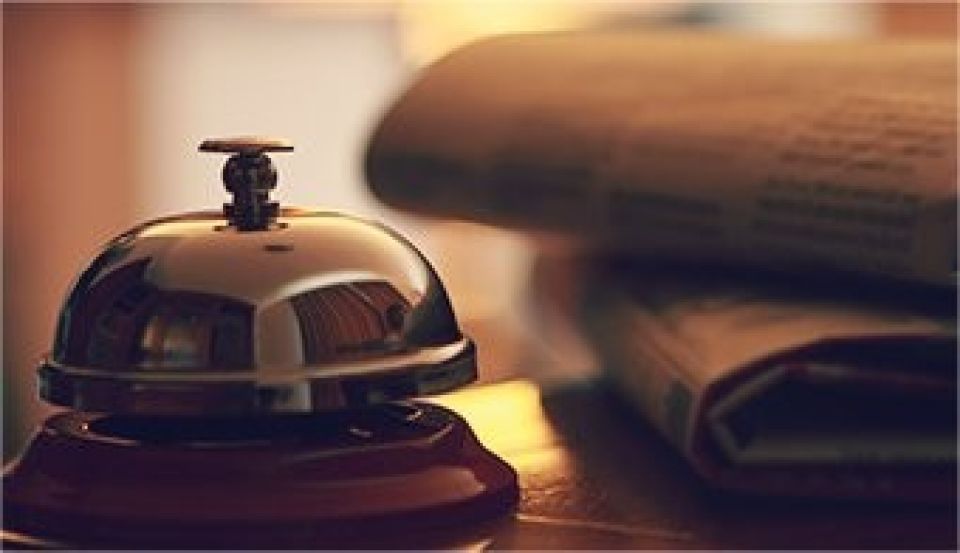 Despite having many premium credit cards over the years that have offered concierge services, I can't say that I have every actually tried one, until yesterday.
Mrs Bwhouse noted a month or so ago that Bruno Mars was comming to Sydney and thought it would be great to go to the concert. Well, tickets went on sale on a weekday last week and not only took the Ticketek website down but were sold out in a matter of minutes. Needless to say, we didn't even remember to attempt to buy them let alone actually secure any.
We were driving home on the weekend and it dawned on me, hey maybe I should give one of my credit card concierges a go and see if they can magically secure tickets that were otherwise sold out. So I reached out to the Visa Platinum Concierge service that is available to NAB customers and asked the question. The lady was very helpful and explained that unfortunately Visa didn't have a direct relationship with that particular concert and only had access to the same tickets on Ticketek as the general public. She was quite apologetic and interestingly explained that they had several people queued up on the day the tickets were released to secure tickets for customers.
I hung up and didn't think much of it, I figured the services was pretty useless and didn't envisage using it again anytime soon.
Well today I received an email from Visa Concierge with the following
We are pleased to advise you that additional and final Bruno Mars concert has been announced, the new date is Saturday 24th March 2018.
The tickets will be on sale tomorrow Tuesday 9th May 2017 at 2pm through Ticketek http://premier.ticketek.com.au/shows/show.aspx?sh=BRUNOMAR18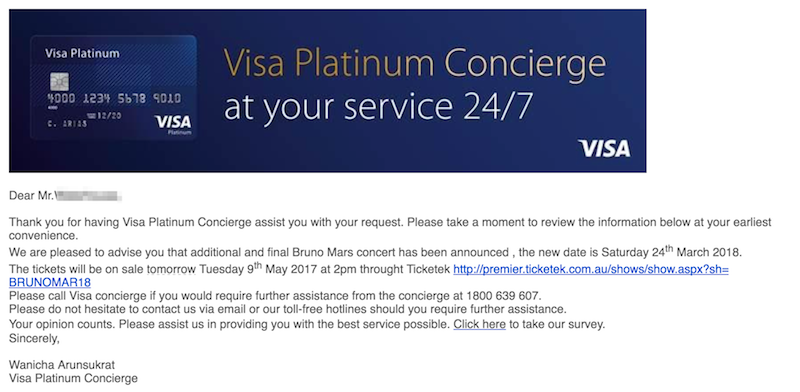 I was pretty surprised when I read it, although the email didn't explicitly offer to secure tickets for me. So I rang back up and sure enough, they are happy to set a reminder and will attempt to buy tickets on my behalf at 2 pm tomorrow.
I guess by this time tomorrow I will know if they are actually sucessfull in securing tickets. But I am super impressed at the proactive nature of the service!