First Class vs. Business Class - How should you use your points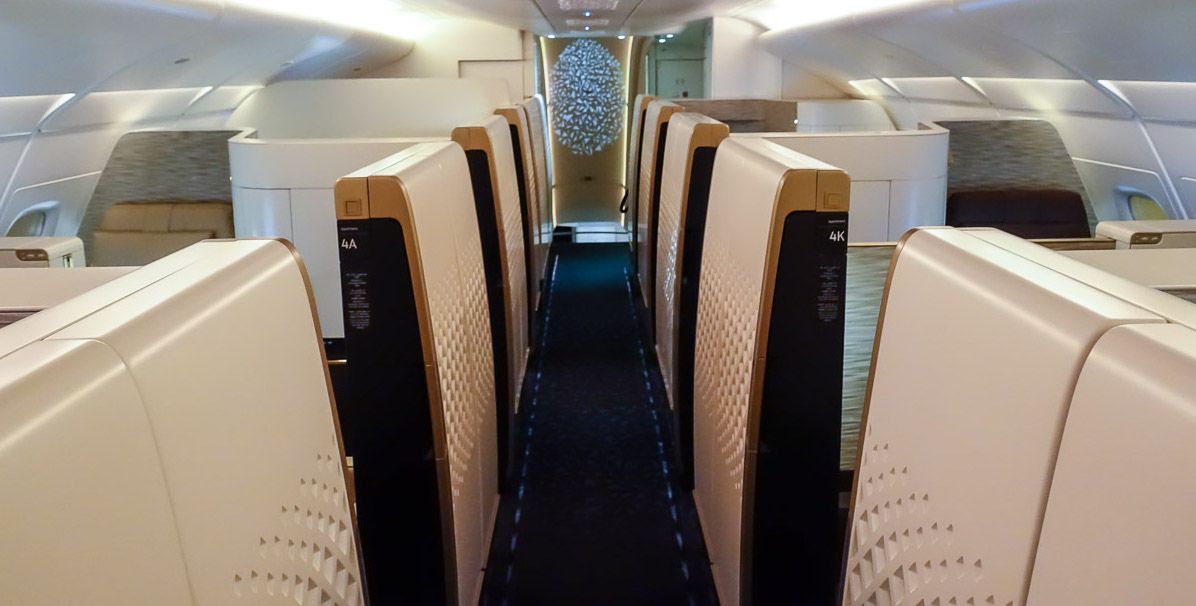 I often get asked why I 'waste' my points on First Class travel rather use them for Business Class travel. So before I start, let me be clear, this article is going to talk about a lot of #firstworldproblems. With that in mind let's take a look at what I believe to be the key differences between international First Class travel and Business Class travel. As always these are simply my opinions and very much open to interpretation.
If I was to sum up in a few words why I always try to redeem my miles & points for First class travel. I would say that First class is a true experience and Business class is often just a comfy way to travel.
Common Myth
Before I talk about some of the differences, let's dispel some myths that I often hear when talking about redeeming points for First class travel.
You can get twice as much travel if you redeem for business class travel vs first class. - This is generally untrue, in fact, most award charts offer much better redemption value in First compared to Business. For example, let's take a look at two different airline award charts for a trip from Sydney to London.
| Airline | Business | First | % Difference |
| --- | --- | --- | --- |
| Etihad (using Velocity Points) | 139,000 | 203,000 | 46% |
| Singapore Airlines | 105,000 | 148,000 | 40% |
International Business class these days is really what First class used to be. - So this one is interesting and to a certain degree, it is true. International Business class these days is fantastic, in many cases, you get a very private seat, with direct aisle access and a fully flat bed. It is correct to say that what you get when you fly Business class is in many ways what First class used to be. However, just as Business class seats have gotten better, First class cabins have also improved significantly and are larger and more luxurious than they ever were.
Business Class - The comfy way to travel
As mentioned above, we live in a pretty amazing time for premium air travel. In general International Business class, these days, is pretty fantastic and is only getting better. New products like Qatar Qsuites are really pushing the bounds of Business class travel.
The Pros
Good seat - for the most part, you get a comfy seat with more legroom that you will know what to do with and a fully flat bed that allows you to get some much-needed sleep on a long-haul flight.
You can't complain about this seat!
Decent Plane Food - Business class meals are usually pretty good, it is still aeroplane food, but it is usually pleasant to eat and served on proper plates and trays rather than a foil box.

Beverages - Depending on your airline you will also usually have a pretty good selection of wine and drinks available. This does vary but take for example Emirates that serve Hennessy Paradis cognac in Business class - this retails for over $900 a bottle.
The Cons
Way more seats - it depends on the plane but you will be in a cabin with lots of other people, on a modern A380 you could have 86 seats in Business class
Whilst spacious, there are still lots of seats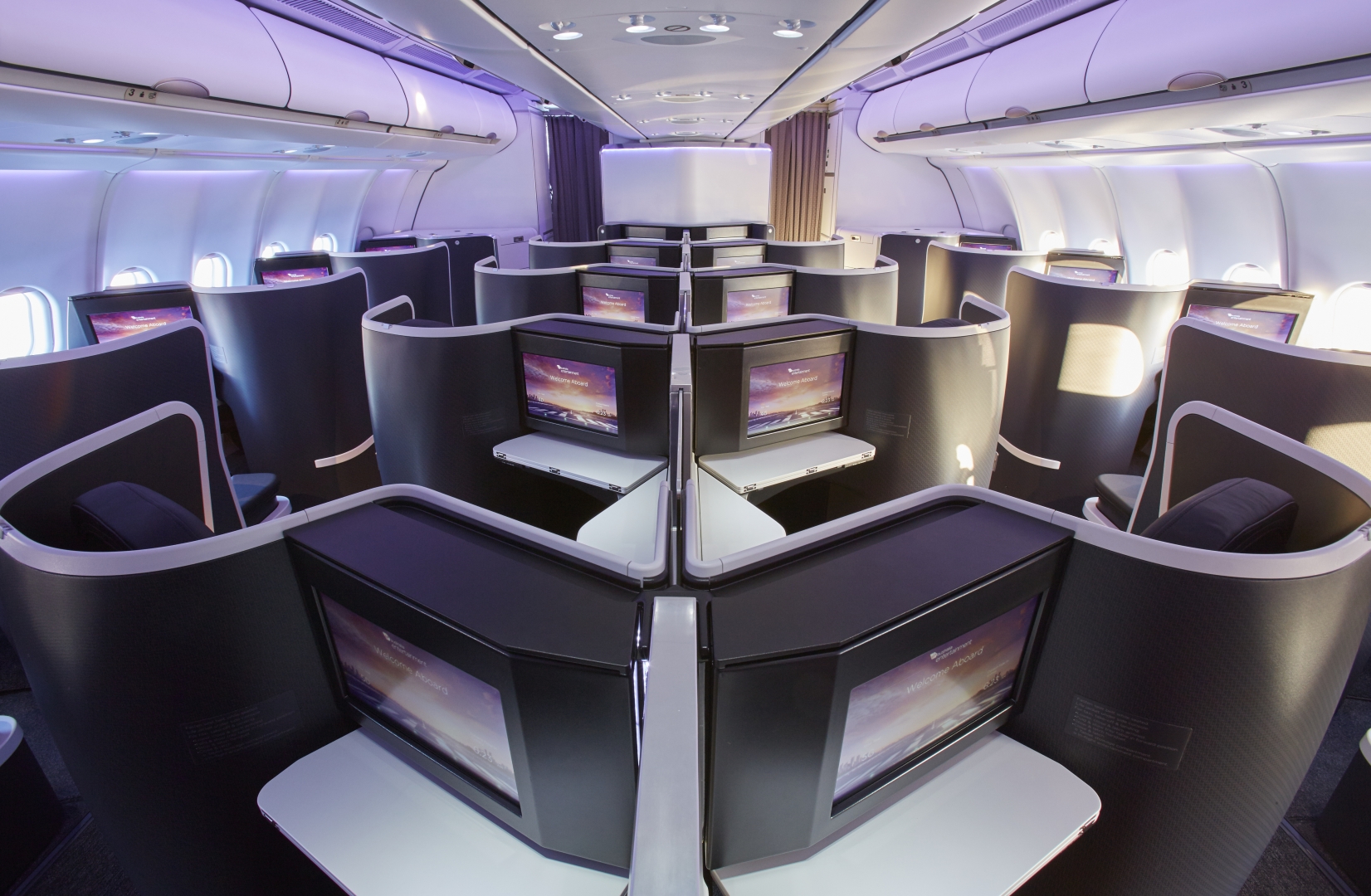 The service is often like a production line - This is most likely a by-product of the number of passengers that are in Business class, but the service can sometimes feel like a production line rather than a customised experience.

It still feels like you are on a plane! - Yes #firsworldproblem indeed, but in business class, you still very much feel like you are a passenger on a plane. It doesn't really have that special allure to it.
First Class - A True Experience
Modern First Class products are pretty amazing and continue to get better and better, however, they also continue to get harder to experience. We are seeing more and more airlines either reduce the number of seats in International First class or remove it all together on new planes.
The Pros
First class is a true experience - from the moment you step on the plane (and in some cases the lounge), it is an unforgettable experience. Even if you only get the opportunity to try it once, it will give you fun and aspirational travel memories for years to come.

Comfortable Bed - Whilst Business class seats these days offer a reasonable bed. First class is generally much more spacious and I find I always get a better nights sleep.
It's not every day you get to have a double bed on a plane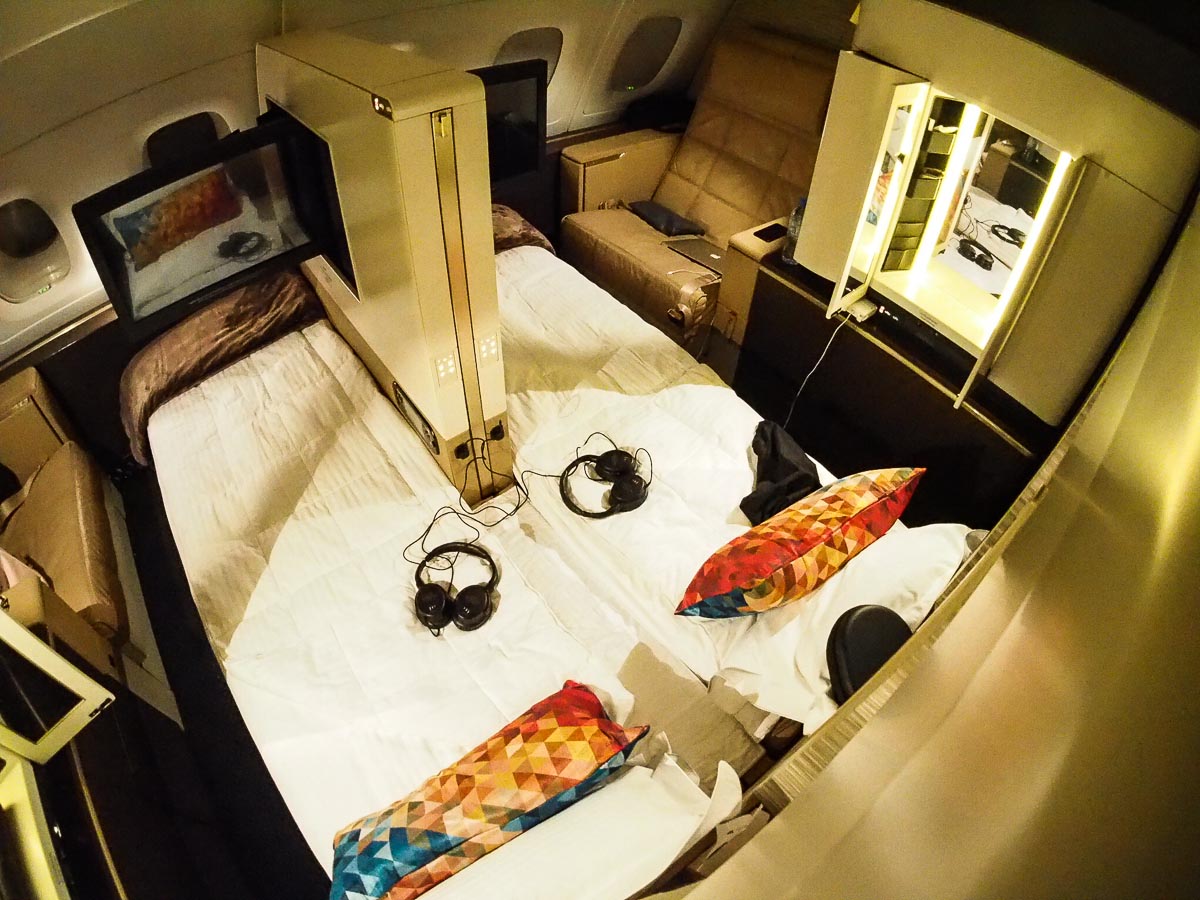 You will be pampered in First Class - Service in First Class is a distinct level of business, everything is customised and no request is too hard.

You forget you are on a plane - You tend to completely forget you are actually travelling on a plane, the cabin is so spacious and provides so much privacy that it is easy to forget you are on a plane with several hundred people.
Would you like a shower at 30,000 feet?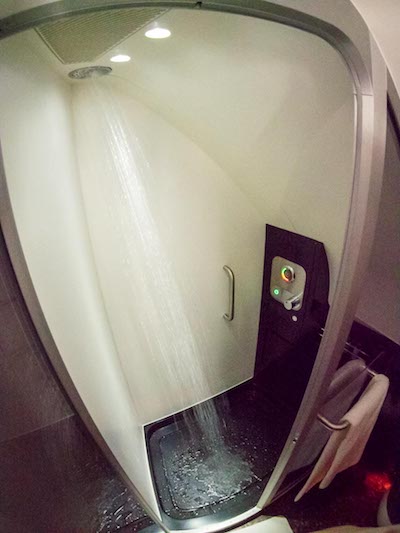 First Class lounges - This one is very airline (and airport) dependant, but some first class lounges are an amazing experience in themselves and are the equivalent of eating and drinking at a 5-star restaurant.
Champanage tasting in Singapore's Private Room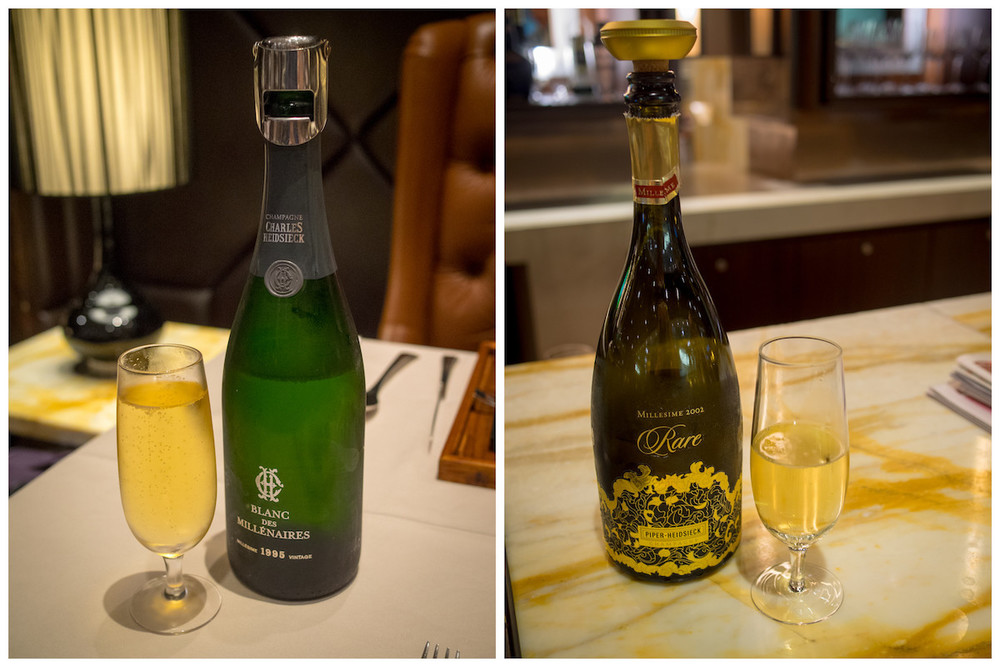 The Cons
It does cost a few more points - As per my basic example above, it does cost a few more points to travel in First class over Business class.

You are limited to routes - More and more airlines are cutting down on the planes that have First class cabins. So you will be limited to routes and destinations

It will destroy all future travel - Once you have gotten to experience First class your expectations of airlines will most likely dramatically increase and you will forever be trying to justify flying in First class over Business class
Conclusion
So from my perspective, it is totally worth spending the additional miles & points on First class travel experiences as they are just that - an experience. It becomes truly an aspirational travel experience that you will remember vs simply a more comfortable long-haul flight in Business.
Again remember we are talking about #firstworldproblems here! Business class is still a fantastic way to fly and if you have no easy way to accumulate the additional miles & points for First class travel you should never feel disappointed booking a Business class award tickets as you will most certainly have a fantastic time. But if you can, save the points and look to book a First class award, I promise you it is not something you will regret!