Easy & Cheap Way to Get 16,000 Qantas Points
Qantas Assure is running another promotion with Hello Fresh until the 7th of March that allows you to earn 16,000 Qantas points by ordering two meal delivery boxes.
Hello Fresh is one of the many meal delivery services that have popped up in Australia that offers pre-packaged fresh food and recipes that you can cook up into meals. As opposed to the frozen microwave options that are also available. I haven't personally tried Hello Fresh yet so I can't comment on the quality of the produce or the recipes, but this deal has got me to order a box and I am looking forward to trying them out.
The Promotion
Qantas Assure has partnered with Hello Fresh and up until the 7th of March if you use the promo code 'HELLOQANTAS' and subscribe to one of the meal plans you will receive 8,000 points on your first box delivery and another 8,000 points on your second box delivery.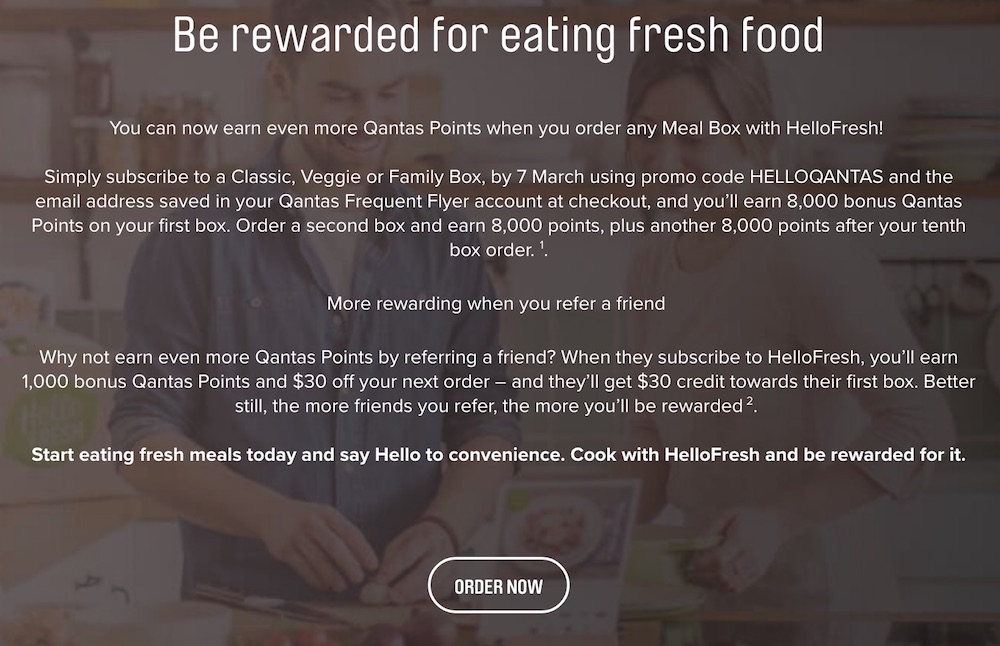 The T&C's just say you have to order the plastic box, so it appears you can select from 3,4 or 5 meals per week. Interestingly you also seem to get $25 off your first order which makes it an even better deal!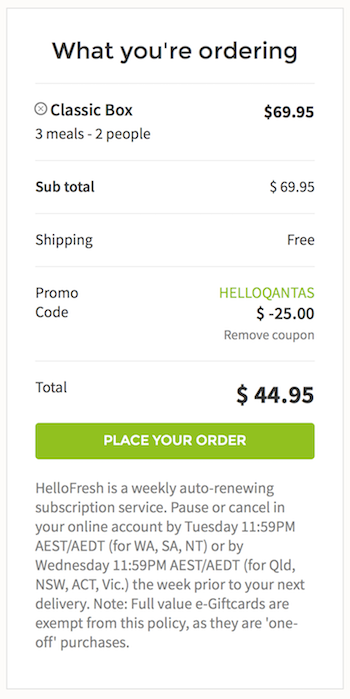 So with the cheapest option of 3 meals per week, the two meal boxes will come to $115 and net you 16,000 Qantas points ignoring the food you get that is 0.07c / point! I would happily buy Qantas points at that price, so I am effectively getting 12 free meals!
The meals look pretty tasty so it will be interesting to see what they are like.
Be Warned!
Hellow Fresh is a subscription service and once you sign up they will continue to send you meal boxes until you either cancel or pause your subscription. which you need to do 1 week before the next delivery so if you take this offer up make sure you set a calendar reminder to log in and cancel the subscription.